You're making the right decision…
Get access to 16 social media marketing tracks and workshops—and the top industry pros—with your All-Access ticket.
We're an investment and you're worth it. We try harder to make sure you'll be successful. We recruit the best speakers, provide the best training, and offer the best return on your investment.
"I've learned more, that directly helps our bottom line, at Social Media Marketing World as compared to any other event that I attend," Shawna Allen.
Social Media Marketing World 2020 takes place in beautiful San Diego, California from Sunday, March 1 to Tuesday, March 3, 2020—at the San Diego Convention Center for All-Access Ticket holders. We have a virtual option which allows you to enjoy the content from anywhere using your computer.
Improve your marketing know-how as pros train you in 16 topical tracks, including Facebook ads strategy, Instagram marketing, content marketing, video marketing, analytics, local business marketing, and much more.
Rather than guessing what you should or shouldn't do with your marketing—which can slow you down and mean lost opportunities—you'll be able to fast-track your marketing success and focus on hitting your big goals in 2020. You'll discover cutting edge techniques that work from marketers who've gone before you and who have achieved proven results.
Ticketing options:
All-Access Ticket: This ticket provides you all the benefits of Social Media Marketing World, including access to ALL of our keynotes, our 16 tracks, and workshops (an extra day of content). You also receive session recordings and access to our amazing networking parties.
Marketer Ticket: This more economical investment provides access to keynotes and all 16 of our tracks. It does NOT include workshops, session recordings, or access to networking parties. Marketer Ticket holders get access on Monday, March 2 and Tuesday, March 3, 2020.
Community Ticket: This is our most economical option. It provides access to our four main keynote presentations, our live video and video creation tracks, and our massive Networking Plaza. Community Ticket holders get access on Monday, March 2 and Tuesday, March 3, 2020.
Virtual Ticket: This ticket provides online access to recordings of everything from Social Media Marketing World–all the marketing sessions, the keynotes, and every workshop. It's a great choice for people who can't travel to the conference in San Diego.
"Social Media Marketing World practically paid for itself as soon as I implemented a fraction of what I learned," Mitch Wilson.
Register Now!
Sale ends
Tuesday, October 22nd, 2019
.
Need to convince the Boss? We've got you covered! Click here for an email template.
CAN'T TRAVEL? CONSIDER A VIRTUAL TICKET
Invest in your career with an All-Access ticket
✓ Approx. $500 less than other top marketing conferences
✓ $700 savings from our regular price!
✓ $2.73 a day for one year
Register risk-free! You can cancel your registration within 24 hours of purchase for a full refund.
Refunds/Transfers: We understand that things happen. Here's how our policy works. You may cancel your participation in Social Media Marketing World 2020 within 24 hours of your purchase (prior to February 1, 2020) for a 100% refund. If 24 hours have passed since your purchase, please be aware of the following cancellation policy: If you cancel before October 31, 2019, you will receive a full refund. If you cancel between November 1, 2019 and November 29, 2019, you will be refunded 50% of your registration fee. If you cancel after November 29, 2019, you are not eligible for a refund but may send someone in your place. You may resell your ticket up until 2 weeks prior to the event. To request a refund or fully grant your access to the event to another person, email [email protected] Only requests made by the original purchaser/registrant will be honored.
Here's What Last Year's Attendees Said: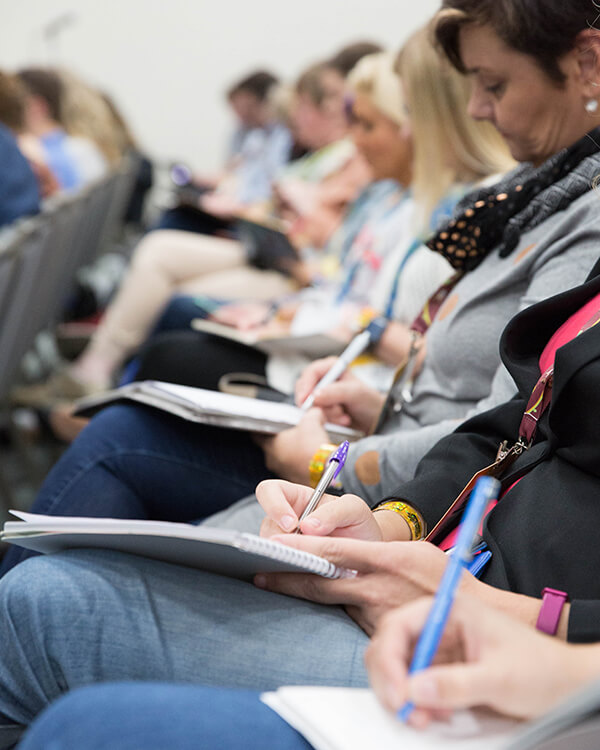 "Unless you've been here, you can't know how incredibly life changing it can be for your business. It is by far, bar none, the best content driven conference I have ever been to. I can't say enough good things about it." – Sarah Brodie
"Social Media Marketing World is the best thing that I've ever done professionally, and I love it." – Scott Duehlmeier
"Everything has changed, and this is where you're going to get the latest, greatest information–the stuff is hot right now. And you're not going to learn it anywhere else in the world, other than Social Media Marketing World. – Rita Balos
"It's definitely worth it. The investment is going to pay off in spades. When you look at all the stuff you come away with and if you take full advantage of the opportunities, you make these lifelong connections. I've made a lot of friends here that I continue to pick their brains and vice versa, and it's a really rewarding experience." – Jared Lyman
"Everyone is here who matters and who wants to learn and hang out with like minded people. So, this is a good investment. Money and time. It's worth it." – Bea Ploe-Bokor
Common Questions Answered
Is the content right for me?
We have 16 tracks full of actionable content from the world's top experts. Click to explore the content.
How do I convince my boss to send me?
Great question! Simply use the letter we created for you here.
Do the Community Ticket or the Marketer Ticket include recordings of content?
These tickets include access to live content only. You have the option to purchase a Virtual Ticket, which provides full online access to all recorded sessions from the physical conference.
If I purchase a Community Ticket or Marketer Ticket, can I later upgrade my ticket?
Yes! Here's how the upgrade process works: First, you first must purchase the upgraded ticket. Then we will issue you a refund on your previous ticket purchase.
Got other questions?
Option 1: Click here for the most common questions people ask and our answers.
Option 2: You can also email [email protected].
div
Home | Agenda | Networking | Speakers | Travel | Hotel/Venue | About | FAQ | REGISTER