You're making the right decision…
If you act now, you can secure your 2019 ticket at a MAJOR discount.
We're an investment and you're worth it. "World-class, world-class event," said Gary Vaynerchuk.
We try harder to make sure you'll be successful. We recruit the best speakers, provide the best training, and offer the best networking in the industry.
Social Media Marketing World 2019 takes place in beautiful San Diego, California from Wednesday, March 20 to Friday, March 22, 2019 at the San Diego Convention Center for All-Access Ticket holders. 
All-Access Ticket: This ticket provides you all the benefits of Social Media Marketing World, including access to ALL of our keynotes, sessions, the live stage, and workshops (an extra day of content). You also receive session recordings and access to our amazing networking parties.
Marketer Ticket: This more economical investment provides access to keynotes, all sessions, and our live stage. It does NOT include workshops, session recordings, or access to networking parties. Marketer Ticket holders get access on Thursday, March 21 and Friday, March 22, 2019.
Community Ticket: This is our most economical option. It provides access to our four main keynote presentations, our live stage, and two content stages located inside our massive Networking Plaza. Community Ticket holders get access on Thursday, March 21 and Friday, March 22, 2019.
Virtual Ticket: This ticket provides online access to recordings of every session from Social Media Marketing World–all the marketing sessions, the keynotes, and every workshop. It's a great choice for people who can't travel to the conference in San Diego.
"It's the greatest investment that I've ever had in any conference as far as what return it provides," said Cliff Ravenscraft.
Limited-Time Sale!!
If you act now, you can secure your 2019 ticket at a MAJOR discount.
Sale ends Tuesday, October 23rd, 2018
.
Ticket Options:
All-Access
(Most Popular)
SALE
Ends Tuesday!
Access Keynotes

YES

Access ALL Sessions

YES

Access Workshops (extra day)

YES

Access Live Stage and Networking Plaza Stages

YES

Recordings (*keynotes, sessions, & workshops)

YES

Networking Parties

YES

Networking Plaza

YES

Retail Price
$1597

$997

$297

$697
Invest in your career with an All-Access ticket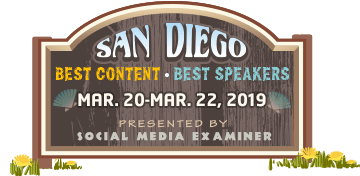 ✓ $665 savings from our regular price!
✓ Approx. $600 less than other top marketing conferences
✓ $2.55 a day for one year

Common Questions Answered
How do I convince my boss to send me?
Great question! Simply use the letter we created for you here.
Do the Community Ticket or the Marketer Ticket include recordings of content?
These tickets include access to live content only. You have the option to purchase a Virtual Ticket, which provides full online access to all recorded sessions from the physical conference.
If I purchase a Community Ticket or Marketer Ticket, can I later upgrade my ticket?
Indirectly yes. Here's how it works. You first must purchase the upgraded ticket. Then we will issue you a refund on your previous ticket purchase.
Got other questions?
Option 1: Click here for the most common questions people ask and our answers.
Option 2: You can also email world@socialmediaexaminer.com.
Refunds/Transfers: Please be aware of the following cancellation policy: If you cancel before October 31, 2018, you will receive a full refund. If you cancel between November 1, 2018 and December 15, 2018, you will be refunded 50% of your registration fee. If you cancel after December 15, 2018, you are not eligible for a refund but may send someone in your place. You may resell your ticket. To request a refund or fully grant your access to the event to another person, email world@socialmediaexaminer.com. Only requests made by the original purchaser/registrant will be honored.
Home | Agenda | Networking | Speakers | Travel | Hotel/Venue | About | FAQ | REGISTER