Experience Rich Content From the World's Top Social Media Marketers
Imagine this: A conference that offers outstanding content infused with a truly social experience.
That explains Social Media Marketing World.
You'll experience a unique event that brings you carefully recruited experts who live and breathe social media marketing every day. Only the best.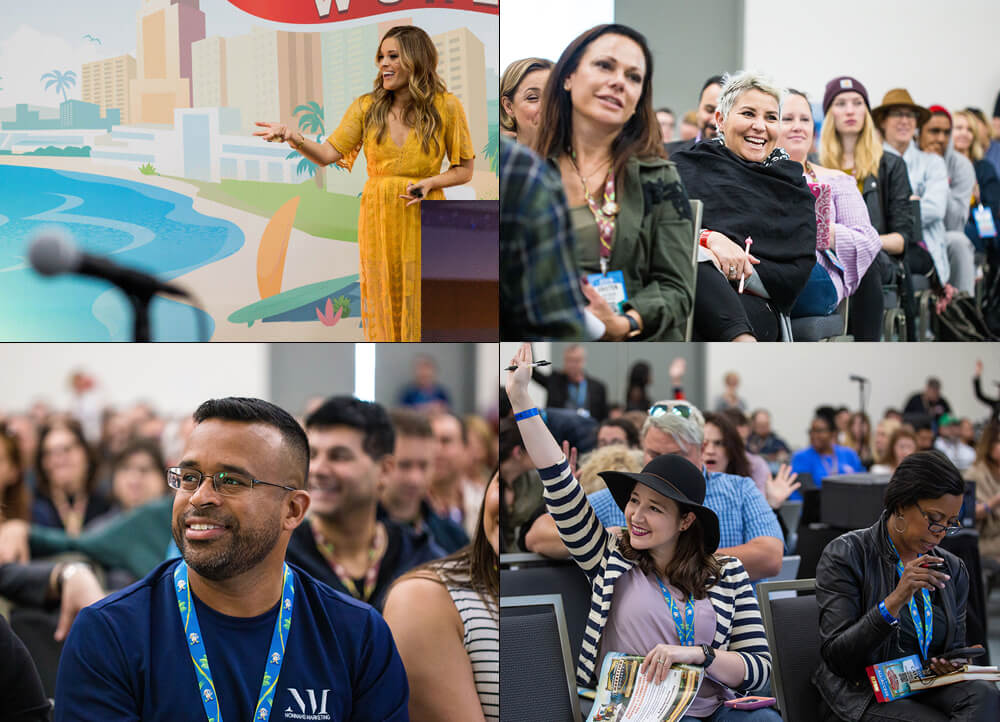 "This was by far one of the best conferences I've ever attended. All of the sessions I attended were full of specific, useful content," said attendee Lindsay Nyquist.
2024 Schedule Overview:
ALL-ACCESS TICKET DATES: Sunday, February 18 to Tuesday, February 20, 2024.
MARKETER & STREAMING TICKET DATES: Monday, February 19 and Tuesday, February 20, 2024.
"Every single day has been chock full of sessions that have been great and inspirational. I'm gonna take all of that home and help grow my business," said Stacey Morgan.
Here's the high-level preliminary schedule (note: all times are Pacific Time):
Sunday, February 18, 2024
9:00am to 5:00pm: Early Check-in
9:00am to 5:30pm: Sponsor Booths Open
9:00am to 4:00pm: Food available for purchase
12:00pm to 1:30pm: Workshops (ALL-ACCESS ONLY)
2:00pm to 3:30pm: Workshops (ALL-ACCESS ONLY)
4:00pm to 5:30pm: Workshops (ALL-ACCESS ONLY)
Monday, February 19, 2024
7:00am: Check-in Opens
8:00am to 9:15am: Event Kickoff and Keynote
9:45am to 10:30am: Sessions
11:00am to 11:45am: Sessions
11:00am to 2:00pm: Lunch (Food available for purchase)
12:15pm to 1:00pm: Sessions
1:30pm to 2:15pm: Sessions
2:45pm to 3:30pm: Sessions
4:00pm to 4:45pm: Sessions
5:00pm to 6:30pm: Keynote
8:00pm to 11:00pm: VIP Networking Party (ALL-ACCESS ONLY)
Tuesday, February 20, 2024
8:30am to 9:30am: Keynote
10:00am to 10:45am: Sessions
11:15am to 12:00pm: Sessions
12:00pm to 1:30pm: Lunch (Food available for purchase)
1:30pm to 2:15pm: Sessions
2:45pm to 3:30pm: Sessions
4:00pm to 4:45pm: Sessions
5:00pm to 6:15pm: Keynote
CLICK FOR REGISTRATION OPTIONS…
div