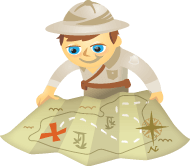 Is your content on YouTube?
Have you considered taking your content global?
In this article, you'll discover how to expand your reach and influence on YouTube by optimizing your videos for viewers who speak different languages.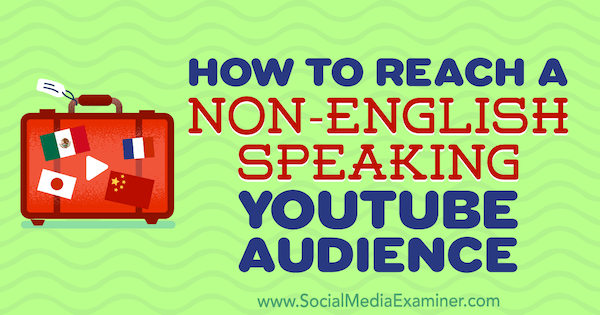 Reveal Your Ideal International Audiences
You may assume that all of your YouTube videos are being viewed in English-speaking territories, but data shows this is highly unlikely.
Over 70% of views on YouTube come from outside of the U.S., with Asia and Latin America in particular seeing explosive growth. There's huge potential to grow your YouTube presence if you know how to optimize your content for a global audience.
To find out where your YouTube channel subscribers are located, open Creator Studio and choose Analytics > Subscribers. Then click the Geography tab to see your subscribers' geographic locations.
Note that the language in which YouTube serves content is based on the user's language settings, not their location. If you have a large audience that speaks a language other than your own, you can assume many viewers are watching in their local language. Do a quick Google search to confirm the local language.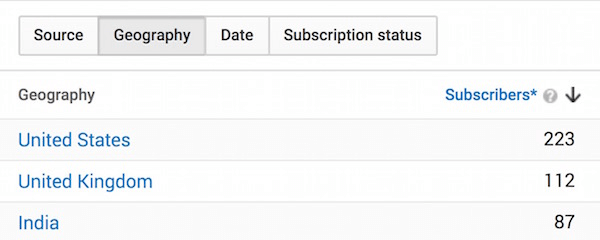 You'll likely discover that one or two other territories/languages make up a decent share of your audience. This shows that you have appeal in those markets and the potential to grow your audience there even more.
If you have other market/audience data from your website or other social media accounts, take this information into consideration when planning a global YouTube strategy.
Here's how to get started optimizing your YouTube presence for a global audience.
#1: Translate Video Caption Files
If you're already transcribing your YouTube videos and uploading the transcriptions as closed-caption files, translate the captions into the secondary language you've chosen.
Including secondary language subtitles allows speakers of those languages to understand and engage with your videos. This tactic also improves discoverability because YouTube indexes secondary language captions.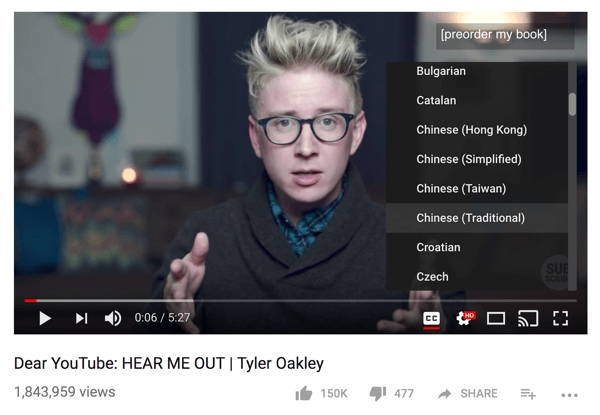 To translate your captions, you can either do the work yourself or use YouTube's built-in features.
How YouTube Can Help Transcribe Your Captions
If you don't want to transcribe the captions yourself, YouTube has several options to help you:
Google Translate is built into the system. The reliability of the automatic translations can vary, however.
YouTube has partnered with a number of tools that are embedded into the platform that will translate the files for a fee. To find these, go to Info & Settings for your video and click the Translations tab.
Your global audience can translate your captions for you. The community will audit the completed captions to ensure they're correct before going live. To enable this feature, go to Creator Studio, select Translations & Transcriptions > Community Contributions, and click Turn on for All Videos.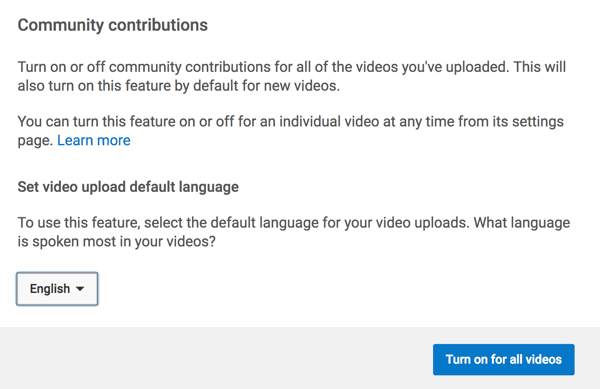 Upload a Translated Captions File
If you've created a translated captions file in one of the supported subtitle formats, you can upload it to your video in Creator Studio. To do this, open the Video Manager, find your video, and click Edit.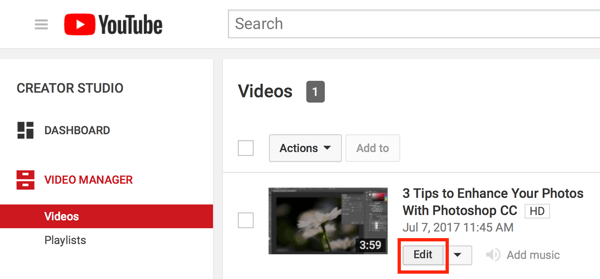 On the Subtitles/CC tab, click Add New Subtitles or CC and select the language of your caption file.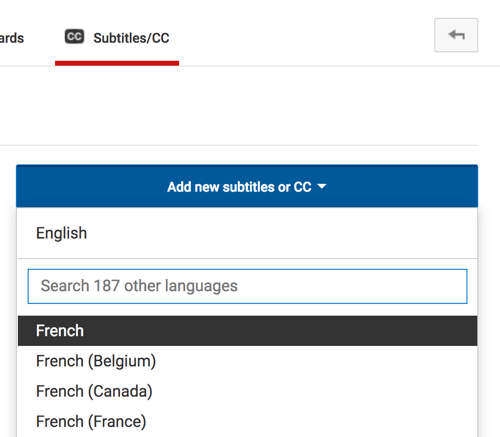 Next, click Upload a File.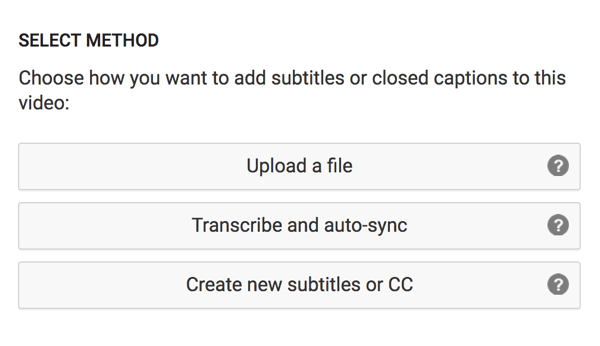 Select your secondary language subtitle file and click Upload.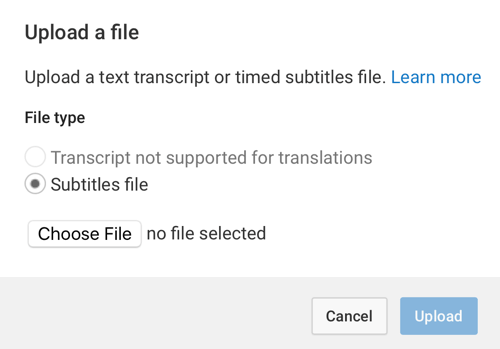 #2: Translate Video Titles and Descriptions
When you set your YouTube video metadata in multiple languages, the text will be indexed and provided to users based on their language settings (not location). For example, you can set your metadata in German so it's more likely to be served to German-speaking audiences.
The BBC used this tactic for a Doctor Who trailer that they translated into a number of languages, helping them target important local broadcast markets.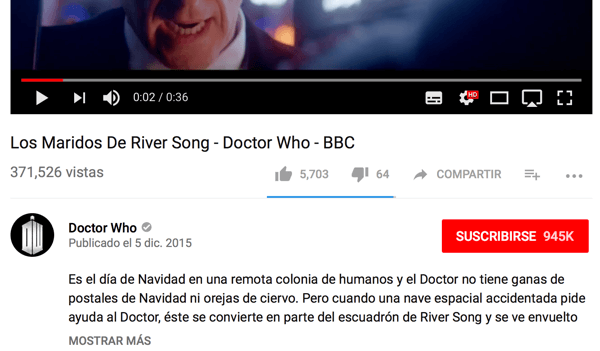 Translate the Video Title
To add metadata in another language, open Creator Studio, find your video in the Video Manager, and click the Edit button. Select Info & Settings at the top of the page and scroll down to the Translations tab below the video.
Select English from the drop-down list on the left and set the language you're translating into on the right. Enter your translated title as you would in English. Don't worry, though; your title in English will still be served to everyone else.

Translating the title not only improves discoverability in search but also makes it more likely that speakers of the secondary language will click on your video.
Translate the Video Description
You can translate the video description into different languages on the same tab where you translated the video title. Just follow the same steps as above.
If you have the language skills, feel free to change the nature of the description instead of just doing a straight translation. Different places and cultures have their own unique traditions, customs, and ways of communicating so try to convey that where possible.
Video descriptions are indexed for search and, like titles, will influence click-through rates because an excerpt will be shown in the search results. The size of the excerpt depends on the viewer's screen size.
The original description for this Oz-Bowling video is written in German. By using the translation options, they can target countries outside of their home market of Switzerland, including the wider English-speaking market, as seen here: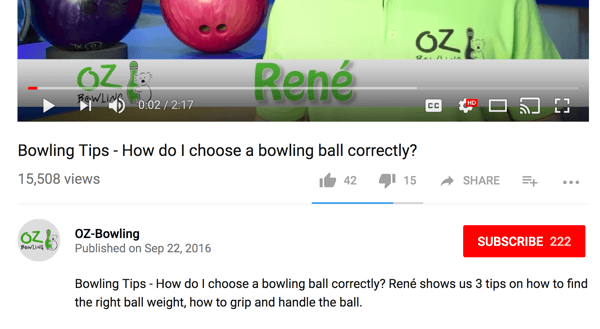 #3: Translate Playlist Titles and Metadata
YouTube playlists are an effective way to increase your reach without investing a lot of resources or time. If you translate those playlist titles and metadata into secondary languages, you can amplify your reach even further. Also, these new viewers are likely to go on and watch a number of your videos in your playlist.
These playlists from Daily Busking were originally set in Korean but have been translated based on my language set to English.

To translate your playlist info in Creator Studio, choose Video Manager > Playlists and click the Edit button to the right of your playlist.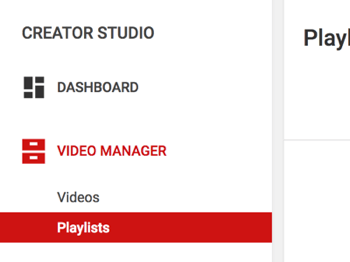 Next, click the menu icon (the three dots) to the right of the playlist name and select Translate Playlist Info.

Next, enter translation info for the playlist title and description, and click Save.

#4: Translate Your Channel Description
If viewers who speak a different language visit your YouTube channel, you know they're interested in what they've seen so far. One way to help keep their attention is to offer a channel description in their language.
Providing a translated description helps you influence the SEO of your entire channel. If you've written a good channel description in English, it will be keyword-rich. By translating these keywords into other target languages, you're telling YouTube they should be sending those new audiences your way.
The video below shows you how to translate your channel name and description.
#5: Consider Time Zones When Scheduling Video Releases
If you have target audiences in different time zones, finding the perfect video release times can be tricky. It's best to try to choose a release time that's optimized for all of your target regions. This means you could potentially have multiple audiences driving your video ranking in YouTube's algorithm instead of one, leading to more views overall.
While YouTube Analytics is valuable, it doesn't offer time of day information. Instead, you'll need to use a third-party tool such as TubeBuddy or VidIQ to get these insights.
Additionally, you can publish an extra social media post to promote your video, choosing a relevant time for your secondary audience.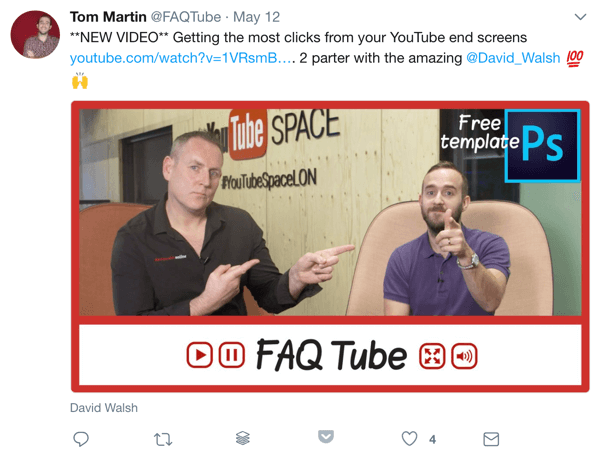 #6: Reply to Commenters in Their Language
If you're encouraging people from around the world to watch your videos, treat them in the same way as your English-speaking audience in the comments.
You don't need to carry on lengthy conversations in other languages; a brief acknowledgment of secondary language commenters can go a long way. It may also encourage repeat comments and prompt others to follow suit.

Showing your YouTube audience that you're willing to go the extra mile will help convert them into subscribers and potentially customers.
#7: Give a Nod to Your Expanding International Audience
Everyone appreciates being recognized. While you don't need to create dual-language YouTube content to please regional audiences, here are some ways to give them a quick nod:
Include them in competitions/giveaways.
Recognize their national holidays.
Give shout-outs to global commenters.
Remember, video is a more intimate medium than other forms of content marketing. To get your audience to know, like, and trust you, speak to them directly and show that you're thinking of them. Giving an occasional nod to regional audiences can help significantly.
Want more like this? Explore YouTube for Business!
.
Conclusion
Once you've established yourself as an authority with YouTube audiences who speak English, use the tactics above to expand your reach, influence, and customer base with viewers who speak other languages.
Be sure to benchmark your YouTube Analytics before you start and track the changes in your global viewership. If you achieve great success with a secondary international market, consider starting another channel targeted solely to that market.
What do you think? Do you have YouTube subscribers who speak languages other than your own? How do you cater to these audiences on YouTube? Share your thoughts in the comments below.