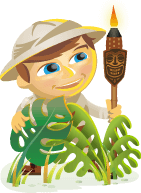 Want to keep your YouTube subscribers engaged?
Interested in new YouTube features that help promote your videos?
To explore big changes from YouTube, I interview Tim Schmoyer.
More About This Show
The Social Media Marketing podcast is an on-demand talk radio show from Social Media Examiner. It's designed to help busy marketers, business owners, and creators discover what works with social media marketing.
In this episode, I interview Tim Schmoyer, founder of VideoCreators.TV, a YouTube community of more than 340,000 video creators. He's the leading expert on building a loyal tribe on YouTube.
Tim explains how creators can use reels, GIFs, and more to engage subscribers while producing videos that keep people watching.
You'll discover how the Community tab content appears to subscribers on mobile and desktop.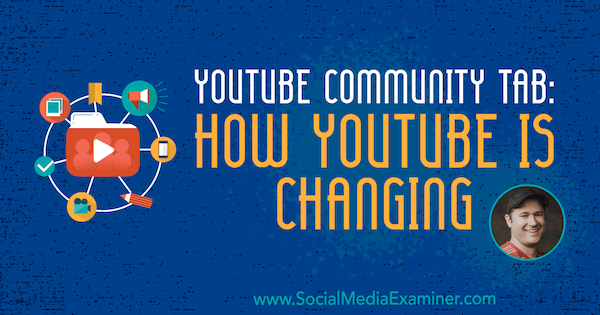 Share your feedback, read the show notes, and get the links mentioned in this episode below.
Listen Now
Where to subscribe: Apple Podcast | Google Podcasts | Spotify | RSS
Here are some of the things you'll discover in this show:
YouTube Community Tab: How YouTube Is Changing
The YouTube Changes
When most people think of YouTube, they think of uploading polished video that your subscribers and others can discover and comment on. However, over the past year, YouTube has added new features including Contacts (similar to Friends on other platforms) and the ability to post photos, polls, text updates, and quick little videos in the Stories format.
The new features indicate a focus on community development and ways to stay in front of your audience beyond uploading polished videos because those take time to produce.
A YouTube subscriber is similar to a follower on Twitter or a like on a Facebook page. In all three cases, someone is agreeing to see updates from you. However, a friend on Facebook is a two-way connection because Facebook friends see updates from each other. That's how contacts work on YouTube.
After you have a contact on YouTube, you can send a video in a private conversation.
The old-school way was to copy the URL and send it via text or Twitter. But if, for example, Tim and I are contacts, Tim could message me within YouTube and say, "Hey Michael, check out this new video from Gary Vee. I think this would be a great topic for you to talk about at Social Media Marketing World."
In other words, the YouTube Contact feature allows you to share videos and have private conversations about those videos with a group of friends, similar to a conversation in Facebook Messenger. So if you're working on a project with several peers, you can create a group on YouTube to easily share videos related to that project. The group can then have an organized, structured conversation about the videos inside the app.
Tim notes most of the new features, including Contacts, are mobile-only (not yet available on desktop). They're being developed on platforms where people seem most likely to be using these types of features.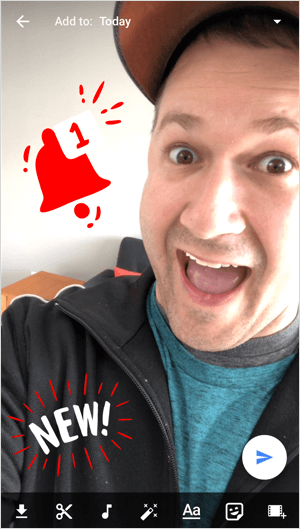 Reels is YouTube's answer to the Stories format on other social media platforms. A reel is a 30-second clip from your smartphone. After you record video for a few seconds, you can add emojis and stickers or swipe for different filters. When you're done, post the video to your reel and your subscribers can view it.
You can set a reel so that it's only available for 24 hours or make it an ongoing, long-term reel. The 24-hour reels, which people are used to, are good for quick, behind-the-scenes posts.
YouTube subscribers are notified of new reel content via mobile. At the bottom of the YouTube app, tap the Subscriptions icon and a row of channels to which you subscribe appears at the top. A dot indicates that a channel has new videos and a huge square indicates the channel posted to its reel. Tap a channel and then you can see the 30-second clips in its reel.
An ongoing reel, which doesn't expire after 24 hours, is good for an event that lasts longer than a day. For instance, Tim suggests someone might want to watch a reel that shares my personal experience of Social Media Marketing World. Although this function is still in private beta, Tim got access right after it launched and has incredible reach from it.
The reels that last more than 24 hours are also great for that creator mindset. On YouTube, people are used to the possibility that their videos can get exposure after the initial audience reach. With the long-term reels, YouTube is acknowledging that expectation.
Listen to the show to discover how YouTube typically releases new features to beta testers and then the broader YouTube community.
The Community Tab
You'll find a Community tab on channels with 10,000 or more subscribers. The tab is located at the top of a channel along with tabs for Videos, Playlists, and About. On the Community tab, a channel can post polls and photos, ask questions, and link to different videos and playlists. The tab is basically a way for a channel to interact with its community beyond posting a video.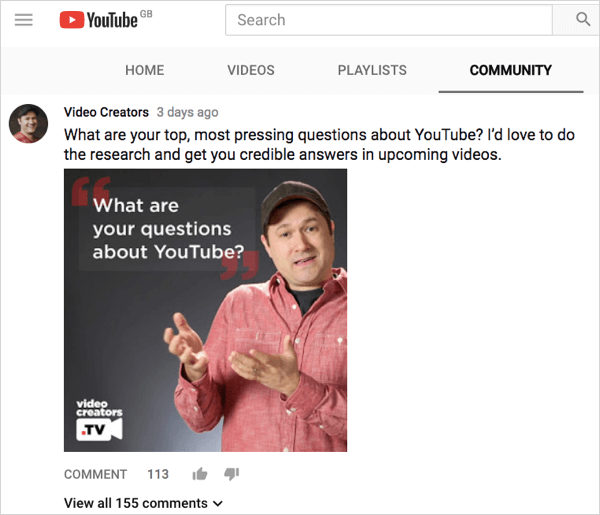 On mobile, content posted to the Community tab shows up in a subscriber's feed so videos and community content are mixed together. For instance, you may be scrolling through your feed and see a video, a poll asking "What song should I cover next?" (tap to vote), and a behind-the-scenes photo of a guy getting ready to shoot his next big video (click a heart to that). The mobile feed feels a bit more like a social media feed. (Note: With a desktop browser, you find community content by going to a channel's Community tab.)
I mention this change seems pretty big for YouTube. Tim thinks it's necessary. YouTube has been trying to go in this direction for years. For example, the Google Plus integration was supposed to add this community interaction but the execution was poor. With the Community tab, the idea is still to make YouTube a bigger platform with multiple ways to communicate and interact with your audience.
The Community tab addresses a huge problem, too. Many content creators can't produce the type of content they want on a daily or weekly schedule. The Community tab enables them to stay in front of their audiences at a pace that YouTube recommends (and the audience demands) to keep their audience's attention. For instance, sometimes even a short animated video clip takes 6 weeks to create. And you can't simply crank out high-production music videos.
With these community options, YouTube doesn't become just a big platform of daily vloggers and gamers. While a creator is working on hard-to-produce content, the Community tab gives them other ways to stay in front of their audience. To keep an audience excited about the next video, even if it's 6 weeks away, a creator can use reels, behind-the-scenes photos, polls, and status updates. All of these things can keep people engaged and build hype.
For someone new to YouTube, Tim doesn't recommend just using YouTube for polls, GIFs, and so forth. You still need to produce videos and upload them to build your channel and get an audience. The content in the Community tab is for supporting your time between videos. Other platforms seem to have the opposite approach. They're built around status updates and photos and fill things in with a big video once in a while.
Everyone's subscription feed now defaults to videos and posts. At the very top, a little drop-down menu allows those who want to see only videos to do so. Also, on mobile next to a channel's Subscribe button is a bell icon. Tap it, and you can opt to receive a notification of everything (posts and videos) or just videos.
What you see, Tim adds, is still based YouTube's algorithm, which is based on the content you look for on YouTube. For example, if whenever you go to YouTube you typically start with a woodworking channel, YouTube's algorithm will make sure you see the woodworking channel front and center. What the algorithm shows you is based on viewing history, search history, behavior, and so on.
When I ask about the types of content you can post on the Community tab, Tim says you can do a standard text update of any length, upload a picture or an animated GIF, add a poll with different voting options, or link to articles. (Note: An article's picture and the description don't automatically appear when you post a link.)
You can also link directly to a video. Right below where you would type your status update is a button that looks like a video with a plus icon. After you click it, you can search for a video, enter the video's URL, or select a video you've uploaded to your channel. Write some supporting text, and publish the video and text to your feed.

Tim's goal with the Community tab is to serve his audience well. He gives them valuable information and content, and they engage with it. This interaction gives YouTube positive signals. Because people respond well to his content, YouTube will keep promoting the things he shares.
Listen to the show to hear some of the challenges of the Community tab and discover what you can't post to it.
Examples
In addition to using the Community tab to promote things beyond video, you can use it to promote videos you're creating, publishing, or planning.
For instance, a day before a video publishes, some creators share a brief animated GIF of the video's climax along with attention-grabbing text such as, "This is coming tomorrow." When you use GIFs to build anticipation, people are already looking forward to seeing the video when it's released.
In the feed, a GIF automatically plays in a loop, which gets people's attention. You need to click to play videos. Although thumbnails are now animated on desktop, those animations still don't play automatically. You have to hover your mouse over the thumbnail for a second or two, and a preview showing a few seconds of the video then appears automatically.
To create a GIF that promotes a video, Tim uses Adobe Premiere Suite, but you can also use something like Photoshop.
The Community tab is a great place to resurface and highlight some of your older but still relevant videos. For instance, if Tim has a video in which he previously answered a popular question, he can breathe new life into it and get more watch time by resurfacing the video on his Community tab.
On the Community tab, you can also post reminders for people to watch your video a few days after it's gone to your initial subscriber feed. Unlike Facebook, not everyone checks YouTube every day.
For example, if someone who subscribes to a lot of channels hasn't checked YouTube for 3 days, your video has probably been pushed down their feed. To resurface your video, write something like, "Hey, just in case you missed this, I'm getting a lot of good feedback." You might mention the number-one question people are asking in relation to your video, share your response, and ask what people think.
If you have multiple YouTube channels, you can use the Community tab to cross-promote those channels. For instance, to give people a glimpse of his human side, Tim shares links to videos on his personal channel via the Community tab on Video Creators. His Video Creators audience doesn't have to subscribe to his personal channel. They can just read the update and move on. Still, posts like this build a personal connection.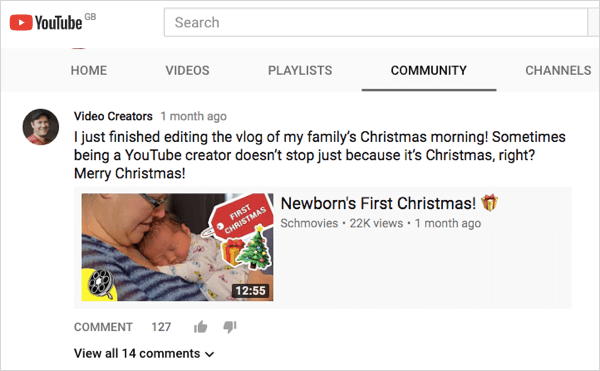 I ask how the engagement (thumbs up, comments) on the Community tab compares to the engagement on his videos. Tim says his Community posts get much less engagement; however, his Community tab engagement beats hands-down the reach and engagement he gets on Twitter, Facebook, and Instagram combined. He's a YouTube guy so those results are more or less expected, he adds.
Listen to the show to hear more about the personal videos Tim shares on the Video Creators Community tab.
Best Practices
Because the Community tab is new, you need to let your audience know that you're using the tab and educate them on how it works. For example, you could say something simple like, "Hey guys, I'm going to be posting. If you don't want to see the posts, just change posts and videos to videos only."
Another good idea is to use the Community tab to ask your audience for content ideas and feedback. Tim uses his YouTube channel primarily to share training on how to grow your YouTube audience. On the channel's Community tab, he shares resources valuable to his audience, even when the resources aren't from him.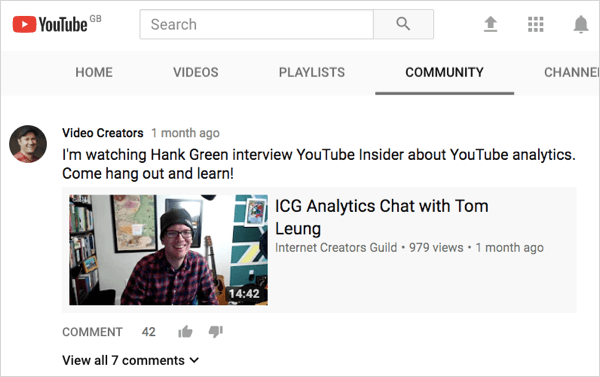 Tim also uses the tab to poll his audience ("What do you want to see next?") and share behind-the-scenes details. For instance, he might post something like, "I'm getting ready to shoot this video. I'm all set up. Here we go."
Share exclusive content your audience can't find anywhere else. Post a picture of the day or unlisted videos that only subscribers can see.
A lot of creators are also using these new tools to recognize their fans. They take screenshots of super chats from their live streams or comments from their YouTube videos. Then they post those screenshots to the Community tab.
For additional best practices, check out YouTube's course at Creator Academy.
Listen to find out more about how Tim's audience feels about the Community tab.
Discovery of the Week
Scrubbies is a cool iOS app from Google that creates a looping effect similar to a boomerang video but gives you more control over the video's movement.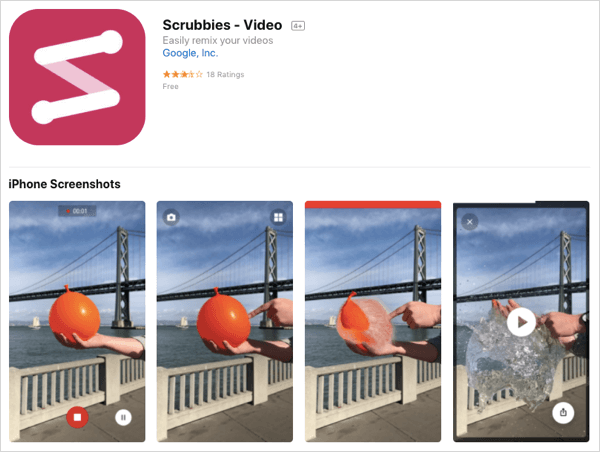 Using the app, record the video on your phone. (The app can work with vertical or landscape video.) Then use the app's scrub feature to fine-tune the video's movement.
To fine-tune your video, use one finger to scrub to a point where you want the video loop to start. Next, move two fingers forward and backward to indicate how you want the movement to progress (much like a DJ would scratch a record). For example, you can pause on a moment of your video for emphasis, and then make the back-and-forth move quickly.
This app is a powerful tool for highlighting motion. You could be in the hallway at Social Media Marketing World and record people leaving the keynote or going into the different sessions.
The Scrubbies app is free on the iOS App Store. Because Google developed the app, it's likely to become available to Android users, as well.
Listen to the show to learn more and let us know how Scrubbies works for you.
Listen to the show!

Where to subscribe: Apple Podcast | Google Podcasts | Spotify | RSS
Key takeaways mentioned in this episode:
Learn more about Social Media Marketing World 2018.
What do you think? What are your thoughts on the YouTube changes? Please leave your comments below.