Want to advertise on YouTube but don't know where to begin? Confused about YouTube ads pricing, placements, and targeting?
In this article, you'll discover the fundamentals of using YouTube ads successfully for business.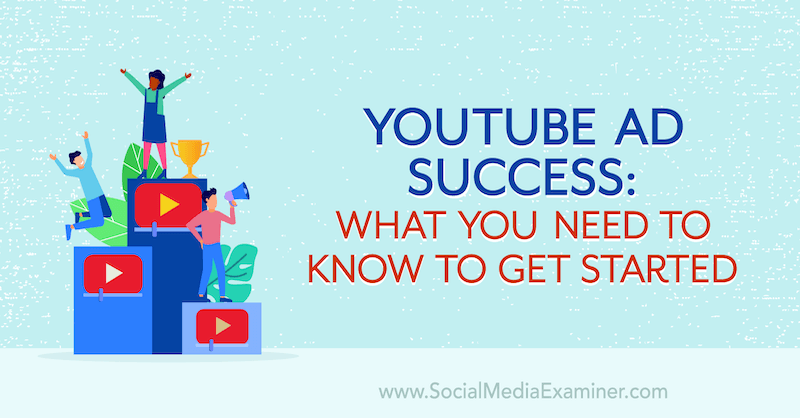 Why Marketers Should Consider YouTube Ads
Adding YouTube ads to your campaign strategy might be the perfect way to get in front of your audience.
A lot of brands and marketers study which channels have the largest audiences and most popularity, and ignore the reality that people spend time on other channels. You don't need to spend all of your time and advertising budget trying to compete on the most popular sites simply because they're popular. You can diversify your campaign and land on some of the other channels your audience visits.
This also allows you to try different targeting techniques, as each channel has developed its own unique system for helping you target or retarget your audience. YouTube has some unique targeting tools and factors not available on any other channel.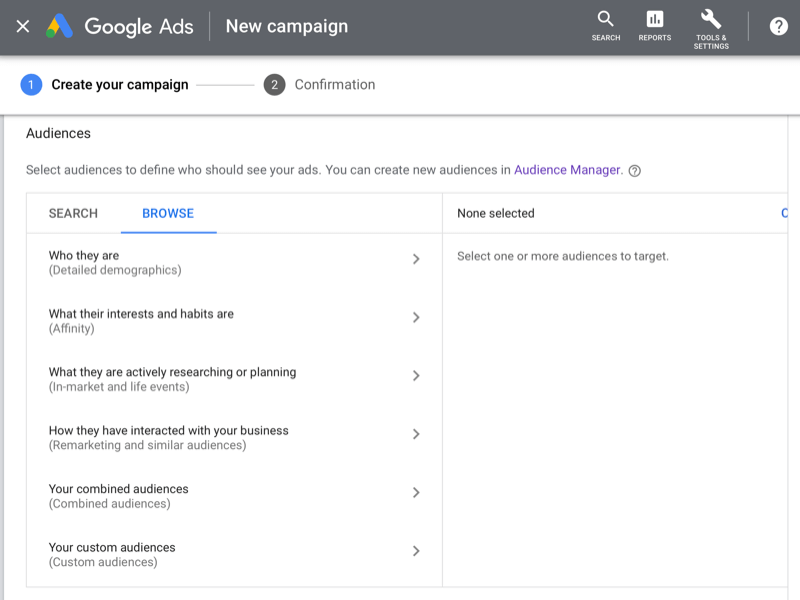 And the best part is, since it's owned by Google, businesses that are running YouTube ads are collecting a lot of first-party data. This means that those audiences are staying on a Google property platform, and you can then use the data collected via your YouTube ads throughout your other Google campaigns.
Essentially, you can use the audiences you're creating within YouTube and your display campaigns, in your search campaigns, or in additional YouTube campaigns.
The potential reach on YouTube is huge. Not only is the number of people watching videos increasing but the number of videos being watched is also increasing. This has partly been driven by the pandemic with people spending more time online. But in addition to that, YouTube has been made available across multiple devices, streaming services, and apps on smart TVs, which allows families to watch YouTube videos on the family television in their front room.
With so many videos as potential targets, there's much less competition to get your paid ad seen than there is on other platforms where multiple businesses and marketers are paying to show their ads in a single news feed. This makes YouTube ads an affordable choice for paid advertising campaigns.
Adding to the amount of real estate for YouTube ads is the recent change implemented by YouTube that allowed the platform to monetize even smaller creators' videos. This means that YouTube ads can appear on any video, not just on the videos from creators who are being paid for the ad revenue.
Remember, people go to YouTube to watch videos. Unlike other channels where the videos may be disrupting the user's intended experience, and therefore may not perform in the same way, people go to YouTube to watch a video. When they're scrolling through YouTube to watch a video, their sound is on, whereas if they're scrolling through another platform, statistically, their sound is off.
There are also fewer distractions on YouTube than there are on other channels. Because people come to YouTube to watch a video, that video isn't competing with anything else for the audience's attention. Other platforms have news feeds, communities, groups, and endless notifications, all vying for the user's attention at the same time, even when that user is already watching a video on the platform.
YouTube Ad Pricing
While other platforms calculate the cost of their advertising in terms of thousands, such as the cost per thousand views or cost per thousand impressions, YouTube pricing works as a cost per view. In other words, it's the price you'll pay every time someone watches your ad all the way through to the end.
For the most part, if the ad is engaging and the targeting is on point, pricing can range anywhere from $0.02 per view to as high as $1 per view in the more competitive niches.
However, if you target videos and channels as well, and you're doing more of an audience-based approach to discovery rather than focusing solely on search terms, you can appear on the right-hand side of a video. And after the video is done playing, your ad could be the recommended "watch next" video on the side. So with Discovery, there's more opportunity to be found than just through search results.
If you're ready to run YouTube ads for your business, here are some tips for getting the most out of your campaigns.
#1: Define the Goal of Your YouTube Ad
YouTube offers businesses the opportunity not only to help their audience and guide those users to an eventual conversion but also to build brand awareness and plant the seed to a target audience that just wants to consume great content, be entertained, or solve a problem by learning something.
One of the first things you want to consider when setting up your YouTube video ad campaign is the goal of your ad. Specifically, think about whether that ad's goal should be centered around building brand awareness, driving traffic, generating leads, or targeting conversions to a paid product.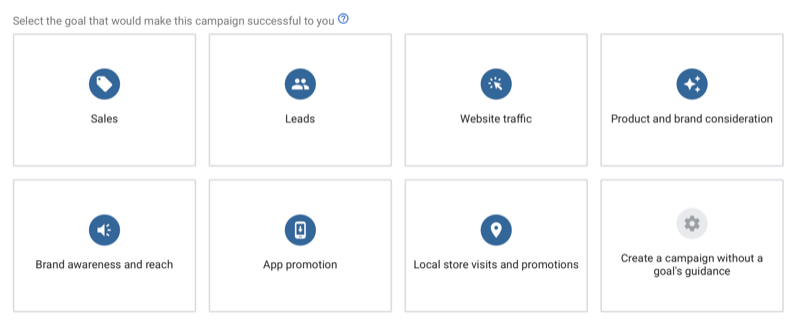 Part of this answer is going to depend on where the audience is in the funnel, as well as what they're doing at the time they see the ad.
You're going to want to know how far into your funnel that person is when they view your ad. Someone who's at the very top of the funnel may not know who you are yet so that ad might be introducing them to your brand.
On the other hand, someone who's mid-funnel may have already interacted with your brand, either on another channel or on another video within YouTube itself, but they haven't gone any deeper than that. Your ad may be what brings them over to interact with you further by getting them to act on or even purchase something.
#2: Keep the Viewer Experience in Mind When Choosing Your Video Creative
Your video is going to dictate how well a campaign on YouTube can do.
The type of video creative you use for your ad will depend largely on what your audience is doing at the time they see it based on placement. For example, if you're targeting based on audience engagement for in-stream ads, you may be placing your ad in front of the right people but not at a time when they're ready to watch an ad. This is particularly true if they're watching a music video, show, or movie—content that's very different from the content in your ad.
These types of in-stream ads are disruptive to the user experience. And because of that, there's a high probability that the user will skip the ad at about the 5-second mark when the "skip ads" button appears on the ad.
To maximize your ad spend with an in-stream ad, be cognizant of the fact that you might be interrupting the user's experience. Make your ad short and to the point and be sure your branding or hook is immediate so if people do skip the ad, there's a chance it will stick with them.
You'll only pay for an ad if someone watches it all the way through but you want to keep those ads as engaging as possible. If your ad is 15 seconds long, and you can keep the user watching for the full 15 seconds, your cost per view will go down as more people watch the ad.
Discovery ads work a little differently because they factor in the user's intention. You can grab a longer video from your channel to use as the ad's creative and target search phrases and keywords, much the same way you would if you were targeting organic search results. This helps place your video at the top of the search results page.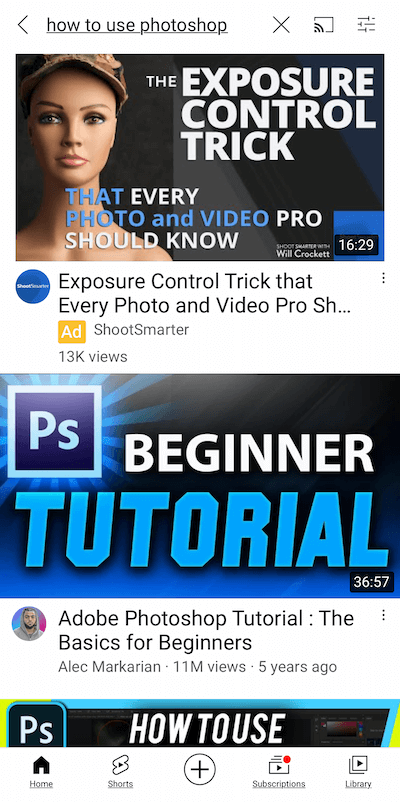 Additionally, should that user be watching a related video, your ad may be placed in the recommended related video spot, helping your audience discover your ad.
Upload the Video to Your YouTube Channel First
With any video advertising with YouTube, you must have your video uploaded to your YouTube channel. You won't be able to upload an MP4 at the time you're creating your ad. Therefore, you'll need to create and upload your videos to your channel before you begin creating your ads.
You can also use videos that are already sitting on your channel. Analyze the videos you have and see where they might perform the best. If they were recorded a certain way or hold a certain tone, they may work best under certain keywords.
Remember that discovery ads can be a little bit longer, 10–30 minutes, while in-stream ads seem to hit their sweet spot in the 15- to 30-second range.
If you're considering using videos from other channels and repurposing them into YouTube ads, whether this strategy can work will depend on your business, your audience and what the audience responds to, and the content within the ad. Some audiences respond well to the casual, raw look of a personable ad that looks as though it was filmed on a whim with a mobile phone, while other audiences respond better to produced ads that look as though they've been scripted and edited.
It really comes down to knowing your audience. If you've already run other images or creative on other channels, you can use those as a benchmark to estimate whether your audience will respond to them on YouTube.
Stick With Horizontal Video for Now
YouTube was making a push for vertical video a while ago but that format never really took off on that platform the way that it has on other platforms.
Even as user devices have gotten more mobile, as in smartphones and tablets, people continue to rotate the phones and watch their videos on YouTube in landscape format. Devices have also gotten bigger, as people have been streaming YouTube straight to their television sets, and again, they're watching in landscape format.
Pay attention to audience intention on YouTube. Especially in the case of discovery ads, when users are finding the ad through search results or under related ads and possibly even organically, they're likely watching YouTube in a horizontal format. In those cases, you'll want your video ad to match the same format so it's less disruptive to the user experience.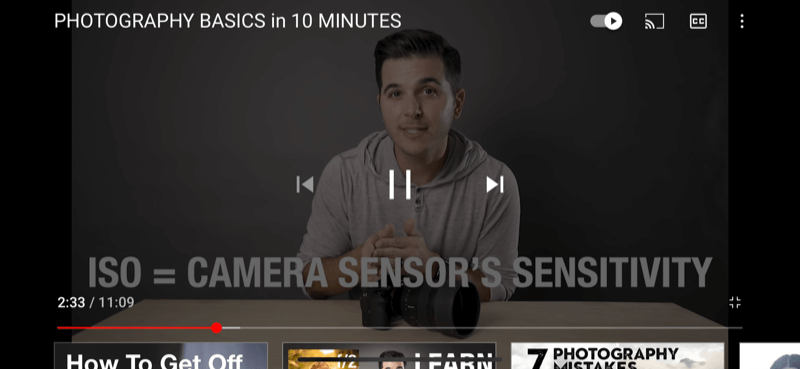 To date, this has all added up to horizontal video ads performing best on YouTube over their vertical counterparts. But as vertical videos become popular on other platforms and get cross-posted to YouTube, and as YouTube Shorts continues to be developed, it would be worth it to test every once in a while to see if another orientation might work better.
#3: Review Key Metrics to Determine Whether Your YouTube Ads Are Working
One of the top ways that marketers will be able to tell that their YouTube ads are working are through what's known as earned actions. These are actions that people take on your videos or on your channel after they've finished watching one of your ads.
For example, they may have gone from your ad over to another YouTube video on your channel, subscribed to your channel, or watched one of your playlists. All of those actions with your YouTube channel are free for you, even though they came directly from the ad you ran and paid for.
Marketers can also watch the metrics related to their calls to action. For ads that are trying to drive traffic, you can watch and see how many times the link is clicked. For ads that are driving conversions, you can watch your sales. For lead generation ads, you can watch both the link clicks and the growth of your email list.
You also want to keep an eye on your typical YouTube metrics such as watch time. The YouTube Studio dashboard will have filters to separate your paid metrics from your organic metrics so you'll be able to see exactly how many views on your video came from your ads.
But as far as engagement and watch time, make sure that your video is engaging. And that means that those metrics for the paid audience should match the metrics for your organic audience.
A note on split-testing YouTube ads: While on other platforms you might want to create copies of your videos as part of the testing, you really don't want to do that on YouTube. But you do want to do testing. Start with testing different thumbnails to see what will bring people to the video. You can also test different headlines to show with the thumbnail.
Other Notes From This Episode
Episode sponsored by Sked Social. For an extended 2-week trial and 50% off your first month, visit skedsocial.com/sme.
Check out the Social Strategy Club at socialmediaexaminer.com/club.