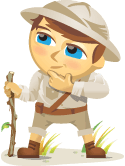 *UPDATE: Congratulations to the winners of our free ticket giveaway: Christy Rucker won the written entry and Rachael Seda won the Twitter contest.*
Want to win a free ticket to the largest content marketing event on the planet?
Our friends at the Content Marketing Institute have put together an amazing event taking place in Columbus, Ohio this year.  And they've agreed to let us give away two tickets to this special event.
First, what is this event?
Content Marketing World 2012 is the largest in-person conference dedicated to helping marketers and business owners master content marketing.  This year's conference takes place September 4-6, 2012 at the Columbus Convention Center in Columbus, Ohio (just outside the Ohio State University campus).
Hundreds of businesses have already signed up, including Level 3, Google, SAS, IBM, Majestic Steel, Nationwide, Deloitte, UBM, Caterpillar, Cisco Systems, CME Group, University of Phoenix and many other leading small and large brands.
Over 70 (yes, that's right… 70) of the world's most respected content marketing and social media experts will share their strategies with you.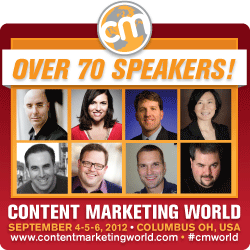 Hear from Sam Sebastian (Google, Inc.), Mitch Joel (author, Six Pixels of Separation), Jay Baer (co-author, The Now Revolution), Jason Falls (author, No Bullshit Social Media), Michael Stelzner (founder, Social Media Examiner), Mark Schaefer (author, Return on Influence), Ann Handley and C.C. Chapman (co-authors, Content Rules),  Brian Clark (founder, Copyblogger), Lee Odden (author, Optimize), Marcus Sheridan (owner, world's largest swimming pool blog), Amy Porterfield (co-author, Facebook Marketing All-in-One for Dummies) and experts from Dell, Sears, Kraft, Intel, IBM, SAP, SAS, Oakley, Sybase, and Kelly Services—just to mention a few.
Get YouTube Marketing Training - Online!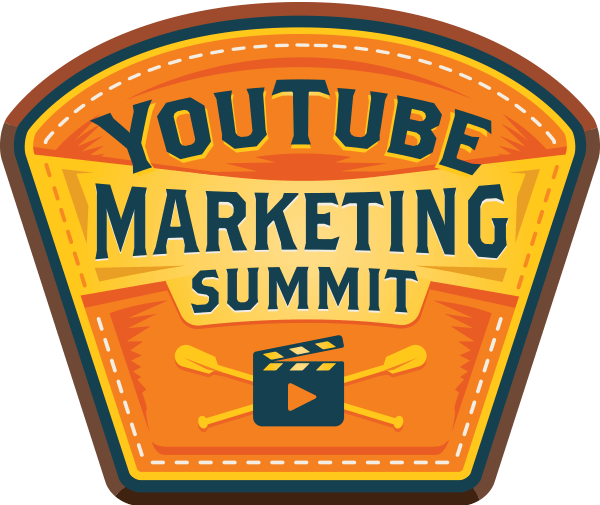 Want to improve your engagement and sales with YouTube? Then join the largest and best gathering of YouTube marketing experts as they share their proven strategies. You'll receive step-by-step live instruction focused on YouTube strategy, video creation, and YouTube ads. Become the YouTube marketing hero for your company and clients as you implement strategies that get proven results. This is a live online training event from your friends at Social Media Examiner.
CLICK HERE FOR DETAILS — SALE ENDS SEPTEMBER 25TH!
Presentation topics include developing a content marketing strategy, content discovery and distribution, finding and engaging your target audience, measuring success, and customized tracks for B2B, B2C, small business, social media and more! Check out all the sessions.
And if that wasn't enough, the one-and-only Rick Springfield will be performing many of his 17 Top-40 hits, including the ever-popular "Jessie's Girl."
At last fall's event, 99% of attendees said they'd recommend the event to a friend and attend again.
How can you win tickets?
We are giving away two free tickets to Content Marketing World, valued at $1295 each!
Two ways to win: There are two tickets up for grabs and two ways to win:
#1: Twitter entry
Simply click the button on the right or tweet what you see below for a chance to win one ticket:
I want to win a ticket to Content Marketing World! http://bit.ly/smeCMW (via: @smexaminer) #winCMW12
You can tweet up to two times per day. Each tweet is an entry to win. We'll randomly draw the winner of a free ticket. All tweets must have the #winCMW12 hashtag included.
#2: Written entry
Simply write why we should award you a free ticket in the comments box below (scroll down).
The judges (Mike Stelzner, founder of Social Media Examiner and Joe Pulizzi, founder of the Content Marketing Institute) will select the winning entry. Their decisions are subjective and final.
What you need to know:
You can enter to win either or both prizes.
Tweets must contain #winCMW12.
The deadline to enter is Friday, June 1, and the winner will be announced shortly thereafter ON THIS PAGE.
If you've already purchased a ticket, no worries. If you win, Content Marketing World will either give you a full refund or you can give your spare ticket to someone you really like who wants to come with you!
Winners must arrange their own travel and lodging.
No purchase is necessary to win.
We look forward to seeing your comments and tweets. Good luck!