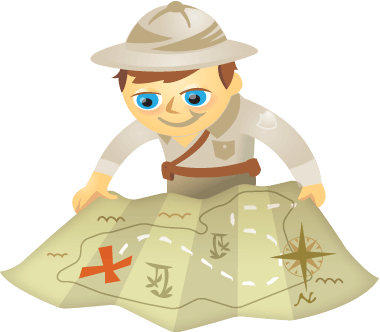 Do you want to increase your search rankings?
Did you know your Google+ page and profile could help?
Google+ can help you increase search rankings for your website, but you have to take the time to optimize your page, profile and content.
This article shows you three ways you can maximize your Google+ presence and tells you why that's important for SEO.
Why Google+ for search?
Google+ isn't just another social media platform; it's a powerful weapon in your SEO arsenal.
Check out Moz's recent Future of Search Report for the latest on ranking factors.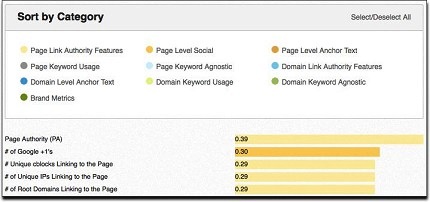 Editor's Note: This article has been edited as there's been a change and the links on the About tab of Google+ Page and Profile are no longer DoFollow links.
The reason Google+ is an SEO goldmine is that the first link added to a Google+ page post is a DoFollow link, which means it passes link equity, or link juice, on to the website you share. If you're sharing your website, you're getting the link juice.
DoFollow links are a core building block of SEO. They work in conjunction with PageRank, TrustRank and link context to determine how you rank for specific keywords.
Social Media Marketing Society (Ongoing Online Training)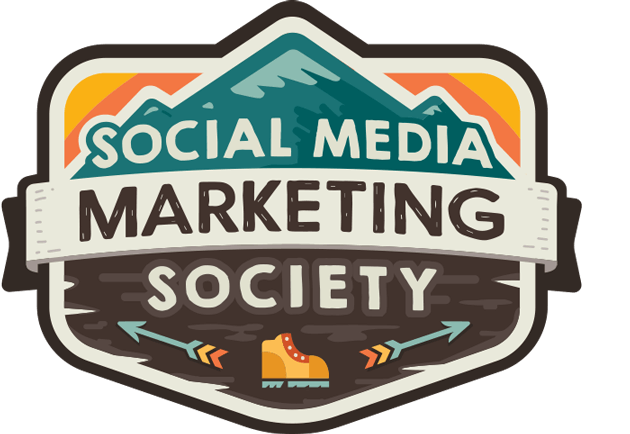 Want to gain marketing confidence and accelerate your career? Try the Society to discover new marketing ideas, improve your results, get support, and become indispensable. Join us for ongoing training, insight from pros, and a community of supportive marketers who understand you.
START YOUR TRIAL MEMBERSHIP
#1: Optimizing Your Google+ Page for Search Ranking
Spending a little time to optimize your information can reap big rewards. With five easy tweaks to your Google+ business page and personal profile, you can build a strong foundation for SEO success.
SEO Title
The SEO title is the name of your Google+ business page (be sure you're using your company name here). Avoid trying to stuff any keywords into the SEO title—it's unprofessional and has little SEO value.
Custom Page URL
Google+ recently rolled out the Custom URL feature. This is great news for companies that want to include cleaner links in their marketing. Your new customized URL looks like this: http://plus.google.com/+YourCompanyName.
To set your custom Google+ page or profile URL:
Go to your page or profile and click About.
Scroll down to the Links box. You'll see your existing Google+ page URL.
Click on the link and Google+ asks you if you want to convert to a new custom Google+ page URL.
Below you can see where I've customized the URL for my personal Google+ page to JamesThomasUK.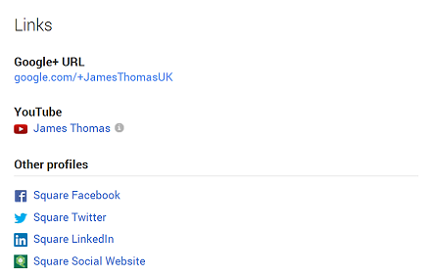 SEO Meta Description
The SEO meta description for your page combines your tagline and the first two sentences of your introduction. You only get 160 characters, so make them count.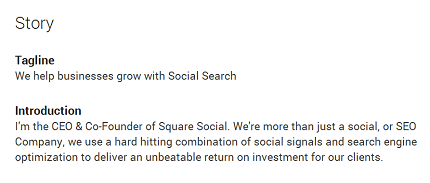 To edit your meta description or tagline, go to your Google+ business page and follow these instructions:
Click the Manage This Page button at the top of the page.
Click Edit Page on the section with your page name on it.
Click Edit in the Story section on the next page.
Make your changes and click Save.
It's smart to include one or two of your target SEO keywords in your description.
Google+ Authorship
Google+ authorship is an important ranking factor and one that you may not know about. Authorship tags each piece of content you create and lets Google know you created it.
Put Google Analytics to Work for Your Business (Online Training)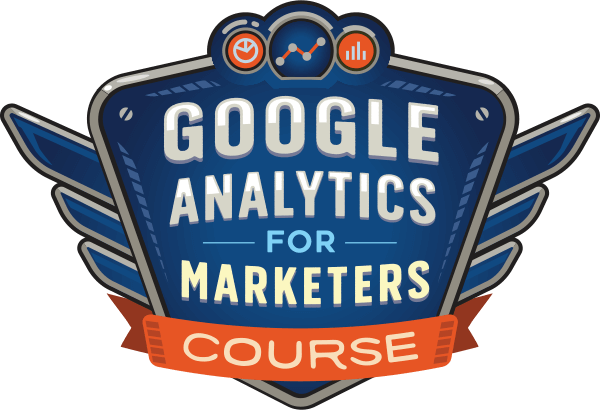 Ever thought, "there's got to be a better way" when it comes to tracking your marketing activities? Are you forced to make decisions based on limited data? With the right training, you can use Google Analytics to measure all of your marketing efforts with certainty.
You'll stop the leaks in your ad spending, justify your marketing spend, gain the confidence you need to make better marketing decisions, and know what's working at every step of the customer journey. Let the world's leading analytics pro show you the way. Check out our new Google Analytics for Marketers course from your friends at Social Media Examiner.
CLICK TO LEARN MORE: ANALYTICS TRAINING
Without Google+ authorship, you're losing potential link juice and SEO. Eric Schmidt, author of The New Digital Age, says, "Within search results, information tied to verified online profiles will be ranked higher than content without such verification…"
There are two ways to set up Google+ authorship to "claim" your own content:
If you have an email address that matches your domain (i.e., [email protected]), you can go to the Google+ Authorship page and simply enter your email address to complete the process.
If you don't have an email address that matches your domain, then you'll have to include a Google+ link to your profile in the author bio of any site you write for. You'll use this format: <a href="[profile_url]?rel=author">Google</a>
If you need more help, Google has provided a more detailed guide in the Support section of Google Webmaster Tools.
The image below shows what a correct Google+ authorship looks like. You can see that my picture and Google+ information are included next to my name.

#2: Posting Content
Once you've optimized your Google+ page and profile and correctly set up authorship, you're ready to start posting content. This is the quickest and easiest way to build a solid following on Google+ because at the end of the day, content is still king.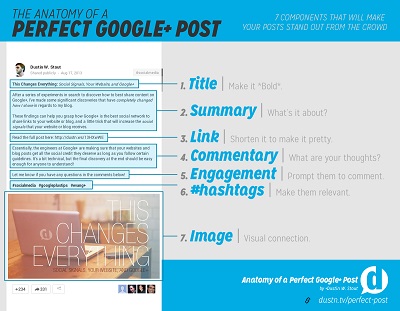 When posting content to your Google+ profile or page, follow these guidelines:
Share a summary of the content you're linking to. Don't go overboard; short and simple are fine.
Don't include the link in the Summary box. Instead, put the link in the Link Attachment area so you'll get the SEO benefit of a DoFollow link.
Share the content with any of your existing circles.
Check the box that allows you to email your Google+ update to your circles, if you think this is something a specific Circle in your audience would like.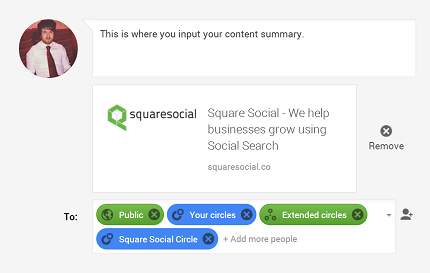 #3: Connecting the Dots
Now it's time to pull all of your efforts together and start tracking your results. You can track every piece of Google+ content you distribute or just a chosen few.
Tracking the content you share on Google+ allows you to correlate SEO gains and ranking increases against Google +1s and other social signals. An easy way to keep an eye on what's working and what's not is to assign each Google+ link a custom URL, then review its stats weekly in Google Analytics.
To set up a custom URL, open Google URL Builder in a new tab and complete the information. Here's an overview of each section and what you should type in:
Website URL: Enter the URL of the content you want to share and measure.
Campaign Source: This is the platform you're using to distribute the content—in this case, Google+.
Campaign Medium: The medium is how you're sharing your content. This could be a tweet, Facebook status or LinkedIn update. In this instance, the campaign medium is Google+ Post.
Campaign Term: You can skip this one for now. It's not used for this campaign.
Campaign Content: Type in the title of what you're sharing; for example, "How to measure social media traffic."
Campaign Name: Use something simple you can easily recognize later when you're sifting through Google Analytics; for example, "January's Google+ campaign."
When you've completed the URL Builder form, click Submit and you'll get your appended URL. If you like, you can use a URL shortener like bit.ly to make it look cleaner.
Use Google+  to increase your SEO ranking.
With so many changes in the Google search algorithm, it's important to keep up with what matters—and right now, Google+ matters. Taking the time to optimize your page and profile, share interesting content and track your efforts puts you on the path to higher SEO rankings.
What do you think? Have you seen value from your company's Google+ page? Share your experience in the comments!