Have you got a decent following on Twitter? Wondering how to use Twitter Spaces to connect with them?
In this article, you'll discover how to get started with Twitter Spaces, including tips to plan and moderate your space.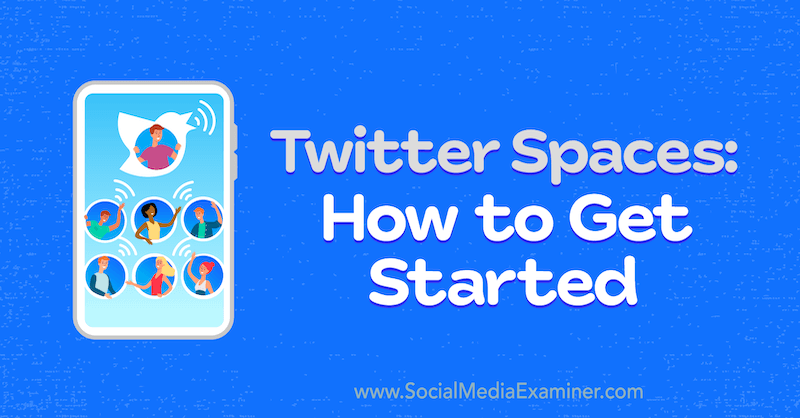 Why Should Marketers Care About Twitter Spaces?
Like so many other social platforms, Twitter continues to release new features and entrench itself into our everyday lives. One of the great things about marketing on Twitter is that businesses have already established innovative and unique ways to give their audience a peek at the personality behind the brand. Adding human voices behind the images and videos of a Twitter handle has become extremely important as social audio continues to rock the world of social media and marketing.
Just like radio a few decades ago and podcasts now, community members are tuning into social audio chatrooms where they can listen to the hosts banter, learn new skills, and jump into a conversation with their favorite brands and businesses. If you're looking to establish a dynamic presence, Twitter Spaces is the perfect new feature to add to your current Twitter presence.
Before social audio hit the mainstream in the marketing space, businesses had to spend a lot of time, money, and effort doing the type of market research and analysis that Twitter Spaces allows you to do for free. The ability to release new products, talk to your community about the future of your business, and get feedback on that roadmap almost instantly makes Spaces an invaluable tool to any brand.
Twitter Spaces also grants well-established businesses the advantage of being able to connect with their existing audience, rather than spending time trying to convince the audience to follow them over to another platform. So if you already have an engaged audience on Twitter, you can start using Spaces right away to connect with them.
Where to Find Active Twitter Spaces
To see if there are any spaces currently being hosted, open up the Twitter app and look along the top of the screen where you'd normally see the Twitter fleets. If you're following someone who's currently in a live Twitter space, you'll see their profile photo outlined in purple right there at the top.

Twitter has announced to a small group of beta testers that they'll be adding tabs to their bottom menu, as well as some other tools to make discovering new Twitter spaces easier and more intuitive.
#1: 3 Key Twitter Spaces Features That Aren't Available on Clubhouse
As more social media platforms begin releasing their own versions of audio chatrooms, people will inevitably be looking for a comparison of functionality and advantages among them. We'll look at a breakdown of some of the key differences between Twitter Spaces and the stand-alone app Clubhouse.
Twitter Spaces is currently open to any account with a minimum of 600 followers. If your account is smaller than that, Twitter has set up a form that allows you to request access to Twitter Spaces. This means that nearly any of Twitter's 330 million members can access and host a live Twitter space as long as they're within the Twitter app.
Clubhouse has been in beta for the past year and has grown solely off of the invitation-only method. This has helped Clubhouse maintain its exclusivity. There's no announcement yet as to when people can expect the beta, nor whether the end of the beta testing will remove the invitation requirement.
Pinned Tweets in Twitter Space
Inside Twitter Spaces, you can pin content in the form of tweets to the top of the live space. This allows you to highlight content for other speakers and audience members within the space to see and follow along with, retweet, and engage with.
To pin a new tweet, navigate to that tweet from within the Twitter app while the space is open and add it to the space. You can also pin multiple tweets along the top, allowing you to put together a presentation right there inside your live Twitter space.
Clubhouse's primary focus has been on the development of audio, not really visual aids or components. As people and businesses started to build rooms and conversations on Clubhouse, some got around the lack of visual aids by using their profile photos. In any Clubhouse room, you can pull to refresh the room, which resets the order in which the people inside the room are listed and refreshes their profile photos.
While you may not be able to see a series of posts pinned to the top of the room, you could pull to refresh the screen and view someone's new profile photo to get the information from there.
Emoji Reactions in Twitter Spaces
Twitter brought their existing emoji integration into Twitter Spaces, which allows any audience member, speaker, or host within a Twitter space to react in real time by highlighting an emoji that comes up over their profile photo. Choosing and sending an emoji is as easy as tapping on a small heart icon inside the Twitter space and then tapping on your chosen emoji.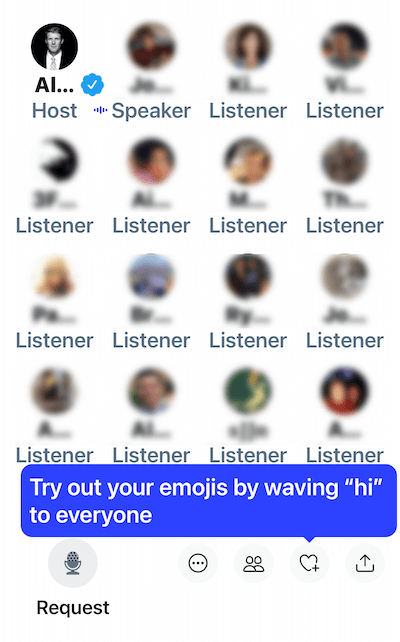 Clubhouse didn't bring in a reaction function to their app, again because they were focused on audio and conversation. As such, the first users on the Clubhouse app started flashing their microphones in response to anything another speaker was saying. That flash of the microphone has since been adopted by every user on the Clubhouse app, becoming part of the Clubhouse culture.
Ability to Rename Twitter Spaces as the Conversation Changes
Twitter Spaces takes into account the way people talk—the habit of starting a conversation about one thing and eventually digressing to something completely different. Should that happen inside your Twitter space, you can easily change out the pinned tweet and rename your space to reflect the change in conversation to let potential listeners know.
Clubhouse launched as a drop-in audio app, focusing on short, specific conversations rather than long or drifting conversations. Therefore, you're encouraged to choose a title at the beginning of your Clubhouse room that lets people know what to expect when they drop in.
Should the topic change too much—where it's no longer the same as the title suggests—the protocol is to close the room and start a new room under a new title to continue the conversation. This keeps the hallway fresh with active and new rooms being opened up, even if the new room is a continuation of a different topic.
#2: Prepare to Host a Twitter Space
While it's perfectly acceptable to throw up a new Twitter space, go live, and just hold an impromptu conversation, if you want to maximize the connection that a Twitter space can give you with your audience, there are a few things you'll want to set up in advance.
First, make sure you're bookmarking any tweets you plan to highlight and pin during the Twitter space. To bookmark a tweet, navigate to the tweet from within the app, hit the share icon at the bottom right, and select bookmark. Bookmarking a tweet doesn't notify the tweet's author or display the bookmarked tweet to anyone publicly, which allows you to curate the content without spoiling anything for your audience.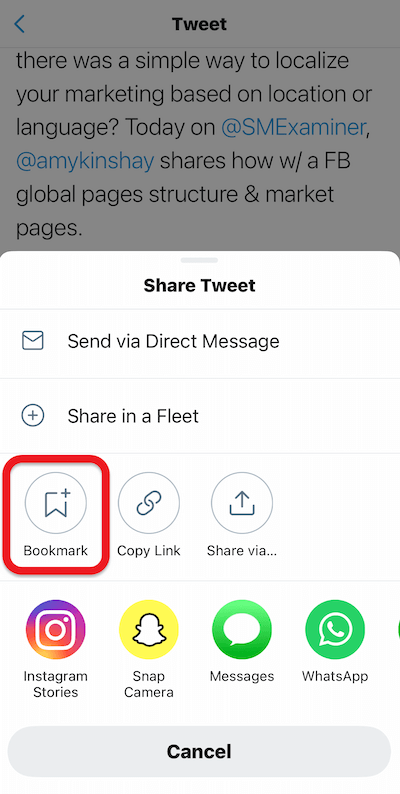 Next, create a hashtag you can use for your Twitter space. Having a hashtag gives people something to search and share for the space itself, connect with outside of the live space, and help people learn the overall topic of your Twitter space.
For example, #ViralTalk, a popular Twitter space founded and hosted by Reesha, monitors social media for viral content. When hosting a space, Reesha interviews the subject or author of the viral news. To encourage participation, audience members can post a question using the #ViralTalk hashtag. Reesha will then find and pin that tweet to the top of the Twitter space to get the answer.
Make sure you spend some time getting yourself hyped up and ready for the conversation. The absence of body language doesn't mean that people won't pick up on things such as if you're under the weather, tired, or just not in the mood to chat. If you have a scheduled Twitter space and you're feeling low-energy or just not up to talking, take some time to turn it around. Keep in mind that as people drop into your Twitter space, they'll be able to pick up on your energy right away. And if they don't like what they hear, they could drop right back out to find a new space.
As with any live conversation on any social platform, compile a list of talking points before you launch the Twitter space. This will help you keep the conversation on point and moving, as well as help reduce dead air or lulls in the conversation.
And finally, think about the overall topic of your Twitter space and if there's an "umbrella topic" that all of your conversations and Twitter spaces would fall under. Reesha uses an umbrella topic of joy as a reminder that each of her Twitter spaces aims to convey a feeling of joy and leave people feeling more positive about their experience in the Twitter space. This is a topic or mission that spans multiple live Twitter spaces.
#3: Go Live in Your Twitter Space
While you're live inside your Twitter space, there are some things to keep in mind that will help enhance the experience for your entire community.
First, be sure to open the conversation with a brief introduction of who you are and the topic of the space. You may also want to take a few seconds to remind your audience that Twitter Spaces is still largely in beta, and therefore bugs may happen. This will give you a chance to let listeners know what to do or how to find you should something go wrong.
Also keep in mind that Twitter has integrated a few visual components with their audio chatrooms, such as the pinned tweet at the top and emojis from the audience below. You'll want to keep the conversation fresh and updated by routinely changing out the pinned tweet at the top of your Twitter space to match the topic at hand.
As people use their emojis to react to the speakers, on occasion you'll want to respond to those reactions and just let people know that you can see them. You can also bring it to the speaker's attention that whatever they just said is resonating with the audience. This type of verbal affirmation of the emojis being used helps audience members feel engaged, as if they're part of the conversation, while at the same time encouraging other audience members to jump in and participate.
At the time of this interview, Twitter did not offer a native way to record your Twitter spaces for repurposing. Since that time, Twitter rolled out the ability for hosts to download recordings of their Spaces.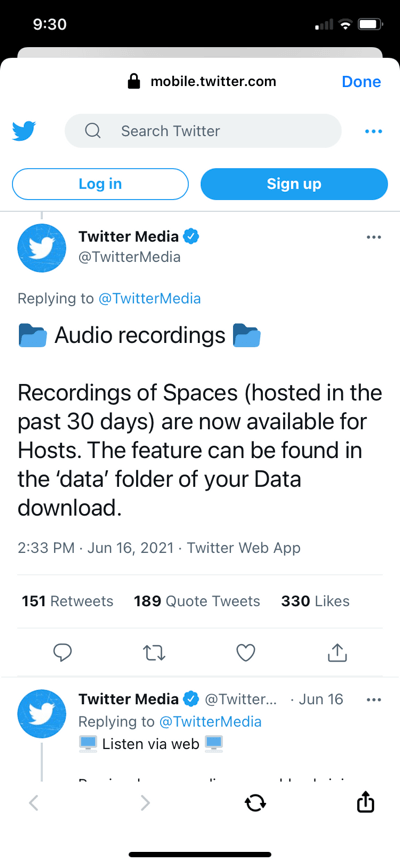 If you plan to record your Twitter space, make sure you mention that in the title of the space and leave that warning in the title while the space remains live. This will notify everyone before they enter the space that if they speak, they'll be recorded.
#4: Keep the Conversation Flowing
As the conversation rolls on inside your Twitter space, there are bound to be occasional drops or lulls, places where the speakers wrap up one thought and the conversation just naturally slows down. These types of transitions are risk points because they feel like a natural stopping point to many audience members who may then drop out of your chat and go find another conversation.
One way to keep the conversation rolling is to be careful about over-moderating your Twitter space. You want to make your presence felt and keep an eye on everything that's happening, but you don't want to interrupt the conversation for things like introducing a new speaker to the Twitter space or talking to a new audience member.
It's also a good idea to review the profiles of audience members as they come in and curate any members who would make good speakers or to invite to a future Twitter space. This can help you determine which audience members will contribute to the conversation and keep it alive, and gives you some tools to help protect the Twitter space against trolls.
And speaking of trolls, make use of Twitter's moderation tools as needed. As the host of a live Twitter space, you can mute any speaker who steps out of line, move them from the speakers' area back down to the audience where they won't have access to a microphone, or ban them from the Twitter space altogether as necessary.
Other Notes From This Episode