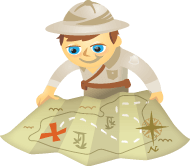 Do you want to use your LinkedIn profile to market yourself more effectively?
Have you thought beyond adding a list of jobs and responsibilities?
LinkedIn is the number-one social network for professionals, but that doesn't mean you have to treat your profile as a traditional, boring resume.
In this article you'll discover four ways to turn your bland LinkedIn profile into a LinkedIn marketing tool that attracts potential decision makers.
Develop a Plan
Recent studies show that 71% of B2B marketers say relevance to the audience is the most important aspect of any marketing program. That applies to marketing yourself as well. When updating your LinkedIn profile, start by mapping out how you're going to use every part of your profile to show prospects you are relevant to them.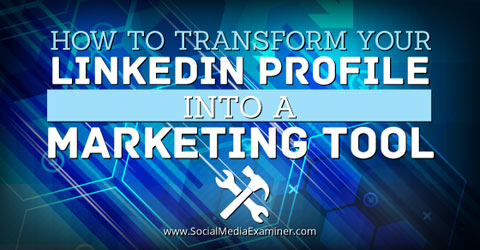 Listen to this article:
Where to subscribe: Apple Podcast | Google Podcasts | Spotify | RSS
You can also subscribe via RSS, Stitcher and iTunes. How to subscribe/review on iPhone.
When someone puts up a profile without giving any thought to it, it's likely to end up as a big mess. These generic profiles have muddled marketing messages and lack of focus.
The result is that it's hard to tell one consultant from another, which means B2B buyers can't clearly see how a profile is relevant to them. So how can you fix that?
Read on for four ways you can update your LinkedIn profile to market yourself.
#1: Use Bold Headlines
You've probably seen more than a few LinkedIn profiles with headlines that simply state a current employment position. That's exactly what one would expect to find on a resume, right? But we want to get away from the basic resume.
Your LinkedIn profile should include a bold headline. Instead of telling prospects your position title, give them more. My LinkedIn profile leads with a strong headline that makes people want to keep reading: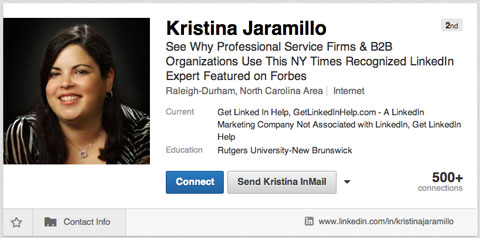 I'm inviting people to learn why I'm the best choice for the job, while clearly stating my expertise—and it looks nothing like a traditional resume. I'm more likely to stand out in the sea of consultant profiles.
You can do the same. Ask yourself a few questions: What is your expertise? How can you back that up (e.g., published articles)? Who has endorsed you? What projects show your success?
Now create a confident headline that reflects your answers. You'll use the rest of your profile to reinforce that statement.
🌟 Ready to Supercharge Your Social Marketing Strategy? 🌟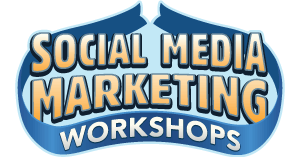 Struggling with your social marketing? You're not alone. The solution? The Social Media Marketing Workshops!

During these live 2 hour deep-dive workshops, you'll discover what's working now on Instagram, Facebook, TikTok, YouTube, and LinkedIn. Skyrocket your engagement, broaden your reach, and amplify your sales.

Become the marketing hero your company and clients need—without leaving your home!
🔥 Save $670 on an All-Access Ticket! Sale Ends Tuesday! 🔥
GET YOUR TICKETS NOW
You can start that reinforcement in the Publications section under your Summary. Include a list of your best articles published on respected websites that your audience is familiar with. Under each publication, include a brief teaser summary and an active link to the article.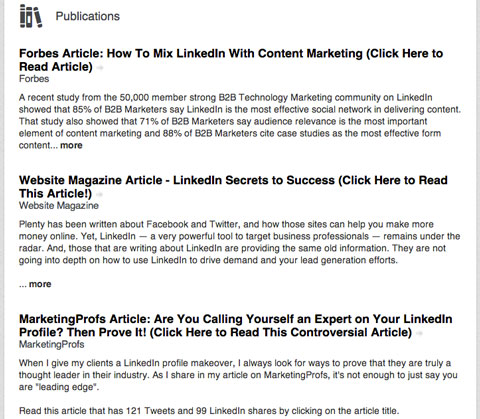 Move down to the Experience section. Go ahead and name-drop here. Associate yourself with known experts you've worked with or who've endorsed you to increase your credibility.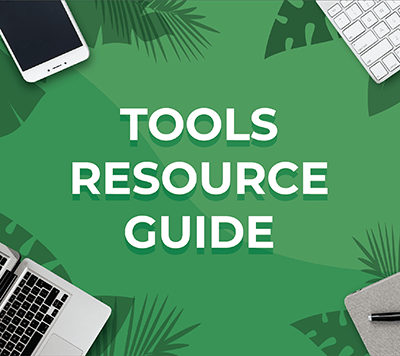 Looking for something to make your life easier?
Discover the tools we recommend to drive engagement, save you time, and boost sales across your entire marketing funnel or business.
Whether you need help planning content, organizing social posts, or developing your strategy, you'll find something for every situation.
FIND YOUR NEXT FAVORITE TOOL
#2: Tell Stories
The Experience section of your LinkedIn profile has potential that few business owners and marketers take advantage of. For example, most Experience sections look like a boring laundry list of responsibilities. The information is hard to skim and, if you're like me, you see an Experience section like this and say, "So what?"
Compare your Experience section to the one below from Jimena Cortes.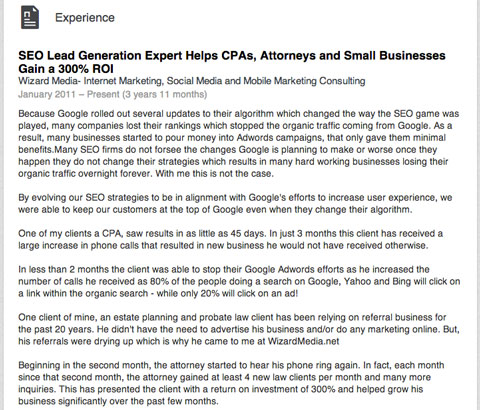 Jimena spends time telling a story to educate prospects about the problems they're facing; the reasons their Facebook, SEO and other Internet marketing efforts are failing; and what they should do about it.
Because Jimena took the time to educate her business buyers, a prospect came to her ready and willing to spend at least $36,000 per year.
When you look at your own Experience section, what does it look like? If it leans toward a traditional resume, rewrite your Experience section in a way that's interesting and shows prospects how you've helped other businesses tackle the same issues they're facing.
#3: Provide Case Studies
Recent studies show that 88% of B2B marketers cite case studies as the most effective form of content marketing, yet it's not common practice to share those on LinkedIn.
Darrin Fleming, Stratavant's managing director, uses case studies to show how top B2B brands that offer high-value solutions (with at least a $10K average selling price) are using Stratavant's tools.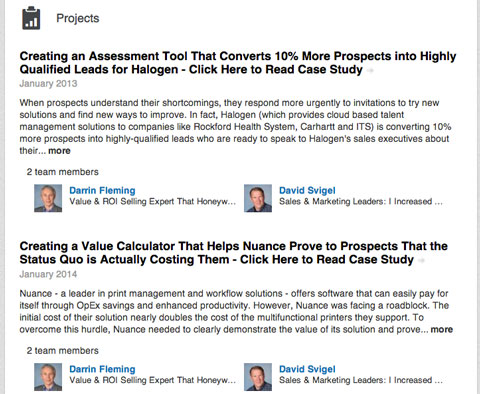 Darrin uses both the Projects and Experience sections to share the case studies. In the Projects section (where each title is a clickable link), he provides teasers for case studies found on his blog and drives traffic there. He uses his LinkedIn Experience section to discuss case studies not found on his website.
#4: Include Rich Media
Rich media is a way to quickly convey your expertise and relevance to prospects. With LinkedIn's Professional Gallery feature, you can add video, SlideShare presentations and other interactive tools to underscore your value. Unfortunately, few marketers or business owners take advantage of the opportunity.
WebAttract President Michael Agron includes videos in his Summary section to describe his webinar management process, along with testimonial videos to back up the case studies he highlights throughout his profile.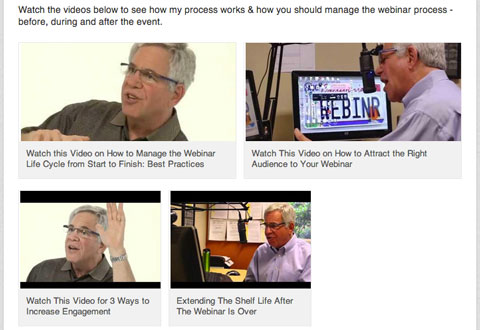 If you have video, include it. If you don't, consider sharing presentation slides you've used at conferences or creating slides from screenshots of your published articles or those that featured your expertise or quoted you. You could also show the brands you've worked with and succinctly state your contribution to their success.
Conclusion
More than a few business owners and marketers have given their LinkedIn profiles a makeover to attract more B2B buyers. So why do most LinkedIn profiles still look like boring resumes? The answer: Because business owners and marketers fail to optimize every section of their profile.
Rather than treating your LinkedIn profile as a traditional resume, make it stand out by making bold statements about your expertise and backing them up with concrete examples, describing how you've helped businesses achieve success, sharing case studies relevant to your prospects and including rich media to underscore your abilities.
What do you think? Have you updated your LinkedIn profile lately? Is your profile a resume or a marketing tool? Leave your comments and questions below.
Get Your FREE Course: Web3 for Beginners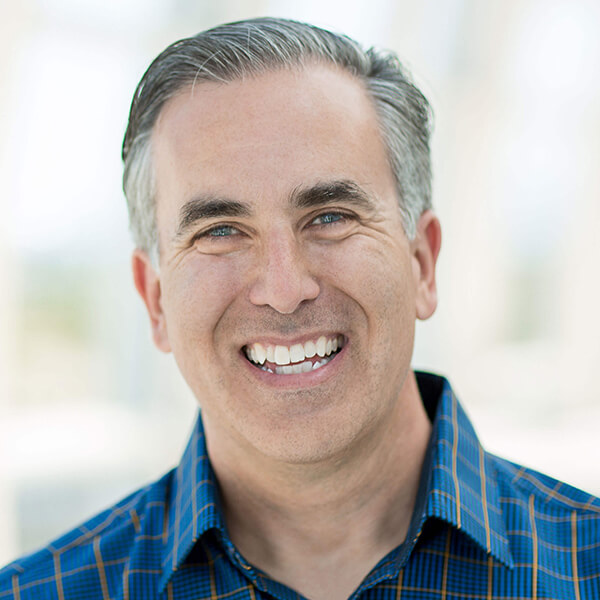 Curious about Web3, but don't know where to start or who to trust?

Introducing Web3 for Beginners, a course taught by Michael Stelzner, the founder of Social Media Examiner.

Learn the basics of Web3 and apply it to your business with this FREE comprehensive course.
CLICK HERE TO GET FREE ACCESS