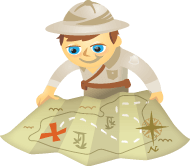 Do you want a quick, easy way to share content to LinkedIn groups?
Do you want to measure how your LinkedIn shares perform?
Oktopost lets you use multiple LinkedIn accounts to schedule shares and track performance.
In this article I'll share the basic ins and outs of using Oktopost for LinkedIn sharing.
Why Oktopost?
Much like HootSuite, Oktopost is a social sharing tool that lets you easily schedule content shares across the major social networks.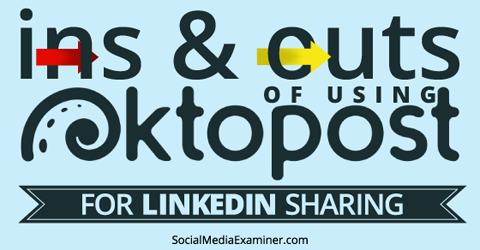 Unlike HootSuite—or any other tool that I've tested so far–Oktopost gives you deep insights into how your content is performing in LinkedIn groups. It also allows you to use a number of different LinkedIn profiles to share content in groups, which is important if you have multiple people in your organization contributing to LinkedIn content sharing.
Schedule LinkedIn Sharing
LinkedIn content sharing (and its success) depends on several factors like topic, audience, time of day and more. Depending on your goals for a particular piece, you may want to publish to your LinkedIn groups all at once or at staggered times. Oktopost gives you both scheduling options.
To share specific content with specific groups at the same time, click New Post and choose which LinkedIn profile you want to use as the publisher. (If you have multiple team member profiles on an account, you'll have several to choose from.)
Now here's where Oktopost scheduling gets interesting. Each time you join a LinkedIn group, you should assign a tag to it. Those tags show up in Oktopost and you can use them to select specific groups to share your content with.
For example, if I only want to share a post to groups related to content marketing, I don't have to scroll though my list of groups to find the ones I want. Instead, I can just click the 'content marketing' tag to automatically select all of the groups I'm in that are associated with that tag.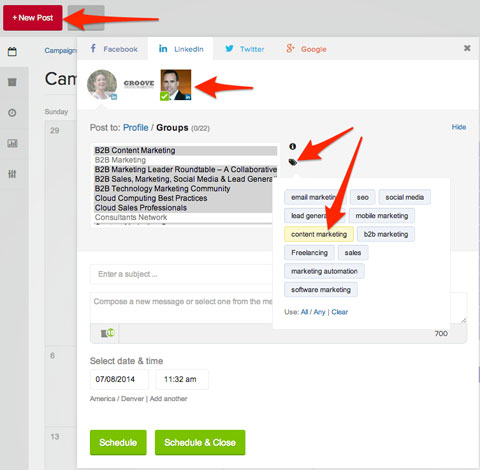 From there, fill in the subject line, compose a message, choose the date and time to publish and click the green Schedule button.
If you want to share your posts to multiple groups, but stagger the publish time (a good idea), create a message asset. You can create as many message assets as you like to promote a given blog post.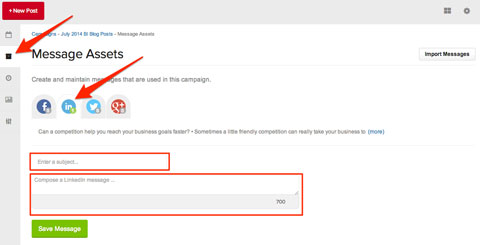 Once you've created your message asset(s), click on the Autoposter icon to create a sharing schedule for your content.
On the Autoposter page, select the LinkedIn profile you want to use and click on each of the groups you want to post the message to. (Unfortunately the tagging feature doesn't work in this mode yet.)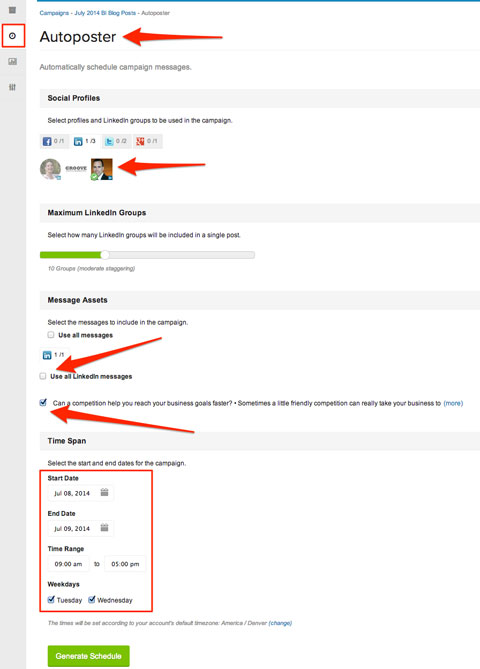 Select the message(s) you want to autopost and choose the dates and times you want them to publish. Click the Generate Schedule button and click Approve All on the next page (top right).
Watch for Comments and Discussion
If your goal for LinkedIn sharing is discussion (and it is, right?), it's important to keep up with replies to your posts so you can actually interact with people. Instead of checking LinkedIn repeatedly or relying on email alerts, you can use the Oktopost inbox.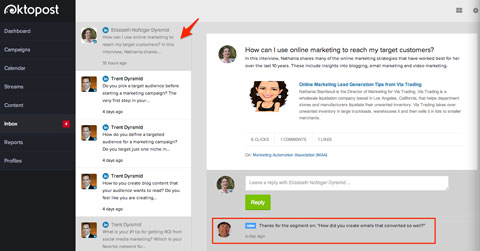 With the inbox, you can easily respond to any comments on any post in any group.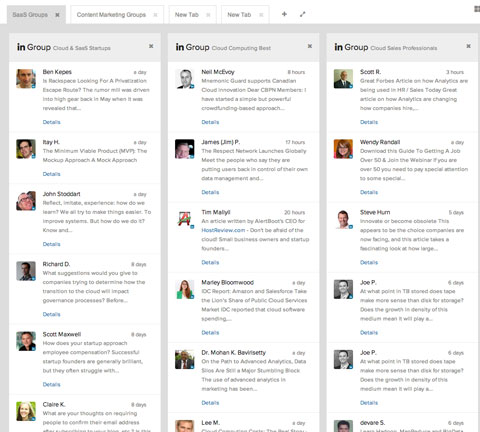 If you want to keep up with the overall activity of specific groups, you can create streams. In fact, Oktopost lets you create streams for the major social networks including Twitter, Facebook, Google+ and LinkedIn.
Measure Results
Oktopost's dashboard is organized into campaigns and gives you a high-level report of how each campaign is performing in terms of clicks, comments and conversions.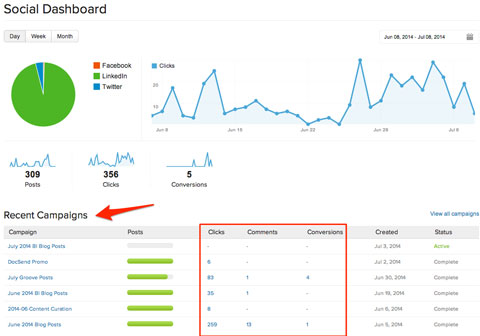 After you've used Oktopost for a few weeks, you'll start seeing the impact of your content in the Campaign Analytics section.
Below is the first part of the July report for the Groove Digital Marketing blog.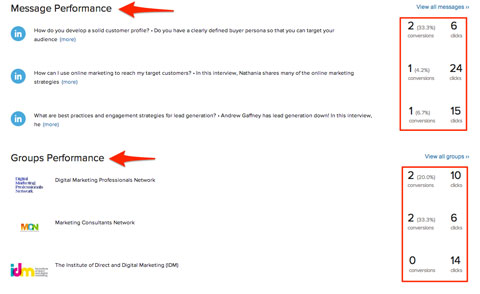 During this timeframe, we published 76 posts and generated 84 clicks and 4 conversions. The content also had 14 LinkedIn likes and one comment.
Knowing your shared content got some clicks is great, but what you really want to know is which messages and groups performed best. Check the Message Performance and Group Performance metrics to find out.
With this type of insight, you can make good decisions about how to craft future messages and which groups you might want to invest additional time and energy in.

These reports don't just show your social sharing results, you can also see which of your blog posts were top performers. Armed with this insight, you have a much better idea of the types of posts to create and share in the future.
Recap
Promoting useful content that sparks discussion in LinkedIn groups is incredibly valuable in terms of lead generation. With a tool like Oktopost, you can streamline your sharing and control when and where you publish on LinkedIn.
Listening to how other group members respond (to your content and others') and paying attention to data about your LinkedIn shares give you a good idea of what's working and what's not.
What do you think? Have you used Oktopost? Have you found another tool that provides this level of insight? Let us know in the comments below.