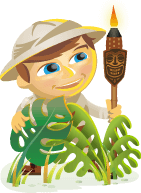 Do you have a social media plan?
Are you wondering how to build a social media strategy for your business?
To learn about the importance of a social media strategy, I interview Neal Schaffer for this episode of the Social Media Marketing podcast.
More About This Show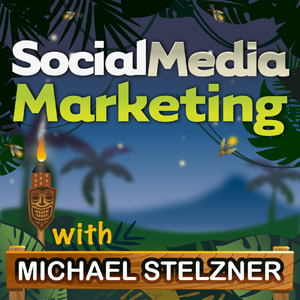 The Social Media Marketing podcast is a show from Social Media Examiner.
It's designed to help busy marketers and business owners discover what works with social media marketing.
The show format is on-demand talk radio (also known as podcasting).
In this episode, I interview Neal Schaffer, author of Maximizing LinkedIn for Sales and Social Media Marketing. He's a social media consultant and coach. His newest book is Maximize Your Social: A One-Stop Guide to Building a Social Media Strategy for Marketing and Business Success.
Neal shares the unique insights he gained while working overseas with companies that had to build their sales organizations from scratch.
You'll learn the core elements your social strategy needs to be successful and sustainable.
Share your feedback, read the show notes and get the links mentioned in this episode below!
Listen Now
Where to subscribe: Apple Podcasts | Google Podcasts | Spotify | YouTube Music | YouTube | Amazon Music | RSS
Here are some of the things you'll discover in this show:
Social Media Marketing Plan
Many marketers are solely focused on the 'how' rather than the 'why' of social media
Neal states that you should operate with a plan. The most precious resource for a marketer is time. Social media can drain your time, especially with the emergence of new platforms.
You need to have a plan—and more importantly, an objective—and be able to measure what you are doing. For a small business it's one thing, but if you are doing it on behalf of a client or a brand/company, they want to know what they will get out of their social media budget.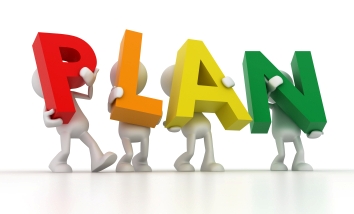 As social media becomes a mass skill, Neal thinks we'll see a lot more corporate oversight into what people do in social media.
If you concentrate on the tactics alone, then the value of a Facebook like is meaningless. It might be a secondary metric, but at the end of the day, you need to know how it affects your business objectives. If you just look at the tactics, you completely miss the whole business picture.
As a small business owner, it's easy to get caught up in the numbers. There is more focus on the 'how,' because you can be too concerned about trying to keep up with everyone else.
You'll hear Neal give an example of a hotel client's Facebook strategy and how it's not all about the number of likes you have compared to your competitors.
Likes are important to companies that want to get brand recognition in the marketplace—although it's not a business objective, it's more brand awareness.
Listen to the show to find out why the number of likes is only one indicator in comparing yourself to your competition.
How working abroad helped Neal in the new world of social media
After graduating from college, Neal moved to Japan, where he helped three companies in the high-tech industry. Neal says it provided him with a lot of extremely holistic business experience.
He had to launch their sales organizations from scratch and had to figure out how to get brand recognition across different countries in markets where they weren't known.
These jobs included sales and marketing, attending conferences, hiring people, dealing with legal issues and offering customer support. All of these roles led Neal to a very holistic view of social media in terms of not just using it for marketing but throughout the enterprise.
You'll hear why storytelling helped strengthen these Chinese brands and Japanese technology.
Neal gained unique insights while working with these companies and it has given him a way to look at things in a practical, rational and actionable way.
Listen to the show to find out about the analogy of thinking about a social network like a country.
Trends marketers need to understand 
One of the trends that Neal brings up in his book, Maximize Your Social, is the convergence of information and communication.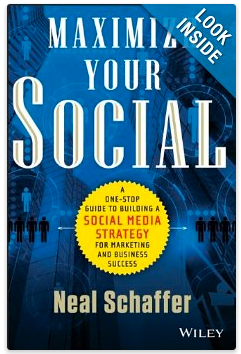 Social media users join social networks in order to get back in touch with friends on Facebook or colleagues on LinkedIn. When you start to share more information and ask questions, the more you go to these social networks as a source of news, visual inspiration or entertainment.
So what used to be about communication is now about information. Neal believes companies need to be informed and not just talk about themselves, but more about things that their target audience would be interested in.
One of the trends seen very clearly is paid social. With Facebook's recent announcement that you don't need third-party apps to do a promotion anymore, what they are trying to do is to get companies to invest more in Promoted Posts to market the campaigns instead.
In order to keep your engagement level up, you need to do Promoted Posts on a regular basis to keep your page fresh in people's minds. The idea behind paid social is that you need to pay to play, which is becoming more important.
A lot of companies believe that social media is free and that they shouldn't have to pay for it. With paid social, it can really assist your social media marketing. It can accelerate all of the organic things you do. Neal says it's a trend that everyone should acknowledge.
You'll discover how Neal uses StumbleUpon's Paid Discovery to generate website traffic and why he's had extreme success with it.
Most companies make the mistake with paid Stumble of having just a home page. Instead they should have something that's a resource for their target audience.
Neal has found with some campaigns that traffic from StumbleUpon has seen lower bounce rates, more time on site and more page views because you can target the right audience with the right information. It's all about relevance.
Listen to the show to learn what happens when the StumbleUpon crowd sees someone just marketing to them.
Where a business should start with a social media strategy
Neal states that you should start with your objectives. Most companies have multiple objectives, with brand awareness being one of them. Neal worked with a company for which reputation management through social media was their main objective.
The more defined your objectives are, the easier it will be to plan your tactics, metrics and measure ROI.
If you have a lot of different product lines, look at your own corporate strategy. What is your strategy outside of social media? This is where your social media objectives should map into your corporate strategy.
If you're a social media marketer for a company and don't know what the objectives are, then you need to ask your CEO or president, as it's these people who want to see how social media affects the bottom line. Ask yourself what the three strategic things are as an organization that you want to push forward on in the next 3-6 months or 6-12 months. You need to think how social media can help you.
You'll learn about the people you can use in your organization to help you create a more inclusive social media strategy, which will be more comprehensive and help you company-wide.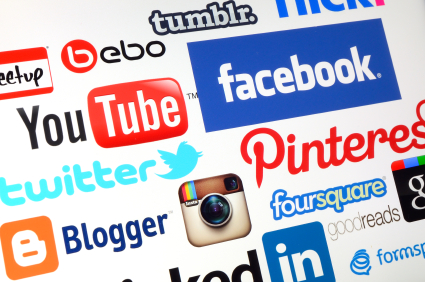 The next part of your strategy is to consider what social media channels you want to establish a strategic presence on. You then have to look at the different functionality of each channel that you can maximize.
As you measure and create your metrics from your objectives, you need to figure out how your activity on these channels contributes to your sales.
Over time, you will then see which platform contributes more to your sales. This gives you the insight into where you should increase and decrease your investment. You have to adjust these levels regularly and take a data-driven approach to be able to fine-tune it.
You'll hear Neal give advice for a new organically grown business whose objective is to drive more traffic to their blog and to get people to sign up for updates.
Listen to the show to hear about what Neal calls content buckets.
The advantages of paid social
Should someone even consider the paid social? Neal says it all comes down to the fact that time is money. There is an opportunity lost for whatever you do.
A lot of small businesses that have grown organically probably spend less than $100 a month on any given tool. You do have the free version of Hootsuite and Google Analytics.
You don't have to use paid social. The best way is to grow organically. This is easy for companies that already have brand awareness, but if you don't, it will take a lot longer. The problem is that it's easier for your competition to gain mindshare.
Neal advises to stop commenting on 100 different blogs and instead spend your time creating better content. For the time you save, you can afford to spend $20-$100 on paid social.
You'll find out the advantages of having an ROI attached to something.
Although paid social is one component, for Neal it's about maximizing potential. Whether you use it or not, it's something to be aware of. It's another tool in your toolkit that you can use.
One way to use paid social is if your goal is to reach 20,000 likes and you are only at 15,000, you could budget to supplement your organic growth rate to help you achieve your target. This can also bring in new blood that might engage with your content in a different way.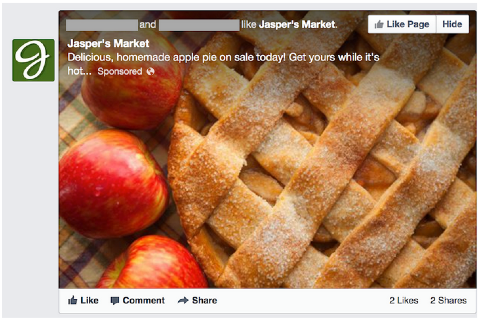 It's a component you should experiment with. If one hour of your time is worth $20, then spend it and use that time to do something that is more strategic or more valuable.
Neal is not saying that blog commenting and engaging on social media aren't extremely valuable, but you can't be everywhere at once. You have to be careful how you spend your time on social. Use paid to supplement it.
Listen to the show to find out how you can use paid social to get your name out there.
This Week's Social Media Question
Felipe Bzr asks, "I visited Coca-Cola's Facebook page and most posts were in German. With me living in Vienna, I discovered that they obviously found my location. I was wondering how they find out which language you use? How can I focus on a language if I'm an international company and I want one page for my company internationally and how can I spread the word in different languages without having different pages?"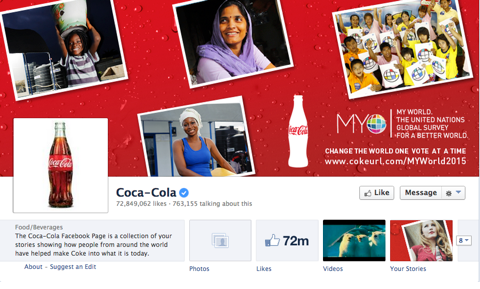 This is a great question and it doesn't cost anything to do this.
First you need to have a Facebook for Business page. When you go into the Status Update field, there is a little target that appears in the bottom left. You click on it and it will say "Target By" and you can choose from many different options.
For example, you can choose target by location. You will see all of the locations available. For the U.S., you can target by country, region, state or a city. For people outside of the U.S., it might be a little bit different.
You can then target any country you want and it will only show updates to people in that particular country, region or city.
A lot of big brands post updates in their customers', prospects' or fans' language and they will only be seen by the people in those regions. Facebook knows you are in a particular region because of the information you provide when you set up your Facebook personal profile.
You can do more than just target by location. You can target by relationship status, gender, educational status, age and language. Not everyone provides this data in their personal profile.
There are a lot of creative things you can do with targeting. Give it a try and experiment with it.
Call in and leave your social media–related questions for us and we may include them in a future show.
Listen to the show to learn more and let us know how this works for you.
Other Show Mentions
Social Media Success Summit 2013
Social Media Success Summit 2013 is a special online conference designed to help you master social media marketing (brought to you by Social Media Examiner).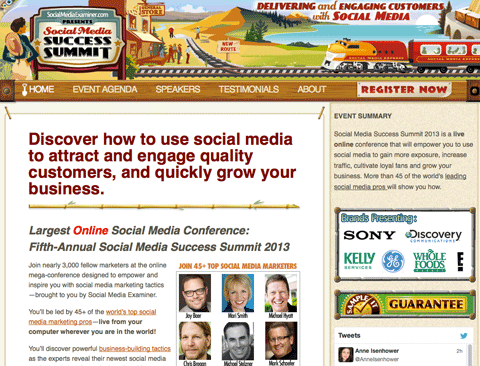 Forty-five of the world's leading social media pros will show you how. Instructors include Jay Baer (author, Youtility), Chris Brogan (co-author, Impact Equation), Mari Smith (co-author, Facebook Marketing), Michael Stelzner (founder, Social Media Examiner), Mark Schaefer (author, Return on Influence), Jesse Stay (author, Google+ for Dummies), Amy Porterfield (co-author, Facebook Marketing All-in-One for Dummies) and experts from General Electric, Sony, E! Online, Kelly Services and Discovery Channel–just to mention a few. Fully online. Click here to learn more.
We are only days away from one of the biggest and most popular online events we have ever done. Tons of presenters will present the absolute latest and greatest to you on everything from Facebook, Twitter and LinkedIn to blogging, podcasting and video marketing.
You will find a lot of great stuff here. If you want to take your professional development to an entirely new level, make sure you check it out.
Key takeaways mentioned in this episode:
Ways to subscribe to the Social Media Marketing podcast:

What do you think? What are your thoughts on creating a social strategy? Please leave your comments below.