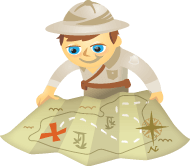 Is social media working well for you?
Are you approaching it the right way?
Everyone uses social media differently, and the approach you use should be based on your goals.
In this article I'll share three ways to use social media to get the results you want for your business.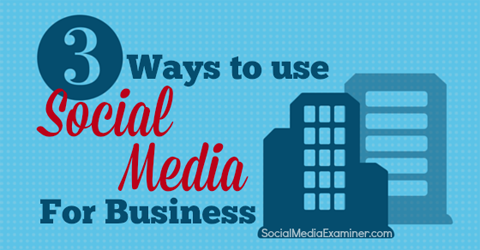 #1: Sell Products or Services
The instant nature of social media is ideal for sales. It's no wonder social networks have become full-blown marketing channels. Those using a sales approach make no bones about the fact that they want you to buy their product or service.
When you're selling, your updates likely include discounts and coupons, limited-time deals, new releases and promotions.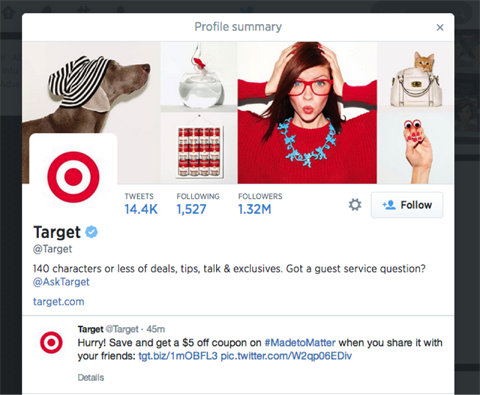 Pro
Taking a sales approach is a straightforward and direct method of marketing—any users who convert know exactly what they're getting into because they're ready to buy.
Con
The downside of this approach is that when you drop the social component and go full-bore marketing, you're defeating the purpose of social media. People don't want to feel like they're being sold to; they want to have a conversation, and ultimately, call the shots.
As marketers, you can't cut out selling completely—you have to find a balance. One popular way to structure the sales approach is known as the 70-20-10 rule.

Here's how Social Media Examiner explains it:
"Remember to stay true to the 70-20-10 rule: 70 percent of your Page's content should be information that's valuable and relevant to your fans; 20 percent should be content that comes from other people and 10 percent should be promotional."
Balancing sales pitches with informative and relevant content is a good way to increase sales without being annoying.
The Conference You've Been Waiting For
As a small business marketer, you can probably only pick one or two events to attend each year. Get back into the game with an unbeatable conference experience and expert training at Social Media Marketing World in sunny San Diego, California—from your friends at Social Media Examiner.
🔥🔥 As a valued reader, you can save $350 if you act now! Sale Ends Tuesday!
CLICK HERE TO LEARN MORE
While the hard sell can be a turnoff if it's overused, don't be afraid to promote your product or service. Social media is a legitimate and expected form of marketing. If you don't ask for and expect sales, you won't profit from social media marketing.
#2: Become a Leading Industry Resource
The most typical social media approach is positioning yourself as a resource. Content marketing professionals recognize social media channels as conduits and use them to pass information to fans, followers and customers.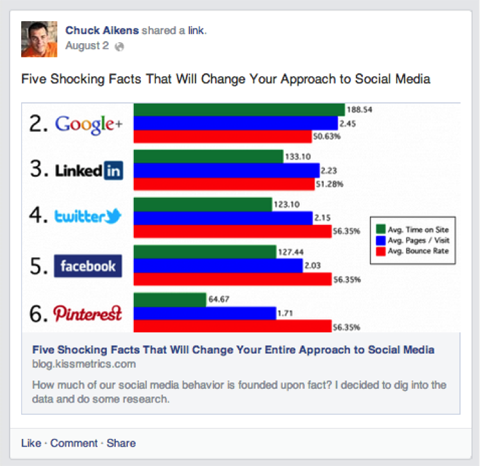 If you're using this tactic, your updates include tips, advice and links to interesting or industry-related articles and resources.
Pros
Providing the information your audience craves translates into lots of follows, shares and positive word of mouth.
Not only that, your social role as a trusted resource identifies you as a leader. People come to see you as someone who always has a great link to share and consistently gives out good information or advice.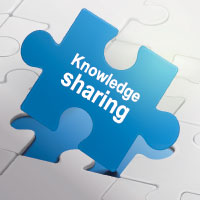 When people view your social media feed as a resource, they'll also view your own content as powerful and authoritative. This makes it much easier to share your own articles and views without coming on too strong.
Cons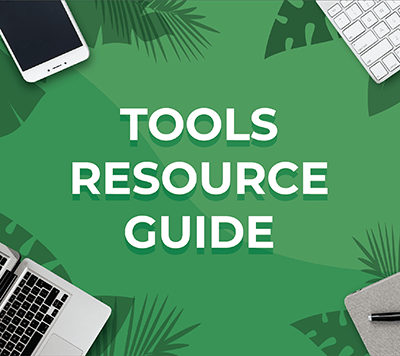 Looking for something to make your life easier?
Discover the tools we recommend to drive engagement, save you time, and boost sales across your entire marketing funnel or business.
Whether you need help planning content, organizing social posts, or developing your strategy, you'll find something for every situation.
FIND YOUR NEXT FAVORITE TOOL
The biggest problem I've seen with this approach is boredom. If your social feeds are nothing more than links to articles, you become predictable.
It takes quite a bit of time to find the best articles and resources to share. As Buffer staffers admitted, "We tend to read a lot of content at Buffer. And I mean a lot… We share 25 stories per day. We read even more that don't make the cut." Unleashing content at that rate is going to take some serious scouting time.
Plus, if you work in a narrow niche, you may find yourself in the challenging situation of sharing great articles from your competition. On one hand, your competitor may be producing great content you can't ignore. On the other hand, sharing that content may pose a strategic challenge if your goal is to promote your own service's superiority.
#3: Provide Quality Customer Service
All companies want to give their customers the best experience possible, and right now that means providing customer service on social media. These days, many customers choose to bypass annoying phone menus and hold times in favor of a quick social media update (tweets are particularly popular).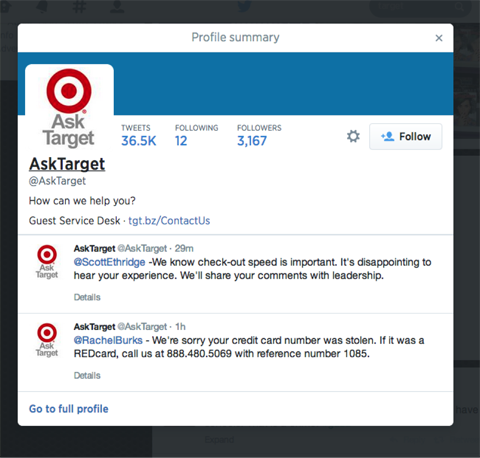 If you're providing customer service online, many of your interactions will include tips, tricks and hacks, information on how to use your product or service and solutions to complaints, obviously.
Pros
With social media you have an opportunity to provide awesome customer service in mere minutes. That kind of immediate response tells people you have a strong commitment to customer satisfaction and a customer-centered presence.
As you monitor mentions to keep up with customer service issues, you can also keep track of customer sentiment—you'll see feedback on how your customers are doing and what they're feeling. This is an opportunity to understand how people perceive your brand in the social environment. You can use that information to identify where and how to improve your service.
Cons
If you're using Twitter for customer service, your main account can be awfully boring when it's nothing more than customer inquiries and responses. Your feed will be a painful waste of time for anyone not directly interested in those discussions. To avoid that, some companies set up separate accounts for the sole purpose of addressing customer service issues.
Customers' intense expectation of an immediate response can be exhausting. If you don't have the staff to keep up with and respond quickly to customer service issues, you may find yourself in a bit of turmoil.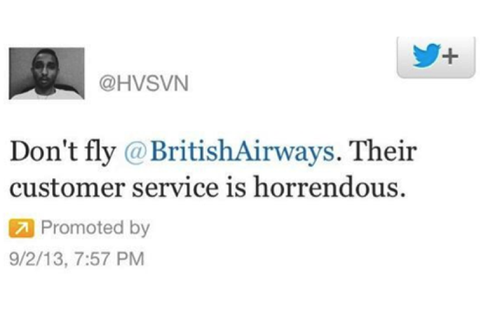 If you can't provide personal attention, you risk your reputation. For example, Hasan Syad tweeted a complaint about British Airways' customer service (and spent $1,000 to promote that tweet). Over 77,000 people saw it. The company's response? "Twitter feed is open 0900-1700 GMT." That's not exactly the kind of customer service users expect from a multi–billion-dollar global brand.
Conclusion
I'm not suggesting that you can or will only use one approach in your social media marketing—that simply wouldn't work. As you've likely experienced, tactics are mix and match, and you combine them in a way that supports your current and long-term goals.
What I've provided here is food for thought. Considering the pros and cons of popular social media approaches helps you decide which ones fit your current campaign (and in what capacity). The combination you choose can create a social feed that is interesting, helpful, intriguing and valuable.
What do you think? How do you use social media for business? Which of these approaches do you use? Does one work better than another for you? Please leave your comments below.
Get Your FREE Course: Web3 for Beginners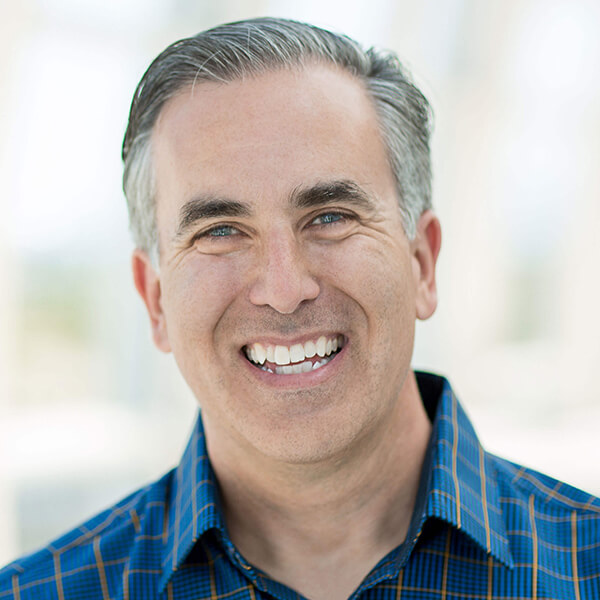 Curious about Web3, but don't know where to start or who to trust?

Introducing Web3 for Beginners, a course taught by Michael Stelzner, the founder of Social Media Examiner.

Learn the basics of Web3 and apply it to your business with this FREE comprehensive course.
CLICK HERE TO GET FREE ACCESS