Are you struggling to create TikTok content? Looking for a plan that allows you to experiment with different ideas?
In this article, we'll explore a process that provides flexibility and allows you to show up authentically on TikTok.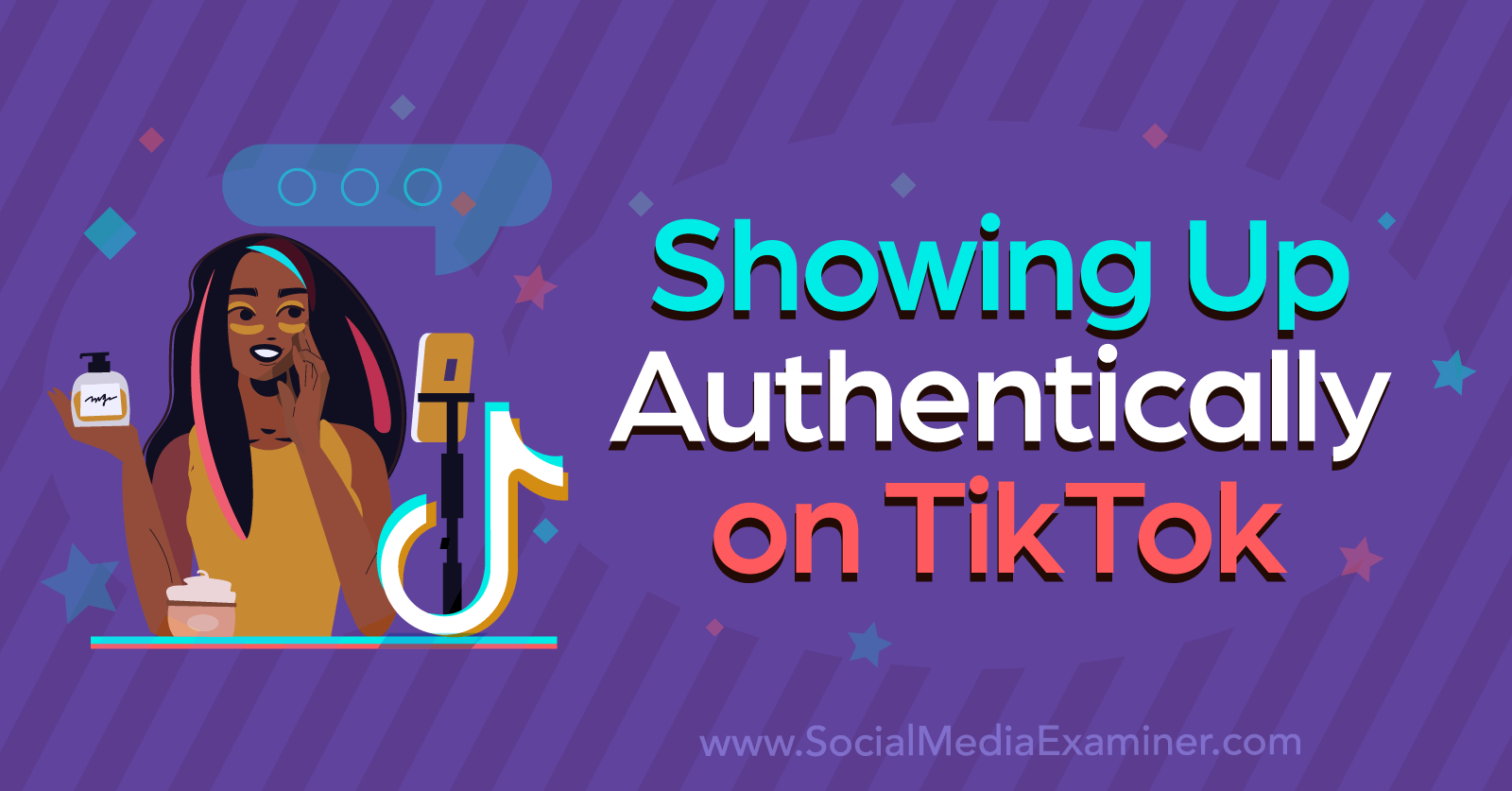 Why Should Creators and Marketers Focus on TikTok?
TikTok has rapidly grown to over 1 billion monthly active users, representing a massive opportunity for creators and marketers to reach a substantial audience. But simply having a presence on TikTok is not enough. To truly connect with your viewers and build a loyal following, you must develop an authentic point of view that resonates.
TikTok is less curated than many other social platforms like Instagram, for example. While the way you talk to the camera on IG Stories and Reels can easily translate to TikTok, it's important to be… well, human, without having to worry about the polish that comes with IG. Your audience wants to know who you are, quirks and all. Being your authentic self on TikTok allows you to stand out from the crowd and draw your viewers in.
By developing a strategy for finding your unique voice, humanizing your content, and consistently experimenting with different ideas. You can leverage TikTok to build engagement with your target audience while staying true to yourself. 
#1: Avoid TikTok "For You" Feed
When you first open TikTok, your "For You" feed immediately surfaces alluring content from across the platform. As enticing as it is, you don't want to get sucked into this never-ending loop of stimulation—don't chase the algorithm!
Spending too much time scrolling other creators' content can negatively impact your ability to develop original and authentic content. A lot of people spend time looking for inspiration, scrolling for their next best idea, and doing market research.
The tendency is to start talking to the camera and posting something on TikTok that ends up looking like an accumulation of the last 10 people you saw on your "For You" feed. While taking some inspiration can provide you with creative sparks, obsessing over what's working for others will make it hard for you to stand out.
Step Back and Focus Inward
Spend some time journaling, reflecting on your passions, and thinking about which topics light you up. Your passions will translate to your viewers. For example, what is one truth that is relevant to you today that might help someone else?
Also, think about the conversations you have with the people around you: family, friends, clients, etc. This can be a great source of inspiration because you're always speaking your truth to those people.
Think About Relatable Moments
What is something that you tried recently and loved? Was it a new piece of clothing? A platform you tried for your business and it became a game-changer? It's important to be clear about the intention of your content.
Instead of presenting an overly professional persona, share your candid moments, everyday observations, and real reactions.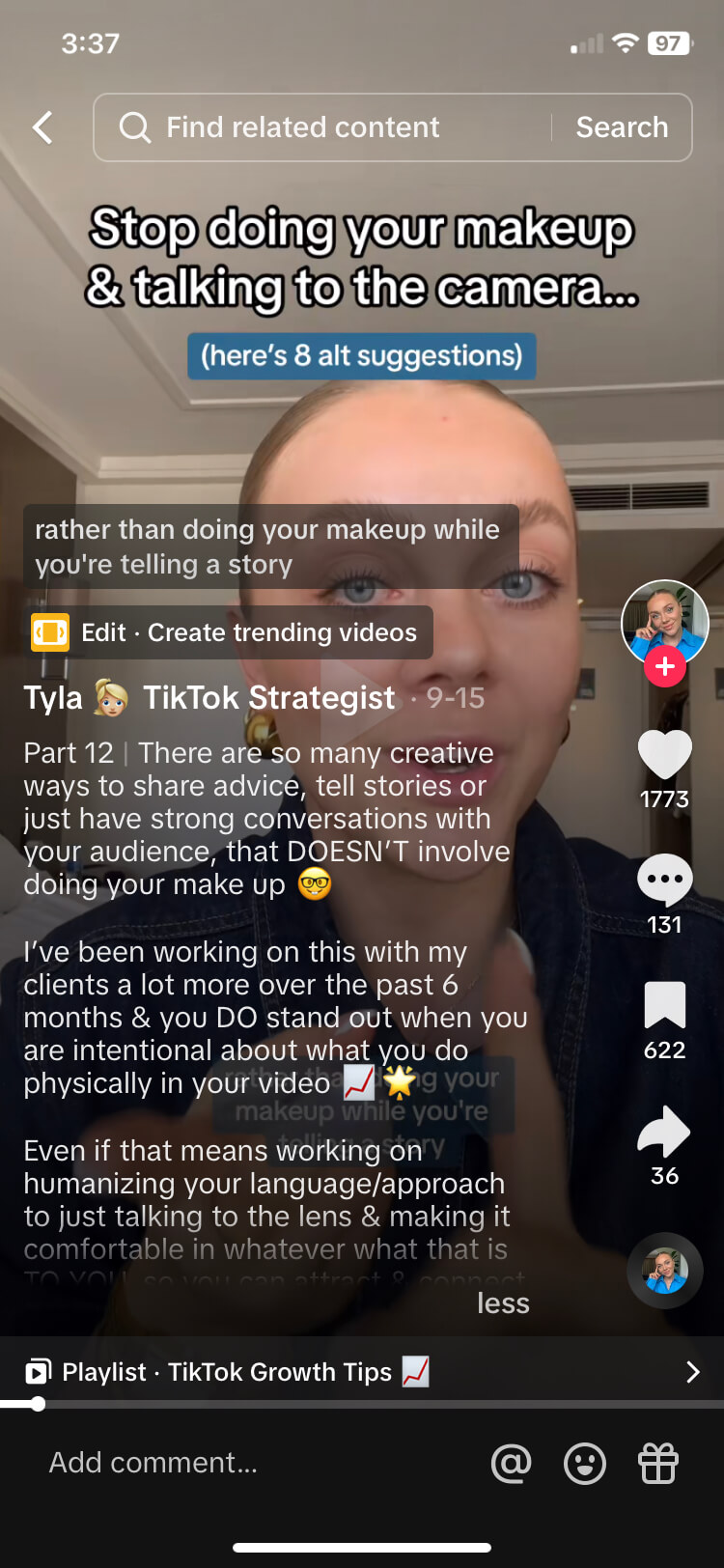 Think about sharing micro-stories about your day that would translate on screen. Tell a quick anecdote about how not using your phone during breakfast allowed you to taste your toast differently, for example. Relatability derives from life's small absurdities, not glossy production value.
Knowing the what and the why of your videos will not only help you create from an authentic point of view but will also help you gain impactful connections with your audience. Then, you can come up with video ideas based on your genuine interests and unique lived experiences, not what's currently trending.
#2: Focus on Humanizing Your Content
After identifying video ideas that reflect your authentic perspectives, infuse your personality into your content. Highly polished, overly perfected clips do not tap into TikTok's intimate and conversational feel.
On TikTok, you have a unique opportunity to give your audience a glimpse into your unfiltered self. This requires letting your guard down and embracing the sides of yourself displayed in close personal relationships as well. Again, think about how you have conversations with friends or clients. How do you approach those conversations? What comes naturally to you? Do you talk with your hands?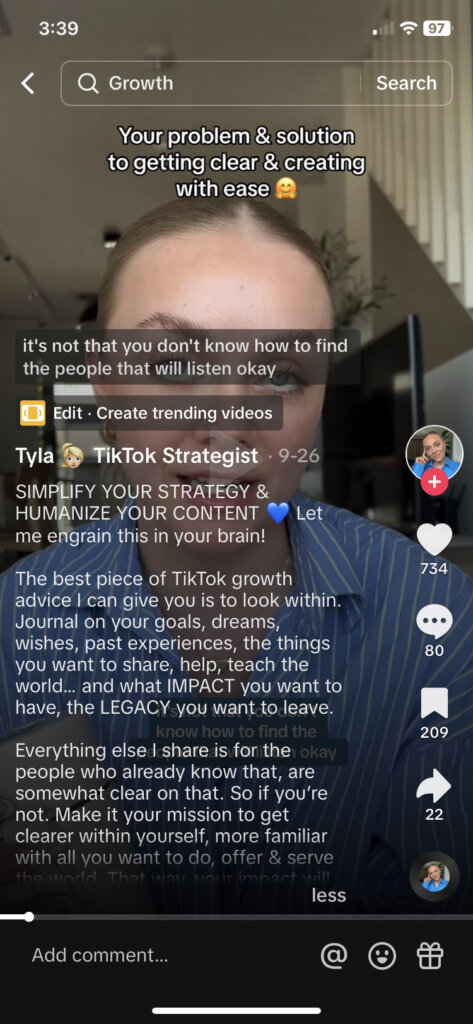 Bring your quirks, lingo, and gestures into your videos—your isms and the funky bits of your personality. If your brand has a key phrase, use it, and repeat it often. These certain characteristics will make you stand out.
Acknowledging the messiness of being human is also key. Little bloopers, stutters, or surprise cameos from your pets, for example, should be leveraged, not edited out. It's important to not treat TikTok like a diary though. Sure you can share some of your challenges, but you do not need to share everything. You want to make sure that what you're sharing is still relevant to your target audience. These real, relatable imperfections make you more approachable and will help you forge authentic connections with your viewers.
Get Your Reps In: Talking to the Camera
If you aren't yet comfortable talking to the camera, get your reps in. Start by recording three times throughout your day. You could record yourself sharing some insights while having breakfast, for example.
The point is to practice talking to your camera for 60 seconds at a time. You don't need to worry about filler words or even post everything you record—think stream-of-consciousness for video. When writers are stuck, they simply write for a set amount of time without lifting their pen. They're not worrying if what they're writing is any good. They're simply trying to get the creative juices flowing.
You will learn to improve through experience so that when you post, you're more clear and confident about your intention and your content creation is of higher quality.
Try these recording tips to help you optimize your videos:
Record directly in your camera app: This allows you to speak naturally without worrying about starting and stopping your recordings.
Record in selfie mode or reverse camera mode: Use a mirror or window when recording to help see your reflection.
Experiment with movement: Your subtle, genuine gestures and changing positions can make videos feel more like a natural conversation, like setting down or picking up a cup of coffee, for example.
Don't overproduce: TikTok videos don't need fancy edits and transitions. A simple clip of you speaking genuinely will connect with viewers. Use CapCut to trim B-roll clips, and add voiceovers directly on the TikTok app.
Use your real voice: Don't feel like you need to put on an artificial "announcer voice." Your unique tone and inflections help form connections to your audience. Your voice is also better than text on the screen and trending audio.
It's important to make do with what you have. You don't need fancy equipment to reach your viewers, just some space and your camera phone. You can hold a lapel mic if you are in public or a location with background noise. But sometimes, background noise is magnetic for viewers. You are exuding a certain level of confidence when recording yourself walking and talking, for example.
Again, think about what makes you comfortable because that will translate to your viewers. Maybe you're in your car, sitting on a couch drinking coffee with a friend, in an airport recording B-roll, for example. Wherever you're at you want to make your viewers feel like they're on FaceTime with you.
#3: Experiment With Your Ideas: The 30-Day Test and Trial Period
Next, actively test 30 distinct video formats over 30 days. The goal is to freely explore different types of videos and content approaches without worrying about views or engagement rates. See what resonates with you!
Simply focus on what you enjoy creating in the moment while testing various ways of talking to the camera, like using green screens and voiceovers, for example. You should be strategic and intentional about these experiments. This test and trial period will allow you to start narrowing in on what content styles work for you.
After 30 days, reflect on your content. Ask yourself these questions:
How did you feel about it?
How did it land with your audience?
What did not land?
What are the commonalities? For example, are you using the same lighting and background in videos that performed well?
From there, you can pick 3–4 video types within your content pillars to refine for the next 30 days—think about what you can keep consistent long-term. Not everything you tried is going to land with your audience, so identify the videos that organically felt best to you and seemed to connect most powerfully with your viewers. These become the tentpoles of your content strategy going forward.
You should revisit the experimental 30/30 framework frequently as you evolve as a creator or marketer. Continuing to test, reflect, and adjust your approach ensures your content remains authentic as you grow your voice.
Other Notes From This Episode
Where to subscribe: Apple Podcasts | Google Podcasts | Spotify | YouTube Music | YouTube | Amazon Music | RSS
✋🏽 If you enjoyed this episode of the Social Media Marketing podcast, please head over to Apple Podcasts, leave a rating, write a review, and subscribe.
---
Stay Up-to-Date: Get New Marketing Articles Delivered to You!
Don't miss out on upcoming social media marketing insights and strategies! Sign up to receive notifications when we publish new articles on Social Media Examiner. Our expertly crafted content will help you stay ahead of the curve and drive results for your business. Click the link below to sign up now and receive our annual report!