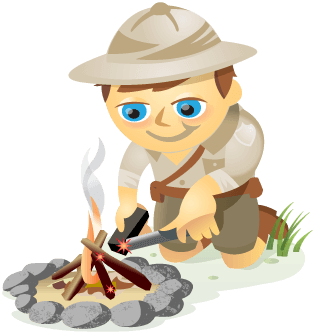 Are you looking for new ways to grab your fans' attention?
When was the last time you changed the way you share news and updates?
When you present your content in new, engaging and interactive ways, it stands out in a constant stream of competing information.
In this article you'll discover five free tools to help you avoid the same tired ways of sharing content.
#1: Make Your Images Interactive
ThingLink's fun, dynamic, visual format draws attention to your updates.
You can add text or multimedia overlays to any of your photos or images, but what makes this tool more interesting than others is that the results are interactive.
Viewers hover over icons to watch a video, listen to an audio file, link externally, complete a poll and more.
Home Depot uses ThingLink images to share room and home décor DIY suggestions and tutorials. For example, they overlaid this photo of a DIY Sawhorse Table with the prices of all the pieces you'd need to make it and links to a blog detailing the process. The links become visible when you hover over the image.
If you're a B2B provider, consider enhancing an infographic with ThingLink to highlight your services or your client successes with links to case studies, live web examples and other assets to showcase the breadth of your work.
Get Everything You Need to Become A Better Marketer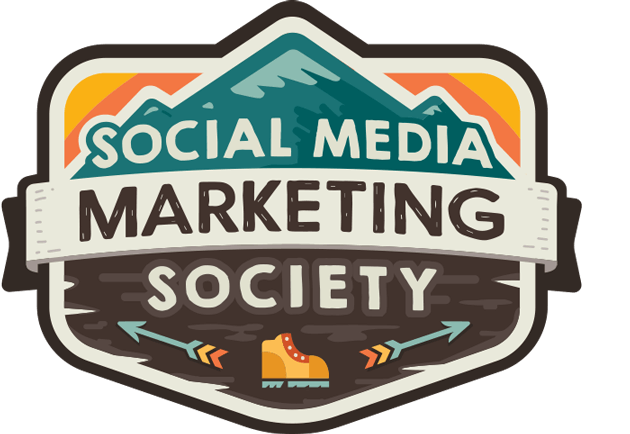 Looking for a one-stop-shop for marketing greatness? Try the Social Media Marketing Society to boost results and become a better marketer through deep-dive training and an always-on community of marketers. The path to better marketing begins in the Society.
START YOUR TRIAL TODAY
#2: Crowdsource Your Digital Story
The beauty of Storify is that you can pull in content from social feeds based on hashtags, keywords, URLs, user IDs and more—pretty much anything searchable.
You can drag and drop social media posts, YouTube videos, images from Instagram and more to build stories to embed on your site as a column, slideshow or grid.
While you can easily build a Storify using just your content, the tool is strongest when you integrate your content with your audience's.

For example, try crowdsourcing ideas and opinions from your most loyal supporters with a Twitter chat linked to a hashtag. SELF magazine asked their Twitter followers how they planned to get active in the new year and used the hashtag #UpnOut.
The magazine shared the responses and conversations in this Storify, creating both a sense of community and a source of information for those planning to exercise as part of their New Year's resolutions.
#3: Test Your Audience's Knowledge
Everyone loves a good quiz. Whether to learn, reaffirm knowledge or as a distraction from the daily grind, virtual quizzes are on the rise.
Qzzr's versatility means you can build anything from a "How much do you know about topic X?" quiz that results in a graded response (e.g., You got 7 out of 10 correct!) to a Buzzfeed-style "Which ice cream flavor are you?" that gives a fun random response (You're sweet cookie dough ice cream!).
Put Google Analytics to Work for Your Business (Online Training)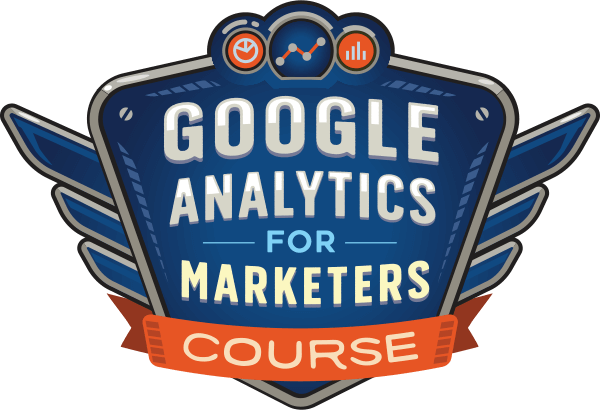 Ever thought, "there's got to be a better way" when it comes to tracking your marketing activities? Are you forced to make decisions based on limited data? With the right training, you can use Google Analytics to measure all of your marketing efforts with certainty.
You'll stop the leaks in your ad spending, justify your marketing spend, gain the confidence you need to make better marketing decisions, and know what's working at every step of the customer journey. Let the world's leading analytics pro show you the way. Check out our new Google Analytics for Marketers course from your friends at Social Media Examiner.
CLICK TO LEARN MORE: ANALYTICS TRAINING
For added interaction and reach, Qzzr's clean image-oriented design includes social sharing icons so visitors can easily share their quiz results with their friends.
KISSmetrics, a web analytics B2B provider, offers this quiz on the "12 Techniques of Advanced Web Marketers" to test your knowledge of social media marketing.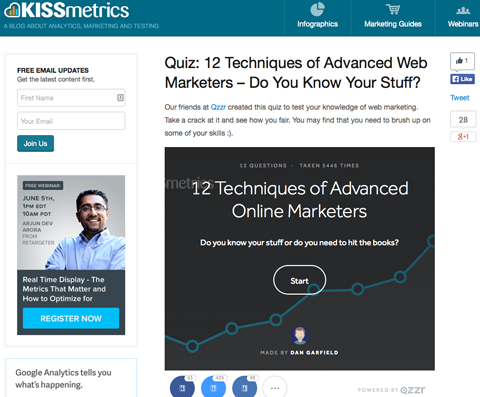 Whether participants triumphed or failed miserably, the quiz is a fun, subtle way to reinforce KISSmetrics' expertise as partners in web marketing or mentors for newbies.
#4: Tell Your Story With an Infographic
Infographics are in high demand because they're an easy way to present data or help you persuade customers they absolutely need your product.
The best infographics share a lot of data in a digestible format, but creating one can be daunting. Piktochart simplifies the process by offering free and premium templates and graphics and icons you can drag and drop into your infographic.
Creating this kind of visual content is less painful when you can adjust text size, font and color to create a professional, visually appealing infographic.
The B2B company E-complish created this infographic on the state of mobile payments. Using hard data, their infographic clearly demonstrates the need for businesses to offer a mobile payment option.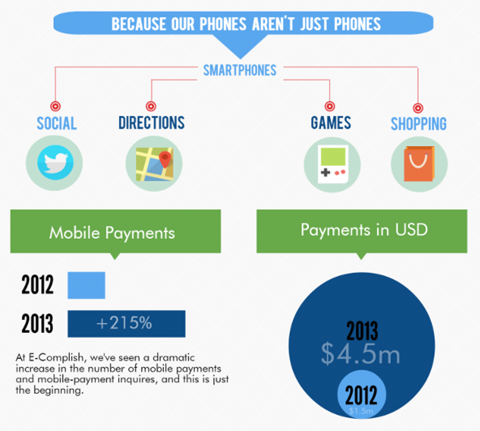 B2B brands are using Piktochart more often than B2C businesses. If you're a B2C business, you can use Piktochart to take advantage of the void and be among the first to showcase your products and how to use them.
#5: Turn Your Content Into Word Clouds
Use Tagxedo to create a word cloud from your web, social, blog or other content. Word clouds aren't just a great way to present content in a new light, they offer new insights into that content with a quick visual analysis.
The low-hanging fruit here is blog posts, speech transcriptions, important news articles, etc. Just enter the URL, play with the font, color and shape, and you're all set.
You can use word clouds to showcase both personal and business content. Depending on the relevance of the content to your audience, this 5-minute process makes a pretty strong statement.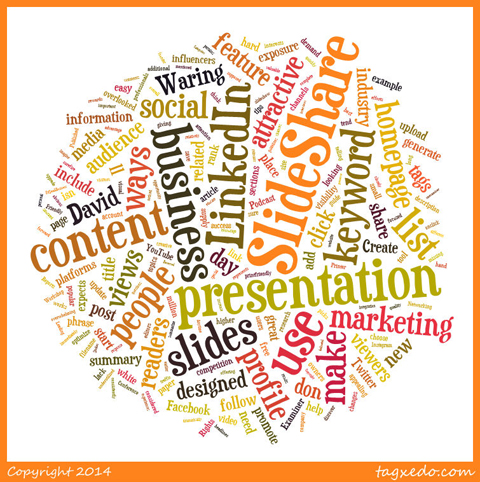 Want to get a little more creative? If you have a Facebook post that's getting a lot of interaction, create a word cloud out of the comments and share it as a new update that links to the original post.
Tagxedo doesn't recognize Facebook comments via the post's URL though, so you'll have to copy and paste the comments manually, but the result is worth the effort.
If that's too much work, consumer surveys or blog post comments also work well.
Wrapping Up
Social media moves quickly and your content flow has to keep up. The demands of a market that's evolving by the minute heighten expectations for fresh, quality content on a nearly impossible scale.
Take advantage of these free tools to satisfy your audience's appetite when you share content on social media.
What do you think? Have you used any of these tools? Do you have any to add to the list? Tell us about your experience in the comment box below!