Do you want more foot traffic for your local business? Wondering how Facebook ads can help?
To explore what local businesses need to know about Facebook ads, I interview Allie Bloyd on the Social Media Marketing Podcast.
Allie is a Facebook ads expert who specializes in helping local businesses. She's the founder of Allie Bloyd Media, a local business agency, and her course is called Remodel Your Marketing.
Allie shares what local businesses can accomplish with Facebook ads, how to use content in ads to generate leads, and more.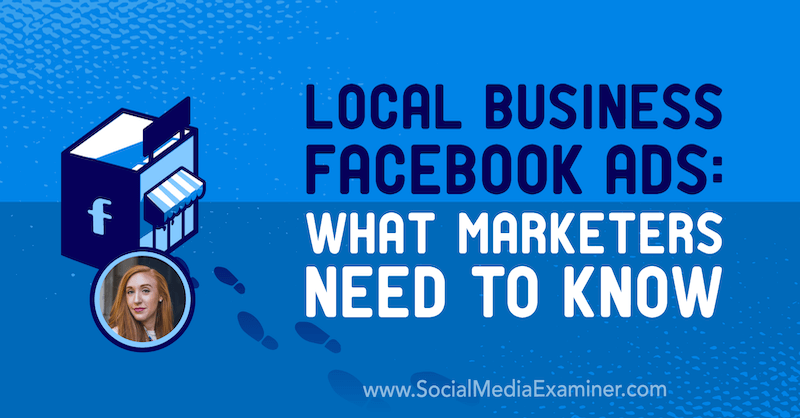 Getting Started With Facebook Ads
Developing a Love for Local Business
Allie combined her love of graphic design and talent for coming up with catchy slogans and taglines into a career in marketing. While still in school, she secured an internship at a publishing house specializing in local business trade publications. The internship became a full-time job and an opportunity to create a new trade magazine.
The magazine's content focused on the core areas of marketing, finance, technology, management, and sales that every local business really needs to know. Allie spearheaded the entire creation process for the new publication, from writing and design, ad sales and development, and so much more. She basically dealt with whatever was needed and she says the experience was eye-opening and thrilling.
Not only did Allie enjoy the sales and marketing aspect of running the publication, but she also discovered a love for running her own business. The magazine gave her an opportunity to speak to a variety of local business owners about the challenges and worries they actually face on a daily basis. This involved things like increasing foot traffic, generating leads, and staying on top of the ever-changing world of technology and marketing.
Expanding to Digital Marketing and Social Media
After leaving the magazine in 2015, Allie broadened her experience as the marketing director for two home remodeling companies in her local area. One was only service-based and the other operated as a retailer and service provider.
Both were generating several millions of dollars per year in revenue at the time, but didn't have a marketing strategy beyond TV advertising and tracking foot traffic. Their digital presence was confined to a Facebook page, a website, and a small email list, none of which was being fully utilized.
Allie overhauled their entire marketing strategies, starting with new websites. She also updated their social media profiles and developed blog and video content that focused on educating their customers. They began seeing positive results and feedback before there was even a need to invest any money into their Facebook marketing strategy. Allie explains that it was still possible to get good social media traction organically then, but that quickly changed.
Mastering Facebook Ads
As social media evolved and marketers could no longer rely on organic traffic, Allie shifted her focus to mastering Facebook ads. One of the companies began spending $1,000–$2,000 per month on their ads, which eventually increased to $7,000–$8,000 as it continued to see an enormous return on investment in what Allie was doing.
The Conference You've Been Waiting For
As a small business marketer, you can probably only pick one or two events to attend each year. Get an unbeatable conference experience and expert training at Social Media Marketing World in sunny San Diego, California—from your friends at Social Media Examiner.
🔥 As a valued reader, you can save $650 on an All-Access ticket if you act now! Sale Ends Friday! 🔥
CLICK HERE TO LEARN MORE
Outside of the financial returns, the company was building a name for itself in the community. There were tons of messages, comments, and engagement. Their audience was very vocal about what they liked best or what they wanted to see more of from their marketing efforts, which is the truly unique aspect of social media marketing. Allie found the response from the local community amazing.
Launching Her Own Business
Allie's two main goals for the company's Facebook ads were to drive foot traffic to the local retailer side of the business and drive leads to the service side. Balancing these two different segments gave Allie a tremendous understanding of the way most local businesses operate. They're either service-based providers or product-based retailers, and most have some sort of physical location.
A year ago, Allie founded her own local business agency where her main focus and passion has always been to help local businesses of all types mix strong educational content with paid advertising. Not only does she still work with the two home remodeling companies she helped grow, but she also gets to help other local businesses, too.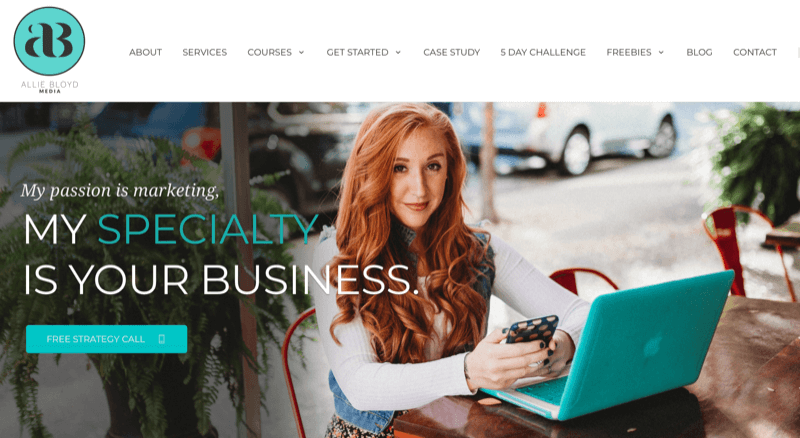 Why Local Business Should Use Facebook Ads
Allie details several reasons why businesses need to get on board with Facebook ads.
Social Media Is More Cost-Effective Than Traditional Advertising
The first is that potential customers are on Facebook and Instagram, and these platforms are far more cost-effective than traditional marketing channels. Allie suggests beginning at a price point you can afford and see what works for you.
Traditional marketing has been losing its effectiveness and its costs have been increasing over the last 5 years. Allie still believes in offline marketing efforts but recognizes that this type of advertising will cost you more than just starting something digital.
Facebook Develops Long-Term Relationships With a Local Community
The second reason is that Facebook ads can drive foot traffic and generate leads if done the right way. The content you share on Facebook and other social media channels allows you to develop brand awareness, establish trust, and build credibility with long-term results.
This tactic goes beyond getting people to respond to your ad on Facebook. It also brings a huge return on investment and is great for developing relationships in the local community where you live and work. Facebook ads let people around you know who you are and refer you to everyone they know. You want to get phone calls from people who say, "Hey, I keep seeing you all over Facebook."
Facebook Offers Educational and Value-Based Approaches to Ads
Facebook ads allow you to help your audience, as opposed to just selling to them. By taking an educational, value-based approach to social media, your Facebook ads allow you to reach people in a way that Google ads, TV advertising, or direct mail can't.
Using Facebook Ads for Local Business
The first step in getting started with Facebook ads is to set up a few different segments of cold audiences based on a solid understanding of who and where your ideal customer is. Cold audiences are people who likely don't know anything about you or your business, but who could fit the model of your ideal customer.
A local business should approach Facebook targeting quite differently than a large eCommerce business or one that has to reach a national or international audience. Allie cautions not to get too granular in your local Facebook targeting and eliminate too many people in your city too quickly.
Start with a broad cold audience based on your geographic location, gender, or age and interests. Depending on the kind of business you run, you can gradually add layers like marital status or number of children to see what types of results you get.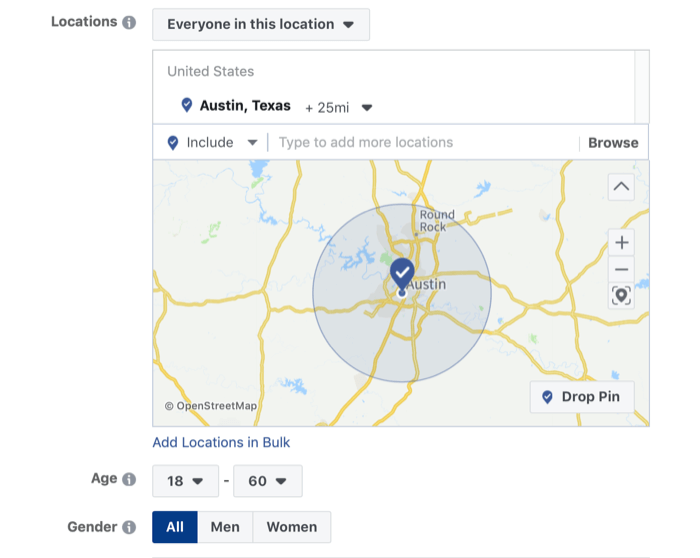 The key is to know your ideal customers and target them based on where they live; where they shop, work, and eat; or what they watch. On average, news media consumption indicates more education or higher income. If that's the kind of person you're looking for, different news stations and different media outlets in your area could provide good audience targeting for you.
Location Targeting Options for Local Businesses
If you have a business that relies on foot traffic or deals with high-priced items, begin with the areas of your city where your ideal customer might live. Those looking to draw people into a physical location or attract a certain type of clientele should target the sections of the city where their ideal client will most likely be. Being very specific about those places is an important targeting option.
Although Facebook no longer allows targeting based on zip code, it's possible to build target audiences based on a specific address or pin drop on a map. A pin drop can target a radius of at least 5 miles and an exact address can target a radius as tightly as 1 mile. Both can capture a radius of up to 50 miles.
This technology can also exclude areas of your city in the same way. To illustrate, a lower-income area that's right next to a high-end part of town can be omitted and save you from wasting ad dollars on people who aren't the right fit for your product or service.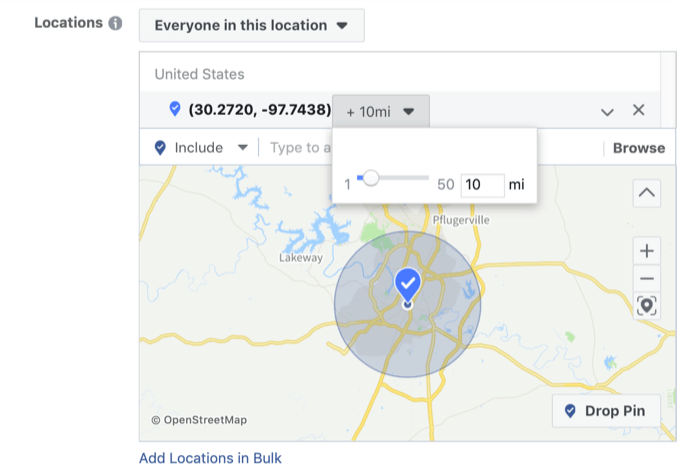 Build an audience around a mix of different pin drops or addresses and only hit areas associated with your ideal client. Nailing down this target area is your best bet in actually seeing strong results early in your Facebook campaigns.
Although it isn't widely available to all advertisers, Facebook is currently developing the technology to automatically retarget people who have recently visited your business location or been within a 1-mile radius of it. Apparently, this is still being tested with certain businesses and isn't yet ready to be rolled out.
Age and Gender Targeting for Local Businesses
Age, gender, and location are the highest-level targeting options Facebook offers. Like with location targeting, age and gender may not be a factor for most businesses. Even if 75% of your business traffic is female, there's no reason to exclude males from your target audience. Targeting by gender and age allows you to market to each group differently.
Interest Targeting for Local Businesses
As you approach interest targeting, don't limit yourself to the interests that identify someone who would like your exact product or service. Consider the interests that identify them as the right type of person who might like your product or service.
A home improvement retailer or a kitchen and bath shop could go after people who like similar brands like Home Depot or Lowe's on Facebook, as well as businesses selling complementary products such as Pottery Barn, Williams-Sonoma, or Pier One. People who like these brands show an interest in home décor and a willingness to spend money on things for their homes. These are the people a home improvement business would want to reach.

Find public figures and influencers in your industry or related brands. A yoga studio could use the top online yoga teachers, fitness clothing, or health food brands for their interest targeting. The idea is to think beyond targeting people who like yoga and look at the other things that your ideal clients would also be interested in. There's a good chance that they'll be interested in what you provide as well.
Using celebrities for interest targeting can be a double-edged sword, though. For instance, I suggest that a home improvement brand could target fans of Chip and Joanna Gaines from the popular HGTV show, Fixer Upper. Liking them must indicate an interest in interior design and home renovation. Having used this specific example in a past campaign, Allie found it wasn't the best performer in this instance.
Chip and Joanna's appeal is too broad and doesn't necessarily indicate plans to remodel a home. Some people simply enjoy consuming home improvement shows or are interested in remodeling but lack the financial means and desire to go ahead with a project of their own.
Having a relevant interest is different from being a potential customer for your brand. It isn't enough for someone to say that they like something. When selecting an interest targeting option, be specific and use other signals that indicate an ability to buy, rather than just a general curiosity.
Attention Agency Owners, Brand Marketers, and Consultants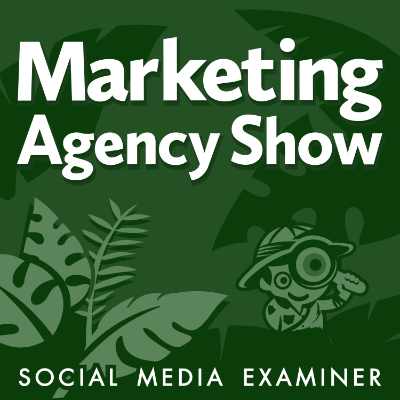 Introducing the Marketing Agency Show–our newest podcast designed to explore the struggles of agency marketers.

Join show host and agency owner, Brooke Sellas, as she interviews agency marketers and digs deep into their biggest challenges. Explore topics like navigating rough economic times, leveraging AI, service diversification, client acquisition, and much more.

Just pull up your favorite podcast app, search for Marketing Agency Show and start listening. Or click the button below for more information.
CLICK HERE FOR THE DETAILS
Facebook Ad Mistakes That Local Marketers Make and How to Avoid Them
When it comes to Facebook ad campaigns, there are three mistakes Allie commonly witnesses among marketers: not even attempting to run Facebook ads, being unwilling to invest enough time and money into doing them well, and running the wrong strategy. Facebook ads offer a lot of opportunities. It's a big mistake to overlook them completely, but she covers the other two mistakes in more detail.
Not Investing Enough Time or Money
Be willing to budget the time and money into Facebook ads to see tangible results. Even if you're only willing to spend $10 a day on your ads, that can be enough for some businesses. Businesses with a high cost per lead or cost per acquisition will require spending more than that on their Facebook ads.
Not giving yourself enough of a budget may kill the campaign before it even begins. Without support, your Facebook ads won't have a chance to reach the right people. Nor will you be able to test and optimize multiple parameters such as the creative, copy, and audience.
Every aspect of ad campaigns you run should be tested. Even if you're running your ads in different proven markets, the same creative and copy won't always work in every market or across every audience.
Having the Wrong Strategy
The wrong strategy or a faulty understanding of your goals is a huge problem. If you're not tracking progress toward your goals, you won't know if your ads and other marketing efforts are working, nor how to adjust them. This disconnect can make or break your business's success long-term and may lead you to shut down your very best opportunities for revenue.
For example, Allie has noticed that a lot of local businesses ignore or don't put a lot of value into growing their email list. Facebook is an amazing platform to help you advertise but email is still one of the only assets you actually own. You're missing a free marketing opportunity if growing your email list isn't a primary goal for all of your marketing efforts.
If your goal is to drive more foot traffic to your business or generate leads but you aren't tracking the foot traffic or which leads convert into paying customers, then you won't know if your marketing efforts are producing the right results. You also won't be able to determine which ads have the lowest cost per lead or produce the highest-quality customers for your local business.
Use Content to Generate Leads and a Loyal Audience for a Local Business
Allie shares three ways to use Facebook content in ads to generate leads and cultivate a loyal following for your local business: video, blogging, and educational events.
Some people love to read while others hate it. Some people love to watch videos or attend live events and others hate it. If you're only producing one type of content, you're likely missing out on a large portion of your audience. Give your audience information in the format that they prefer and let them decide what works best. You can even take the same topic and distribute it in all three ways in a fairly inexpensive and cost-efficient way.
Create Video Content
If a picture is worth a thousand words, then a video is worth a book because you can get so much more of your message out in a short time. People have short attention spans and they're typically more willing to watch a video than read a long post.
Video is also a great way to segment your viewers and pre-qualify them as your ideal audience. If a Facebook user watches a video about your products or service or the industry you're in, you can flag them as having some sort of interest in what you offer. Anyone who sits through a significant portion of the video clearly has a strong interest in your brand. This narrows your potential audience even further.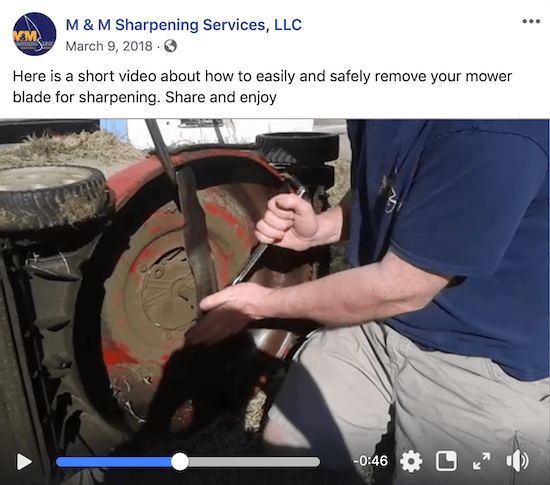 Here's an opportunity to build more trust and credibility and entice them to make future purchases with you. You now know that on some level these are the right people to be shown your future ads or more content.
Respond to their questions or when they tag friends and family in the comments. People who are tagged in video posts will be your best viewers because they've technically already been referred by a friend or family. This engagement is the strongest type of lead or customer because trust is already established through the referral.
Video is probably the most consumed medium at the moment, but it has to be created and produced wisely to be effective. A video can be funny or entertaining and still be basically useless if it has nothing to do with what the brand sells or doesn't drive the audience to complete a call to action.
Drive Blog Traffic
Blogs are still extremely relevant and have so many benefits today. Blogs build education, trust, and credibility, as well as show that you care and want to provide value to your readers.
Allie often finds that businesses are blogging but they don't put them on Facebook or mention them in social media. They simply don't promote them. Blogs should be shared and promoted on social media just like videos are in the video strategy previously discussed.
Reading a blog that focuses on a product or service you sell and is written as a solution to a problem rather than as ad copy can be a powerful indication of interest.
Even if people never click on the content, the fact that someone took the time to visit shows they want to know more about or from your company. Every blog visitor doesn't necessarily need to read to the end of every post. It's great when they do, but what really matters is that they took action to learn more about your topic.
There are a number of ways to leverage your blog audience. You can segment and retarget them based on the URLs they click, just as you can with the specific videos they watch. You can also include lead generation boxes to collect email addresses throughout your blog post.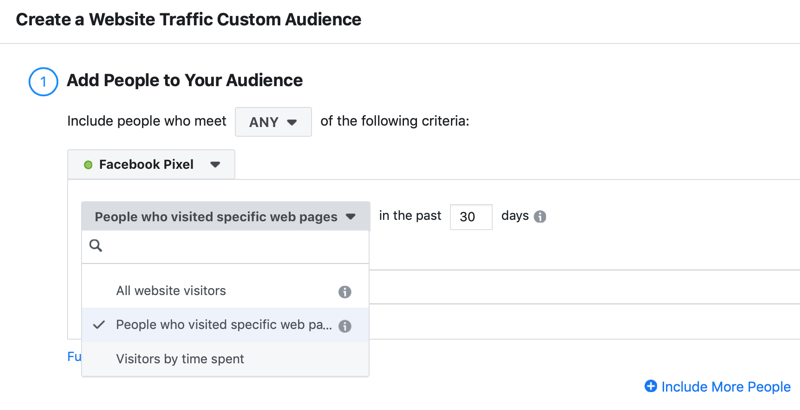 I add that people reading your articles aren't necessarily coming by way of your Facebook ads. They could be coming through an RSS feed, an organic Google search, or any other route. The good thing is that you can still remarket to them on Facebook just by tracking who they are, regardless of where they came from.
Host Local Educational Events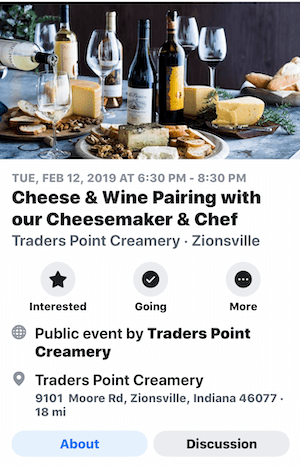 When you're part of a local community, some people will want to connect with you in person. One way to achieve this is through educational events held locally, which Allie has personally seen work well. Yet most businesses don't take advantage of the opportunity to connect beyond the digital space.
Using digital to leverage in-person educational events or demonstrations can drive the absolute best leads and potential client connections. Events can be a great offer, keep people engaged with your business, and provide a compelling reason to come through the door.
Begin by thinking about the topics that are very relevant to or complement your specific business. Consider things that your audience might like to know more about.
Healthy eating is related to fitness, so it makes sense for a gym or fitness studio to use a cooking demonstration to bring people to their location. Allie's home remodeling client could do a "kitchen and bath university" for remodelers. An IT company could offer a small business productivity workshop. There are many ways to execute this idea.
The face-to-face connection shows people that you're indeed focused on helping them achieve their goals. It doesn't have to be a hard sell, but you can definitely make an offer at the end of these events and get a lot of people to sign up or take the next step right then and there.
Even if some people don't sign up right away, you've planted a seed and made a connection that can be built upon. They might talk about your business or refer you to their friends and family simply because you gave them a great experience to talk about.
Allie recommends a two-pronged approach to gather registrations for these local in-person events. The first is through a Facebook Messenger bot, which she's found to be extremely successful. The second is a landing page that can be linked to or shared anywhere on the web. The idea is to give people many options to sign up.
In addition to handling signups and giving businesses the ability to send phone or email reminders, Facebook Messenger also offers the ability to send messages about the event. Having multiple touchpoints allows a lot of people to sign up and gives you the means to quickly and easily follow up after the event.
Facebook lead ads can also be an effective tool for driving registrations, although one of the pitfalls is that most businesses only ask for name, email, and phone number. Allie recommends asking for more information such as how soon they'd like to get started with a service or if they have a specific project in mind. This might reduce the number of signups; however, the quality of those who do sign up will be great.
Another drawback is that lead forms are designed for high volume and are usually auto-filled, which means the information may not be accurate. They're designed to allow users to register in two clicks. This is great for the user experience but lacks when it comes to driving truly serious, high-quality leads.
To overcome this issue, Allie suggests switching to the high intent button when you're setting up your form. This gives users a review screen where they can correct and qualify their information before submitting the finished form.
Discovery of the Week
Circleboom checks how many spammer, bot, inactive, or low-quality accounts follow you on Twitter and allows you to easily unfollow, block, or downgrade them. To access this service, go to the Circleboom website and click on the free Twitter analytics tool. Simply authorize your Twitter account and it will analyze your follower list.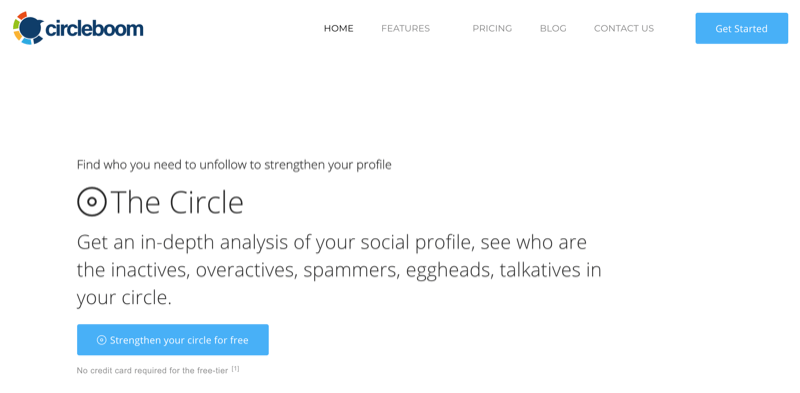 Circleboom provides a breakdown of the different criteria it uses to qualify which accounts are fake or spammers such as common nefarious actions, the number of links they tweeted in a row, and how long it's been since they last tweeted. It will then present a list of accounts you should consider unfollowing for various reasons.
Circleboom's suite of tools is free to use for one profile with some limitations. There are paid subscription plans to access more. You can access the tools and find out more about plans and pricing on the Circleboom site.
Listen to the show to hear more about Circleboom.
Key Takeaways From This Episode:
What do you think? What are your thoughts on using Facebook ads to grow your local business? Please share your comments below.
3 Days of World-Class Training—Zero Travel!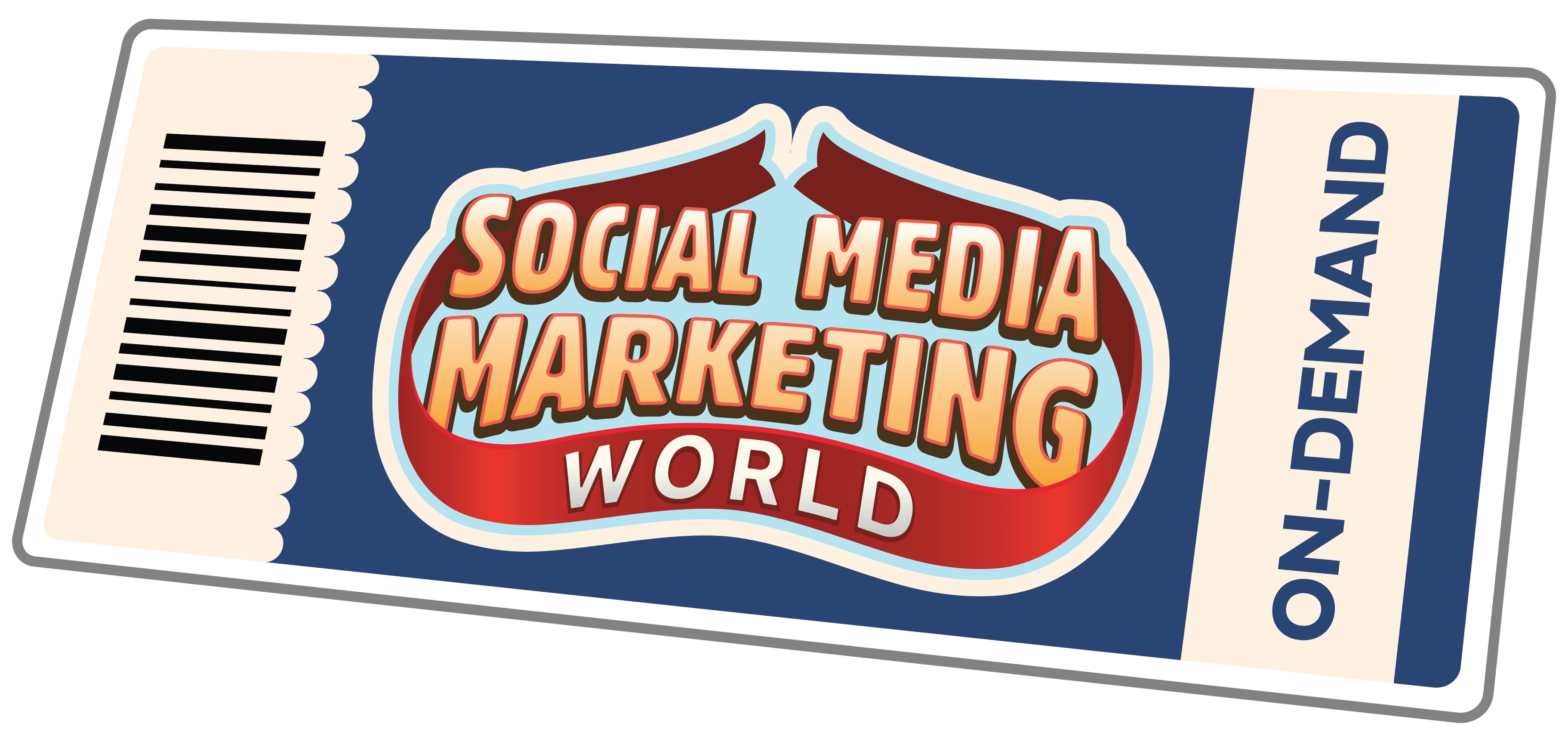 Travel to Social Media Marketing World off the table? Get all of the great content at a fraction of the price with an On-Demand ticket.

That's full access to recordings of every keynote, workshop, and session—the ones people travel thousands of miles to see. Don't wait. Get your On-Demand ticket and enjoy actionable content that you can watch anytime, anywhere.
GET YOUR ON-DEMAND TICKET NOW