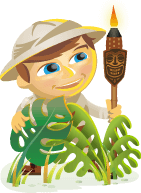 Interested in broadcasting live video?
Have you considered starting a live video show?
To explore how to create a successful live video show, I interview Luria Petrucci.
More About This Show
The Social Media Marketing podcast is an on-demand talk radio show from Social Media Examiner. It's designed to help busy marketers and business owners discover what works with social media marketing.
In this episode, I interview Luria Petrucci, a live video expert. She's the host of Live Streaming Pros, a live show dedicated to helping businesses produce professional live streams. She's helped big brands such as AT&T and Panasonic, and influencers such as Michael Hyatt, Amy Porterfield, and Pat Flynn.
Luria explores four levels of broadcasting equipment.
You'll discover how to create an engaging flow for your live show.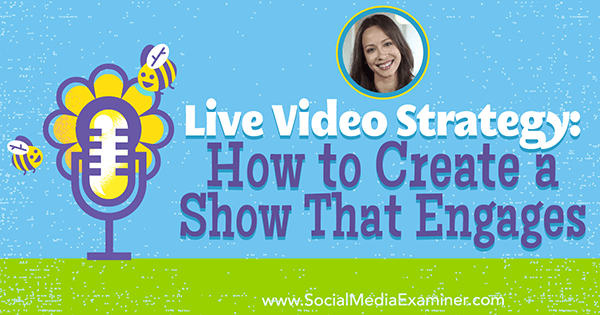 Share your feedback, read the show notes, and get the links mentioned in this episode below.
Listen Now
Where to subscribe: Apple Podcasts | Google Podcasts | Spotify | YouTube Music | YouTube | Amazon Music | RSS
Here are some of the things you'll discover in this show:
Live Video Strategy
Luria's Story
Luria got started with video in 2005. She was one of the first video podcasters to create content for the video iPod. (This was before the iPhone and long before YouTube "became a thing.") Shortly thereafter, Luria started doing live video, too. By 2007, she was live-streaming from a professional studio and from mobile devices and began learning how live video creates a connection with her audience. Ever since, she's been doing a weekly or daily show.
Before Periscope and Facebook Live, Luria's live-streaming tech included a NewTek TriCaster and Ustream. She also did some YouTube. Justin.tv (which is now Twitch) and Livestream were the other early platforms, although they focused more on business. Although Ustream focuses more on businesses now, it concentrated on creators back then.
Luria enjoys seeing other people getting excited about going live, because she's believed in live video for so long.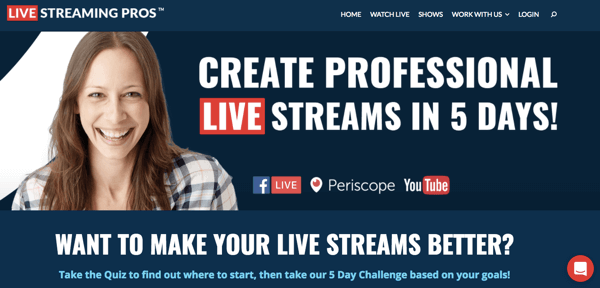 She says live video creates a strong relationship with her audience and is the reason her audience has stuck with her for 11 years through massive business changes, partnership changes, and all of the hard stuff that goes on in business. People tell her they've been watching her since day one. (Note: Back then, Luria was known as Cali Lewis.)
Listen to the show to discover what tech Luria used in the early days, as well as what live video was like at the beginning.
Why Consider Live Video
Live video is the best marketing conversion tool Luria has ever seen because of its impact. When people are watching you on live video, they know you're not faking it. When you're selling something or trying to lead people into a funnel, live video is easy because of what Luria calls the "conversational call to action."
Like most people, Luria has a hard time selling. People don't like to sell because they don't like to be sold to. The conversational call to action is really about helping people. You're letting them know you're there for them and will take care of them. When you offer something in a live video, it's easier to sell it because you're not really selling. When somebody asks a question, your answer proves the value of your products or services.
Also, although the excitement for and accessibility of live video is new, its formulas and structure are proven.
Listen to the show to hear what I love about live video.
The Four Levels of Live Video Gear
Luria explains what gear you need for live video in four levels.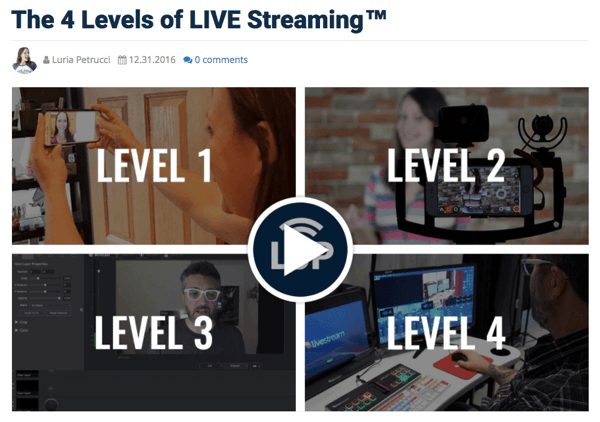 She calls level 1 the "selfie stream." You hold your mobile phone in your hand and the live video is raw, up-close, and personal.
For level 2, add some gear to your mobile phone such as a microphone, video stabilizer, and a light. This gear adds a little polish to your video and removes the shakiness.
Level 3 is going live from a computer with software like Wirecast.
Finally, level 4 is for TV-quality video. Your gear includes a dedicated machine in a studio and a setup that produces a high-quality stream.
Listen to the show to hear Luria discuss the roots of live video.
Luria's Live Video Strategy
Part 1 of Luria's live video strategy is consistency. You want to tell your audience you're there for them every single week. When you make that commitment to them, they'll make that commitment to you. Plus, people have a lot to pay attention to, so if you're not in their face all the time, they'll forget about you.
Luria recommends starting with a weekly show. A monthly show is doable, but it's not really enough to be consistent. You don't want to go daily, unless you've done weekly for a while, because daily is really hard to keep up. Do your weekly show on the same day at the same time.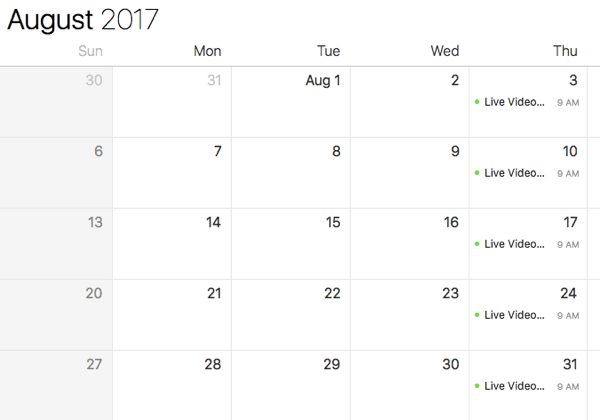 The best time to go live is what works best for you and your schedule. Obviously, you can't pre-record a live show. If you commit to a time that's not good for you because you think it's the best time to go live, you'll fail and then quit. Don't pick a time that will leave you rushed to get into the studio or worried about picking up your kids. The time you choose is part of your long-term strategy because you want to be consistent long-term and focus on delivering value.
You can use level 3 or 4 gear for this part of the strategy. You'll be at a computer, so you have the ability to pull in interviews and add lower thirds (title graphics). You can do a lot to make it look good so it's a great show. You can also go with level 2 for a regular show by putting your smartphone on a tripod.
Part 2 of the strategy is the life stream. The goal is to add a human element to your video content by sharing your life with your audience. To create this video, use gear from level 1 or 2 (your mobile device, maybe with some gear). Sharing who you are turns your audience into a loyal viewer base. This loyalty is valuable when you ask them to make a purchase. You want them to stick around so they don't turn to your competitors.
I ask how someone might start creating this type of content. Luria recommends beginning with life streams as you get your weekly show up and running. Bring your audience into your journey. Luria says the experience you create is comparable to inviting your best friend to experience Disney World with you, instead of telling her about it afterward.
Similarly, as you develop your weekly show, a buzz-building campaign with life streams leading up to the show's launch will have more impact than people simply finding out about your show. For example, you can do life streams talking about what you're going to name the show and when it will be on. Let people feel like part of that experience. At the same time, you can show off your new dog and wrap your business into your personal life.
To help people add the life stream component, Luria offers a downloadable content calendar. Part 2 is difficult to put into practice until you see it in action. A life stream is supposed to be random, but when you're just getting used to the process, scheduling life streams can be helpful.
At first, do a life stream two times a week. If you already launched your weekly show, don't do your life stream and your show on the same day. Do a fun mobile stream where you talk about something, either leading up to your weekly show or offering a behind-the-scenes look at something. You could share behind-the-scenes content daily and people wouldn't get tired of it. It's incredible.
Part 3 is the after live. This is the afterlife of your live video, and it's all about repurposing. One of the biggest mistakes people make is thinking that their live video is all about their live video. It's not. Get in the habit of making your live video the centerpiece of all of your content creation. That makes everything really strategic and helps you create live videos consistently.
To repurpose your live video, you can edit and trim the video and release it as a podcast, a YouTube video, or whatever fits into your overall strategy. Also, the live video will have many more video views after the fact than it will live, so don't get caught up with live-viewer numbers.
If you're doing live video on Facebook, you can boost it to reach a bigger audience. You can also share the video to your email list after the broadcast or send a link to your list prior to a scheduled live video. People will still open the email after your live video is over and watch the replay.
I note that in podcast episode 223, Chalene Johnson lays out how she uses her live video to do almost all of her marketing.
The three-part live video strategy is a long-term play, but with it in place, you'll drive more traffic to your live views, as well as to other parts of your business.
Listen to the show to hear about my experience with life streams and Social Media Examiner's weekly live show.
Show Flow
As soon as you press the button to go live, your brain starts buzzing with all kinds of thoughts about the people who are or aren't there, what to do with your hands, and so forth. Luria says you can tame that sensation but she's found that it never completely goes away. Live video comes with an extra adrenaline factor. To help you manage this aspect of live video, Luria shares her formula for the flow of a live video show.
Start with a tease. Because you'll repurpose your live videos, you can't wait for people to come in. You need to go right into the content. Tell people what they're going to learn in the video, even for a fun random video. "Hey, I'm going to show you my new puppy."
Then you have an intro. People who don't know you will join your live videos, so explain who you are and why you're talking about this topic. This intro is especially important if you're doing a value-oriented weekly show.
Luria calls her people Streamers. So for example, one of her videos may start with, "Hey Streamers. I'm going to give you the formula for live videos so you don't struggle with what to say. Hey, guys. I'm Luria Petrucci, and I've been doing live video for 11 years. I've really fine-tuned this formula, so I'm excited to share it with you today. First, before we get started, I really want to hear from you."
Then she asks a question of the day such as, "My question of the day to you is: Have you done a live video yet? Yes or no. Give me a big yes or no in the comments." After asking the question, Luria engages.
The live viewers likely won't see the beginning sequence of tease-intro-share, because they haven't joined the video yet. The beginning sequence is for the replay viewers, who will see the beginning of your video when they click Play.
Luria encourages engagement for a couple of reasons. First of all, with live video (especially on Facebook), the algorithms are built so the more engagement you get off the bat, the greater your visibility. Get people to comment, share, and engage, so Facebook shows your video to more people. As you encourage people to interact, make the interaction worth their while by responding to them.
A lot of people ask viewers for their city and state. Although Luria does that sometimes, she more often asks a specific question of the day that's related to her topic. Viewer responses give her a bit of feedback on what she talks about during the show. Engage in the way you feel most comfortable, whether it's asking for a share, a heart, a location, or a question of the day.
Next, Luria restates the topic overview, which is great for the live viewers and doesn't bother the replay viewers. Then, she gets into the valuable information. For instance, if you're doing three steps to a particular thing, go through the entire first step (or for a long video, a portion of it), and then break for engagement. That's when you take questions or comments. So the pattern is value, then engage; value, then engage; value, then engage.
End the show with a call to action, which Luria chooses based on her business goals at the time. So the call to action might be about a product launch or audience-building.
For example, Luria might say, "Thank you guys so much for hanging out with me today. I've thoroughly enjoyed hearing all of your comments and questions. I'd love to hear from you, so keep it going and get into this community. I'm here every Tuesday and Thursday at 10 AM Pacific, so be sure to mark it in your calendars, set a timer on your alarm, whatever you gotta do to make sure you're here."
Listen to the show to hear Luria and I discuss how going live improves your communication skills.
Listen to the show!

Where to subscribe: Apple Podcasts | Google Podcasts | Spotify | YouTube Music | YouTube | Amazon Music | RSS
Key takeaways mentioned in this episode:
Learn more about Social Media Marketing World 2018.
What do you think? What are your thoughts on live video strategy? Please leave your comments below.