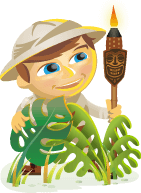 Do you want more clients?
Wondering if LinkedIn can help you acquire more business?
To explore how to use LinkedIn to find leads and turn them into customers, I interview John Nemo.
More About This Show
The Social Media Marketing podcast is an on-demand talk radio show from Social Media Examiner. It's designed to help busy marketers, business owners, and creators discover what works with social media marketing.
In this episode, I interview LinkedIn marketing expert John Nemo. Author of LinkedIn Riches: How to Use LinkedIn for Business, Sales and Marketing, John is also host of Nemo Radio podcast, which is focused on online marketing and lead generation. He has worked to rewrite LinkedIn profiles for well-known individuals such as John Lee Dumas, Ray Edwards, and Chris Brogan.
John shares which LinkedIn and third-party tools he uses to identify and manage his prospects.
You'll discover how John develops LinkedIn connections into pre-qualified leads and clients.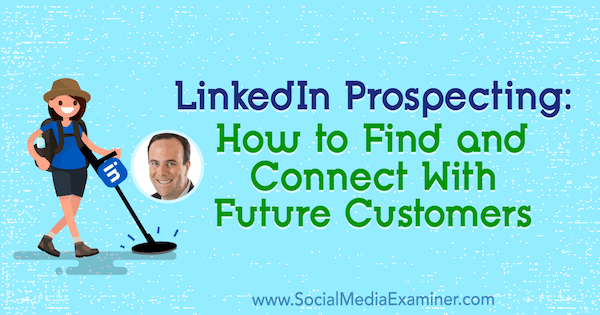 Share your feedback, read the show notes, and get the links mentioned in this episode below.
Listen Now
Where to subscribe: Apple Podcasts | Google Podcasts | Spotify | YouTube Music | YouTube | Amazon Music | RSS
Here are some of the things you'll discover in this show:
LinkedIn Marketing
John's Story
Back when John had a day job in marketing, he was bitten by the entrepreneurial bug and wanted to start his own marketing agency. However, leaving a safe day job was hard when he was the sole breadwinner for his wife and three boys younger than age 10. In late 2012, with one client and enough money for 30 days, John decided to make the leap into starting his own business.
To find more clients, John had a plan to use LinkedIn for prospecting. Until John started his business, he (like a lot of people) viewed LinkedIn only as a place for job-seekers and recruiters. Your profile was a résumé. But after he began viewing LinkedIn as a way to find clients, his perspective on the platform changed.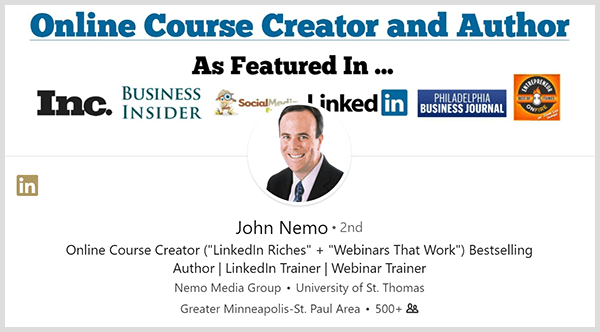 The Conference You've Been Waiting For
As a small business marketer, you can probably only pick one or two events to attend each year. Get an unbeatable conference experience and expert training at Social Media Marketing World in sunny San Diego, California—from your friends at Social Media Examiner.
🔥 As a valued reader, you can save $600 on an All-Access ticket if you act now! Sale Ends Tuesday! 🔥
CLICK HERE TO LEARN MORE
Motivated by the need to feed his children, John stayed busy on LinkedIn bringing in clients for his marketing agency. Within 90 days, John had replaced his six-figure salary, generated revenue, and had a bunch of clients in the door. He had to start hiring staff and kept growing his business, continuing to use LinkedIn to get new clients.
After a few years, the marketing agency felt too much like John's old job. He was managing staff and doing payroll instead of creating stuff. From there, John pivoted to helping people learn how to find clients on LinkedIn.
In 2014, John published LinkedIn Riches. Then he created an online course (also called LinkedIn Riches). Today, John has a one-man shop, creating online courses and working with a small group of clients and customers. With his more entrepreneurial lifestyle, John can choose the things he wants to do, and LinkedIn has been the engine behind where his business is today.
Listen to the show to hear John share how often he uses LinkedIn now.
Why Prospect on LinkedIn?
If you're looking for business-to-business (B2B) prospects, LinkedIn is the best place on the planet because it has the market cornered right now. No other B2B network has as many members and as much reach as LinkedIn does.
Currently, LinkedIn has about 550 million members in 200 different countries, and two new members join every second of the day. LinkedIn is a behemoth and one of the most visible websites in the world.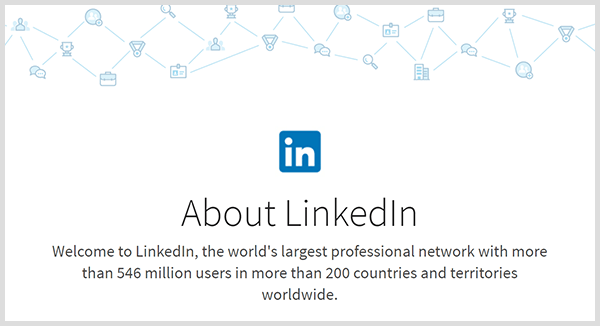 Looking for prospects on LinkedIn is effective because it's like a search engine for professionals. For all its members, LinkedIn has categorized, analyzed, sorted, tagged, and saved every little bit of data. By leveraging all that data, LinkedIn can help you find your prospects.
For example, within 3 seconds, you can find a list of CEOs in San Diego who work in the health care industry and have a company with more than 10 employees.
If you understand what to say to people, LinkedIn is like the world's biggest professional coffee shop. You can have one-on-one, real-time engagement with people via the LinkedIn message box, status updates, or articles. Professionals worldwide check in every day. If you're savvy and pay attention, you can really leverage LinkedIn for marketing.
Listen to the show to hear John discuss other features that make LinkedIn a one-stop shop for professionals.
How to Write a Client-Facing LinkedIn Profile
Most LinkedIn users still treat their profile like a résumé. People write in the third person about what they've done, where they worked, and awards they've won. However, your ideal prospects and customers don't care about you. They care about how you can solve their problems.
When John teaches people how to rewrite their LinkedIn profiles, he talks about making the profile client-facing. To start, identify whom you help, which should be your target audience (such as CEOs or entrepreneurs), and what benefit you offer that audience. John offers a template like this: "We help [target audience] achieve [the benefit they get from working with you] by providing [your service]."

For instance, when John explains what he does, he says, "I help business coaches and consultants quickly find more clients online by providing LinkedIn lead-generation training."
John says you can continue this client-facing profile by saying more about how you help your ideal audience and why your service works. After you talk about how you can help and why, share what others say about you by adding testimonials. At the end, John also recommends adding a call to action, whether that's signing up for your live event or something else.
When you write a client-facing profile, think about what prospects will see and how they'll react when you initially contact them on LinkedIn. You focus on the client because, when you first contact a prospect on LinkedIn, that person will wonder who you are and look at your profile. Even if someone searches your name on Google, your LinkedIn profile is often one of the top results.
Say your ideal clients are marketing managers in charge of social media. If the first line of your profile says you help marketing managers in charge of social media do this, this, and this, that person is excited and intrigued because you can solve something they need help with. Your profile helps that person connect the dots.
With LinkedIn, John says the riches are in the niches. He recommends identifying two or three target audiences you really serve well. Identify them by job title and industry type. If you try to be everything to everybody, finding clients on LinkedIn won't work. Similarly, if prospects don't like your profile, they may never respond to your inquiry.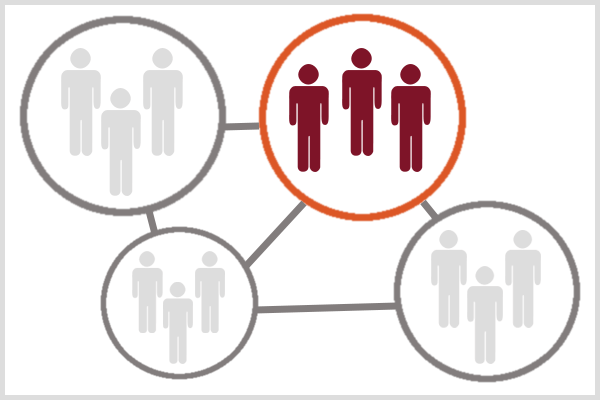 John stresses that everything you do on LinkedIn begins with your profile because people will check it. Everyone wants context for a conversation. If your personal invite piques someone's curiosity enough to look at your profile, your profile needs to convey that you can help that person. Then they'll accept your invite so you have a way to start a dialog.
Listen to the show to hear John and I discuss what a LinkedIn profile for Social Media Examiner might say.
How to Find Prospects on LinkedIn
LinkedIn has an incredible internal search engine for finding prospects. Whether you're on the LinkedIn mobile app or the desktop version, start by typing the job title of the person you want to reach in the search box, such as "business coach." (John notes the search box supports Boolean searches, which means you can add operators like AND or use quotes to make your search more specific.)
On the search results page, filters with checkboxes help you narrow your search results to your exact ideal customer. John might start by filtering his search for business coaches to Minneapolis, where he lives, reducing the list of 80,000 coaches to 800. Another filter can narrow the list to coaches who attended a college like the University of Minnesota.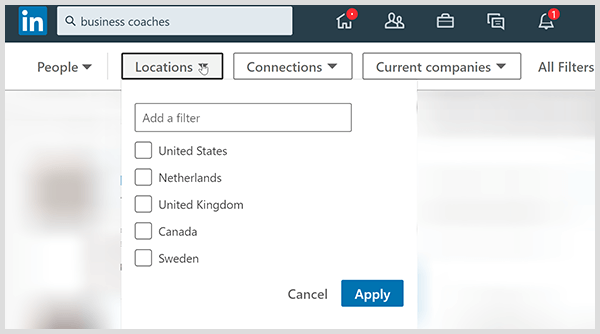 For even more nuance, you can add more filters to find people in your specific niche. John might filter to find business coaches who specialize in health care clients. All this filtering gives you context for a conversation.
I ask what kind of an account you need to search all of LinkedIn. John says a free account offers limited results and filters. He recommends upgrading to a paid premium account because you'll get more data and search filters. You also have more access to the people you're looking for and who look at your profile. Think of a premium account as paying for more access to the search engine.
LinkedIn premium fees range from $25 to $150 per month. The account tiers focus mostly on different fields, such as a job-seeker, HR person, or salesperson. For most marketers, John recommends the sales account, which has two different levels and costs $65 to $100 per month. For John, the data he gets makes the cost worthwhile.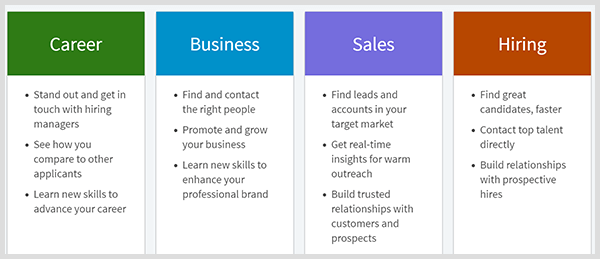 For example, John can contact the 800 business coaches in Minneapolis who went to the University of Minnesota. The context from the search filters gives him an easy way to break the ice. He might reach out with an invite that says, "Hey Joe, I see you're a business coach here in Minneapolis. By the way, I see you went to the University of Minnesota. Go Gophers!"
Although LinkedIn doesn't let you send a message to 800 people at once, you can use third-party automation tools. John says using third-party tools is a gray area. LinkedIn says it doesn't like these tools and doesn't want people to use them. John's take is that LinkedIn doesn't want people scraping data and scamming people.
The tools John uses just save the repetitive work of copying and pasting messages to individual profiles so that he can send those 800 invites over a day or two with a click of a couple of buttons. He likens these tools to an email marketing system where he can insert a name and personal message based on the criteria in his search filters.
John doesn't use automation when someone replies. Beginning with a reply, you have a personal one-on-one conversation.
John says the automation tools he likes change, but right now he likes Meet Leonard (which offers tons of different plans and pricing), LinMailPro, and Linked Helper. Most of these tools work via a Google Chrome browser add-on that you purchase and connect to LinkedIn.
Editor's Note:
At the time of recording and publication, LinkedIn had not commented on the use of Meet Leonard. We have since learned that LinkedIn is now warning users that utilizing Leonard or similar 3rd party tools puts your account at risk of being temporarily suspended. As a result, we have removed all links to Meet Leonard.
We strongly suggest you do not use tools that violate LinkedIn's Terms of Service. Using such tools could result in your account being suspended or you being banned from LinkedIn.
Thank you for your feedback and on-going support. Lisa D. Jenkins, Managing Editor
Sometimes, John has seen LinkedIn say, especially to free users, "Hey wait a minute. Are you trying to automate? Don't do that." LinkedIn tends to leave paid users alone.
In the past 4 or 5 years, John has used third-party tools and never had trouble because he acts like a human being. He doesn't try to send 8 messages one day and 8,000 the next day. He doesn't spam people with sales offers. He doesn't annoy people. John says to use the tools to save time on repetitive tasks like copying and pasting or opening new windows.
Attention Agency Owners, Brand Marketers, and Consultants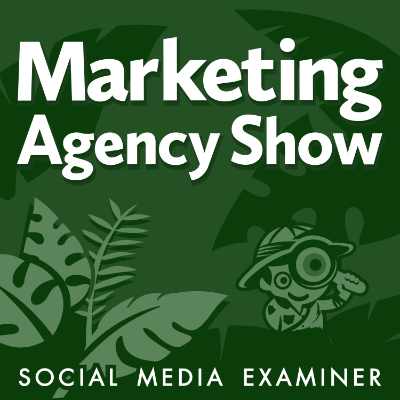 Introducing the Marketing Agency Show–our newest podcast designed to explore the struggles of agency marketers.

Join show host and agency owner, Brooke Sellas, as she interviews agency marketers and digs deep into their biggest challenges. Explore topics like navigating rough economic times, leveraging AI, service diversification, client acquisition, and much more.

Just pull up your favorite podcast app, search for Marketing Agency Show and start listening. Or click the button below for more information.
CLICK HERE FOR THE DETAILS
John also says these opinions are his two cents. He's not an attorney. He's not here to advocate for or against third-party tools. For John, there are great third-party tools that save time.
Next, I ask about the difference between sending prospects a connection request versus a message. John sends a connection request because LinkedIn makes messaging connections easier than messaging people who aren't connections. To send direct messages to someone who isn't a connection, you have to pay with InMail credits. A premium account might get you 10 to 30 credits per month.
However, when you send a prospect a nice, friendly, personal invite, they'll see your client-facing profile and think, "Wow, this guy could help me. I should connect with him." After a prospect accepts your invitation to connect, you can exchange unlimited direct messages.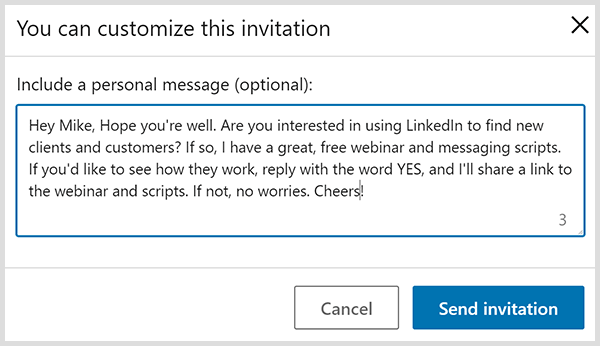 Also, when you send an invite, LinkedIn gives the other person the opportunity to write you back before they accept the connection. People might be curious about your invite, and you can answer their questions. In this way, you also start a dialog with a prospect.
Listen to the show to learn what people have asked John in response to a LinkedIn connection invitation.
How to Compose a Message to Prospects
John emphasizes that the LinkedIn inbox is where you make money and find marketing success on LinkedIn. First, John offers some details about how the LinkedIn inbox works.
LinkedIn has completely revamped the messaging experience. Gone are the cold, professional emails people used to exchange within LinkedIn. Now, with the LinkedIn inbox, or message box, you can message back and forth with anyone who is a first-degree connection like a couple of teens texting.
The messages move in real time. Little green dots next to a person's profile indicate they're active right now. You can start messaging someone who is active and chit-chat back and forth. Each person can see when the other person is formulating a response because a speech bubble with dots indicates that person is writing you back.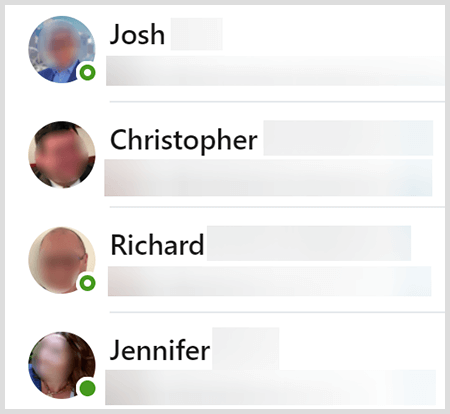 John goes on to explain what to say in your messages to prospects. Generally speaking, whatever you ask someone has to reflect the trust you've earned so far. At this point, all you've done is connect with someone. With that level of trust in mind, don't immediately try to sell something or ask them to sign up for something or get on the phone.
Instead, after a prospect becomes a connection, the first message John sends has four key components. First, he starts by saying, "Hey Mike, so glad we got connected." Then John asks a question right away. He asks if the connection is interested in topics relevant to his business. He might ask, "Are you interested in how to get more leads with LinkedIn?"
After you ask the question, you need to offer value. For example, you might offer a great free template, webinar, training series, podcast episode, or other helpful content. However, don't put the link into the message right away.
The third component of your message is asking permission. You don't assume your new connection wants the link. To ask permission, you say, "Just reply with the word YES, and I'll send it over." (Writing YES in all caps isn't necessary but makes the desired response stand out more.)
With this approach, people on a mobile device can easily send a thumbs-up or a smart reply that says "yes." (LinkedIn smart replies try to guess how you might respond to a message.)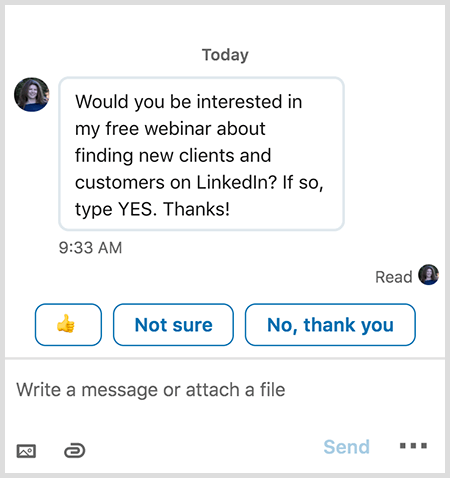 Fourth, John always ends the message without pressure. You can say, "If you're not interested, no worries at all. Have a great day!"
After you send the first message with these four components, you wait. If the person replies YES, then John copies and pastes from a follow-up script. John might reply, "Awesome! Here's a free link to the webinar. Can't wait to hear your thoughts."
Another important point about the offer is that you move leads off LinkedIn, which is rented land, and onto your own email list or website. Like Facebook has done, LinkedIn could change everything tomorrow.
Listen to the show to hear John read a full example of his initial message to a new LinkedIn connection.
Message Tracking and Management
To manage the workflow for messaging prospects on LinkedIn, John uses Meet Leonard, which has a built-in CRM (customer relationship management) tool. John has 18,000 LinkedIn connections. He's organized them all by job title and tagged them. For instance, John has a group of about 3,000 business coaches.
With Meet Leonard, John can send 200 invites a day to business coaches, and it tracks who's accepted and who hasn't. Each day, as acceptances come in, he can see that these five people accepted and choose to send a follow-up note. The CRM can also withdraw the invites automatically after 30 days.
After a prospecting invite becomes a more personal one-on-one exchange, you track the messages in your LinkedIn inbox. You can filter your inbox to see only unread messages, and those YES responses stand out because people have given you the one-word response you asked for.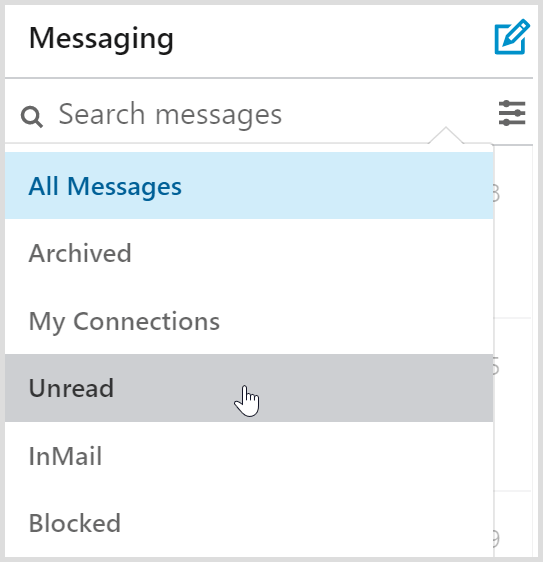 From there, copying and pasting from the script help you manage the workload. For John or his virtual assistant, the copying and pasting take minimal time. John doesn't mind spending 10 to 30 seconds copying and pasting from his script to point people to his webinar because they're high-end, high-value prospects now.
John says the response rates to his initial prospecting invites depend on the script. With his Messaging Magic script, about 60-70 people out of 500 respond YES within a few minutes. John also has a script called Days to Come, and responses to that one tend to have a lag period. Maybe someone didn't check their inbox until the next day. So he's constantly getting more replies.
The most important thing is John receives at most one or two complaints with his scripts, and when he does receive a complaint, Meet Leonard helps him track that person's preferences. As an example, if someone says, "This isn't for me" or "Don't send this stuff," John changes their tag to No More Messages because he doesn't want to annoy people. This approach saves everybody time.
Because John uses search filters to narrow down the people he contacts on the front end, he receives a lot more interested responses than negative ones. In addition to people asking for his link, they might ask about information on his profile or consulting services. Of the 60 or 70 immediate yes responses, about 30 to 50 turn into good conversations that lead to something else.
After John goes through this initial process, he follows up with connections about every 3 to 4 weeks. John tracks follow-ups based on the groups he's created in his CRM (business coaches, CEOs, etc.). Using Basecamp or Evernote, he records when he messaged a specific group. To illustrate, he'll note that on March 30, he sent the CEOs a specific script.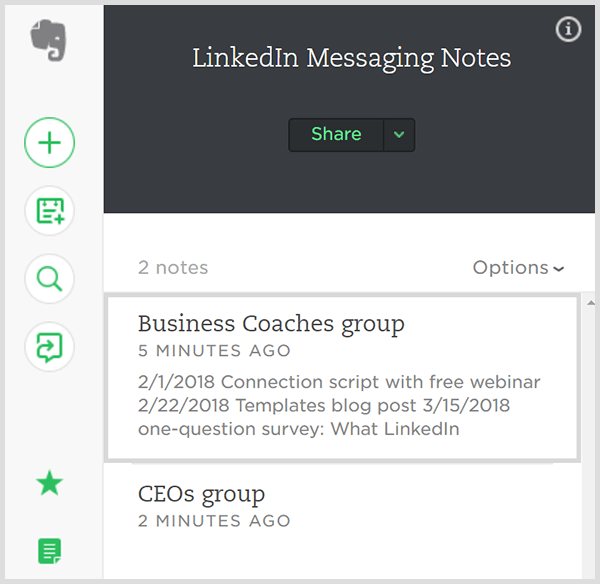 With this organization in place, John can quickly see when 3 to 4 weeks have passed and it's time to follow up with the group. John recommends following up about every 3 weeks because one or two LinkedIn messages per month is hardly overkill, especially if those messages are helpful, conversational, friendly, low-pressure, and don't spam people with links.
Your follow-up doesn't always have to be content. Instead, John might ask a question from his list of one-question surveys. For example, he'll say, "If you have a second, I would love your answer to this. What LinkedIn topic would you like to know more about?" These questions are like a free survey on LinkedIn to 500 people, and the responses help John find useful content for his next email.
Overall, part of John's messaging process is automated, but some of the work is one on one. It's also important to move leads to an email list, webinar, podcast, or another offering where people can consume your content on their own time. Then they can contact you later when they're ready to buy. For John, these purchases might be online training or other services like speaking or consulting.
Listen to the show to hear how pre-qualifying people helps John manage LinkedIn messages.
Discovery of the Week
InShot is a cool mobile video editor for iOS or Android. With this app, you can almost carry a movie studio in your pocket.
InShot allows you to add music, effects, voiceovers, emojis, and text. You can also adjust the video speed, and control where elements you add appear on the video timeline. This app will work perfectly for any videos you create for Instagram, Facebook Stories, Facebook news feed, and so on.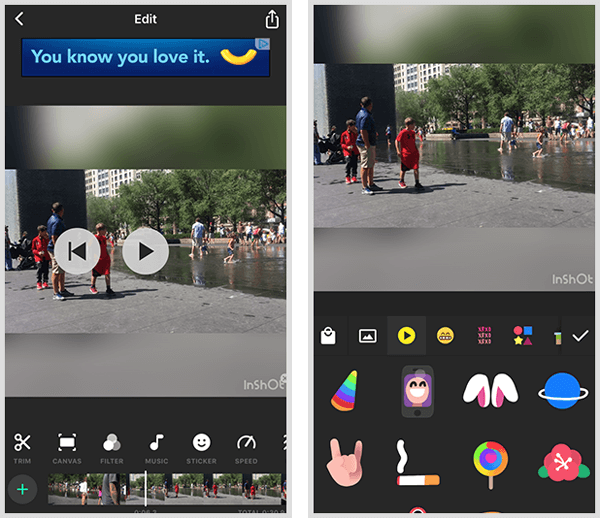 The app can work with vertical, landscape, and square video formats. It can even transform one format into another.
Unlike some mobile video apps, you don't have to record video within the InShot app. You can import video, and even merge separate videos from your camera roll and arrange them in a specific order.
Although InShot offers a lot of features for an app, it's still pretty easy to use. However, you might prefer to use it on a device with a bigger screen, like an iPad or tablet.
The InShot app is free, but with in-app purchases, you can add effects, filters, stickers, and stamps. On average, these items cost about $1 to $2.
Thanks to Ray Edwards for mentioning InShot on his show, which prompted us to take a look at the app.
Listen to the show to learn more and let us know how InShot works for you.
Key takeaways mentioned in this episode:
What do you think? What are your thoughts on LinkedIn prospecting? Please share your comments below.
3 Days of World-Class Training—Zero Travel!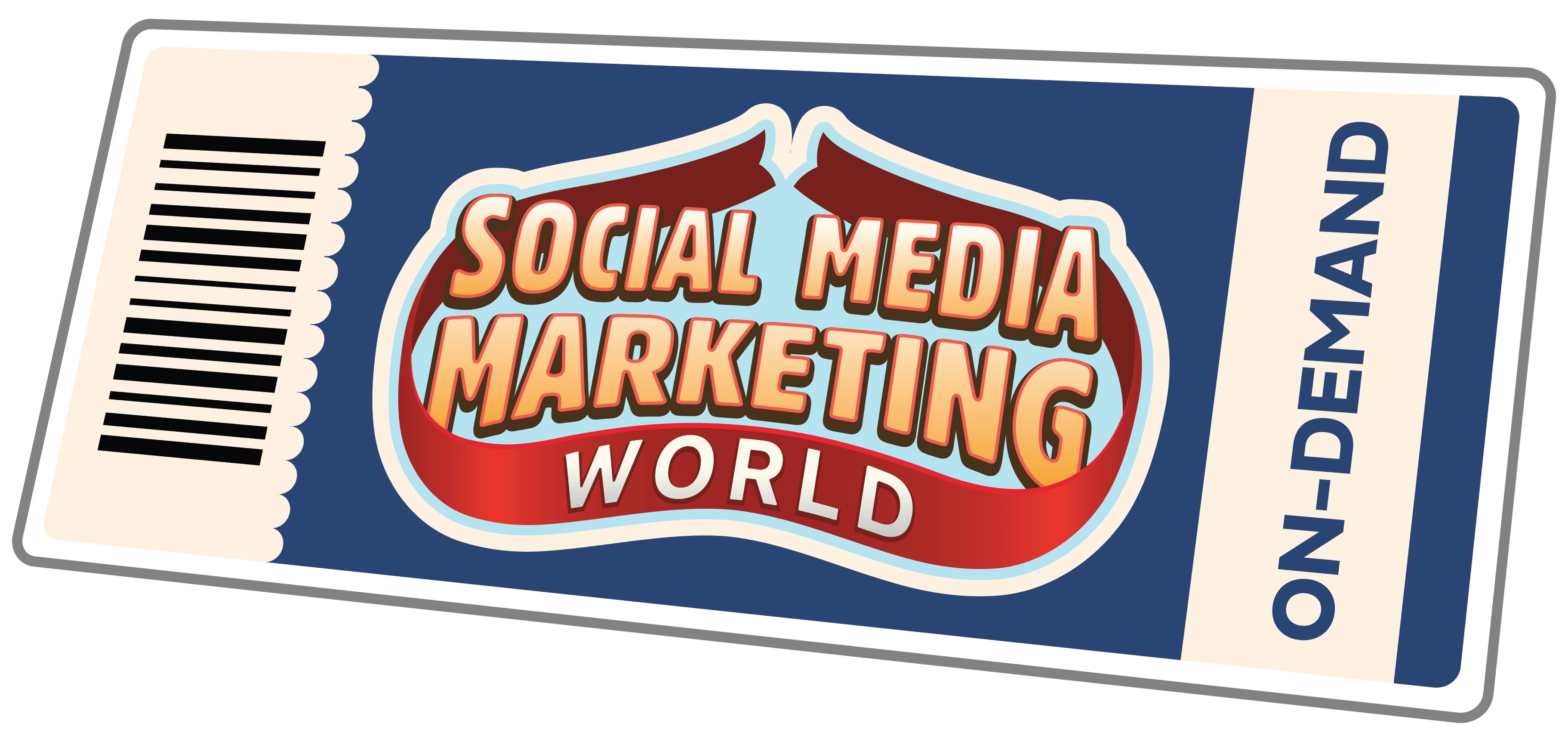 Travel to Social Media Marketing World off the table? Get all of the great content at a fraction of the price with an On-Demand ticket.

That's full access to recordings of every keynote, workshop, and session—the ones people travel thousands of miles to see. Don't wait. Get your On-Demand ticket and enjoy actionable content that you can watch anytime, anywhere.
GET YOUR ON-DEMAND TICKET NOW