Want to become the go-to expert in your industry? Wondering what types of TikTok content will position you as a recognized authority?
In this article, you'll learn how to build your influence and convert customers with TikTok.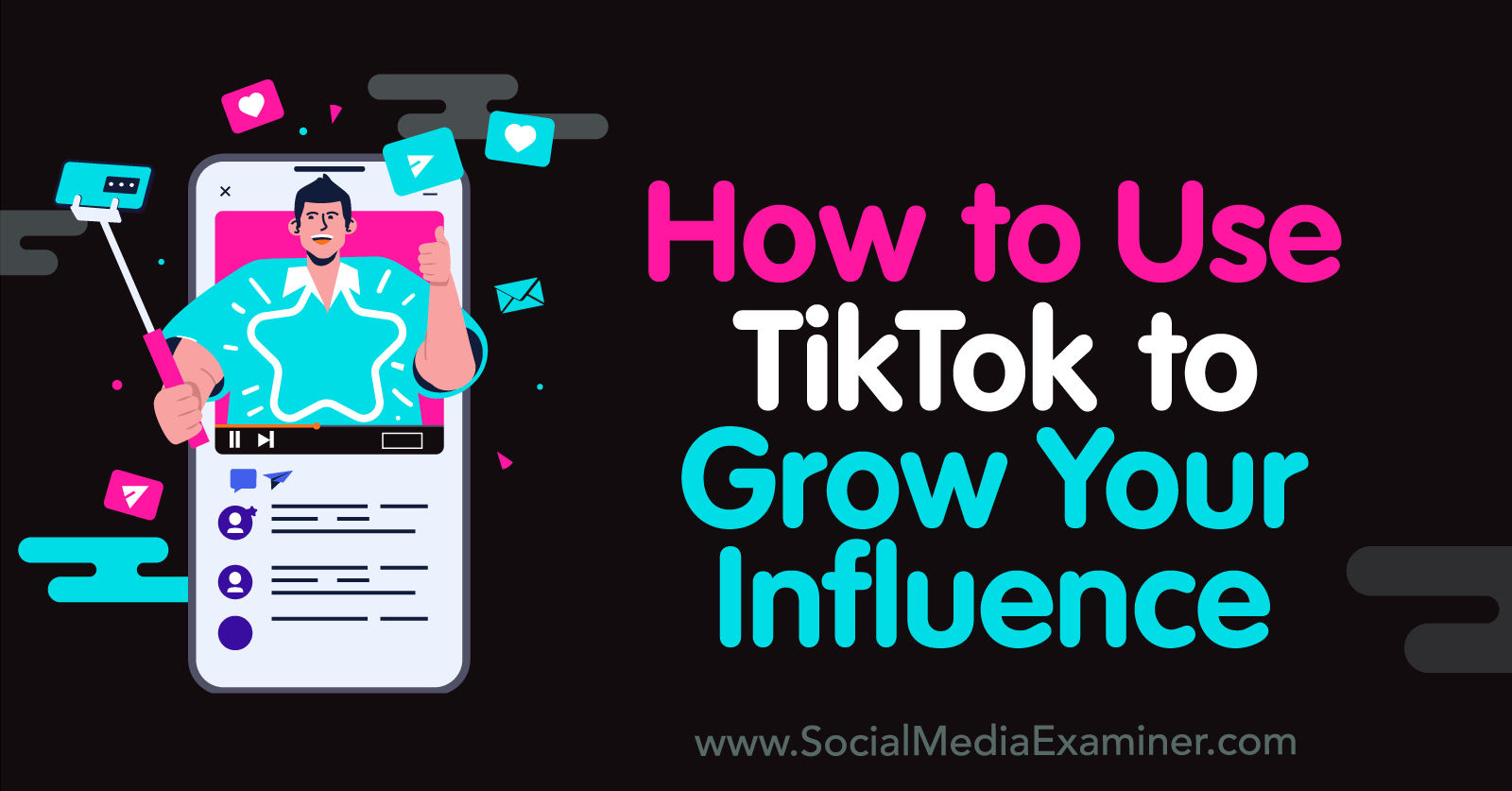 Is TikTok Really Useful to Long-Form Content Creators?
What's your first impression of TikTok?
Maybe you just think of it as that social network where teens do dance routines. To be fair, there are a lot of lip-sync videos on the social network.
But there's more to it than that. What really makes TikTok unique is its power to send people viral overnight. It can magnify your message faster than almost any other online medium right now.
TikTok has a huge audience and it's growing fast. It's undercutting other social networks, and even streaming and TV, as a source of mass entertainment. Its patented mix of bite-sized videos and an ultra-smart recommendation algorithm keeps viewers hooked.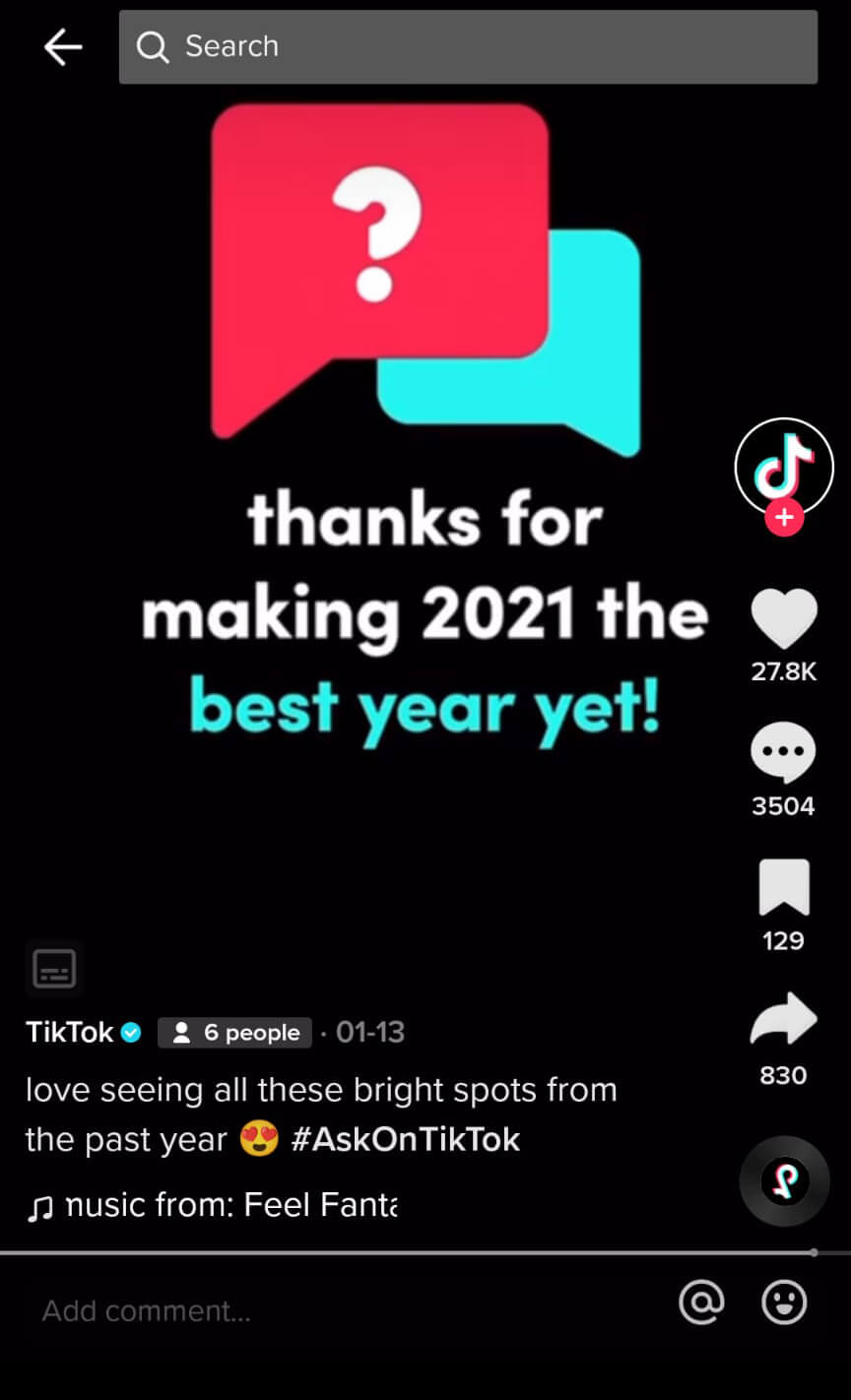 The algorithm works for creators, too. It can help you find your audience in a way that other social networks currently don't.
However, bear in mind that TikTok isn't a replacement for other elements of your business strategy. If you want to monetize your content, YouTube pays better. If you want to run ads, Facebook has more inventory and more experience.
But if you want to grow your influence and collaborate with other creators, TikTok is the place for you. In the next few sections, we'll look at the content you should be creating, how to do it, and how to turn that influence into sales and conversions.
#1: What Types of TikTok Content Should You Create
If you want to grow your influence on TikTok, you're going to have to explore a new style.
Corporate branding is too boring for short-form video. Building your value proposition in anything more than 30 seconds is too slow.
Instead, you'll lean into the creative and personal side of your brand. Your goal is to draw people in with entertainment… and then instantly show them your value. This drives more viewers toward your course, podcast, community, website, or newsletter.
To do that, you'll create three types of content to fill out your TikTok marketing strategy:
Valuable teaching content.
Entertaining, trend-led content.
Trailer content that draws on your long-form material.
Valuable Teaching Content
These videos build your value proposition. In 30 seconds or less, share a valuable insight, hack, experience, encouragement, or piece of information.
Teaching content like this is usually filmed "talking head"–style. Film yourself speaking directly into the camera. You can experiment with different poses and setups: face only, sitting at your desk, standing in front of a green screen…
Remember, this is short-form education. So you want to keep it simple. As a general rule, most teaching videos will cover just about three key points. You can go as low as one or as high as five—just keep the total runtime to under 30 seconds.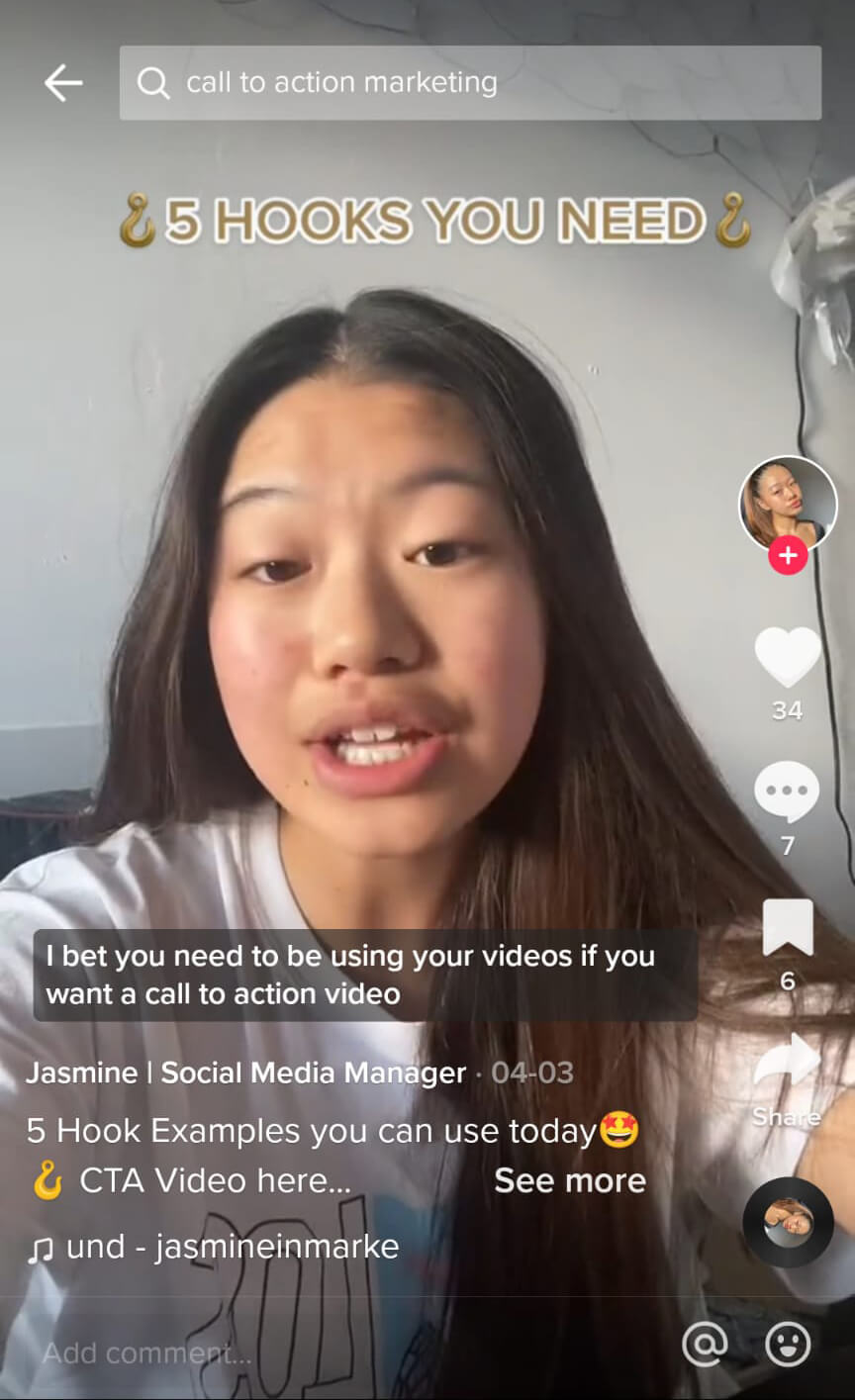 Entertaining, Trend-Led Content
Most viral content on TikTok is powered by audio trends. This is when a background sound becomes linked to a specific dance routine, joke, or meme. You can record your own take on TikTok trends to get more viral views.
This type of content is unlikely to lead to many direct conversions. But it will expand your audience and help you get more views, boosting your standing with the TikTok algorithm.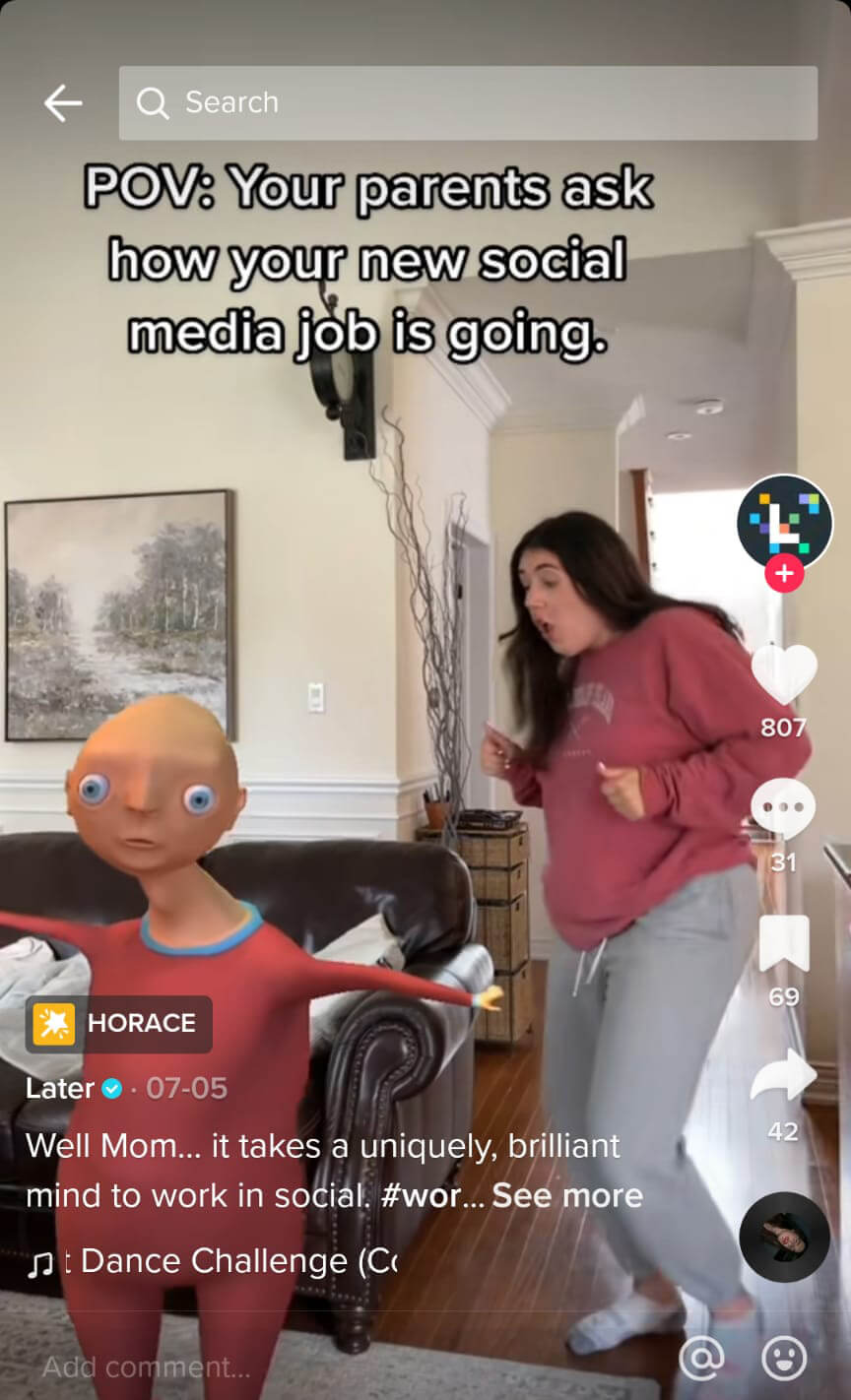 To make the most of a trend video, always post a teaching video immediately afterward. That way, if someone watches and enjoys your clip, they'll either find more valuable content on your profile or the next video that the algorithm serves up will be one of yours.
On the trend video itself, you want to be subtle. If you include a call to action at all, make it an invitation to follow your page for more. Don't try to sell your business straightaway.
Trailer Content
Heave a sigh of relief… it's time to get back in your comfort zone. You can still use some of your long-form content on TikTok!
But it'll need some adaptation. You can break down longer videos or audios into brief clips. This is a fast way to create more valuable teaching content and show off your expertise.
If you decide to reuse longer content, then remember the advice above: videos should be under 30 seconds with around three key points of information. If you have more to share, you can link videos together as "collections" on TikTok, and present them as new chapters or episodes in a series.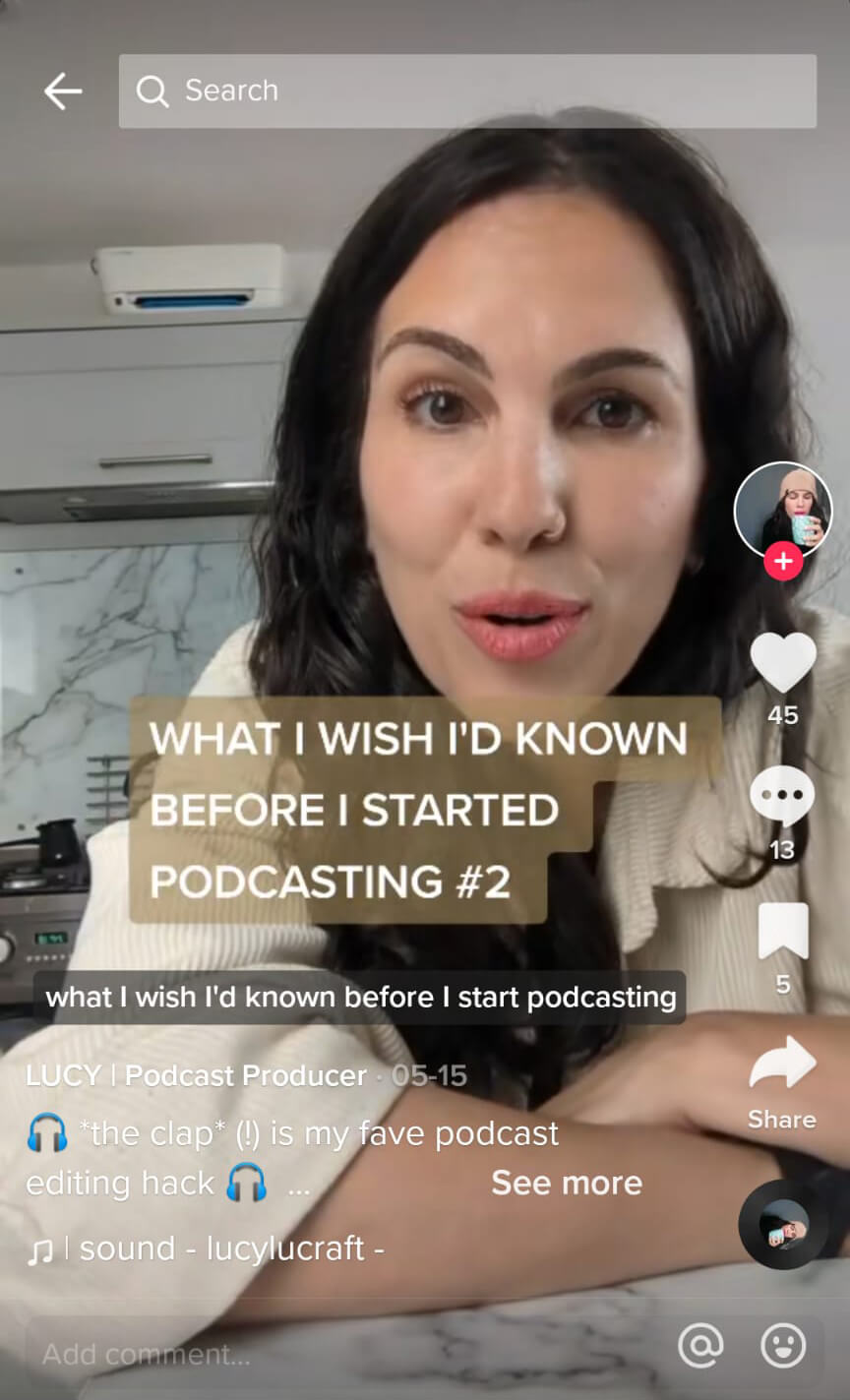 So now you know what to create on TikTok. The next question is… How?
#2: How to Plan your TikTok Content Strategy
As with other social media platforms, you need a TikTok content strategy. Creating short-form video and posting them at random will quickly exhaust you, without building a meaningful audience. You need a plan.
Start with a simple, short-term goal. What do you want to achieve this month? Perhaps you're selling a specific course offer or aiming to increase your podcast listeners.
Once you have a goal, you have an audience. You should already know who you're selling to. But it's time to learn a bit more about them. What are their problems, questions, and opinions? That's what you're going to create content about.
Here are a few ways to find content ideas:
Ask your existing audience what they want to learn more about.
Watch your competitors' content and see what they focus on.
Read the comment sections on your competitors' TikTok content. What are they missing? What have they failed to cover? What can you do better?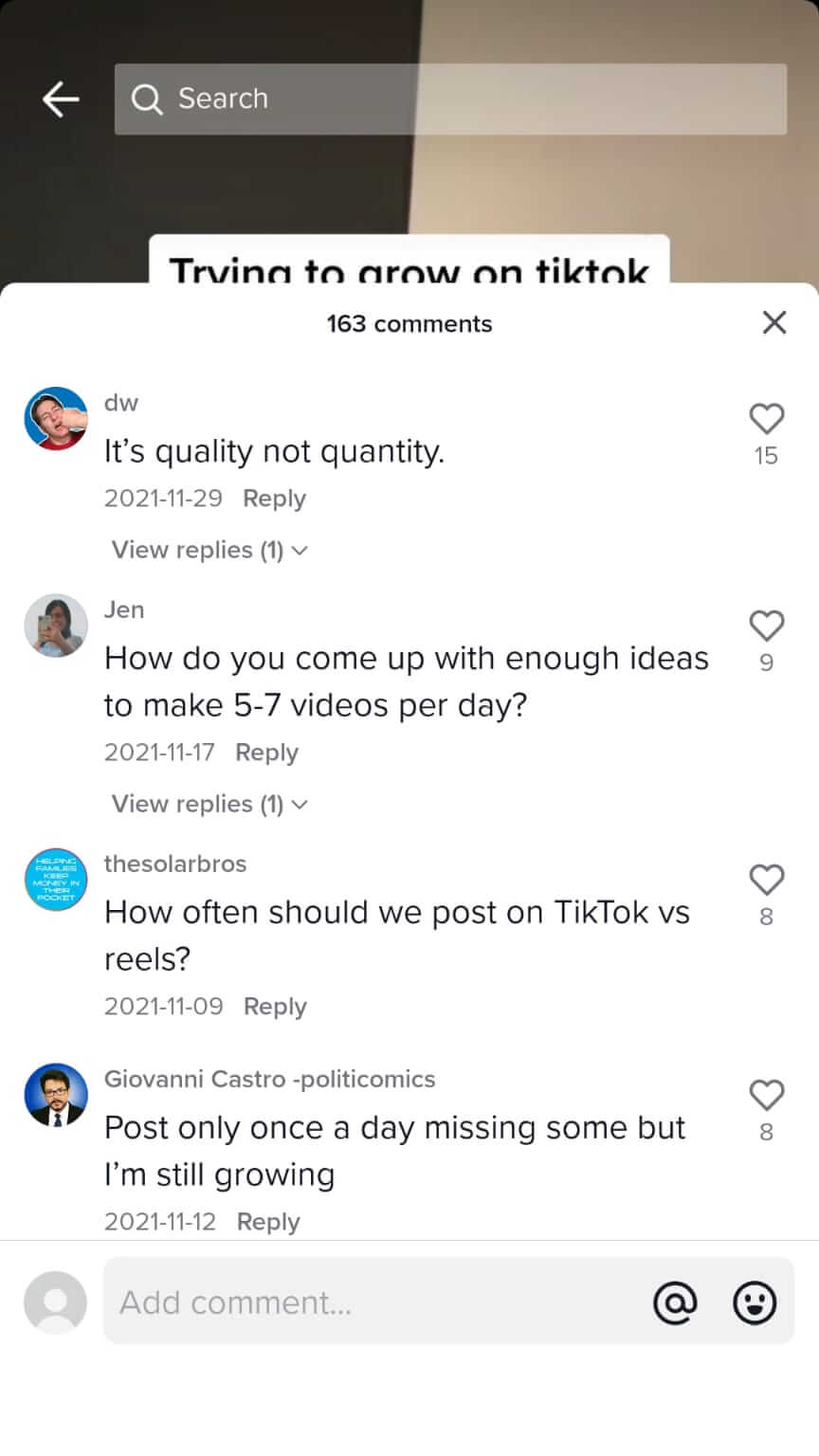 Use SEO research sites like Answer the Public to find out what people are asking on search engines.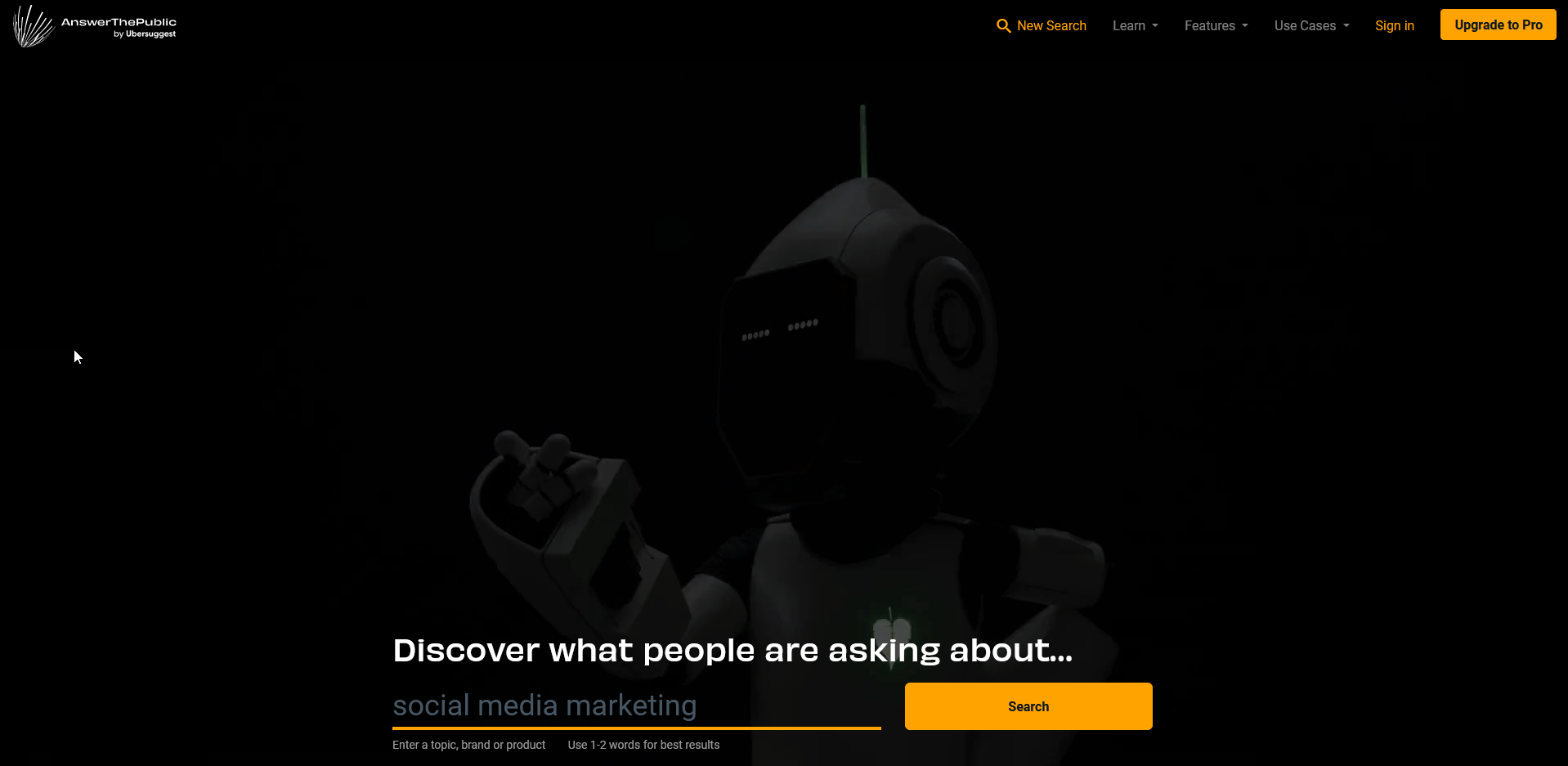 Join Facebook groups related to your industry or interests to see what people are talking and asking about.
Find Your TikTok Style
The good news is that you don't have to be a comedian, satirist, or dancer to be successful on TikTok.
But you do have to be relatable and brief. In your long-form content creation, you may already be used to working in a relatable, friendly style. But keeping this brief might come a little less naturally.
One fantastic example of this style is Later, a social media scheduling app with a strong presence on TikTok @later.com. They work with six or seven different creators, and each brings their own personality and experiences. They share news about social media features and tips for getting more out of social media marketing and also trends, jokes, memes, and relatable stories of marketing disasters.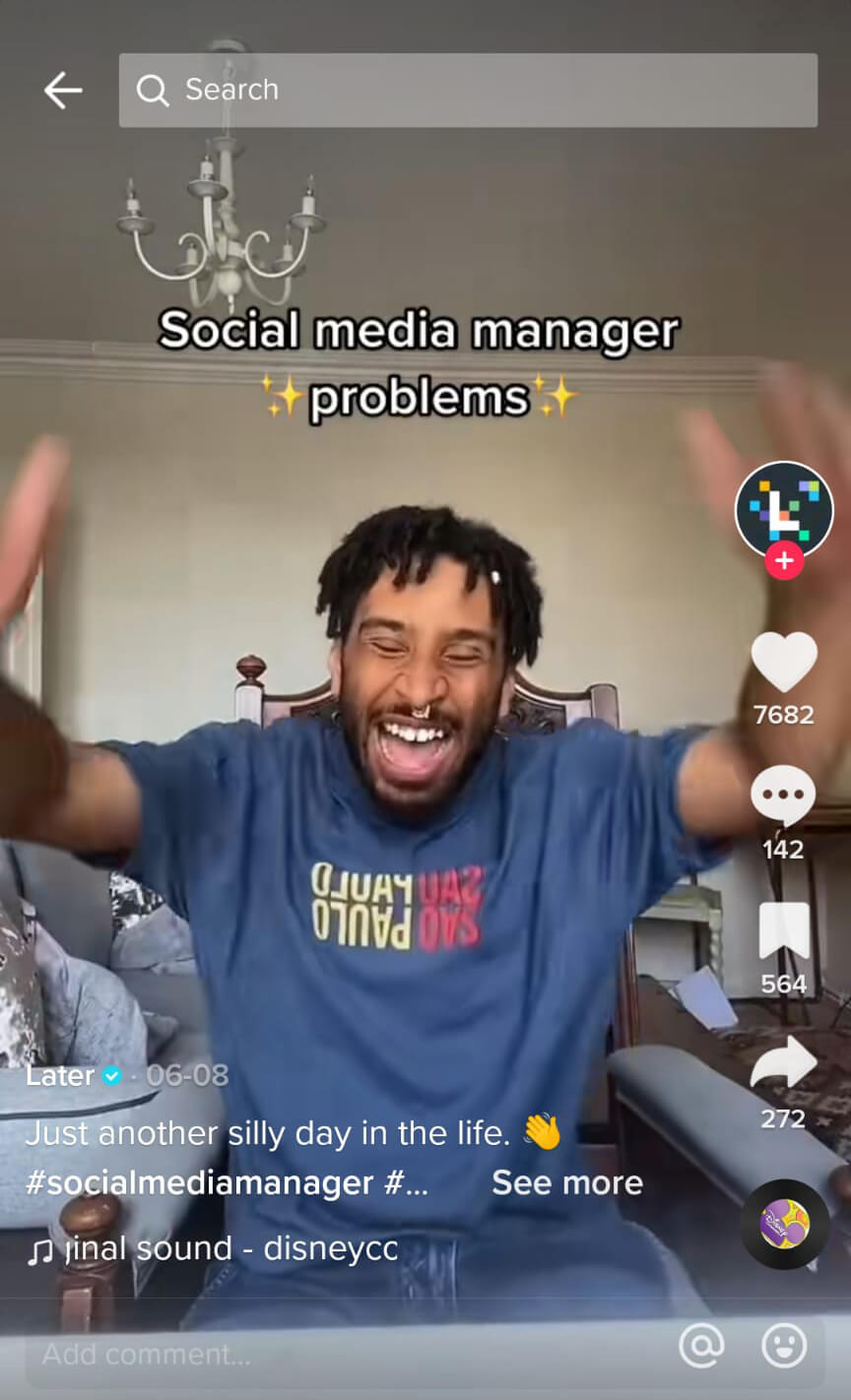 Next step: as well as being human and relatable, you also want to keep things brief.
Always start your TikTok videos with a headline or hook that tells people what they'll get out of the clip. Then deliver on that promise as soon as possible. To maximize your impact, use text overlays as well as spoken words to tell people the headline and underline your key points.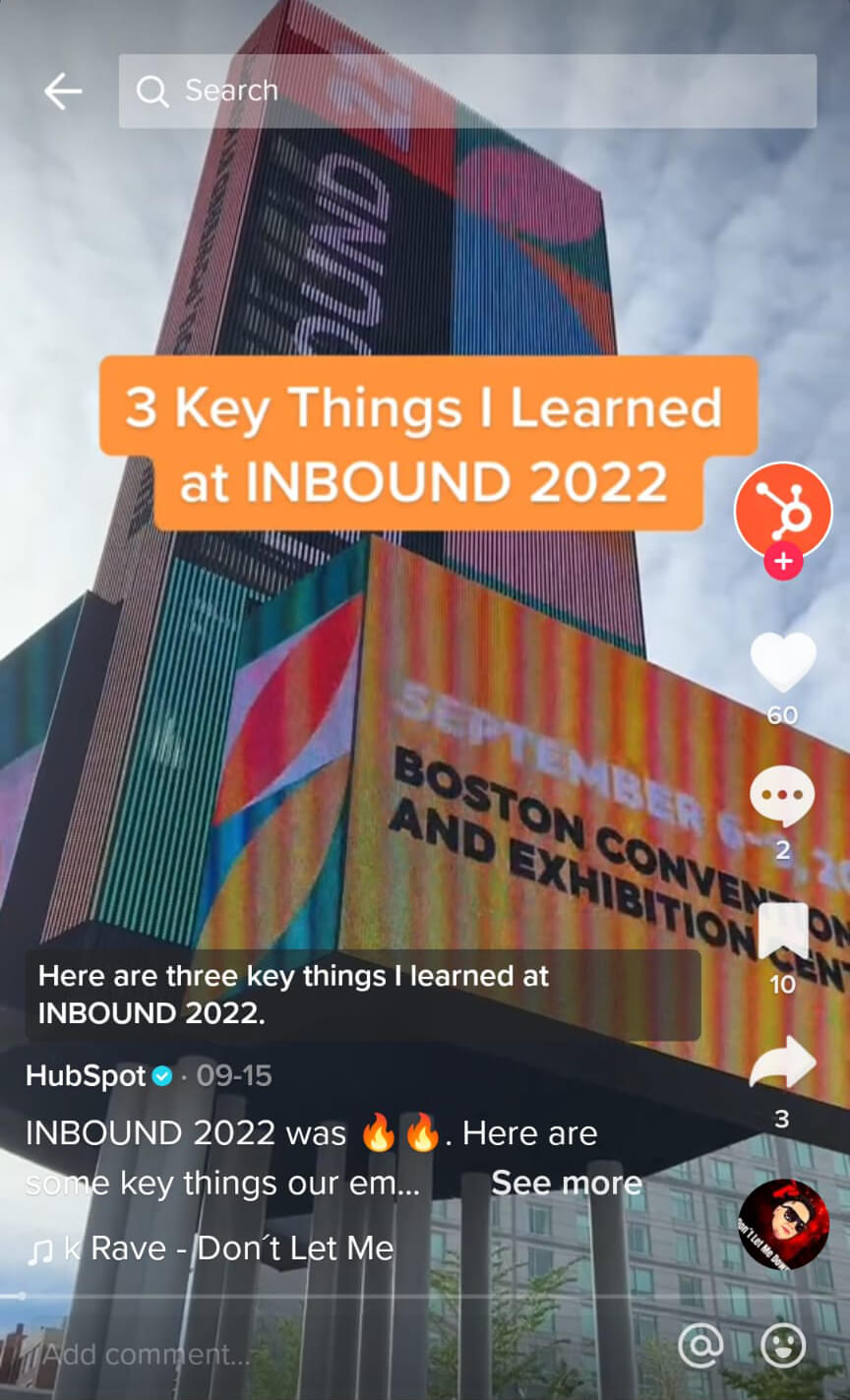 If you're nervous about striking the right tone or keeping things brief, then try using popular trends on TikTok as a template. Experiment with different audio and memes as ways to present your content and you'll soon feel more comfortable with TikTok's style.
Get Comfortable in Front of a (Vertical) Camera
One of the many things that makes TikTok different from other platforms is its focus on vertical video above all else. This has been so impactful that YouTube, Instagram, and Facebook have started to introduce vertical videos.
However, for many content creators, short-form vertical video still feels new and unfamiliar. You may not be used to being in front of the camera. Or perhaps you're used to camera work but with a lot more preparation time, production values, and auto-prompts.
So you'll need to get comfortable on vertical camera.
If you're really nervous, you can start by just practicing in the mirror. Get used to speaking confidently while holding your phone in front of you. When you feel ready, start recording practice clips on your phone. You don't have to post these but you can study them to critique your performance or even share them with close friends to get feedback.
The length of time you spend practicing will depend on your comfort level. But you don't want to get stuck here. On average, most people should make about 5-15 practice videos before they need to take the leap and start posting.
When you start posting to TikTok, you may well be surprised by how positive and welcoming the community is. And if you do catch any criticism, remember: it's feedback that will improve your content and it's not personal.
Film Short-Form Clips
Feeling comfortable on camera isn't the only thing you need to make short-form videos. There are a few other tips and tricks that will instantly make your videos more effective.
Here are things to aim for in your TikTok content:
Speak in quick soundbites, not long sentences. Imagine you can only speak in newspaper headlines!
Don't try to memorize a lengthy script. Instead, write yourself a sticky note with the key points you want to cover. See how quickly you can get through the list!
Stay relaxed and speak naturally, as if you were talking to a friend. If you feel awkward, you'll look awkward.
Experiment to find your best angles, background, and lighting setup. You'll be amazed by how much difference a well-placed lamp or ring light can make.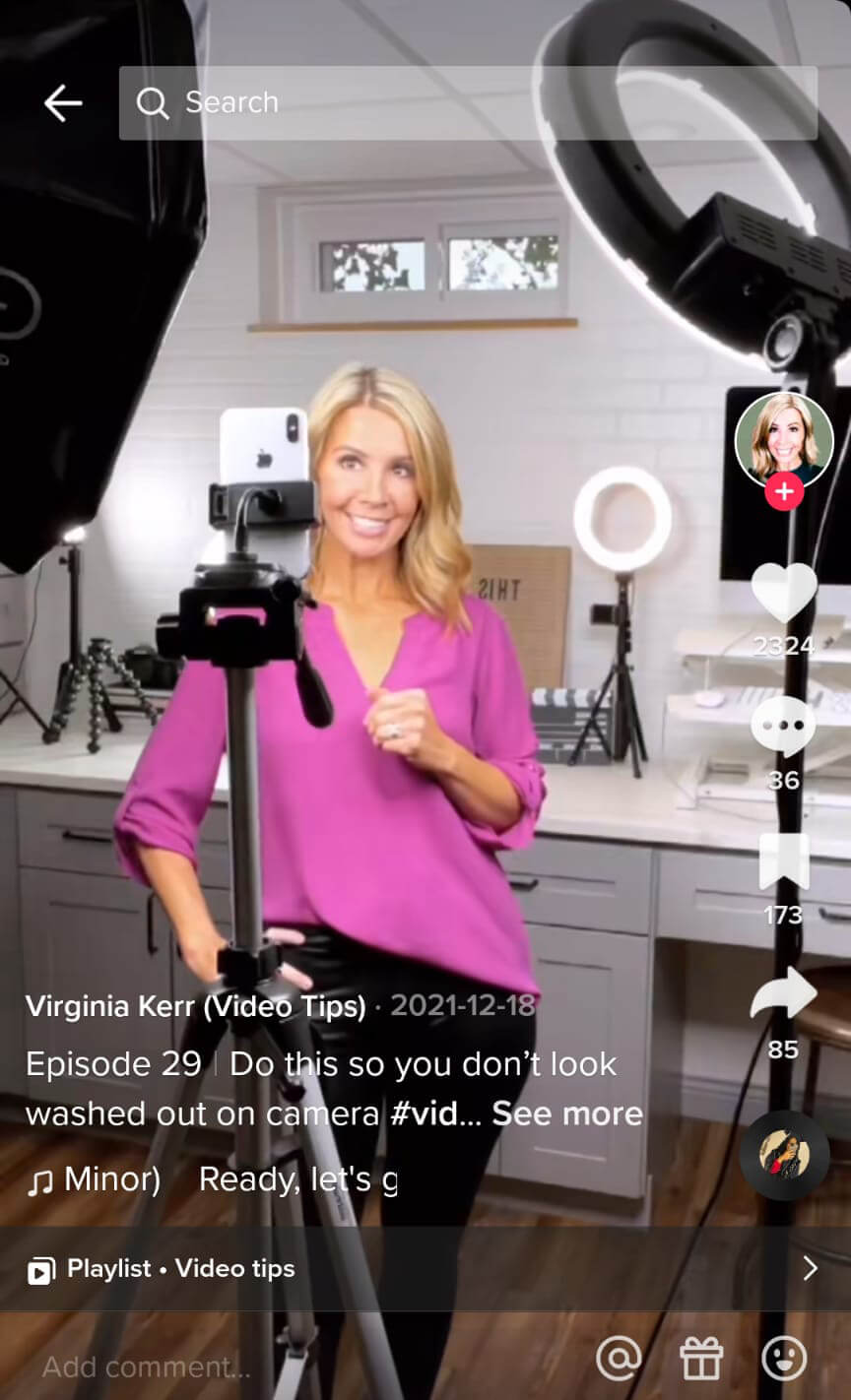 Just like when you were getting comfortable with the camera, you can film practice videos to get used to these tips, too. And if any of the practice clips turn out great, post them!
Edit Your Short-Form Videos
As we've seen, video content on TikTok is short, informal, and doesn't require any fancy setup. But you still need good editing.
There are several different ways you can edit your videos:
While recording directly in the TikTok app, you can pause and restart the recording whenever you like. This makes it easy to stop for a second if you want to check your notes, take a breath, or retake something.
Once you have the raw video recorded, TikTok has extensive, built-in editing tools to add effects, audio, and text overlays. Its video editing options get better all the time.
If you really want to step up your game, use a third-party app like CapCut (which is owned by the same company as TikTok).
CapCut offers more powerful versions of a lot of the same tools as TikTok. It's also notable for auto-generating subtitles well. Only about 20% of your audience will watch your videos with the sound on so captions are essential.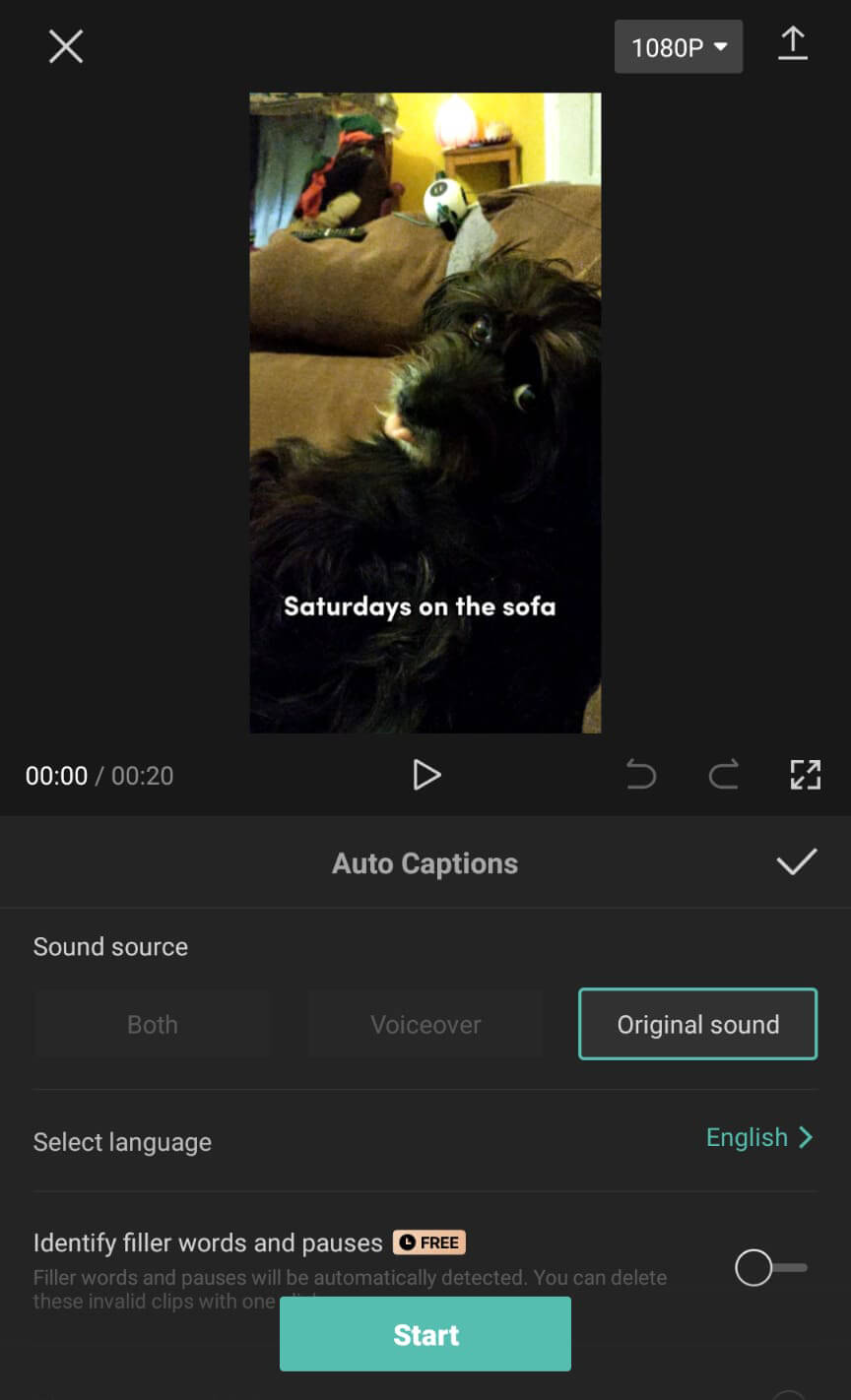 There's some evidence that the algorithm favors videos that are filmed and edited within TikTok. However, you have to weigh that effect against the impact that good editing and captions can have on your reach. On balance, it's worth using CapCut if you can give viewers a higher-quality experience.
#3: How to Capture Leads From TikTok
So far, we've focused on what and how to create on TikTok.
But if you're a busy creator or business owner, what's the business case? Is TikTok just for exposure? Or can you use it for leads and sales?
TikTok's main value is exposure. But you can also use it to build a list of subscribers, leads, or customers with the right approach. Here's your step-by-step guide to making TikTok pay.
Set Up Your Marketing Funnel
Remember how you were going to spend some time planning your content topics and getting comfortable on camera before you posted anything on TikTok?
Well, add a third task to your list: setting up your TikTok marketing funnel.
It's almost impossible to predict which of your videos will be successful on TikTok and when exactly it will take off. So you need to be ready from the get-go with a funnel for new followers and leads.
The main way you can convert on TikTok is by inviting people to click the link in your bio. For most creators, your marketing funnel will look something like this:
TikTok videos with a call to action to click the link in your bio.
The link in your bio leads to a free offer.
You collect personal details with a registration form for the free offer.
You use personal details to start a lead-nurturing campaign or upsell leads on the original free offer.
Calls to Action on TikTok
Every video you post on TikTok should have a call to action. For trend-focused videos, that might just be a reminder to follow you. For teaching content, or repurposed long-form content, the call to action will direct people toward the link in your bio.
Calls to action on TikTok can take a few different forms:
Spoken, during your video content.
Written as a text overlay on your video content.
Using TikTok stickers that say things like "link in bio" or "DM for more info."
Writing a pinned comment on your video that reiterates the call to action.
But wherever you put the call to action, you'll need to be careful about phrasing.
TikTok is relatively hostile to external links. If you write or say "click the link" in your videos, the algorithm will penalize you!
It's safer to use phrases like "visit my bio" or "view my profile." The only exception to this rule is when you're livestreaming in the app. However, livestreams have less reach over time so they're no replacement for putting subtle calls to action in your recorded videos.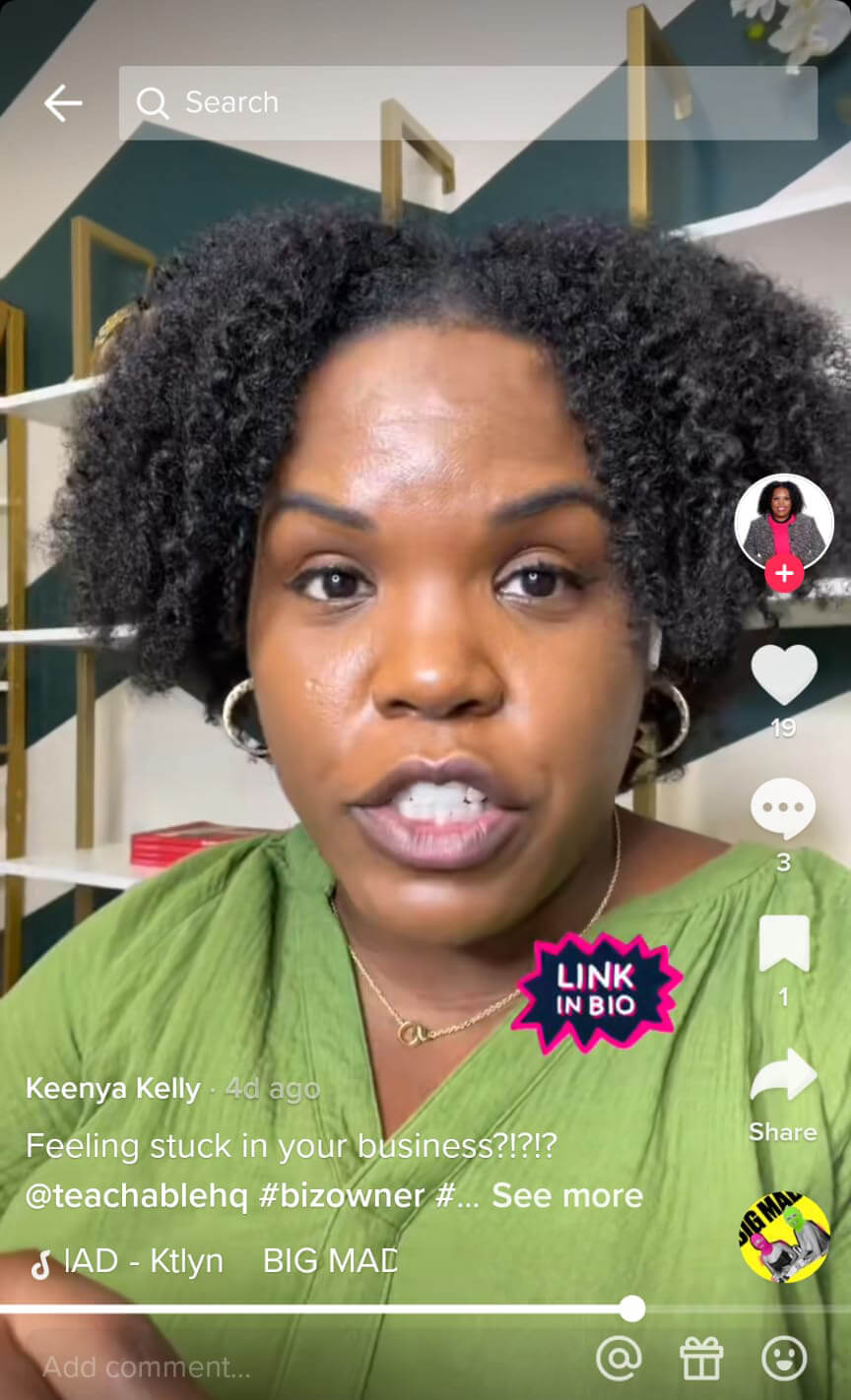 Sharing Links on TikTok
Whenever you want to share a link on TikTok, it has to be through your bio or direct messages. Links in video descriptions and comments are not live, except for ads.
That means that your bio is the most important part of your TikTok profile. If your bio's broken, your strategy is broken.
Your bio should include three things:
Who you are.
Who you serve.
The link.
You have 180 characters to use including emojis, so make them count!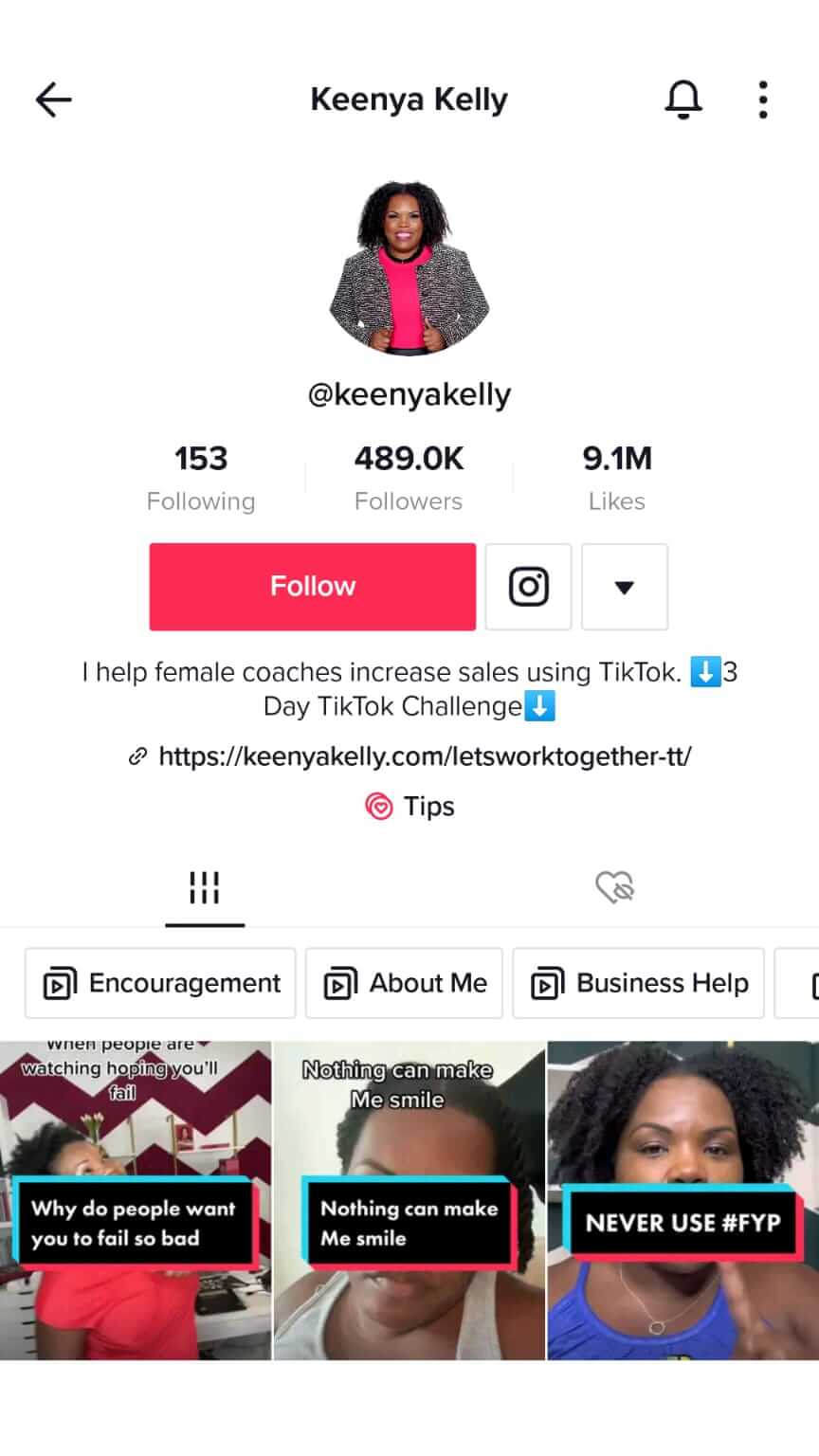 Of course, you might want to share more than one link (for example, if you're running multiple lead campaigns at the same time). You can use services like Linktree to share more than one link in your bio but you should always have a primary free offer that leads the list.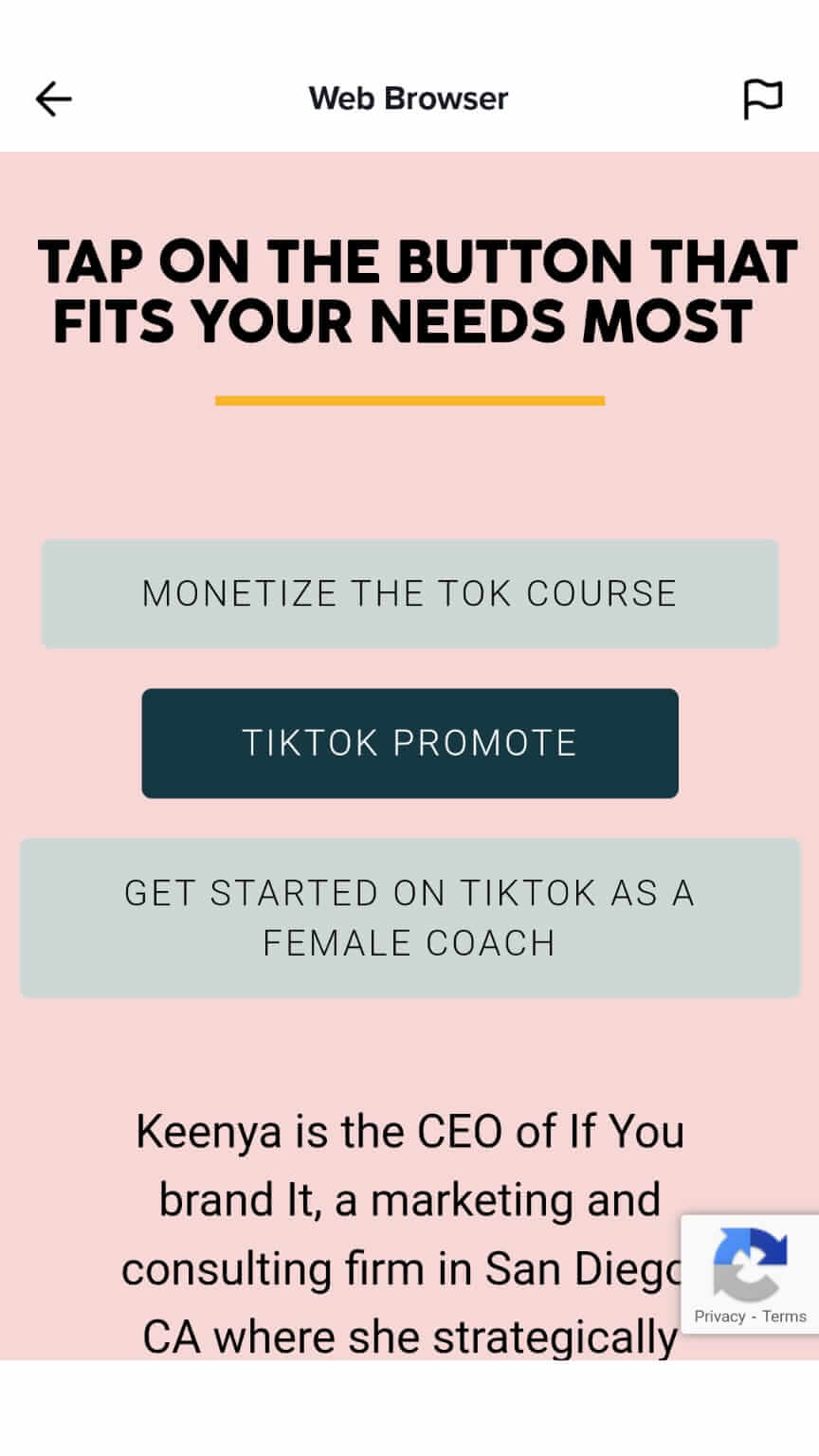 Create the Perfect Lead Magnet
Finally, let's talk about what you're linking to. What's your offer? What will make TikTok users convert into leads?
As a long-form content creator, you normally have more time and space to establish your value proposition. But on TikTok, everything has to happen instantly. So even your lead magnet has to offer instant gratification.
Just like selecting topics for your content, the easiest approach here is to simply ask your audience what they want. What would make their lives easier? Try to think flexibly: it could be a printable PDF, a video, a mini-course, or something completely different!
Another element that can make a big difference to your lead collection is the data you ask for. As a general rule, older demographics are happy to share their name and email while younger groups, especially on TikTok, may prefer to share their name and cell number.
Use the TikTok Messaging Feature
TikTok has only recently reintroduced open direct messages. That means you can message anyone, whether or not you follow each other.
And the best part? You can share active links in DMs. It's a new channel for converting leads and a new way to have conversations and build relationships with users beyond video content.
So we can expect TikTok strategy to change in the next few months. Watch out for new integrations from marketing services like Minichat, and start thinking about how you could incorporate DMs into your TikTok marketing funnel.
Other Notes From This Episode
Where to subscribe: Apple Podcasts | Google Podcasts | Spotify | YouTube Music | YouTube | Amazon Music | RSS
✋🏽 If you enjoyed this episode of the Social Media Marketing podcast, please head over to Apple Podcasts, leave a rating, write a review, and subscribe.
---
Stay Up-to-Date: Get New Marketing Articles Delivered to You!
Don't miss out on upcoming social media marketing insights and strategies! Sign up to receive notifications when we publish new articles on Social Media Examiner. Our expertly crafted content will help you stay ahead of the curve and drive results for your business. Click the link below to sign up now and receive our annual report!