Do you want to learn more about Quora? Wondering how Quora can enhance your marketing efforts?
To explore how to use Quora for marketing, I interview JD Prater. JD is Quora's full-time evangelist, a speaker, and host of the Grow with Quora podcast.
JD shares what Quora can do for your business. You'll also find how to use Quora to establish thought leadership, drive your content marketing, and reach potential customers.
Read a summary of the interview below. To listen to the interview, scroll to the end of this article.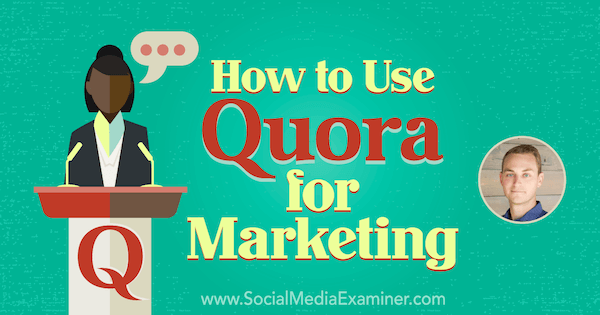 Getting Started at Quora
Around 2009 and 2010, JD was living in Washington D.C. and looking to work for the government. He ended up at a nonprofit where he was in charge of the organization's Facebook and Twitter accounts. He left the nonprofit, and in 2014 or 2015 ended up at an agency.
JD worked with a variety of clients as the Head of Paid Social at Hanapin Marketing. From there, he moved on to work for a PPC analytics and reporting tool. The job entailed helping marketers with their tracking and measurement, which led him to Quora.
JD joined Quora as a user when the platform was still in its beta phase and launching an ads platform. His company was one of the first hundred to pilot Quora and they found amazing results with it. He discovered it is cheaper to advertise on Quora than advertising on Facebook, AdWords, or Bing. His company then participated in a case study, launched a podcast, and cultivated a relationship with the site over the next year and a half.
In September 2018, Quora offered JD a position as its full-time evangelist.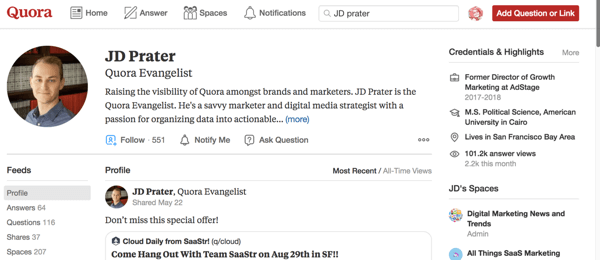 After writing blog posts, speaking, and promoting the platform in many ways, this was a natural extension of the work he was already doing. His job now involves educating people about Quora's value for both users and marketers, and driving demand for the platform.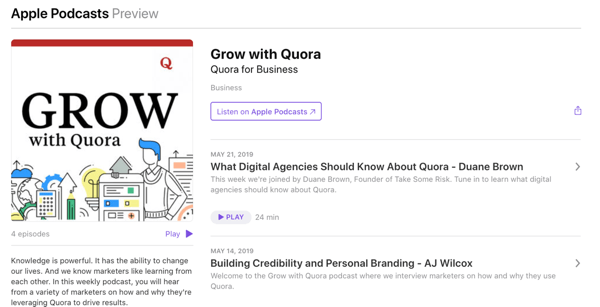 Why Marketers Should Consider Quora
Quora is driven by the mission to share and grow the world's knowledge online. Knowledge exists in a lot of places—books, magazines, podcasts, and all over the Internet. It goes beyond hard truths and facts about the world. Much knowledge is actually experiential, subjective, and made up of many opinions that can all be correct.
Quora uses advanced machine learning and AI to connect people who have the knowledge to those who need it in the form of questions and answers. It works to get the right question and the right answer to the right person at the right time. You can even write a question and specifically reach out to the right people to answer it.
As you use the platform, Quora learns more about your expertise and experience and directly routes questions to you that you might be able to answer. It then surfaces the conversation to other experts who can upvote and support your answer. As a result, every user gets a highly personalized feed that becomes more refined the more you use the site.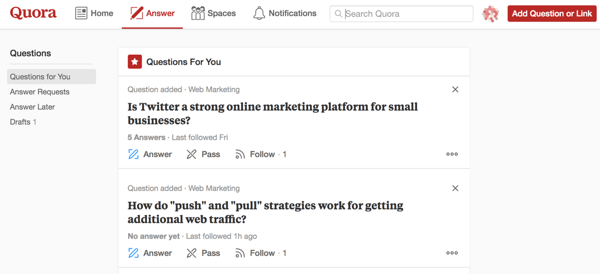 From an advertising perspective, Quora provides the opportunity to reach and influence people at the moment they are intentionally researching and evaluating products. They are in the right mindset to hear different opinions to consider.
Unlike Facebook and other social media platforms which users visit to pass time or connect with friends, Quora is purely established around demand-driven questions and answers. Your potential customers are on Quora asking questions about you, your competitors, or your products or services. The platform is an easy way to get in front of them and talk about your brand, just by simply answering questions.
Listen to the show to hear more about the way Quora uses machine learning to route questions and answers to the right person, at the right time.
How People Use Quora
Quora is set to celebrate its 10 year anniversary this coming June 2019. It boasts just over 300 million unique monthly visitors. Half of this audience is in the U.S. This means that almost 40% of the U.S. audience is using Quora at some point every month.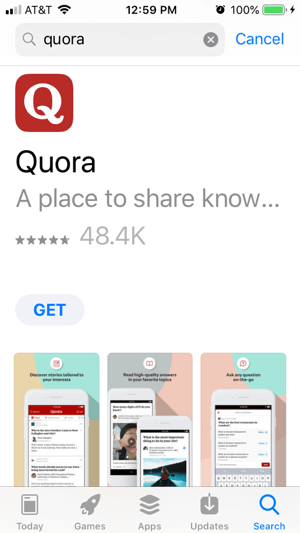 There are a number of ways to access Quora. The platform is available as a website and a mobile app, which can be accessed by anyone. The queries on Quora additionally index well with Bing and Google, so many people discover Quora through organic search. Quora users can also subscribe to a personalized email digest of curated questions and answers at selected intervals.
Questions on Quora are typically answered within 24 hours, especially if you request answers from certain people or use the "Ask to Answer" option. JD cautions that a question posted without these indicators may remain dormant for days or weeks. It may even be completely overlooked due to the wave of questions constantly being posted to the site.
Quora covers a well-distributed range of topics and industries covering both B2C and B2B. These findings were supported when the company released its first ever topic wheel in 2017. In 2018, it published an infographic of how many followers and questions were asked around a particular topic.
In 2018, 16 million people followed topics dealing with "higher education" and asked over 600,000 related questions. Topics dealing with "auto" had 7 million followers and "entertainment" boasts 83 million followers. Both segments each had over a million questions each. The "business" category alone had 59 million followers and 1.4 million questions within this one year.
Quora offers just about every category you could possibly imagine. It then allows you to follow specific topics, so that you'll see any conversations about them. You can also follow specific questions both privately and publicly. As you follow and respond to more questions about a topic, your Quora feed and notifications are tailored to your specific interests and expertise.
Whatever industry you market or are interested in learning more about, Quora can get you in front of that audience.
The Quora Flywheel
There are three main categories within Quora's flywheel: first, establish thought leadership; second, use content marketing; and third, reach and influence potential customers with advertising. The third step of reaching customers with ads flows right back into the first step of establishing thought leadership.
Establishing Thought Leadership on Quora
Quora's question-and-answer format is ideally set up to earn credibility and establish yourself as a thought leader in your industry. For this reason, many C-suite executives and VPs have increased the amount of time they spend on the platform over the past two years. Coaches, consultants, and marketing managers can benefit from Quora as well.
Seeking out questions and providing the best possible answer is the best way to offer value upfront and position yourself as a thought leader on Quora. JD reports that a few of these contributors have reached up to 60 million views on their answers.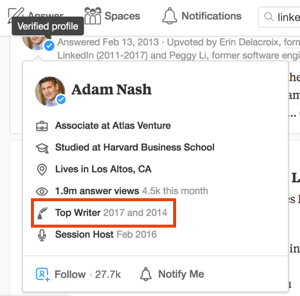 Beneath each question, the answers are ranked based on the most relevant or best ones, similar to search results from Google. Being the first to answer not only matters in the ranking but also gives you a chance to gain exposure for you and your brand. Quora also awards monthly "Most Viewed Writer" badges by topic and annual "Top Writer" awards to highlight its most active contributors.
JD shares that being the first or second to reply and giving the best answer on any given question almost certainly guarantees that your response will rank at the top. Whether there are hundreds of other answers or only one, getting there first makes it difficult for others to trump your answer or provide something different.
Once you're responded to 20 or 30 questions on the same topic, you will then be surfaced as an expert about it and be invited to respond. This leads to a snowball effect where you're actually getting in front of the right type of people who are actively wanting to know more about your company or products. And now, they are looking to you for the best possible answers.
Being active in the most popular questions on Quora has benefits and can lead to exposure beyond the site. Some of Quora's best writers are picked up and quoted by major publications like Forbes, Inc., and others.
Listen to the show to hear how Quora uses AI to eliminate duplicate questions.
Content Marketing
Quora provides another venue for you to distribute and amplify the content on your blog or elsewhere that may not be getting the exposure you wish it were. Unlike social media posts, the content on Quora is evergreen and is indexed by Google. What you post on Quora will be around in a year, in two years, and hopefully 20 years from now.
You can either write an original response, or copy and paste information from your website. Then add a link that drives traffic to your site. JD suggests taking a 100- or 200-word snippet and directing readers to go to your site "if they want to read more" or "get more information."
If you are looking to reuse or amplify existing copy or text, either re-word it or cite any copy-pasted material with quotation marks or brackets. This aids Quora's AI system in identifying quality, original answers from duplicate content, which would normally be flagged and removed.
Reach and Influence with Quora Ads
Once you've established yourself and produced content on Quora, you can then promote your answers for a fee. You have the option to boost an answer that you or someone else has written and set ad perimeters around it. For example, you can promote a great review from a customer or a great answer about your products.

Promoted answers within Quora are a great way to expand your or your company's reach and single out who you want seeing content about you. JD has seen this ad product used for top-of-funnel awareness-building, retargeting, and targeted engagement campaigns. You can use it to generate a sense of immediacy, generate leads, drive traffic to your own site, and much more.
In order to promote an answer, you have to set up an ads account on Quora in the same way you would set up an account to boost a Facebook post. You define your target budget and promotion period. You can establish a target audience and location as well.
Quora offers different kinds of targeting. It allows advertisers to run contextual-based advertising placements that target everyone who's indicated an interest in a specific topic. There is also behavioral targeting based on what users have engaged with in the past and targeting based on keywords. JD clarifies that you cannot target keywords in answers, only keywords in questions.
When you promote an answer, the accompanying question is highlighted as well. The question and the answer will be paired and appear as an organic post in the feed. The only difference is that it will be tagged as "sponsored by", followed by the brand name or company, and only the promoted answer will appear. No other answers will be seen.
Promoted Answers is only one type of ad unit Quora offers. In addition, advertisers can create image and text ads. JD has seen inventive advertisers turn their headline into a question to fit more natively within the site's text-based format. Marketers are still very much testing and trying to figure out what works well in the platform.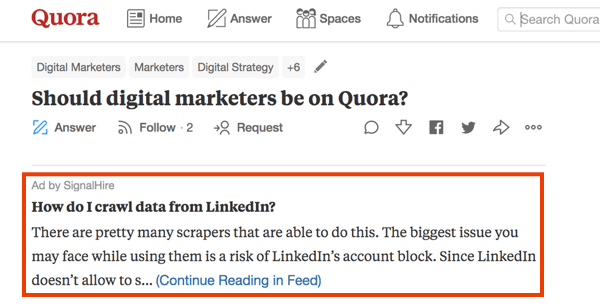 The site is mostly text-based but supports thumbnail images for ads. The platform currently does not support native videos. However, you can upload or link to YouTube or Vimeo videos in answers or Promoted Answers.
Read this response from JD on Quora to learn more about Quora's ad platform.
Listen to the show to hear more ideas on how to leverage Quora's Promoted Answers feature to drive increased awareness, leads, views, and more.
What's Coming in the Future for Quora
Quora is currently developing Business Accounts. These accounts would enable businesses to establish a presence on the platform and assign roles to different people who could response on behalf of the organization.
Business accounts on Quora will allow businesses to provide the most knowledgeable answers, as the business, about their particular industry, services, or tools. This means that information and answers about your company will be tied to your brand, not to individual employees who may come and go.
JD suggests that there could possibly be a verification feature, which will qualify who is or is not authentically responding on your company's behalf. However, Quora is still thinking through this specific process.
This highly-requested feature is being beta tested as of this recording and is expected to roll out by the end of Q2 2019, mid-to-late June or early July 2019. To find out more about this upcoming release, visit Quora.com/business.
Discovery of the Week
Timeshifter is a mobile app for iOS and Android that helps you overcome jet lag.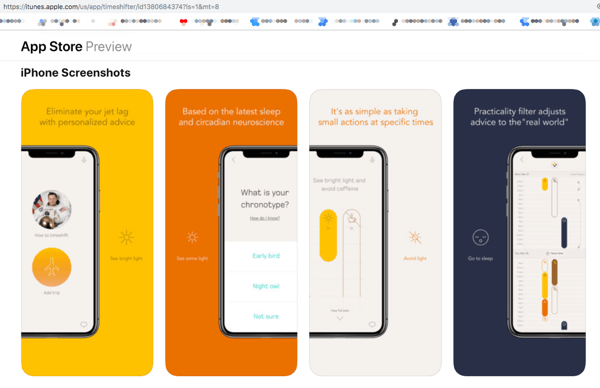 Timeshifter was developed by scientists to analyze your sleep patterns and offer suggestions on how to prepare for an upcoming time shift or reacclimate to your regular time zone. Used ahead of or near the end of a trip, Timeshifter helps you quickly adjust to new time zones by prompting you about when to be exposed to bright light or avoid bright light, have caffeine or avoid caffeine, go to bed or wake up, and so forth.
You can find Timeshifter for free in the iOS App Store and Google Play.
Listen to the show to hear more about Timeshifter.
Key Takeaways in This Episode
Listen to the Interview Now
The Social Media Marketing podcast is designed to help busy marketers, business owners, and creators discover what works with social media marketing.
Where to subscribe: Apple Podcast | Google Podcasts | Spotify | RSS
What do you think? What are your thoughts on using Quora as part of your marketing strategy? Please share your comments below.