Want a better return on your Pinterest marketing efforts? Are you using all of the Pinterest features available to you?
In this article, you'll discover how to use three valuable Pinterest features to enhance the customer journey.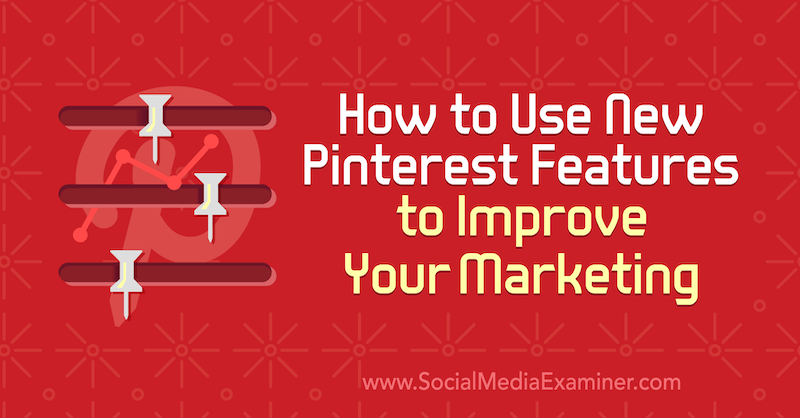 Explore the Newest Pinterest Board Features
First, let's uncover how to use these features to optimize your Pinterest content. Then we'll map out a plan for how to use them in your marketing.
Dates for Boards
Pinterest's new Date feature lets pinners add a date to the boards they're creating. The dates aren't visible to the public; only the pinner can see the dates they put on their boards.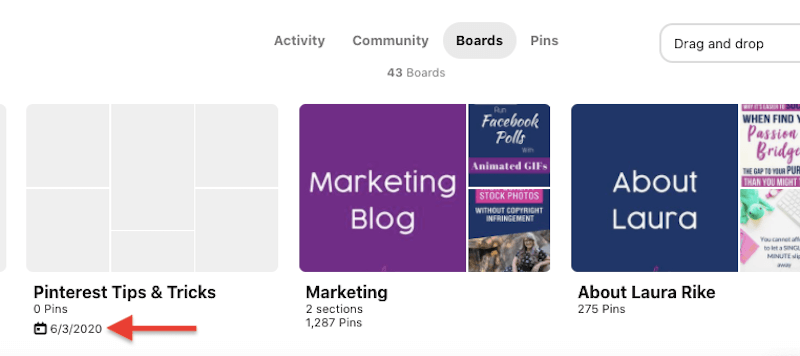 By using this feature, pinners can organize their boards in chronological order and keep track of project timelines. This feature also makes it easy to identify older boards and archive them.
To use the Date feature, open the board you want to add a date to, click the three dots icon, and choose Edit.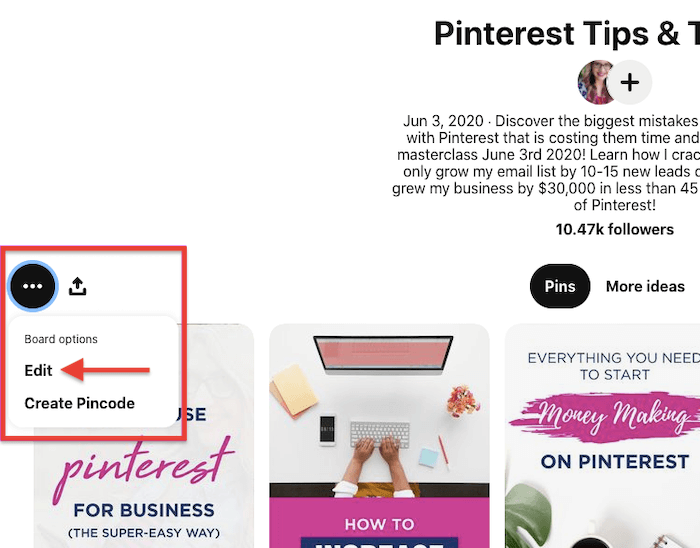 In the Edit Your Board window, click in the Add Dates field and select a start and end date from the pop-up calendar. When you're done, click Save.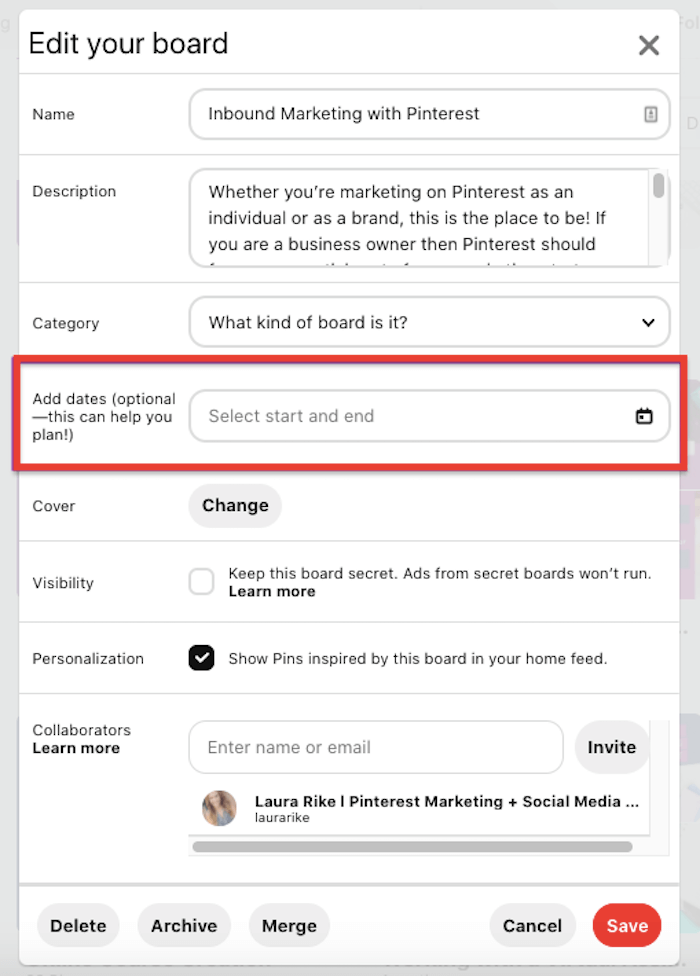 Notes for Boards
Pinterest's Note feature allows pinners to add private notes to their boards. They can use them to jot down ideas, track tasks or steps, document insights, or write down ingredients. Pinterest even lets you create a to-do list within a note.
To use the Note feature on an Android device, open the board to which you want to add the note, tap the + icon at the bottom of the screen, and select Note from the pop-up menu.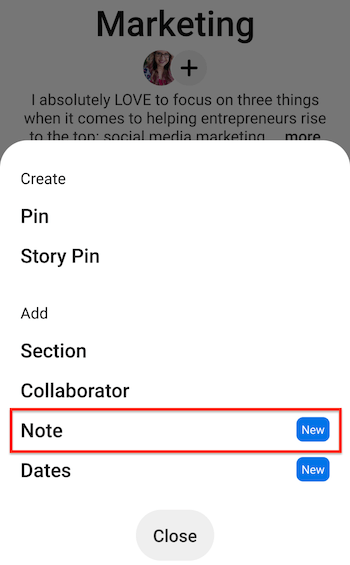 Next, enter the title you want to use for your note and then type in your note.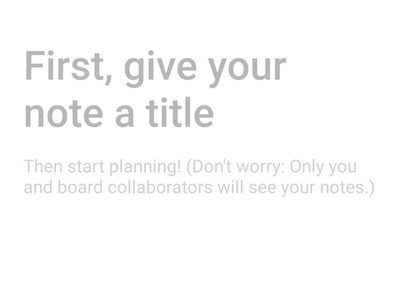 If you want to add a pin to your note, tap on the image icon at the bottom of the screen and then select your pin. To add a checklist like the one below to your note, tap on the checkmark icon and start typing your list.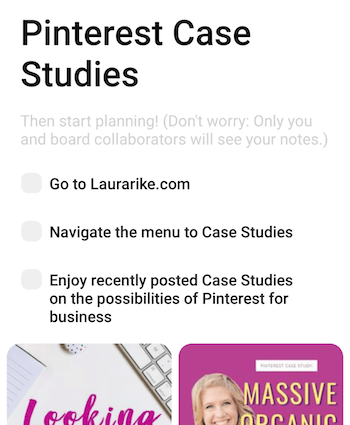 When you're finished, tap Done and your note will be saved automatically.
If you want to go back and edit an existing note, open the board, select the note you want to edit, and make your changes. To remove a pin from the note, tap the pin (image) and select Deselect. Again, any changes are saved automatically and the note will remain in place until you delete it.
To delete a note, go to the board and open the note you want to remove. Tap the three dots at the top right and select Delete. Then tap Delete Note to confirm.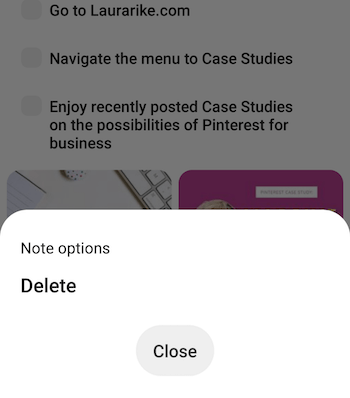 Suggested Sections for Boards (Updated Search and Suggestions Technology)
Pinterest's upgraded search and automated suggestions technology allows topical organization of boards and pins. Pinners can organize existing boards based on these prompted suggestions. In addition, the technology—known as PinSage—will suggest interest-based categories for new followers. Pinterest can also suggest products or services for the pinner to consider that are missing but may be a value-add to their boards.
Leveraging These Features
Now that we've covered the basics of the newest Pinterest features, let's look at some ways marketers and business owners can use them to improve their marketing.
Because people at different levels of your funnel will have different needs, how you use these new features at the top of your funnel will be much different from how they will help you move people to the bottom of your funnel to become purchasers.
To illustrate, encouraging pinners to create their own notes during the education phase or middle of the funnel is a useful tactic but it could slow the progression of someone at the bottom of the funnel who's ready to buy. At the bottom of the funnel, you could instead leverage suggestions for your prospective clients to use with the Note feature, which will help keep your offer's open cart time front and center.
#1: Create a Sales Funnel Board to Launch Limited-Time Offers: The Date Feature
First, we'll look at an example of how to use the Pinterest Date feature to keep your ideal prospects on the Pinterest platform so you can nurture the relationship before sending them off-platform for the sale.
To move pinners through your funnel, you'll be creating four sets of pins for a topic you offer: a series of pins to interest someone at the top of the funnel, a series to interest someone in the middle of the funnel, a series to interest someone at the bottom of the funnel, and a series relevant to a prospect who's about ready to convert.
Create a new board and place the first three sets of pins on it. You're going to organize these pins into sections based on where they fit in your funnel (top, middle, or bottom).
To organize your board, tap on the board you're using for your funnel creation and then tap on Organize.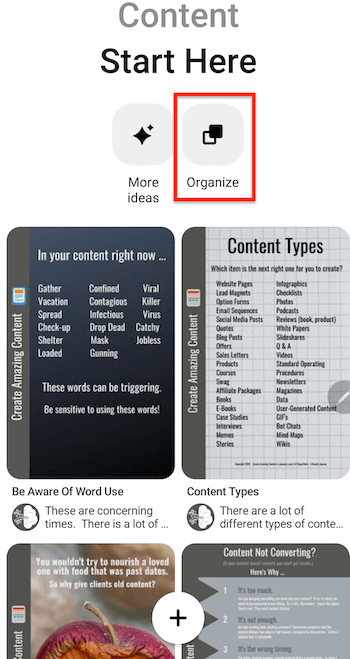 On the Select or Reorder screen, tap on the pins you want to reorder for the top of the funnel. At the bottom of the screen, tap the double-arrow icon.
On the next screen, tap the red circle icon next to Add Section. For the section name, type the name you want to use for your top-of-funnel pins and then tap Done in the upper-right corner.
Now repeat these steps to organize the remaining pins into a section for prospects who are in the middle of the funnel and a section for prospects at the bottom of the funnel.
When you're finished with your first board, create a second board for the fourth set of pins (for prospects who are about ready to convert). Using Pinterest's Date feature, make this board available for only a short period of time (similar to what traditionally happens with product launches where content is available only during the lead-up to the selling phase). Limiting the public accessibility of your board to a pre-selling timeframe creates more urgency and interest while people are still on the platform.
When the content window ends, you'll then archive this board. To do this, go to your board, tap on the three dots, and then tap on Edit Board. In the Edit Board window, scroll down and select Archive.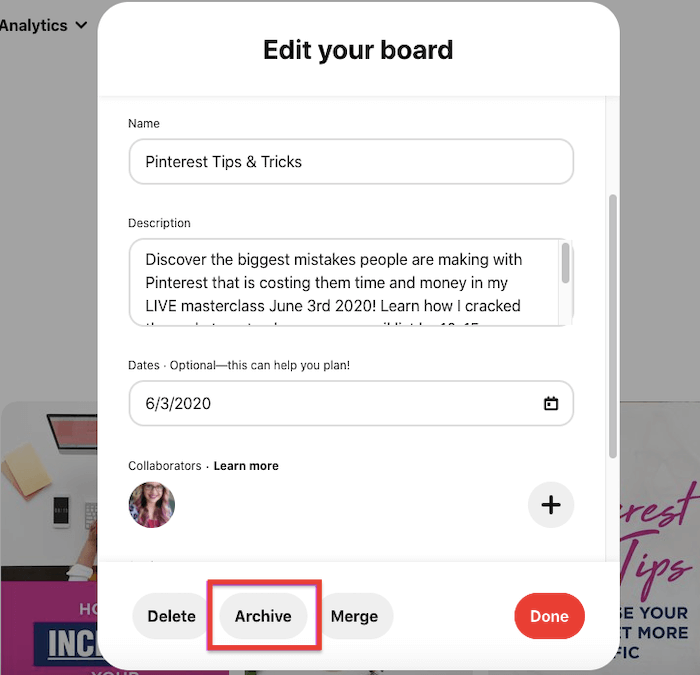 Once you've archived your board, only you can see it. Your archived board will appear in a new section at the bottom of your Pinterest profile under Secret Boards. But unlike a secret board, which can't be shared and is only available to collaborators, you can still share an archived board.
#2: Guide Prospects to Complete a Process: The Note Feature
Remember, Pinterest's new features are aimed at improving the pinner's experience, not the marketer's. For marketers to effectively use these features to reach, connect with, engage, and convert their ideal audience, they need to look for areas where the pinner's experience intersects with a heightened experience they provide and then determine which Pinterest features will help them achieve their objective.
For instance, if you want to have staying power on pinners' boards (rather than be archived), create more evergreen content and provide specific suggestions for insights, to-do lists, accountability notes, affirmations, commitments, or other personalized notes for the pinner. Encourage pinners to use the Note feature to add your suggested material to their own boards, which helps instill ownership.
To connect with, engage, and educate your audience toward a purchase, create Pinterest content that makes specific recommendations on action steps, teachings, and strategies for that content. Encourage your audience to incorporate these ideas as a journaling-type note on their boards through the Note feature.
If you're looking to encourage virtual attendance to a webinar, summit, seminar, training, symposium, or another online event, provide prep work, homework, a lead magnet, or personal assessments, and encourage pinners to attach a photo of the event announcement or invitation in a note.
To start a campaign, announce a book release, promote an event, or unveil a launch so your ideal pinners can participate or purchase, provide more than the usual lead time through teaser content on your own dated boards. Use clear, competitive search terms (a topic we'll discuss next) in the title, description, and image to leverage the potential of the automated search technology.
The image below shows how you might organize a board into different sections. In this case, the board shows how to start writing a book but breaks down each important step (individual pins leading to each step) into a different section for more organization and to help lead the viewer step-by-step through the content on the board.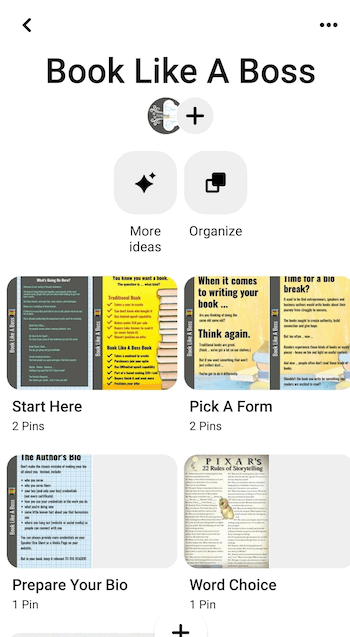 Make sure you provide instructions for how pinners can obtain or sign up for the release. Also include a suggestion for pinners to document the timeline and reminders using Pinterest's Date and Note features.
#3: Improve On-Platform Discoverability: Updated Search and Suggestions Technology
To take advantage of Pinterest's powerful search engine potential, you need to know what your ideal pinner is searching for. This information will help you better label your pins, boards, descriptions, categories, and even your profile.
With Pinterest's automated suggestion technology, it's important to use the right descriptive words so the technology will associate—or pair—what you offer with other products or services that a potential client pins. This means you'll need to connect relevant related content on your boards and in your descriptions so the technology starts to associate specific progressions and search interests with related search queries and your product.
To create better descriptions, use Pinterest's guided search feature to reveal Pinterest's automated suggestions. Start by typing your search term in the search field.
To visualize this, if your business helps with blogging, social media management, and email marketing, you may search for the term "content marketing." You'll then see other suggested terms and ideas that you can use as well. Jot down these suggestions because they reveal associations the technology is making with the search terms.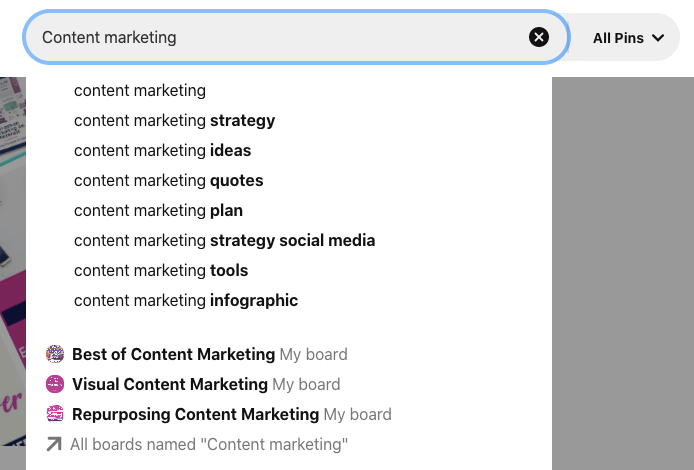 Next, click on the guide, topic, pin, or board that best represents your search term. Continue clicking to narrow the choices and improve the relevance of the response.
Documenting Pinterest's automated suggestions will help you begin to see what terms PinSage is pairing. This information can inform how you organize your boards and which search terms you add to your descriptions.
When you use more relevant search terms in your content, you not only make it easier for people to find your content through search but may also increase the possibility that Pinterest will suggest your product or service with its new search technology and suggestions.
Research Competitor Search Terms
Also look at what search terms your competitors, influencers, and allied providers (non-competitors who offer something needed directly before, immediately after, or in conjunction with what you offer) are using.
Once you've compiled this data, look for opportunities to improve the accuracy and quality of your titles, descriptions, and images to better match what your ideal pinner is seeking and what the automated technology is providing. At the same time, you'll be competing for ranking of the term against competitors, influencers, and allied providers. This will help you increase the likelihood that PinSage will show your products and services in the automated results, suggested products, or topics.
Pro Tip: Also look at how your competitors are organizing their pins and boards. Are they providing their content in a progression that more accurately reflects the customer journey? Do their boards and pins reflect their own launch strategy? Most importantly, where can you tweak yours to improve over theirs? This information will help you decide how to organize your own boards for a more effective pinner experience.
Research Pinners' Search Terms
Make sure you understand your ideal pinners' search tendencies or user intent. Answering the following questions will help in your research:
What words are your ideal pinners using to search for content in the beginning of their journey versus when they're ready to buy?
How are your ideal pinners grouping or organizing pins and boards from competitors, influencers, and allied businesses? What descriptive words do they use for these topics?
Where in their customer journey do your ideal pinners move from seeking more aspirational content to more practical or how-to content?
Understanding how your ideal pinners use the platform and organize their boards is key to creating content that will help you take advantage of the new Pinterest features, especially the Date and Note features.
Pinterest has revealed that pinners tend to start searches twice as early as those on other platforms. Because of that and in the face of dated boards, if you want to start a campaign, announce a book release, or promote an event, you must be more intentional with the lead time you provide on Pinterest than on other platforms. This is especially true if you're hoping the automated technology will start to suggest your offer to potential clients.
Conclusion
Once you're clear on which new Pinterest feature or combination of features you're looking to leverage—the Date feature, Note feature, or automated technology—create a campaign to more effectively reach, connect, engage, and convert your ideal pinner.
To do so:
Create content that's rich with optimized search words in the title, description, and image and that drives toward the goal you set.
Organize the content on your boards in a way that speaks to user needs and intent.
Daily or weekly, take your client from planning the product or event to delivery and post-delivery. You can do this by creating content that takes clients on a shared journey that they organize on boards using the Date feature.
Keep your boards organized in categories (as though you were providing a project plan or event lead-up list) to align relevant material and associated content in a way that encourages the automated technology to start pairing your products or services with search terms.
On each of your boards, add a branded pin providing prep work, homework, checklists, or a toolkit that's of higher quality than the competition and is aimed at encouraging followers to create notes on their progress on their own boards.
Continue to unveil boards that take your ideal pinners on their customer journey from the top of the funnel to the bottom of the funnel. Encourage pinners to use the Note feature to track to-do items or next steps, do journaling, or record insights related to the product or event being unveiled.
Invite pinners to document the use of your product, services, or material over a brief period of time (similar to a challenge or 5-day experience) through the Note feature and then send you a copy at the end to further engagement.
Setting clear goals, understanding user intent, identifying optimal search terms, researching competitors, and creating a campaign to meet your goals will improve the effectiveness of your marketing efforts on Pinterest.
What do you think? How will you take advantage of these new Pinterest features to improve your marketing? Share your thoughts in the comments below.
More articles on Pinterest marketing: