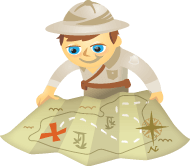 Wondering how to get more value from your Snapchat content?
Want to learn how to reuse your Snapchat stories?
You can get a bigger return on your Snapchat marketing efforts by downloading and repurposing your stories.
In this article, you'll discover how to repurpose your Snapchat stories for other social media platforms.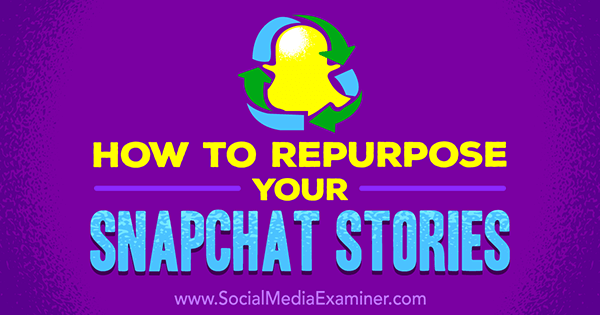 Download Your Content From Snapchat
Downloading your content used to be easy to do, but since Snapchat brought in the Memories functionality, the process has changed slightly. There are now a couple of ways to do it.
Download Snaps
The easiest way to download snaps is to just make sure you have a couple of settings turned on. From the camera screen, tap the ghost icon or swipe down.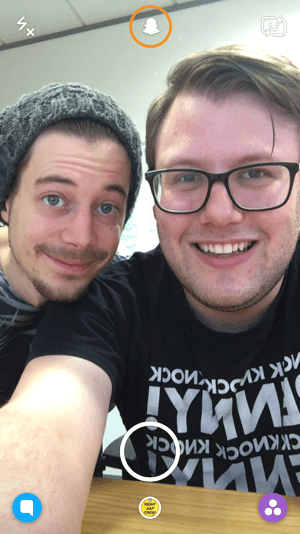 Next, tap the gear icon in the top right.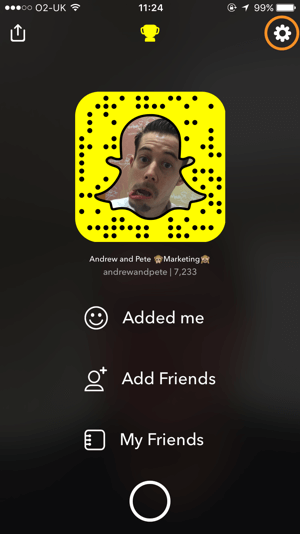 Then tap Memories.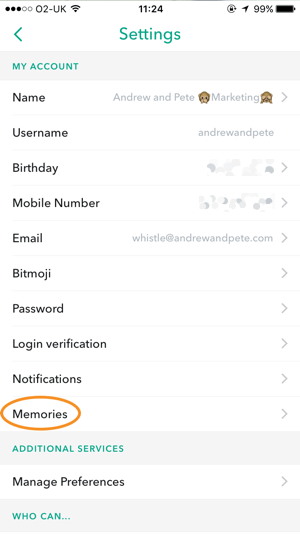 Under Saving, tap Save to…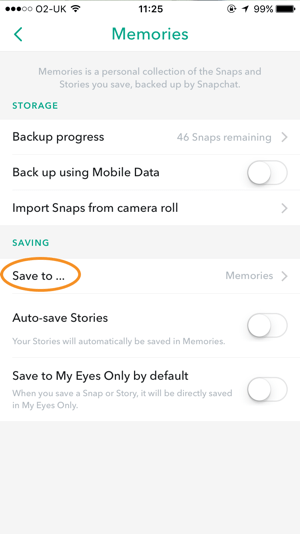 Next, choose one of the following options for saving your snaps:
Memories: Save snaps to Memories.
Memories & Camera Roll: Save snaps to both Memories and your phone.
Camera Roll Only: Save snaps to your phone only and not to Memories.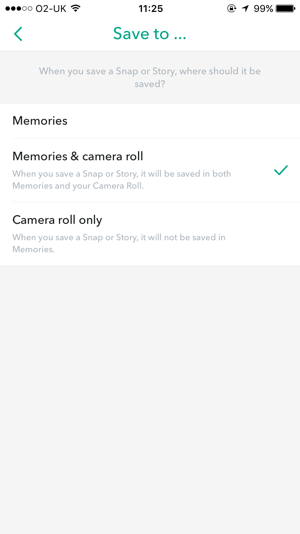 If you're going to be doing a lot of repurposing, options 2 and 3 are best, as they make it easy to download your content to your phone. Option 2 is the safest if you're worried about losing content, because you'll be downloading it and backing it up to Snapchat Memories.
Now every time you take a snap, be it a photo or a video, you can tap the download button to download the snap to your phone, ready to be repurposed.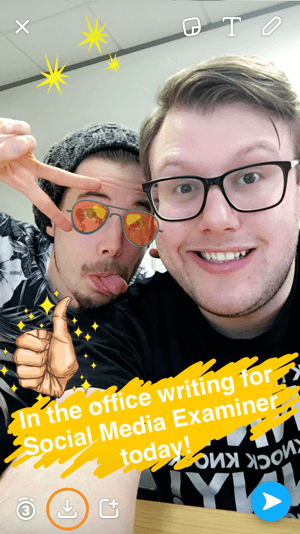 Download Full Stories
Get Your FREE Course: Web3 for Beginners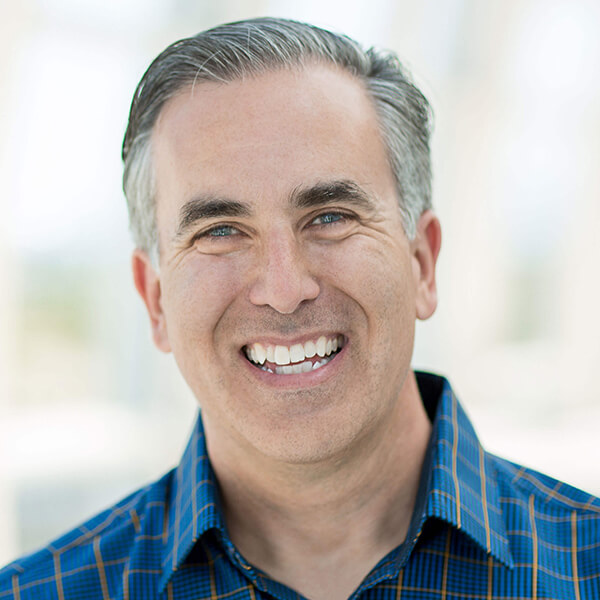 Curious about Web3, but don't know where to start or who to trust?

Introducing Web3 for Beginners, a course taught by Michael Stelzner, the founder of Social Media Examiner.

Learn the basics of Web3 and apply it to your business with this FREE comprehensive course.
CLICK HERE TO GET FREE ACCESS
To download your full story for repurposing, follow the steps above to make sure you have your settings right. Then on your Stories page, tap the download button to download your story to your phone.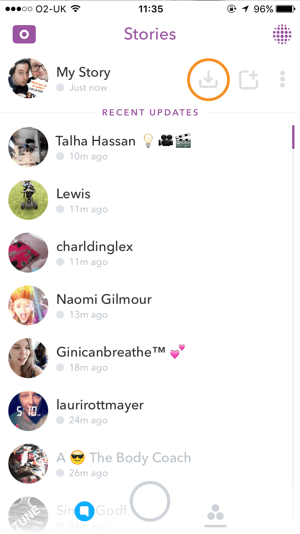 Download Stories From Snapchat Memories
If you've been saving your snaps or stories only to Memories but want to download them to your phone, or you want to stick with option 1 above, here's what you need to do.
Swipe up from the main camera screen or tap the Memories button.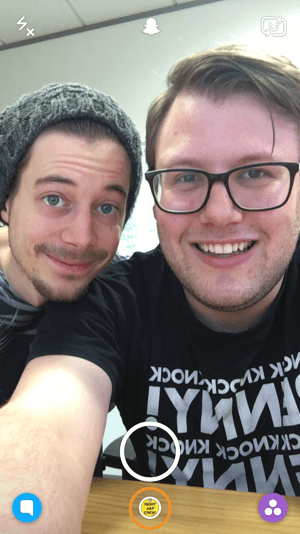 Next, find the snap or story you want to download to your phone and tap on it to open.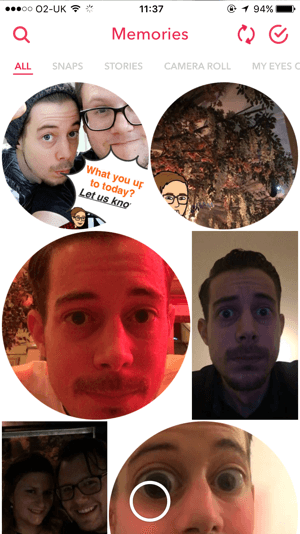 Then tap Export Story.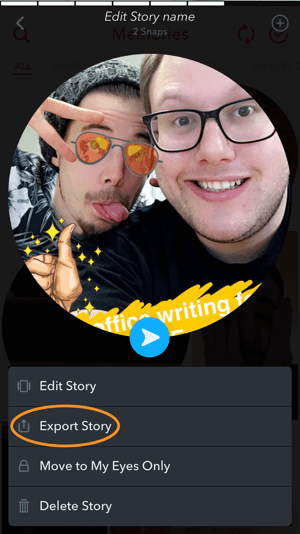 Finally, tap Save Video.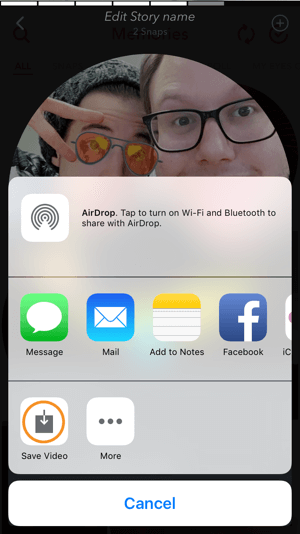 Now that you know how to save snaps to your phone, here are four ways to repurpose your snaps.
#1: Upload Your Stories Natively to Other Social Networks
In his talk at Snaphappen (the world's first Snapchat conference), Shonduras, one of the most successful Snapchatters, said it isn't enough to simply flash your snapcode on your other social networks and expect people to follow you. You have to give people a reason to follow you!
A good way to do this is to upload part of your story natively to Twitter, Facebook, or Instagram and encourage people to follow you on Snapchat to see the rest of the story.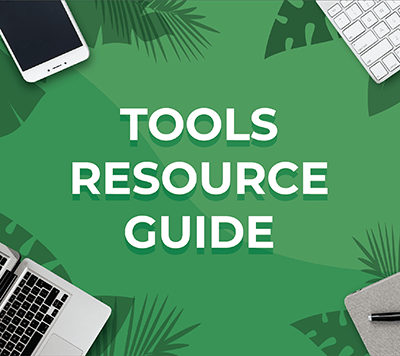 Looking for something to make your life easier?
Discover the tools we recommend to drive engagement, save you time, and boost sales across your entire marketing funnel or business.
Whether you need help planning content, organizing social posts, or developing your strategy, you'll find something for every situation.
FIND YOUR NEXT FAVORITE TOOL
To maximize this tactic, try making it fun! Use classic storytelling strategies and end your teaser on a cliffhanger. This can also be a good way to get started with Instagram stories, especially if you already have an audience there.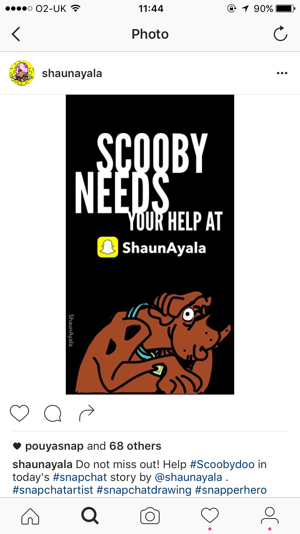 #2: Create Eye-catching Graphics for Social Posts
Snapchat makes it easy to create eye-catching graphics with all of its various features, including filters, lenses, geofilters, emojis, bitmojis, the pen tool, and text.
If you want to talk about something "in the moment" in a social media post, you might create a quick graphic on Snapchat to make it pop on the feed a bit more. For example, here's one we quickly created for our Facebook group: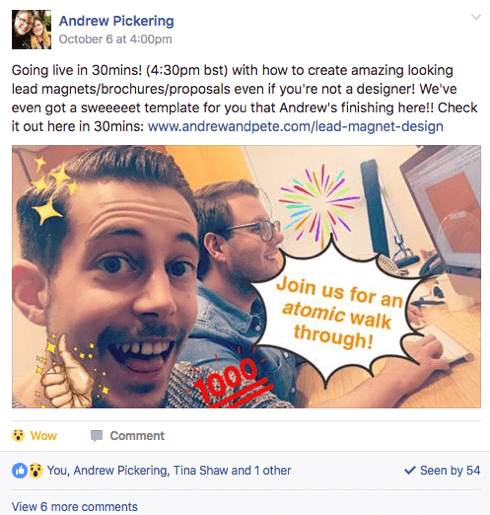 #3: Upload Your Content to YouTube as a Video
Another way to repurpose your Snapchat stories is to upload the content to YouTube. This can be an easy way to get your YouTube channel started because creating video content on Snapchat is super-easy and quick, and you have so many effects at your disposal.
The video won't be the same as a polished and edited vlog, but the fast-paced, 10-second jump-cut style is effective and engaging.
If you plan to upload your story to YouTube, ensure your story has a running theme that would make sense as a stand-alone video. Then download the story using the steps above and upload it to YouTube.
Here's an example of Chris Ducker talking about how to get more time into your day in a video filmed on Snapchat and uploaded to YouTube.
Once you have your content on YouTube, the options are endless. You could embed your video on your website as a blog post, embed it in a LinkedIn post, create a Pinterest board of all of your Snapchat-created video, put it on sales or product pages, or wherever makes sense.
Get creative and start thinking about how you can use the power of Snapchat video in a way that your competition maybe isn't.
#4: Create GIFs
Let's end with a fun, less-serious way to reuse your snaps. If you've always wanted a GIF of yourself with a dog on your face, or of your team doing something fun, this one is for you!
GIFs are a great way to show brand personality on your social networks and be a bit more fun. You could even mix up your "meet the team" page, and get each team member to record a GIF with his or her favorite filter!
To create a GIF, first download a fun video snap.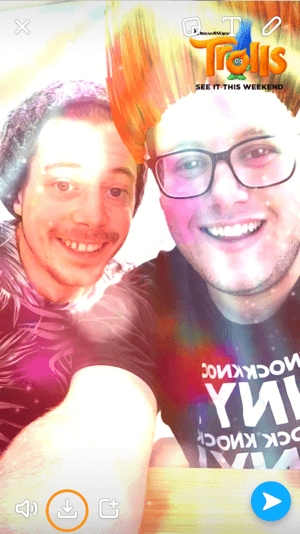 Then on your phone, go to Giphy and log in or create an account. Tap the blue upload icon in the upper-right corner.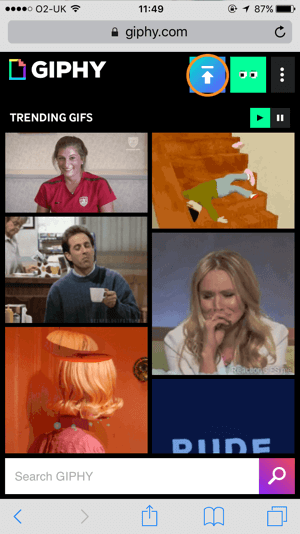 Tap the Select GIF or Video From Device button.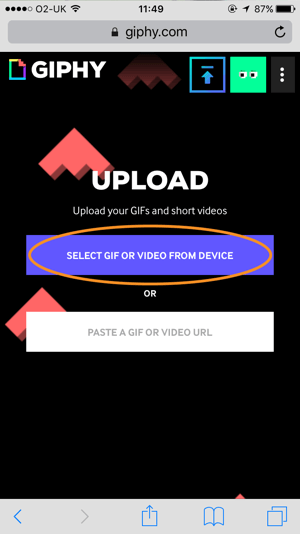 Then tap Photo Library and find your downloaded snap.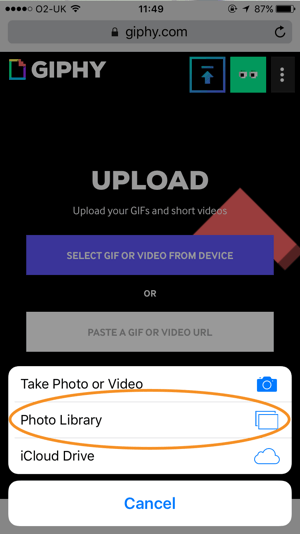 Add tags if you like and select whether you want your GIF to be private or public. When you're finished, tap Upload.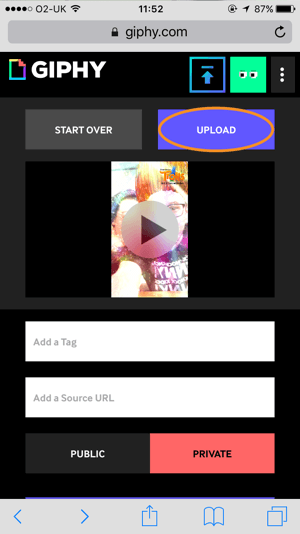 You can now use your GIF on your social networks.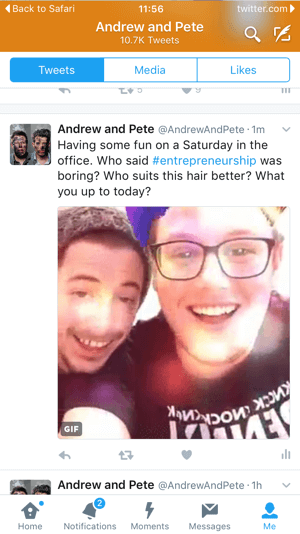 Pro tip: If you made the GIF public, you can post it right from Giphy using your phone. If it's private, you'll need to log into Giphy on a desktop and download the GIF to post it.
Conclusion
To get more out of all of the videos, images, and stories (a combination of videos and images) you're creating on Snapchat, you can repurpose them in some way for the other platforms you're active on.
Although it can be argued that you should be creating unique content for each social platform, repurposing can offer these benefits:
Save precious time. You can reuse what you already have or create content quicker on Snapchat.
Entice people to connect with you on other platforms, specifically get them back to Snapchat.
Be more creative. You can use all of Snapchat's features to create content for other channels.
So start thinking about all of the ways you can make the content you're already creating on Snapchat work on your other platforms. Happy snapping!
What do you think? How do you reuse your Snapchat content? Please share your thoughts in the comments below.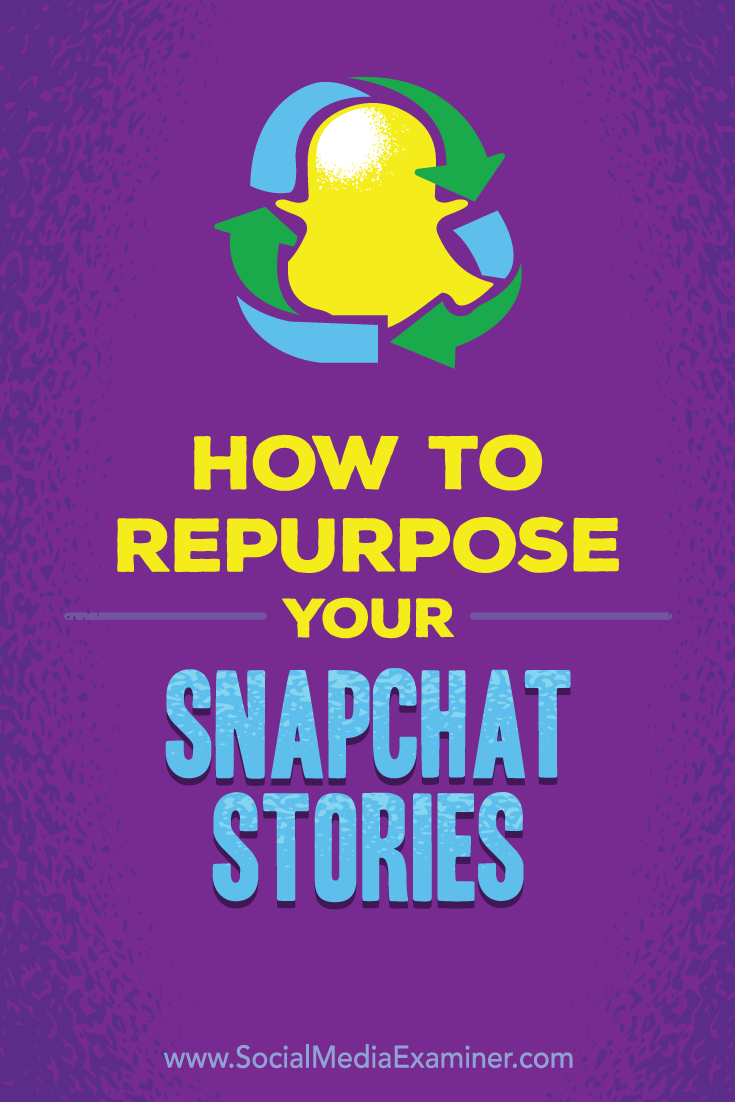 Get Your FREE Course: Web3 for Beginners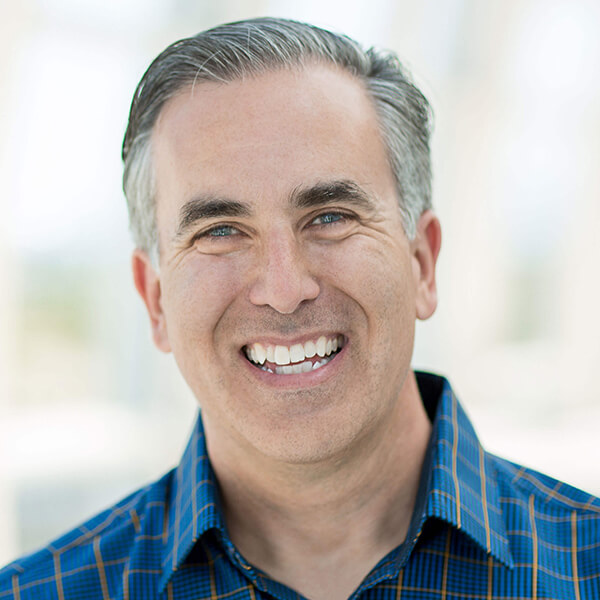 Curious about Web3, but don't know where to start or who to trust?

Introducing Web3 for Beginners, a course taught by Michael Stelzner, the founder of Social Media Examiner.

Learn the basics of Web3 and apply it to your business with this FREE comprehensive course.
CLICK HERE TO GET FREE ACCESS