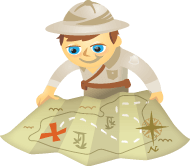 Want to create a wide range of content without a lot of effort?
Is it easier for you to create videos than the written word?
In this article, you'll discover how to use video to produce up to eight different types of content for your business.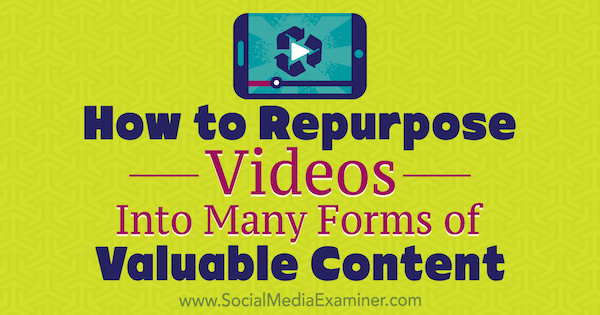 #1: Plan Your Video Campaign Style and Outline an Episode Guide
The first step is to decide what type of video content you're going to create. Rather than outline several stand-alone videos, brainstorm a series of ideas focused on the exploration of one topic. This tactic allows you to create expectation and turn the video series into more content assets.
Here are some ideas to inspire your own video series:
Line up industry experts for a series of video interviews related to your topic.
Develop a series of webinars to share business tips and tactics relevant to your industry. Not only will this give you the video content you're looking for, but it can also help position you as a trusted resource.
Use FAQs to record a number of Q&A videos featuring your employees and customers.
Interview customers. For example, Thinkific has been doing a series of video interviews with active users of their platform, explaining how to create, promote, and monetize online courses.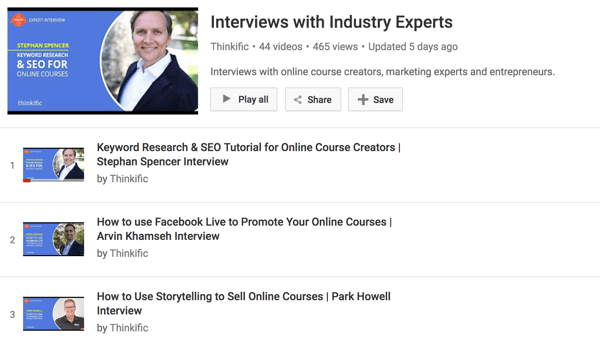 Once you've outlined your series, make sure you schedule a recurring day and time on your calendar for recording each episode.
If you plan to have guests involved, you can use a scheduling tool such as Calendly to streamline the process of lining up interview dates. Set up time slots that work for you and create a form requesting all of the information you want from your guests; for example, their full professional name, the best contact email for them, their Skype username, and so on.
Then send the Calendly link to your potential guests and let them choose the time that works best for them. If you want to let your readers or customers volunteer for an interview, embed the link on a landing page on your site.
As each time slot is claimed, Calendly will email you and add the event to your calendar. It will also remind both you and your guest of the approaching event.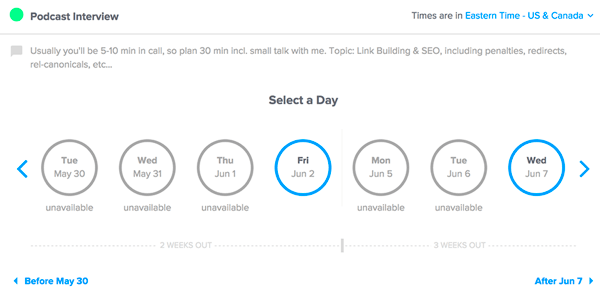 #2: Record and Edit Your Video
If the prospect of making and promoting videos is overwhelming, remember that you don't have to set up a video production room or buy expensive equipment. Start with what you have and build up as you progress.
To help you handle your video campaign in-house, you'll need two sets of tools; one set for recording and one set for editing.
Recording Tools
Depending on the style of video you choose, my recommendations for recording tools vary.
For interview videos, try these helpful tools: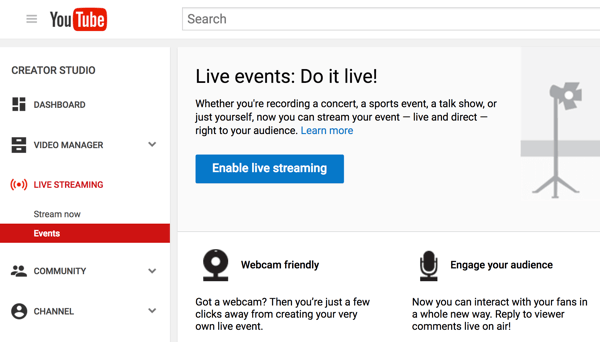 For one-person videos, use YouTube Live. Its Events feature gives you control of the live stream. You can preview before you go live, get backup redundant streams, and start and stop the stream when you want.
For webinars, consider Clickmeeting, GoToWebinar, Adobe Connect, Ustream, Livestream, and WebinarJam.
Editing Tools
Two of the easiest editing tools to use are iMovie (Mac only) and YouTube Editor (online).
Both have all of the basic features for editing video, including trimming, splitting, audio extraction, adding titles and video transitions, and much more.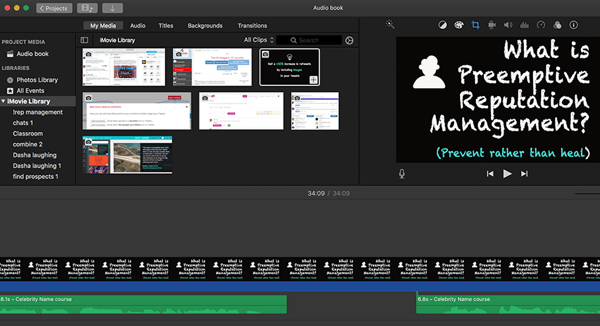 To create a video intro and custom thumbnail, you can use Canva. It will store all of your previously created visuals so instead of creating a new image each time, simply edit your existing creative. Not only does this save time, but it also helps you maintain consistency from video to video.
Pro Tip: Keep the image dimensions at a minimum of 1280 x 720.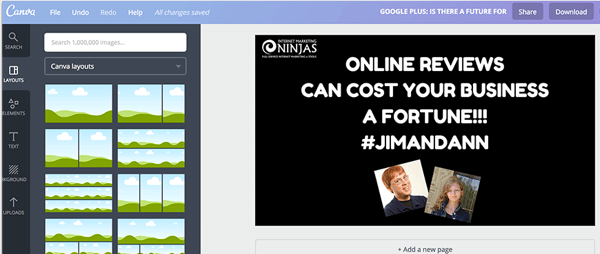 Make sure to save all of your images as separate files so you can reuse them later as blog post visuals or even display advertising creatives.
Finally, here are a few helpful resources to bookmark for when you're working on your video:
Create Audio and Text Assets From Your Video
Both iMovie and YouTube Editor allow you to extract and save an audio file. You may want to edit the audio a bit first to make sure there are no video-only parts in it and add some music to make it more entertaining.
Additionally, prepare a full video transcript (like Moz does for their Whiteboard Fridays) and/or include a well-structured summary with takeaways and links to any tools and resources mentioned in the episode.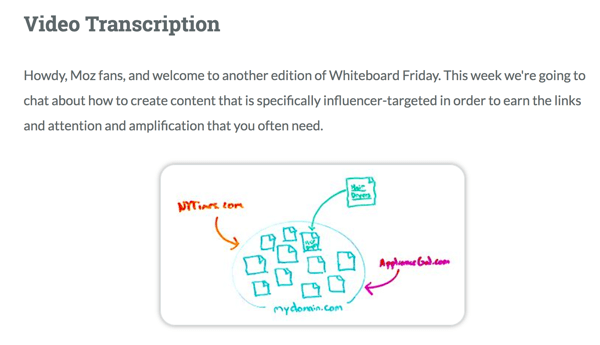 #3: Research Keywords for Individual Asset Landing Page Titles
Each video you create will produce assets for at least three landing pages you can optimize for search engines:
YouTube video page
SoundCloud podcast episode page
Blog post page
You want all three of the pages above to rank in Google for important keywords. This will drive more people to your business and ultimately build more traffic sources to your site.
You'll need to add original content (titles and descriptions) to each of the three landing pages so plan your content marketing editorial calendar accordingly. The more original content that search engines can find on these pages, the better the odds they'll rank high in search results.
Because each page requires original content, you need a different name for each asset. This can be problematic because all three pages basically have the same content (only the content format is different).
With a Serpstat paid plan, you can use its Cluster Research tool to find alternative terms to use in your titles. It identifies closely related search terms by finding very similar search results pages. The more search results overlap, the more related the search queries are.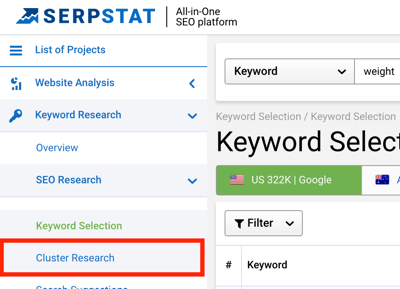 For example, if you plan to do an expert interview on weight management with a well-known fitness blogger, you might name the page similar to those you see below:
YouTube video page: Weight Management Q&A with Blogger Name
SoundCloud episode page: Discussing Weight Issues with Blogger Name
Blog post: How to Control Your Weight: Fitness Interview with Blogger Name
All three titles reflect the interview topic equally well but expand your brand SEO opportunities, letting you rank your content assets for all of these variations of search queries.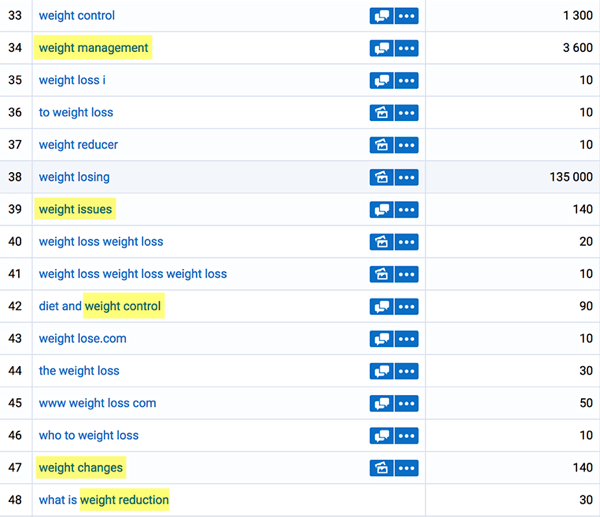 #4: Publish and Promote Your Assets
With your video, audio, and transcript in hand, it's time to combine them with your keyword research and publish your content.
Publish Your Video to YouTube
As soon as each video episode is ready, upload it to YouTube. Here's a checklist of best practices to help you optimize your video for discovery:
Title: Although you can use up to 100 characters in your title, typically a length of 70 characters works best on YouTube.
Description: YouTube lets you use up to 5,000 characters in your description; the more, the better. The first 150 characters will be visible before the More link, so make the most of them.
Tags: You can use up to 500 characters when adding tags. The more tags you use, the better.
Playlist: Sort your videos into optimized YouTube playlists.
Custom thumbnail: Choose an eye-catching, high-resolution (1280 x 720) image.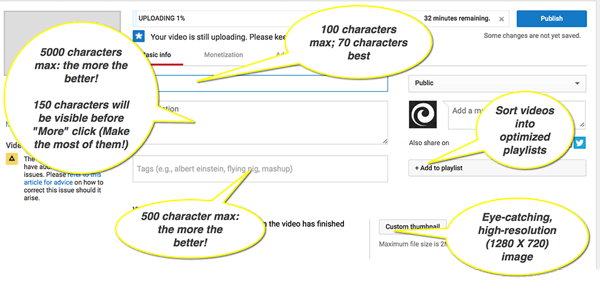 After you publish your video, be sure to add YouTube end screens and cards. Both features allow you to link to your website and invite viewers to subscribe and like your video to generate more video engagement.
Pro Tip: Stream your video to Facebook Live, which supports streaming pre-recorded videos. Here's how to do that.
Turn the Audio Into a Podcast
Podcasts increase your brand exposure to more platforms (like iTunes and SoundCloud) and give your audience additional ways to consume your content (e.g., listening on the go).
To add your podcast to iTunes, upload the audio file to SoundCloud first. Then use the SoundCloud channel RSS feed to submit the file to iTunes.
Once you've set this up, it will happen automatically when a new podcast is added to SoundCloud. Just make sure that each item is added to the RSS feed. When you add a new audio file, open the Permissions tab to ensure your file is included in the RSS feed.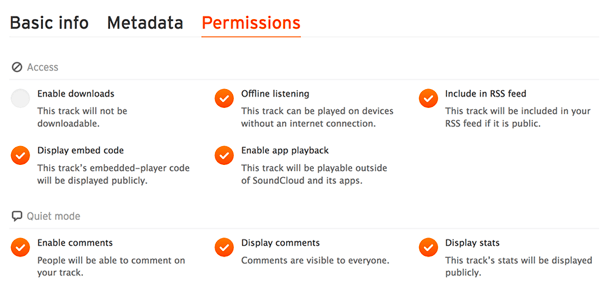 Write a Blog Post and Embed the Video and Audio
Your website should be the center of your content marketing strategy, so take time to properly publicize your videos there.
First, use the video transcript and summary to write a 700- to 1,000-word blog post.
Since your blog is hopefully where you consolidate all of your content marketing efforts (to effectively co-promote all parts of your campaign), create multimedia blog posts offering readers at least three ways to consume your content:
Provide an on-page text transcript or summary, or both. Use visuals you created for your videos to beautify each blog post.
Embed your video from YouTube. Also add a direct text link to your YouTube video page below; this will help the video page rank higher in Google.

Embed your podcast from SoundCloud.
Offer a PDF download with takeaways and links. It's easy to create a PDF using your HTML summary.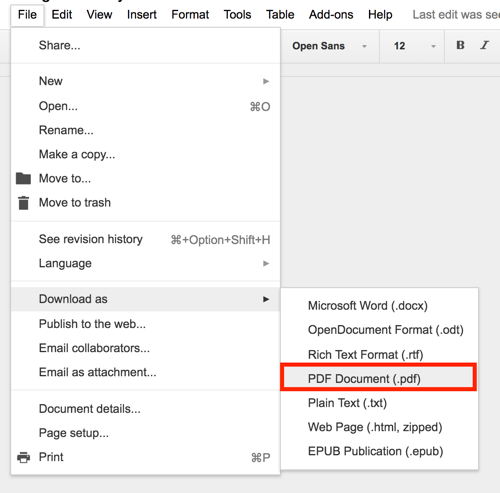 Post Short Video Clips to Instagram
Also create mini-videos to upload to Instagram and build some awareness from there.
You can use the free version of Animoto to create nice-looking, 60-second mini-versions of your videos to upload to Instagram and Twitter and encourage more clicks to your main video. Animoto videos take seconds to create:
Pick a template to use. Animoto has a solid selection, including some holiday-themed and seasonal clips.
Use fun short parts of your video or funny video bloopers you skipped in the main video.
Add video titles and transitions, which you build in the Animoto editor.
Select music to go with your video.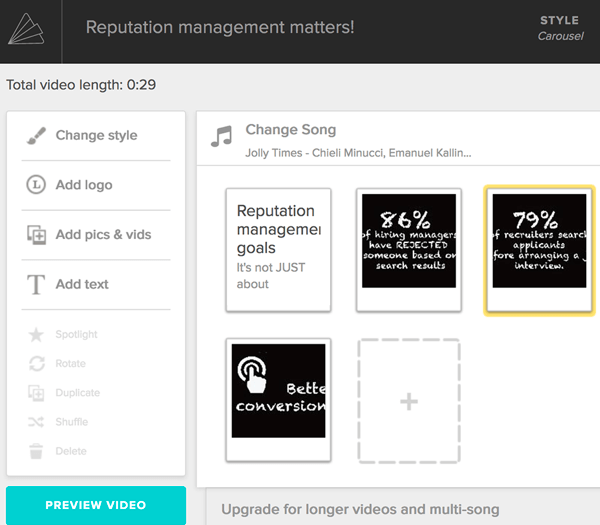 Pro Tip: Because Instagram doesn't allow clickable links in the caption, change your Instagram bio link to a new blog post update each time and invite your followers to click the link from there.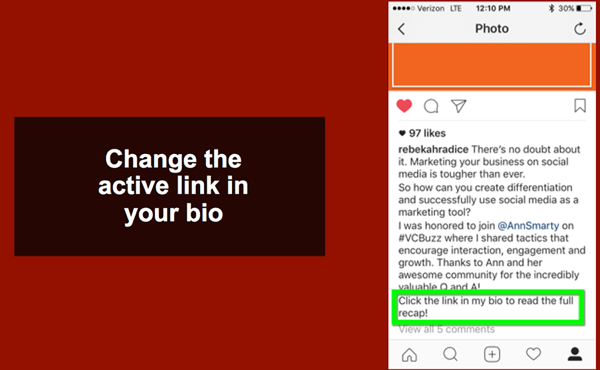 Here's a visual roadmap of how your assets work in concert to build the overall campaign: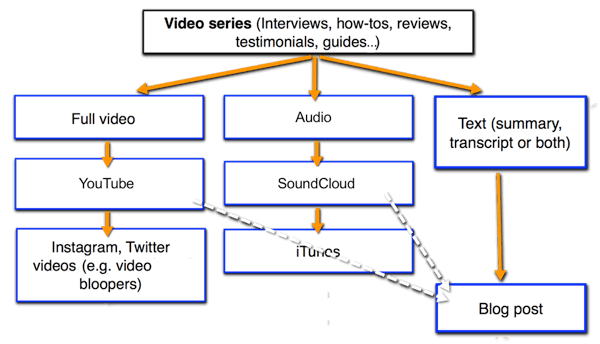 Create a Landing Page Promoting Your Marketing Channels
With so much content scattered around the web, it's helpful to create a single index page linking to all of your content. Invite readers to subscribe to all of the social media channels you update with each new item.
Here's an example of a landing page consolidating weekly videos, and providing users with buttons to subscribe to the YouTube channel, SoundCloud podcast, iTunes, and on-site newsletter for blog posts:

#5: Consolidate Cornerstone Assets to Create More Content
As you get further into your campaign, you'll have lots of blog posts, videos, and podcasts to co-promote. As your inventory continues to grow, you'll unleash opportunities to create even more content assets, this time by consolidating multiple same-format items into one.
Combine Videos Into a Video Course
If you're doing instructional videos on related topics, combine all of those videos into a (free) course. In addition to offering a great opportunity to monetize your campaign or create free gated content, you'll expand your audience to video-course platform users.
Creating this content requires almost no extra effort. The only additional task is to add a solid course description for each of the following sites:
Udemy is free to join and add courses to. The platform has been a bit too aggressive with making users edit their course elements and even pricing, but it's still a good platform for bringing in lots of students.
Teachable is a good Udemy alternative, but it has less activity.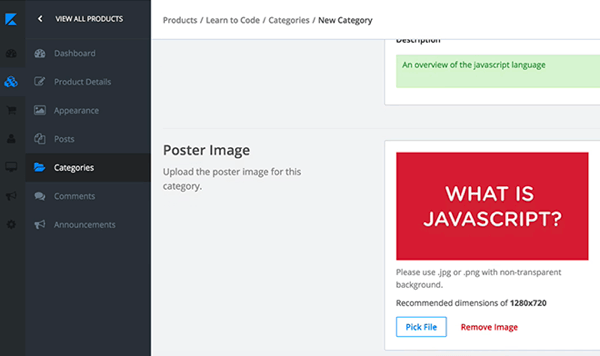 A video course is the perfect way to further consolidate your digital assets because course lectures can offer additional downloadable resources (those PDF versions of your blog posts). You can also reuse your blog post content as private lecture descriptions.
Combine PDF Blog Posts Into an Ebook
Remember the suggestion to turn each of your blog posts into PDF files using Google Drive's export feature? Here's a better idea: Collect all of your blog posts, import them into a single Google doc, and save it as a PDF. Use this PDF as an ebook and offer it as gated content for more email subscribers!
The only extra thing you need to create is an ebook cover. Buying a Fiverr gig can make it easy and cheap.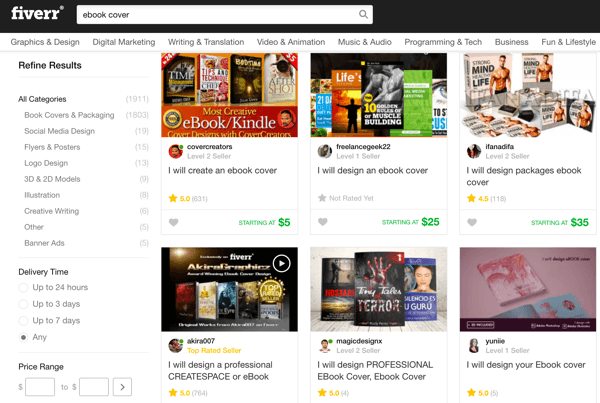 Combine Podcasts Into an Audio Book
An audio book is basically an extended version of a podcast, which allows your users to listen to your content on a long commute.
It also makes great gated content. You can generate more leads by giving away a PDF ebook with the audio book as a bonus. You might also use an audio book as a free add-on to a course.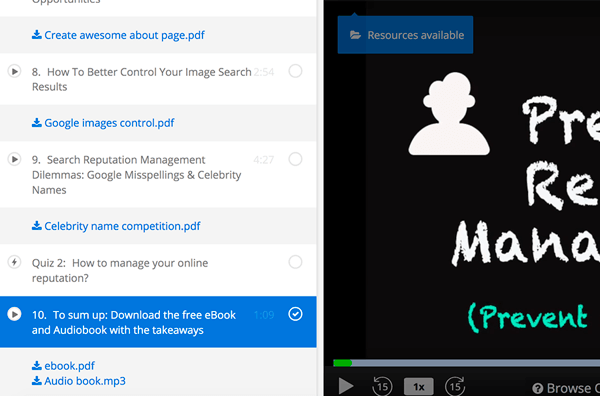 Use a tool like iMovie to combine all of your previously extracted files into one. There's no extra editing required so you can do it quickly.
As you create more content assets, your roadmap may start looking like this: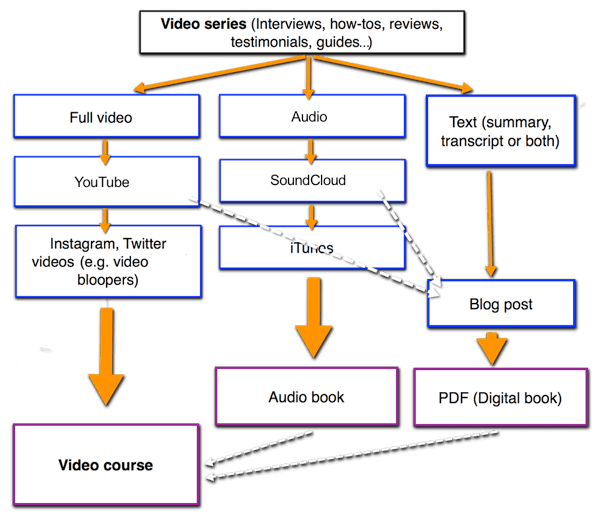 Conclusion
Creating your video campaign is an easy and highly effective way to finally try video marketing, and walk away with lots of solid content assets and developed social media channels. It also doesn't require any huge investments and can be managed in-house.
What do you think? Have you used some of these tactics to repurpose your videos? What tips can you offer? Please share your thoughts in the comments below.