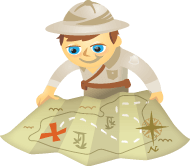 Do you have an ebook that needs exposure?
Want tips to promote your ebooks via social media?
Social media can help you build visibility and generate leads with ebooks.
In this article you'll discover six ways to promote your ebook on social media.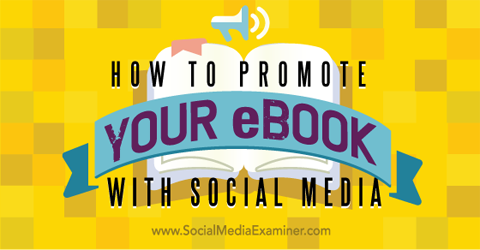 Listen to this article:
Where to subscribe: Apple Podcast | Google Podcasts | Spotify | RSS
Why eBooks?
The purpose of an ebook is to capture leads. Turn highly valuable content that can't be found in a simple online search into an ebook, and your prospects are likely to give you their contact details in return for access to the ebook.
While half of content marketing with ebooks is the creation stage, the other half is promoting your ebook to increase ROI.
Here's how to promote your ebook on social media to generate valuable leads.
#1: Create Social Teasers
Understandably you'll want to promote your ebook across your social platforms. Tease your audience with snippets from the ebook, and you're much more likely to create buzz around the content you're promoting.
Post an engaging image from the ebook, an interesting stat or a stand-out quote to attract your audience's attention so they want to click to your content. Publi.sh posted an attention-grabbing stat to generate interest in their ebook.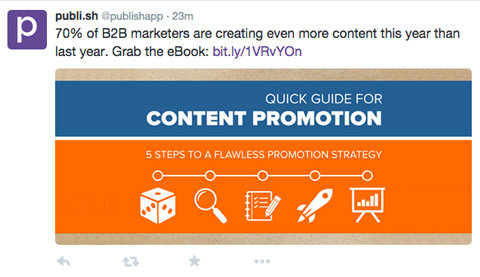 Also, use a popular hashtag that is relevant to your ebook content in your posts. Explore hashtagify.me to discover suitable hashtags.
#2: Pin a Tweet
The Pin feature on Twitter is a little-known, yet effective, tactic that gives you the ability to pin a tweet to the top of your feed. Thus the pinned tweet will always be the first one a visitor sees.
Find or create a tweet you want to pin that highlights your ebook. Then right-click on the Further Options icon and select to Pin to Your Profile Page. HubSpot pins tweets to promote their ebook content.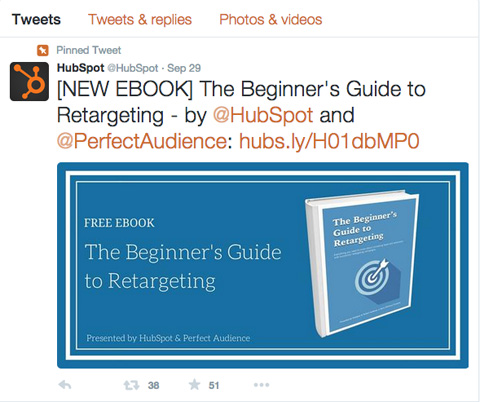 Pinned tweets are free and perfect for promoting content like an ebook.
#3: Design Social Banners
Since social banners and covers instantly grab attention when someone visits your social pages, they can be especially helpful for promoting your ebook.
For example, create a cover photo for Facebook and Twitter that promotes your ebook. Although there's no way to enable a clickable link back to the ebook content, it's still worth including the URL so your audience knows where to find it.
The dimensions for a Facebook cover are 851 x 315 pixels. Twitter covers are 1500 x 421 pixels.
#4: Leverage Influencers
Social media influencers can really help accelerate your promotional strategy. Explore platforms such as BuzzSumo to find influencers within your industry. Then connect with them to see if they'll share your content.
Influencers are always looking for valuable information to share with their audience. For example, Darren Rowse shared a link to an ebook in this tweet.

If you're struggling to find influencers to share content from your site, ask if they're open to you writing a guest post for them on their site. Create a post that's topically related to your ebook, and link to it in your article.
#5: Post in Communities
Google+ and LinkedIn are both home to a variety of different communities where marketers discuss the latest trends within their niche.
After you join a community, take some time to get to know other members before you start promoting your ebook. Take part in discussions, and like and comment on their posts to build long-lasting relationships.
Take a look at the Groups Directory on LinkedIn to find relevant groups for your industry. Or, if you'd prefer, create your own group and talk about the content of your ebook to an interested audience.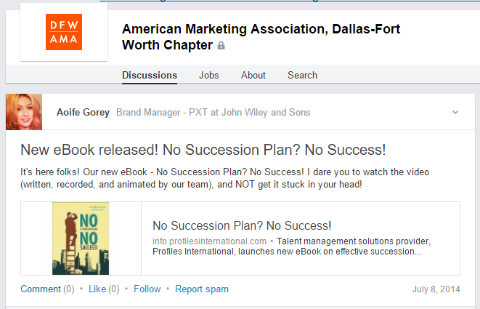 Also, on Google+ you'll find hundreds of communities to join. The Google+ platform makes it incredibly easy to promote content with the option to include links, images and videos within your post.
#6: Pay to Promote Posts
To guarantee your ebook will get in front of an audience that actually cares about your content, consider paying for a sponsored post.
For example, invest in a Facebook lead ad. Your post will blend in nicely within users' news feeds or sidebars, and you'll increase the chance of getting more clicks.
As with all posts on social media, make sure your ad invites the user to click on it. Choose an engaging image of the ebook and include a snippet of persuasive copy.
This sponsored post from InsightSquared has an appealing image and a brief but thorough description.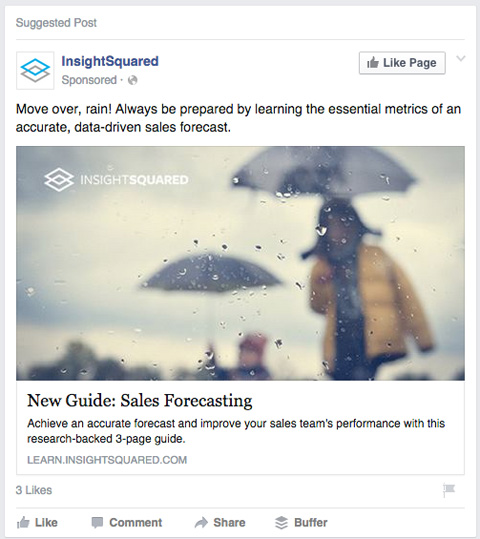 Platforms such as Facebook and Twitter have made it financially possible for any business to promote their content. You don't need a large budget for your campaign. Even a small investment in ads will increase your ebook's visibility to your audience.
Over to You
An ebook is a wonderful way to stand out from the crowd by showcasing your expertise, and gain valuable leads in the process. Implement these tips to increase the visibility of your ebook. Hopefully that exposure will result in plenty of new leads, prospects and business.
What do you think? Have you written an ebook? What have you done to promote it? Do you have any tips to add? Please share your thoughts and recommendations in the comments below!