Has your Facebook reach plummeted? Looking for better ways to get in front of your ideal audience?
In this article, you'll learn a three-step system to improve your Facebook organic reach.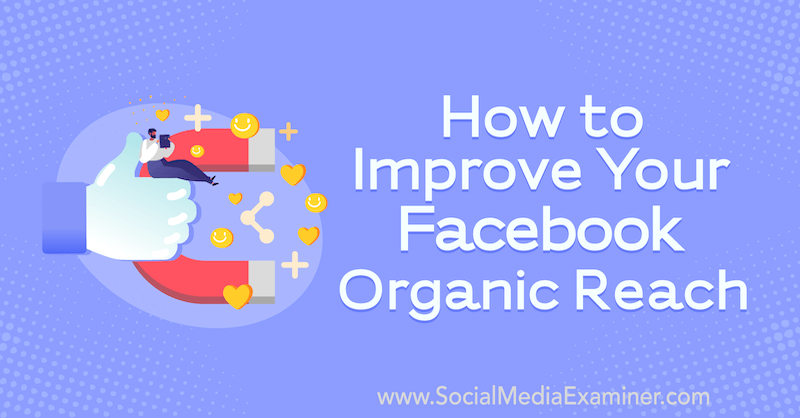 Why Businesses Should Pay Attention to Organic Reach on Facebook
With the upcoming iOS changes and Google Privacy Sandbox, off-platform actions are going to be harder for Facebook to track. Because they'll be more limited in the data they can collect, content on the Facebook platform will become even more important.
Facebook needs content creators who understand how to put content in front of an audience that compels them to click. Every time you post a piece of content—whether it's a video or an external link to your blog post—Facebook is tracking all of those user actions so they can sell that data to advertisers.
When someone watches a 5-minute video about shoes, Facebook learns something about their interests because they've taken action on that content. So guess what? Facebook is going to send them more shoes. Similarly, if they've watched multiple fitness videos, Facebook knows they'll probably be interested in a fitness marketing or coaching program when it's put in front of them in an ad.
Facebook is motivated to share your organic content so it can identify who's taking action on that content and drive ads to those people later on.
Rachel believes any business can reach a million people on Facebook without having a ton of fans. What you need is the optimal audience, message, and content mix. When you put your message in front of the right audience, they're going to find other people around them who love that type of content. You don't have to work as hard or put a lot of ad money behind it.
Here's a three-step system that will help you find the perfect audience, message, and content mix for your Facebook page.
#1: Help Facebook Deliver the Right Audience to Your Facebook Page
First, you want to make sure you target the right niche on Facebook. Typically, you want to have the potential to reach more than a million people in that niche on the platform. That doesn't mean you're going to reach a million people; it just means there's an audience pool of a million people in your space. Of course, if you're a local business, your pool size can be smaller than that.
Facebook Audience Insights can help you make this determination. It gives you access to audience data on all of the pages and interest groups on Facebook. You can see their activity levels, the pages they're following, what type of devices they use, and so on. Anyone who has a Facebook page can access this data.
When you open Audience Insights, Facebook will prompt you to choose an audience to start. Select Everyone on Facebook.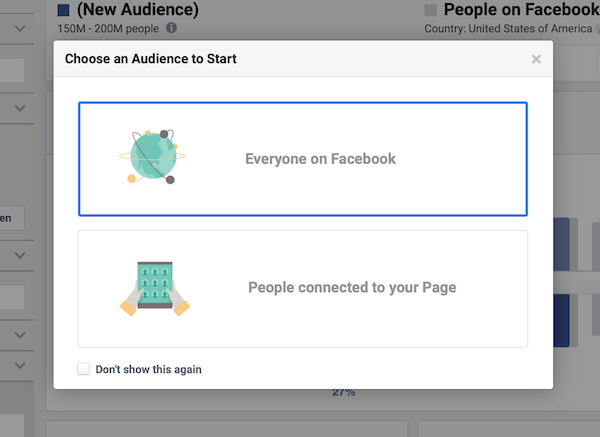 Next, enter your niche phrase into the Interests section on the left side of the page. Facebook will then tell you how many people are in that space, what pages they like, and some of their demographic information such as where they're located.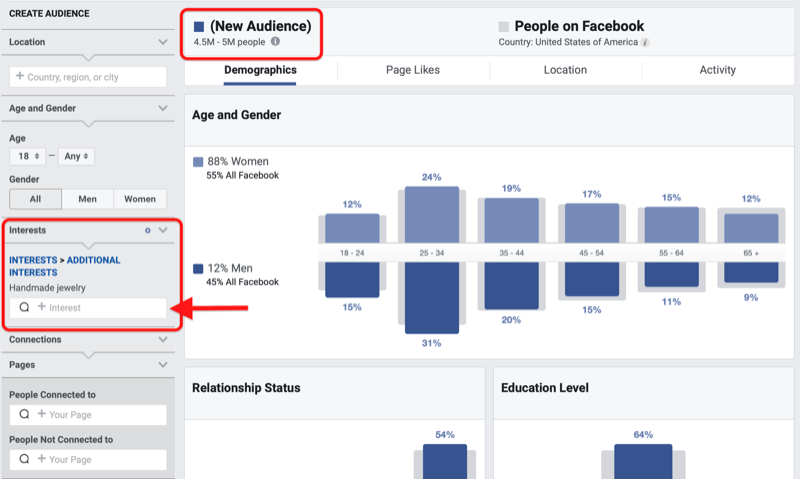 If you go to the Activity tab, you can see how engaged this audience is on Facebook. It shows how many comments, likes, and shares they give on average in a month, as well as how many ads they click on.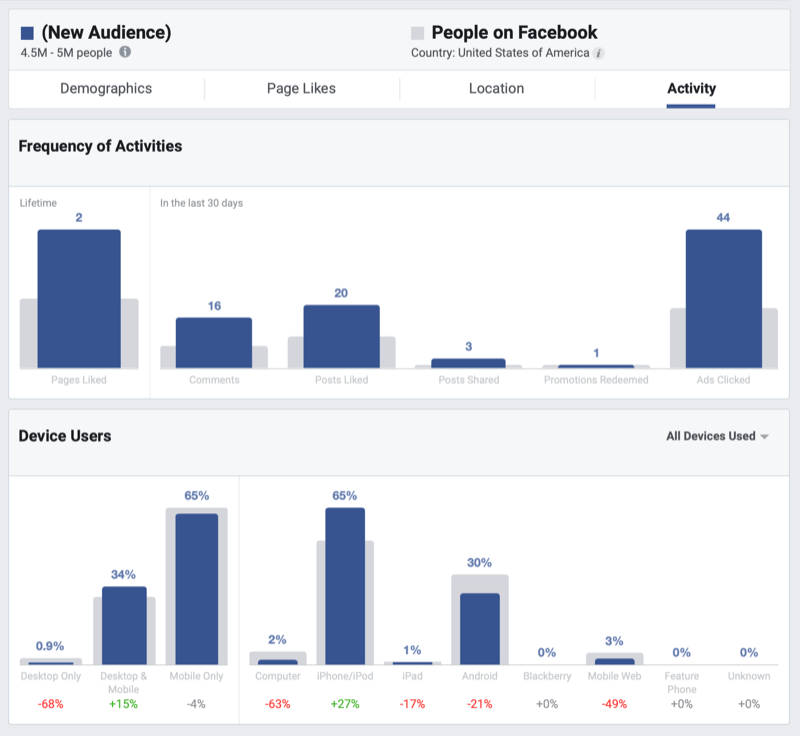 In addition to looking at audience data for different interests, you can also look at audience data for individual Facebook pages. Look for pages in your niche and see if their audience is similar to the one you want to attract for your page. Make sure the audiences on those pages are engaging. If you find that a certain page's audience doesn't comment, like, or share their content, they're probably not going to take action for you.
Once you've identified a page with an engaged audience you'd like to get in front of, you want to start sending Facebook signals that say, "Our page is just like this page with high activity." You don't need to collaborate with that page for them to drive traffic to you. You can literally use Facebook signals to make that happen.
For instance, you could go to their page and leave a comment, tag their page in one of your posts, and share content from their page to your page. If you have a great post featuring that page, share that in a comment on their page.
All of these interactions give Facebook signals that you're similar to the other page. Because there are similar signals between your respective pages, Facebook will start driving traffic from the active audience on the other page to your page. You'll start to see a boost in page suggestions as you begin growing your audience—without you having to run any ads.
#2: Find the Right Messaging Style for Your Facebook Page
The next step is to craft the right message for your Facebook page. This message isn't about your business and products, though; it's about who your audience is. Anytime you can self-identify your audience for them, they'll naturally want to share that content.
Start by looking at the content on the target pages you identified above. What posts make their audience look good, feel good, and improve their life? People interact with content on Facebook to make an impression on other people.
Think of the message on your page as something your audience would want the world to know about them. It's akin to the message on the bumper sticker on their car or the t-shirt they proudly wear. That's the message that will resonate with your audience and get reach on Facebook.
Your audience knows that everything they're saying and liking on Facebook is public and their friends and family can see what they're interacting with. So naturally, they're going to say things on Facebook that make them look and feel good and can have an impact on others.
When you post content on your page, your page is "wearing" the thing that your audience wants the world to know about them. So the message you deliver isn't your elevator pitch—it's what your audience wants their elevator pitch to be.
You want to create content that reflects who your audience is so they positively self-identify. If you create a post for your page that says, "Five ways to lose weight in 10 days," your audience isn't going to want to share it because they don't necessarily want the world to know that they're trying to lose weight. So you want to put a more positive spin on it and say something like, "These jeans feel great today."
As another example, suppose you're in the finance niche and want to talk about debt relief. But that's not something people struggling with their finances want others to know about them. They don't want to wear a t-shirt with the message, "Struggling with finances, sign up now."
What they do want people to know about them is that they're working toward financial freedom and they're successful. They think it's funny that they went to Costco and got a year's worth of toilet paper. They want the world to smile through their struggle.
There's room for promotional content but it's just not everything you do.
Once you get your audience engaging with you and wearing your message, they'll be much more likely to respond and then purchase from you.
Think about the response you'd get if you walked up to a stranger at a party and said, "Hi, I solve this problem and my product offers these five benefits." Even if that person is your ideal customer, they're probably going to quickly end the brief interaction and walk away.
If you want to engage them in a meaningful conversation, you'd want to say hi and ask them about themselves. When they're done talking, the natural thing for them to do is reciprocate and ask about you. This kind of back and forth works on Facebook, too. That's how you can sell to your audience without making it feel like a sales call.
#3: Publish 4 Posts to Engage Your Facebook Page Audience
Once you have the right audience and message, the last piece of the puzzle is your content. You want to craft content that sends the different signals that Facebook examines to deem something relevant.
Interactions such as liking a post, giving it a smiley face or heart, or making a short comment are considered micro-signals. Different types of content can help you elicit micro-signals that your content is something people are interested in. But you might need 10 likes to equal the benefit of a share, save, or longer comment.
That's why you need to create content that compels your audience to engage in all of these different ways. By using an "engagement stack" of photos, videos, and conversation starters, you can get all of those valuable signals from your content so Facebook will start driving more traffic to your page.
Post Photos for Likes
If you want to encourage your audience to like your posts, you'll generally get more micro-reactions from memes and photos than video. Additionally, quotes, behind-the-scenes content, and takeaways tend to attract a thumbs up, heart, or smiley face.
For instance, if your content is wearing your page's message of "I own my own business," guess what someone who owns their own business is going to do when they see that post? They're going to give it a like, which sends a signal to Facebook that your content and page are relevant to that person.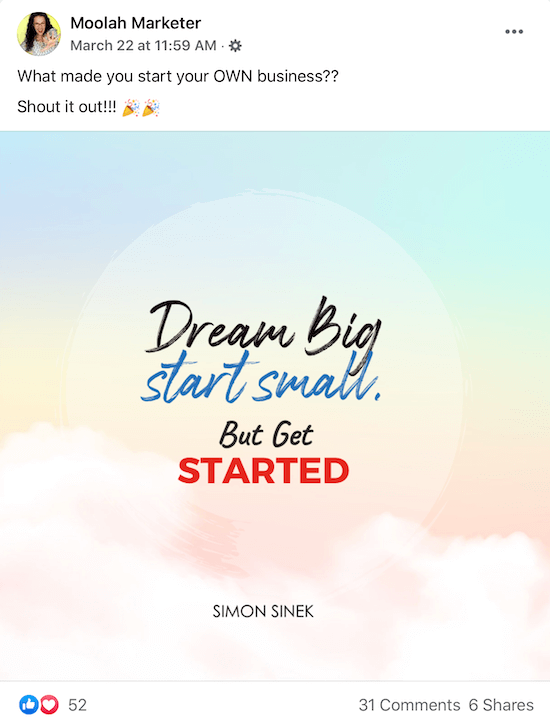 Pro Tip: While there's no limit on the amount of text you can use in graphics, don't go overboard. People's brains can only process so many words on the screen at one time. Look for ways to deliver your message of "look good, feel good, make life better" more succinctly. Think of it in terms of a slogan on a t-shirt or bumper sticker.
Post Videos for Shares and Saves
Facebook users are more inclined to share or save a video than to like or comment on one. When they save or share your video, it sends a strong signal to Facebook that it's quality content so Facebook will start serving up similar content to that person and others like them.
You can generate this type of engagement with Facebook video of different lengths. You could use GIFs or 15-second videos in your stories or the feed, or share 30-second videos with a fast takeaway.
For videos that are 3 minutes or longer, organize them into playlists, where they'll play one right after the other. If you can get viewers to watch three videos in a row, Facebook will make sure that anytime you put a video out, those viewers are going to see it for a while because they're going to be trained to see those playlists.
These don't have to be talking-head videos. You can take a quote graphic and animate it. Or if you're uncomfortable showing your face on screen as you speak, you could just show your hands, similar to what you see in cooking videos.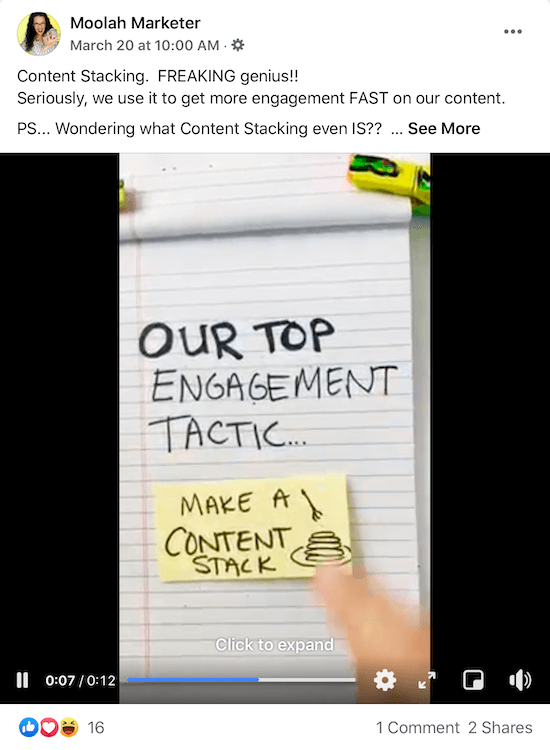 Keep in mind that a large percentage of people on Facebook watch video with the sound muted so your video should be understandable without sound. Use some type of transcription, either captions or a text overlay, to convey your message or story for people watching without sound.
And as with the other types of content on your page, your video should wear your message.
For instance, you don't want to create a video titled, "Five Ways to Clean Your Carpets" because that implies that the viewer's carpets aren't clean. It doesn't make the viewer feel good so they won't be inclined to share it. But if instead you title the video, "Five Ways to Get Your Husband to Clean the Carpets," people will be more likely to share it with a friend. It's the same content but the second title wears your message better than the first.
Post Conversation Starters for Comments
Conversation-starter posts are when you ask a question that your perfect audience can't help but answer. It needs to be something they'll respond to immediately with "yes," "no," or "I know somebody who is."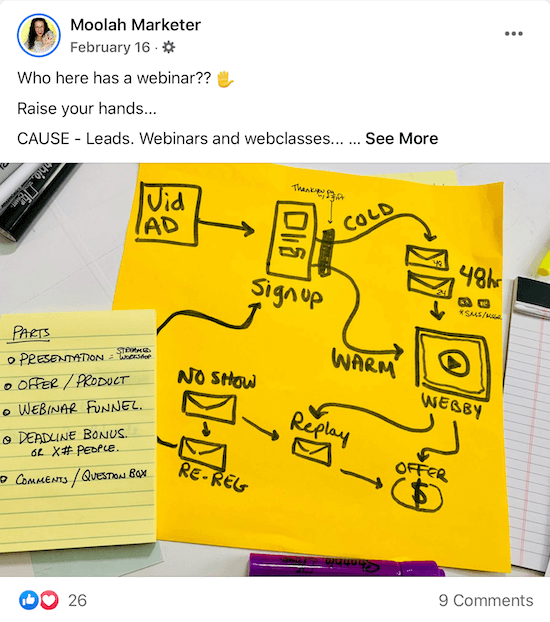 For instance, a conversation starter for your audience might be, "Who here is running a business and raising kids at the same time?" Your perfect audience is going to respond, "Yes, that's me," and naturally say something about their business or their kids.
If you sell tea, a conversation starter could be, "What's your favorite morning blend?" While some people may not know what a morning blend is, your perfect audience does and they'll tell you what their favorite morning blend is and why they love it.
To get ideas for conversation starters, look to the Facebook pages you identified for inspiration. See what questions they ask that are generating a lot of engagement. You could try creating something similar but put your own spin on it.
#4: Use Your 5th Post for Promotion
Once you've gotten a lot of engagement from your content, you have an audience that knows, likes, and trusts you and is waiting for you to sell. So after your photo post, video post, and conversation post, your fourth or fifth post can be about your offer.
You've given your audience a chance to talk so now they're open to you telling them about your offer. It's like when you go to a party and ask someone about themselves and they reciprocate with, "Tell me about you." That's what this post is.
Your offer doesn't necessarily have to be something you sell. It could be to get on your email list, join your Facebook group, or listen to your latest podcast episode. Whatever it is, give your audience an action to take.
Other Notes From This Episode