Want to increase brand awareness, generate leads, or drive sales? Have you considered running pre-roll ads on YouTube?
In this article, you'll find out how to create and launch TrueView in-stream YouTube video ads and optimize your ads for best results.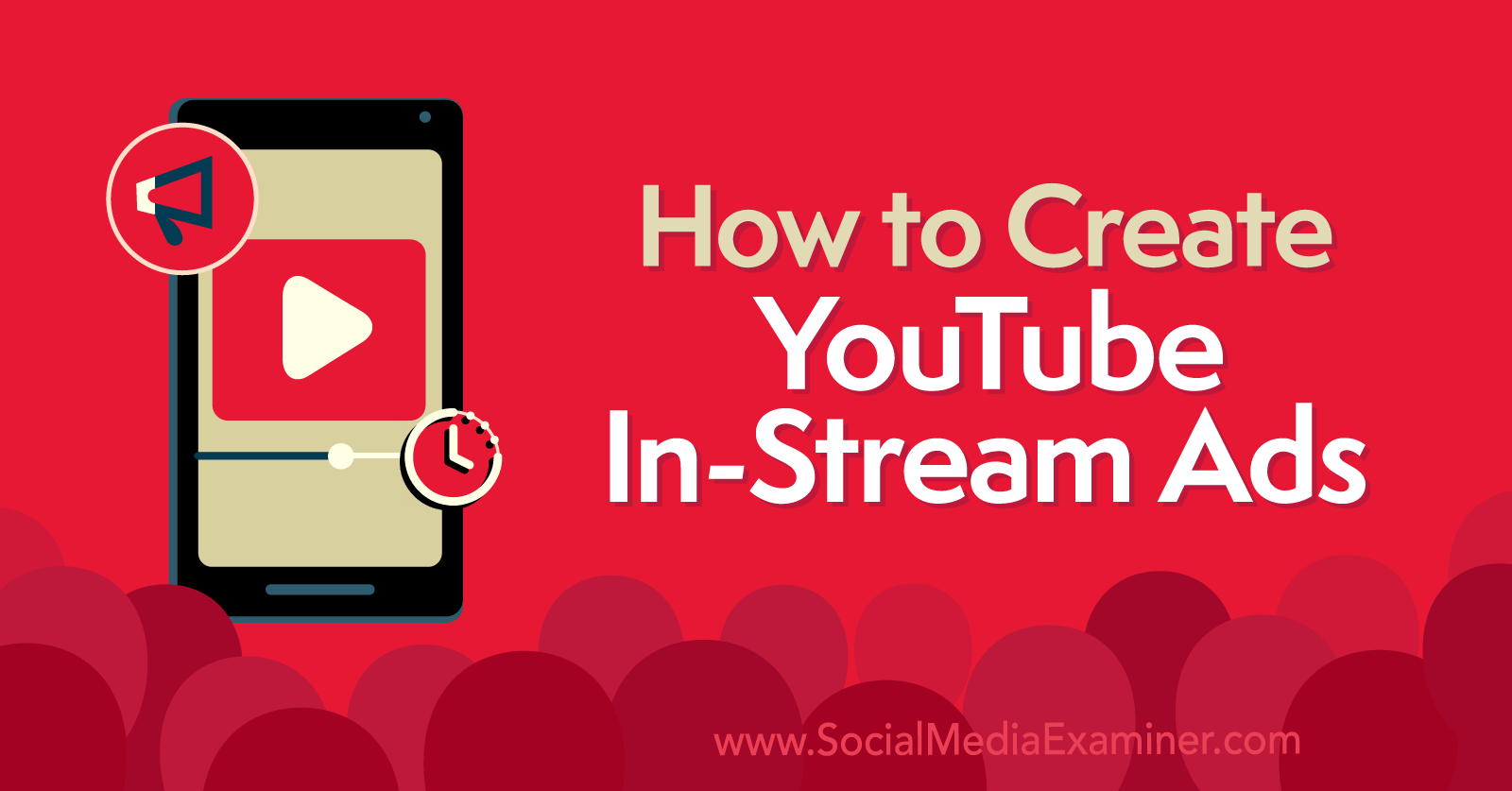 Why Use YouTube In-Stream Ads?
YouTube in-stream ads are sponsored videos that appear in monetized organic content. They can display on YouTube and in embedded videos on partner sites. Google Ads offers three types of these ads:
YouTube in-stream skippable ads: May be up to 6 minutes long. They give viewers the option to skip ahead to organic video content after 5 seconds.
YouTube in-stream non-skippable ads: Can be up to 15 seconds long. They require viewers to watch the entire ad before the organic content plays automatically.
YouTube in-stream bumper ads: Can be no longer than 6 seconds. They also require viewers to watch in full.
For example, this Webflow pre-roll–style ad works well in a skippable format. The video prioritizes dynamic visuals over squeezing the content into a bumper or skippable ad—and the platform walkthrough is compelling enough to keep the viewer watching even after the Skip Ads prompt appears.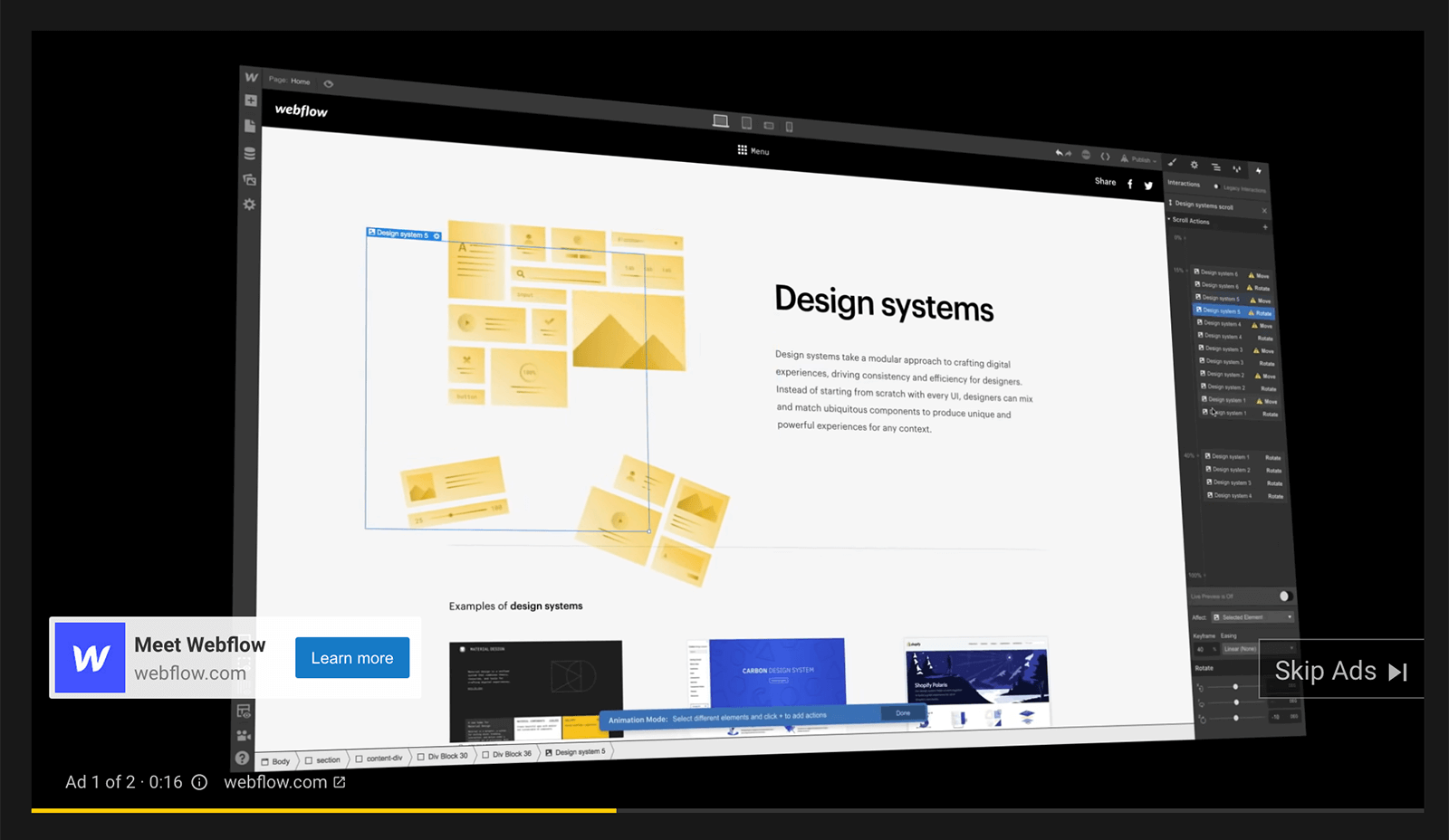 As an advertiser, you get granular control over the type of YouTube content that can serve your ads and the type of audience that can see your sponsored content. However, Google Ads provides limited control over when exactly your ads appear. While your ad can display in the pre-roll position, it can also display as a mid-roll or post-roll ad. You don't get to specify where your ad plays in the organic content. That means it's important to ensure that your YouTube ad drives the conversions you want, no matter where it appears in the accompanying video.
YouTube in-stream ads can provide surprising benefits to businesses across industries. From targeting to budgeting, take a look at some of the biggest perks.
Target Your Ideal Customer
YouTube uses the Google Ads interface for all in-stream ads, which means you get access to tons of audience targeting options. You can target viewers by:
Demographic data such as age, gender, location, or household income
Affinity audiences that have interests related to your brand or vertical
In-market audiences that are actively shopping for what you're selling
Remarketing audiences that have already indicated interest in your brand
Similar audiences that share characteristics with your most valuable customers
Reach Customers Throughout Their Journey
YouTube in-stream ads aren't just for reaching a wide swath of customers at the top of the funnel. You can create them for every stage of the customer journey:
Awareness: Drive discovery by reaching relevant audiences that are new to your brand.
Consideration: Encourage research and browsing with useful and engaging video content.
Conversion: Get customers to buy, subscribe, or click with video content that prompts action.
The ClickUp in-stream ad below highlights some of the project management platform's key differentiators while showcasing some of its most useful features. This ad is ideal for a mid- or lower-funnel audience that's primed to click the Try Free call to action (CTA).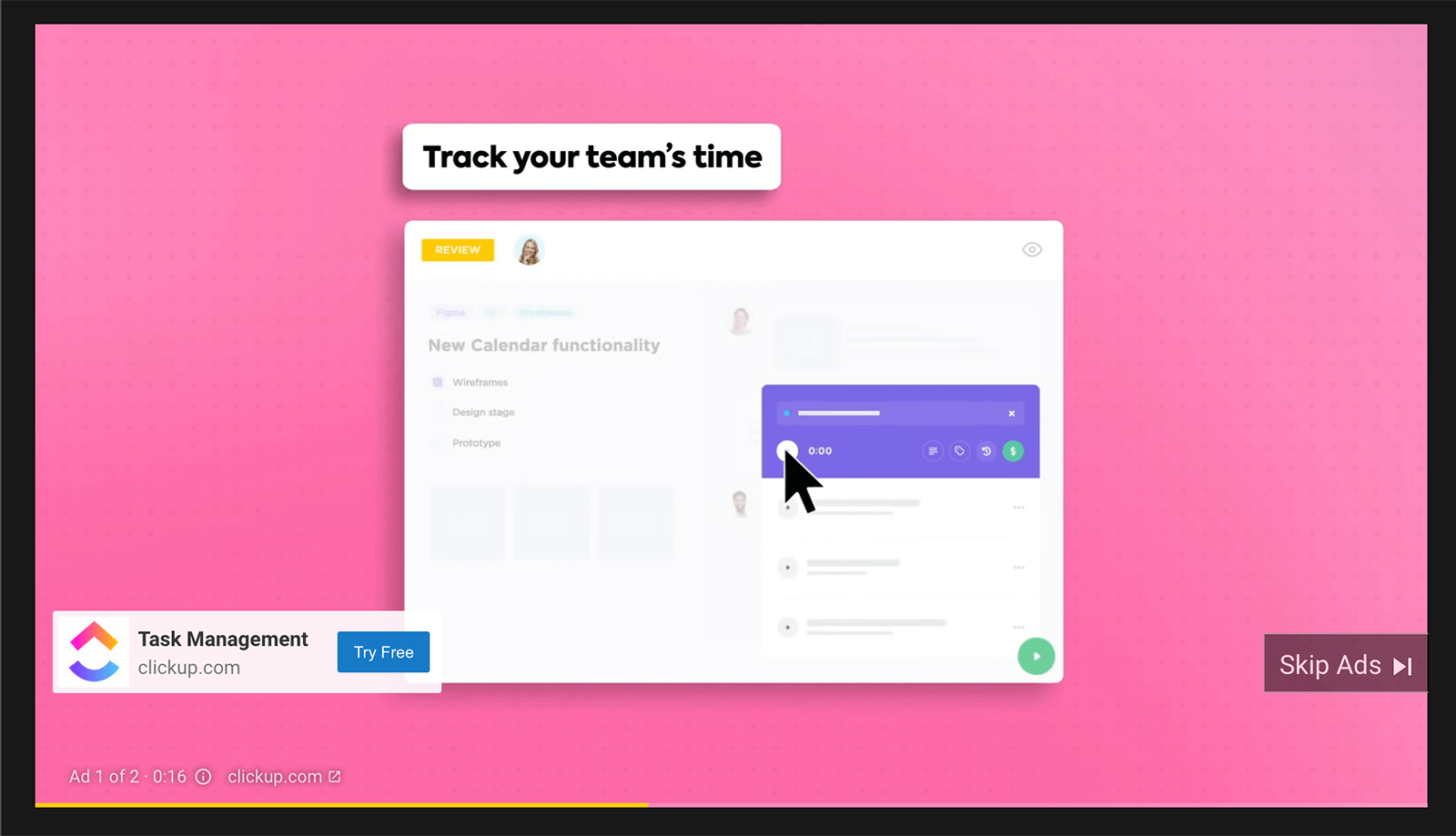 Maximize Results for Any Budget
Businesses usually spend at least $10 per day on YouTube advertising for local audiences, and more for larger customer bases. But that doesn't mean you need a million-dollar budget to create pre-roll–style ads for YouTube. After testing your ads, you can optimize your messaging, targeting, or bidding strategy to get the best results for your budget.
Setting up your first YouTube ad campaign is easier than you might think. Follow the steps below to start creating in-stream ads for YouTube.
#1: Produce YouTube Pre-Roll–Style Video Ad Content
Do you already have a short video in mind for your YouTube ad? If you've already produced pre-roll–style content, upload it to YouTube so you can easily add it to your campaign.
If you're still brainstorming YouTube in-stream ad ideas, use these tips to produce a video that effectively showcases your business:
Highlight benefits: Show viewers how your business can help them solve problems. For example, the BX pre-roll ad below intersperses portfolio highlights with text overlays to clarify perks that the production studio provides, including making videos that drive growth and conversions.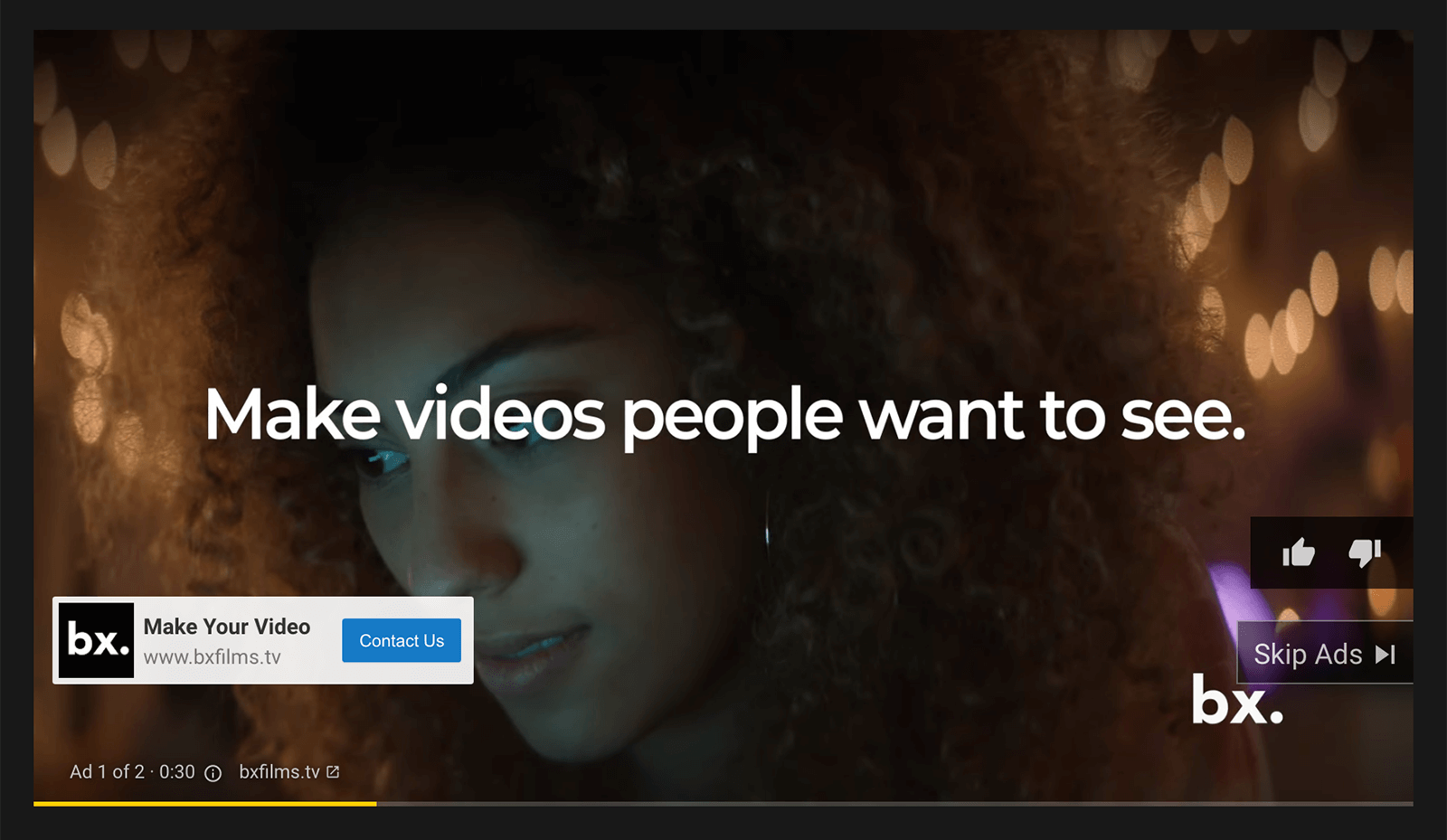 Do a demonstration: Are you promoting a product or service that needs some explanation? Show viewers how it works by creating a short, compelling video that walks them through the item or platform. Focus on the key features so viewers can quickly understand exactly how they'll benefit.
Make viewers laugh: YouTube in-stream ads give you just a few seconds to get a conversion so it's critical to capture attention quickly. Rather than taking a serious approach, consider entertaining viewers instead. Humor can surprise viewers, disrupt their typical pre-roll–style ad experience, and pique their curiosity.
#2: Enable Conversion Tracking in Google Ads
Before starting ad setup, double-check that you've added all relevant conversion actions to your Google Ads account. Depending on your goals, you may want to track site visits, leads, sales, adds to cart, or phone calls.
First, sign into your Google Ads account and click Tools & Settings in the top menu bar. Click Conversions and choose the type you want to use.

To create trackable actions on your site or in your app, set a value and conversion window. Then choose an attribution model such as linear or position-based. You'll need to add a tracking tag to your site or app so Google Ads can monitor results effectively.
If you want to import conversion actions from Google Analytics or a third-party app, link the account to Google Ads. Then select the goal or transaction to import and start tracking.
#3: Choose a Campaign Goal and Type
After setting up conversion tracking, navigate back to the main Google Ads overview screen. Click the New Campaign button to begin setting up your ad.
Then clarify the goal you want to achieve with your in-stream ad. Note that the objective you pick will have a substantial impact on your campaign for two reasons:
Google Ads optimizes ad delivery based on goals so choosing Sales means people who are most likely to make a purchase will see your ad.
Goals determine the available ad elements and bidding strategies so choosing Brand Awareness limits you to Target CPM (cost per thousand impressions).
When creating a YouTube in-stream ad, you can pick from these objectives:
Sales: Increase sales on your website, in your app, in your store, or over the phone.
Leads: Collect contact information from people interested in your business.
Website Traffic: Get people to click through your ad and visit your website.
Product and Brand Consideration: Encourage people to browse your offerings.
Brand Awareness and Reach: Introduce your brand and offerings to new customers.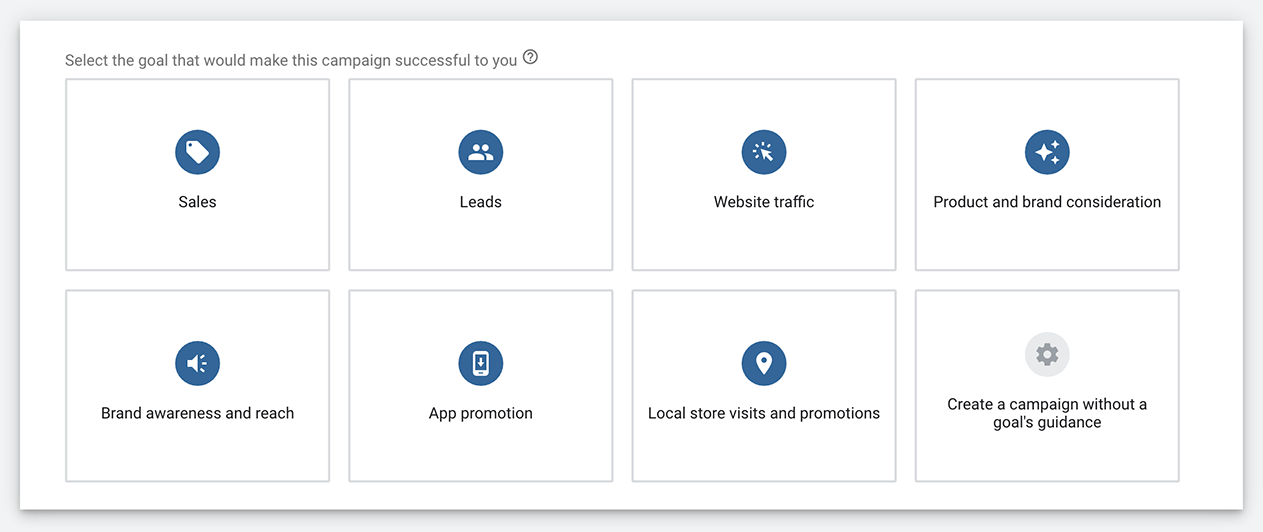 To create an in-stream ad, choose Video as your campaign type. Depending on the objective you chose, you may also need to select a campaign subtype.
For instance, Product and Brand Consideration campaigns let you sway customer behaviors with Influence Consideration, tell a brand story with Ad Sequence, or encourage purchases with Shopping. Brand Awareness and Reach campaigns also offer options to fine-tune your goal.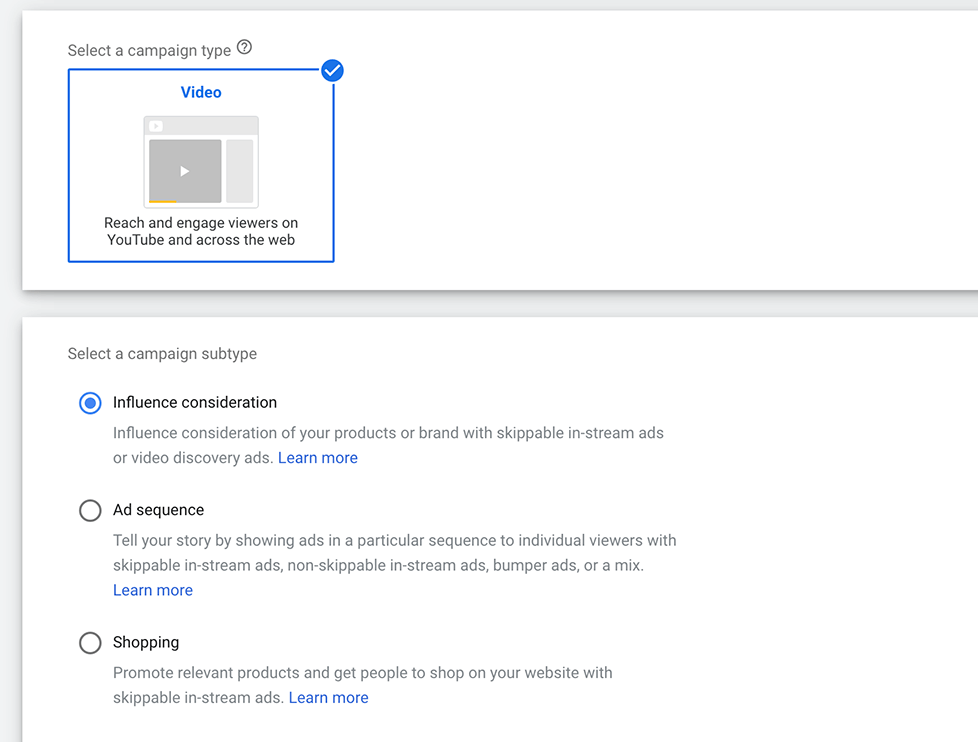 Note that the campaign objective and type you choose also affect whether you can designate your content strictly as an in-stream ad. For instance, choosing the Brand Awareness and Reach objective lets you categorize your ad as Skippable In-Stream, Non-Skippable In-Stream, or Bumper.
In contrast, choosing the Website Traffic objective requires you to create a responsive ad that can display as pre-roll or other ad formats. That doesn't mean you should avoid creating Website Traffic campaigns but you should be aware of the limitations.
#4: Select Campaign Settings
Give your YouTube in-stream campaign a name and pick a bid strategy if your campaign objective allows. If your business is new to video ads, choosing an automated option like Maximize Conversions is a good bet. This strategy secures as many conversions for as little as possible without any cost limitations.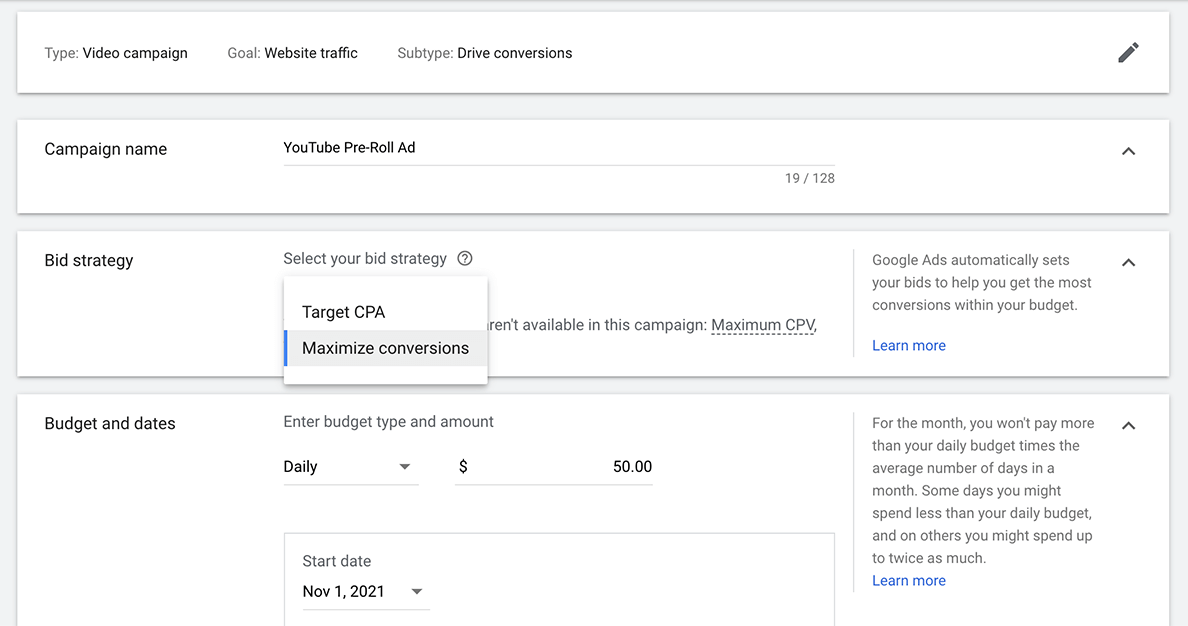 Set a daily or lifetime budget, pick a start date, and choose target languages and locations. Then review brand safety settings.
By default, your ads show with Standard Inventory, which is digital content appropriate for most brands. If your business has a more lenient or stricter approach to content, choose Expanded Inventory or Limited Inventory, respectively, instead. You can also exclude select content labels and types for enhanced brand safety.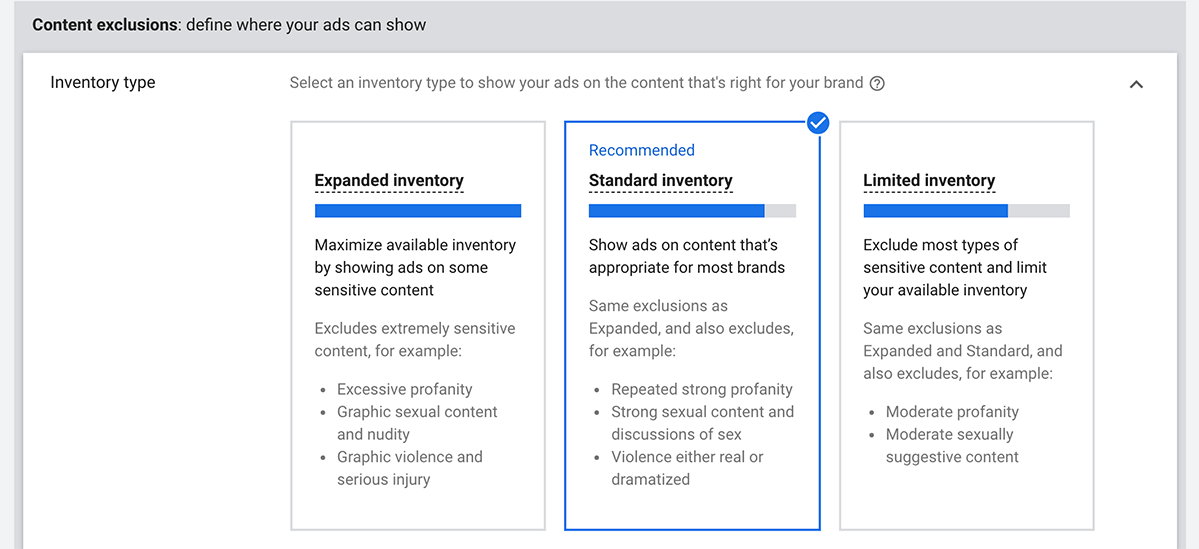 If you plan to promote products in your Sales, Website Traffic, or Product and Brand Consideration ad, take time to set up your Google Merchant Center feed.
If you want to give YouTube users even more opportunities to convert, add at least two sitelink extensions to your ads. Depending on your campaign goals, the sitelink extensions might direct users to your eCommerce shop, portfolio, or contact page.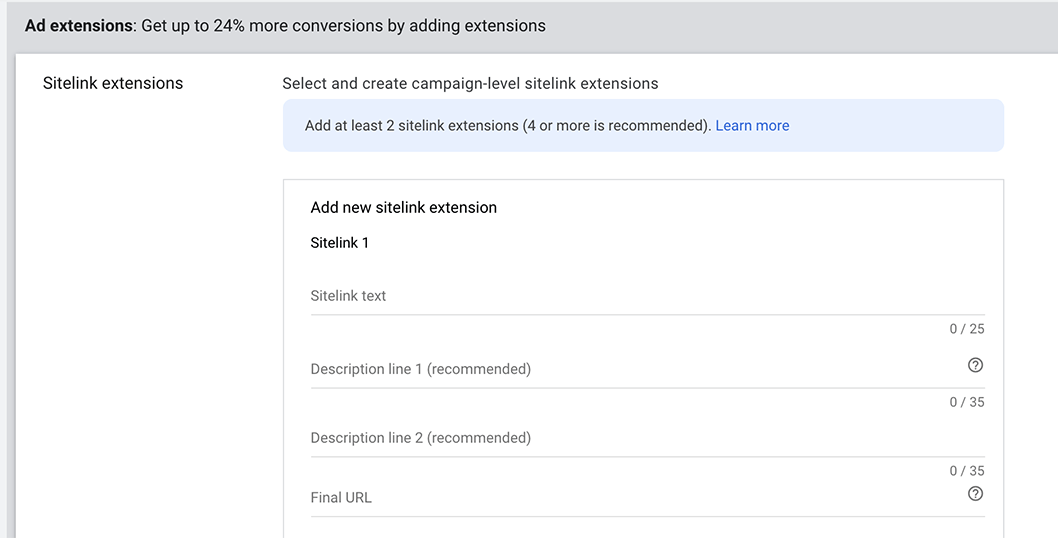 #5: Set Up YouTube Ad Group Targeting
Give your ad group a name and set targeting parameters. You can target an audience based on demographic data or choose data segments. For instance, you can use remarketing lists, create custom segments, or pick in-market audiences.
To make sure your in-stream ads appear alongside the most relevant videos, choose content topics or YouTube channels to target. You can also add keyword lists or get keyword ideas by entering your website URL.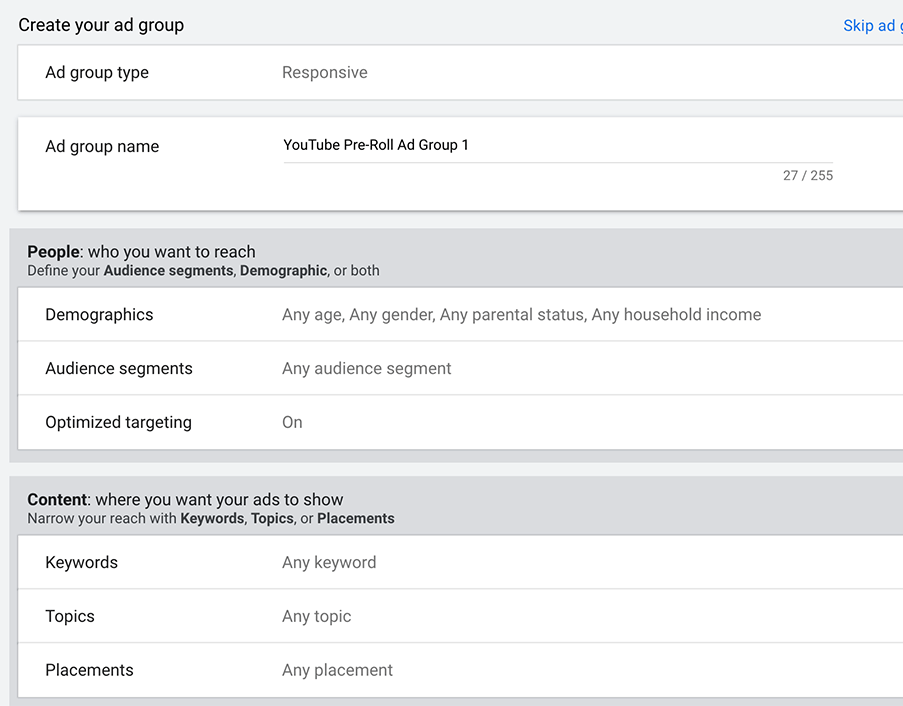 #6: Create Your YouTube In-Stream Video Ad
Once you've decided on campaign and ad group parameters, it's time to set up your ad. To link your video to your ad, search for it on YouTube or copy and paste the URL. Then enter other key elements of your ad and repeat the process to create as many ads as you'd like.
Landing Page URL
Copy and paste the landing page URL where you want to send people after they click on your ad. Your landing page may vary depending on your campaign objective. For instance, you might link a sales campaign to an eCommerce page or a leads campaign to a contact form.
If your landing page URL is long or complicated, you also have the option to add a display URL instead. Note that either your final or display URL will appear alongside the CTA in your in-stream ad.
Call to Action
YouTube ads work better when they tell your target audience exactly what step to take next. For instance, you might prompt your audience to Sign Up, Learn More, or Shop Now. The short CTA you include in your in-stream ad will appear in a bright-blue button, making it tough to miss.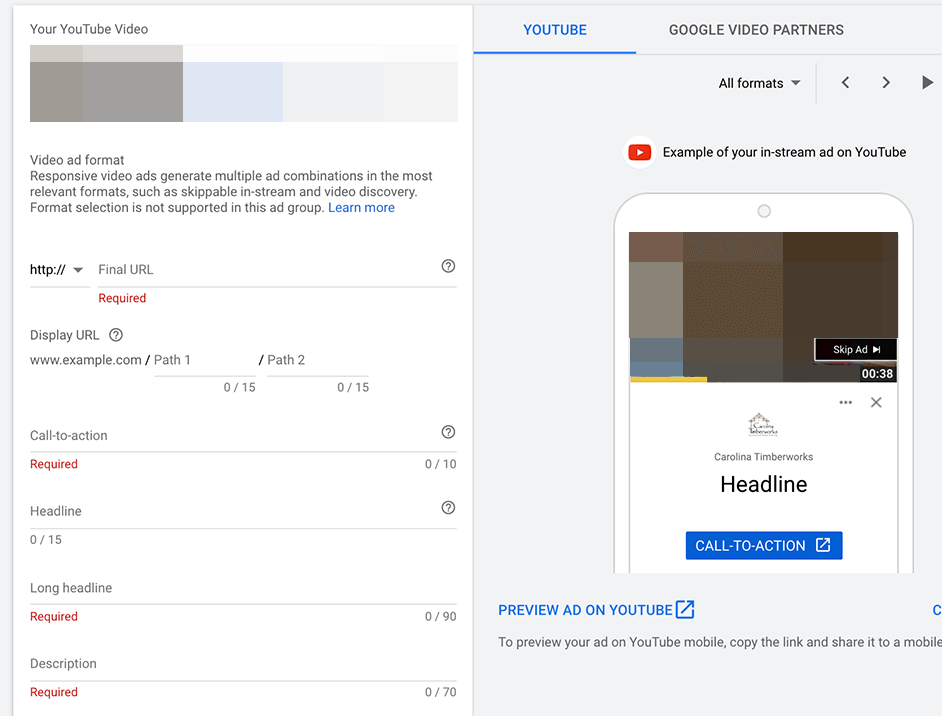 Ad Headline
In the headline, get attention and explain what you're offering as concisely as possible. Google Ads requires a long headline of up to 90 characters. However, it's a good idea to add a short headline of 15 characters, too. Shorter headlines typically appear next to the CTA, giving you an extra opportunity to urge action.
Ad Description
In the description, briefly elaborate on your offer or your business for up to 70 characters. Note that the description will appear in video discovery ad formats but not in standard in-stream ads. Because video campaigns will require responsive ads by early 2022, this element is essential for creating in-stream campaigns.
Tracking Data
To collect useful tracking data, add URL parameters to your landing page. This information can help you track user behaviors in Google Analytics or other analytics apps every time your ad receives clicks.
#7: Launch and Optimize Your YouTube In-Stream Video Ad
After launching your in-stream ad campaign, start monitoring the results.
Are your ads getting the impressions, clicks, and conversions you expected? Have some in-stream ads outperformed others? Do some ads have a lower conversion rate or cost per conversion? You can create customized Google Ads dashboards and reports to answer all of your questions.

If performance isn't meeting your expectations after the learning phase ends (up to 2 weeks), then make some changes. Take a look at some common YouTube ad optimizations below.
Review Targeting
Navigate to your audience metrics and identify the segments that have been most responsive to your ads. Consider removing the worst performers and adding more relevant audiences. For instance, you might add more in-market segments, create a remarketing list, or build a lookalike audience.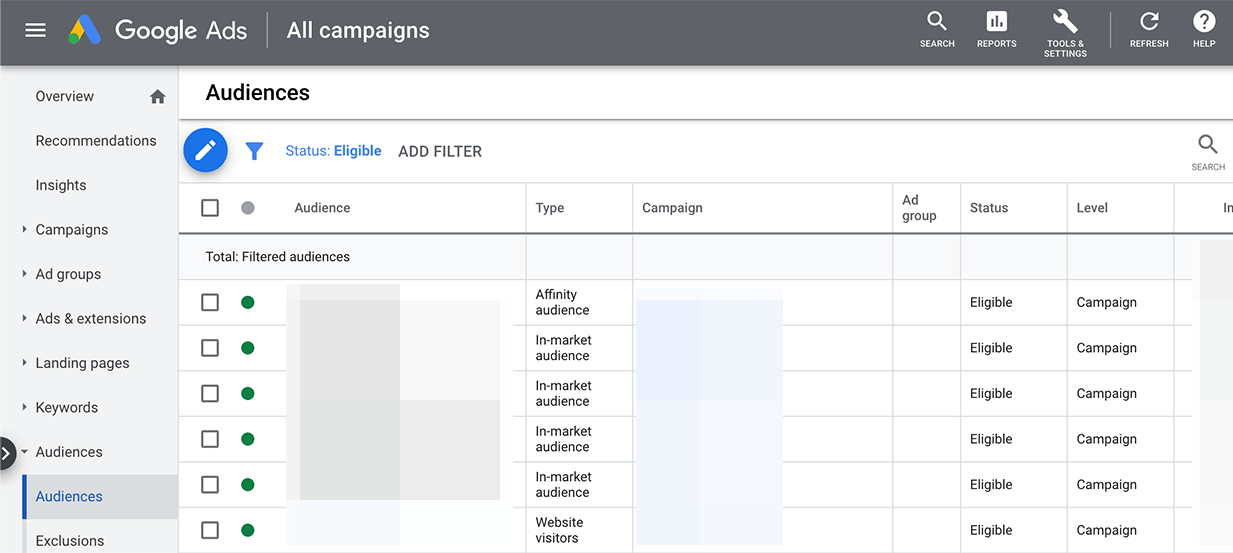 Update Messaging
Next, review the headline, description, and CTA for each ad. Consider experimenting with different messaging elements to improve performance and drive conversions.
Adjust Bids
Finally, take a closer look at your bidding strategy. If you're using Maximize Conversions, consider switching to Target CPA (cost per action). Otherwise, think about updating your Target CPA bid. Use your Google Ads data to determine a reasonable CPA.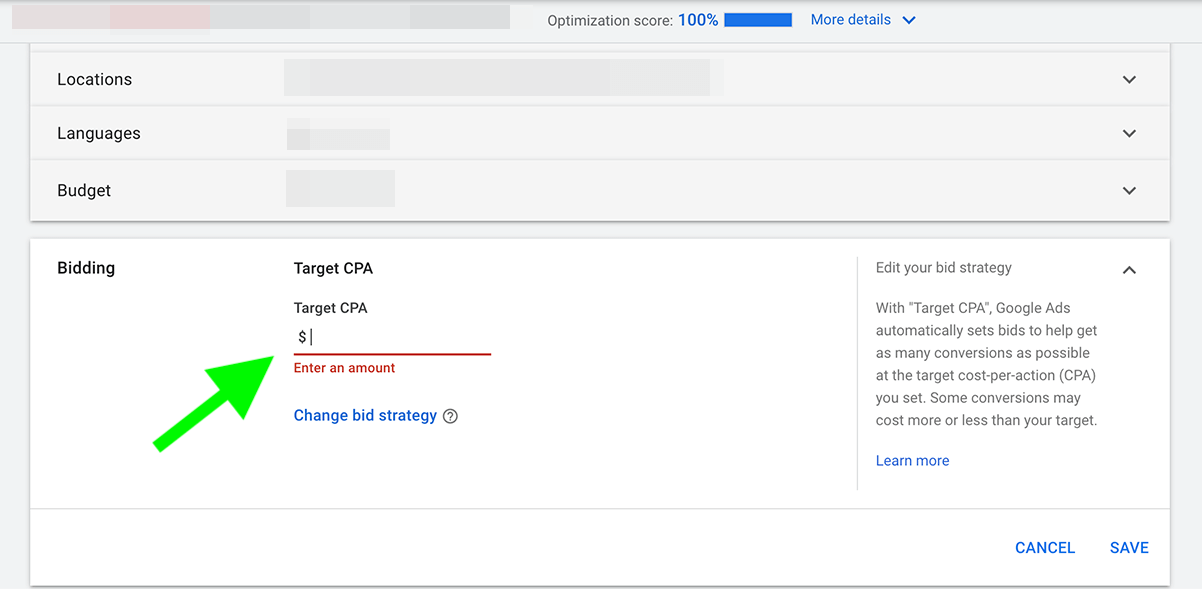 Keep in mind that a target CPA that's too low can result in limited conversions due to few bidding opportunities. A target CPA that's too high can drive conversions but it may result in overspending for each action. Review your target CPA regularly to ensure your bidding strategy is on the right track.
Conclusion
No matter your industry, budget, or audience, in-stream ads for YouTube can help you reach your goals. With a combination of great content, effective targeting, and ongoing optimization, your YouTube ads can prompt action and drive conversions throughout the customer journey.
Get More Advice on YouTube Ads