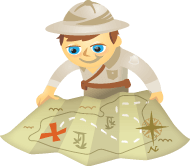 Wondering how your business can get more out of LinkedIn?
Want to make sure you're maximizing your LinkedIn presence?
LinkedIn has a number of features that will work together to promote your business and its products.
In this article you'll discover how to create an integrated LinkedIn marketing presence for your business.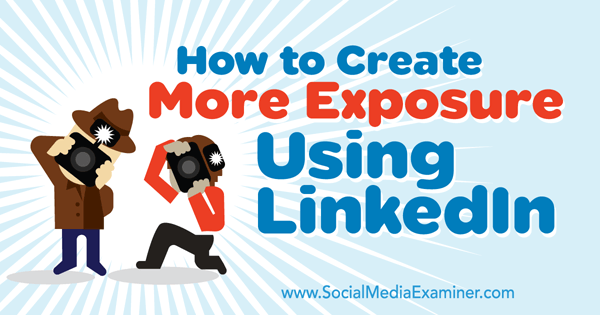 Listen to this article:
Where to subscribe: Apple Podcast | Google Podcasts | Spotify | RSS
#1: Get on the Map With Company and Showcase Pages
If you want to spread awareness for a new product line, create a content hub for company news, publish employee success stories or distribute hiring resources to attract new talent, LinkedIn company and showcase pages can help you align your efforts.
Create a Company Page
The first step to establishing a LinkedIn presence for your business is to create a company page. Talk to key stakeholders within your company and gather the following materials and information:
A high-resolution company logo and cover banner (no larger than 2 MB and 646 x 220 pixels)
An approved written company description (up to 2,000 characters)
A list of relevant keywords for the company specialty section
General company information (industry type, organization size, URL, etc.)
You're now ready to set up your company page. On LinkedIn, hover over the Interests tab and select Companies from the drop-down menu. On the right side of the page, look for the Create a Company Page section and click the yellow Create button.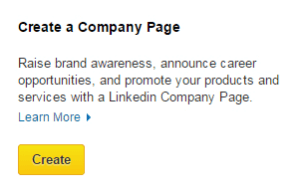 You're prompted to enter your name and company email address. LinkedIn will send you a verification email to ensure you're an official representative of your company.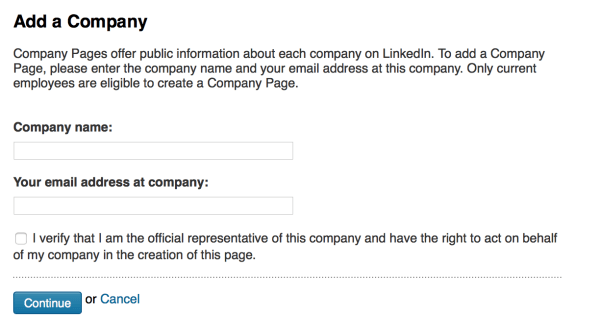 After you verify your email address, upload your company logo, cover banner image, company description and other details about your business. When you're finished, click the Publish button.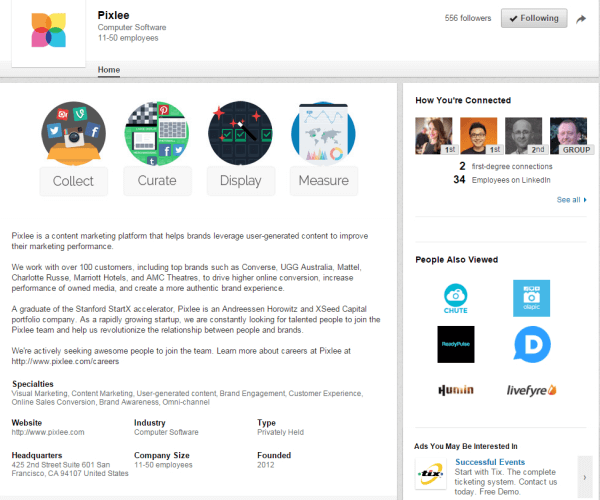 Set Up a Showcase Page
Once you've set up your company page, you'll want to create other sections within it to market different company assets. LinkedIn allows you to do this with a feature called Showcase Pages.
A showcase page is an extension of your company page and allows you to highlight other business lines, products or services, brands or even upcoming events that your company is hosting.
Although showcase pages are directly connected to your company page, think of them as unique entities. They contain their own content, attract their own followers and have exclusive functionality, similar to how you'd share distinct assets on your website.
To create a showcase page, go to your company profile, mouse over the Edit drop-down menu and select Create a Showcase Page. You'll then see options to get started.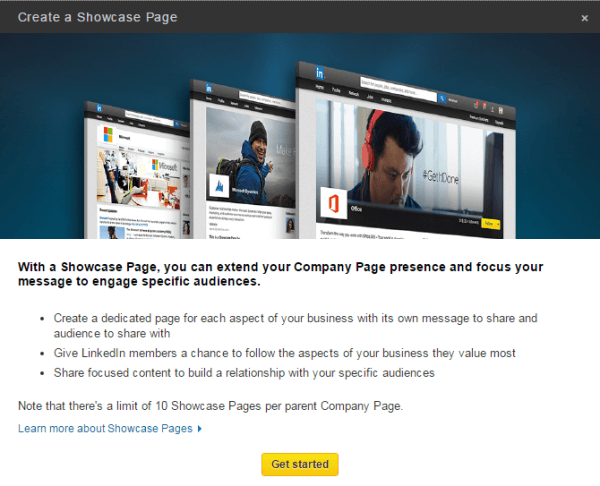 Creating a showcase page is similar to building a company page. However, you can provide more detailed information about a specific area of your business and bolster the visual aspects of your brand with the larger cover photo area.
Rather than use your business name as the title, select a page name that both summarizes and sets the expectations for the content you'll publish on your showcase page. Keep in mind that the words you choose for your page name can influence how well your page is discovered through LinkedIn search.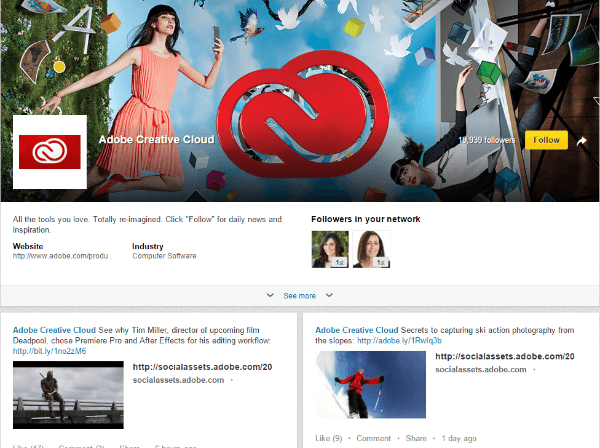 Distribute Content on Your Pages
After creating a company page and affiliated showcase pages, you're ready to begin promoting and distributing content through these channels. Generally speaking, this is an opportunity to:
Share your company branded content. Use white papers, ebooks, webinars, videos, blog articles and any other content you've developed for your audience. Don't forget to ask (and listen) for feedback.
Curate relevant industry content that your network may find interesting. Share things that help your network achieve their day-to-day tasks or solve their problems.
Deliver job opportunity announcements, press releases and insights into life at your company.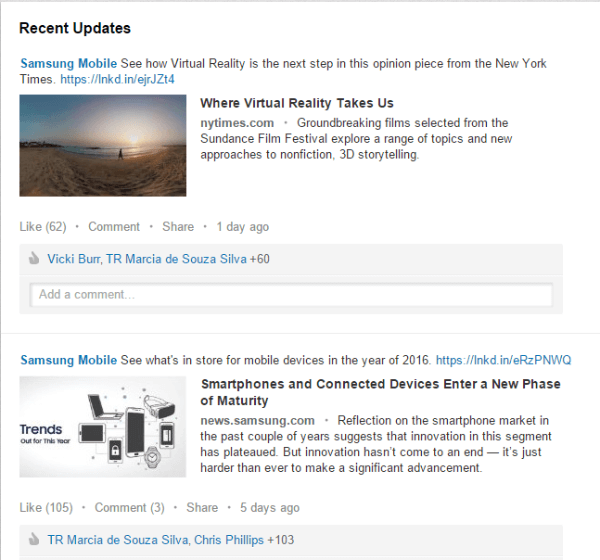 There are a tremendous number of use cases for sharing content on your company and showcase pages. However, to optimize your LinkedIn content strategy, focus on aligning the LinkedIn Publisher feature with your LinkedIn distribution channels.
#2: Build Your Reputation With Publisher
You've probably seen LinkedIn Publisher articles in your news feed, or perhaps you've gotten a notification that a connection "Published a New Post." Publisher articles allow you to share written insights, articles or other content with your first-degree connections.
It's a way to develop thought leadership content, share details about your business services and notify your network of upcoming events. Essentially, it's a personal blog or distribution channel.
When you publish to LinkedIn Publisher, a notification is sent to all of your LinkedIn connections. Your network sees that you've published new content and can read your post.
Your three most recent Publisher articles are listed on your LinkedIn Profile under your photo and header. This placement provides content visibility to anyone browsing your profile. Users can click See More to see all of your content.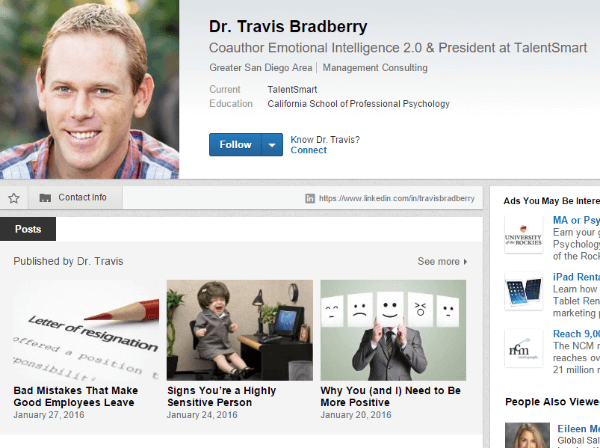 LinkedIn may choose to distribute your content in one or more of their many featured news categories via Pulse. This expands the reach of your content to anyone following those channels.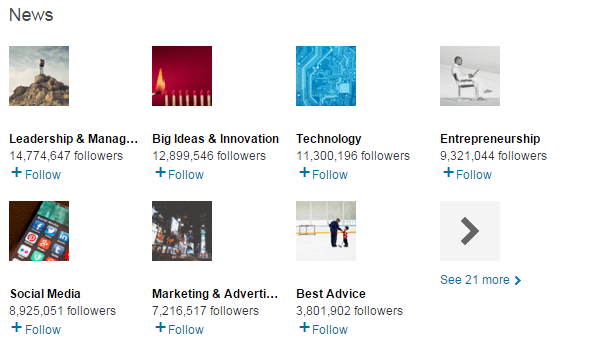 While publishing to LinkedIn Publisher is often viewed as a way to promote your personal brand, you can also use Publisher to market your business. For example, you can syndicate or repurpose content from your company blog and post it on LinkedIn Publisher. You can then share these posts on your company page and relevant showcase pages for stronger promotion, and tie it back to your employees.
This is a particularly powerful tactic for sales reps who share content with Publisher. You can use the View Stats option to see who is reading and engaging with your Publisher content. You can choose to connect directly with prospective leads through LinkedIn and use the Publisher article as a speaking point.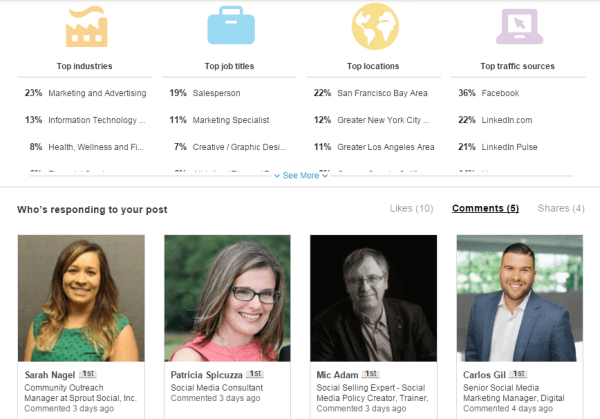 These statistics will also help you determine if your content is targeting the right audience. You can collect industry, company and seniority information of professionals who read and engage with your LinkedIn Publisher content.
#3: Increase Visibility With Sponsored Updates
After you've developed great content for your target audience, you want to make sure your hard work gets noticed. You can reach a larger audience quickly and scale your LinkedIn efforts through sponsored updates.
It's not as complicated or expensive as you might think. Although this article focuses on the strategy and best practices behind LinkedIn paid campaigns, you can find an in-depth walkthrough of how to use sponsored updates here.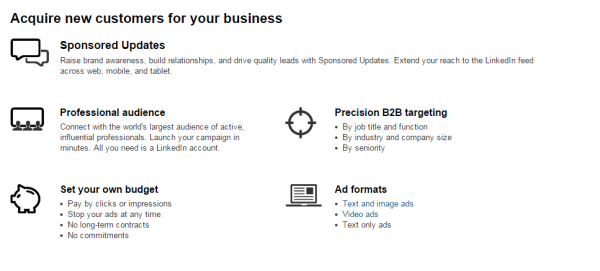 When you first begin using LinkedIn sponsored updates, it's a good idea to spread your ad budget among multiple ad campaigns. In other words, don't put all of your eggs in one basket.
This allows you to split test multiple content types, subject lines and visual elements. You can determine what type of post resonates best with your audience without breaking your entire ad budget. Consider starting with five sponsored update variants and compare the results over the next 7-10 business days after launching.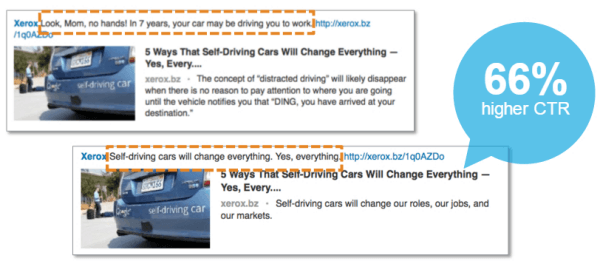 Use LinkedIn analytics to determine which sponsored updates are performing best and thus are more likely to meet your needs. Over time and with consistent analysis, you'll get a sense for which sponsored updates should receive more of your advertising budget and which should be cut.
Take special note of why you think each ad performed the way it did and use this insight to inform your future ad campaigns.
Conclusion
If you want to develop an integrated LinkedIn marketing presence for your business, you can create company and showcase pages, post articles to LinkedIn Publisher and use sponsored updates.
What do you think? What methods have you used to integrate your content strategy using LinkedIn? Please share your feedback and questions in the comments section below.