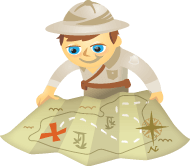 Want to give existing content new life and greater visibility?
Looking for a way to publish more often without much extra work?
Use LinkedIn Publisher to consistently provide useful content for your audience, gain visibility and build your professional identity without writing anything new!
In this article you'll discover three ways to give existing content new life using LinkedIn Publisher.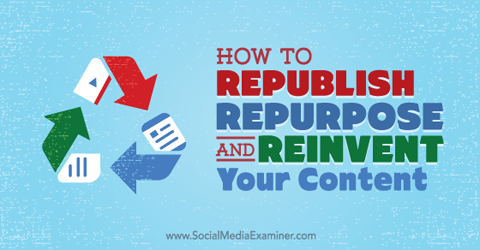 Listen to this article:
Where to subscribe: Apple Podcast | Google Podcasts | Spotify | RSS
#1: Republish Blog Posts
One of the fastest ways to get started on LinkedIn is to copy and paste your complete content posts from other blogs. If you decide to go this route, there are a couple of things to keep in mind.
It's important to understand how Google views duplicate content.
You should wait at least two weeks after the post publishes before you republish it to LinkedIn. That gives the bots from search engines enough time to index and understand which post is the original, and rank it higher than republished content.
Barry Feldman posted an article on LinkedIn a month after it originally appeared on his blog.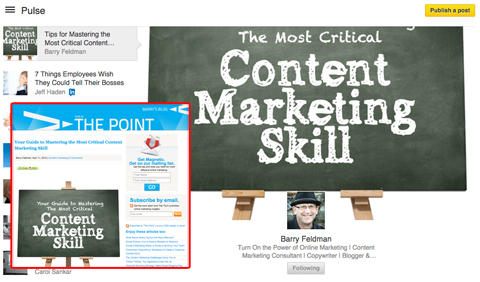 To let readers know where to find the original post, include a sentence at the beginning or end that directs readers to the original version. This is especially important when you republish your guest post from another company's blog and it's a nice rule of thumb to adopt when you republish your own content.
Readers will know where they can find more of your articles. Plus, they'll see you're honest about republishing your post.
Take the time to craft a headline that's a little different and specific to the LinkedIn platform.
For example, when Guillaume Decugis republishes content on LinkedIn, Medium and other syndication sites, he changes the title of each post to distinguish and optimize it. Then readers who search for the keyword will see multiple versions of the headline on the first page of search engine results.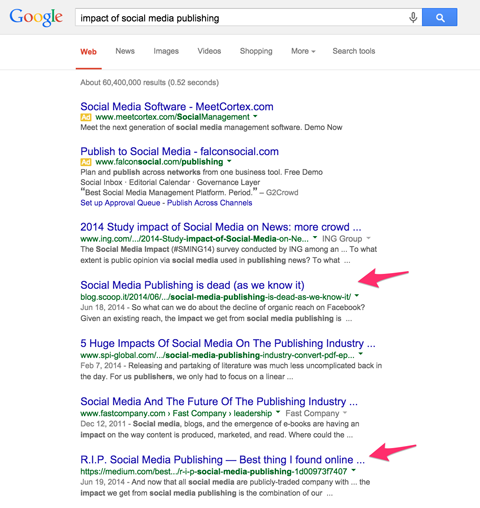 Remember, treat LinkedIn Publisher as a distribution channel, where the goal is to increase visibility and grow your audience. Send people back to your blog, so they can get to know more about you and your business.
#2: Repurpose Long-Form Content
Do you have robust ebooks, case studies and speeches that are too long for LinkedIn? No worries. It's easy to optimize your existing long-form blog content for LinkedIn Publisher.
Take your long-form blog posts or ebooks and break them down into multiple individual posts. Include additional images and subheads too. You can even take old speeches and write them as LinkedIn posts.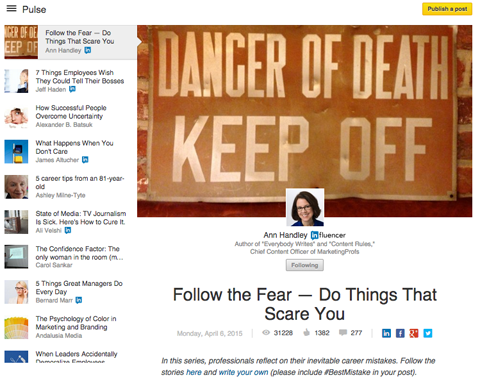 For example, Ann Handley (who does an excellent job of mixing new content and repurposed content into her LinkedIn Publisher posts) recently reimagined a speech published on her blog in 2013 for a LinkedIn Publisher post in 2015.
#3: Use Previous Content to Inspire New Posts
If you don't want to republish the same content (or even parts of it) from your blog, there are a few other options to avoid starting completely from scratch.
Take a look at the analytics from your published content to see which articles performed best. Look at traffic, social media shares and any other metrics you monitor for performance.
Then try to figure out what made that content so successful. One way to do this is to ask yourself questions about each post. Once you determine the source of that success, write a new article for LinkedIn that's similar.
You can also go through your blog and find articles with similar themes. Then pick the big ideas from each post and turn it into a list post on LinkedIn.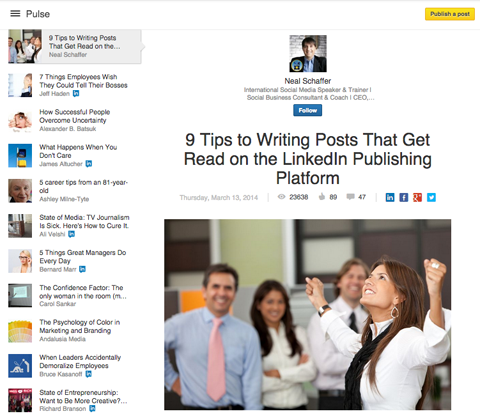 Include a summary paragraph or two from each post, as well as a link back to the original.
Over to You
LinkedIn Publisher is an excellent resource for increasing your visibility and thought leadership. Republish, repurpose and use ideas from existing content, and you'll never be at a loss for ideas.
Be sure to share often and in various places, so your audience finds your content and can benefit from your knowledge.
What do you think? What types of content do you publish on LinkedIn? What strategies drive more visibility? Please share your thoughts in the comments.
CoSchedule blog image created with Placeit.