Are you struggling to come up with Instagram content ideas? Wondering how to turn brand mentions into content for Instagram?
In this article, you'll learn how to develop a customer-centered user-generated Instagram content strategy.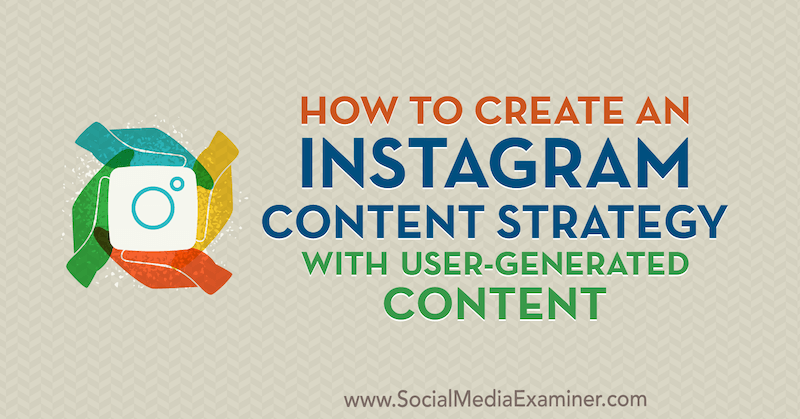 Why Include User-Generated Content in Your Instagram Marketing?
Consumers find user-generated content (UGC) more trustworthy than branded advertising by a wide margin. So why not use it to create beautiful social media content?
After all, coming up with diverse and effective visual content to keep your Instagram account active is challenging. And the platform is getting increasingly crowded. According to eMarketer, more than 75% of businesses surveyed plan to use Instagram as a marketing channel in 2020 so standing out in this crowd is not going to be easy.
Here's how you can use UGC for your brand to help grow your Instagram presence.
#1: Collect, Organize, and Curate Your Brand Mentions
Obviously, the first step to collecting, organizing, and curating your brand mentions is to set up an efficient social media listening routine. There are many solid solutions to try; however, given the content-repurposing aspect of this strategy, Agorapulse is a good option because it offers a few handy task-management features.
Agorapulse's Medium plan ($99/month) lets you add up to 10 social media profiles and two team members. So you can add your Twitter, Instagram, and LinkedIn accounts and several Facebook pages, all managed through a single dashboard in Agorapulse.
Once you've added your accounts, all of your brand mentions will be collected in your unified social media inbox.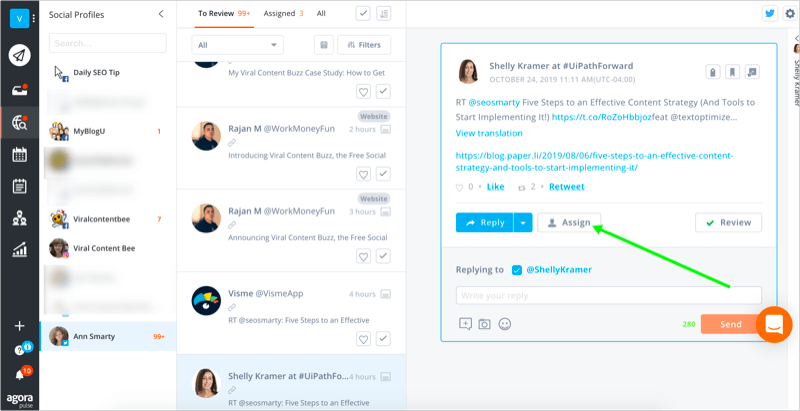 From there, you can set up filters to assign certain mentions automatically to your content and social media managers to act upon. To set up a filter, click Settings to open the Inbox Assistant, and then click Create a New Rule.
Now create an automated filter to alert your content manager of relevant social media updates. To visualize this, in the image below, I'm filtering all mentions of our official hashtag and assigning them to my social media manager automatically. From now on, my social media manager will receive emails containing all of the mentions, which will make monitoring much more efficient.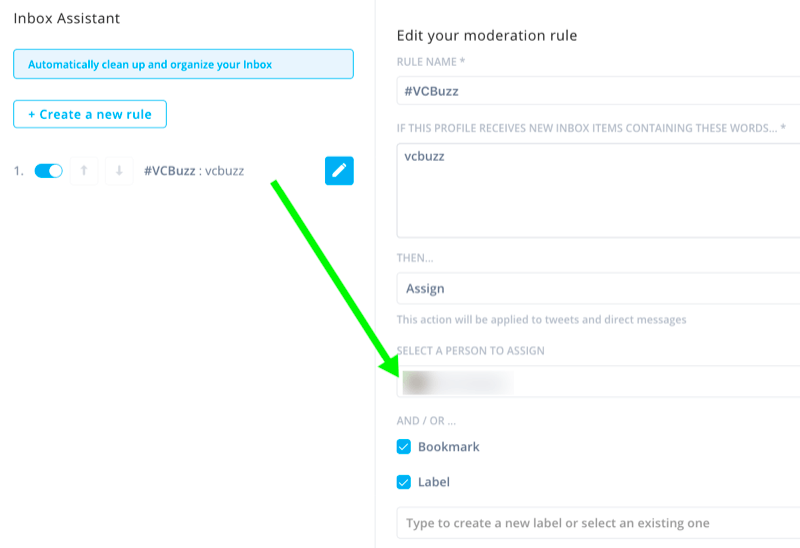 Agorapulse also lets you assign and label updates manually. You can filter social media updates assigned to anyone. This way, your content manager can log in from time to time, look through assigned tasks (i.e., mentions), and decide which ones are worth publicizing further. You can engage with any update right from Agorapulse and mark any as done.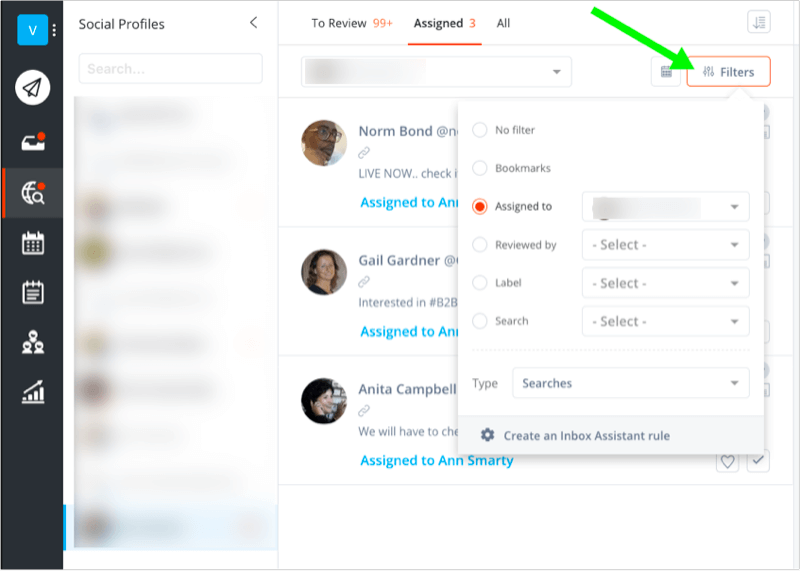 #2: Obtain Permission to Reuse Customers' Content
Anytime you decide to use any social media mentions to create more content for your brand, always ask permission. This step is crucial for many reasons, including:
Avoiding legal issues.
Preventing a reputation management crisis. Using other people's content without permission can blow up.
Building relationships with current customers or people who are talking about you online.
CrowdRiff found that 65% of people will give permission to use their social media content within 24 hours so it shouldn't take long to hear back.
Asking for permission is easy. I prefer asking publicly because some people may frown upon unsolicited private messages. Here's a quick example of a local brand asking permission to use my picture: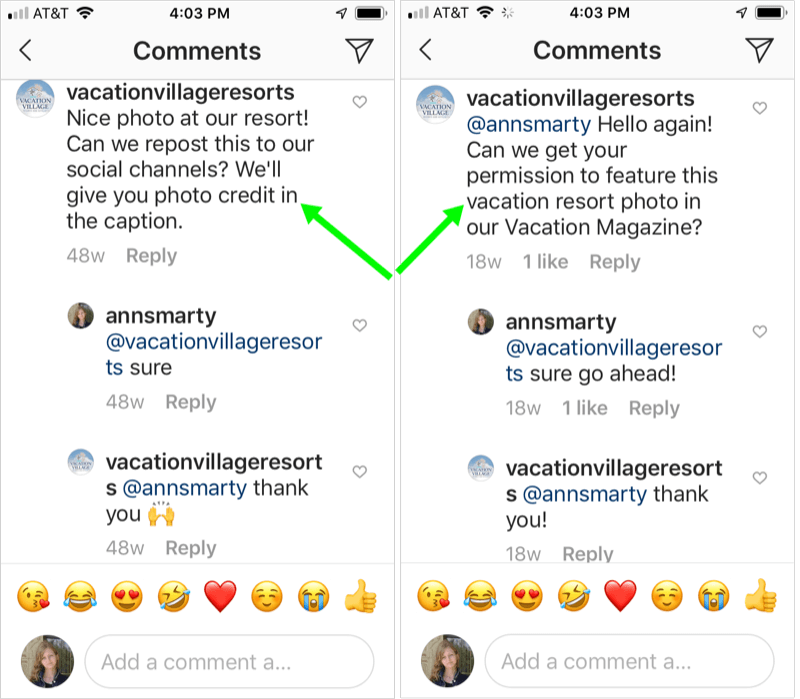 Even if it's not something you plan to reuse on Instagram, it's still a good idea to ask permission. To illustrate, if you want to reuse a tweeted testimonial, confirm with that Twitter user that they don't mind being put in the spotlight.
Obviously, after obtaining permission, don't forget to credit the content creator. Again, you can do that from your social media listening platform. All of the replies will be automatically assigned to the team member who initially asked permission so it's easy to manage.
#3: Share Your Brand Mentions for More Awareness
According to ReviewTrackers, people are more likely to write a review of their negative experiences than their positive ones. This is the challenge any business has to deal with, regardless of niche.
One of the ways to approach this challenge is to do your best to publicize your positive reviews and mentions to somehow balance the online sentiment.
Here's how you can use content-repackaging tactics to turn your brand's social proof into powerful visual content for your Instagram account.
Turn Social Proof Into Visual Quotes
If your happy customers are spreading the love in words, you can still broadcast these positive reviews and testimonials to your Instagram account.
The easiest way to do this is to take a screenshot of the mention. Make sure you use the correct screenshot dimensions so it will look good as an Instagram update. The free image-cropping tool from Placeit makes this easy with its presets for Instagram updates and stories.
WPXhosting uses this technique to curate happy customer reviews from all over the web into their wall. In an unexciting niche like web hosting, this is a brilliant use of an Instagram channel.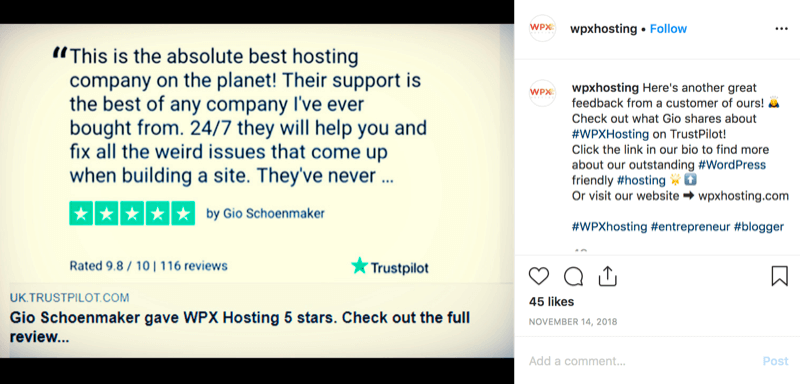 A more creative way to approach this tactic is to put together a visual quote, an image overlaid by the review or testimonial. With a tool like QuotesCover or Quotes Creative (or any of these alternatives), you can turn any text mention into an attractive visual quote.
Here's the strategy we use to publicize Twitter testimonials to our Instagram account:
Like all positive brand mentions you receive on Twitter to collect them in one place.
Put together nice-looking visual testimonials to publish on Instagram from time to time.
Of course, in most cases, you can't limit your Instagram profile to visual testimonials only, unless you want to lose your followers' attention. However, it's nice filler content to publish once or twice a month.
Feature User-Generated Content in a Story
According to Instagram, 500 million users publish stories daily and it's the most authentic content on the platform.
And unlike Instagram updates, stories let you add clickable links, which can be a massive traffic-driver. Clickable links inside stories are available to both personal and business profiles that are verified and have more than 10,000 followers on Instagram.
With a tool like the free iPhone app StoryBoost, you can create an Instagram story using your customers' pictures, as well as positive brand mentions. The app's templates, animations, and stickers make it easy to create an engaging Instagram story.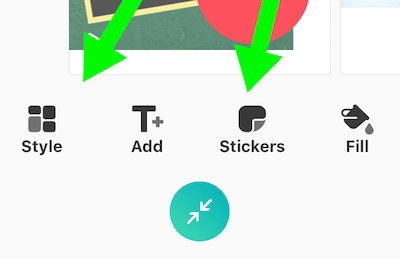 You can curate multiple testimonials into one story and repost it to your updates where you can tag users who shared each one.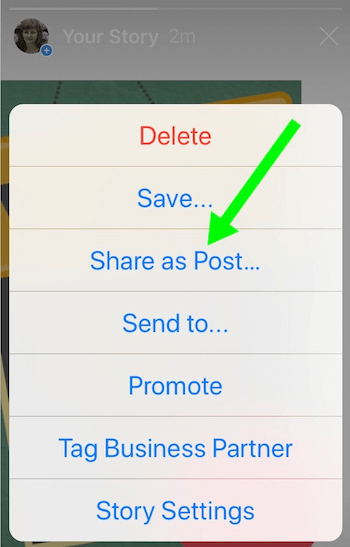 Use Instagram Highlights
Instagram lets you save stories to your Instagram profile as highlights, which remain permanently at the top of your profile. Highlights are great for content curation because you can edit them to add new testimonials as you create them.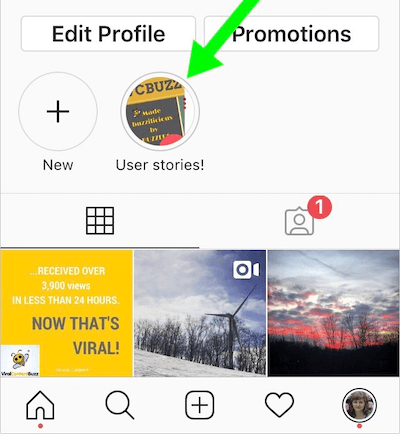 Incentivize More Social Proof by Using a Branded Hashtag
You can encourage your community to contribute to your Instagram account by using a unique branded hashtag.

STA Travel, an online booking company, invites followers to use their branded hashtag to submit photos of various destinations and then uses highlights to curate the content. Apart from engaging influential Instagram users, this strategy also helps generate lots of relevant content for the brand.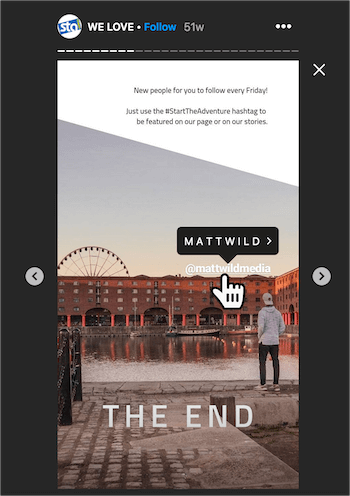 Conclusion
Social media monitoring is useful for many purposes, including helping customers and avoiding a reputation crisis. But it can also be used to create content for your Instagram account.
UGC builds brand loyalty and helps boost conversions. Hopefully, the above steps will help you set up a conversion-boosting UGC marketing strategy for your brand-owned Instagram account.
More articles on Instagram marketing: