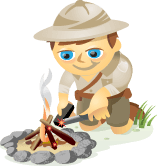 Have you heard of Snapchat geofilters?
Want to use them to promote an event or your business?
Snapchat On-Demand Geofilters let you design custom filters people can use on their snaps based on a custom location you define.
In this article I'll explain how to create two types of Snapchat On-Demand Geofilters and explore several ways marketers can use them for business.
About On-Demand Geofilters for People and Businesses
Snapchat offers two types of On-Demand Geofilters: one type for people and one for businesses. The area for on-demand geofilters must be between 20,000 and 5 million square feet and they cannot be active for more than 30 days.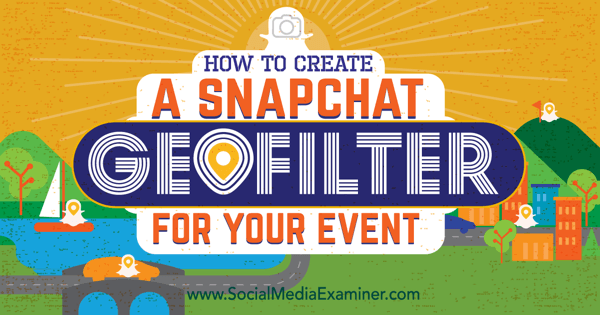 Listen to this article:
Where to subscribe: Apple Podcast | Android | Google Podcasts | Google Play | Stitcher | TuneIn | Spotify | RSS
Scroll to the end of the article for links to important resources mentioned in this episode.
In Snapchat's
submission guidelines
, the distinction is that On-Demand Geofilters for people cannot include any branding, business marks, business names, business logos, or other promotional content for a business or brand. They're meant to be used for birthday parties, graduations, and other personal celebrations.
On-Demand Geofilters for businesses, on the other hand, are those that promote brands or businesses and must include a business name, which will be shown to let Snapchat users know that your business submitted the filter.
On-Demand Geofilters for businesses can use branding, business marks, business names, business logos, or other promotional content for a business or brand. They cannot, however, use photographs of people, URLs, phone numbers, emails, drug-related content, or content that you don't own or have the authorization to use.
The content in any On-Demand Geofilter must also adhere to all of Snapchat's Terms of Services, Advertising Policies, Privacy Policies, Community Guidelines, and other On-Demand Geofilter Terms and Conditions.
How to Create On-Demand Geofilters for Snapchat
To get started, you'll need to go to the On-Demand Geofilters page and click on the Create Now button.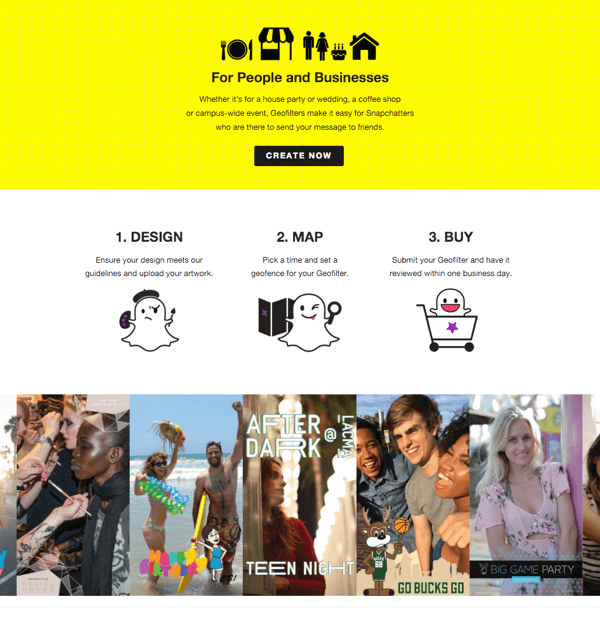 You'll be asked to log into your Snapchat account. Then you'll be given the option to download templates for your On-Demand Geofilter and to read the submission guidelines.

The templates provided by Snapchat are offered in both PSD and AI format. You can use these templates to quickly create your On-Demand Geofilters if you have Adobe Photoshop or Adobe Illustrator.
You need to create a PNG file that is 1,080px wide by 1,920px tall with a transparent background that is under 300KB in file size. You can do this without Photoshop or Illustrator.
For example, let's say that you wanted to create the image in Canva. You would use the Custom Dimensions option to create an image that is exactly 1,080px wide by 1,920px tall.

I could add a shape at the bottom to create a banner effect.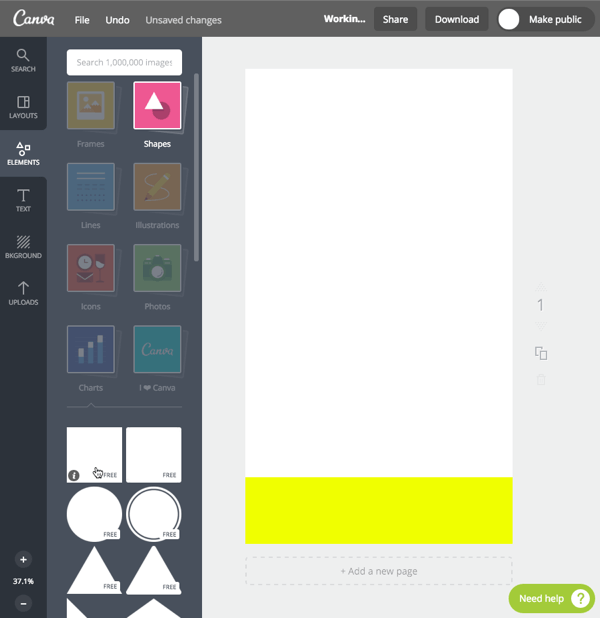 Then add text or upload a logo.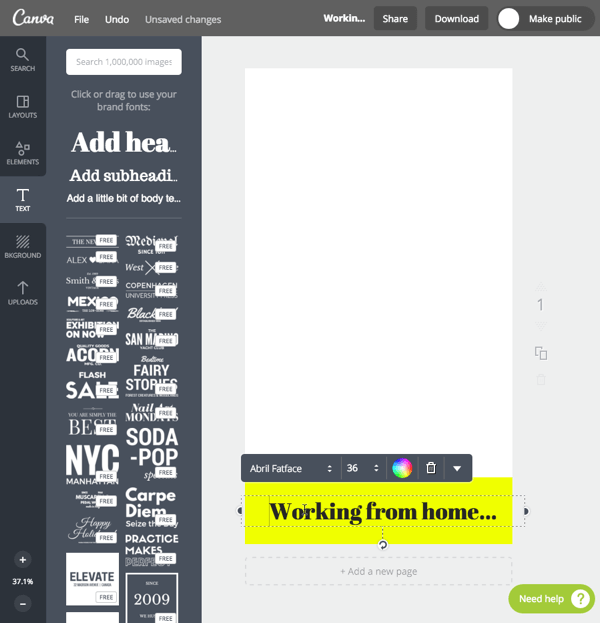 You can download the image as a PNG file.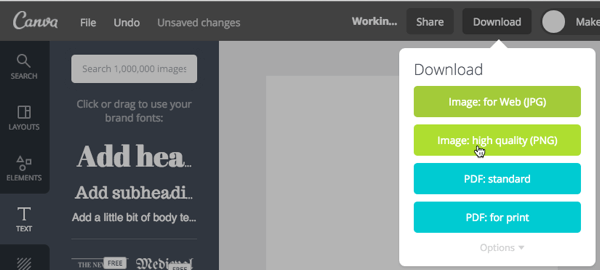 Then open the PNG file in GIMP and use the Select by Color option to select the white area of the image.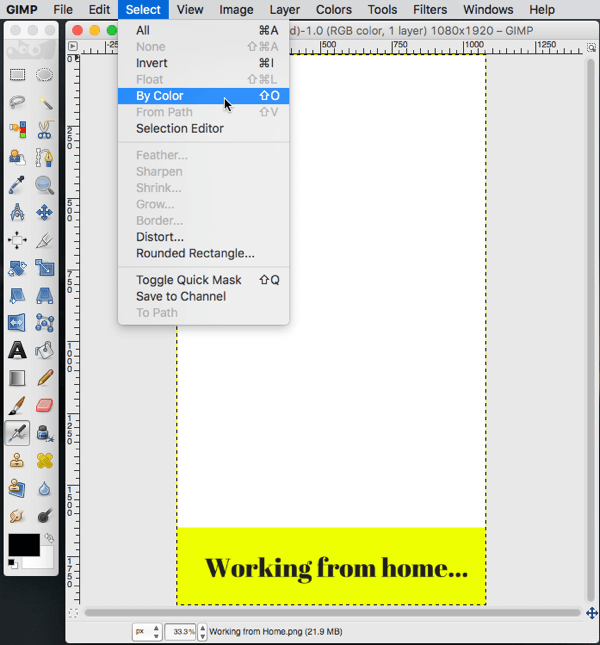 Then use the Color to Alpha option to take the white selection and make it transparent.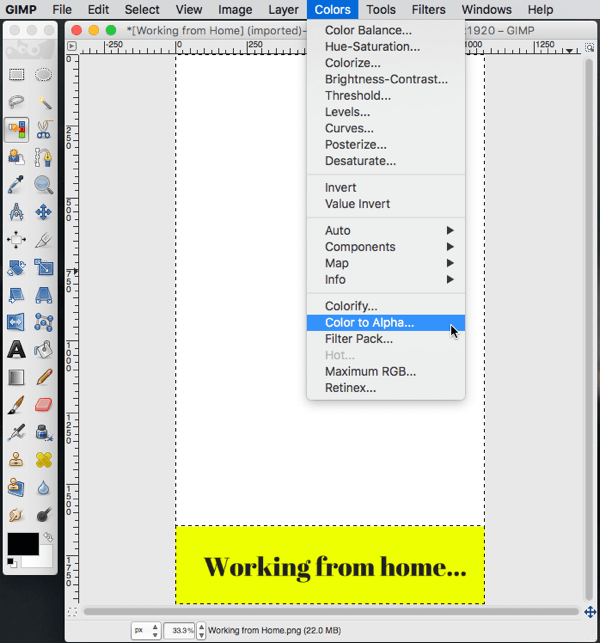 Overwrite the PNG file you downloaded, creating a geofilter with a transparent PNG background that's under 300KB in file size.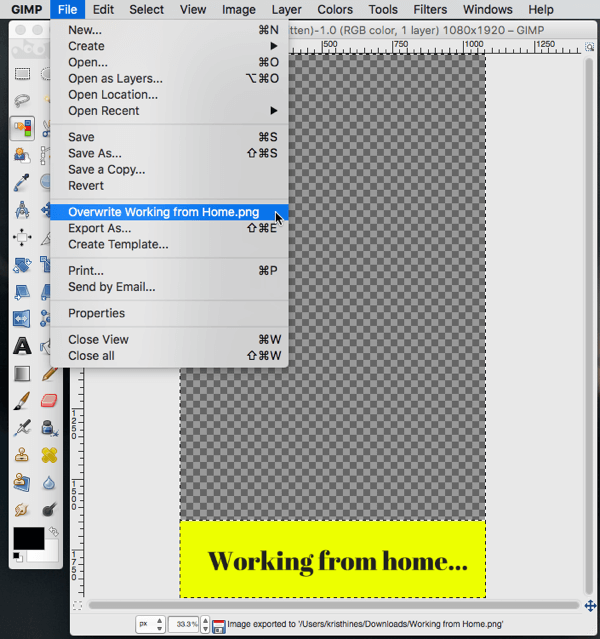 When you upload the file to Snapchat, you'll see a preview of what it would look like as an On-Demand Geofilter. This will allow you to edit your file accordingly until you get it just the way you want it.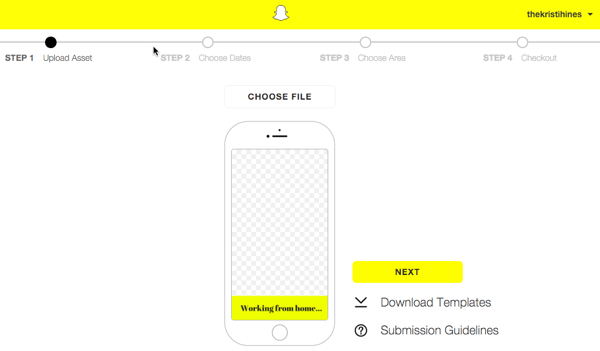 When your design is finished, click Next to choose the dates you'd like your On-Demand Geofilter to be active.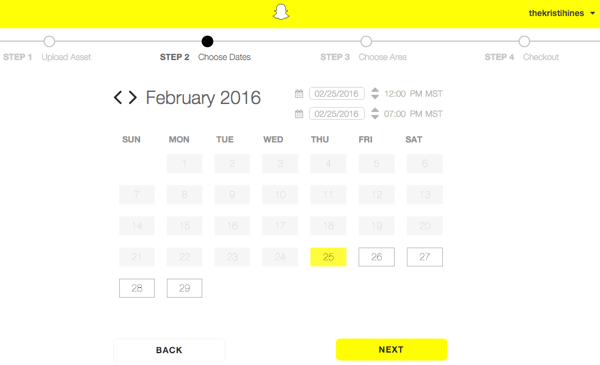 Then you choose the area Snapchat users must be in to use your On-Demand Geofilter.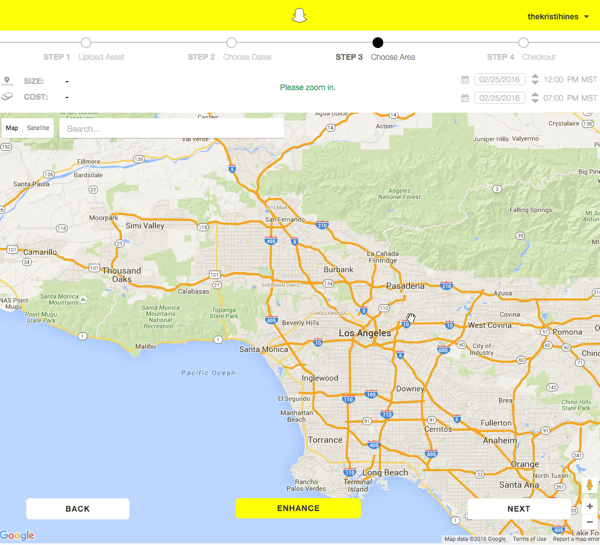 You'll then draw a geofence around your precise location. This fence must be a minimum of 20,000 square feet. At this stage, you'll get a pricing estimate based on the size of your fence and the date range you've selected.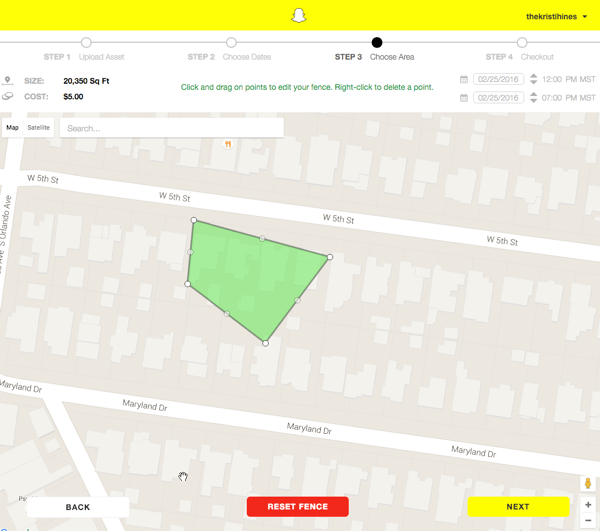 On the final screen, you can confirm your order details including payment information and choose whether your On-Demand Geofilter is personal or business. This selection does not seem to affect the amount you're charged for your geofilter.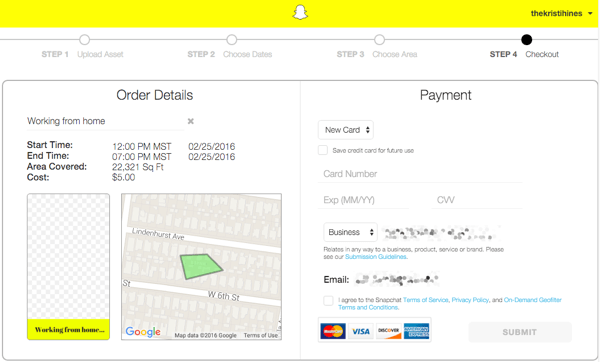 Your On-Demand Geofilter will go into review after you've entered your details and submit it. You should get an email confirmation as well.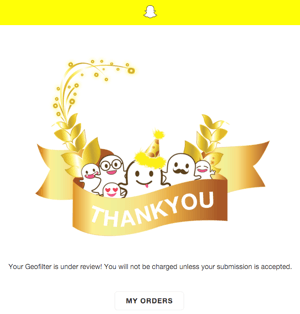 You can click on My Orders to review your order status and cancel your order if necessary. Orders cannot be updated at this point.
You'll get an email from Snapchat to let you know your filter has been approved.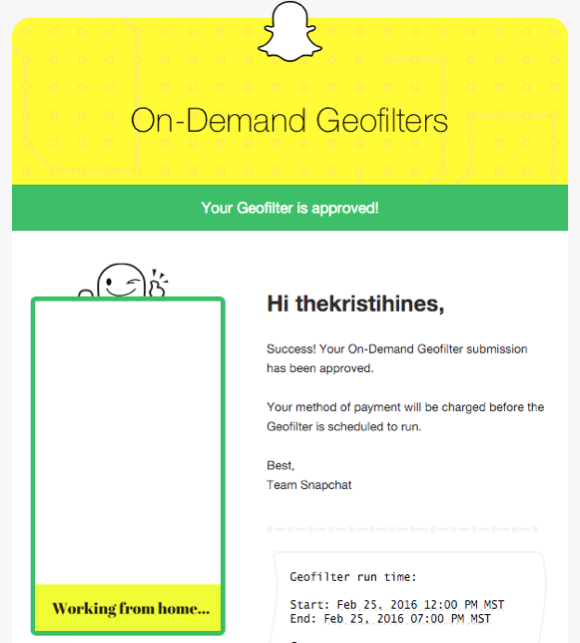 You'll be able to use it if you're located in the area you specified with your geofence. Simply take a photo or video using Snapchat and swipe right like you normally would to access other filters like MPH, temperature, and standard location filters.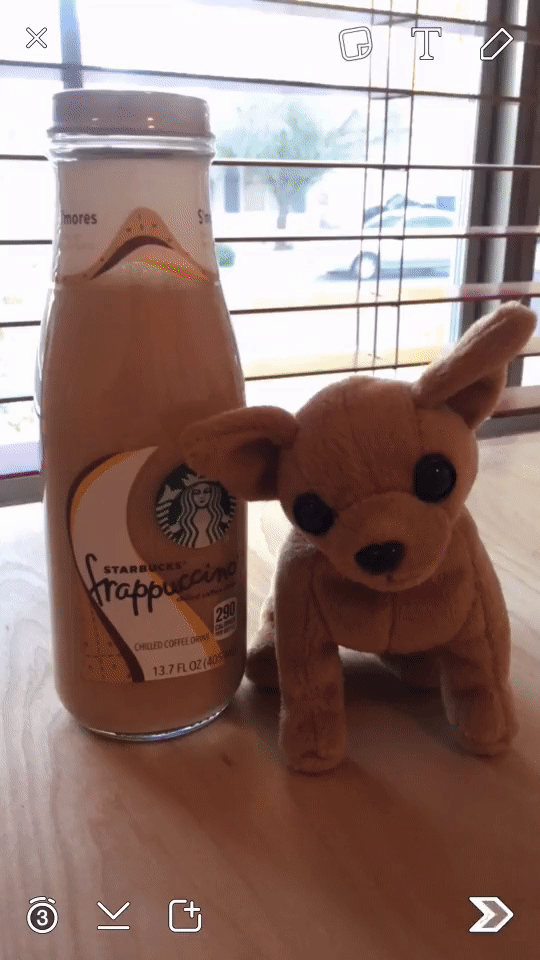 You can also visit the dashboard to review your On-Demand Geofilter's metrics to get additional insights about its usage, such as the number of people who have viewed and snapped your geofilter.
Additional information about On-Demand Geofilters can be found in the Snapchat FAQ section.
In Conclusion
On-Demand Geofilters on Snapchat can be a great way to reach people in a specific location and have them spread the word about your event or business with their friends through photos and video. If you're on Snapchat, be sure to give it a try to see what you can do with geofilters. And if you'd like a visual walkthrough, check out this video from Jeff Sieh.
Have you tried On-Demand Geofilters? What business uses do you see? Let us know how you've used them and what your experience has been in the comments below!