Does your business sell consumer goods? Looking for alternative ways to reach your B2C customers?
In this article, you'll discover how businesses in five B2C industries are using LinkedIn to connect with individual prospects and consumers.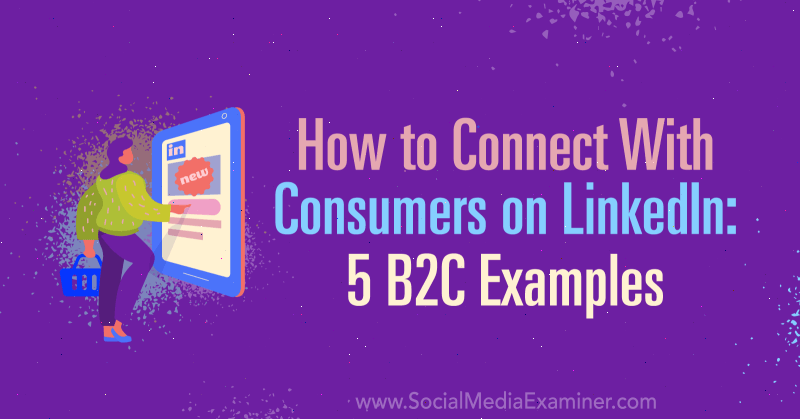 The Case for B2C Outreach on LinkedIn
Although LinkedIn has traditionally been known as a B2B network, the platform is ripe for B2C brands looking for better ways to connect with their target audiences. LinkedIn can also be a promising alternative to Facebook for B2C brands wanting to connect organically and educate users about their products.
Among the abundance of work-related content, brands can easily stand out by publishing content that relates to people's interests outside of work. LinkedIn also provides a gateway to engage with professionals who might enjoy higher-end B2C products. These brands can drive engagement on a platform where their target audience resides during the workday.
This article highlights real-world examples of B2C brands that are effectively using LinkedIn in their organic or paid social media strategies.
Brands Using Organic Feed Content on LinkedIn
Although LinkedIn is home to a network of professional and business profiles, it's important to remember that each member of the community is a unique person with their own interests outside of work. Unlike Facebook's reach for brands, LinkedIn doesn't require the same pay-to-play mentality to start building an audience.
Across the platform, a myriad of B2C brands are growing an audience of users who are interested in their products. Not only do these pages share updates related to their business and industry but they also publish relevant content about the products they sell. This content often follows the same style as posts you'd find across Facebook or Instagram. The posts are visually captivating and use creative ways to drive engagement.
When your average worker is consuming content in their LinkedIn feed, these B2C posts can quickly stand out because they're different from the typical content users have grown to expect on the platform.
#1: Travel Companies
VISION Destinations is a LinkedIn-native travel page, helping busy professionals discover their next holiday. The page curates and distributes inspiring content related to the travel industry.
The page quickly scaled to 13,000 followers in just 3 months and helps drive traffic to the VISION Destinations blog and travel store.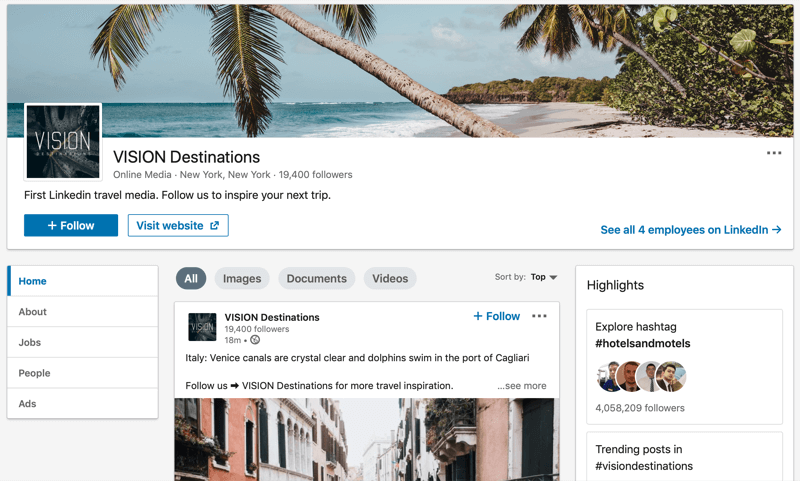 The content published on the page follows a similar style to what you'd see on a Facebook travel page but is unlike the norm for LinkedIn content. Each post includes a high-quality image or video of a travel destination, accompanied by a story or description of the scene. The posts also utilize a portrait format to maximize the screen real estate in the LinkedIn feed.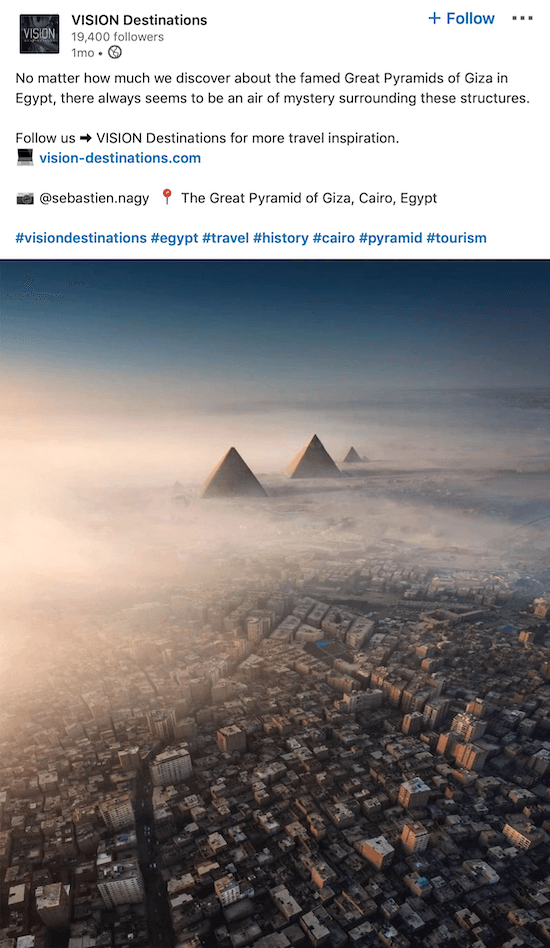 KLM Royal Dutch Airlines has identified LinkedIn as a distribution channel for not only business-related flights but also for people looking to book personal experiences outside of work. The content they publish on their LinkedIn page reflects the look and feel of their other social channels like Instagram and Facebook.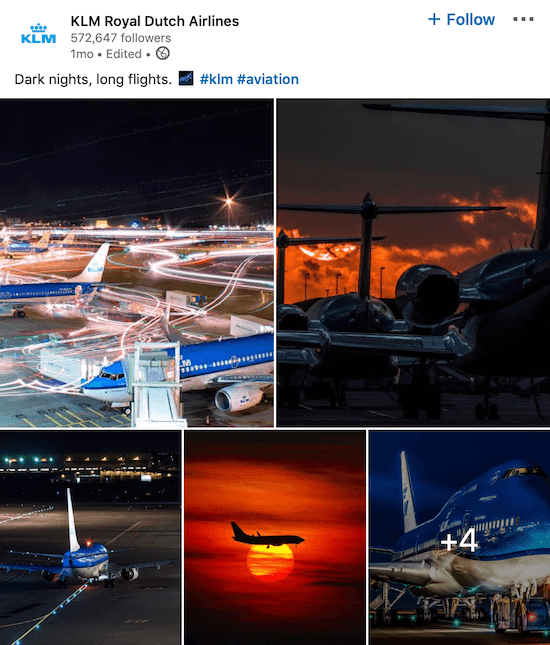 KLM consistently shares content about updates to their service offerings such as flight lounges, planes, and in-flight perks. They also publish scenic images and videos of their planes from a behind-the-scenes perspective, helping educate customers about the experience of flying with the airline.
The brand also adds a touch of humor in their posts and takes advantage of relevant public holidays and seasonal periods. This type of content helps them stand out from other branded pages on LinkedIn.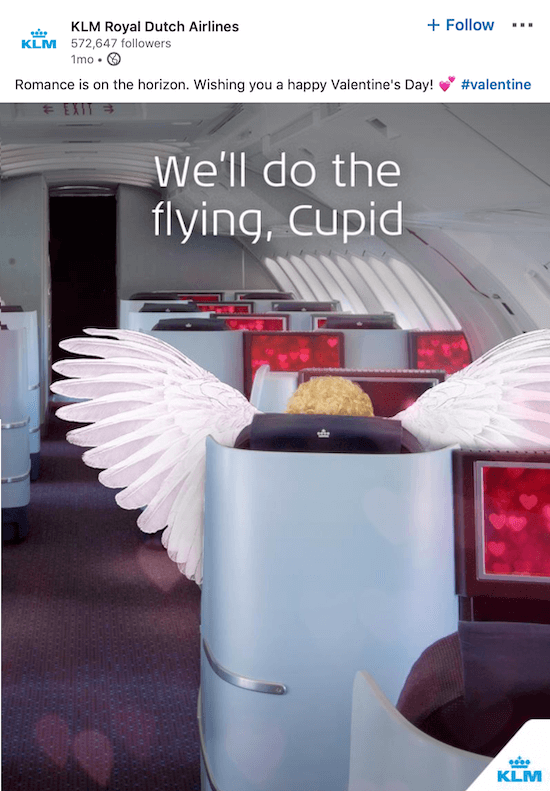 #2: Sporting Goods Companies
Callaway Golf understands the relationship between the brand and business professionals. With an audience of more than 60,000 on LinkedIn, they use the channel to distribute content about golfing culture and their products.
Whenever the company releases a new product line, they publish video content across LinkedIn to share the announcement.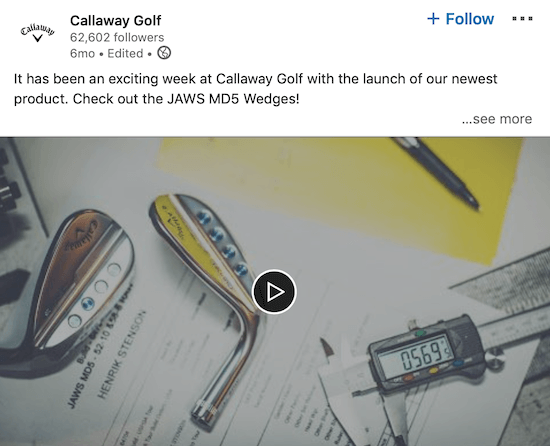 Sharing news about new product releases encourages their audience on LinkedIn to add their thoughts about the new product and even tag their work friends with whom they play golf.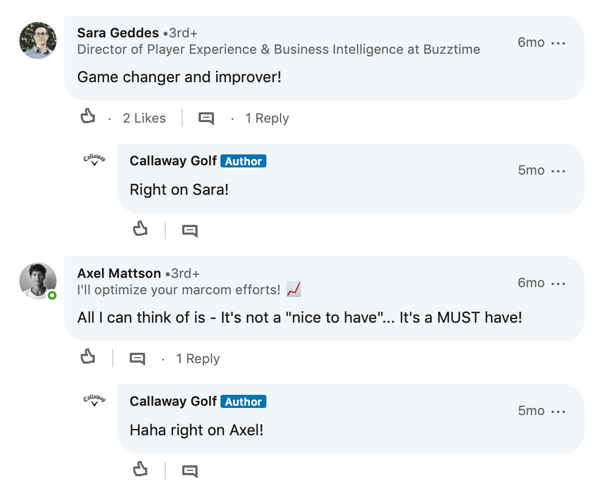 Callaway also publishes content around seasonal trends that align with its products. Whether it's Valentine's Day, Halloween, or International Women's Day, they create unique assets that showcase their products for each occasion. Additionally, they'll use professional golfers as influencers to help build social proof when promoting their products.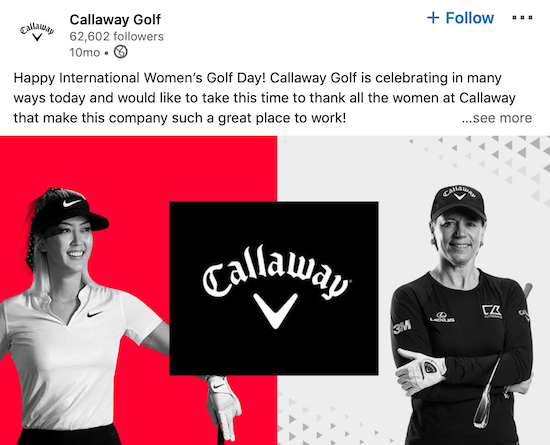 Brands Using Paid Ads
As a paid ad platform, LinkedIn has made some significant enhancements for businesses looking to publish more creative and relevant experiences. With the introduction of carousel ads, lookalike audiences, and conversion tracking, brands now have an effective toolset to create high-performing ad experiences.
Traditionally, LinkedIn has been an expensive alternative to ad platforms like Facebook. With cost per results on LinkedIn significantly higher than other platforms, social media marketers have had a hard time justifying the cost. However, with Facebook's rising cost per action (CPA), the cost gap between the two platforms is slowly beginning to close.
The additional appeal of LinkedIn's ad platform to businesses is the quality of conversions. Although an ad platform like Facebook will be cost-effective at driving leads, the quality of leads generated through LinkedIn might be more relevant to your brand, particularly if you're promoting a high-cost item.
As an alternate strategy to using only one of these ad platforms, brands can integrate both solutions into their overall paid strategy at different stages of the funnel.
For instance, if you acquire higher-quality leads at the top of your funnel with LinkedIn lead generation ads, you can then retarget this refined audience on Facebook or Instagram, where your ads can drive more specific conversion events at a lower CPA.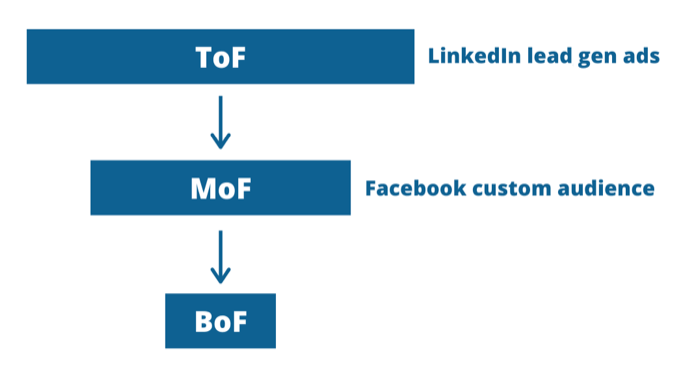 B2C brands that best utilize LinkedIn in their paid strategy are those that sell higher-cost products, in which case the higher CPA for top-of-funnel leads will reflect the final sale price.
#3: Automobile Companies
Luxury car dealer Genesis Motors uses carousel ads across LinkedIn to promote their fleet of vehicles. These engaging ad assets not only showcase the car itself but also highlight key features across each carousel card.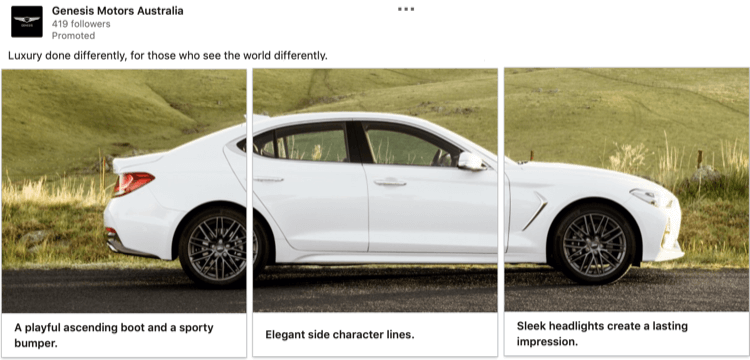 Genesis Motors also uses LinkedIn's native lead generation ad format to convert users interested in registering for a test-drive experience. This creates a seamless process for people to quickly register their details without having to leave the LinkedIn platform.
Lead generation ads like the one below showcase Genesis Motors' products using native LinkedIn video, which autoplays when a user scrolls to the ad in their feed.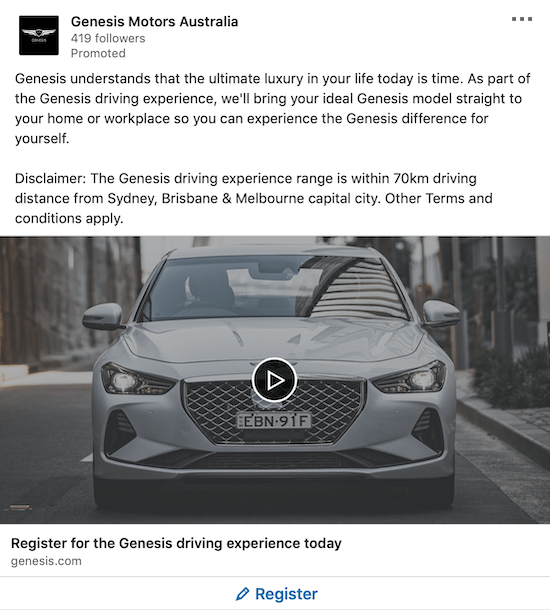 #4: Computer Companies
Tech companies like Microsoft and Dell often sell directly to large businesses at an enterprise scale. Notably, both brands have started promoting their products to individual consumers across LinkedIn.
Because LinkedIn lets you target people based on their specific job role or company size, it's feasible for these brands to reach small business owners and early-stage founders looking to update their personal devices.
Following their paid Facebook strategy, Dell promoted a consumer sale for their computers over the 2019 holiday season. These carousel ads sported a Christmas theme to display individual products on each card. Dell also promoted a current sale at their online store.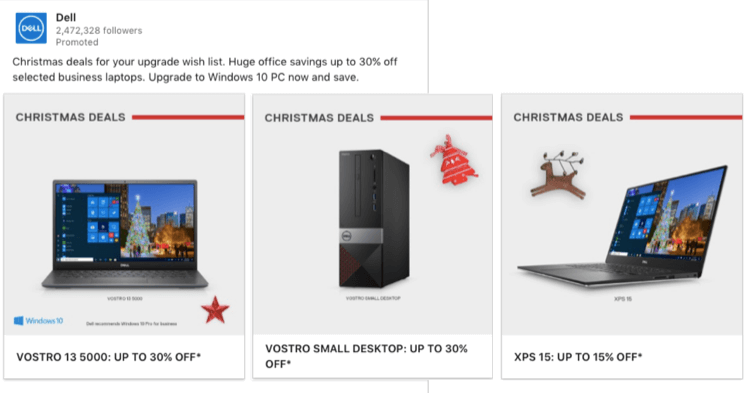 Like all paid ad experiences, taking advantage of LinkedIn's creative ad formats can help you drive more engagement and conversions from your target audience.
Microsoft uses LinkedIn to promote not only their work-related products but also their gaming consoles. The copy in the ad below is engaging because it acknowledges that busy professionals need downtime to relax and entertain themselves. The carousel format allows them to display an array of products and bundles available to purchase.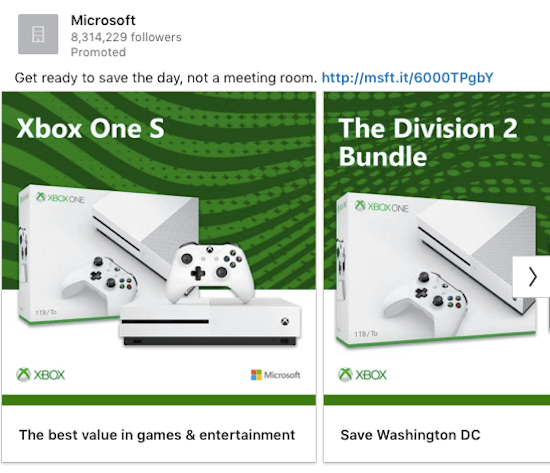 #5: Clothing Companies
Lingerie brand ThirdLove is dedicated to empowering women to feel comfortable and confident in their everyday lives. They manufacture bras that are "designed to fit perfectly."
The brand acknowledges that a large portion of their customers' day is spent at work. In their paid ads on LinkedIn, ThirdLove showcases how their product line can help comfortably support women.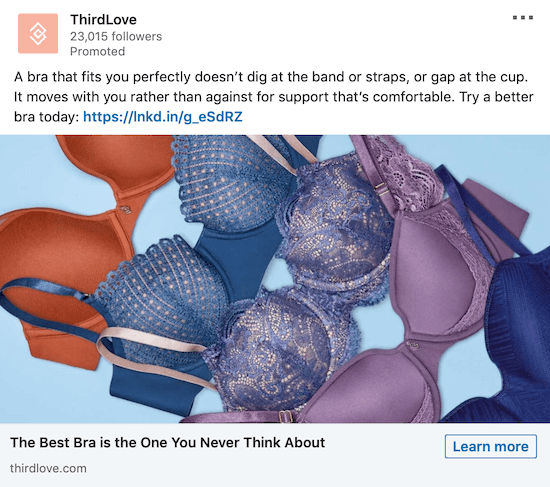 Some of ThirdLove's ads use customer testimonials or quotes from industry publishers to help build social proof with consumers.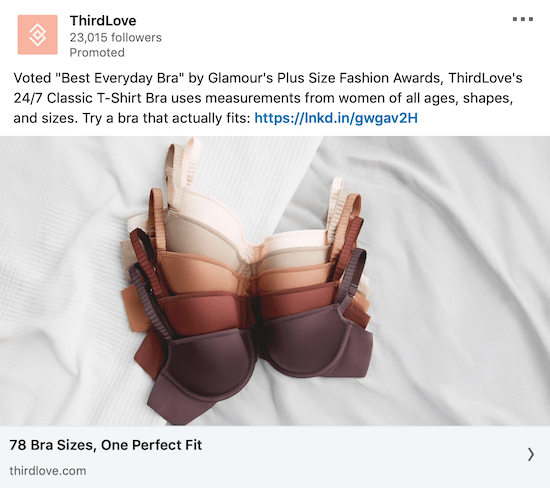 Conclusion
Although LinkedIn is a longstanding network for professionals, it's still in its infancy for B2C brands looking to get the most out of the platform. With the ability to build a highly engaged audience organically, B2C brands have the opportunity to get a jump on their competitors.
What do you think? How will you use LinkedIn to market your goods and services to individual consumers? Share your thoughts in the comments below.
More articles on LinkedIn marketing: