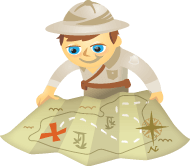 Do you wish you had a better plan for your social media marketing initiatives?
Looking for tips to help you succeed?
In this article, you'll discover how to choose, pursue, and track your progress for four important social media marketing goals.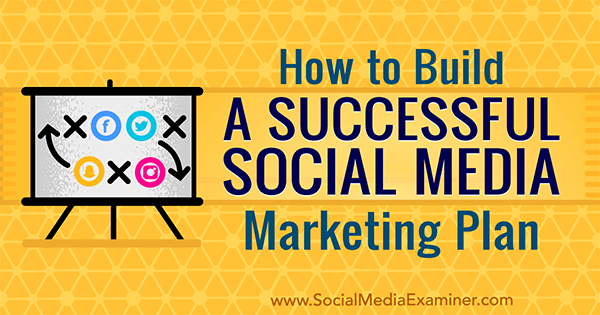 How to Identify the Right Goals for Your Business
What works for one business doesn't necessarily work for others, even if you're in similar industries. Before you define one or more goals, figure out where your business stands. First, audit your brand's digital presence, including a social media audit. Then, analyze your marketing and sales funnels to determine where improvements could have a significant effect.
Should you build awareness, generate leads, nurture your community, or learn about your audience? Through the audit and analysis, you'll discover which objective, if achieved, would benefit your company most at this point in time. When you can answer that, you've got yourself a goal.
Goal-setting matters because your ability to produce results from social media marketing is highly correlated with your ability to identify meaningful goals. This correlation makes sense: You can't identify success or failure if you don't know how much closer or farther away you are from reaching your goal.
The goal that you choose to pursue will determine what strategies you adopt and what performance metrics you should be tracking. After you have this overall goal, you can start identifying relevant metrics, devising strategies, and creating content.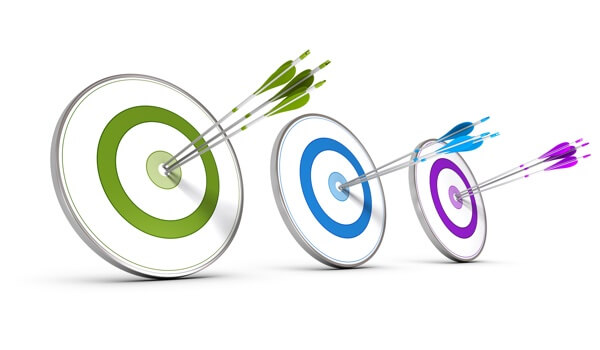 General Goal-Setting Tips
Here are a few general tips for goal-setting in a social media marketing context:
Match your goals to your brand's core values.
Know what makes each social media platform unique and use it to your advantage.
Make sure your campaigns are unique to differentiate your brand.
When setting goals, make sure your efforts are consistent over time.
These tips should apply across all of your social media goals, no matter the desired outcome.
#1: Increase Brand Awareness
Social media is a great way to spread the word. Facebook alone has 1.94 billion monthly active users. Whether you're selling skincare products or IT outsourcing services, your business would most likely benefit from a strong social media campaign that puts your brand's content in front of the right people.
You'll want to set a brand awareness goal if you're launching a new brand or product, if you've lost a significant amount of market share, or if you're trying to reach a new target market. For example, CVS created an ad to increase awareness of its new partnership with Target.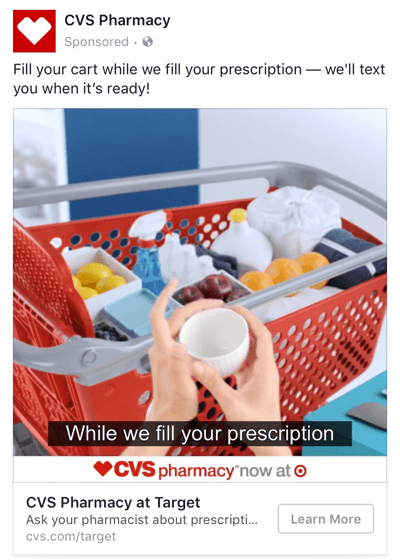 Brand Awareness Metrics to Watch
The Conference You've Been Waiting For
As a small business marketer, you can probably only pick one or two events to attend each year. Get an unbeatable conference experience and expert training at Social Media Marketing World in sunny San Diego, California—from your friends at Social Media Examiner.
🔥 As a valued reader, you can save $750 if you act now! Sale Ends Tuesday! 🔥
CLICK HERE TO LEARN MORE
Measuring brand awareness can get a little problematic because you need a focus group to measure brand recall. However, a few specific figures will give you a pretty good idea of how strong your brand presence is:
Average reach per post
Website traffic from social media
Number of followers
Number of brand mentions
Engagement levels (likes, shares, comments, replies, etc.)
Share of voice (brand coverage relative to your competitors)
For the most part, you'll find these metrics via your corresponding social analytics tools (for instance, get Facebook metrics from Facebook Insights) or free tools like Google Analytics. More complex metrics like share of voice require specific tools like TrendKite or Brandwatch Analytics.
How to Increase Brand Awareness
After you identify the relevant metrics, it's time to look at improving them. First, start posting content that excites your audience. Your brand is competing with a vast array of other brands for user attention so your content has to be uniquely valuable.
Aim to produce and share content that educates, informs, entertains, or inspires. Try to mix things up a little with a balance of the four types of content and keep overtly promotional posts to a minimum. Outdoor outfitter REI has a Force of Nature campaign that highlights women in the outdoors. The content relates to REI's mission and aims to inspire, not directly sell.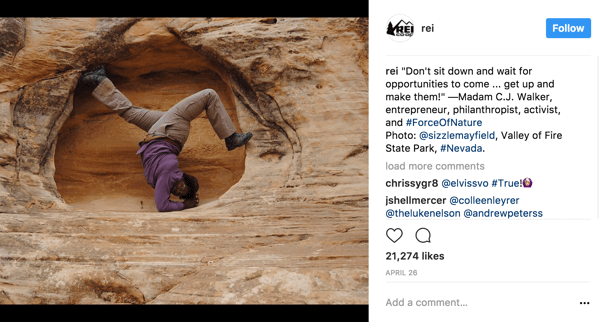 You can develop content that increases brand awareness in several ways. When you inject some personality into your content, you remind everyone that you're human, too. You might try influencer marketing, but make sure you approach it the right way. Host a contest or giveaway if your audience loves free stuff.
To increase a post's reach, try curating popular posts to leverage their virality and add relevant hashtags to each post. If you've got a decent marketing budget, you could invest in social media advertising to good effect. It's pretty amazing how accurately you can target audiences with social media ads.
You've got a few options here, but keep the relevant metrics in mind. Those are the numbers you're trying to improve.
AirAsia's Brand Awareness Campaign
Several years ago, AirAsia was launching a new flight route from Sydney and wanted to increase travelers' awareness of it. The problem was that they didn't have a massive marketing budget, or at least not enough to challenge bigger industry players.
To promote the new route, AirAsia ran a competition on Facebook called Friendsy. Users stood the chance to win a flight for themselves and 302 of their friends (basically a whole plane) by tagging them in a seating plan. Because the act of tagging someone automatically shares the post, it didn't take long for this campaign to go viral.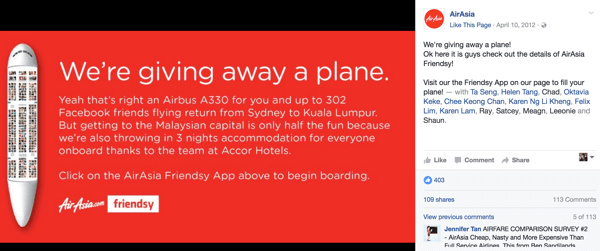 As a result of the Friendsy campaign, AirAsia achieved an impressive response and increase in awareness metrics.
30% increase in Facebook fans
12,500 contest registrations
Over 2 million users reached (roughly 20% of Australians using Facebook)
Estimated PR value of $1.7 million
#2: Drive Traffic/Leads
Website traffic and sales leads are the metrics associated with sales and revenue. By nature, social media platforms, with their labyrinth of hyperlinks and clickable media, make the process of growing sales and revenue pretty easy. However, driving traffic and leads requires a good understanding of what motivates users to click.
You could set a goal to drive traffic and leads if your sales are stagnant, if your website's content isn't getting much attention, or if you want to support your inbound marketing funnel. In this Facebook ad, JAM invites potential subscribers to learn more about their online courses for kids and sign up for a free trial.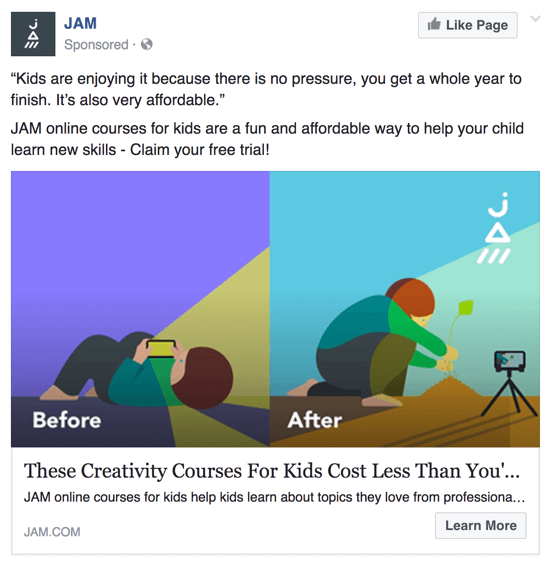 Traffic and Lead Metrics to Track
When you're aiming to increase traffic and leads, analytics should be your bread and butter. They'll tell you exactly how well your social traffic and lead generation efforts are paying off. Here are the analytics you should be tracking:
Traffic (page views) from social referrals
Social referral session duration (bounce rate)
Form submission from social referrals (email subscriptions, gated content signups, Contact Us forms)
Social referral sales conversion rate
Although traffic, leads, and conversions matter, you should also look at actual revenue generated from your social media referrals. If your social conversions aren't contributing as much revenue as your traditional conversions, your source might have an issue with traffic/lead quality.
How to Drive Traffic and Leads
In Social Media Examiner's 2017 Social Media Marketing Industry Report, 78% of survey respondents said social media marketing helped them increase traffic. This response indicates that businesses would do well to take advantage of social referrals.
To drive traffic, make your main strategy creating awesome content for your target audience. The more specific and relevant your content is to your target audience, the better your conversion rates from social referrals will be. For example, this Host Analytics ad promotes a white paper on Microsoft Excel, a topic that appeals to the target audience of finance professionals.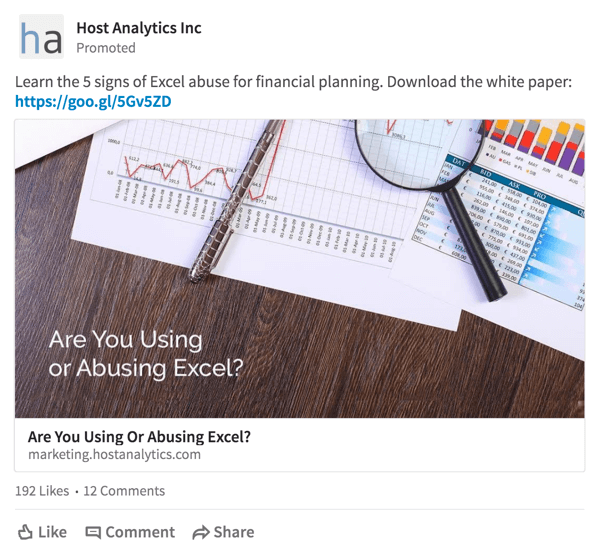 You can combine several strategies to increase traffic and leads. For starters, make sure your profile is consistent with your brand aesthetic so users' expectations are met. Also, link to your site whenever it's appropriate. Link back to your website in your bio, your branded posts, and anywhere else that allows you to insert a relevant call to action.
As you create content, promote your latest blog posts and content offers (ebooks, white papers, templates, etc.) on a regular basis to drive traffic to your branded assets. Repromote your best-performing content to further increase reach and exposure potential.
Advertising and influencers can also help promote your content. When you invest in social media advertising, make sure it's highly targeted so you don't waste money on irrelevant traffic. An influencer can share a link to your website with their audience and help you create content that both your followers and their followers will enjoy.
IBM's Lead Generation Campaign
Attention Agency Owners, Brand Marketers, and Consultants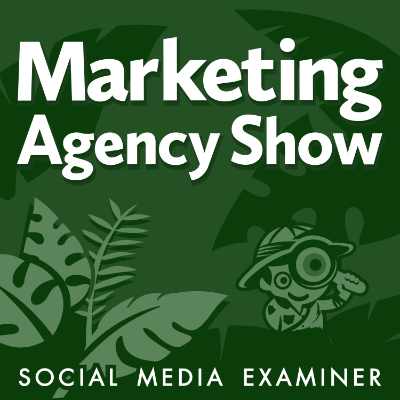 Introducing the Marketing Agency Show–our newest podcast designed to explore the struggles of agency marketers.

Join show host and agency owner, Brooke Sellas, as she interviews agency marketers and digs deep into their biggest challenges. Explore topics like navigating rough economic times, leveraging AI, service diversification, client acquisition, and much more.

Just pull up your favorite podcast app, search for Marketing Agency Show and start listening. Or click the button below for more information.
CLICK HERE FOR THE DETAILS
IBM empowers its staff to engage with its audience via social media. For instance, sales teams can join existing social media conversations and use them to find and collect new leads, and the company has well-defined Social Computing Guidelines.
As an early adopter of social media marketing, IBM had a good understanding of how to motivate its audience.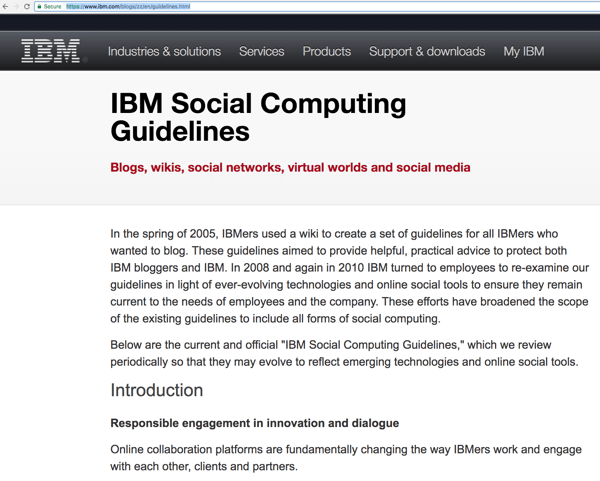 When IBM released its cloud service, the company wanted to find and qualify users and then direct them to relevant landing pages for lead capture. But IBM wanted a more cost-effective channel than search advertising.
The sales staff focused their social media outreach efforts on Twitter and LinkedIn and achieved great results, increasing traffic and developing leads.
Number of Twitter followers increased by 55%
More than 2,000 clicks to cloud product pages
19% of total traffic to cloud product pages came from social media
#3: Build a Community
However you look at it, your social media page combined with your followers and influencers make up an online community. Your job is to cultivate that community, growing it into a valuable tool that represents the image and vision of your organization.
Building a social media community is a good goal if you want to improve customer service efficiency, increase brand engagement, build trust, or provide more value to your audience. To encourage discussion and add value, the Quirky Momma Facebook page asks questions and shares relevant links and videos.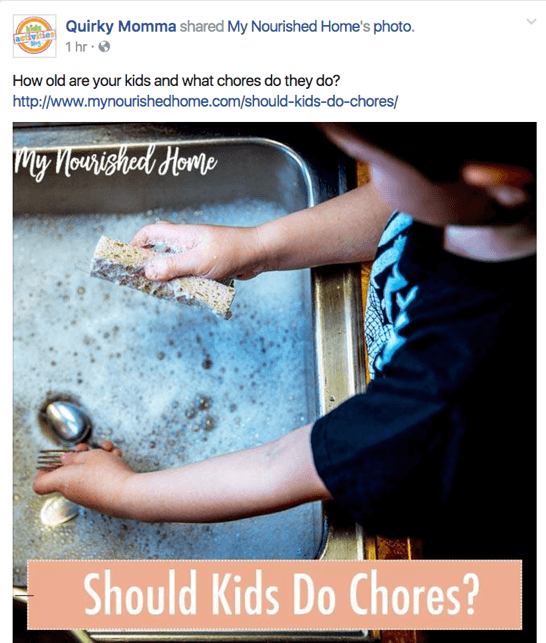 Community-Building Metrics to Track
When you think about measuring the performance of your community-building efforts, keep in mind that it's very difficult (if not impossible) to measure direct revenue generated from your community. With that said, community can help you gain valuable insights about who your customers are, what they like, and more.
Although you can't directly measure revenue contribution, these metrics help you see whether your efforts are paying off:
Engagement (number of clicks, likes, comments, shares)
Brand mentions
Posts linking to your content
Follower growth rate
Survey responses to "How did you come across our brand?" (if the response is social media)
In a nutshell, building a strong social media community is all about fostering engagement. The more relevant engagement within your community, the more valuable it becomes to users. You should also keep a close eye on which topics and content types (videos, memes, quotes, etc.) perform best and use that information to shape your community-building in the future.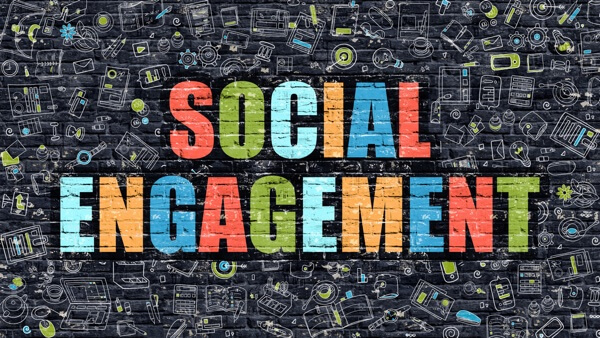 How to Build a Community
Brand communities can provide businesses with a strong competitive advantage that's extremely hard to replicate. Communities are virtually unrivaled when it comes to building trust with your audience. The simple act of owning/managing a highly engaged community is enough to establish a brand's presence as an authority figure.
First and foremost, you should always encourage conversations and keep communication lines open. Make engaging with your brand as easy and compelling as possible. To do this, contribute to your community consistently. Valuable communities can require huge amounts of time and effort to develop, so before you get started be willing to commit to the work.
Share your passions with your community and let people know about your plans for the future. They'll appreciate the transparency and you'll increase your chances of positive engagement. To further encourage engagement, consider connecting your discussions to pop culture, current affairs, and (possibly) controversial topics. However, be careful not to come off as ignorant or offensive.
Giving your fans a voice can complement these efforts. Feature user posts that reflect your brand's vision and let fans share their opinions. User-generated content is considered more trustworthy. For example, DesignSponge invites followers to contribute to its Instagram feed based on an ever-changing hashtag that defines a theme.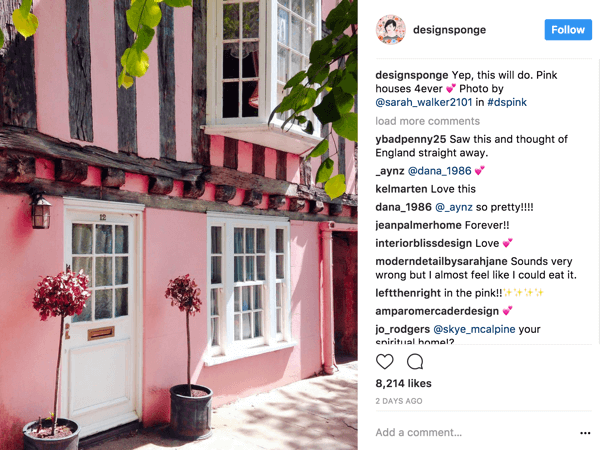 Also, focus on customer service and problem-solving. Try to turn your community into a dynamic resource where professionals can find solutions to industry-related issues.
Finally, know that communities have very specific values, usually about trust and transparency. Make sure you understand those unwritten rules (like being dishonest or overly promotional) so you avoid breaking them and turning your community against you.
Marc Jacobs' Community Engagement Campaign
When the Marc Jacobs brand wanted to launch a new line, the company created the #castmemarc campaign to advertise its rebellious new collection and encourage community engagement.
In a campaign run simultaneously on Twitter and Instagram, aspiring models from the company's fan base posted photos of themselves with the hashtag #castmemarc. The idea was that participants in the campaign would inherently spread brand awareness to their own social networks, particularly those with disposable incomes who are passionate about fashion.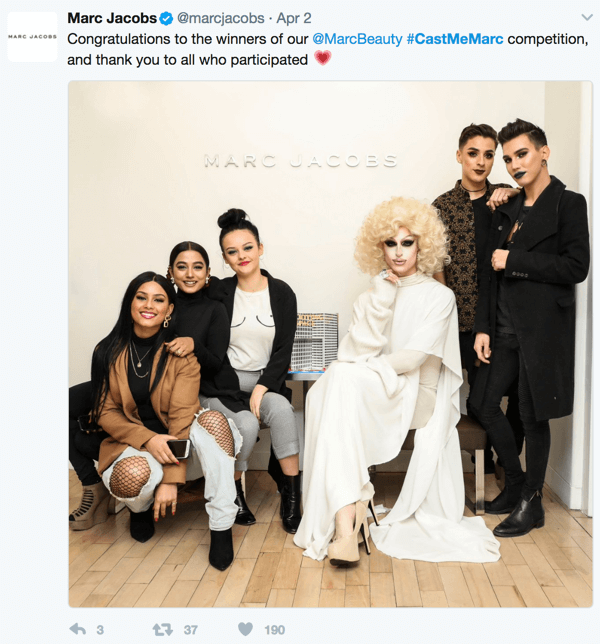 The #castmemarc campaign produced these great results:
The first #castmemarc campaign drew in over 70,000 participants in one week.
Marc by Marc Jacobs accounted for 70% of Marc Jacobs' revenue in 2014.
More than 102,000 mentions for #castmemarc on Instagram.
More than 4,000 campaign mentions on Twitter.
The models hired were far more affordable than professionals.
#4: Listen to Your Audience to Discover Their Interests
Social media presents brands with a massive opportunity to learn about their audience through social listening. The nature of social media means sharing information publicly, which is great for marketers doing research. By monitoring conversations, sentiments, and mentions, you can get a good idea of how your audience feels about a particular topic.
Social listening is a good social media goal when you want to promote a new product and there's no existing market, or you want to focus on a specific niche. However, in reality, you should always use social listening. Constantly learning about your audience is something you just shouldn't turn off.
Research and Development Metrics
Measuring how much you know about your audience can be difficult. No metrics directly correspond to social listening success. Lucky for you, a few figures have indirect relationships that still provide decent indicators:
Brand mentions (this metric should increase while running social listening campaigns)
Sentiment analysis (determines positive or negative social perceptions)
Audience demographics (age, location, interests)
Level of influence (authority of a social media user, measured by overall reach)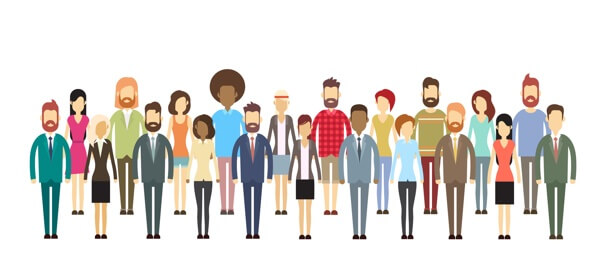 Some of these metrics are qualitative so they require more complex analysis to extract insights from the data. This analysis will probably require a larger time investment than your traditional data analysis processes, but remember that the ability to understand your audience is priceless.
How to Research Your Audience
Something as simple as looking up a particular hashtag and seeing the results can be considered social listening. But social listening can be a job in itself. To do social listening, keep track of conversations that mention your brand, and respond to as many interactions as possible to encourage brand-related conversations.
To streamline the work of social listening, use social listening tools like Mention or Hootsuite. Also, create brand notifications and keep them organized by campaign.
After you complete a listening campaign, put the information you gather into a report. Make sure your social listening report is actionable. For instance, if you discover a sentiment issue, the next step would be to focus on social media PR. It's easy to get caught up with social media reports so maintain a healthy balance between actual listening and reporting. Always prioritize actual listening and acting on insights.
Arby's Social Listening Campaign
Arby's emphasis on social listening and social learning helped the Arby's social team notice a large group of users who really liked their sauce. They'd tweet about wanting to bathe in it or hating when they forget to get sauce with their order. To take advantage of this trend, Arby's launched #Saucepocalypse.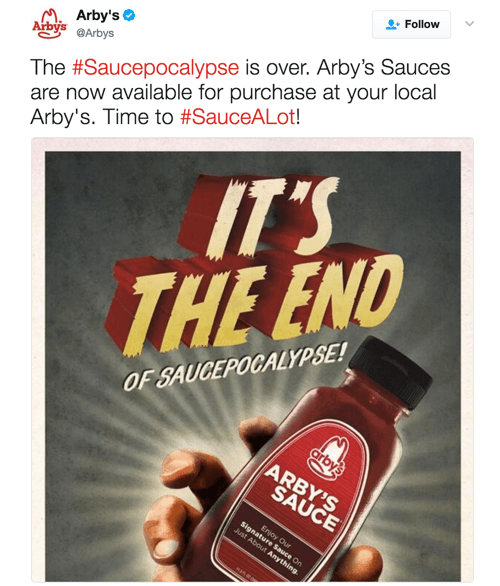 Arby's released sauce by the bottle so consumers could purchase sauces directly. To support this product release, Arby's launched an integrated #Saucepocalypse advertising campaign (TV, print, online, out-of-home).
By responding to what customers were saying about the sauce, Arby's achieved great results:
More than 50,000 bottles sold
Increase in Arby's sauce mentions by 92%
More than half a million media impressions
Conclusion
You need to properly define your social media goal before you know what strategies to adopt. A systematic process for goal-setting can also help you track the right metrics and know how successful your efforts are in achieving your specific goal.
Although you're not restricted to one goal, the metrics are different for each goal, so you'll have to cover more bases. If you're just starting out with social media marketing, start with one or two goals at most.
What do you think? Do you know what your next social media goal is? What tips or tactics from this article will you use? Please share your thoughts in the comments.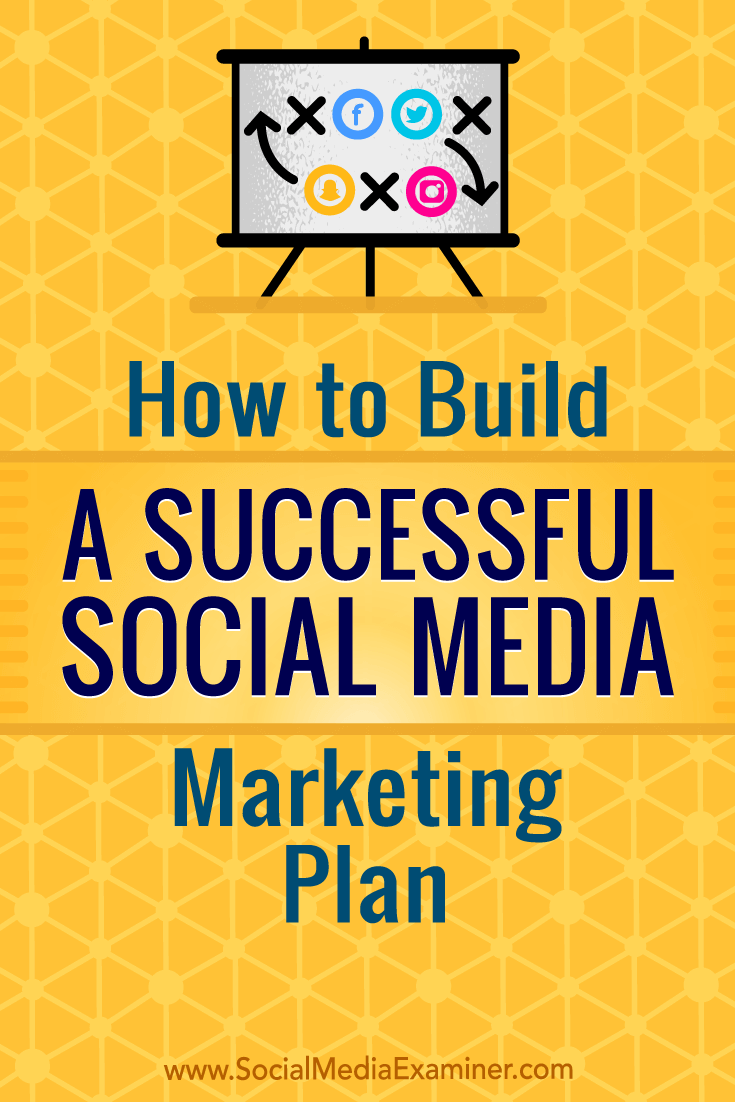 3 Days of World-Class Training—Zero Travel!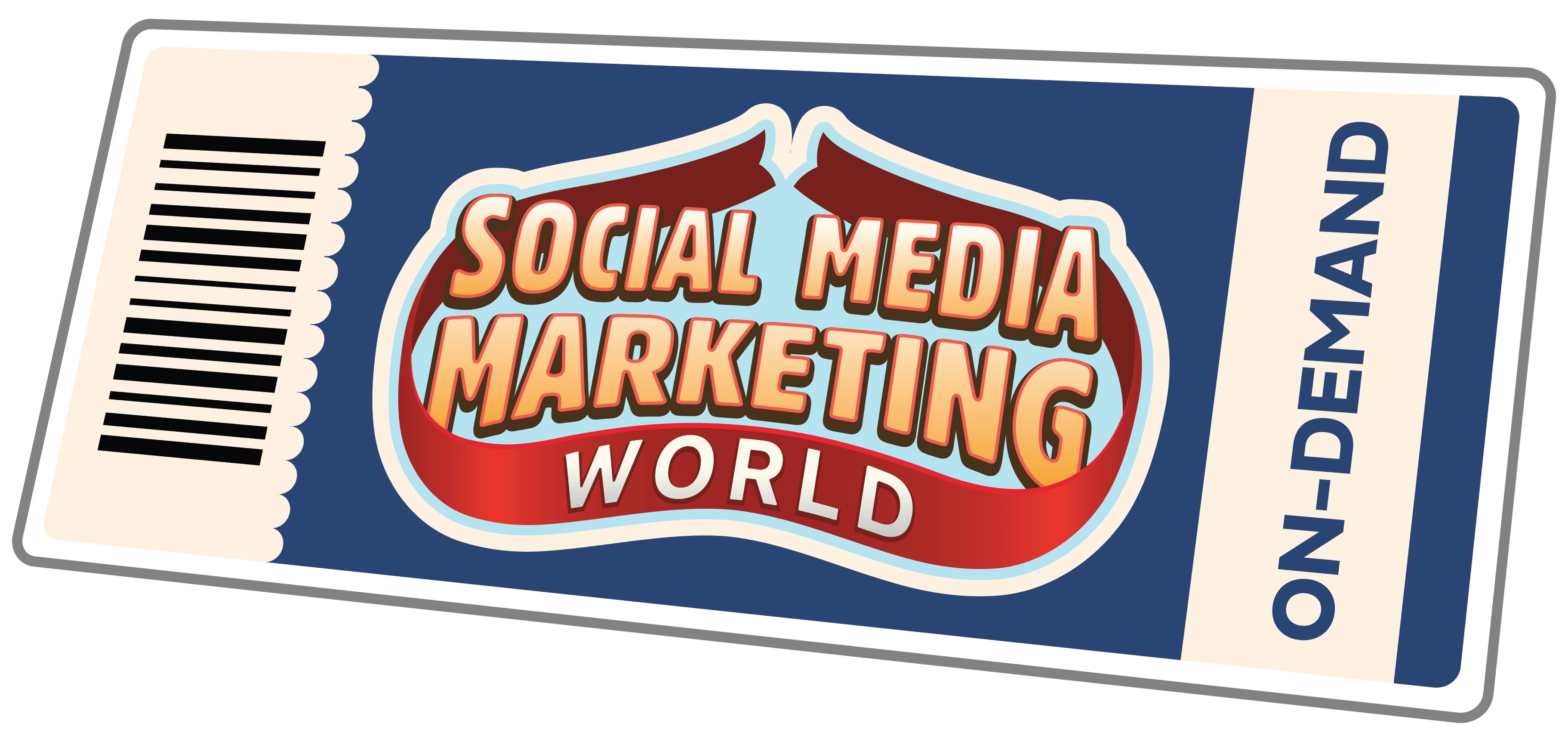 Travel to Social Media Marketing World off the table? Get all of the great content at a fraction of the price with an On-Demand ticket.

That's full access to recordings of every keynote, workshop, and session—the ones people travel thousands of miles to see. Don't wait. Get your On-Demand ticket and enjoy actionable content that you can watch anytime, anywhere.
GET YOUR ON-DEMAND TICKET NOW