Want to understand more about generative art? Want to learn from the founder of Art Blocks and Chromie Squiggles?
In this article, you'll discover what generative art is and what it means for artists and collectors.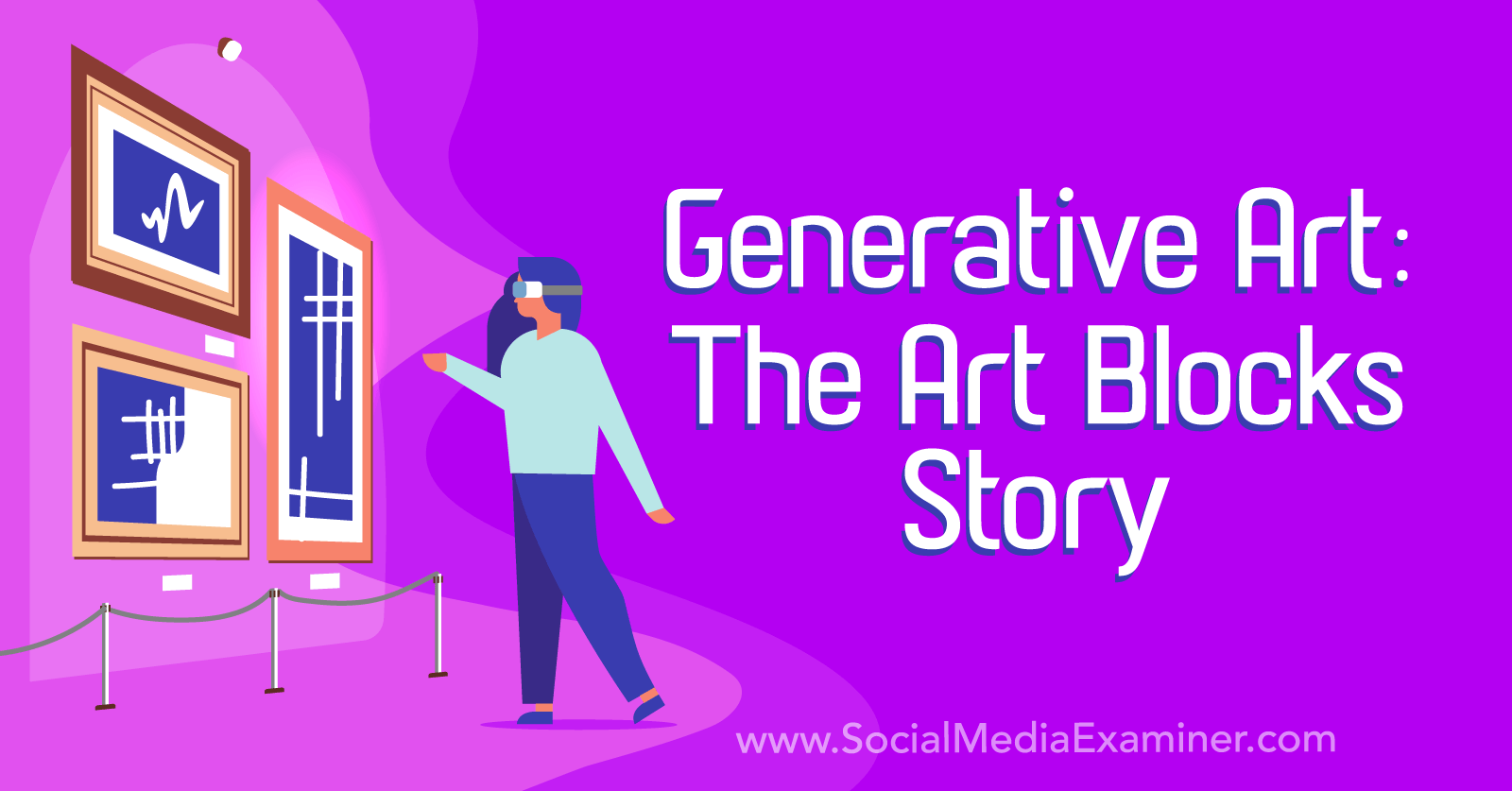 The Benefits of NFTs for Artists: Attribution, Provenance, and Access
In a world where counterfeit work can cost artists and collectors money and reputation, proving the origin, authenticity, and proof of ownership of artwork is no small matter.
Publishing artwork as NFTs on a blockchain provides an immutable, irreversible, irrevocable, and public record of when a piece of art is released and the ability to track its provenance. Anyone can trace every piece of art from its original creator to its current holder.
Then there's the promise of increased access. Much of the world's rare and expensive artwork is held in private collections behind closed doors, away from the public. When minted as an NFT, art is instantly accessible to the entire world with no barriers.
Any art can be scanned and distributed via this technology. Still, it's ideally suited to the work of generative artists. Art Blocks gives generative artists an easy path to monetization, something they've not had until now.
About Art Blocks
Erick Calderon has been making art in one form or another since high school.
When he learned about blockchain technology, the Ethereum blockchain in particular, he began experimenting with and writing smart contracts. Then, in June 2017, he discovered the CryptoPunks NFT project and realized the art for each NFT was generated by an algorithm rather than by hand. This realization sparked the conception of what would eventually launch as Art Blocks in November 2020.
The journey from concept to launch involved many iterations and testing, which is where Chromie Squiggles entered the story.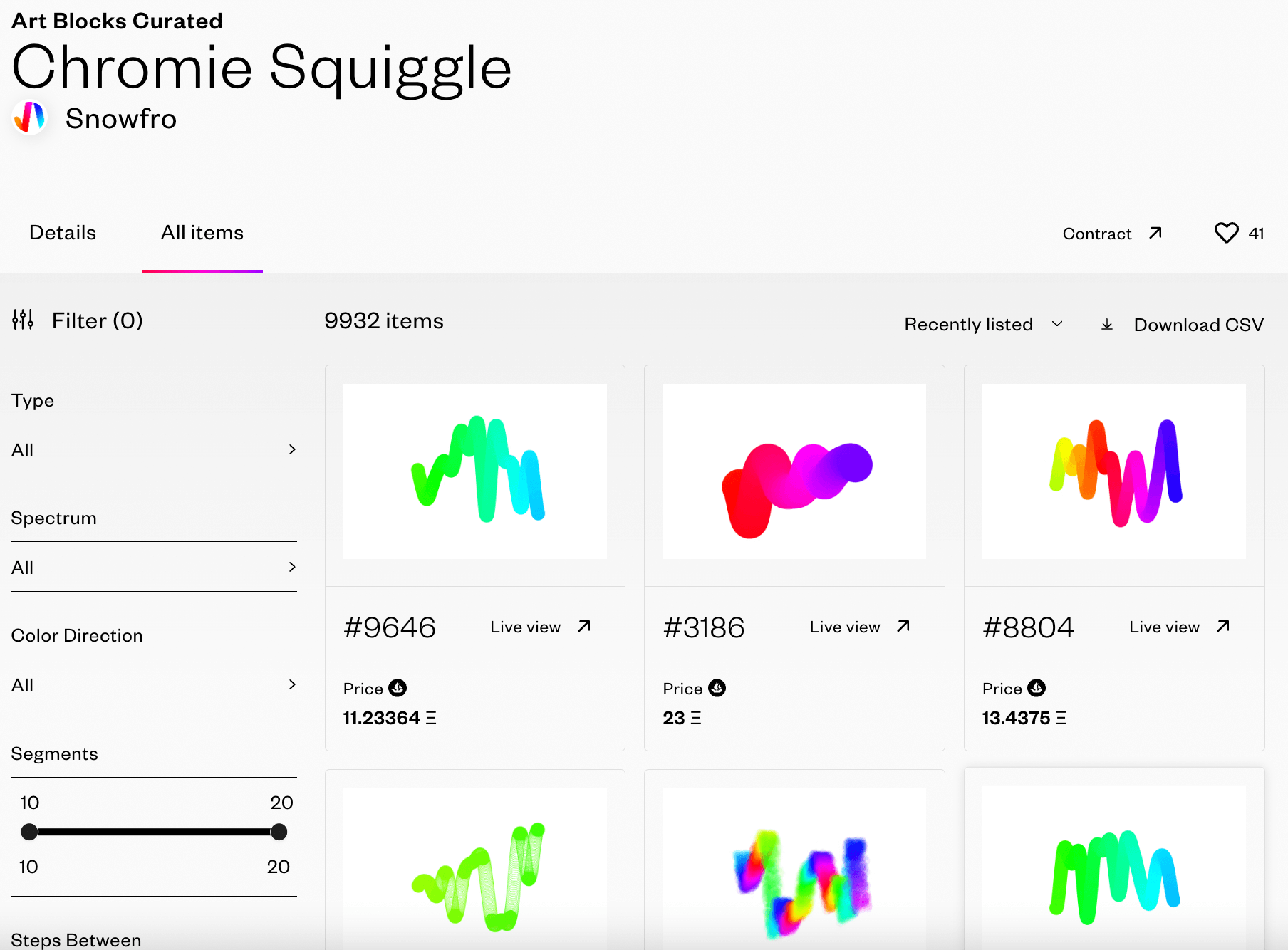 The Chromie Squiggle project was created to demonstrate what can be achieved when the Ethereum blockchain provides randomness or entropy for a generative art project. Each Chromie Squiggle was used to test the mint process on Art Blocks, but they were never meant to be released publicly. However, the community members who helped test the mint process pushed back on the decision. In the end, Chromie Squiggles launched on Art Blocks.
Ask three people what Art Blocks is, and you're likely to get three different answers, even if one of those people is its founder. Some people call it a gallery because it curates work from selected artists. Some refer to it as a publisher on which people release work. Others call it a platform.
For his part, Erick pushes back on applying a restrictive term from the past to describe something with no historical equivalent in Web1 or Web2. For now, he's content to say he's created something that allows generative artists to distribute and monetize their work uniquely.
#1: What is Generative Art
Generative art isn't new. In simple terms, generative art is computer-coded art made by running an algorithm– multiple lines of code, that presents you with a visual or audio output.
In the past, a generative artist who wanted to sell their art as NFTs would create an algorithm, generate a bunch of outputs, save them to their computer, choose the files they liked, then go through the process of minting each file on the blockchain, adding metadata, and listing it for sale.
Today, that artist can create the algorithm and determine the edition size, then upload it to the blockchain, and that's the end of their involvement. They release it into the wild and, for the most part, don't know what the end pieces of art will look like.
Similarly, anyone considering buying an NFT from the collection has an idea of what could come from the algorithm but doesn't know precisely what the art will look like.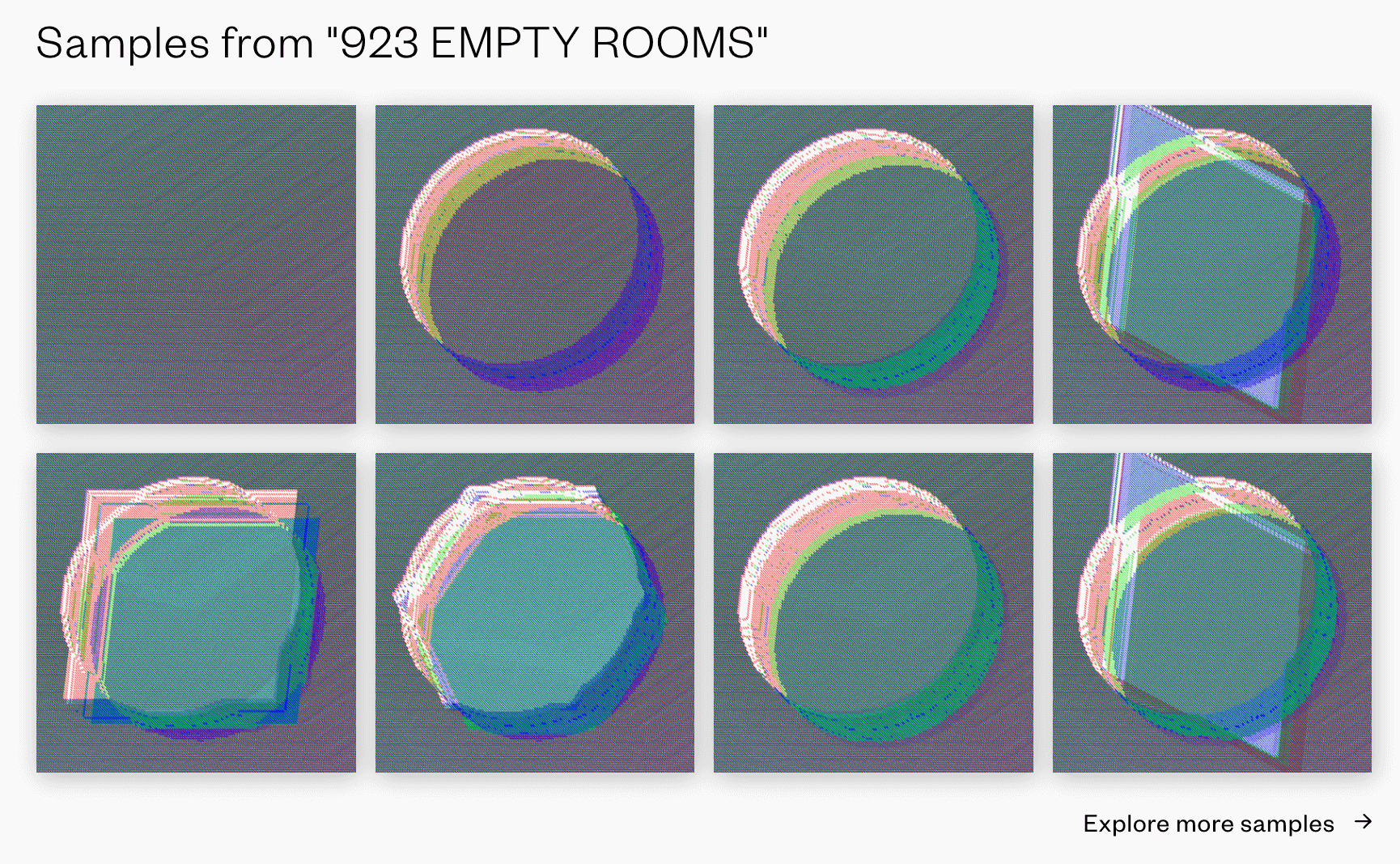 The art is created when the algorithm is called upon at the time of purchase/mint rather than made by the artist in advance and then listed for sale.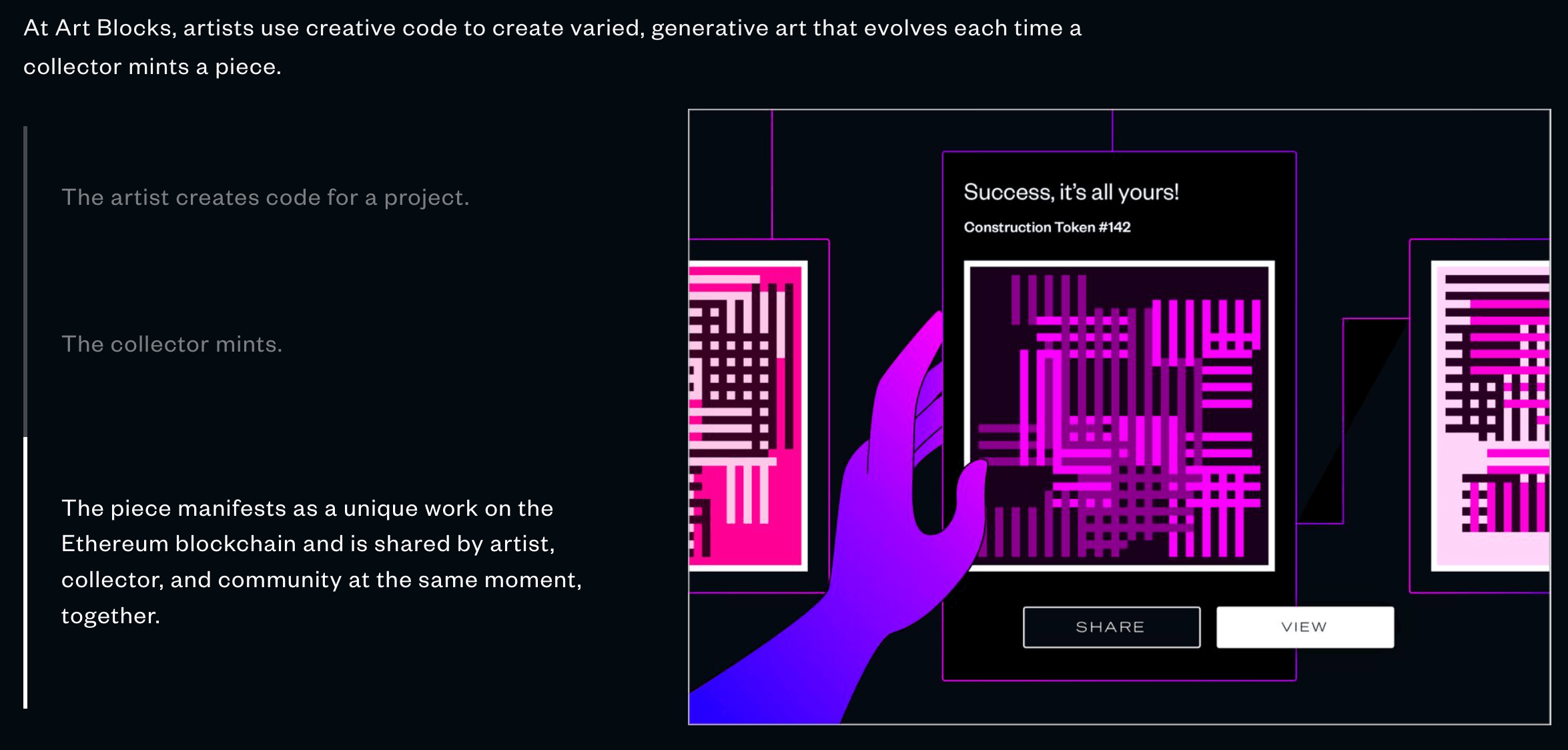 This process, called on-demand generative minting, brings a whole new paradigm to the creation process.
#2: What Artists Need to Know About Releasing Generative Art NFT Collections
The algorithm and collection size are two significant considerations for artists in the generative art NFT space.
The Algorithm
The first part of the algorithm to address is the code itself.
For generative artists, those who have always used code to produce their work for years, the move to releasing their art as generative NFTs is easily embraced. Traditional artists who want to translate their work into a generative concept must either learn to code or partner with a coder who can translate their work for them.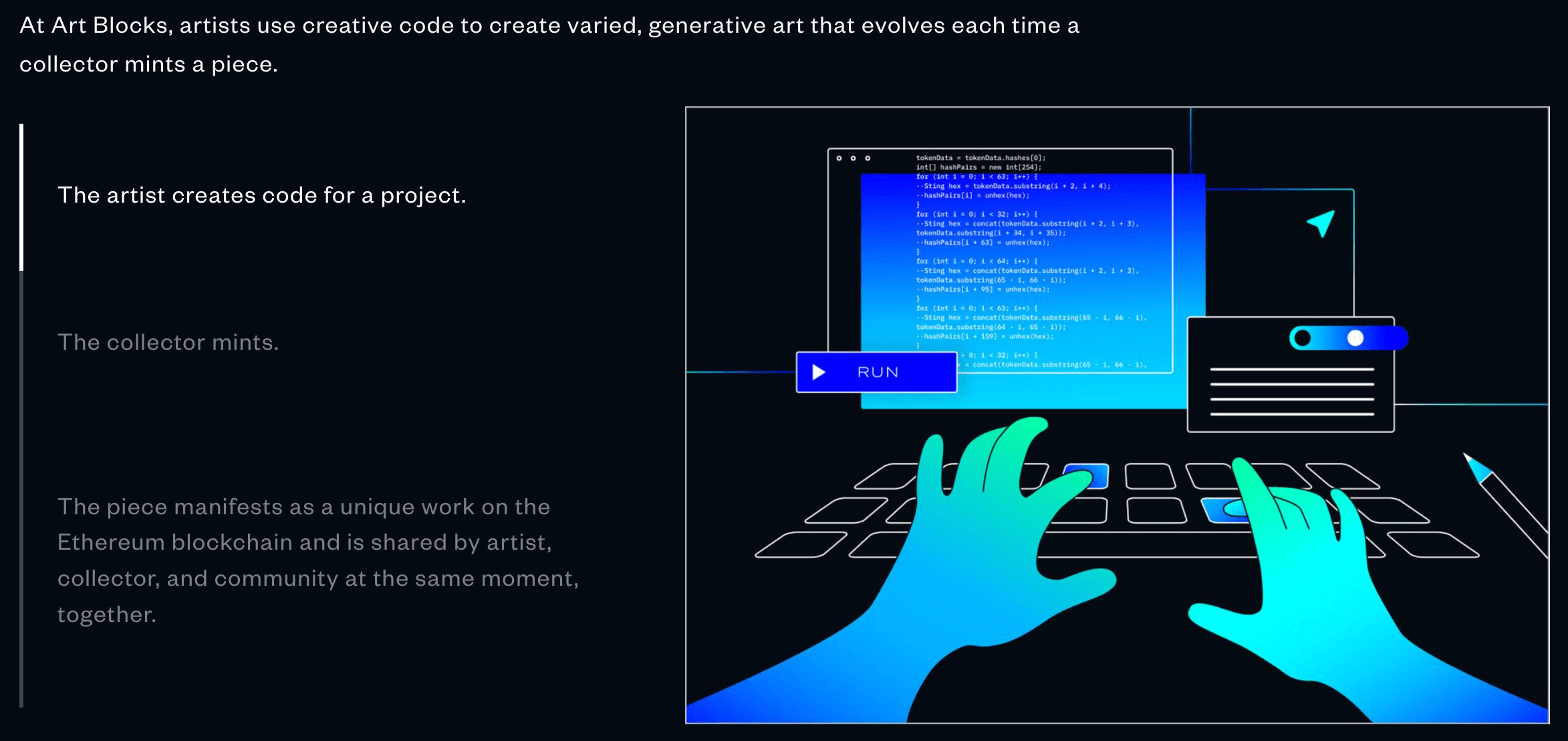 The second part of the algorithm to address is the output. One of the most significant mind shifts for traditional artists who are used to releasing one carefully created and unique piece of work will be giving up control of what the end works look like. Colors, aesthetics, and other traits will be established at mint.
This can be partially addressed before putting the algorithm on the blockchain by previewing outputs to identify results they want to avoid. For example, they might see an output that combines brow and red and decide they don't like it. At that point, they create a line of code that instructs the algorithm not to select brown and red in the same output.
The Collection Size
A traditional artist might create a traditional painting and then scan it to release a chosen quantity of identical NFTs of the picture, a 1 of X where X is the selected quantity. Generative NFT collections are released as a series of a chosen quantity, but each individual NFT is unique, a 1 of 1 of X where X is the chosen quantity. For example, this Thomas Lin Pederson edition was capped at 1000.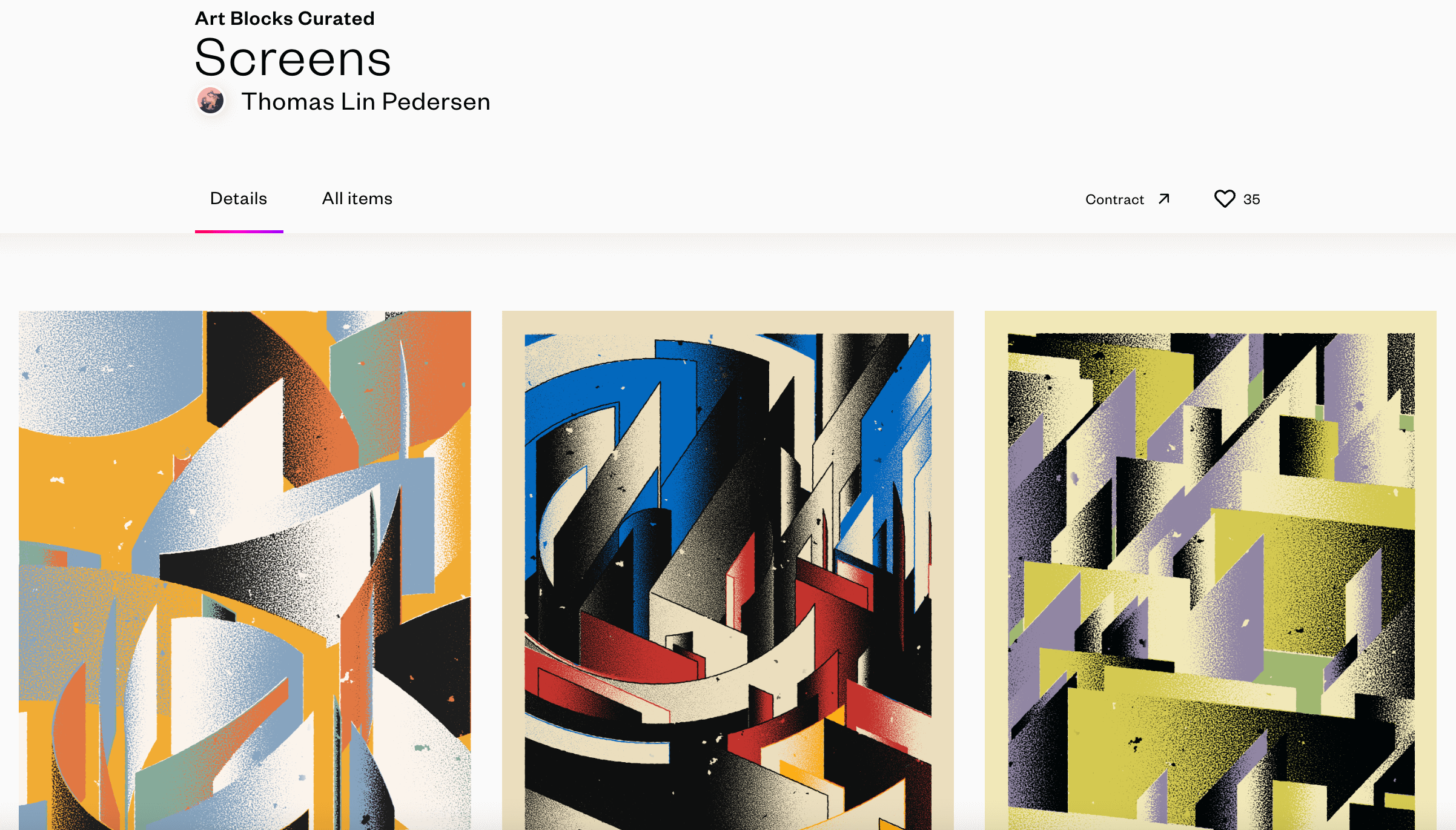 Artists have complete control over the size of their editions. They can choose to release a 1 of 1 of 10 or a 1 of 1 of 10000 edition. However, once set, that collection size represents the total number of officially time-stamped versions of that work that can be minted. This cap introduces scarcity.
Every person who buys a piece of the 1 of 1 of X edition will have something unique to them but is also part of a larger family of work. That differentiation adds an important layer of dialogue to the conversation between collectors that can benefit the artist.
A collector who admires the aesthetic of the collection mints and receives yellow art instead of green can begin conversations with other collectors who have green art to see if a trade can be arranged. If the collection has minted out, they might even offer to pay the holder of the green art for the swap, which can increase the value of that edition's NFTs.
Another outcome of generative art is emergent traits, things unplanned by the artist that emerged out of the sheer volume of outputs in larger collections. Emergent traits introduce rarity, which can also increase the value of that edition's NFTs.
Releasing Generative Art on Art Blocks
Artists who want to release generative art on Art Blocks must meet several quality markers. For example, the art will undergo a comprehensive process to confirm that it is resolution agnostic and deterministic so that it renders identically across all browsers.
This type of vetting has resulted in clear value for the art released on Art Blocks compared to other platforms.
#3: What Collectors Need to Know About Generative Art NFTs
Once a collector is attracted to a collection, the first questions that cross their mind are often how much to pay and when to buy.
NFT Pricing
Anyone watching the NFT space over the last few years noticed that prices fluctuated wildly, partly because blockchain technology was new and hype inflated prices. People were bestowing primary value on the technology, not the content. Erick ventures that as much as 95% of the value associated with an NFT was attributed to the technology during this time.
Things have settled down today, and people are placing more value on the content and less on the technology.
Should the technology be considered when pricing an NFT collection?
Arguably yes, for two reasons. First, the fact that it is an NFT makes authenticity and provenance traceable. Second, when the generative art components are stored on-chain, the holder can reproduce the work in a resolution-agnostic way. That's an objectively higher-quality technical product.
How much of an NFTs value should reflect the technology? Consider 1% to 5%, depending on whether the NFT is stored off-chain or on-chain.
When to Buy
Understanding what to look for in pricing brings the question of when to buy generative art.
Should you buy during the mint phase or wait until the project mints out and choose something visually appealing to you?
Participating in the on-demand generative mint adds another layer to the collector's experience. However, waiting to purchase something on the secondary market without worrying about whether you'll like it has its rewards.
There's no right or wrong answer, but there is a guiding principle to follow when buying art: Buy what you love.
Minting Generative Art on Art Blocks
While prices vary, collectors can often mint a piece of art on Art Blocks for less than $100.
While mints from the last few years could be frenzied, they have become much less frantic on Art Blocks.
Much of that calm can be attributed to the Dutch auction mechanic used during mint because everyone pays the same price for their artwork. If you buy into a mint at 1.5 ETH, but the collection mints out at .1 ETH, you get 1.4 ETH back.
#4: The Art Blocks Business Model
Art Blocks makes 10% of every mint and 2.5% of every secondary sale. Artists receive 5% of every secondary sale.
In addition, they have released Art Blocks Engine, a white-label solution to help other platform brands provide generative minting to their audiences and constituencies without having to build out all the infrastructure for on-demand genotyping that Art Blocks has built up over time.
Other Notes From This Episode
Where to subscribe: Apple Podcast | Google Podcasts | Spotify | Amazon Music | RSS
✋🏽 If you enjoyed this episode of the Web3 Business Podcast, please head over to Apple Podcasts, leave a rating, write a review, and subscribe.
Disclaimer: The information provided on this website is provided solely for educational purposes and does not constitute any advice, including but not limited to, investment advice, trading advice or financial advice, and you should not treat any of the website's content as such. Social Media Examiner recommends that you independently research any information contained on this Website and that you speak with an investment professional before making any decision to purchase, trade, hold or sell cryptocurrency. Nothing herein should be treated as a recommendation to buy, sell or hold cryptocurrency. Social Media Examiner cannot guarantee the accuracy of any information listed on the website and is not responsible for any missing or wrong information. All information is provided as is and should be used at your own risk. Social Media Examiner disclaims all responsibility and liability for your use of any information found on the website.