Looking for a new way to sell your artwork? Curious about turning your art into NFTs?
In this article, you'll discover what creators need to know when launching NFT projects.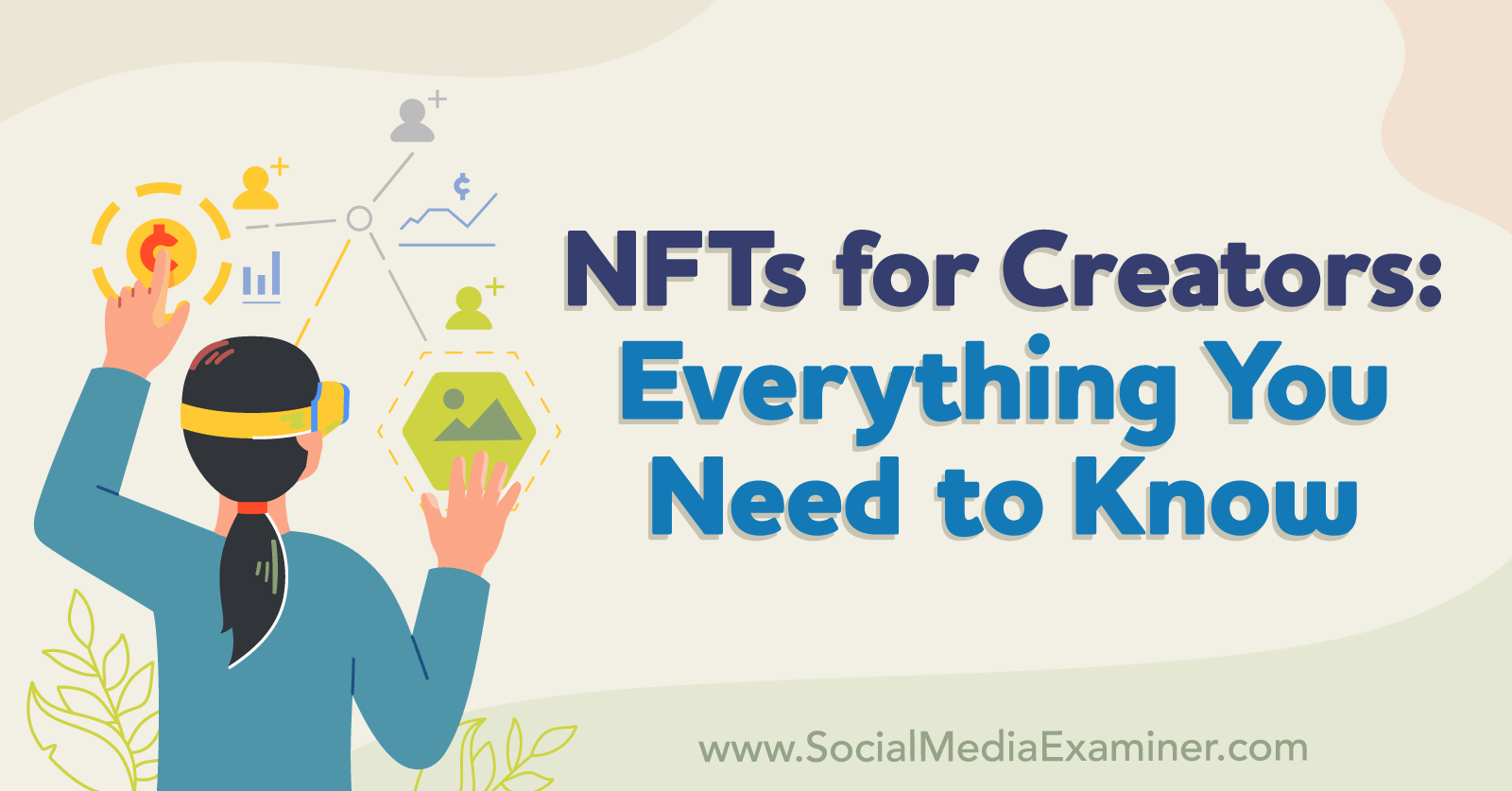 Why Sell Your Creative Works as NFTs?
If you're a photographer, writer, musician, or video creator who relies on the creator economy, exposing your art to new audiences and giving people more ways to support you and collect your work are key to making a living.
Turning your work into NFTs ticks all of these boxes and more.
Artist Amber Vittoria says one of the best parts of her NFT art projects has been befriending collectors who appreciate her work and can discuss it with her, helping her grow as an artist.
She minted and sold her first NFT art pieces on MakersPlace early in 2021 but the process was expensive. At the time, minting one NFT cost her approximately $500. Investing that type of money into minting an NFT that may or may not sell felt financially risky.
As Amber studied how other artists were working with NFTs, she discovered OpenSea— an NFT marketplace that allows you to list an NFT and price it without minting it which allows for the purchaser to pay the fees associated with minting.
In August of 2021, the cost of minting artwork as NFTs became more affordable so Amber launched her inaugural collection of 25 unique digital abstract figurative pieces, priced between .25 and 1 Ethereum (ETH) or $2000 and $2500.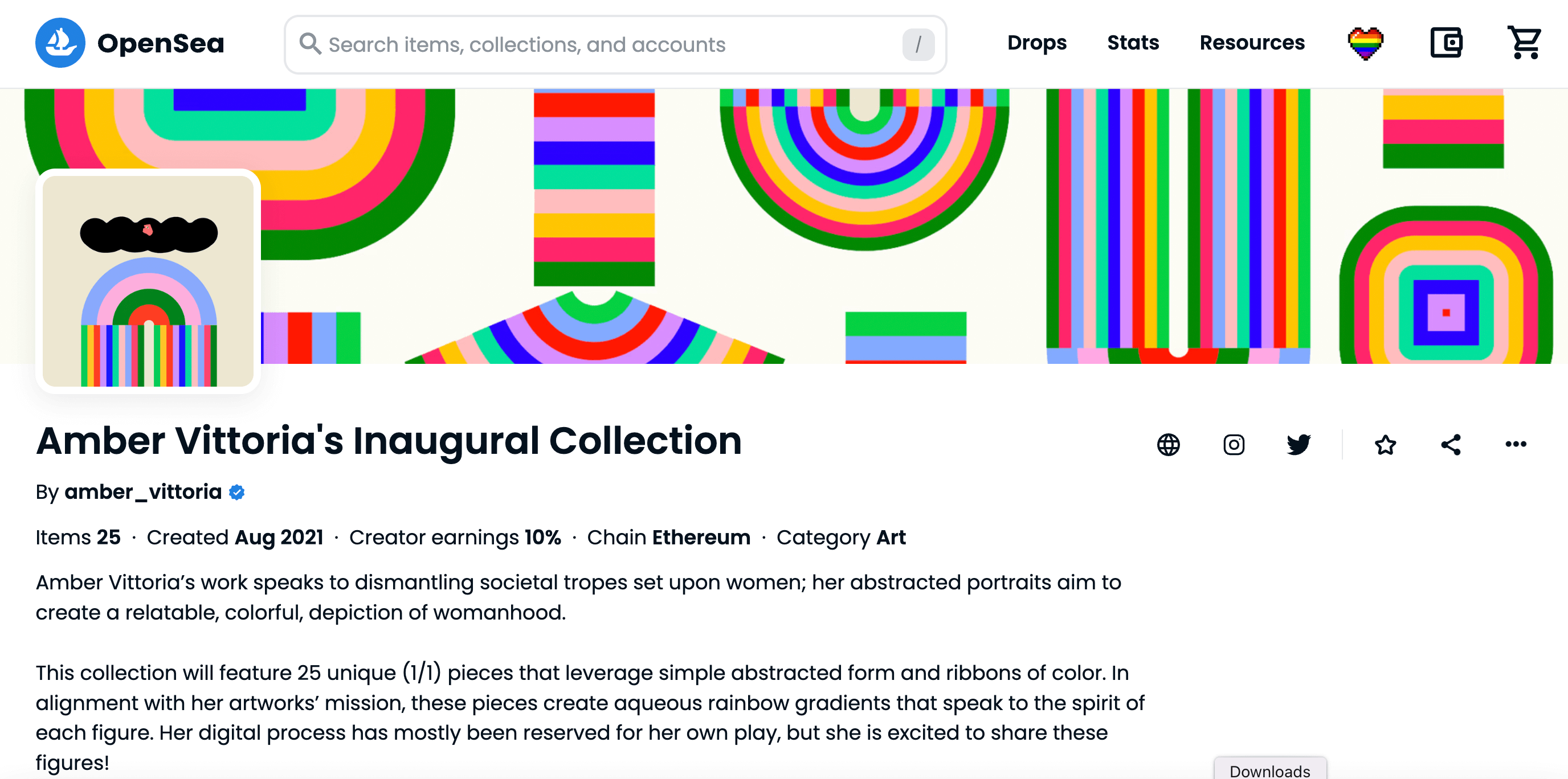 By leaning into NFTs, Amber can sell her work as fine art and verify that she is the creator while connecting with new people and collectors around the world.
What does the collector get out of it? Amber's NFT holders have access to a digital art file of the artwork they can download and own and display on the wall. A high-res 600dpi file of your artwork should be sufficient quality to make this happen.
Can anyone download that file? In theory, yes. But if a non-holder tries to use that artwork for commercial use, the blockchain will show that they don't own it and you can pursue legal channels in the same way you would in any other circumstance.
Intrigued? Before you jump in, take some time to learn about NFTs and decide how they make sense in the context of your art. For example, don't feel like you have to release everything you make as an NFT.
We cover the key points below.
Two Types of Art for an NFT Project
The first thing you need to consider is what type of art you'll release: 1-of-1 art or generative art.
1-of-1 NFT Art
1-of-1 art pieces are exactly what they sound like… a unique piece of art. If you want to lean into exclusivity with your artwork, 1-of-1 pieces will help you maintain because there will be fewer pieces minted.
Generative NFT Art
Generative art is more complex. This style of NFT artwork relies on code to create NFTs in one of two ways.
In the first, code is written to wholly create the artwork as each NFT is minted. For example, the Chromie Squiggles collection by Erick Calderon or the Vortex collection by Jen Stark, both of which were created using the ArtBlocks platform.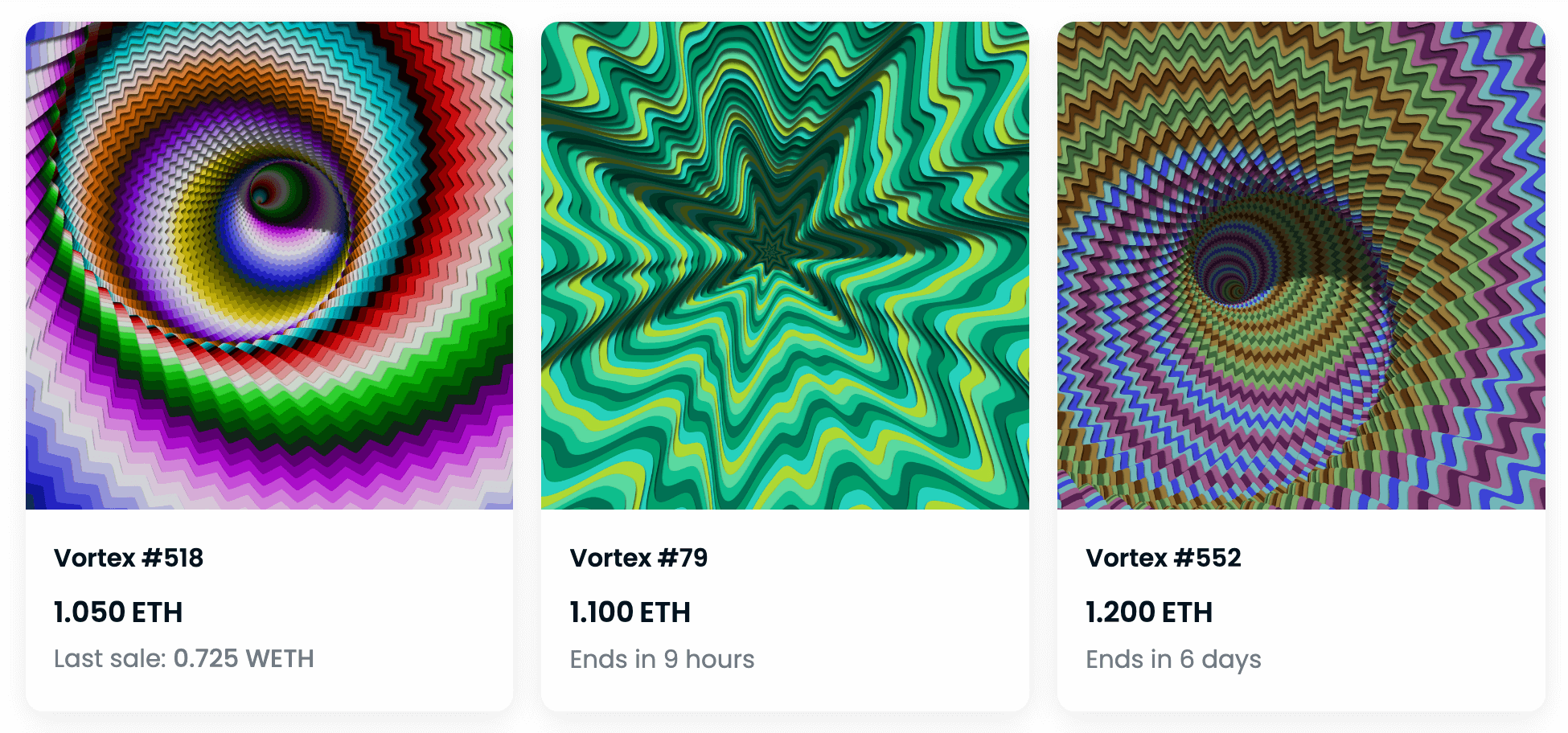 In the second, the artist (or artists) creates multiple versions of assets such as colors or background designs. Code is written to randomly assign one version of each asset or trait to each NFT at mint; this is commonly seen in PFP projects.
If your goal is to create an accessible collection of art that many people can buy into, generative art is a good route to consider because you can mint multiple pieces around a theme.
Regardless of the art type you choose to employ, the next step is to decide how you'll release your NFTs.
4 Ways Creators and Artists Can Release NFTs
Whether applied to printmaking or the NFTs space, releasing a 1 of 1 means that the piece is unique. It is the first and only piece in a series of 1.
Limited edition releases differ in that you release a certain number of pieces in a limited set on the blockchain. Then, based on the smart contract variable, you can let people buy a single NFT from a set of 30 or let them buy a full set of NFTs that comprise multiple unnumbered NFTs in a collection of say 30 or 50 pieces.
The process for these two releases is straightforward. You list your NFTs or collection on a marketplace and the buyer pays the fees associated with minting.
A third option is to release a timed edition that determines the edition number based on a certain time frame. Amber released a timed edition with a 7-minute window minting at 0.07 ETH, expecting between 50 and 100 people to mint. At the end of her mint window, 400 people had minted an NFT.
Finally, the fourth option involves a holder burning one or multiples of one type of NFT to gain a new type of NFT.
These last two processes are a bit more complicated and can be managed using Manifold.
Manifold and NFTs for Creators and Artists
Manifold is an artist-friendly "NFT minting platform that enables Web3 creators to mint their NFTs while maintaining creative ownership, preserving on-chain provenance, and interoperating with all popular NFT marketplaces."
In simple terms, Manifold lets artists mint NFTs and own their smart contract. On a marketplace such as Opensea, ownership of the smart contract is shared between the artist and the marketplace.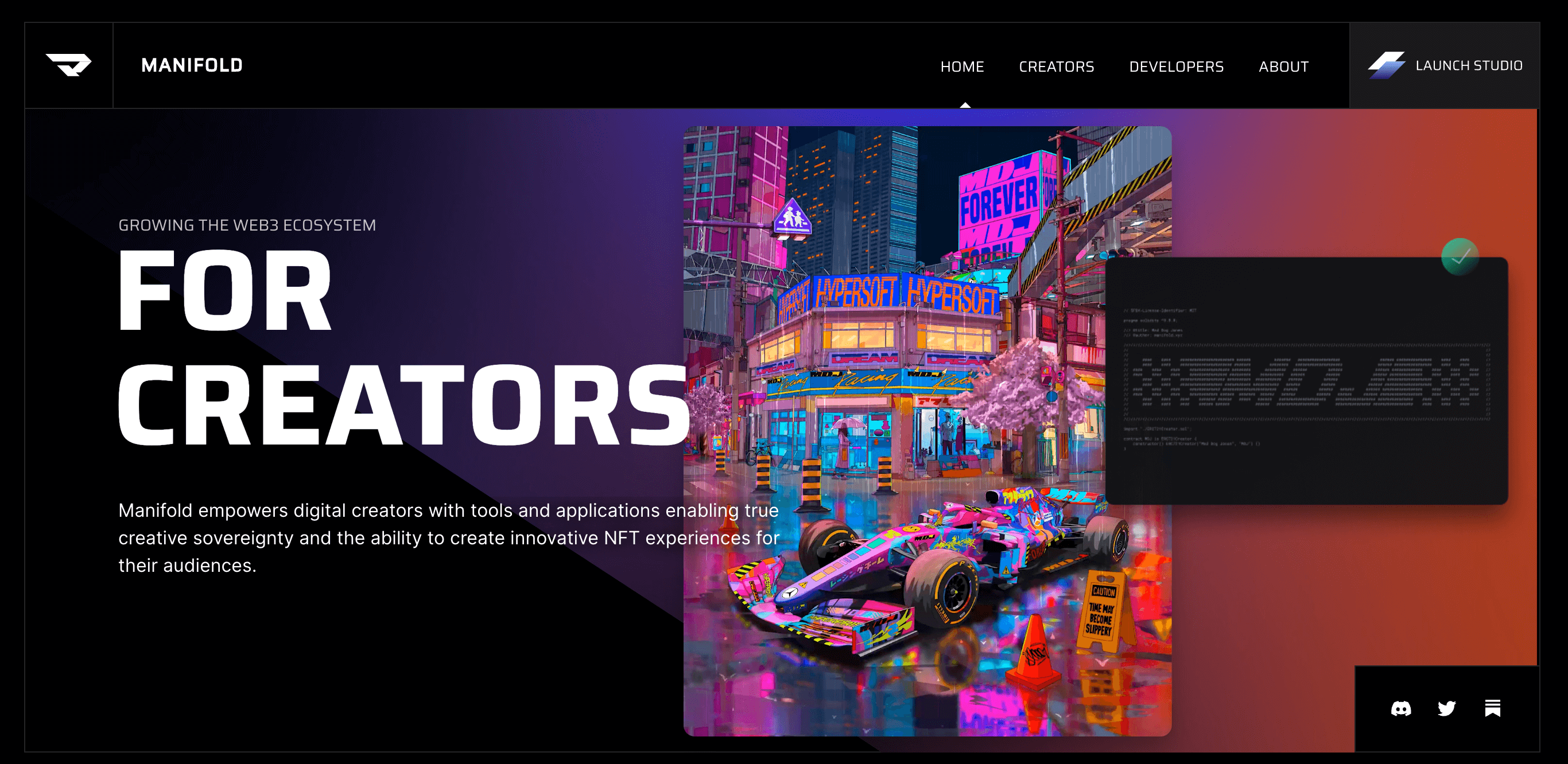 Why does sole ownership matter? First, you will know exactly what is and isn't in your smart contract. Second, if you want to sell an NFT that changes over time, the process of managing the changes is much less convoluted because there's no third party to deal with. You have sole control.
Aside from transaction fees, Manifold provides its service to artists free of charge and has easy-to-follow video tutorials that walk you through everything you need to create different types of smart contracts, mint your NFTs, and enforce your royalties.
For example, if you want to do a timed release, Manifold has a plug-in called a Claim Page that lets you define the rules, price, date of release, release window, etc. Once everything is set up, the mint window automatically opens and shuts.
How Manifold Protects Artists' Royalties
Another value proposition for artists releasing NFTs with Manifold is the way it enforces royalties each time an NFT changes hands.
In their smart contract, artists can stipulate that a royalty— a percentage of any sale of their NFT after minting by the initial holder, will be paid back to the artist each time the NFT is sold to another holder. The ETH blockchain currently caps royalties at 10% of the sale.
In the not-too-distant past, regardless of whether royalties were stipulated in a smart contract, artists had to register for royalties on each marketplace. This was a long, laborious exercise and sometimes took 24 hours to hit. During that 24 hours, artists were losing out on royalties for anything that sold. Sometimes the marketplaces simply didn't enforce the royalties.
In response, Manifold developed a plugin that lets artists choose where their work can be sold and resold, giving them the ability to choose marketplaces that protect the royalties of artists.
Other Notes From This Episode
Where to subscribe: Apple Podcast | Google Podcasts | Spotify | Amazon Music | RSS
✋🏽 If you enjoyed this episode of the Web3 Business Podcast, please head over to Apple Podcasts, leave a rating, write a review, and subscribe.
Disclaimer: The information provided on this website is provided solely for educational purposes and does not constitute any advice, including but not limited to, investment advice, trading advice or financial advice, and you should not treat any of the website's content as such. Social Media Examiner recommends that you independently research any information contained on this Website and that you speak with an investment professional before making any decision to purchase, trade, hold or sell cryptocurrency. Nothing herein should be treated as a recommendation to buy, sell or hold cryptocurrency. Social Media Examiner cannot guarantee the accuracy of any information listed on the website and is not responsible for any missing or wrong information. All information is provided as is and should be used at your own risk. Social Media Examiner disclaims all responsibility and liability for your use of any information found on the website.