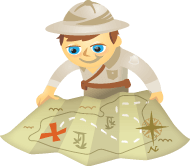 Are you wondering how Foursquare could help your business?
Are you interested in rewarding your loyal customers?
To this end, Foursquare is the ideal platform to bridge the gap between your offline and online audience in an affordable and scalable way.
Why Foursquare?
As the leading location-based social network, Foursquare offers a plethora of opportunities for businesses both big and small.
There are many alternatives to using Foursquare, but when it comes to location-focused social apps, Foursquare is the king of location with its 20 million users and robust features for users and businesses alike.

People use Foursquare to check into locations they've visited by using the app on their mobile phones. Once they've checked into a location, it can be shared with their Foursquare friends, Facebook friends and Twitter followers.
This is where businesses on Foursquare benefit from being on the platform because users' friends see where they're checking in to eat, shop, work and more, which could possibly influence them to do the same based on the recommendations of their trusted connections.
There are nearly 1,000,000 businesses on Foursquare currently, and it's your turn to leverage this network to build your customer base with new prospects and reward your most loyal customers all at once.
Here are 10 tips to effectively market your business on Foursquare.
#1: Claim Your Business's Location
The very first thing any business with a physical presence should do is claim their physical locations to ensure ownership by their company on Foursquare.
Your venue is your business's home base on Foursquare. To begin the process on your mobile phone, download the Foursquare app and attempt to check in by searching for your business.
If you don't see your business listed, search it by name and if it still isn't listed, scroll all the way to the bottom of the list where it says Add this place.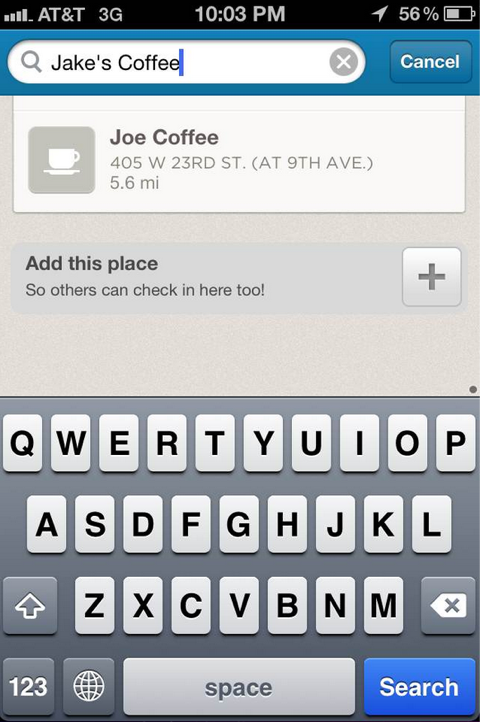 At this point, it's time to list the name of your business, the category it falls under and the exact physical address where it's located.
Type in the exact name of your business under the name field to make sure it's easily found by searchers, and then choose the category that most accurately describes your business.
The Conference You've Been Waiting For
As a small business marketer, you can probably only pick one or two events to attend each year. Get an unbeatable conference experience and expert training at Social Media Marketing World in sunny San Diego, California—from your friends at Social Media Examiner.
🔥 As a valued reader, you can save $650 on an All-Access ticket if you act now! Sale Ends Tuesday! 🔥
CLICK HERE TO LEARN MORE
The main categories to choose from include:
Arts & Entertainment
College & University
Food
Nightlife Spot
Outdoors & Recreation
Professional & Other Places
Residence
Shop & Service
Travel & Transport
The main categories will break down into more options.
For instance, Nightlife Spot breaks down into subcategories of Bar, Beer Garden, Cocktail Bar, Dive Bar, etc.
Continue to select the subcategories that define your business best.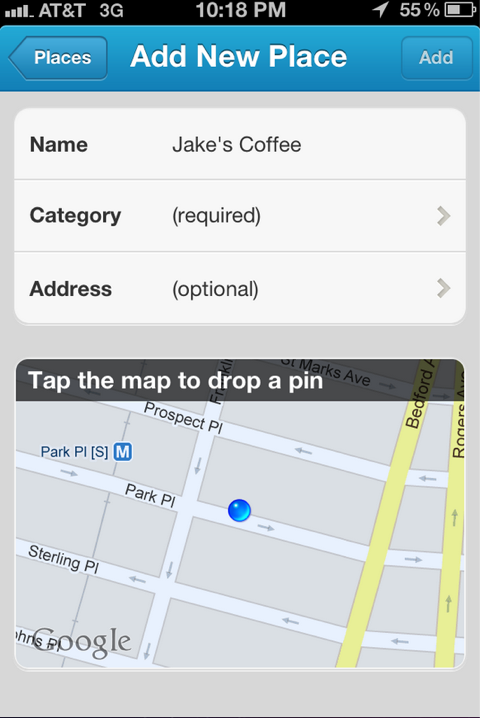 The last step to claiming your location on Foursquare is vital, even though this field says the address is optional. When it comes to filling out a profile on Foursquare, it's important to give as much relevant information in each field as possible to help inform your current and future customers. This is true for many other social networks as well.
Select the address field and begin filling out the address, cross street, city, state, postcode (zip code), phone number and Twitter handle to ensure you give all of the vital information a customer needs to find or communicate with your business.
If your business's location is listed already and your organization doesn't have ownership, then the process begins by clicking the Do you manage this venue? Claim here button.
It's also possible to claim your venue from the computer as well by visiting the location's listing on your desktop and clicking the same button that you would on the mobile app.
At this point, there's the option of having Foursquare verify your location by phone or by mail. Phone is the quicker route, but not always doable if you're trying to coordinate the verification of multiple locations.
If your business chooses to verify by phone, an automated message from Foursquare will call your location's number asking for the business's name, your name and your relationship to the business.
From here, enter the four-digit number on your screen into your phone to finalize the verification of your phone number for your business.
Completing the process by mail is similar. You'll receive a code to enter to confirm your location. At the very end, you'll have to pay a $10 verification fee to process your venue claim.
For more assistance with the verification process, especially if help is needed verifying many locations, check Foursquare's verification resource page.
#2: Use and Promote Local Updates
Sending updates from your venue on Foursquare is a newly launched feature that allows your business to engage with people who've previously checked into your location and who are nearby.
This feature allows your business to send updates to a Foursquare user's feed about specials, coupons, deals, announcements and other relevant information about your specific location with attached text, images or deals.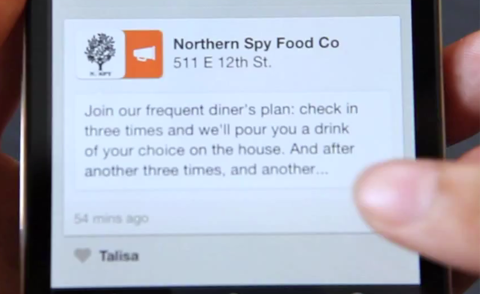 This feature of Foursquare is only available on desktop computers. On top of being able to add text and attach photos and specials, the updates can be filtered to only share with specific locations or all of the locations of your company. This is ideal for segmenting your updates to be hyperlocal, and therefore more relevant to your followers on the platform.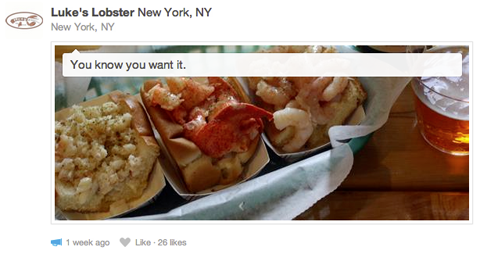 Luke's Lobster, a New York–based chain of restaurants, uses Foursquare local updates to announce localized news about their seven various locations throughout the city and at their food truck.
The ability for users to follow the food truck's movements throughout New York via Foursquare and Twitter is one way the company successfully builds excitement about their business. The restaurant shares witty updates with its audience about different locations, ensuring the content is always relevant to its followers and their friends.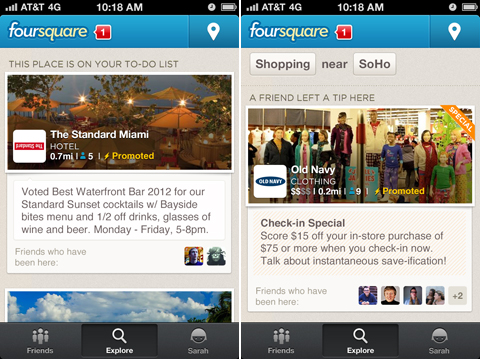 Another feature recently launched for business owners posting from their venues is Promoted Updates, which allow a business to pay to have their local updates promoted in the Explore tab.
It's still only open to select companies who reach out using this form, but it's a new and exciting way for businesses to choose which updates deserve an extra push of exposure.
Since the feature is so new, it can be assumed that it will mostly be used by larger businesses, but this only depends on the pricing associated with this form of advertising.
Time will tell how your business can benefit from this pay-to-play exposure on Foursquare.
#3: Offer Foursquare Specials
All businesses offer deals and specials to their customers, but a unique way to offer socially focused offers is by connecting your customers' online and offline habits with Foursquare specials.
There are many types of specials your business can set up for free for the purpose of attracting new customers or rewarding loyal existing customers using Foursquare.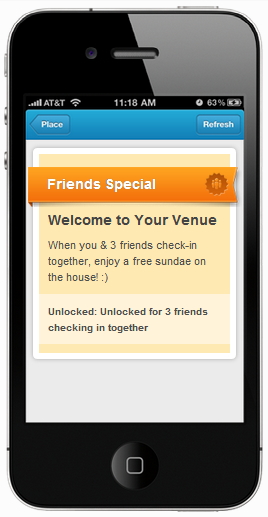 Examples of the types of specials offered for attracting new customers are:
Swarm Special—"If 30 people check in at once, get 25-cent wings."
Friends Special—"Check in with 3 friends and get a free dessert."
Flash Special—"The first 10 people who check in after 8pm get 25% off their order."
Newbie Special—"Get a free cupcake on your first check-in."
Check-in Special—"Get a free appetizer when you check in."
Examples of the types of specials offered to reward returning customers are:
Loyalty Special—"Get a free cookie every third check-in."
Mayor Special—"Mayor gets 20% off their entire bill."
Which specials sound most appealing for your business?
Many businesses use a combination of these different specials to encourage a growing clientele, while satisfying their returning customers.
It's suggested to run two Foursquare specials at once to see what's working with your audience—similar to an A/B test with different creative on an ad, but with social engaging giveaways for your beloved customers.
Use local updates to promote your specials on Foursquare, as well as Facebook, Twitter and the other social networks you're active on to spread the news of the special.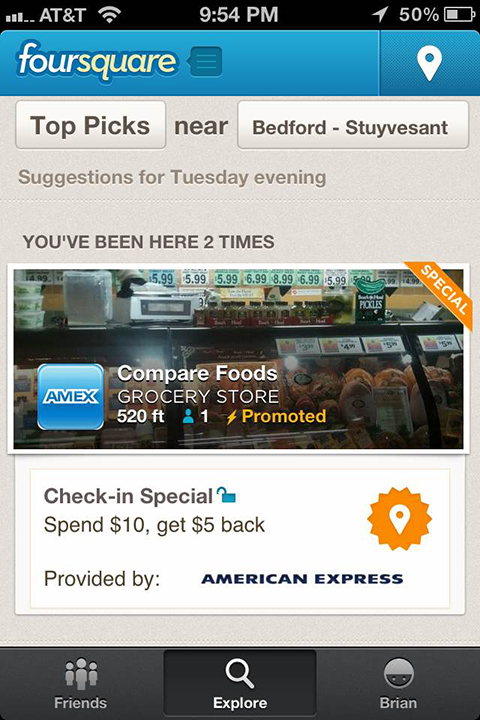 American Express has an extensive partnership with Foursquare, allowing them to offer specials to customers for using their card at 100,000 locations.
They're using the Promoted Updates feature to bring their specials at various business throughout the United States to the top of the Explore tab. This way, they're guaranteed exposure for their company and with the added impressions, they're hoping for wider use of their Foursquare specials.
American Express is a unique example in terms of the scale of their campaign, but nevertheless, using two Foursquare features to support one another is a tactic any marketer could apply to his or her business.
Attention Agency Owners, Brand Marketers, and Consultants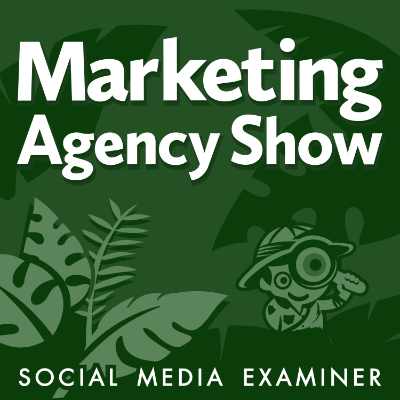 Introducing the Marketing Agency Show–our newest podcast designed to explore the struggles of agency marketers.

Join show host and agency owner, Brooke Sellas, as she interviews agency marketers and digs deep into their biggest challenges. Explore topics like navigating rough economic times, leveraging AI, service diversification, client acquisition, and much more.

Just pull up your favorite podcast app, search for Marketing Agency Show and start listening. Or click the button below for more information.
CLICK HERE FOR THE DETAILS
#4: Add Engaging Tips About Your Company and Others
People visiting your business on Foursquare can leave their opinion of their experience. Users are even prompted to leave tips about places they've checked into in the past, leaving the opportunity for both positive and negative feedback.
The tips that appear at the top of this list of feedback are the ones with the most likes from other users. The idea behind ranking these tips in such a way is that it's assumed the most relevant and truthful tips will make it to the top.

Adding helpful tips about your various locations through a company page is an excellent way to share your strengths as a company and your creative edge—and above all, highlight the human side of your business.
Leaving tips about your famous happy hour, your favorite employees or even the location of the closest ATM are all examples of how you can help your users get the most value from your Foursquare presence.

It's also important for your business to leave tips on the locations of other businesses to foster community in your area, help grow your authority on a particular subject and brand your company in front of other relevant customers frequenting similar locations.
The NHL and ESPN both left tips on the PNC Arena to get in front of relevant people and provide value to users' experience at that location.
Adding tips to other businesses you're connected with can help foster community and hopefully drive other businesses to leave tips about your locations as well.
#5: Create a Foursquare Page
A Foursquare page is your company's hub on the network where all of your locations can be managed in one place. Users can choose to follow Foursquare pages, which is most ideal for larger companies and brands with multiple locations.
A page allows for more branding than a single venue—starting with the profile picture, typically pulled from your Twitter avatar, and a 860 x 130 px banner at the top of your page.
Below the banner, there's a place for a bio about your company and room for a link to a destination of your choice, most likely your website, and the ability to connect your Twitter and Facebook accounts.

As a page administrator, your business can leave tips at your locations and at other neighboring and relevant locations, like we discussed in the last item above.
Your page gives you the opportunity to leave branded messages for Foursquare users to see at your locations and elsewhere to provide value to new and existing customers.
Your page also serves two other helpful functions: allowing check-ins for your company as a whole and a place to organize lists of locations.

If you run a venue on Foursquare, that location isn't able to check-in to other locations like a regular user would. This is where a Foursquare page comes in for your company, allowing your brand to check in and share updates about other events and locations with your audience.
To do this, go to the Updates tab when you're managing your page to check in at other locations by searching for them. Add text, photos, Twitter and Facebook integration to your check-in to share it with your followers.
When you check-in at a particular location from your page, it's listed in the newsfeed of your followers on Foursquare and on your page itself.
These check-ins are different from your local Foursquare updates discussed earlier, because they are from a higher level about the entire company, not specific to one of your locations.
For instance, H&M has multiple locations with various specials and sales going on at once. From their Foursquare page, the company announces sales, specials and other updates that are specific to a group of stores. This lets the followers of the overall brand know what's happening at locations near them and with the brand as a whole.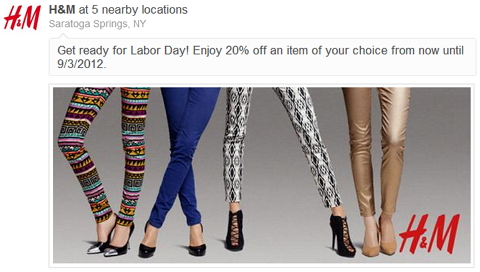 #6: Use Lists on Your Page
The other helpful feature that your page offers is the ability to create lists of locations.
Creating lists centered around various locations grouped by themes can be extremely valuable to your community on Foursquare. Creating lists of your company's favorite restaurants in the city or of all your East coast stores are just two examples of how your business could utilize the list feature.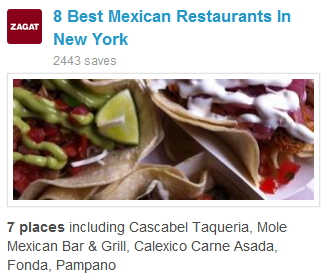 Users can choose to save lists they like, instead of following all of the activities and other lists on your page.
Following individual lists can be more relevant for users, providing them with specific insights into your company without receiving your other messaging.
For instance, Zagat, as seen above, uses Foursquare to further emphasize their restaurant recommendations by placing their favorite restaurants into lists. A Foursquare user can choose to follow lists based on his or her food preferences right from a mobile phone or desktop.
#7: Add Foursquare Plugins to Your Website
Integrating Foursquare with your website is an effective way to connect your audiences and boost your following on the Foursquare platform.
To make this possible, Foursquare features a 'Like' button and a 'Save to Foursquare' button that both offer a different kind of engagement with your audience.

When you add the 'Like' button to your website, this will allow visitors to like your Foursquare page right from your website if they're logged into Foursquare. The easier your company makes it for your audience to follow you on Foursquare, the quicker your audience will grow.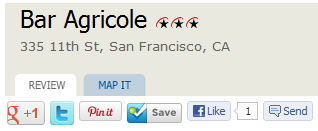 The 'Save to Foursquare' button will allow your audience to save your locations to lists on Foursquare for later use.
Users will receive push notifications when they're near that location again as an added reminder to visit that location.
It's an excellent way to connect users browsing your website on their desktop with the physical locations of your business through notifications on their mobile phone.
Add this button to your website to bolster your engagement on Foursquare and the customer flow at your business.
#8: Enhance Your Events
Using Foursquare on location at your events is a helpful way to drive attendance, while syncing interactions with your business online and offline.
Using updates from your page and check-ins on behalf of your company, your events can reach new audiences and promote interest in your services, booth, conference or store opening.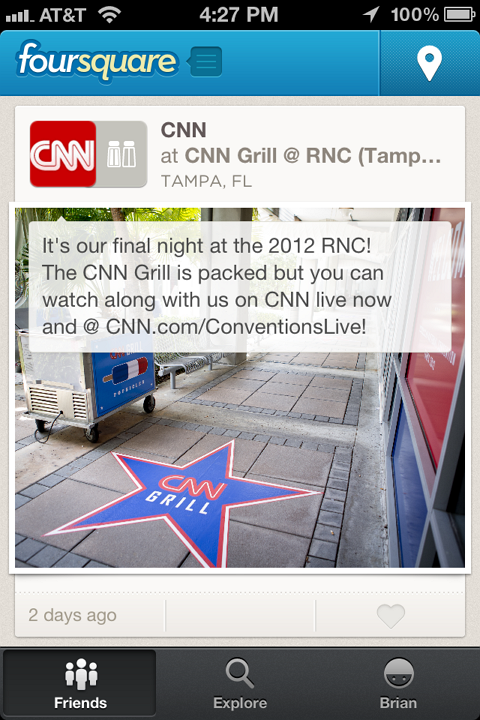 For both B2B and B2C companies, events are a crucial way to get in front of your potential customers and build a deeper connection. Stand out at your next conference or trade show by updating attendees with the location of your company at the event, as well as other helpful information from your Foursquare page.
As seen above, CNN used Foursquare to share with their following about their attendance at the Republican National Convention, as well as prompting users to connect with CNN further on their website.
Follow CNN's example and give insightful updates that provide valuable information about your company's attendance at the event. CNN included a URL to their website, which is a good practice to follow because it lets your users know where to connect with your business further if they're interested in more information on a particular topic.
#9: Create Badges
Partnerships have always been a beneficial way of growing your business, improving your company's outlook and bolstering your presence in your vertical. Partnering with Foursquare is one way your company can look to expand your presence on Foursquare and with your customers online and offline.
One way of partnering with Foursquare is to create custom badges for your users to collect.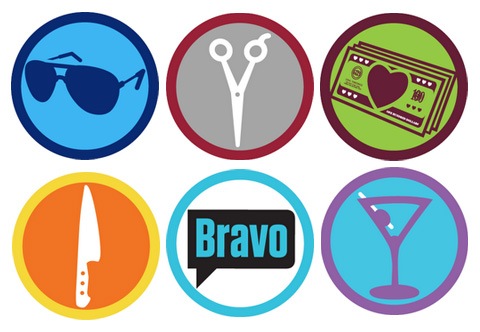 Badges on Foursquare are a way to incentivize users to check in, and as a reward, they'll receive a badge created to mark the occasion.
For instance, Bravo created a set of badges that users receive if they check in at various locations loosely associated with one of their TV shows.
Badges are an easy way to make the check-in process more social and fun, while driving your audience to check in more frequently and giving your business more exposure.
#10: Use Signs at Your Locations
The unique aspect of Foursquare is that it's connecting your actions in the real world to your actions online. Don't forget to leverage calls to action at your physical locations to encourage, communicate and support your company's presence on Foursquare.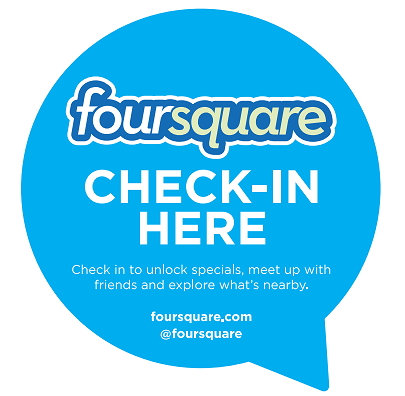 Be sure to use window clings, stickers or signs in your location's window or doorway to remind people to check in at your business.
One of the main reasons people don't use an app after they've downloaded it is because they forget.
Calls to action about Foursquare will help drive your customers to check in, leave tips and become more active with your company on the platform.
To get a Foursquare window cling or sticker, claim your location with Foursquare by mail and you'll receive a window cling with your confirmation letter, or download and print the cling here.
What do you think? What other ways have you used Foursquare to successfully market your business? Do you have any concerns about location-based marketing? Do you like using Foursquare for business? Share your input in the comments box below.
3 Days of World-Class Training—Zero Travel!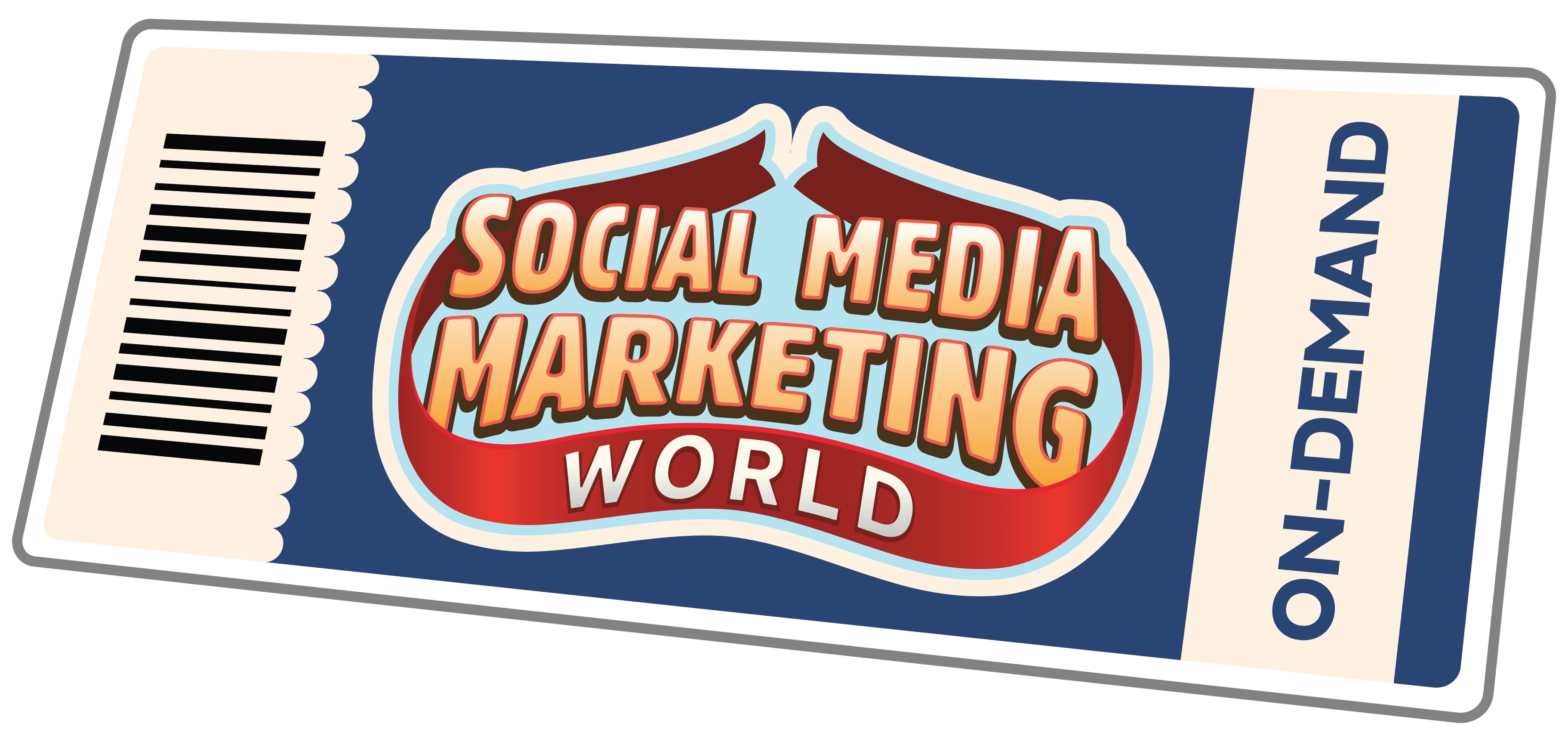 Travel to Social Media Marketing World off the table? Get all of the great content at a fraction of the price with an On-Demand ticket.

That's full access to recordings of every keynote, workshop, and session—the ones people travel thousands of miles to see. Don't wait. Get your On-Demand ticket and enjoy actionable content that you can watch anytime, anywhere.
GET YOUR ON-DEMAND TICKET NOW