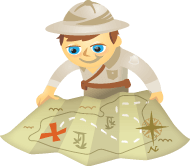 Do you have a local business page on Facebook?
Want to reach more local customers?
Facebook recently launched Professional Services, a directory that helps consumers find the best local businesses and services to fit their needs.
In this article I'll share how to use the Facebook Professional Services feature to boost visibility with local customers.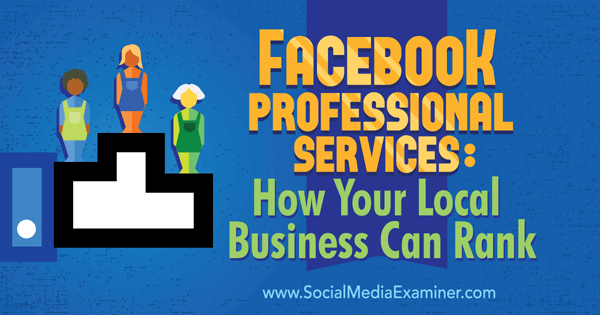 Listen to this article:
Where to subscribe: Apple Podcast | Google Podcasts | Spotify | RSS
What Is Facebook Professional Services?
Facebook Professional Services is a directory inside Facebook for local businesses. The goal is to help customers find local businesses with the best Facebook reviews and ratings.
Facebook expert Mari Smith doesn't see it as making "… a huge dent in Yelp… at first." But, she continues, "Over time, as more and more businesses become savvy with their Facebook marketing, and really promote their page activity, the Services Directory and Places could be more of a first choice for consumers."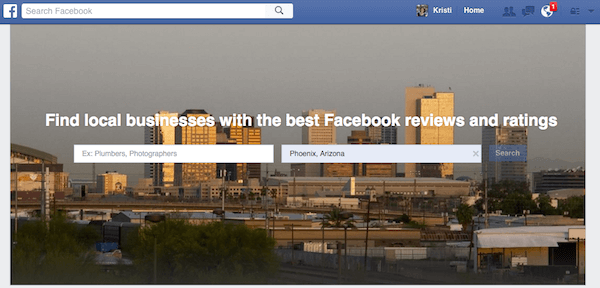 Customers can use the search box to find businesses in the area based on keywords specific to the products or services they need. They can also browse the top local business categories.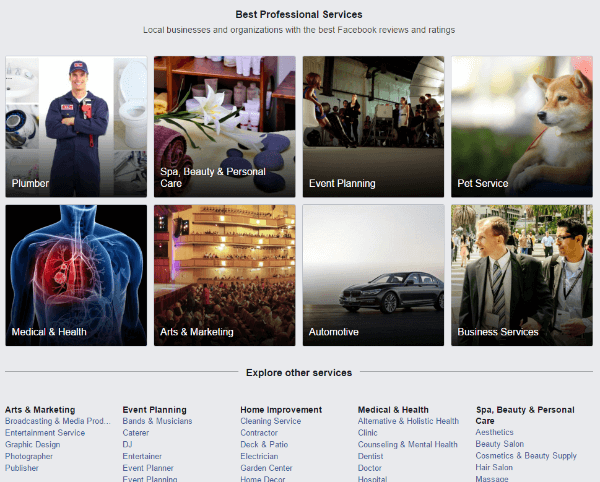 Within search results or specific category selections, customers see basic details about local businesses, such as their description, address, phone number and ratings.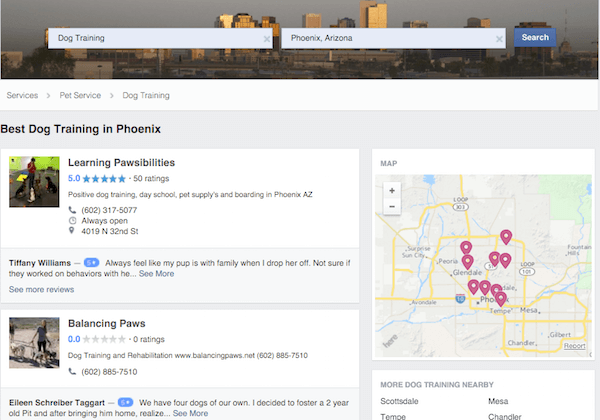 One of the nice parts about Facebook Professional Services is that it's not limited to the United States. People can search for local businesses worldwide.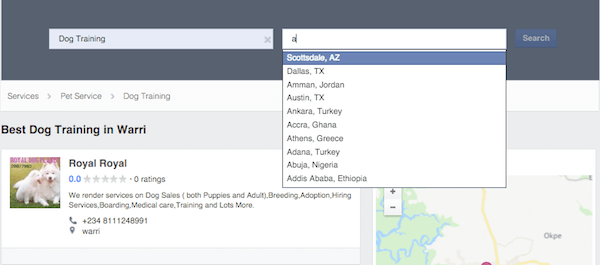 While there are no specific guidelines as to how the Facebook algorithm determines which local businesses to show, after several searches, you can determine it's based on the following:
Where the local business is located
Matching keywords in the local business page's name, description and category
The overall average star rating of the local business
The number of ratings the local business has received
The recency of the latest review
The number of check-ins for the local business
Previous interactions between the local business page and the customer
Connections between customers and people who check in, rate and review the local business
Mobile users can access Facebook Professional Services from their device's browser.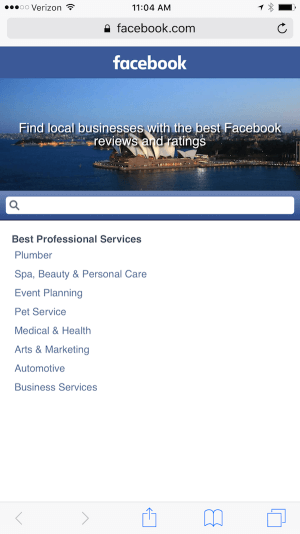 The search works the same, but the categories presented are much more limited.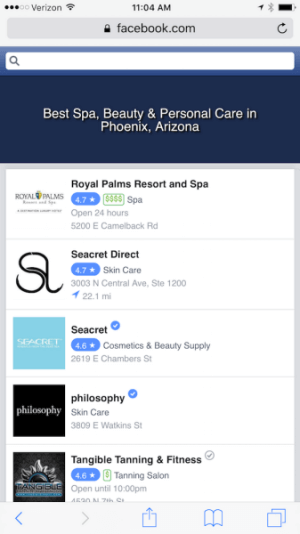 Inside the Facebook app, Nearby Places is the best alternative. iPhone users will find this under the More menu.
Get Your FREE Course: Web3 for Beginners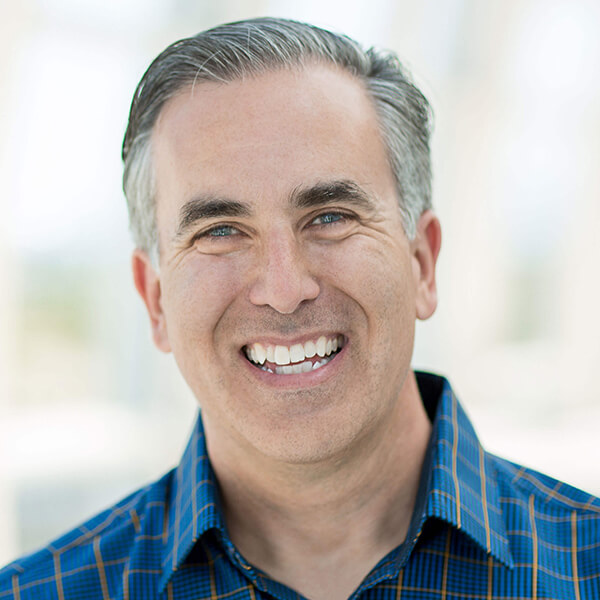 Curious about Web3, but don't know where to start or who to trust?

Introducing Web3 for Beginners, a course taught by Michael Stelzner, the founder of Social Media Examiner.

Learn the basics of Web3 and apply it to your business with this FREE comprehensive course.
CLICK HERE TO GET FREE ACCESS
There, they can search for businesses based on location and category.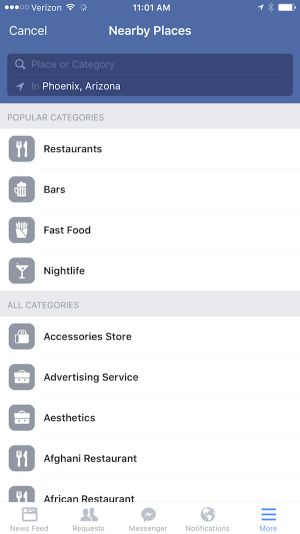 Search results and category pages will show similar information as presented in Facebook Professional Services on the desktop.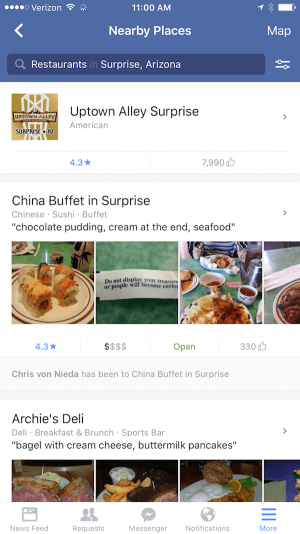 Based on Facebook's tendency to create individual apps for different features, one could assume that if Facebook Professional Services takes off, it will become a stand-alone app similar to what Yelp offers. But Facebook Professional Services is still in its earliest stages, so only time will tell.
Now that you know what Facebook Professional Services is and a little bit about how it works, here are some tips to help you boost your local business's visibility in the new local directory.
#1: Choose the Correct Category and Subcategories for Your Local Business Page
To ensure that customers find your local business in search or a category listing page, be sure that you've selected the appropriate category and subcategories for your local business. To start, search for the keywords or categories that customers would use to find you and see what Facebook suggests.

Then go to your local business Facebook page and enter them in Page Info on the About tab.

#2: Enter Your Business Details
All of these fields (found in Page Info on the About tab of your local business Facebook page) appear in search results on Facebook Professional Services.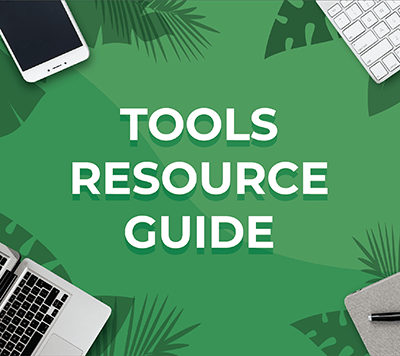 Looking for something to make your life easier?
Discover the tools we recommend to drive engagement, save you time, and boost sales across your entire marketing funnel or business.
Whether you need help planning content, organizing social posts, or developing your strategy, you'll find something for every situation.
FIND YOUR NEXT FAVORITE TOOL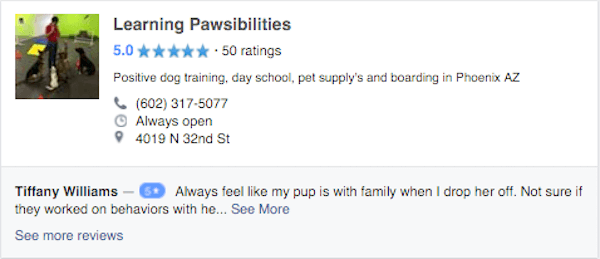 Hence, you'll want to be sure the short description, contact info and business hours fields are filled in on your local business Facebook page.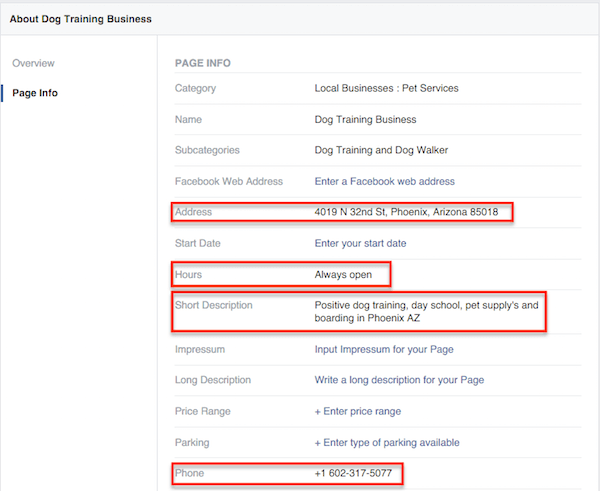 #3: Enable Check-Ins and Star Ratings
If you haven't done so already, be sure to enable your check-ins and star ratings. To do this, edit your address and check the box beneath your map.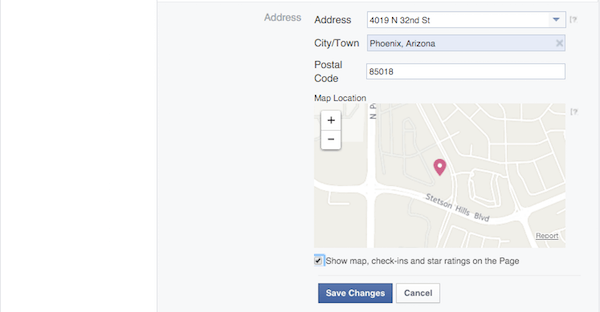 #4: Enable Multiple Contact Options
When customers click through to your local business Facebook page, they'll see the following.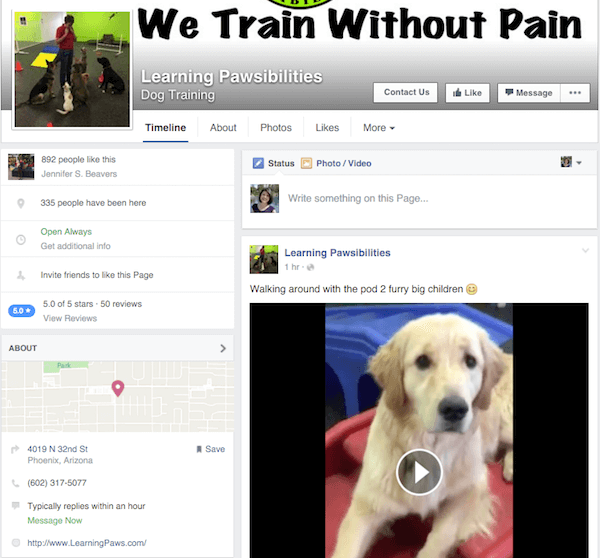 To ensure that local customers can have a great experience on your page beyond just the information shown on Facebook Professional Services, you'll want to make sure customers can contact you in a variety of ways.
If you don't have one already, add a Call to Action button to your page.

You can use it to link Contact Us to your website's contact page or create a Call Now button for mobile users.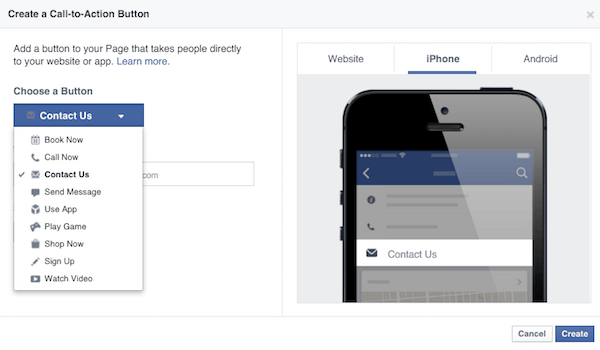 In addition to the Call to Action button, you can add a Message button to let people to contact you directly through your Facebook page in a private message.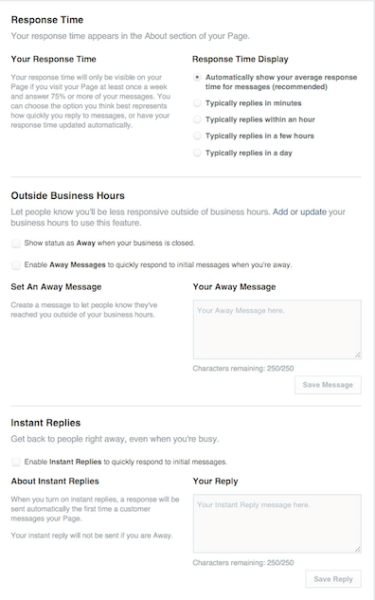 You can also specify your response time, business hours and instant replies in this section of your Page Settings.
#5: Encourage Check-Ins, Ratings and Reviews
Since check-ins, ratings and reviews likely play a role in your local business's visibility in Facebook Professional Services, it's important to encourage your customers to do these things.
To encourage check-ins, put up a sign that lets people know where to go on Facebook to check in. Facebook has images you can customize to create signage for your local business like this.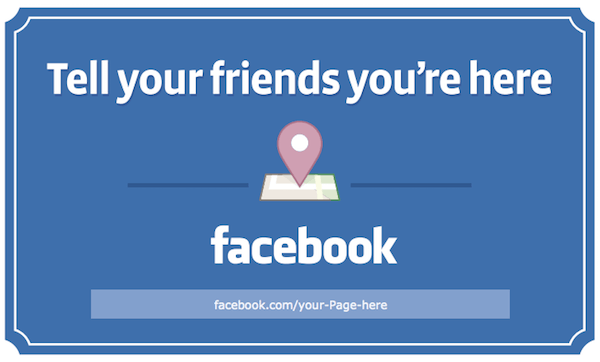 As for encouraging reviews, Facebook specifies that ratings and reviews must meet Facebook Community Standards and must "focus on the product or service offered by the Page and be based on personal experience." Most local business directories and review sites, like Yelp, frown on offering incentives for ratings and reviews.
One thing that makes Facebook local business reviews great, as noted by social media consultant Andrea Vahl, is "None of the reviews are 'hidden' like they can be on Yelp. People have long been frustrated with the way reviews are managed there, and if Facebook does it right, then they have an opportunity to be a Yelp killer."
While Facebook doesn't have any guidelines stating that you can't incentivize reviews or encourage reviews from only happy customers, one can assume that their stance on keeping page activity authentic applies to ratings and reviews as well.
To encourage reviews the right way, you can simply showcase your Facebook page link with signage (as shown above), or send your customers a link to your Facebook page and ask them to rate and review your business based on their experience.
#6: Get the Facebook Bluetooth Beacon
Another great way to engage with your local customers, as suggested by Mari Smith, is to "apply for a Bluetooth Beacon to help attract more local customers." This device allows you to send custom messages to people at your business.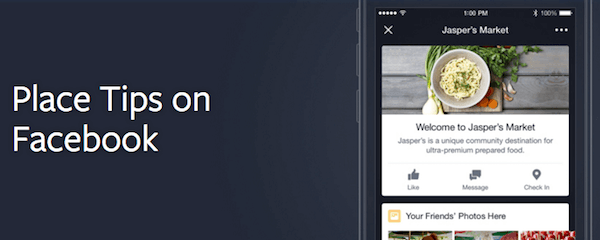 You can edit your Facebook Place Tips in your Page Settings.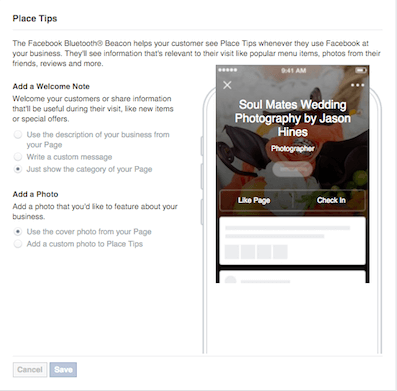 #7: Keep Your Page Up to Date
For some customers, encountering a Facebook page devoid of a cover photo, profile photo or recent updates is like walking up to a business that looks like it's closed. To give a great first impression to customers who visit your local business Facebook page, keep your page up to date.
Facebook marketing professional Christian Karasiewicz advises local business owners to "spend time cleaning up your Facebook page. If your cover photo hasn't been updated in a while, create a new one. Also be sure to fill out as much information as possible about the business in the About section on your page. This helps people find the right page and can also help your page come up when people like similar pages."
Of course, be sure to keep your page up to date with great updates that are of interest to your local audience and community!
In Conclusion
Facebook Professional Services has the potential to become a huge source of customers for your local business. By following these tips, you can ensure that your local business Facebook page is ready to get the most visibility possible on the network.
What do you think? Are you focusing on your local business Facebook page? What other tips do you have for local business owners and marketers? Please share your thoughts in the comments!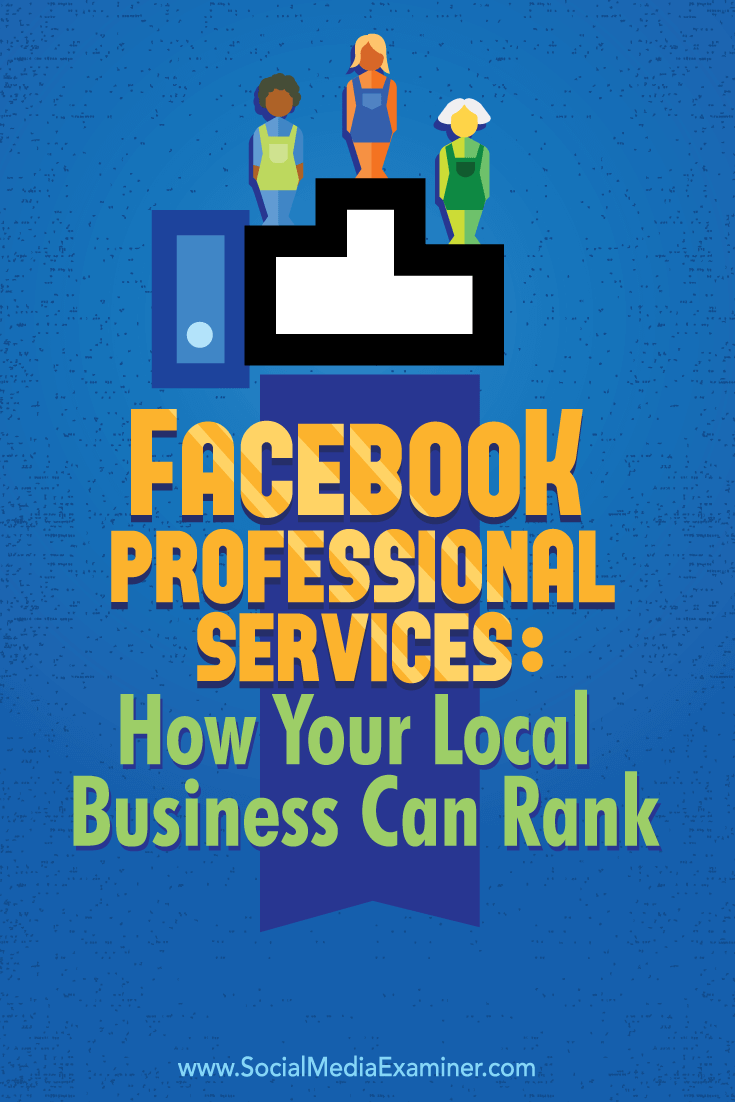 Get Your FREE Course: Web3 for Beginners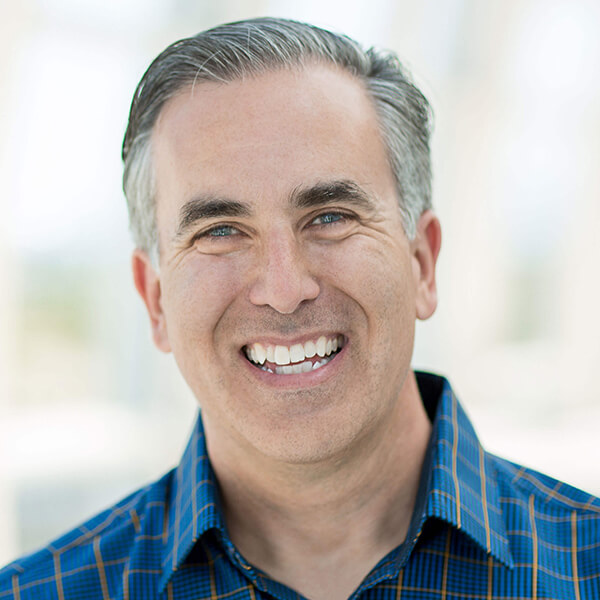 Curious about Web3, but don't know where to start or who to trust?

Introducing Web3 for Beginners, a course taught by Michael Stelzner, the founder of Social Media Examiner.

Learn the basics of Web3 and apply it to your business with this FREE comprehensive course.
CLICK HERE TO GET FREE ACCESS