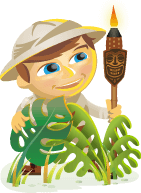 Have you seen Facebook Instant Articles?
Are you curious about how to publish them?
To discover how to get started using Facebook Instant Articles, I interview Leslie Samuel.
More About This Show
The Social Media Marketing podcast is an on-demand talk radio show from Social Media Examiner. It's designed to help busy marketers and business owners discover what works with social media marketing.
In this episode, I interview Leslie Samuel, a blogging expert who runs BecomeABlogger.com. He's also the host of the Learning With Leslie podcast and the head of training for the Social Media Marketing Society.
Leslie explores the benefits and challenges of Facebook Instant Articles.
You'll discover what you need to know to get started with this new feature.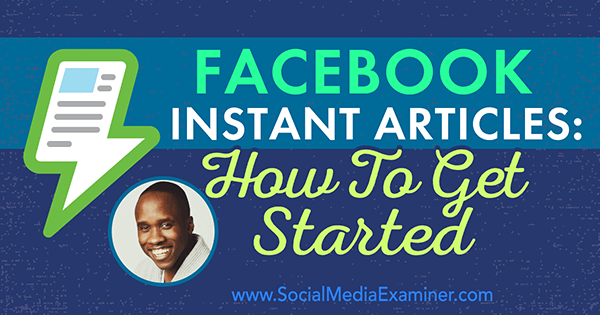 Share your feedback, read the show notes, and get the links mentioned in this episode below.
Listen Now
Where to subscribe: Apple Podcast | Google Podcasts | Spotify | RSS
Here are some of the things you'll discover in this show:
Facebook Instant Articles
What Are Instant Articles?
A relatively new feature, Facebook Instant Articles offers publishers content-hosting directly on Facebook, so users get a better mobile experience. If you're on the Facebook mobile app and you see an article with a lightning bolt at the top right of the open graph image, it's the Facebook Instant Articles version.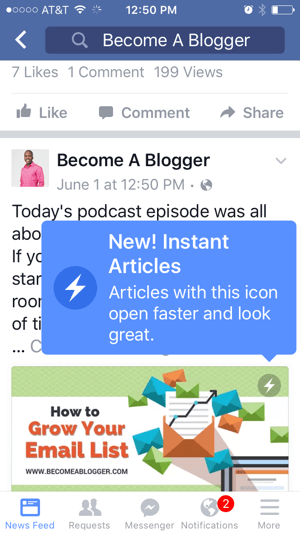 When you click through to read that content, it loads very quickly because you're not leaving Facebook to go to another website.
Listen to the show to learn about some special features you can add to Facebook's Instant Articles.
Benefits for Bloggers
Facebook has more than 1.65 billion users. Chances are, if you're trying to reach someone, they're on Facebook.
One problem Facebook solves with Instant Articles is eliminating slow page-load times. According to a study by Kissmetrics, if a website takes longer than 3 seconds to load, more than 40% of those users will abandon it. Instant Articles makes content available very quickly.
Other benefits include great user experience. Leslie adds that some of the interactive elements help the articles really stand out.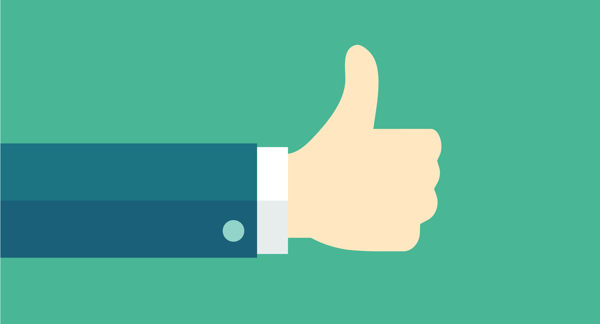 Since Facebook seems to reward those producers whose content keeps people on Facebook longer, such as live broadcasting, I ask Leslie about Facebook's monetary benefits for those who choose to advertise.
Leslie explains that if you use Facebook's Audience Network, you can do a revenue share. You keep 70% of the revenue generated from ad clicks. It's kind of like AdSense within your instant articles. Leslie doesn't see it as a huge benefit, because you can do that on your website with AdSense or other networks. However, Facebook makes it easy to use ads within your instant articles.
According to Facebook, as of right now, they're not giving instant articles preferential treatment. However, the Facebook algorithm strives to show people the best content quickly. So, if more people click through to instant articles, Leslie can see the algorithm naturally giving preferential treatment to this content. Plus, Facebook will show content that gets a lot of engagement to more of the people who like your page.
Facebook's desire to get users to spend more time on their platform gives content creators a unique opportunity. Leslie says that in the past, if people put up engaging images or videos and others shared them like crazy, they would get additional reach.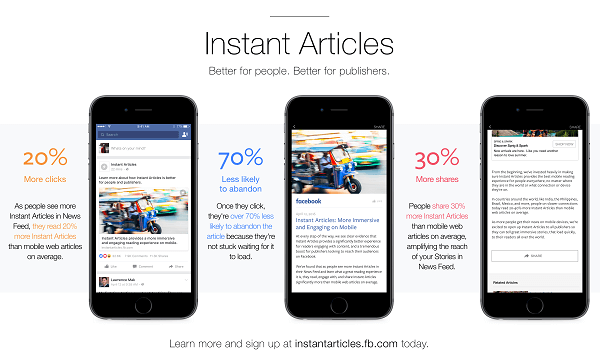 With this control over content, ads, and links, a business could use that reach to benefit their brand and business, grow an email list, promote products, and more. For instance, put a link to an email opt-in form at the end of an instant article.
Leslie believes that smart marketers using Facebook as a primary marketing platform will figure out how to take advantage of the benefits of instant articles to get users into their system.
Leslie discusses the difference between Facebook Notes and Instant Articles, which sound similar. A note is an article or post created directly within Facebook. Instant articles are actually linked to your website.
Listen to the show to hear my hypothesis about the potential value of writing instant articles on trending topics and monetizing them through Facebook's ad platform.
The Downside
One potential downside, though, is that Facebook could decide to give preference only to your instant articles and not to your other content. However, Leslie adds that organic links to Facebook are already downgraded. A lot of Facebook page managers say users aren't seeing their posts.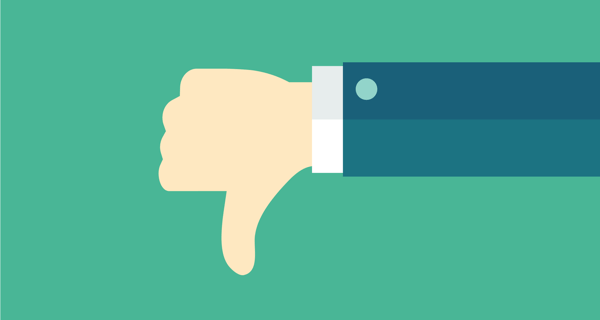 Leslie says the bigger issue is, "Do you trust Facebook?" While putting your content on Facebook might sound smart and give you some benefits now, you have to wonder what it means for the future.
In reality, it's the "rented land" concept. In a podcast with Mitch Joel and Mark Schaeffer, we discussed whether it makes sense to distribute your content entirely on a platform not your own. Facebook is a big source of traffic to blogs, and if people have to house their content on Facebook, it's a scary future.
Right now Facebook has our attention, Leslie adds. And what they're playing for now is our content. If they have both our attention and our content, it makes them even more powerful. If you fully trust Facebook, that's a great thing. If not, as many people don't, there will be hesitation.
About a year ago when Instant Articles was first announced, everyone was up in arms about it. Several publishers, including BuzzFeed and the Washington Post, were willing to go down the slippery slope of giving Facebook their content.

Now, it seems like everyone is publishing instant articles, because Facebook has eyeballs, which is what they want. It's not just Facebook, it's LinkedIn and other networks.
Is Leslie concerned? He says definitely. Obviously change is happening, and there's no way to stop the change. Content creators need to take advantage of the changes in a way that makes sense for their businesses.
One of the interesting things, in contrast to Google AMP, is that Facebook allows users to have Google Analytics integrated with it, Leslie says. That means Instant Articles counts in Google Analytics as a website visit. Facebook also gives publishers full control of the content.
Listen to the show to discover how I think Facebook can archive instant articles.
How to Get Started
Unfortunately, signing up for Instant Articles isn't easy. Leslie says it's a 10-step process, and each step involves a lot. The average person who's not comfortable with any kind of code will be a little intimidated by it, he warns.
To get started, log in with Facebook and go to the Instant Articles signup page. You'll first go to a page that asks you to choose on which page you want instant articles to appear. Select it, and click Submit. Once you get approval (which is instant), you're signed up for Instant Articles.
Leslie suggests if you're using WordPress, you should get the Instant Articles for WP plugin. Make sure it's the plugin by Automattic, the company behind WordPress. Then connect the plugin to your Facebook page. There are instructions on how to do it.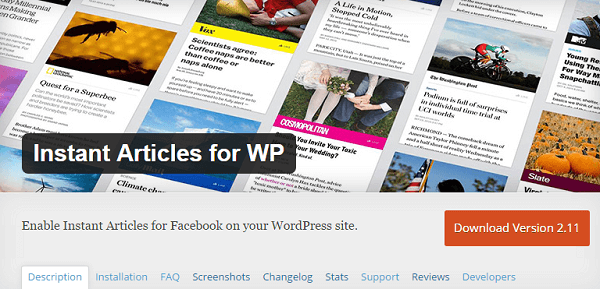 Now go into your Facebook page and click on Publishing Tools to configure Instant Articles. (You need to do this on a desktop, not a mobile device.) This involves a few different things. First, demonstrate you own that URL.
Next, create a style template. Determine which fonts, colors, logos, and sizes you want. It will look pretty basic. If you'd like to get more advanced, hire someone to create a template for you that matches more of your design. This is much more technical.
After you create the template and submit the RSS feed, it will import a number of your articles. Look through them to make sure the code is right. You'll see the HTML code with some added elements, and it will tell you which sections you need to fix.
Once you fix all of those things, prepare and submit 10 articles for Facebook to review. That is a manual process.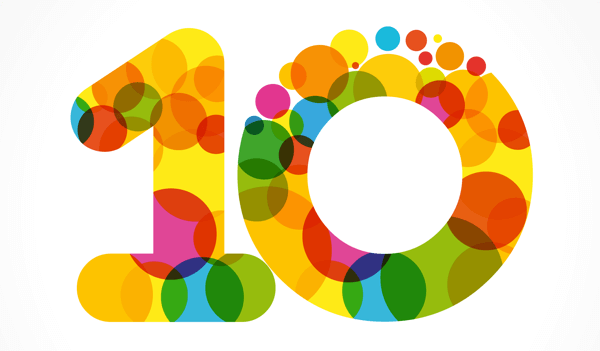 Someone is actually going to go through and compare what you do on Instant Articles to what's on your website. Make sure it matches as completely as possible. If it doesn't match, you'll have to fix it and resubmit. The approval process can take up to a week.
When Facebook approves your content, you can start publishing.
Listen to the show to learn more about the technical parts of the process.
Leslie's Experience With Instant Articles
Even though he is very tech-savvy, Leslie admits his experience setting up Instant Articles has been painful. He had to go through the process three times to get approval to publish his articles. He suggests users look at the Pages Manager app on their mobile device when editing the code so they can preview the changes as they go.
When Leslie looked at National Geographic and BuzzFeed to see how they were doing things, he noticed they both have some, but not all, of their content as instant articles.
Leslie talks about some of the special functions. One is an interactive slideshow, which is a built-in feature on Facebook. When you create a slideshow, you create the code for it then watch it on your smartphone. This is also a bit technical, he warns.
Another is an interactive map that physical businesses can create. You can have different images and even add audio captions. For instance, if you're giving a tour of your storefront, when you reach a certain picture, you can start narrating to make it more engaging. There are a number of things you can do to give an interesting seamless experience to the user.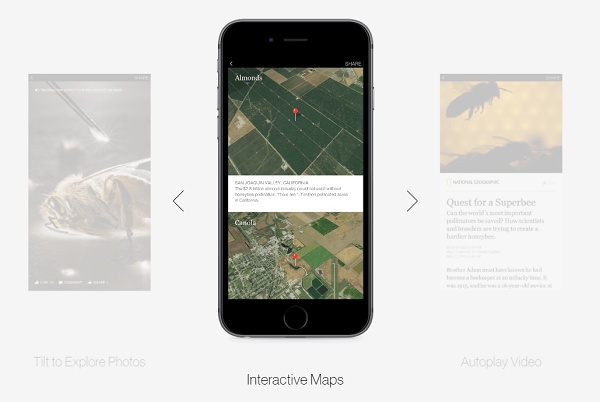 By the time this episode airs, you can see examples on Leslie's Facebook page. Leslie decided he's going all-in with Facebook Instant Articles, and will publish all of his content there. He's thinking strategically about what content to create and how to use it to lead people to his email list. Each piece of content is a marketing message to entice people to subscribe, he says.
He'll also evaluate how his engagement changes with instant articles, and plans to make decisions based on strategy. If he sees no benefit, Leslie may reconsider his decision to publish his content on Instant Articles.
Also, as of right now, Leslie has no plans to monetize, because he prefers to advertise items that are directly related to his content. He has the best conversion that way.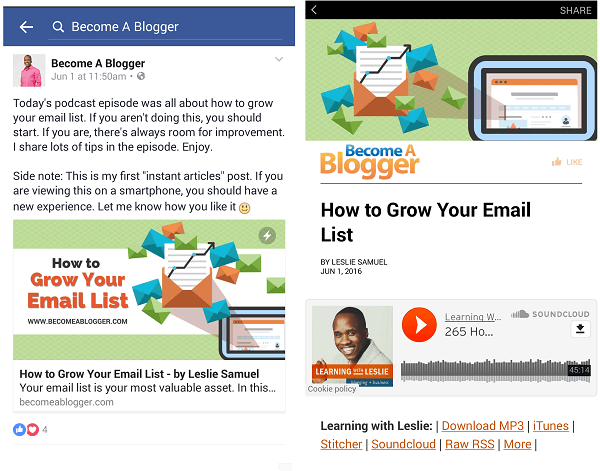 How restrictive is Instant Articles compared to Google AMP? Leslie believes Instant Articles is less restrictive. The interactive elements are more developed. Plus, you can use your Google Analytics account. With AMP, you need to have two accounts (one for your website and one for AMP), and track them separately.
It seems as if Facebook is thinking about the publishers with the Instant Articles features and they want to make it a very good user experience, Leslie says.
After you get your instant articles approved, it will automatically import your content. You can turn on auto-publishing, but Leslie isn't planning to do that. He'd rather go in and tweak a few elements. He anticipates it will take him 10 minutes to format an entire article. His posts are around 1,500 words. One tool he uses is Text Expander, which makes it easy to input some of the common codes.
One last thing. You can't put a partial post in an instant article and then lead people to your blog to read more. Facebook wants it to be the exact same experience. So, all of the content, images, and features that are transferable need to be there in the same order and format that they are on your blog posts.
Listen to the show to hear in what direction Leslie thinks instant articles need to go to make them easier for users.
Discovery of the Week
GhostCodes is a discovery app for Snapchat. People sometimes feel that it's hard to find friends and other interesting people to follow on Snapchat. GhostCodes solves that problem.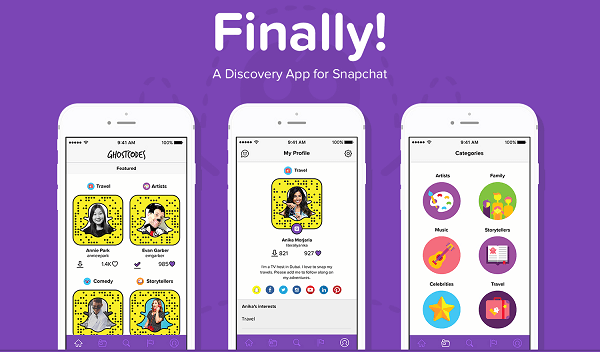 Download and then go into the app. Next, craft a Snapchat profile. Add your snapcode, a bio, and keywords for what you do or snap about. For instance, let others know if you're an artist, musician, storyteller, podcaster, etc. From there, people can search for and find you, then download your snapcode and add you on Snapchat.
People can click and give you a heart, which ranks you in certain categories. The more rankings, clicks, downloads of your snapcode, likes, and hearts, the more likely you'll be discovered.
Go to GhostCodes.com to get the links to iOS and Google Play store so you can download the app. It's completely free and very helpful.
Listen to the show to learn more and let us know how GhostCodes works for you.
Listen to the show!

Key takeaways mentioned in this episode: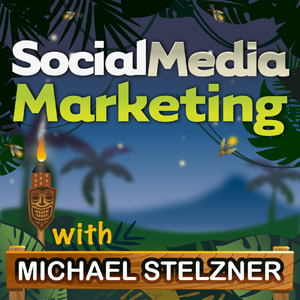 Ways to subscribe to the Social Media Marketing podcast:
What do you think? What are your thoughts on Facebook Instant Articles? Please leave your comments below.