Looking for a guaranteed way to reach prospects and customers with your messages? Wondering how email could help you attract and retain more customers?
In this article, you'll discover an email content marketing strategy that nurtures and converts.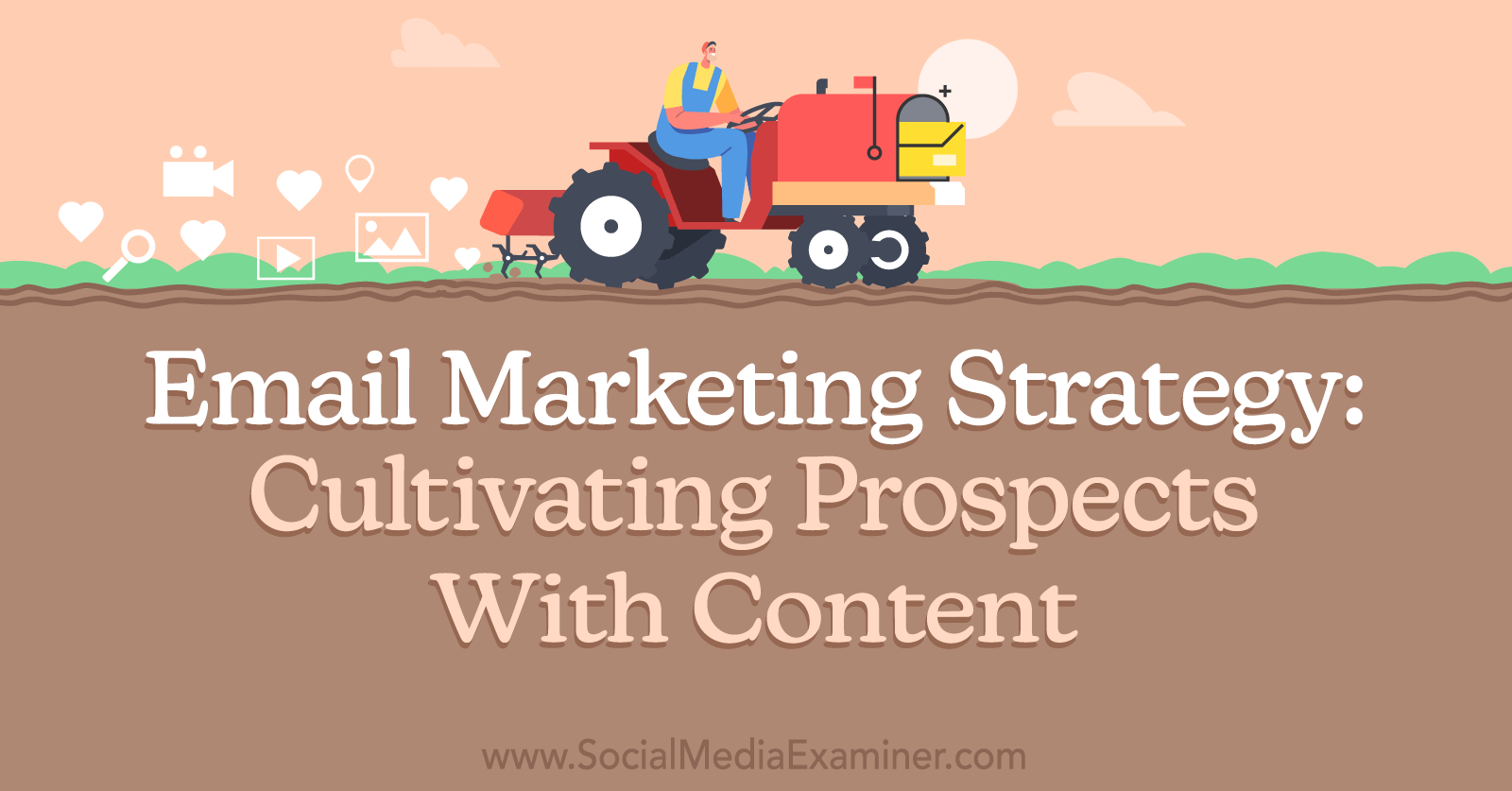 Why Email Marketing Still Rules
Email marketing gets a bad rap these days. Some people dismiss every marketing email they get as spam.
Let's be truthful, now. A lot of the emails we get are spam. But there are useful, entertaining, and valuable ones in the mix, too.
What's more, they can deliver a seriously impressive return on investment.
Email has over 4 billion users globally. That's more than any social media platform. For many people, it's the first thing they check in the morning, before they drop in on TikTok or Twitter.
You own your email audience. You don't have to worry about algorithms, social platforms throttling your reach, or paid ad placements. Meanwhile, less than 7% of content in the Facebook feed now comes from Facebook page content. Which channel sounds better?
Once someone joins your email list by filling out your signup form, you've already spent the time and money to acquire them. Any purchases they make from your emails are a bonus for your business. That's why email marketing makes, on average, $36 for every $1 you spend.
So how do you make sure that the people on your list know that your email marketing is the good stuff?
The answer is to set expectations with a great onboarding sequence and then follow up with reliable, engaging, and helpful content.
How to Collect Email Addresses and Gain Email Subscribers
We've seen how tough it is to get views and clicks on social media. That's why you want to upgrade social media followers to email subscribers as fast as possible.
But there's no getting around it: social media, with all its challenges, is still one of the most powerful ways to increase your email subscribers.
The key is to never leave money on the table. In other words, never write a post, upload a video, share a photo, or send a DM without reminding people of all the value they could be getting from your email newsletter.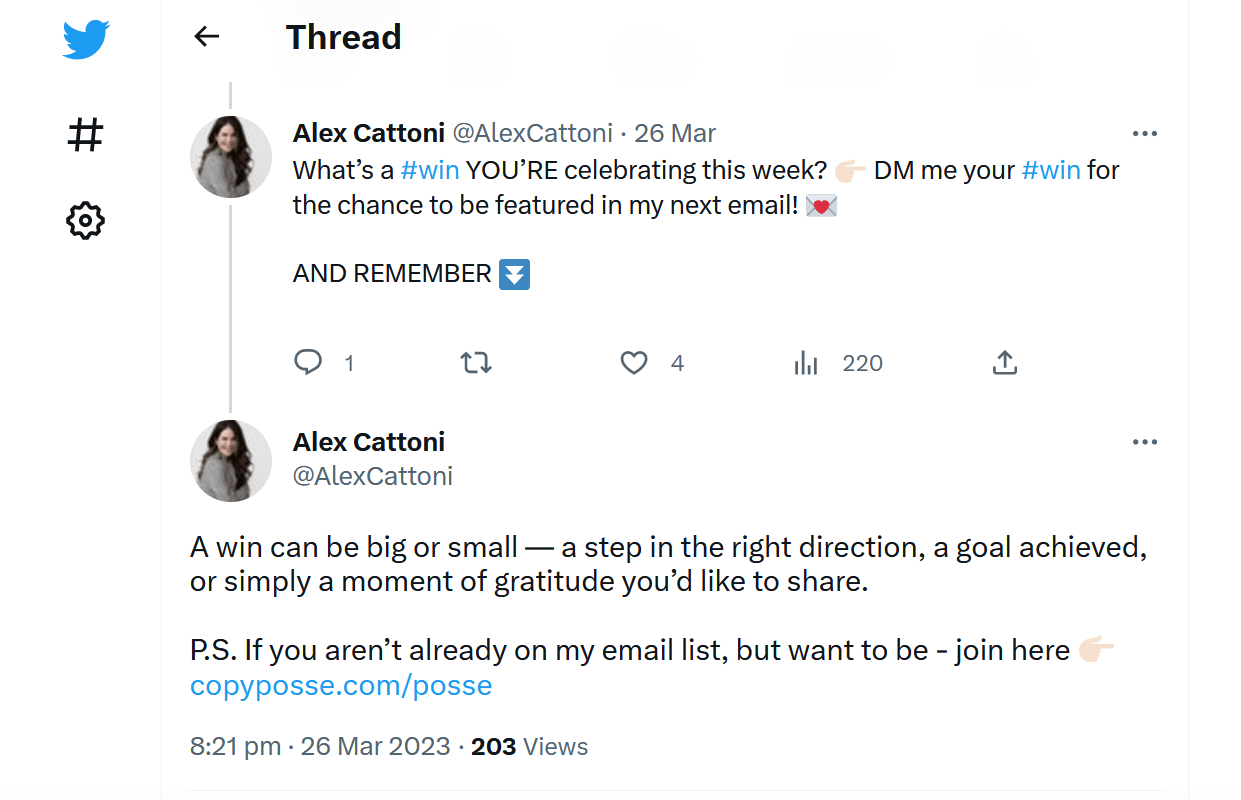 This doesn't just mean nagging viewers to subscribe. It means giving people something valuable to motivate them. That could be gated content, email-only exclusives, a sense of community, or all of the above!
How to Onboard New Subscribers
The real work starts once someone takes the plunge and signs up to your email list. You want to welcome and reward them so they'll never unsubscribe. This is your chance to make or break the relationship with new subscribers.
Your onboarding sequence doesn't have to be long, drawn-out, or difficult. In fact, it should match your regular email style as closely as possible. For example, if you normally email subscribers three times a week, then your onboarding sequence should take place over a week. This helps set expectations and establish a pattern.
Make sure you flag new subscribers in your email marketing system so that for a while, they only receive onboarding emails. You don't want to overload them with promotional messages or high-level content designed for your regular readers. Once they've completed the onboarding sequence, then they'll be ready for all of that.
Today, we're going to set up a simple, three-step onboarding sequence. It's three emails over 3 days. Each one fulfills a specific purpose in the onboarding process: to lock in those new subscribers.
The AIM Email Onboarding Framework
The three-step onboarding sequence that we're going to use is called the AIM framework. It's designed to welcome new subscribers, set the tone, and start them on their journey toward becoming customers.
Acknowledge. Welcome people and thank them for their attention.
Include. Make new subscribers feel like part of the community.
Mobilize. Move them to a new action such as downloading a lead magnet. We're not trying to make sales yet but you can entice new subscribers with opportunities and exclusive content.
A lot of marketers worry about message length, especially when onboarding new readers. After all, aren't our attention spans getting shorter all the time?
Well, perhaps not. Think of the last TV series you binge-watched or how long you can spend scrolling TikTok. We still give attention to things that are interesting or valuable to us. The only thing that's really changed is the amount of competition for our attention.
There's no such thing as an onboarding email that's too long. But there is such a thing as an email that's too boring. Take all of the space you need to say what you have to say—just make sure it's relevant, engaging, and useful.
#1: Acknowledge
Let's be clear: the first onboarding email is not about you. It couldn't be less about you. It's about your new subscriber!
So make the copy all about them. Thank them for signing up. Welcome them to an awesome community. Congratulate them on making a great choice. Acknowledge the problems that led them to your content or services. Finally, let them know what to expect next.
This welcome email focuses on how readers will benefit from joining the community.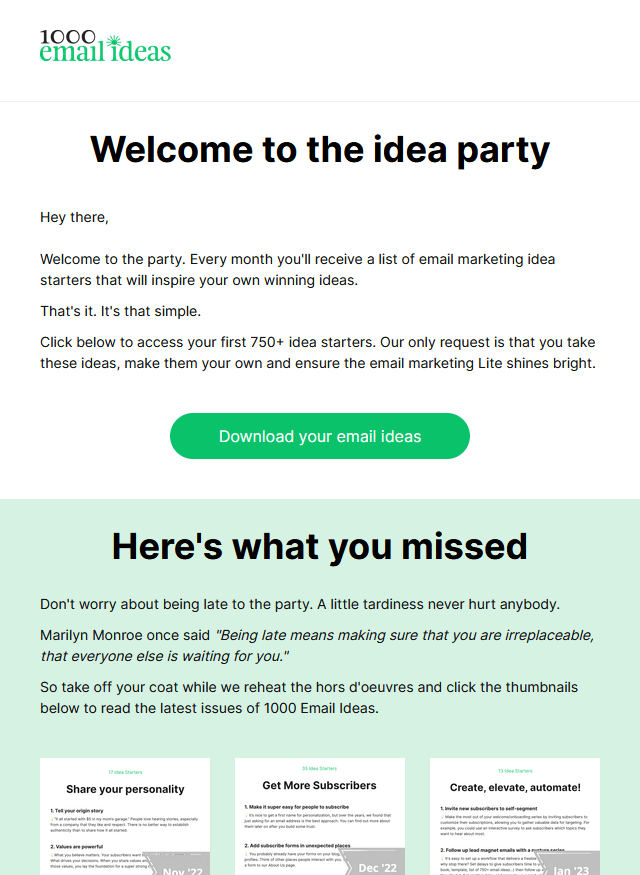 If you really want to, you can include a call to action in this first email. For example, you might have an exciting content exclusive or you might want to gather more information about new subscribers.
However, if you choose to include a CTA, make it subtle and optional. Remember, it's not about you!
#2: Include
In your second onboarding email, you reinforce the new subscriber's decision. Yes, they did the right thing! Yes, this newsletter is going to change their life!
How do you do that? Well, this email can be a little bit more focused on your brand. Talk about your mission and community, rather than going for the hard sell just yet. You can talk about your brand values, promise to your customers, commitments in the wider world, or your unique sales proposition.
This email expands on the company's values of accessibility and inclusion.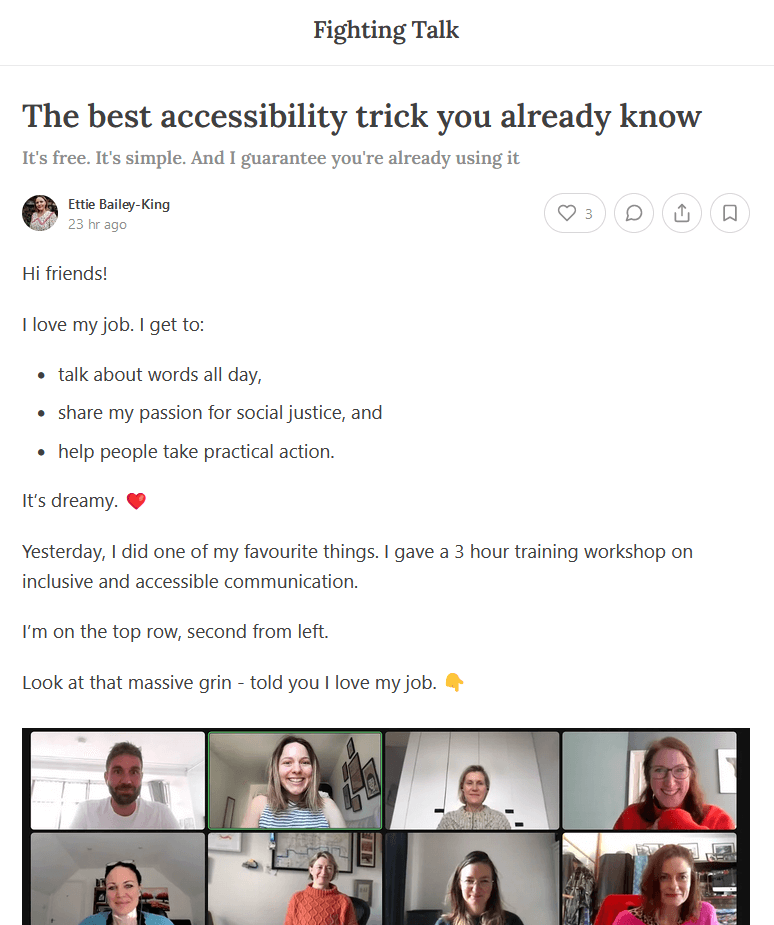 The goal here is to make readers feel like they're a part of your mission. They might have joined the email list because they were looking for a solution to a specific problem. But now they're also going to discover an exclusive community and meaningful purpose. That's what keeps people reading.
#3: Mobilize
At the end of your onboarding sequence, your new subscribers should already feel some engagement with your content. But you want them to go a step further: taking action toward your brand.
Offer them an opportunity. For example, this could be a lead magnet such as a free download or even an introductory offer. Focus on how the opportunity will benefit them by solving problems, providing a unique benefit, or reaching toward an aspiration.
This email focuses on the real benefits to users, even offering them an interactive calculator to see how much they could save.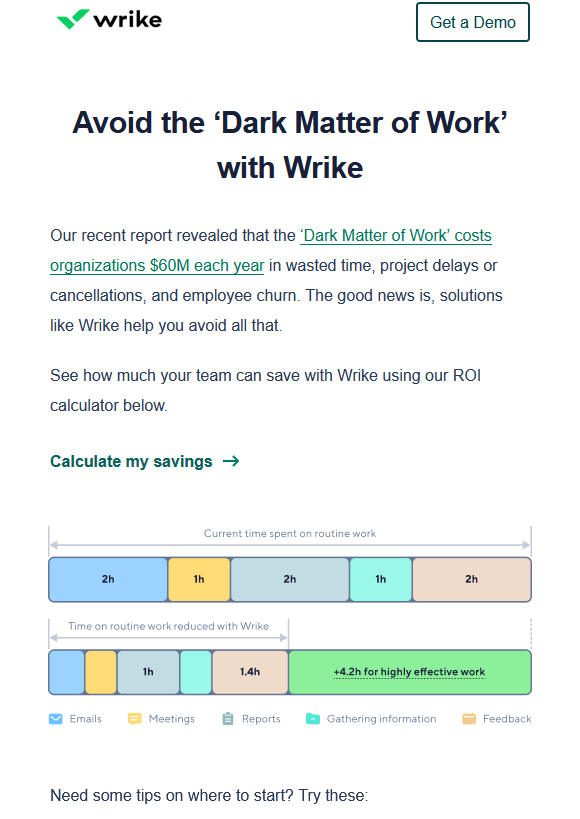 You can personalize this by making the offer interactive or drawing on information that you've learned about your subscribers.
The third onboarding email is also a great moment to bring in some social proof. Testimonials, reviews, and stories from other customers will help build your case.
125 Ideas for Email Marketing Content
Congratulations: You wrote an incredible set of onboarding emails. You've got a host of new subscribers who are eager for more messages.
Now what?
If you're scratching your head for content ideas, you're not alone. Many marketers struggle to find original, engaging ideas for their email marketing.
It's important to think beyond your product or services. If you send out endless promotional emails that reiterate the same benefits over and over, then people will unsubscribe. They'll be bored to tears!
Your audience wants to know who you are, not just what you do. The value in your email content doesn't just come from product benefits or hacks; it can also come from personal angles such as inspirational stories, education, and even entertainment.
The bottom line: people buy from brands that they know, like, and trust. Use your email marketing to become known, liked, and trusted.
In the next section, we'll explore a content strategy that will mean you never run out of ideas. You'll learn how to tap into your personal story and think beyond your product.
The 5x5x5 Email Content Strategy
Perhaps 125 new content ideas sounds like a daunting total but what if we break it down into sets of five? It's easy to come up with just five ideas!
Once you've gone through this process, you don't have to use all 125 ideas. In fact, you should regularly repeat the process to see if it surfaces new ideas as your brand grows and changes. But the 5x5x5 email content strategy will inspire you and give you enough ideas to keep your email newsletter running for a while.
Here's how we do it. Grab a notepad and pen and write your brand name in a circle in the middle of the page. Don't write it too large. You're going to need all that space!

Next, draw five spokes coming out of the circle, each with its own smaller circle. These five slots are going to be your content pillars; your overall categories of content.
Choose three that describe what you do and two that describe who you are. Think about your passions, motivations, and mission. These two personal content pillars don't have to be directly related to your brand, products, or services! You could talk about your family, love of travel, or care for the environment, for example.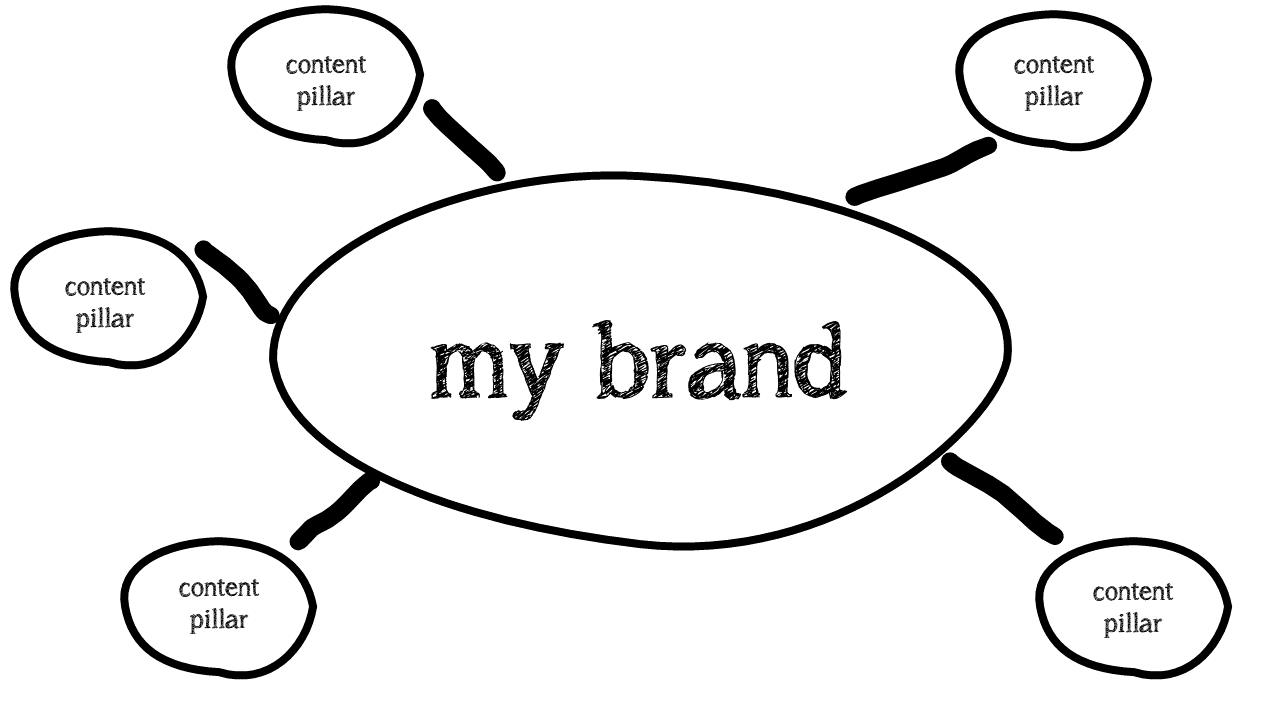 For example, at Social Media Examiner, we might fill in our content pillars like this:
Social marketing
Content marketing
Social strategy
Personal: the struggles of entrepreneurship
Personal: excitement about Web3 and what it will bring
Now start a list under each content pillar. Each pillar is made up of five keystones, or content subtopics.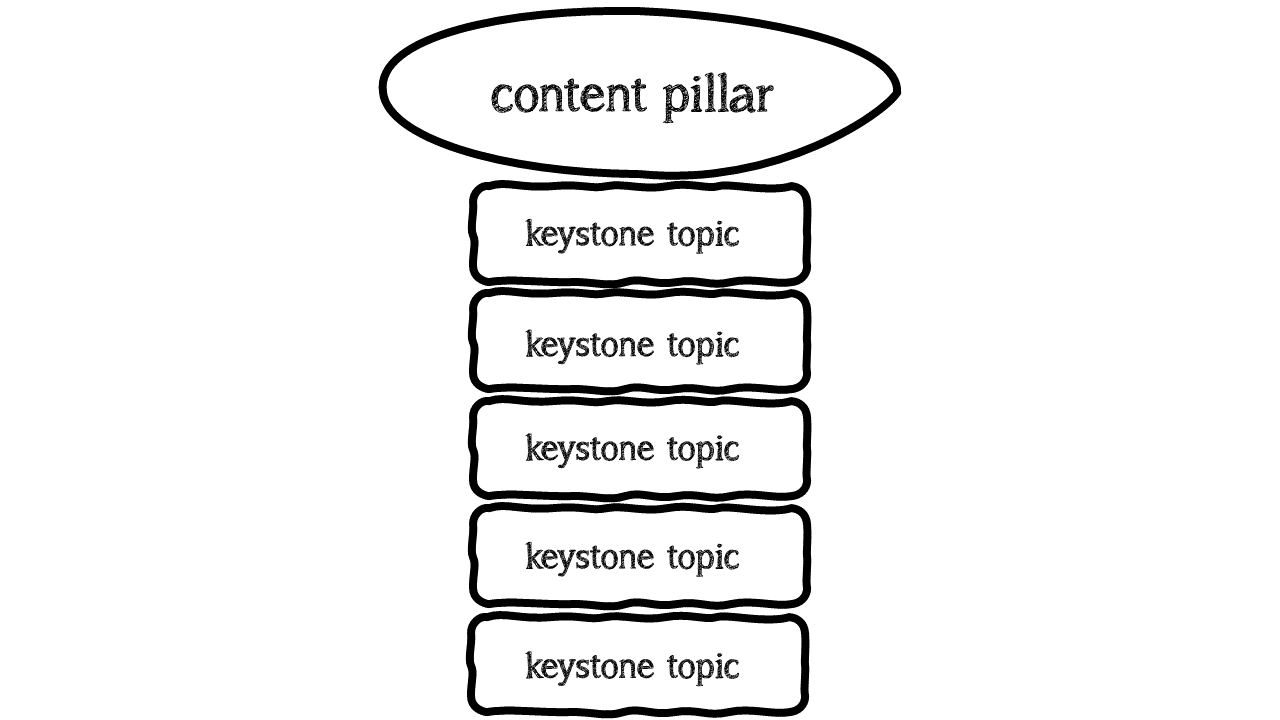 Sticking with our Social Media Examiner example, we might break "social marketing" down into different social networks: Instagram, TikTok, YouTube, LinkedIn, and Facebook. Under "content marketing," we might talk about short-form video, long-form video, podcasting, live audio, and written articles.
At this point in the process, you might need a fresh page in your notebook. Flip onto a new page and title it with one of your keystone topics.
Underneath the keystone title, you're going to list five story bricks. (Five story bricks to a keystone, five keystones to a content pillar… We're getting close to 125 ideas now!)

This stage of the process will take the longest because it requires the most specific ideas. But we can help you out again with five idea sources.
When you're trying to come up with specific story ideas, think about:
Your own life and personal experience. Can you tell a story that's relevant for your readers?
Community, customers, and audience. Can you draw on the story or testimonial of one of your customers?
Authority. This is educational content that focuses on tips, tricks, and expert knowledge. Can you offer an expert perspective on this keystone topic?
Current events and news stories. Do some research to see if this keystone topic has come up in the news lately. For example, if you're writing about email marketing, you could look for stories about life-changing messages sent by email.
Imagination. Remember, entertainment can be just as powerful as expertise. Can you think of a legend, myth, fairytale, or hypothetical situation that would engage your readers?
It's a good idea to mix up these idea types. For example, once you've generated 125 ideas, you might start the week with a personal message on Monday, share some authoritative content on Wednesday, and end the week with good-news stories from customers on Sunday!
It's as simple as that. By breaking your brand strategy into content pillars, then keystone topics, then individual story ideas, you can whip up 125 fresh content ideas with ease. You'll enjoy creating emails more and your subscribers will love reading them.
Other Notes From This Episode
Where to subscribe: Apple Podcasts | Google Podcasts | Spotify | YouTube Music | YouTube | Amazon Music | RSS
✋🏽 If you enjoyed this episode of the Social Media Marketing podcast, please head over to Apple Podcasts, leave a rating, write a review, and subscribe.
---
Stay Up-to-Date: Get New Marketing Articles Delivered to You!
Don't miss out on upcoming social media marketing insights and strategies! Sign up to receive notifications when we publish new articles on Social Media Examiner. Our expertly crafted content will help you stay ahead of the curve and drive results for your business. Click the link below to sign up now and receive our annual report!