Want more people on your email list? Wish you could use Instagram to turn your followers into email subscribers?
In this article, you'll discover seven ways to use Instagram to generate email signups.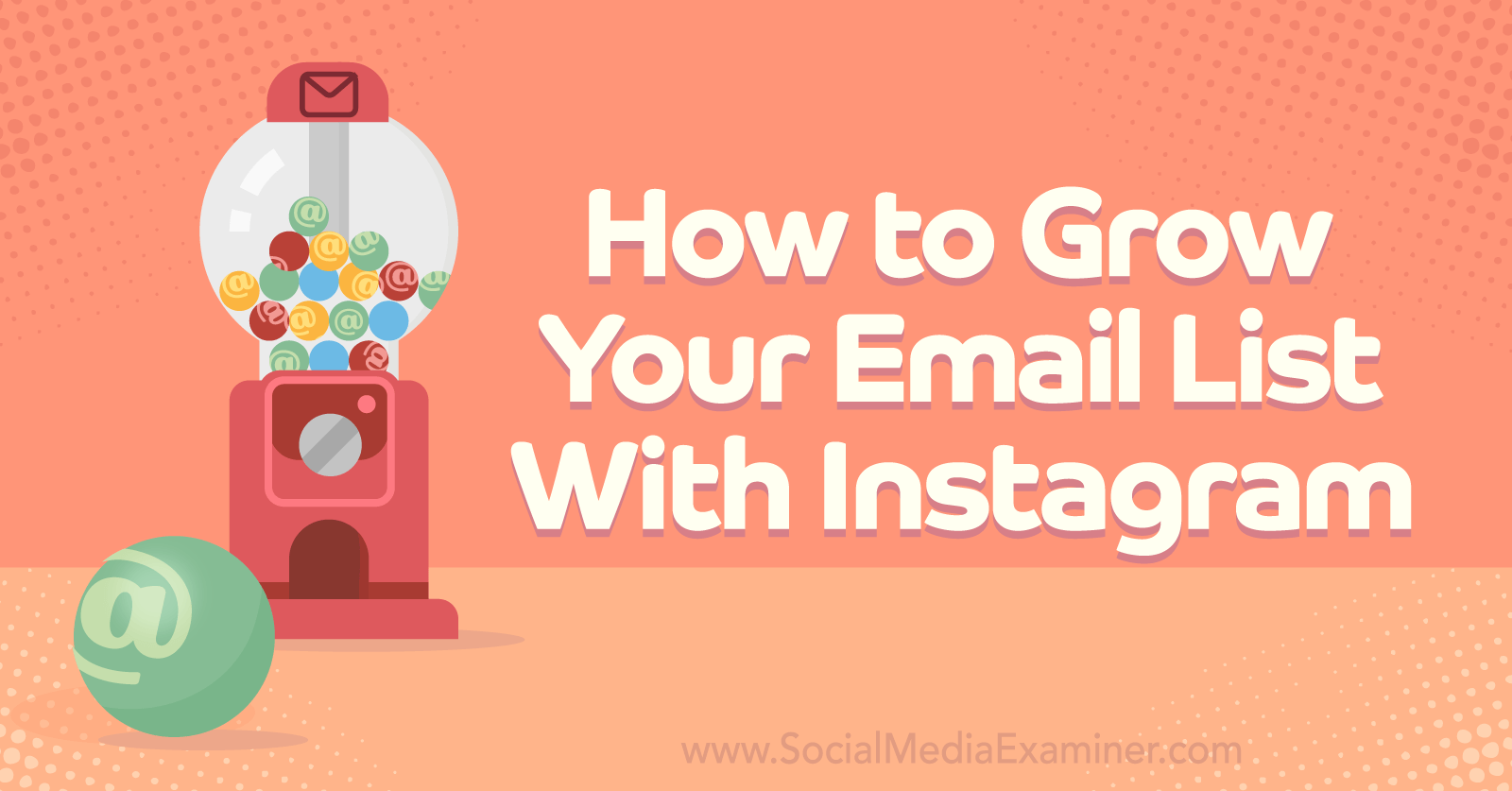 4 Ways to Grow Your Email List on Instagram Using Organic Tactics
Instagram and Meta Business Suite have several tools for generating email subscriptions including options for both passive collection and targeted campaigns. Let's walk through these built-in tools for collecting email addresses.
#1: Add an Email Opt In Form Link in Your Instagram Bio
The most straightforward method for passive email collection is to add a signup link to your Instagram bio. Depending on your team's priorities and tools, you may have more than one option for creating a tappable link.
Direct Link From Bio
Does your company have a landing page with a subscribe form designed to collect email addresses from website visitors? You can link to it directly from your Instagram bio. Open the Instagram app, navigate to your profile, and tap the Edit Profile button.
Then scroll down to the Links section and tap to edit.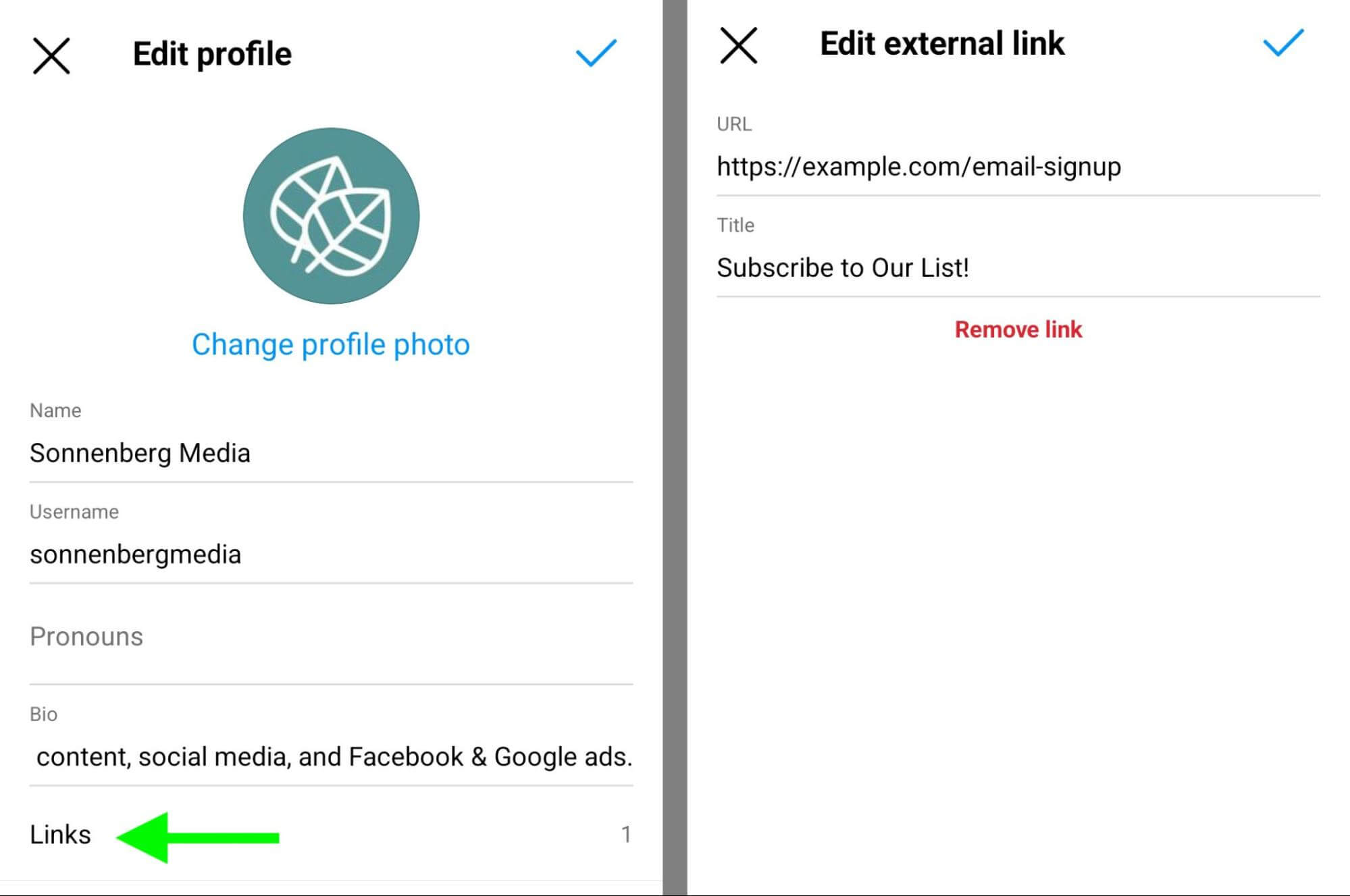 Enter the URL and give it an optional title. If you do add a title, note that it doesn't display on your profile but it does show in your list of links.
To encourage profile visitors to tap the link and subscribe to your list, consider adding a brief call to action (CTA) in your bio. Keep in mind that Instagram bios may truncate if you include a lot of emojis and hashtags. Position your CTA above the fold to ensure it displays.

List of Links
Since Instagram doesn't allow brands many options for adding external links, it's important to plan your bio link carefully. For example, if directing followers to your eCommerce store or contact page is more important than email signups, you probably won't want to use this valuable real estate for an email subscription link.
If your Instagram profile allows multiple bio links, use the opportunity to add a link to your email signup page and other important destinations.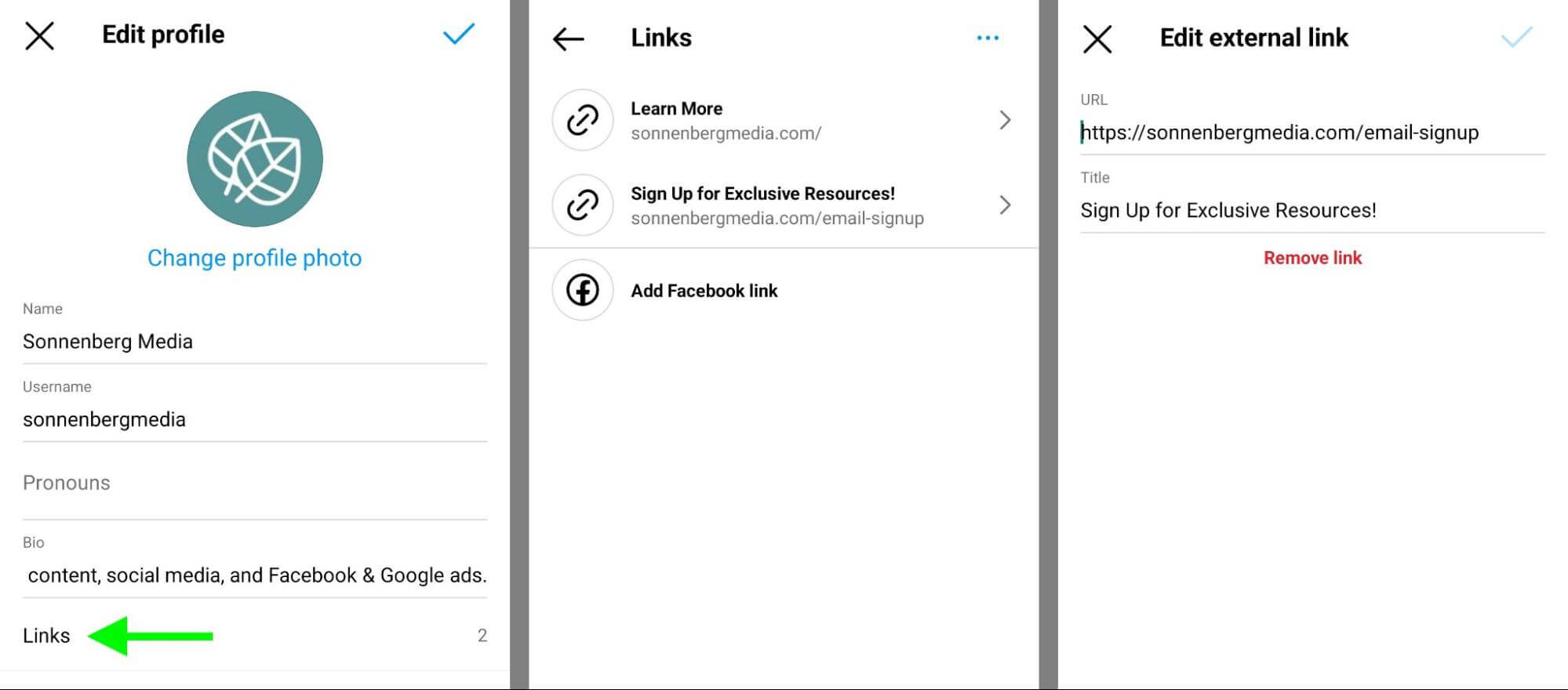 When adding multiple URLs to your bio, make sure to add a title or a brief CTA to each link. Otherwise, users will have to guess what each link is for, which may make them less inclined to tap and visit.
Instagram profiles with multiple bio links display the first URL, followed by the number of additional links. When users tap the URL, they can view the full list of options and tap to visit any of the URLs.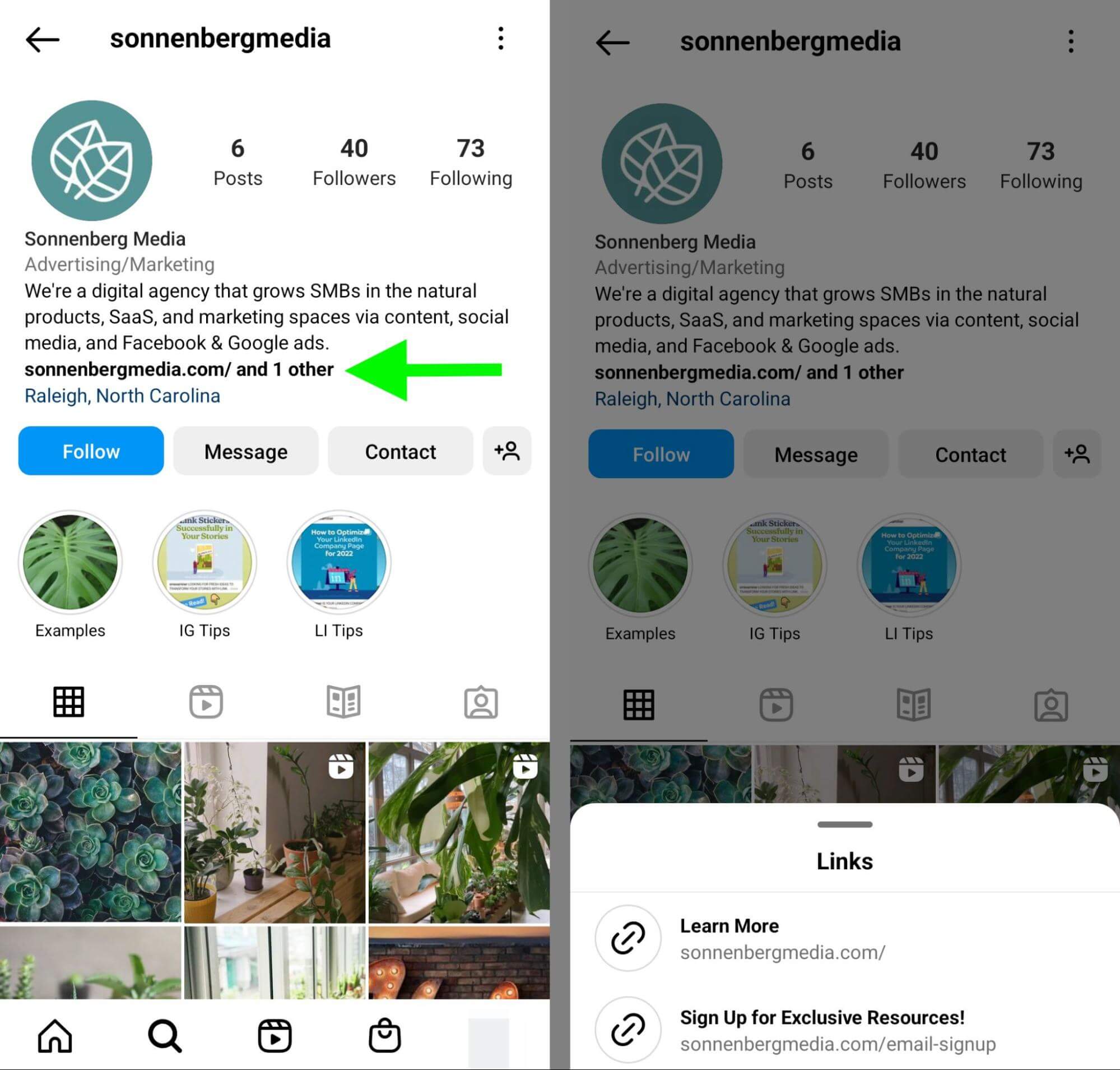 Link in Bio Tool
If your Instagram profile doesn't support multiple URLs, you can still add extra links to generate email signups. One option is building an Instagram landing page on your company's website and linking to it from your Instagram profile.
Another option is using a third-party tool to create a mobile-friendly Instagram landing page. For example, you can use free tools like Linktree to create a simple landing page with multiple links. Then you can order them in any way that fits your marketing goals.
Get Your FREE Course: Web3 for Beginners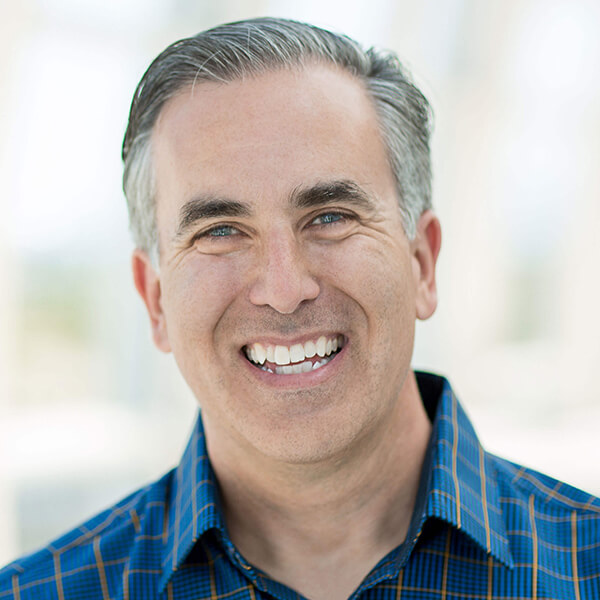 Curious about Web3, but don't know where to start or who to trust?

Introducing Web3 for Beginners, a course taught by Michael Stelzner, the founder of Social Media Examiner.

Learn the basics of Web3 and apply it to your business with this FREE comprehensive course.
CLICK HERE TO GET FREE ACCESS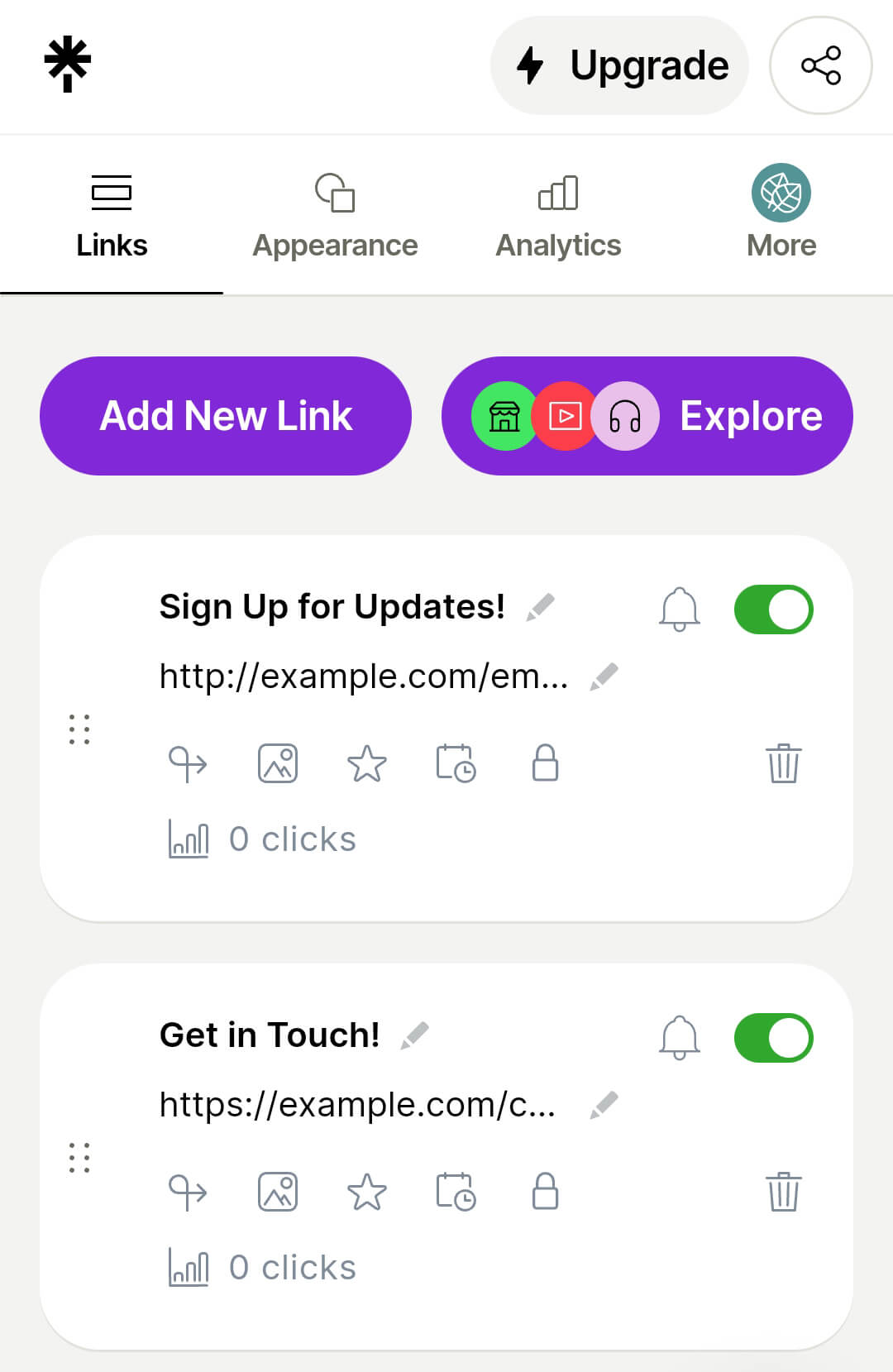 #2: Create an Email Sign Up Lead Form Action Button
Do you want to give prospective customers an easy way to express interest in your business and request an email follow-up? Instagram recently rolled out a new option for adding a lead form to your business profile.
Lead forms display on your Instagram profile with a Sign Up, Learn More, or other default CTA. When users tap the action button, the lead form automatically populates with their contact information including their email address.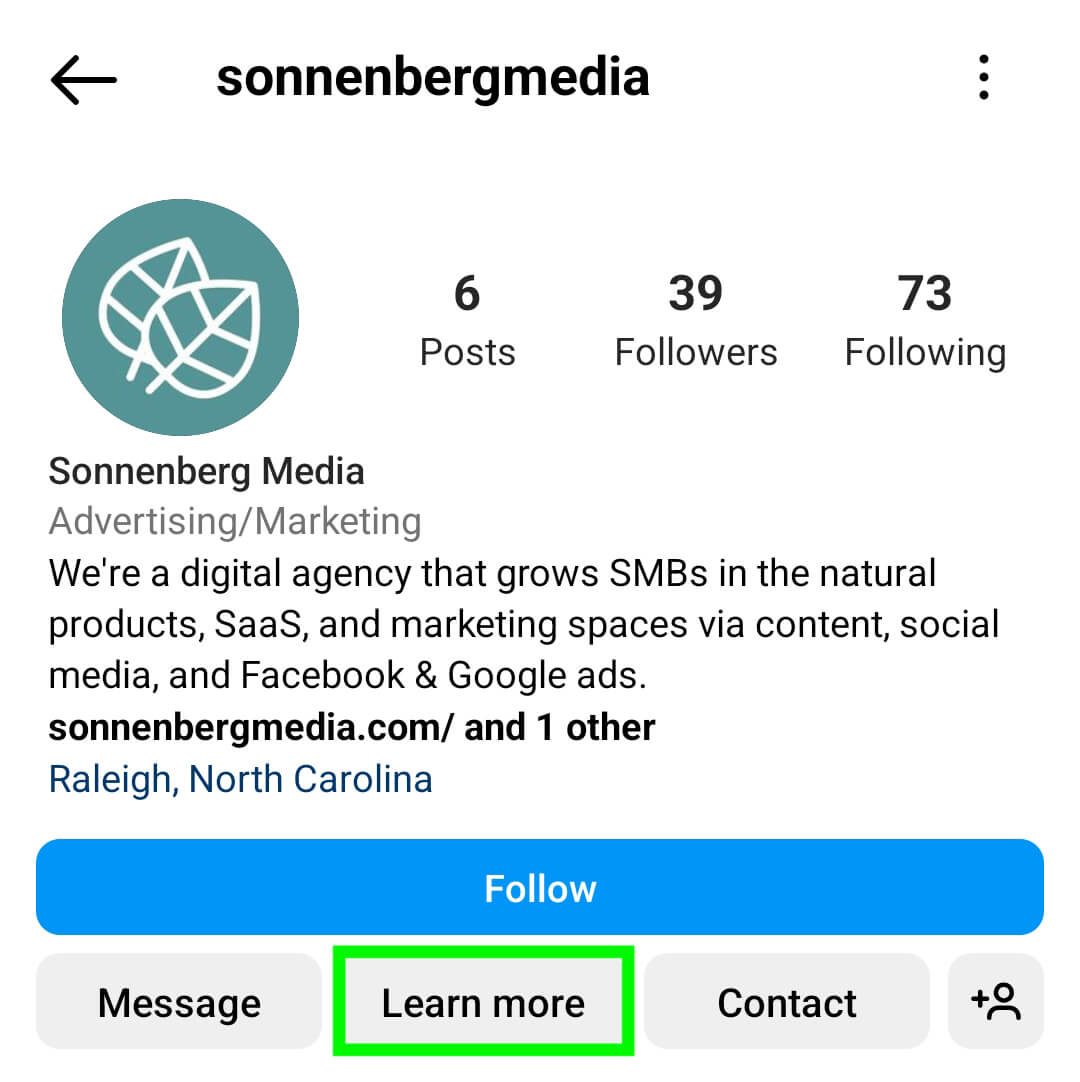 To add a lead form action button, open the Instagram app and navigate to your profile. Tap the Edit Profile button and scroll down to Action Buttons. Note that you can have one active action button at a time so creating a lead form will disable any existing action button you've created.
Select Add Lead Form from the list of action buttons. Then choose the type of form you want to add. If you choose a standard lead form, Instagram automatically adds a form that collects users' email addresses, phone numbers, and other details. Just tap Done to add the action button to your profile instantly.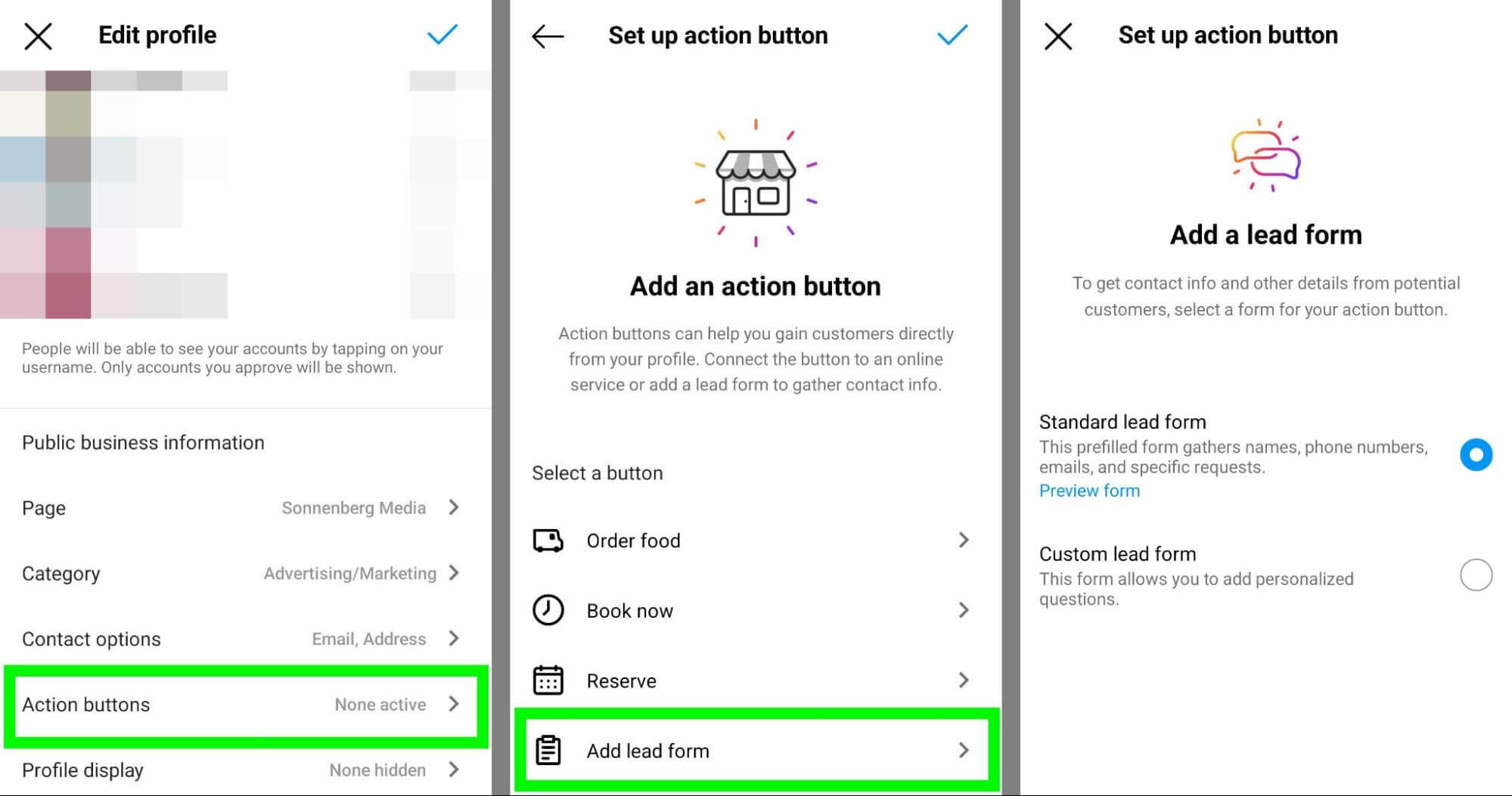 You also have the option to create a custom lead form with up to three personalized questions and information requests. Although it takes a little longer to create a custom lead form, it's more likely to meet your business' unique needs while creating minimal friction for your target audience.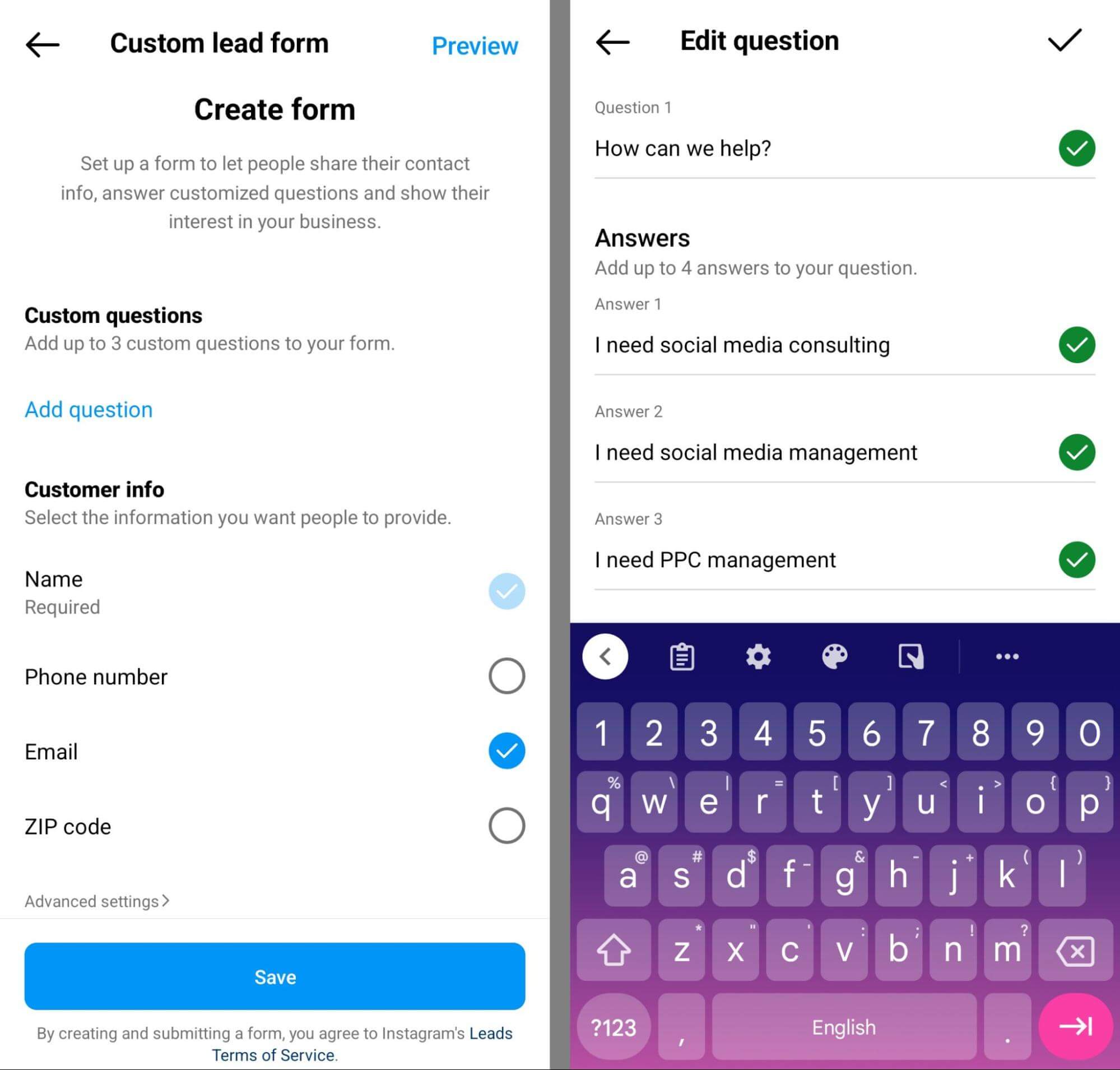 Once you've created a lead form action button, anyone can access it from your Instagram profile. You also have the option to promote the action button in stories. Add a Get Quote sticker to your stories to get more leads and email signups.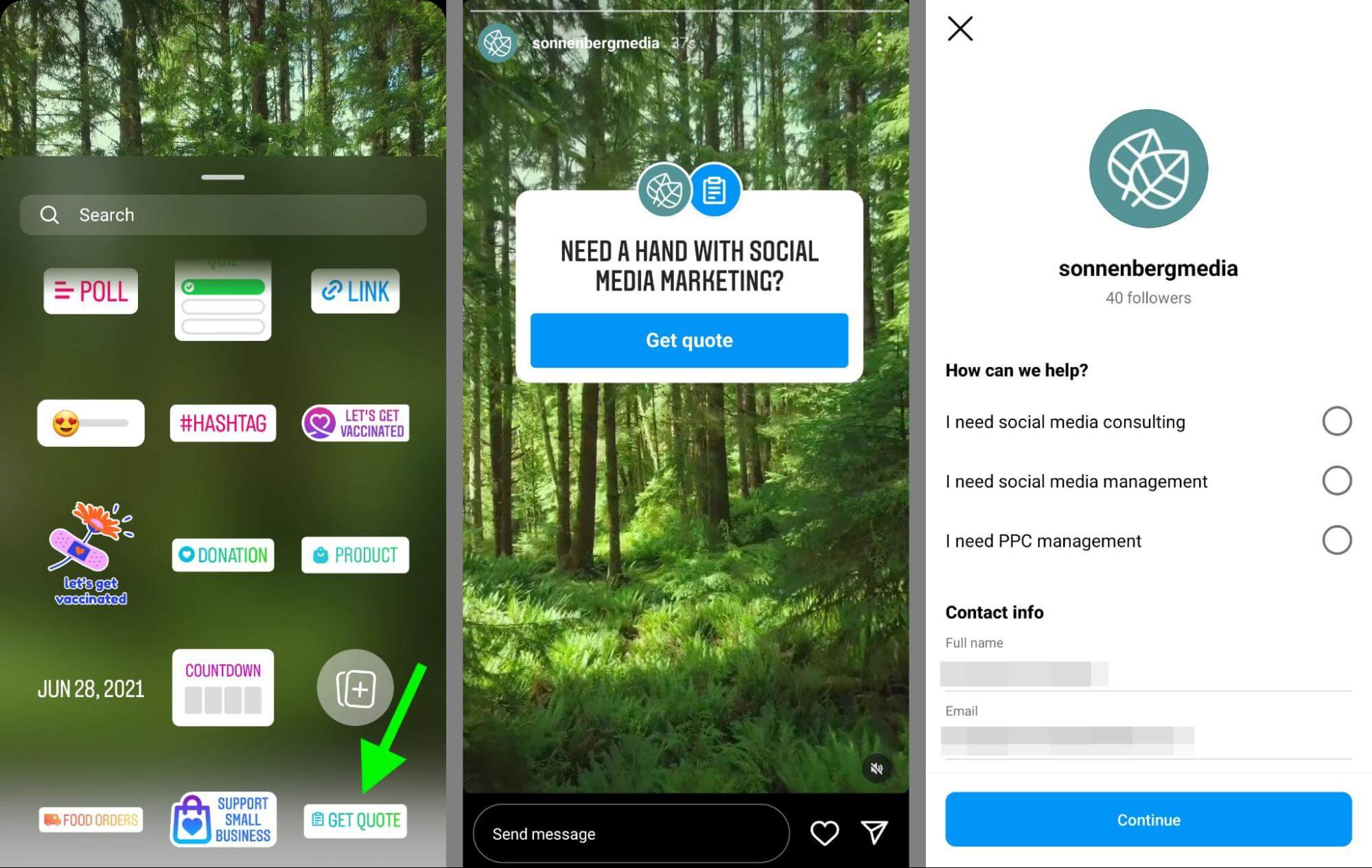 #3: Include Email Sign Up Opportunities in Automated DM Responses
Do you have to process new email signups via a lead form or an external site? Not necessarily. You can also collect contact information directly from new subscribers right on Instagram.
If you opt to connect directly with subscribers, make sure to do so in DMs. Requesting email addresses in comments doesn't protect the privacy of your customers so you may not get many signups. Let's look at a few ways to collect subscribers efficiently.
Instant Reply
If you already receive a lot of DMs, an automated instant reply can help you turn prospects into subscribers. To set up a welcome message, open Meta Business Suite and go to your inbox. Select Automations and create a new instant reply.
Then write a short message prompting users to provide their email addresses. Keep it short and sweet so users can read and respond quickly. Note that instant replies automatically work in Facebook Messenger and Instagram Direct so make sure to uncheck Messenger if you want to use the prompt on Instagram only.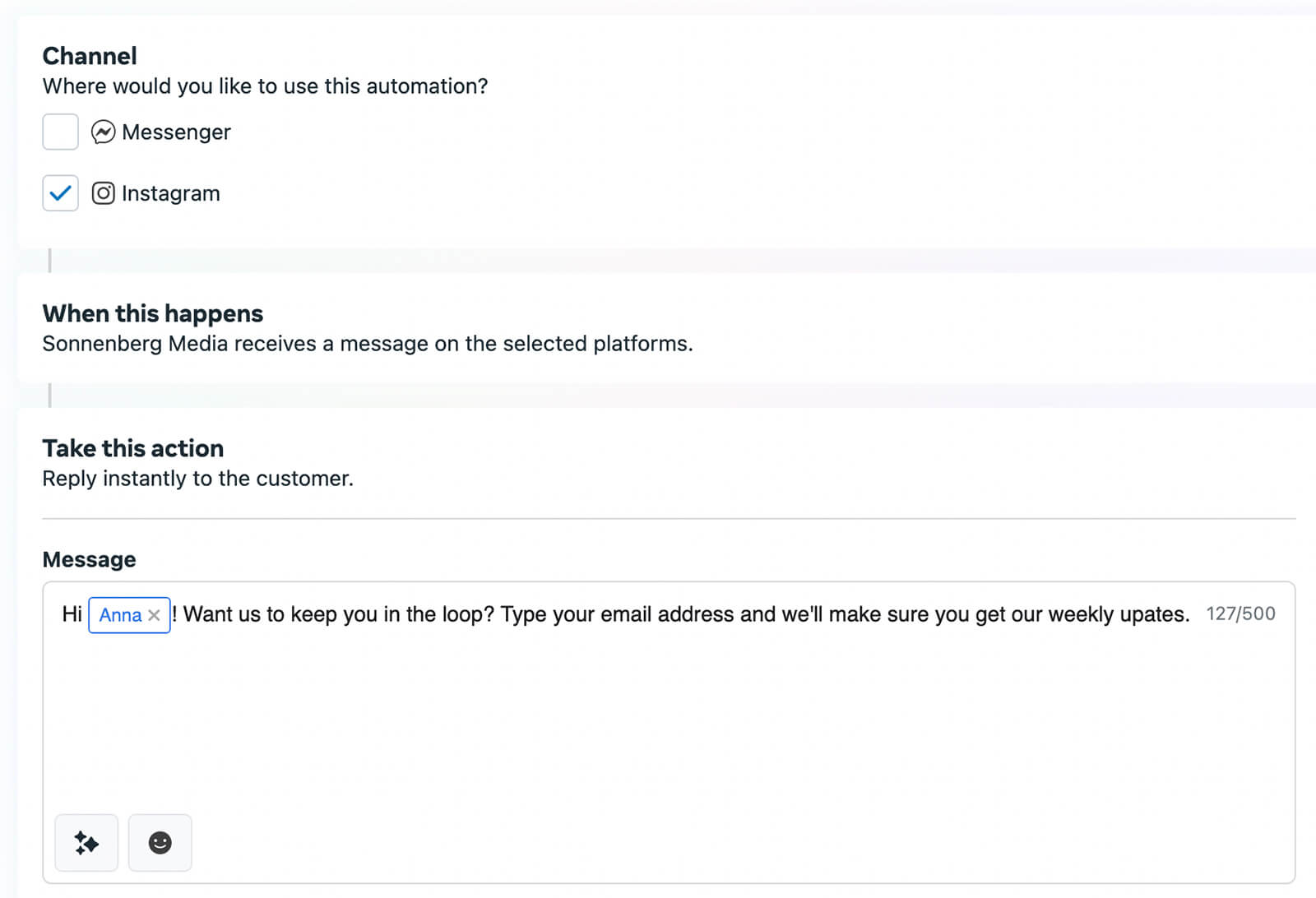 Frequently Asked Questions
Don't want to dedicate your account's lone instant reply to growing your email list? You can add a signup prompt to your account's frequently asked questions instead. Although users will have to interact with your FAQs to see the prompt, it can still help build your list.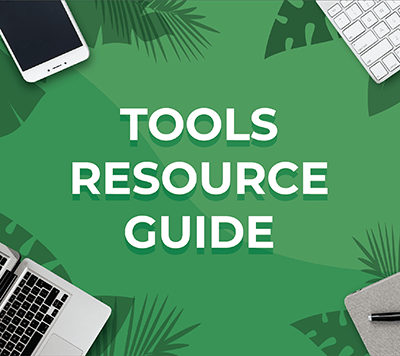 Looking for something to make your life easier?
Discover the tools we recommend to drive engagement, save you time, and boost sales across your entire marketing funnel or business.
Whether you need help planning content, organizing social posts, or developing your strategy, you'll find something for every situation.
FIND YOUR NEXT FAVORITE TOOL
To set up FAQs, use the inbox automation tool in Business Suite. You can add up to four questions, each with an automated response. Then you can order them in terms of importance or relevance to your marketing goals.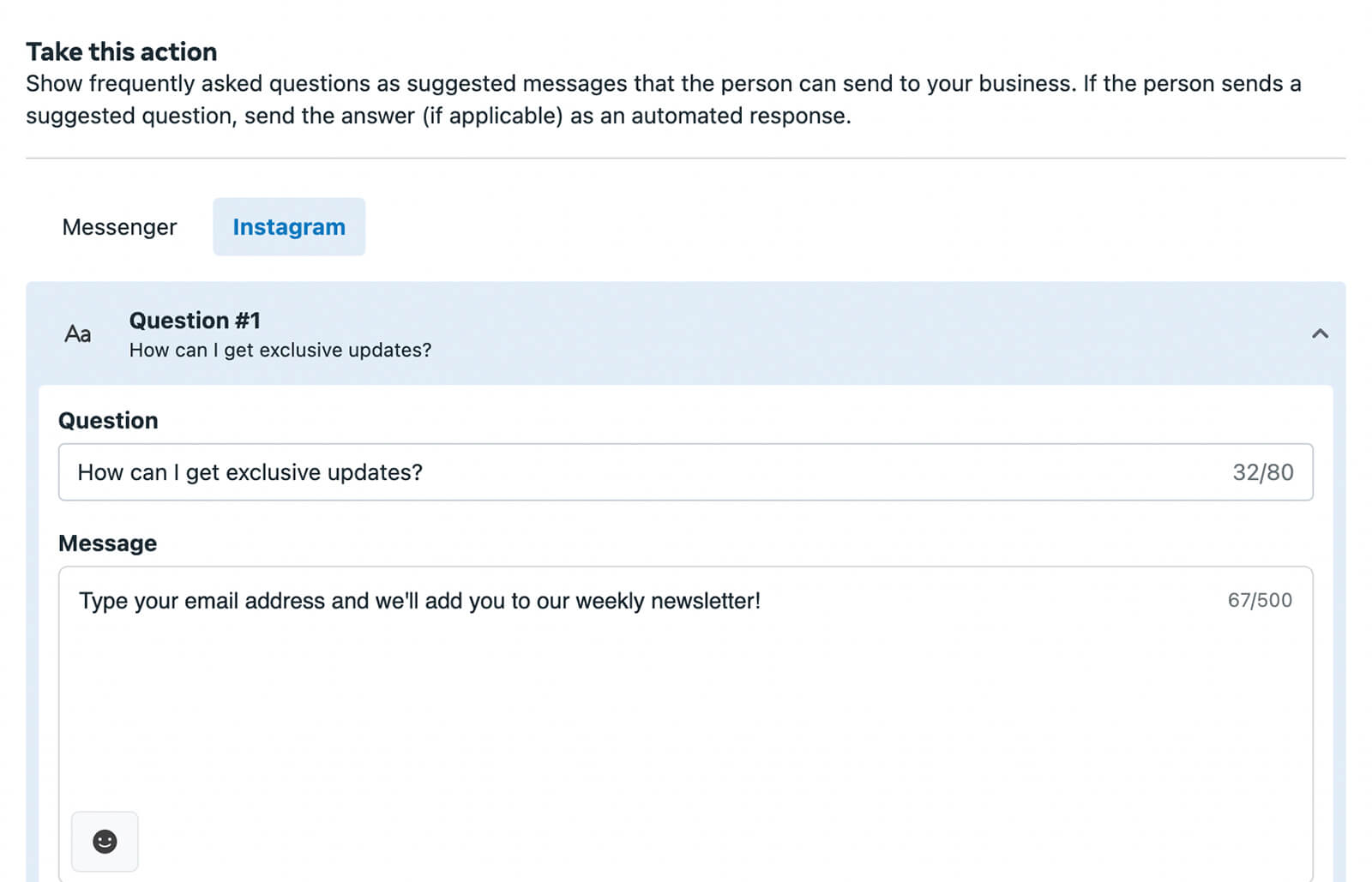 Saved Replies
Saved replies aren't quite automated but they can help you respond to engagement more efficiently and give you options to generate email signups. For example, you can offer a lead magnet that you created using the workflow we covered above. But rather than directing prospects to an external resource, you can encourage them to DM you for access.
When prospects DM you, have a saved reply ready to prompt them for their contact information. Once you get their email address, have another saved reply ready to tell them to keep an eye on their email inbox, where you'll send the resource.
To set up saved replies, open your Instagram account and go to business settings. Select Saved Replies from the menu and tap the + button to create a new one. When you need to respond to a DM, select from your saved replies menu rather than typing out the same standard responses every time.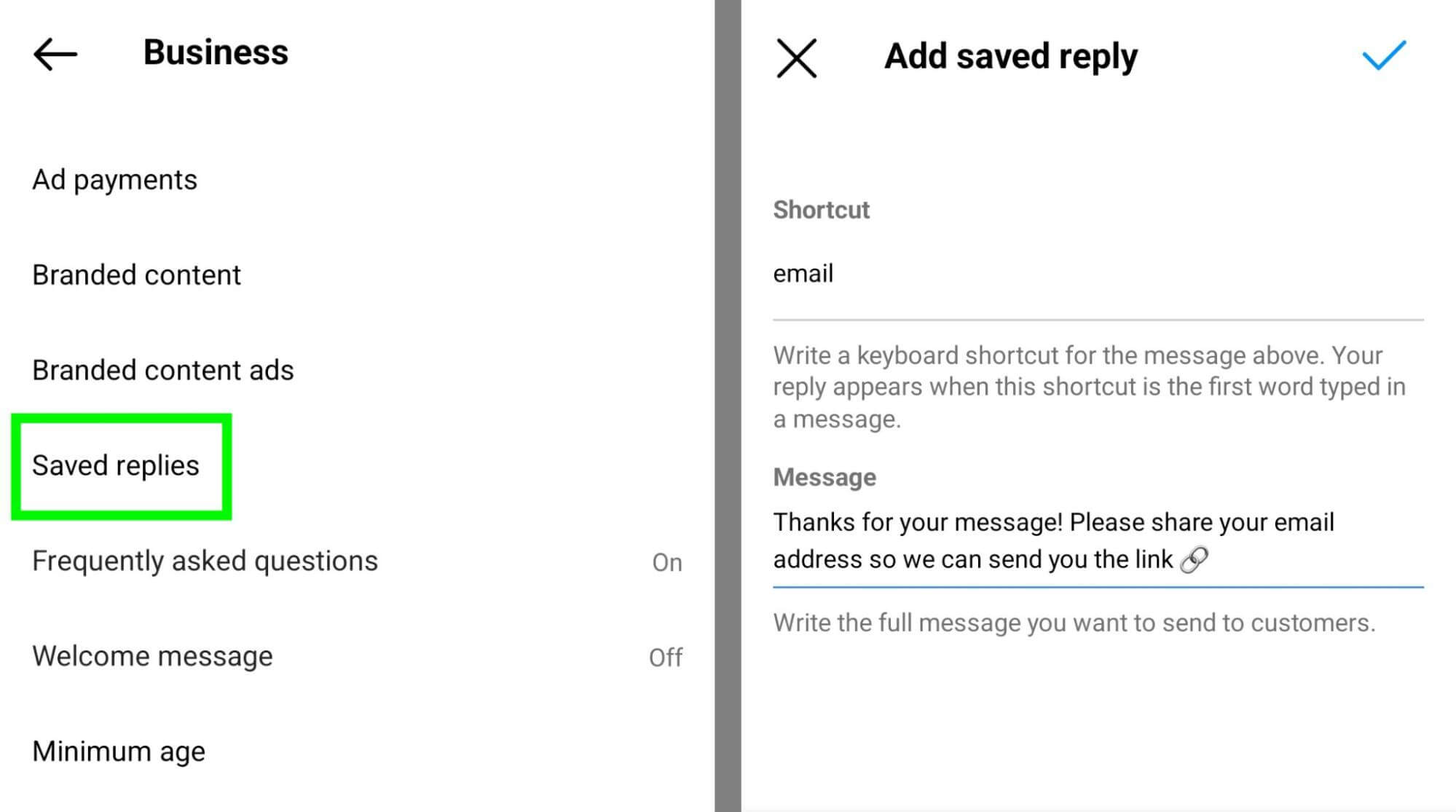 #4: Offer an Incentive to Prompt Email Sign Ups
In some cases, longtime followers or eager customers may not need an incentive to sign up for your email list. But in most cases, it's helpful to give people a reason to subscribe, especially if building your list is a key goal.
Create a Lead Magnet
One way to encourage new subscribers to sign up is to offer an exclusive resource. Think lead magnets. For example, you might promote your latest eBook, a checklist you made for new customers, or a guide to getting started with a service your business offers.
If you gate your lead magnet behind an email subscription, then you can essentially offer the resource in exchange for prospects' contact information. You can set this up by creating a dedicated landing page for the lead magnet.
Once you produce a lead magnet that you know your prospects will want, you can highlight it in Instagram posts, reels, and stories. For example, you might film your team talking about the eBook or you might share a sneak peek of the starter guide.
Then link to the landing page in your Instagram bio or your third-party landing page tool. You can point people to your profile, where they can tap the link to access the lead magnet. You can also link directly to the lead magnet by adding a link sticker to your Instagram stories.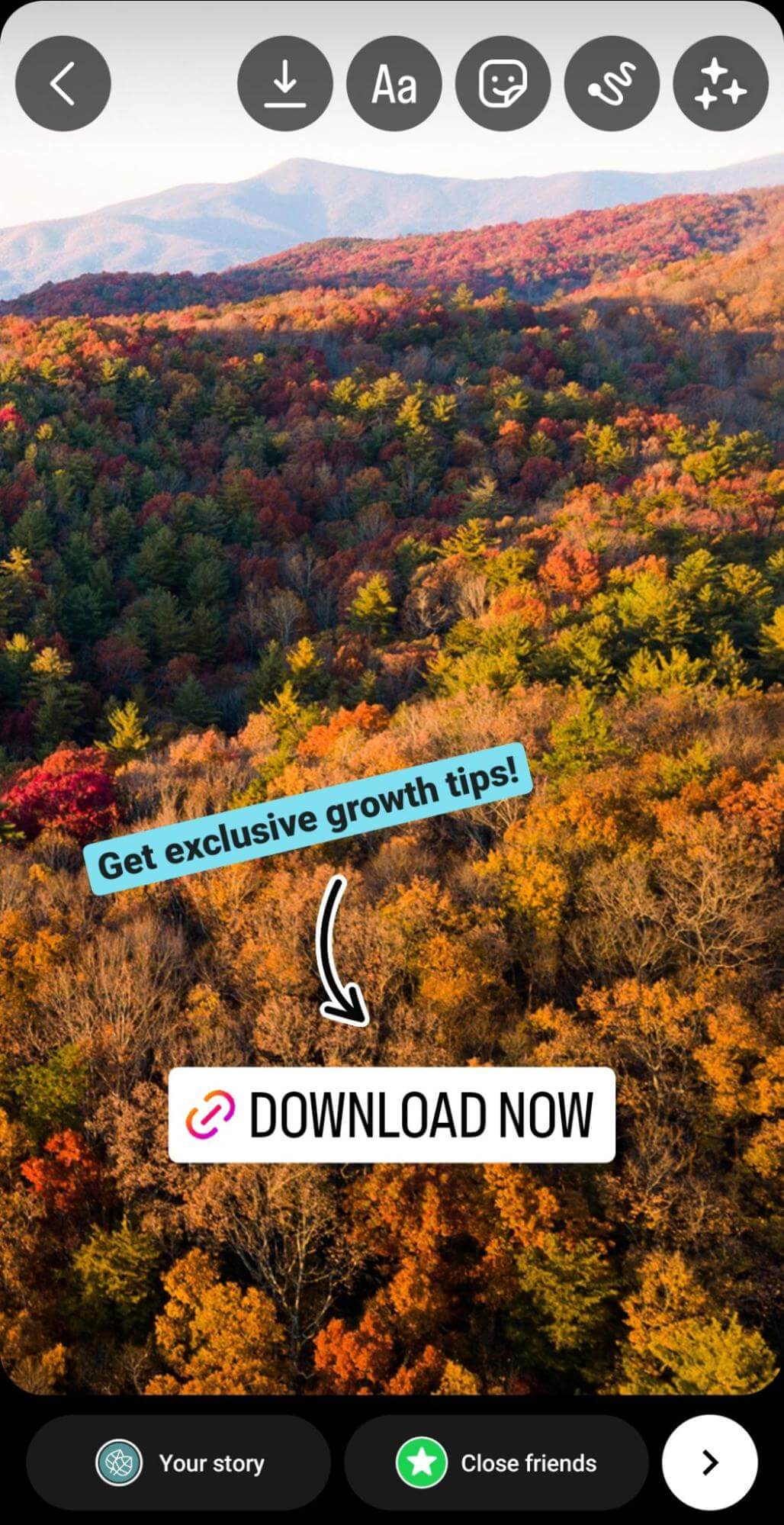 Host a Contest or a Giveaway
Lead magnets are just one option for incentivizing potential customers. Another option is hosting a giveaway or a contest to generate more email signups.
Use the same principles from the lead magnet idea for a contest promotion. Make sure the prize is something that truly appeals to potential customers and ensure it provides enough value to make customers want to share their contact information in exchange.
To host a contest or giveaway, you can follow the same workflow as the one we covered above. Build a simple landing page where prospects can provide their contact information to enter the contest. Then link to it in your Instagram bio and link stickers. Before launching, make sure your plan follows the Instagram promotion guidelines.
Promote a Discount Code
If your customer base tends to be cost-conscious, then a contest with a great prize could incentivize them. But offering an exclusive discount code may help you get more new subscribers.
Again, you can use the same workflow as above. Encourage customers to visit an external landing page, where they can submit their contact information and sign up for your list in exchange for the coupon code.
3 Ways to Grow Your Email List on Instagram Using Instagram Ads
When you want to accelerate your approach and generate more email signups, Instagram ads are a great choice. Let's look at the options for boosting organic posts and creating targeted ad campaigns.
#5: Boost Successful Organic Content
If one of your organic posts, reels, or stories generates a ton of email signups, sponsoring the content could help you attract even more new subscribers. To promote organic content quickly, tap the Boost button from your Instagram account. Note that Instagram doesn't allow you to boost stories or reels that have tappable elements.
Then choose a goal based on how you want to collect new signups. For example, you can direct users to your profile to get them to tap your action button. You can direct them to your website to get them to fill out a form. And you can prompt them to send a message if you want to engage with them in DMs.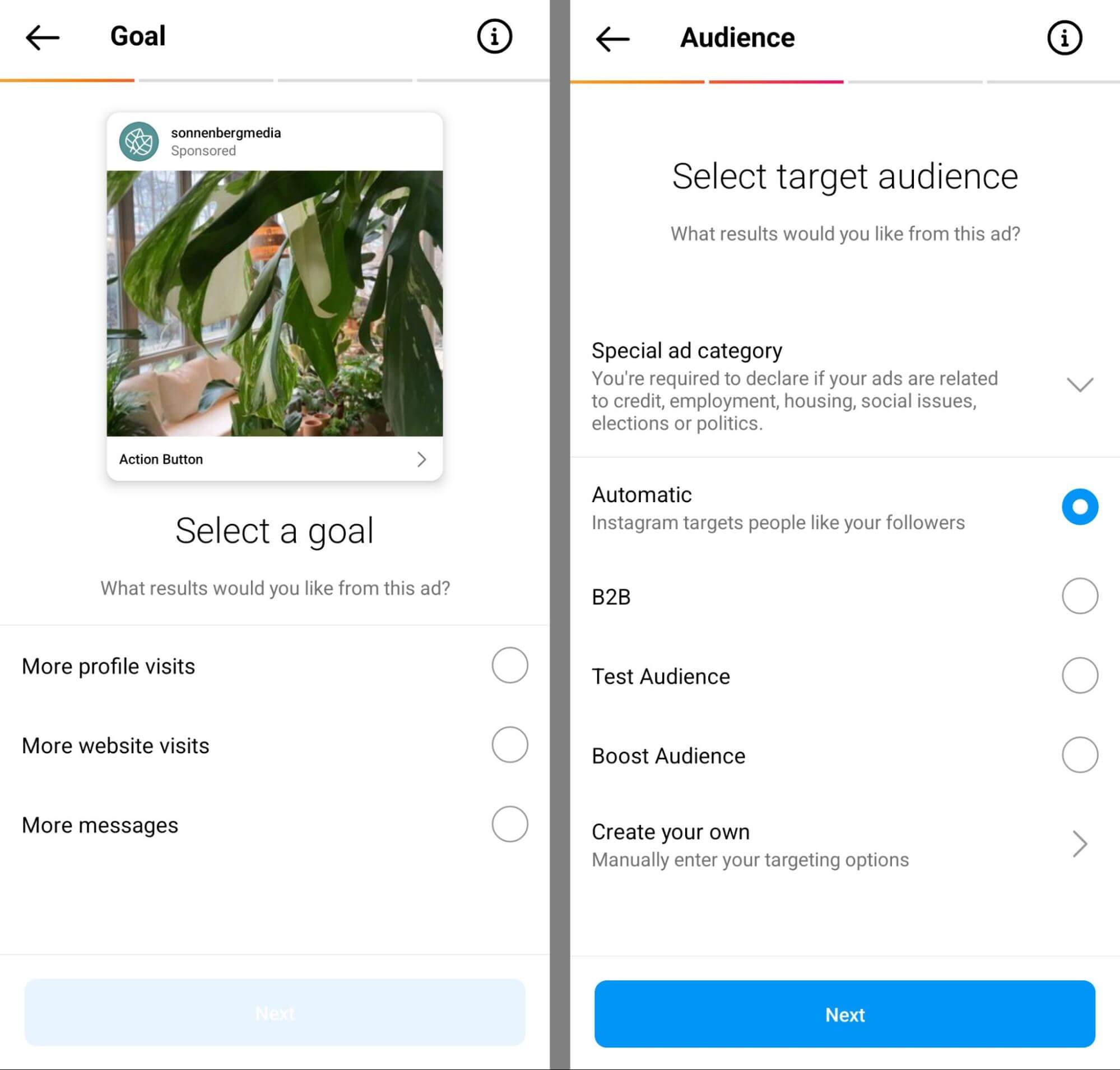 #6: Run Engagement Ads
If you're boosting content to a cold audience, generating new signups can be more difficult than you might think. But when you run paid promotions through Ads Manager, you can create full-funnel campaigns that introduce your business, educate potential customers, and gradually warm up your audience.
By running a series of engagement ads, you can get prospective customers to watch your videos and interact with your sponsored content. With engagement ads, you can also get potential customers to message you with questions about your business, product, or services.
In your engagement ads, you can use tactics similar to the organic methods we covered above. For example, you can offer a discount or a lead magnet. Instead of sending them to an external landing page, you can prompt potential customers to message you for the code or resource.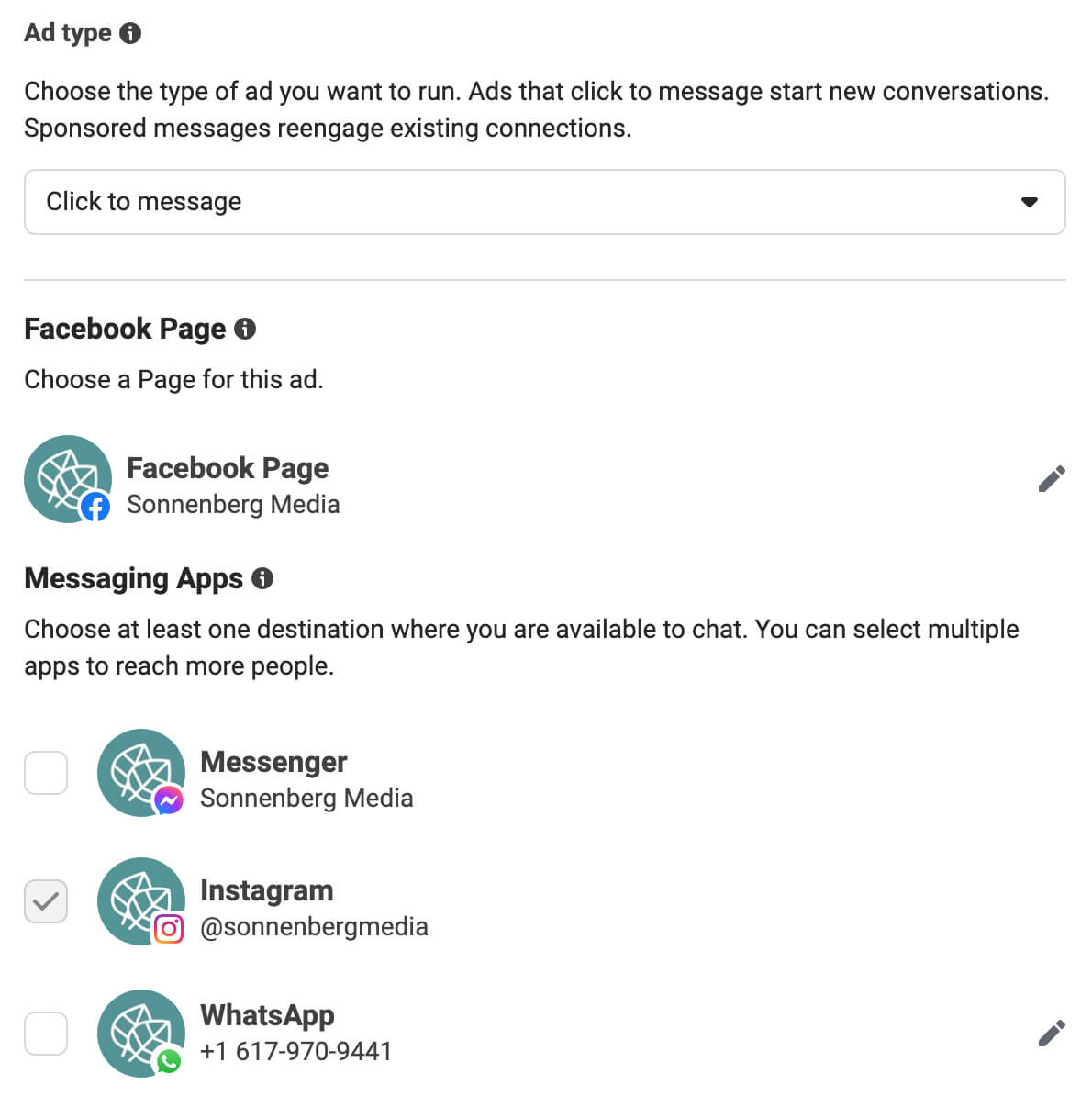 When setting up this type of ad, be sure to choose Instagram Direct as the messaging platform. Then create an automated messaging template that invites prospects to share their contact information. You can then provide the promo code or resource link directly in DMs, or you can email it using the contact information you just acquired.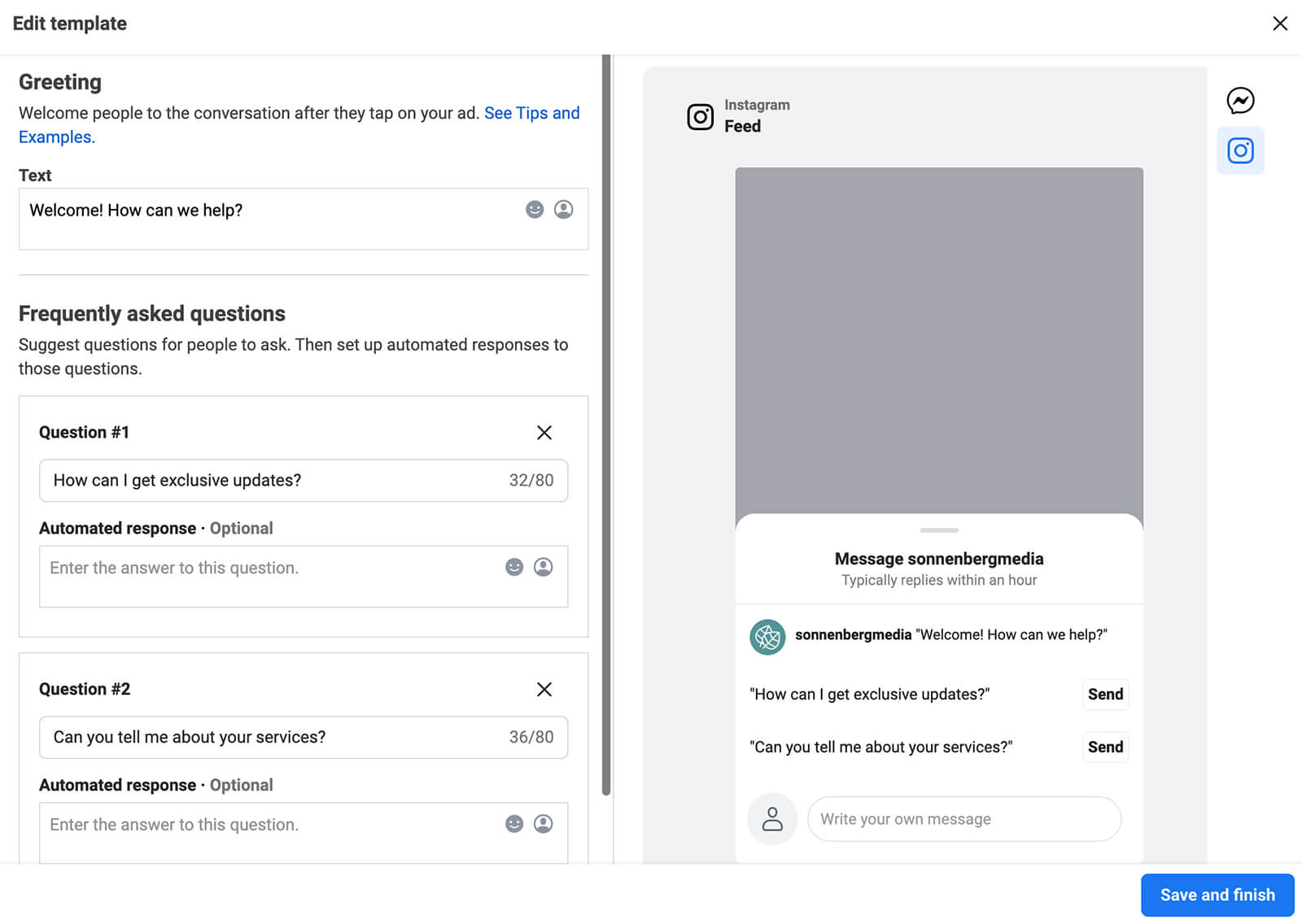 #7: Create Lead Ads
Want to collect email signups via a landing page or automated form instead? Use the lead objective in Ads Manager. At the ad set level, choose where you want prospects to submit contact information including options like your website or a native lead form.
If you've already built a high-performing landing page, using your website is a good choice. For example, the @zenefits Instagram ad below promotes an HR resources pack in exchange for customers' email addresses. When you tap the Download CTA, Instagram automatically redirects you to the HR technology brand's dedicated landing page.
Alternatively, you can attach a native lead form to your Instagram ad. If you've already created a lead form action button for your account, you can repurpose or enhance the form in Ads Manager.
For example, the @propellantmedia Instagram ad below uses a native lead form to collect prospects' contact information. To make the lead magnet's value proposition clear, the ad clearly highlights the guide's many benefits. In addition to requesting prospects' email addresses, the form also asks a series of custom questions to simplify lead qualification.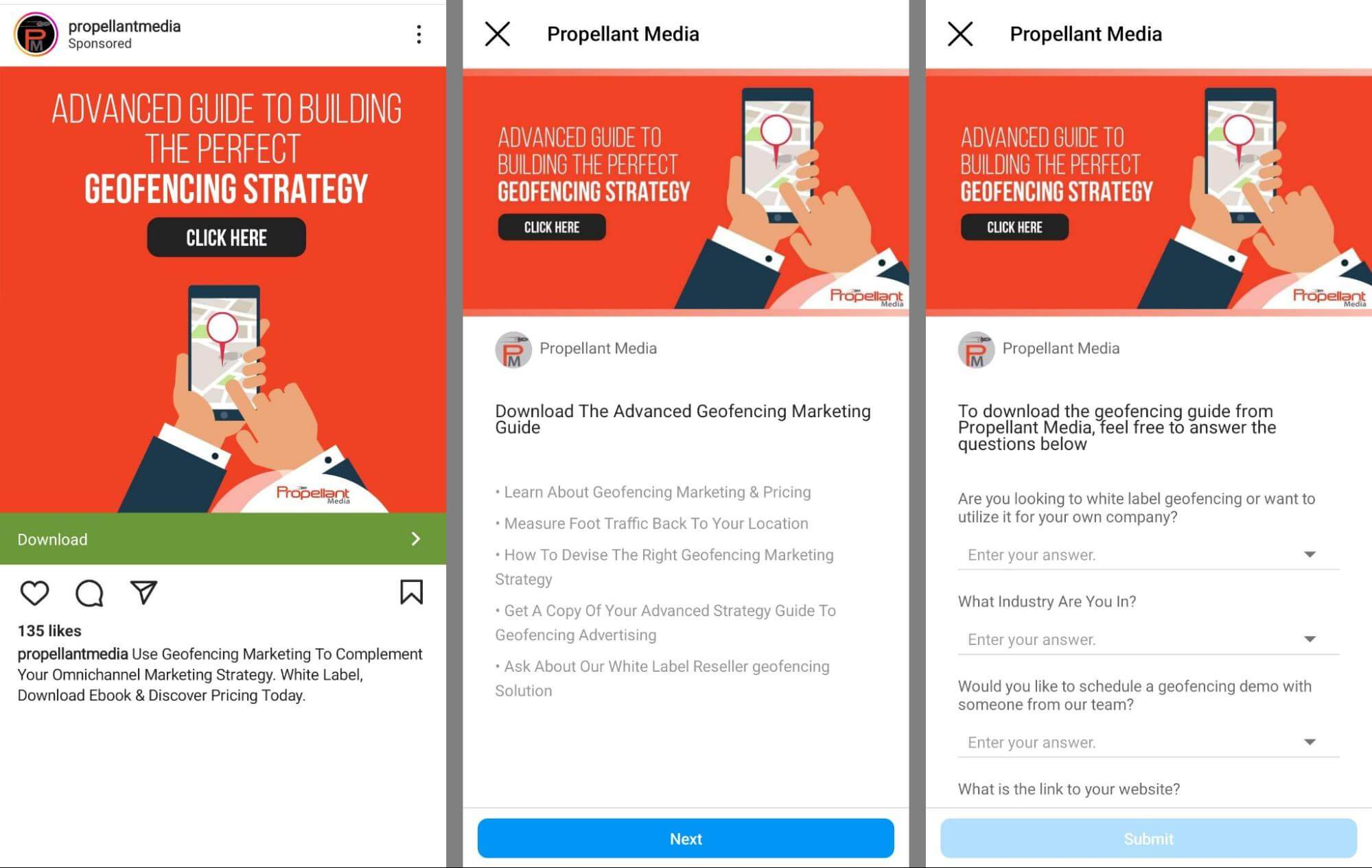 Conclusion
From engaging with potential subscribers to directing followers to landing pages, you have a wide range of options for generating new email signups on Instagram. Use the ideas above to build your strategy and make the most of both paid and organic tools.
---
Stay Up-to-Date: Get New Marketing Articles Delivered to You!
Don't miss out on upcoming social media marketing insights and strategies! Sign up to receive notifications when we publish new articles on Social Media Examiner. Our expertly crafted content will help you stay ahead of the curve and drive results for your business. Click the link below to sign up now and receive our annual report!
Get Your FREE Course: Web3 for Beginners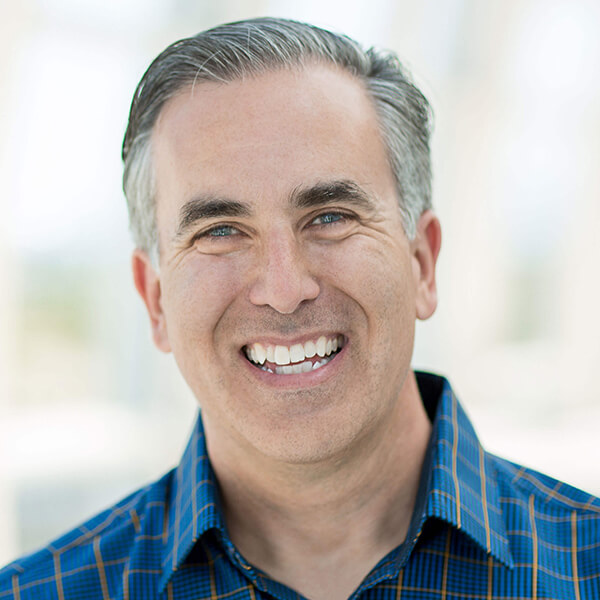 Curious about Web3, but don't know where to start or who to trust?

Introducing Web3 for Beginners, a course taught by Michael Stelzner, the founder of Social Media Examiner.

Learn the basics of Web3 and apply it to your business with this FREE comprehensive course.
CLICK HERE TO GET FREE ACCESS