Wondering how to build media that boosts a DAO or NFT project? Looking for a model to help you leverage token holders?
In this article, you'll discover a three-part framework for building a decentralized media entity you can use to grow the exposure of your project.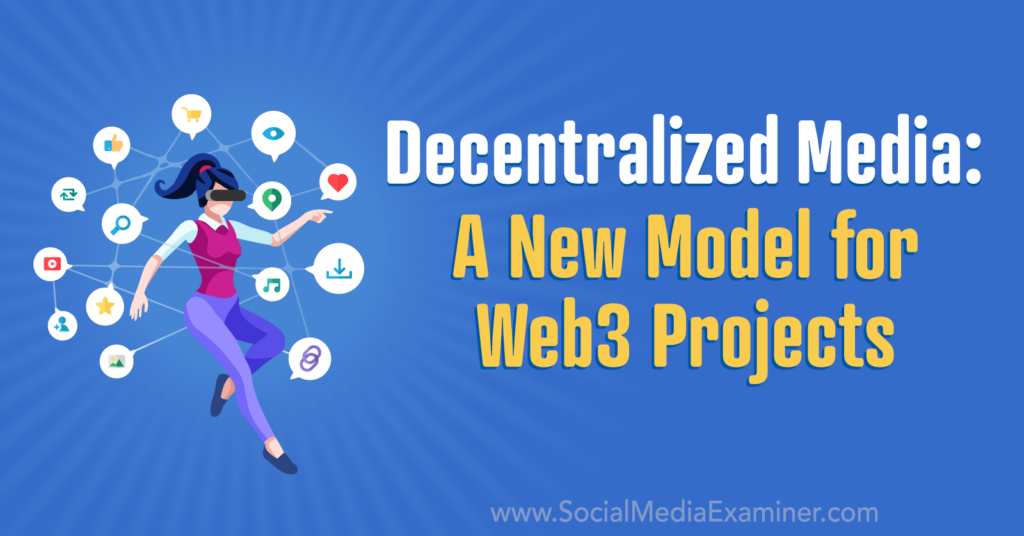 The Opportunity in Web3 Decentralized Media
Creators weigh three factors when choosing which media platforms to use: distribution, tools for creation, and revenue share.
Distribution is built into the network on any given platform via follower count, likes, impressions, and so on. Unfortunately, most networks minimize the reach of any content that doesn't exist natively on that platform, so if you're not creating there, you're at a disadvantage. Further, regardless of where you create, it's almost impossible to achieve reliable distribution anywhere without paying for it.
Tools for creation are critical. TikTok has leaned into this with their video creation tools but many platforms are actually reducing their toolsets. For example, Instant Articles and Notes are both gone from Facebook. When coupled with the fact that platforms prefer native content, this presents creators with a disadvantage.
Revenue share is the final piece of the puzzle. Most platforms have figured out monetization via ads or subscriptions but very little of that revenue makes its way down to the people actually creating the content. YouTube currently leads in this category by delivering 55% of revenue from long-form video and 45% of revenue from shorts back to creators.
To date, no single platform has actually managed to align all three factors in a way that truly supports creators across the board.
This presents a trilemma for creators because they need all three to survive and thrive.
Web3 is playing a critical role in dissolving this trilemma via decentralized media.
Revenue Share: Web2 vs. Web3
In a decentralized media model, revenue share gets twisted into value retention enabled by tokens.
We know that YouTube shares a percentage of ad revenue with creators. Now, imagine if each creator also had an equity share in the value of the YouTube brand. Or Nike. Or Instagram.
This model is already in use in Web3. The Nouns NFT project mints and auctions a single NFT each day.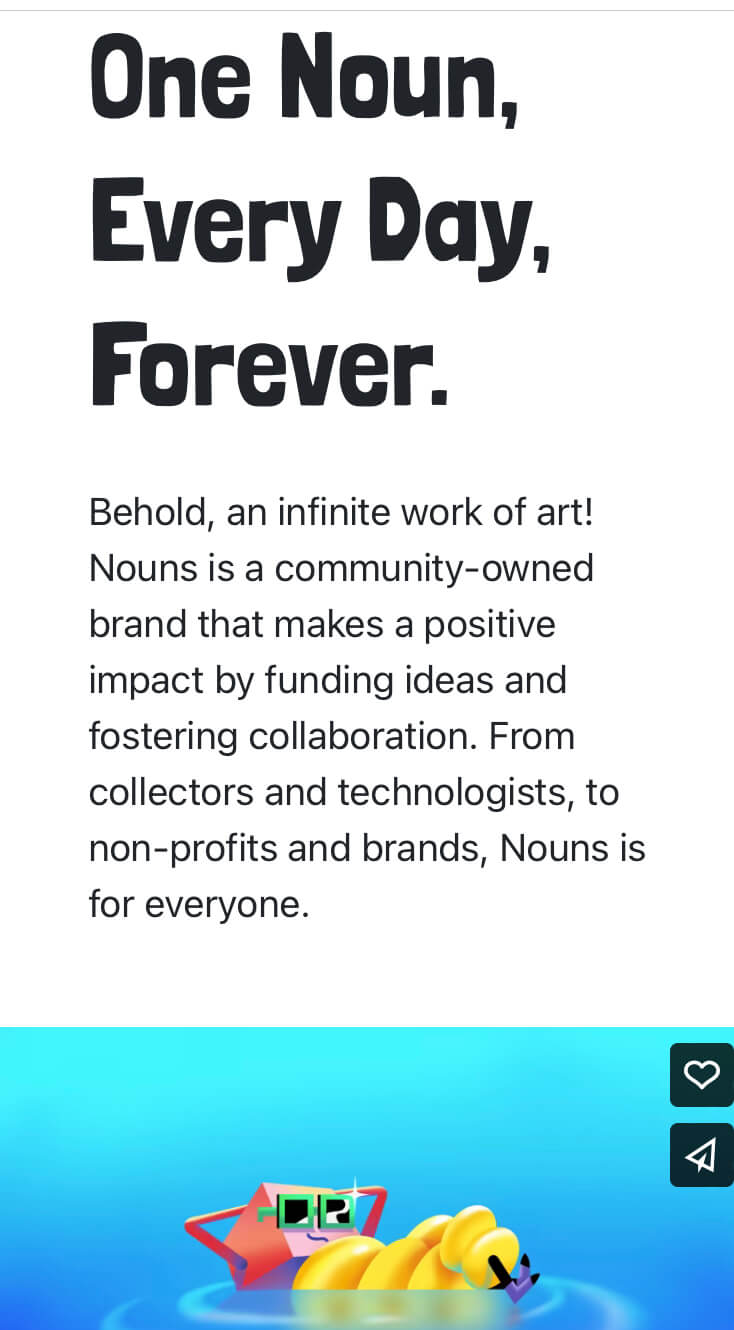 If you win the auction, you own the NFT. You also get a vote in whether the shared treasury funds a proposed initiative; therefore, you have a perpetual attachment to the value of the Nouns brand.
Distribution: Web2 vs. Web3
Distribution is built into decentralized media through the network effect of tokens.
In much the same way that people feel an immediate affiliation with others who graduated from the same college or share the same faith, people who own an NFT from the same project feel an affinity.
They get to know each other, learn what the other is working on, and, if that work is creating something of value, they share it and talk about it. This effectively creates shared distribution that grows as the project grows.
At the same time, that distribution isn't guaranteed. It's in the best interest of each holder to do what's in the best interest of the project so its value continues to grow. This means your work still has to bring its own value to the table for people to share it.
Tools for Creation: Web2 vs. Web3
Expand your understanding of tools for creation beyond an in-app user experience or user interface, and consider that tools for creation are simply resources provided to you. With that perspective comes a much broader array of tools.
For example, suppose you are a Nouns holder. In that case, your resources are your Nouns NFT, your potential access to funding via the shared Nouns treasury, your vote in how the Nouns treasury funds are allocated, and the distribution inherent across the Nouns membership.
That shared treasury and funding are very much tools for creation because they enable you to build something of value… a skate park or even in-app UX of UI.
What's exciting about projects like Nouns is that you don't have to hold a Nouns NFT to apply for funding.
In addition to capital, knowledge and resource sharing also qualify as tools for creation in Web3.
Take Up Space, a new decentralized media DAO, has a lot of knowledge capital around podcast production.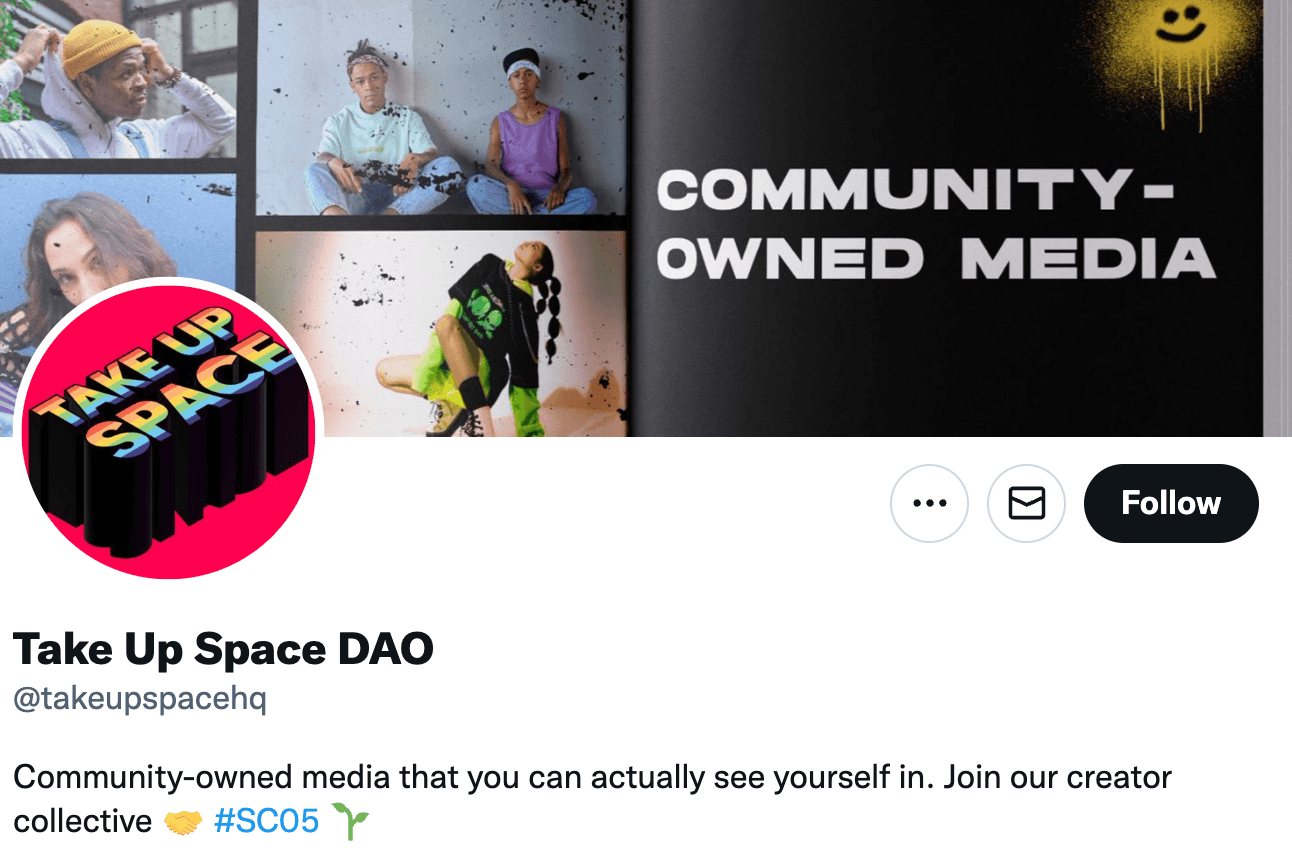 As soon as a random internet user with zero understanding of producing a podcast joins that DAO, they suddenly have access to a shared knowledge base full of details about creating a podcast. Passing that knowledge from established TUS DAO members downstream to new members gives new members tools for creation.
How to Create Decentralized Media
There are three concentric circles of opportunity with decentralized media, and you move inward as you move toward decentralizing your media.
Decentralizing Distribution
Distribution is the outermost circle. All DAOs should begin with decentralizing distribution. The Boys Club DAO excels at this.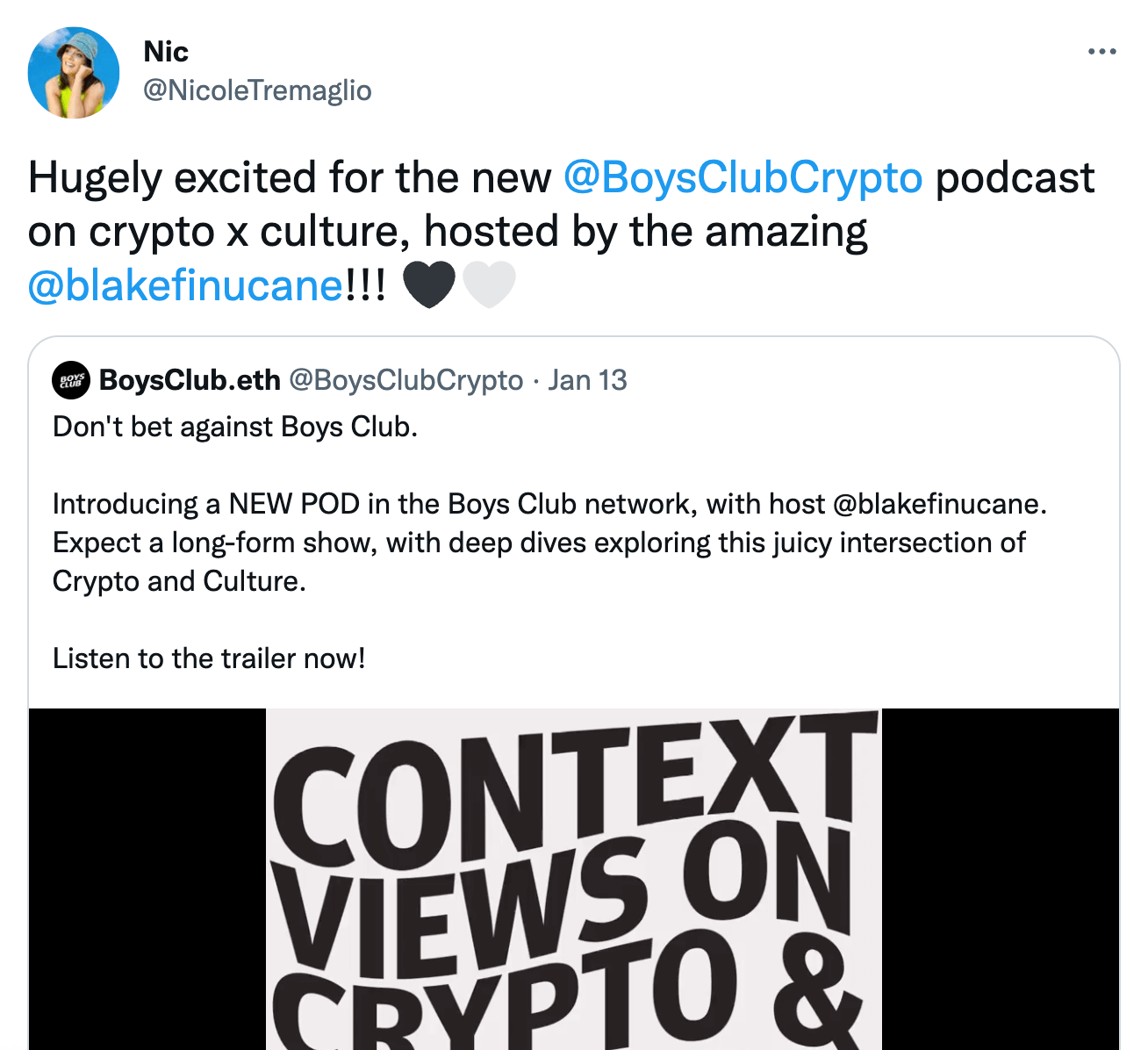 When a new Boys Club podcast episode or newsletter drops, everyone in the community takes to Twitter to discuss the latest content. The community becomes the storytellers and distributes the narrative— stirring up hype and buzz with and around the content Boys Club officially creates.
Decentralizing Curation
Curation is the next inner circle. Two good examples of decentralizing curation are Jump and Forefront.
Everyone knows the feeling of reading something on the internet and wanting to pass it on to a friend. Both Jump and Forefront gate their respective Discord servers with tokens and have a channel where token-holding members share links to articles and news items.
Someone within core leadership provides a layer of quality control by looking through the channel and pulling out the links that feel most aligned with and most relevant to the DAOs brand.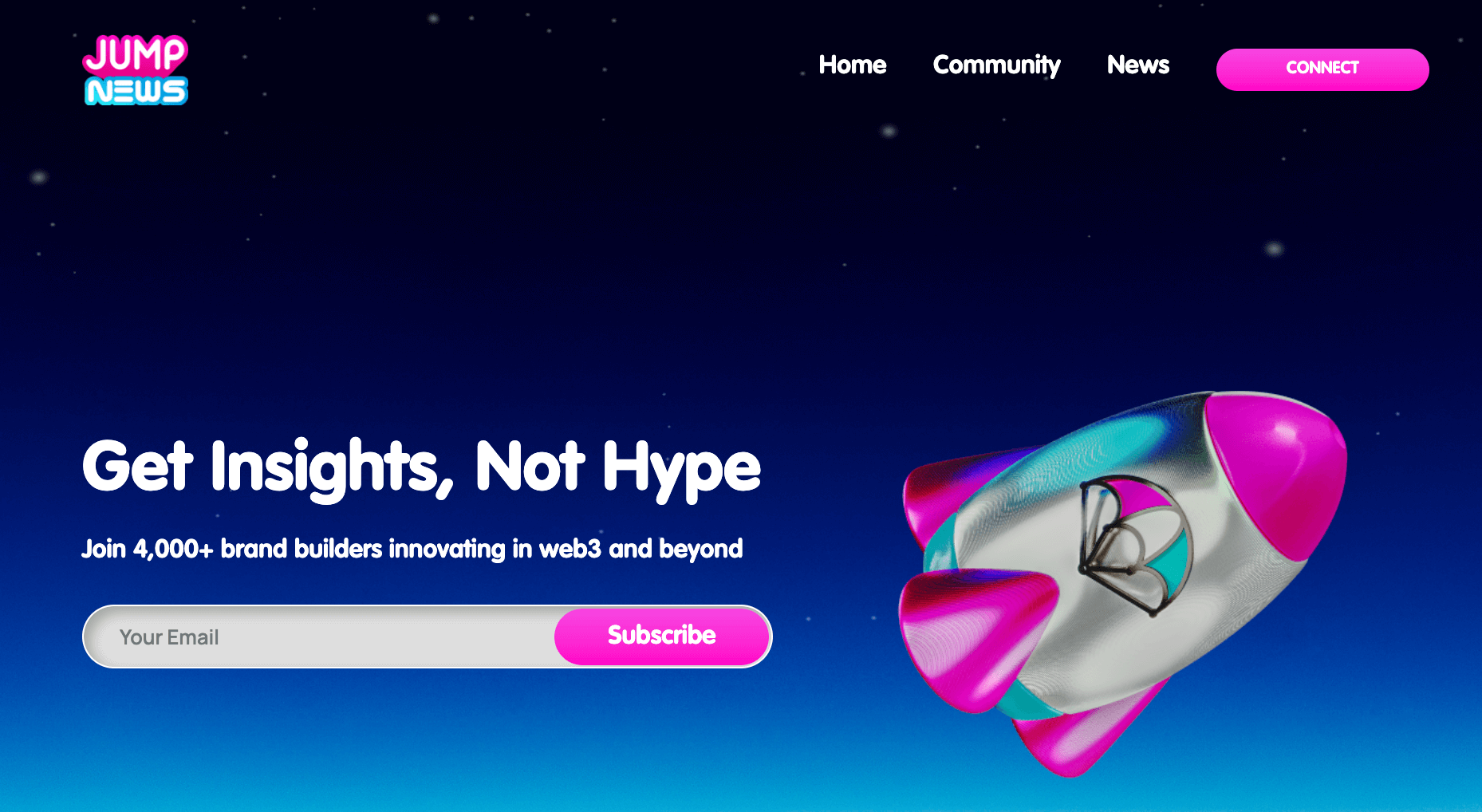 Then, they use those links to build and deliver a highly valuable newsletter to a growing newsletter list— all with content seeded by the community.
Decentralizing Content Creation
Content creation is the innermost circle. Decentralizing content creation too early is risky, especially for early-stage brands still establishing their presence.
A small team creates Seed Club's content made up of Steph Alinsug, Jess Sloss, and a few others. The content creation team is purposefully kept small to ensure the brand remains strong during the early stages of brand proliferation.
Some DAOs might keep content creation close to home for the duration.
Water & Music is a music research DAO that delivers excellent, high-quality research reports on the music industry. Everything they publish passes through the founder. Because this aspect of content creation is centralized, the DAO engages the community to decentralize distribution and curation.

Ultimately, decentralizing media in Web3 enables wider bands of participation in building brands and building media.
To sum up, Steph Alinsug advises any DAO attempting to build a media vertical to start with distribution; empower everyone in your community to be a storyteller. Run those stories through your filter to assure quality and brand alignment, and then engage in curation. When those two circles are solid, you can invite people into your curation and creation process.
Other Notes From This Episode
Where to subscribe: Apple Podcast | Google Podcasts | Spotify | Amazon Music | RSS
✋🏽 If you enjoyed this episode of the Web3 Business Podcast, please head over to Apple Podcasts, leave a rating, write a review, and subscribe.
Disclaimer: The information provided on this website is provided solely for educational purposes and does not constitute any advice, including but not limited to, investment advice, trading advice or financial advice, and you should not treat any of the website's content as such. Social Media Examiner recommends that you independently research any information contained on this Website and that you speak with an investment professional before making any decision to purchase, trade, hold or sell cryptocurrency. Nothing herein should be treated as a recommendation to buy, sell or hold cryptocurrency. Social Media Examiner cannot guarantee the accuracy of any information listed on the website and is not responsible for any missing or wrong information. All information is provided as is and should be used at your own risk. Social Media Examiner disclaims all responsibility and liability for your use of any information found on the website.