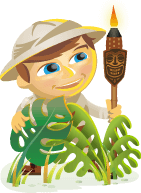 Do you plan to launch a product, project or business?
Want to learn how to use crowdfunding to support your next venture?
To learn how to succeed with crowdfunding, I interview Emily Best.
More About This Show
The Social Media Marketing podcast is an on-demand talk radio show from Social Media Examiner. It's designed to help busy marketers and business owners discover what works with social media marketing.
In this episode I interview Emily Best, filmmaker, publisher of Bright Ideas magazine and founder of Seed&Spark, a crowdfunding solution for the independent film industry.
Emily shares how she stumbled into crowdfunding and what it could mean for your business.
You'll discover what you need to know about crowdfunding campaigns, including how to get started and crowdfunding platforms.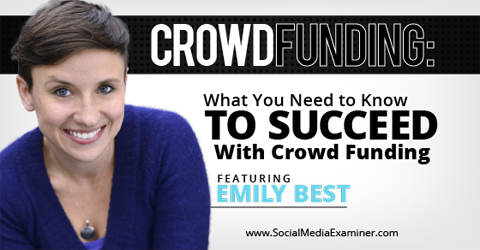 Share your feedback, read the show notes and get the links mentioned in this episode below.
Listen Now
Where to subscribe: Apple Podcast | Google Podcasts | Spotify | RSS
Here are some of the things you'll discover in this show:
Crowdfunding
What led Emily to become an independent filmmaker
Emily says she was "tricked into being a filmmaker." She was happily making no money as an actor and theater producer in NYC before she took the plunge.
Caitlin FitzGerald (who is now on Masters of Sex) played the lead in Hedda Gabler, a play Emily co-produced. She would come to the set with scripts for big indie films that had embarrassing and dismal parts for women. The largely female production group for the play would have drinks after the show, "rage against the state of women in cinema" and discuss doing something about it.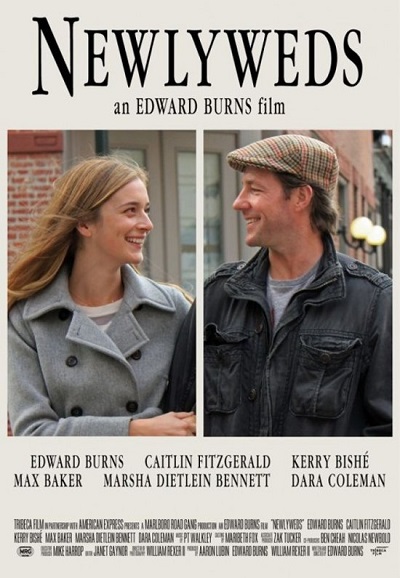 At the time, Caitlin was making a movie called Newlyweds with well-known DIY filmmaker Ed Burns. Ed shot Newlyweds with a scaled-down crew for $9,000, made possible by the video capacity of D-SLR cameras.
Emily recalls during one of their rage sessions in late 2010, Caitlin said, "Guys, we should make a movie. It's so easy. And I'll prove it to you."
That was the beginning.
Listen to the show to hear what happened when Emily visited Caitlin on the Newlyweds set.
How Emily crowdfunded her film
Caitlin and Caroline von Kuhn, who wrote the script for their film Like the Water, did not write a mockumentary shot in downtown Manhattan like Newlyweds. They wrote a slow, contemplative indie drama about grief and friendship set in Maine in the summer.
Since Emily's film was an entirely different scope, she learned quickly that it couldn't be shot for $9,000; their shooting budget was $85,000. Emily says they had raised $65,000 from a group they affectionately referred to as "friends, family and fools" and were looking at a $20,000 shortfall in spring 2011.
https://youtu.be/PFDjGcLQaVk
Most independent films are made by a group of friends getting together when everyone's schedules line up. This was also the case with Emily's film, so they had a very short window to find the rest of their funding. Pre-production through shooting was planned to take place from the middle of June to the beginning of August. It was May, and they had to find a way to communicate the importance of the film to their community and get the rest of the funding.
Emily says it didn't take long for a bunch of women to land on a familiar message for people seeking to crowdfund projects: a wedding registry. At the time, Kickstarter and Indiegogo were new.
They made a list of everything they needed: cameras, car rentals, bug spray, sunscreen, wardrobe, food, coffee and more. Emily typed it into a WordPress blog and put a PayPal link at the bottom. Then, the six of them sent it to everyone they knew. In 30 days, they'd raised $23,000 in cash and hundreds of thousands of dollars in loans and gifts of locations, goods and services. And then they went off to make the film.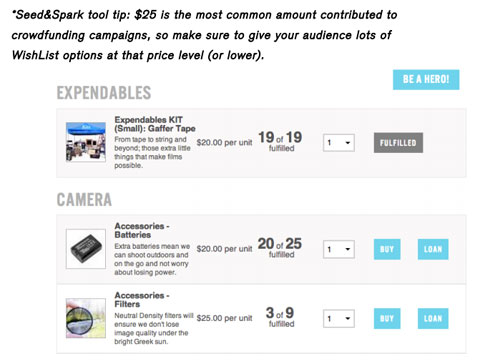 The community involvement for this type of crowdfunding offered numerous benefits.
It changed the way they structured their outreach. Rather than asking people to give them money, they went to businesses and brands. For example, a local car dealership loaned them two cars for the film at no cost, a local coffee shop gave 60 pounds of coffee and brands like Pabst Blue Ribbon donated products.
It allowed their community, particularly people without a lot of money, to figure out how they could contribute. For example, filmmaker friends who just finished filming their own shoot dropped off tents for shade, craft service tables and coolers. Emily's cousin, who worked at a ski supply shop, drop-shipped them a case of bug spray and a case of sunscreen.
It made Emily's movie the contributor's movie. If someone's house appeared in the film or they appeared as an extra, it became their film in a personal way.
Listen to the show to learn what inspired the wedding-registry type of crowdfunding model. 
Why a business would consider crowdfunding
Crowdfunding forces people to focus on the value they provide to the only people that matter: their customers.
In the startup space, for example, people get wrapped up in the value they can demonstrate to the venture capitalist or investor. But what they need to do is articulate clearly to customers why they should contribute: the value. Businesses can use crowdfunding to connect individual customers to the larger trajectory of their business.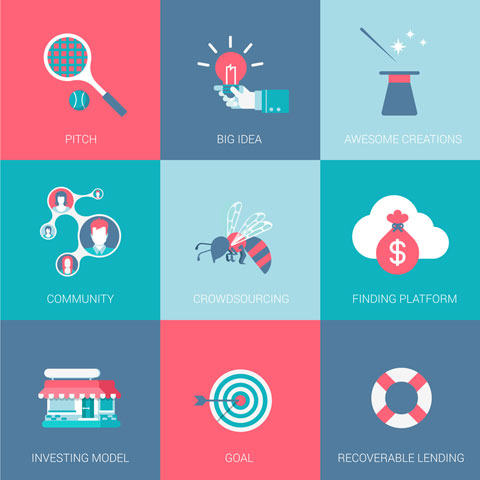 Emily explains the best crowdfunding pitches are the ones where the company shares their big vision and how their investor-customers can play a material part.
When you're crowdfunding for business, remember the "crowd" comes before the "funding." Your transparency and authenticity are your greatest branding assets. Plus, the extent to which people want to support you is generally built on reasons you give them to root for you on your journey.
Listen to the show to discover the importance of the story in crowdfunding.
How to get started with crowdfunding
The very first stage of crowdfunding is research. Define your audience, figure out where they hang out online and in real life. Then, develop a relationship with them.
Emily says Seed&Spark suggests their filmmakers start simple: go where people interested in film are already gathering, such as film festivals and meetups. If these people say the project sounds like something they'd like to see, ask them a set of straightforward questions:
Where do you hang out online and at what times of day?
What kind of news do you read?
Where do you get your news?
Do you read blogs?
Do you listen to podcasts?
Who are your influencers?
What kind of music do you listen to?
What do you do in your spare time?
Do you belong to any organizations?
Essentially, come up with the research that helps you understand the partner organizations you should be targeting to amplify your message, the social media platforms to focus your time and attention on, and what times of day and with what tone you should try to reach people.
Plan on at least a 6-month outreach campaign that builds in various incentives for people to follow you on social media and join your mailing list. The highest number of conversions comes out of emails.
A crowdfunding campaign is won or lost in the organization, just like filmmaking and pre-production. If you're prepared and hit the ground running, you'll be successful. Research shows campaigns that reach 30% of their goal in the first week have a better chance of overall success. On Seed&Spark, all campaigns have an 84% chance of success.
Seed&Spark preps their filmmakers so they have a greater likelihood of success.
Since the message is key, it's important to create all written materials ahead of time, so you and your team are speaking with one voice.
Once you launch, message three categories of people: people you know well, people you know well enough to send a personal email to and everyone else. This includes partnership organizations, bloggers, podcasters, brands you develop relationships with in your research phase and others. Figure out how to reciprocate (though content, reach, email addresses) ahead of time. Remember to provide them with details, messages and deadlines.
Listen to the show to learn about the importance of content and messaging in crowdfunding campaigns.
The importance of the crowdfunding platform
Emily believes the platform doesn't matter because someone who is prepared to succeed at crowdfunding will succeed anywhere.
According to an article in Venturebeat, niche crowdfunding sites beat Kickstarter and Indiegogo on success rate and dollars raised per project. There are sites for publishing, fashion, music and more.

Emily says RocketHub has done well for some startup crowdfunding projects, while Tilt does well for social action campaigns. For film and video, Seed&Spark has the highest success rate.
Understanding the role of the crowdfunder and crowdfunding team is much more important than the platform.
Listen to the show to learn why you should be skeptical of platforms that promise dollar results.
Discovery of the Week
Do you ever wonder what the trends are? What if you could have really cool insight into what people are searching for and whether it's increasing or decreasing as a trend?
Enter Google Trends, a free service that allows you to type in a couple of keywords and compare them to each other. For example, I compared "social media marketing" to "content marketing."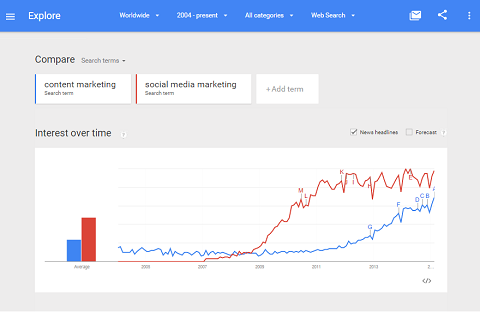 Google Trends tracks activity on these keywords all the way back to 2004, and shows if activity is increasing or decreasing, relative to the other search term.
It goes worldwide, but you can search by a country or state to see if people there are searching these topics. Look at different dates, get insights into what people are searching for, see whether the trend is moving up or down and more.
Listen to the show to learn more and let us know how Google Trends works for you.
Other Show Mentions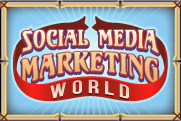 Today's show is sponsored by Social Media Marketing World 2015.
We are super-excited about Social Media Marketing World 2015. It's the world's largest social media marketing conference. By attending, you'll make connections with 100+ of the world's top social media pros (plus 2,500 of your fellow marketers) and you'll discover amazing ideas that'll transform your social media marketing.
Hear testimonials from our 2014 conference speakers.
This is just a sample of industry experts talking about their experience at Social Media Marketing World.
Social Media Marketing World has more than 100 other sessions, and 12 simultaneous tracks. Since you can't possibly be at all of the sessions at once, we'll include recordings for everyone who attends.
If it's too late for you to travel, we have a virtual ticket option that lets you get every keynote, session and panel, and watch them for a full year. You can look at a PDF of the slide decks and download the audio. Plus it's radically discounted compared to the physical ticket cost.
Visit here to check out the speakers, the agenda and grab your early bird discount.
Social Media Marketing World 2015 has a lot going for it with the great content, excellent presenters and valuable networking opportunities.
Take your social media marketing to the next level and join us in warm, sunny, beautiful San Diego, California on March 25, 26 and 27, 2015. Hundreds of people have already secured their tickets. Click here to check out all of the speakers and the agenda, watch our video and grab your tickets today.
Listen to the show!


.
Key takeaways mentioned in this episode: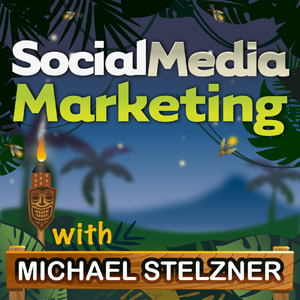 Ways to subscribe to the Social Media Marketing podcast:
How to Subscribe to this Podcast on an iPhone
Watch this quick video to learn how to subscribe on your iPhone:
.
What do you think? What are your thoughts on crowdfunding? Please leave your comments below.