Want to learn more about advertising on Instagram? Wondering how to create Instagram ads that lead to sales?
To explore how to create Instagram ads that work, I interview Andrew Hubbard. Andrew is a Facebook and Instagram ad expert and the founder of Hubbard Digital, an agency that runs Instagram and Facebook ads for information products. His course is called Amplified Ads.
Andrew shares how to create and customize ads for each type of Instagram placement. You'll also find recommendations on ad creation tools and more.
Read a summary of the interview below. To listen to the interview, scroll to the end of this article.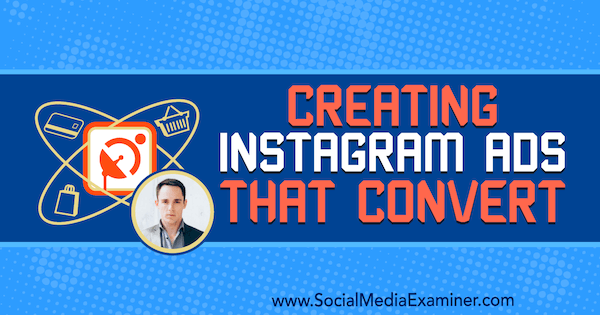 Benefits of Running Instagram Ads
Instagram is a rapidly growing platform that's outpacing all other social media networks, including its parent company, Facebook. According to the most recent Instagram stats, as of this podcast recording, Instagram boasts 1 billion monthly active users and 500 million daily active users for Stories alone.
I add that the growth opportunity on Instagram is further supported by findings from the 2019 Social Media Marketing Industry Report, which suggest Instagram is the platform marketers are most interested in learning more about. Instagram is where the eyeballs and attention are focused. If you aren't already on Instagram, you're missing a big opportunity to be where those audiences are.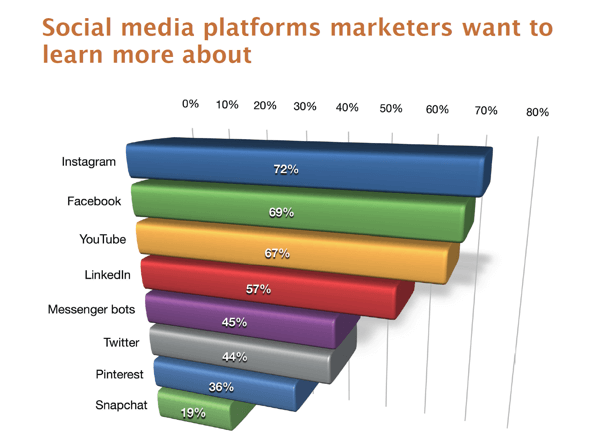 Whether you're a B2B or a B2C brand, Instagram ads allow you to be omnipresent to a wide audience. The majority of Instagram's global audience is between the ages of 18 and 34 and evenly split across genders. This demographic includes key decision-makers at B2B companies, as well as consumers. Using Instagram to advertise along both perspectives is extremely effective.
Many people are active on both Instagram and Facebook. In fact, Facebook founder and CEO Mark Zuckerberg continually paired "Facebook" and "Instagram" in his opening keynote at Facebook's latest F8 Developer Conference. Running ad campaigns on Instagram, as well as on Facebook, puts brands in front of audiences in multiple places in the most effective way.
Instagram Ad Placement Options

The difference between running ads on Facebook and Instagram is that you aren't competing with a lot of other brands on Instagram the same way as you are on Facebook. Facebook has stated numerous times that it's running out of advertising real estate and looking to expand monetization opportunities beyond its flagship platform.
Another key distinction between Instagram and Facebook is that Instagram is a mobile-first platform. While a lot of people tend to browse Facebook on a desktop or laptop, Instagram was designed and built exclusively for mobile usage.
The copy, graphics, and videos in your Instagram ads should always cater to mobile audiences. This means your landing or sales page and any other post-click experiences associated with your Instagram ads should be fully optimized for mobile. Anything less than a stellar user experience when it comes to the look, load time, and functionality will negatively affect your ad performance on Instagram.
Instagram offers two types of ad placements: Stories ads and feed ads.
Instagram Stories Ads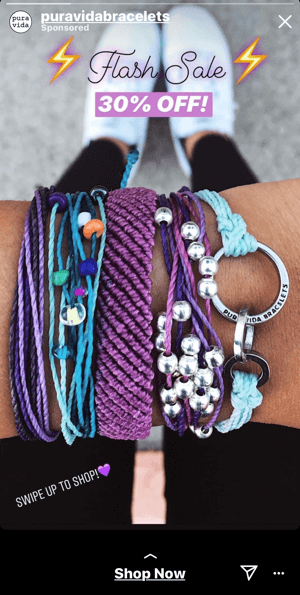 Instagram stories feature a full-screen 1080 x 1920 vertical image or video that uniquely takes over the entire screen on mobile. As each story ends, another automatically begins and Stories ads are seamlessly slotted between the stories. For advertisers, this means that 100% of the audience's attention is on your ad. Nowhere else on any other Facebook property or placement is this possible.
Instagram Stories ads aren't only more economical than other ads running on the platform, but are also the only placement where demand hasn't yet outstripped supply. The number of people watching stories has generated so many ad placements that advertisers simply haven't caught up. However, those who are nimble and quick can get in and take advantage of this situation.
The more your ads look and feel like native content typically posted by regular Instagram users, the better they'll perform. To illustrate, Instagram stories are up to 15 seconds long. Whether you're using videos or still images, limiting your Stories ads to this length allows them to be consistent with other content organically shared in Stories.
Carousel Ads for Instagram Stories
Instagram recently released carousel ads to Instagram Stories, which allow up to three 15-second videos to appear as an interrupted series of stories that play back-to-back. With this update, advertisers can run individual Stories ads on Instagram that are actually up to 45 seconds long, but still look like individual 15-second stories.
At the moment, these 30- or 45-second videos must be created and uploaded as separate 15-second videos. Although Instagram may be testing the option to automatically split the long videos into smaller, story-size videos, this update isn't yet widely available to all business accounts.
Using Images and Videos for Instagram Stories
Use images or videos that are specifically sized and built for Instagram Stories placement. Repurposed ads or posts already running on other platforms don't always look great on Instagram. Instagram will alter the image to fit the screen, which can lead to unintentional cropping or snippets missing from your post.
Instagram Stories ads are billed by impressions, not watch time. Whether someone watches your Stories ads for 1 second or the full 15 seconds, you'll be billed the same amount, so make those 15 seconds count by uploading something attention-grabbing and interesting.
Adding Links to Instagram Stories Ads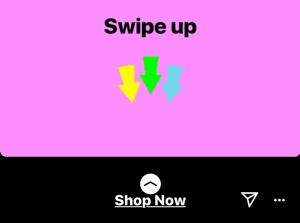 Once your Stories ad appears, the user can either swipe right to skip your ad and go to the next story, or swipe up to see more from your brand. Instagram's swipe-up function for Stories is typically reserved for accounts that are either verified or have more than 10,000 followers.
However, this rule does not apply to Stories ads. Brands buying Stories ads can utilize the swipe-up feature to link to their website, landing page, or anywhere else they'd like customers to take action.
Instagram Feed Ads
Instagram's feed caters to multiple image sizes: landscape, vertical, and square. Andrew recommends using square images for Instagram feed ads. In general, square images that meet all of Instagram's requirements and standards appear more native to the platform.
As with Stories ads, he's discovered that the more similar your ads are to organic posts from friends or regular users, the better they perform. Images that are simply natural photos, as opposed to professionally designed graphics with text and effects, perform well as Instagram feed ads.
Writing Copy and Calls to Action for the Instagram Feed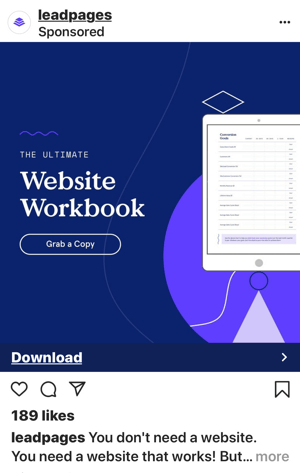 When writing copy for Instagram ads, keep in mind that users will only see a small amount of the text at the bottom of an image as they're scrolling through their Instagram feed on mobile. Users will probably only see 10–15 words of the copy in your Instagram captions, exactly like a regular post. So make the most of that first sentence.
A strong opening sentence in your Instagram ad copy encourages people to click to the More button and discover your actual call to action (CTA). You can have up to 2,000 characters of copy in the expanded caption on Instagram and it can include any spacing, formatting, or full stops you'd like. In Ads Manager, simply write the ad copy just as you would like it to appear on Instagram.
Unlike Stories ads, Instagram's feed ads can't have a CTA in the image. Instead of overlaying text on your ad photos, keep the CTA in the caption or use buttons.
While it isn't currently possible to hotlink your Instagram feed ads, business accounts can tailor their message and direct people to the Learn More button where they can take the next step, get a PDF, sign up for a webinar, or anything else they'd like. Other predetermined CTA buttons include Book, Shop, Reserve, Start Order, and others.
Creating Instagram Video Ads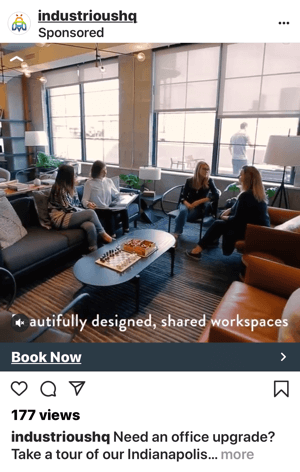 Instagram supports videos up to 60 seconds long in the feed. When creating video content for the Instagram feed, opt for a square format and keep the video short. Add captions or subtitles to your videos because the sound doesn't autoplay in the Instagram feed.
You can add captions to your Instagram video ads by either uploading SRT files or baking the words into your graphics. Andrew recommends recording videos in landscape format and adding bars to the top and bottom before uploading them to Instagram. The top bar can house a headline for the ad. The bottom bar gives you a space to embed your subtitles in fully customizable fonts, sizes, and colors to make it more readable.
If you're pressed for time or resources, have a transcription service such as Rev.com generate an SRT file. Then upload it to Instagram along with your video ad. While videos with embedded titles and subtitles tend to perform slightly better, the difference isn't significant. "Done" is better than "perfect" in this case. There's nothing wrong with just getting a video up there with the normal SRT captions.
Carousel Ads for the Instagram Feed
Carousel ads on the Instagram feed function similarly to carousel ads on Facebook and it's possible to create them to run successfully on both platforms. Carousel ads on Instagram look and function just like multiple-image and video posts on the platform. You see the first image and can scroll through to see subsequent ones.
The biggest difference between Instagram and Facebook carousel ads is copy placement and the ability to somewhat preview the following image in the series. Because Instagram has a more immersive design, even when it comes to the feed, the first image is all that users see as they scroll.
Unless people stop and notice the dots below the image that indicate there's more to see, they may not know to swipe left or right to see what's next in your ad. It's worth mentioning in the copy to swipe across and check out the rest of the images.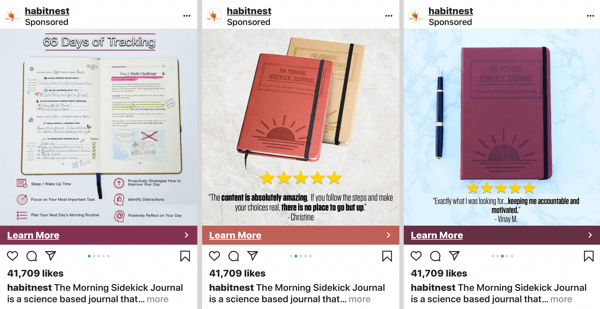 Another way carousel ads differ on the two platforms is that Instagram captions remain static across all of the images. On Facebook, each image can be accompanied by its own custom headline and copy. Before crossposting your Facebook carousel ads to Instagram, rewrite a caption that makes sense for all of the images in the series.
Tips for Creating Effective Instagram Ads
Repurpose Instagram Stories Ads on Facebook
Advertisers can use a combination of videos and images for Instagram feed and Stories ad placements. However, Andrew primarily uses video for Stories ads. They're currently the best performing ads for his agency and can be repurposed as video ads for Facebook, where they're also gaining traction.
After creating an Instagram story using a professional image; adding text overlays, GIFs, and other Instagram stickers; and publishing it to the platform, Andrew downloads it. He then uploads it to Facebook as a video ad with all of the Instagram Stories enhancements. This approach effectively cuts down on editing and design time, which in turn reduces lead costs for his clients.
Limit Text in Instagram Ads
As a rule, Facebook finds that images and videos with less than 20% text perform better. To create a good experience for audiences and advertisers, both image and video ads submitted to run on Instagram are reviewed and assessed based on having a Low, Medium, or High amount of text.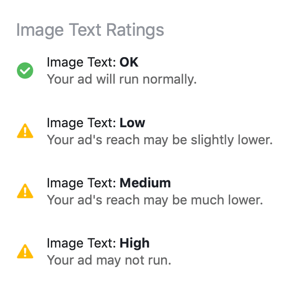 Ads with higher amounts of image text may not be shown, may be flagged, or could be charged more by Facebook and Instagram. Facebook might also limit the reach of ads that exceed the 20% text limit.
Facebook provides a Text Overlay Tool to measure the proportion of text in your ad images before you upload them to Ads Manager. For video ads, Facebook measures the amount of text in your thumbnail but doesn't measure the amount of text in the video.
When you upload a native video for use in an Instagram ad, create a thumbnail that's just a clean photograph or a version of the lead image with less text. As long as the selected thumbnail is below the 20% text limit, your ad will pass Facebook's and Instagram's standards.
Use Audio Captioning in Instagram Ads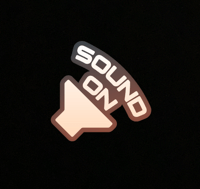 Audio allows you to get your message across more effectively in stories and the feed. Use audio as much as you can, especially in your Instagram Stories ads.
Stories will automatically play the audio, but people might have their phones muted or turn off the sound while browsing the platform. For this reason, always caption your video ads or indicate there's sound by using the Sound On sticker to let people know there's more to experience.
Tips for Creating Instagram Video Ads That Work
Use Story Features to Create a Video From a Single Image
If you're new to creating video ads for Instagram, natively created stories are a great place to start. Andrew shares the simple process for creating Instagram video ads from images and simple embellishments done right on your phone. He explains how to do this by using the example of promoting a webinar.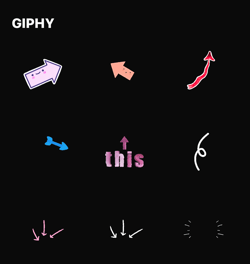 The first step is to take a screenshot of your webinar landing page and use the image to create an Instagram story on your phone. Place the screenshot front and center and add text that says, "Look! If you want to learn more about running amazing Instagram ads, I just created this cool new workshop. Swipe up if you want to check it out."
You can then turn this simple image into a video by adding interactive stickers, GIFs of moving arrows pointing up to the screenshot, and more. Because the moving arrows lend motion to the story post, you can export it as a video and repurpose it as a video ad.
Gather Testimonials From Screenshots or Face-to-Camera Video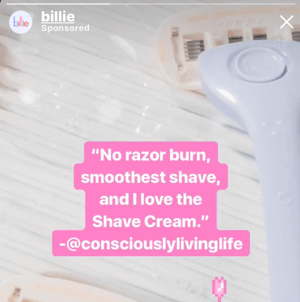 You can use the same video creation process for capturing screenshots of positive testimonials about your products or services, or gathering face-to-camera video, and using either of these as ads.
Video testimonials don't have to be fancy or complicated. The more raw or natural they appear, the more appealing they'll be for your audience. The idea is to capture a quick 15-second video in a vertical orientation. It should grab viewers' attention, give solid reasons to try your brand or take your class, and tell them what action to take next. Your subject can simply face the camera and record.
Pause Before the Stories Ad Ends
Keep the structure of your Stories ads simple and easy to follow. Call out exactly what you want your audience to do. If you need them to "swipe up" to visit your landing page, tell them to do that in the video and then take a healthy pause.
If somebody is watching your 15-second Stories ad and you wait until the very last second to mention that they need to "Swipe up to learn more," Instagram will roll to the next story before they get a chance to do that. Give people time to process your words and move their hand to swipe up on your ad.
Although users can certainly scroll back to your ad, it's more effective to just give them 2 or 3 seconds to take action, as opposed to scrolling back.
Video Creation Tools
Andrew offers two resources beyond the Instagram app to create ads for the feed and Stories.
Spark Camera
Spark Camera is a cool free app that allows users to create multiple short snippets of video and stitch them together to create a post or ad. You tap a big red Record button in the app to start and stop recording as you change locations, background, and scenery, or move around. The finished video will look like it has multiple jump cuts.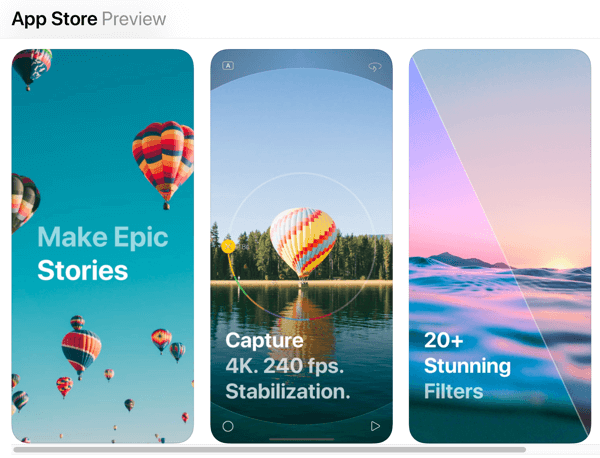 Clipomatic
Clipomatic is a smart video editing app that allows you to automatically caption as you record vertical videos. It turns everything you say into live captions, which is easier than uploading SRT files or editing your videos to include subtitles as suggested earlier in the show. Clipomatic offers different caption styles to match the look of your videos, supports multiple languages, and more.
Clipomatic is available in the iOS App Store for a one-time fee of $4.99.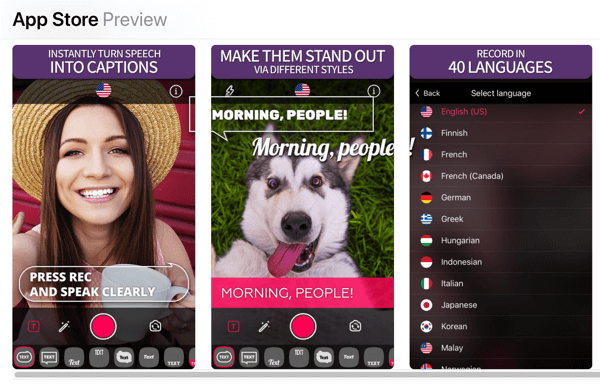 Discovery of the Week
Swoot is a mobile podcast listening app that brings social and discovery elements to podcast listening that aren't found elsewhere. The app shares what your friends are listening to and recommends new podcasts for you to enjoy.
Swoot lets you import your podcast subscriptions from other podcast listening apps and connect your social media accounts and contacts. Users can then follow one another and make recommendations on the specific podcast episodes they've subscribed to and played within the app.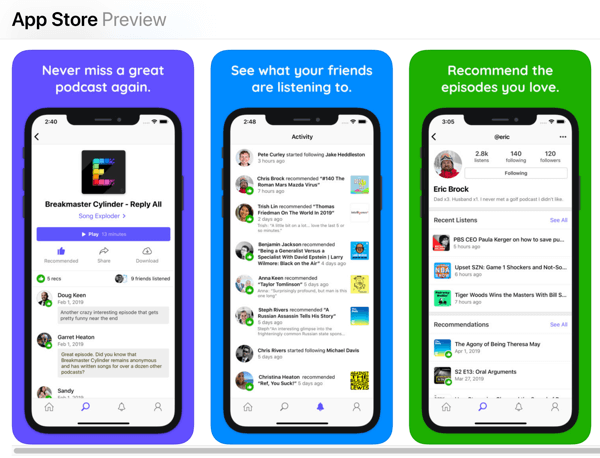 The recommendations appear as social posts beneath each episode. From there, you can download the specific episode, check out and subscribe to the podcast, and more.
You can find Swoot in the iOS App Store and the Google Play Store.
Listen to the show to hear more about Swoot.
Key Takeaways From This Episode
Listen to the Interview Now
The Social Media Marketing podcast is designed to help busy marketers, business owners, and creators discover what works with social media marketing.
Where to subscribe: Apple Podcast | Google Podcasts | Spotify | RSS
What do you think? What are your thoughts on Instagram advertising? Please share your comments below.