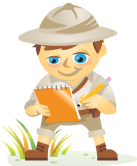 Are you a LinkedIn newbie?
Do you struggle to network and show off your expertise?  Do you want to secure new business?
If so, the most important thing to know is that LinkedIn is not just a modern Rolodex or a glorified resume.
It contains more valuable information about a contact than you could imagine.
All this information can be used to start an interesting conversation that could lead to great business opportunities between you and him or her.
LinkedIn Relevance
Bill Waterhouse is a regional director for Technical Innovation, a company that provides audiovisual products, streaming media, videoconferencing and other services. He has a sales background and was the first person at his company to use LinkedIn.