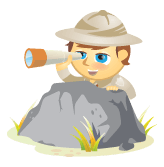 Could your social media marketing efforts use a boost?
Are you looking to improve your professional development when it comes to social media?
Are there social networks you've been avoiding because you don't have time to figure out what works?
If so, Social Media Examiner has just the event for you.
In this article I'll share seven reasons you should attend the upcoming Social Media Success Summit.
Why Attend Social Media Success Summit 2014?
Social Media Success Summit is a live online conference spread out over four weeks—October 7, 2014 to October 30, 2014. The conference empowers you to use social media to gain more exposure for your brand, increase traffic to your website, cultivate more responsive audiences and grow your business.
Watch this "behind the scenes" tour
.
These techniques give you tactics and latest techniques that will speed your path to marketing success.
Last year, 3,000 marketers attended the conference from around the globe, including thousands of small business owners and marketers from leading brands. Here's what some of them had to say about the conference:
"Incredible value for [the] money! Love that this quality of knowledge and expertise was available to me from my home office. Incredible job, Michael. Thank you." – Vanessa Carrington
"The convenience of being able to attend remotely makes the event well worth your time, and with so many industry experts makes it well worth your money." – Michelle Drewek
"As a first-timer, this was a great experience. Thanks for the awesome content! The sessions provided solid, detailed and actionable information for all the different platforms that will be invaluable as we implement a social business strategy." – Kelli Hoffman
Still wondering if the online conference is for you? Trust me, it is. Here are seven compelling reasons you need attend Social Media Success Summit 2014.