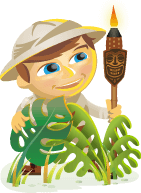 Are you thinking of starting a blog or restarting your blog?
Do you wonder if you have what it takes to attract a strong blog audience?
To learn about what it takes to become a successful blogger, I interview Stanford Smith for this episode of the Social Media Marketing podcast.
More About This Show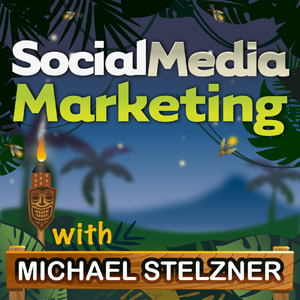 The Social Media Marketing podcast is a show from Social Media Examiner.
It's designed to help busy marketers and business owners discover what works with social media marketing.
The show format is on-demand talk radio (also known as podcasting).
In this episode, I interview Stanford Smith, co-author of Born to Blog. He is also the founder of the Pushing Social blog and host of the Pushing Social podcast.
Stan shares how he started out with blogging and how Pushing Social became a blog-based business.
You'll learn how to recognize your personal traits and how they can be built upon to grow a successful blog.
Share your feedback, read the show notes and get the links mentioned in this episode below!
Listen Now
Where to subscribe: Apple Podcast | Google Podcasts | Spotify | RSS
Here are some of the things you'll discover in this show:
Starting a Blog
How Stan's blog has helped his business
Stan explains that his business is about offering content marketing strategies for small- to medium-sized businesses. He helps people understand how social media can work for them.
His blog has been the sole reason why he was able to leave his 9-5 job and work full-time on Pushing Social. The blog is the main way Stan attracts leads, talks to prospects and educates people about his services.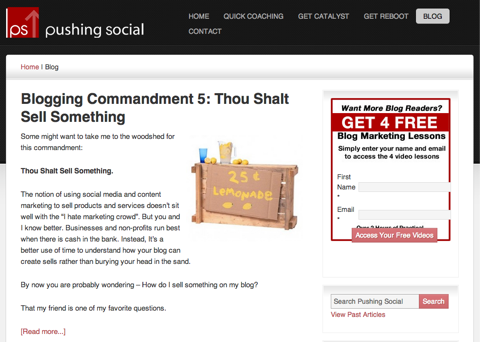 Stan's advice for people in a 9-5 job right now is to build up your audience and understand where your next step is going to be. If you want to market yourself in a really effective, cost-efficient way, then blogging is a great place to start.
He talks about how he knew he was ready to go out on his own and why he should have done it earlier.
Listen to the show to find out how all of Stan's business comes from his blog without any advertising.
Common traits for becoming a successful blogger
Stan starts with the notion that there are five traits people have that are necessary for blogging, and the good news is that everyone has at least one. You'll learn in detail about each trait.
The five traits are:
Dreamer
Good storyteller
Teacher
Persuader
Curator
The idea is to take that trait or role that you play, recognize it, build upon it and then use it to create a successful blog.
Stan talks about his two traits and how he can weave them into a blog post. Some of the most popular bloggers have 3 or 4 traits.
Listen to the show to find out how to discover which trait you have.
Do you need to be a great writer to be a good blogger?
Stan believes that you don't have to be a great writer to be a good blogger, in the classic sense. When people think of the word writer, they think of poets or prize-winners. However, this does not have to be the case for blogging.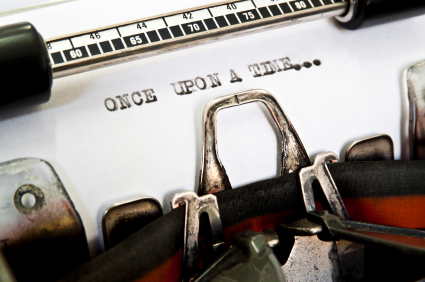 You'll hear what it takes to be a great conversational writer and what this means. You need to be able to communicate in a way that builds rapport and relationships.
Stan explains the difference between a blog writer and an article writer. Blogging is not just about text. For example, take a look at Gary Vaynerchuk's story about his video blog.
Blogging is the platform. If you feel you are better at speaking and doing audio, then put that out there and use the podcast platform. Video is also another platform. Remember, writing is just one way of expressing yourself on a blog.
Listen to the show to hear the benefits of how you can talk it out, record it and then transcribe it back. 
Do you have what it takes to become a blogger?
Stan explains that there are three steps to becoming a successful blogger.
Have a borderline obsession with a topic. To stop yourself from getting burnt out, you need to be obsessed with your topic.
Are there others like you? You must have an audience out there.
Assess if you have a marathon or a sprint mindset. Stan has studied many successful bloggers and there is one thing that is same with all of them—it takes 10 years to be an overnight success. He advises to get yourself in the zone and kick off your content. Refine what you do over time.
Listen to the show to find out what mindset Stan had when he first started.
Tips for creating content on a regular basis
Stan's advice is to train your brain to notice potential topics by writing down every idea that pops into your head. Write it down on your Moleskine, Post-It notes or your iPad. Let your brain know every good idea is going to be noticed and used in some way.
You'll learn how to turn content creation into a habit and why considered done is better than perfect. There are a lot of bloggers who create content that never sees the light of day because they are constantly refining it. The most important thing is to get it out there.

Listen to the show to learn how to generate ideas for your blog posts.
Creative ways to draw readers to a blog
Stan's advice is to make the daily news your friend. Your content has to be relevant to catch people's attention. Look at what is being talked about today and see if you can find ways to connect it with your topic. Being top of mind is a way of drawing people into your blog.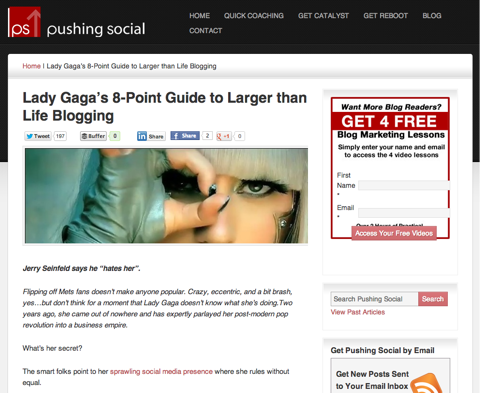 You'll discover the benefits of hanging out at watering holes and why you need to become a fixture in that space. Stan shares how he started out in forums before attracting people to follow him.
Stan describes what he calls content hubs. They are sites that collect a specific type of content and use it to attract an audience. For example, SlideShare collects presentations and has an audience of people who want that kind of content.
If you can repurpose your content and put it on the content hubs, then you'll start bringing in readers from different sources. Podcasting is another great way of repurposing blog content for the iTunes crowd.
Most recently, Stan found amazing results when he took an old report and turned it into an online special report. You'll find out why Google loved it and what he then did with his second report.
Stan explains why email is so critical to a blogger and shares his secret source at Pushing Social. If you have a blog, the advantage is to get an email opt-in on it.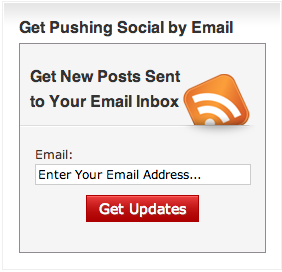 If you are the type of person who thinks that nobody will listen to what you have to say, then Stan's advice is to remember that your voice is unique. There are a lot of bloggers out there, but there are not many people like you. You owe it to yourself to try. Don't sell yourself short.
Listen to the show to hear which Pushing Social blog post two years ago was a huge boost for them.
This Week's Social Media Question
This week's question is from Mikaela Robertson, who is a public relations and marketing graduate student.
"Everyday I see blogs and websites using social media logos in different ways. I was wondering if this is actually legal? Facebook and Twitter have very specific instructions about using their logos but nobody seems to follow them. Is it OK to get creative with the social media logos?"
Mikaela, I'm not an attorney, but first and foremost, it is not legal to take someone else's brand and alter it. Facebook and Twitter both have trademarks on their logos and their iconography. They have guidelines.
Here's what you have to keep in mind. What they have trademarked is their name and their logo. Legally, you cannot take their trademark and alter it, even if you are ultimately trying to promote their network.
Both Facebook and Twitter do allow certain things though. Look at Facebook's general guidelines.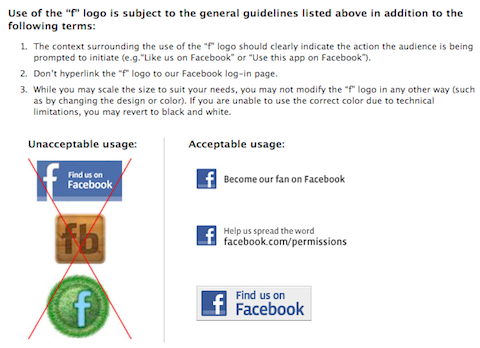 And check out Twitter's acceptable uses.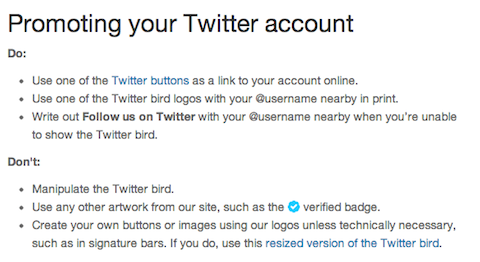 You'll hear why I strongly recommend you employ the widgets that both Twitter and Facebook have put in place.
Listen to the show to hear more of Mike's advice for Mikaela.
Call in and leave your social media–related questions for us and we may include them in a future show.
Other Show Mentions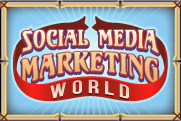 Social Media Marketing World is Social Media Examiner's latest mega-conference—taking place at the waterfront San Diego Marriott Marquis & Marina in San Diego, California on April 7-9, 2013.
As you'd expect, Social Media Examiner recruited the biggest and best names in the world of social media marketing for this conference. Only the best for you! Be sure to check it out.
We are just 3 weeks away from Social Media Marketing World. If you want to meet some of the most incredible social media marketers in the world, then this is the event for you.
Key takeaways mentioned in this episode:
Ways to subscribe to the Social Media Marketing podcast:

What do you think? What are your thoughts on becoming a successful blogger? Please leave your comments below.