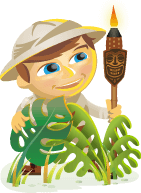 Do you want to drive more traffic to your website?
Would you like to create content that people would go crazy for?
To learn the secrets of attention-grabbing blog posts that generate traffic, I interview Michael Hyatt for this episode of the Social Media Marketing podcast.
More About This Show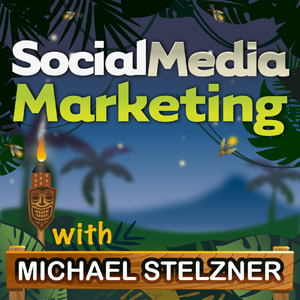 The Social Media Marketing podcast is a show from Social Media Examiner.
It's designed to help busy marketers and business owners discover what works with social media marketing.
The show format is on-demand talk radio (also known as podcasting).
In this episode, I interview Michael Hyatt, author of Platform: Get Noticed in a Noisy World, former CEO of Thomas Nelson Publishers, and the host of the This Is Your Life podcast.
Michael shares his experiences as a successful blogger and content creator.
You'll learn why headlines and photos are the most attention-grabbing aspects of your articles.
Share your feedback, read the show notes and get the links mentioned in this episode below!
Listen Now
Where to subscribe: Apple Podcasts | Google Podcasts | Spotify | YouTube Music | YouTube | Amazon Music | RSS
Here are some of the things you'll discover in this show:
Content Creation

Michael tells the story of when he first started blogging in 2004. He was the CEO at Thomas Nelson and saw blogging as a means to communicate with his own employees. It was a way to be innovative, rather than sending out standard email newsletters.
It wasn't until someone suggested opening it up to the public that he thought it was a cool idea and maybe could become an archive for his best thinking.
Listen to the show to hear about Michael's blogging schedule when he first started.
What evergreen content brings to your website
Michael's blog today averages around 300-400 blog comments a day. Michael explains that about half of his traffic comes from older posts. These include posts that he wrote 2-3 years ago that still get a huge amount of comments today.
Michael shares how he promotes his older posts. One of the tactics he uses is to bulk upload and schedule tweets in SocialOomph for older articles such as this one:
Our words carry enormous weight. More than we sometimes think. "How Our Words Impact Others." mhyatt.us/gIC8Vn

— Michael Hyatt (@MichaelHyatt) November 18, 2012
Michael had the idea from when he was working in the book publishing world. Publishers have two types of books: new books (newly published or yet to be released) and a backlist (an archive of content). For large publishing companies such as Thomas Nelson, 50-60% of their revenue can come from their backlist.
Most bloggers don't have a strategy for this. They write it, it disappears and then it's gone forever.
Listen to the show to find out Michael's secret for keeping his older blog posts up to date and continuing to drive more traffic.
How to write killer blog posts
Over time Michael has written about 1,400 posts. You'll learn how he tries to start from the reader's perspective and frame everything in terms of his or her needs. Somebody once said, "People are tuned into WIIFM (Whats In It For Me)."
You have to write from this particular viewpoint if you're going to be successful. Look at what other people's hopes, fears, frustrations and obstacles are. And don't assume that everybody knows what you know.
Michael talks about how a lot of his how-to articles stem from what he needs to find out and then he documents the process for his readers. These articles bring him a ton of traffic every day.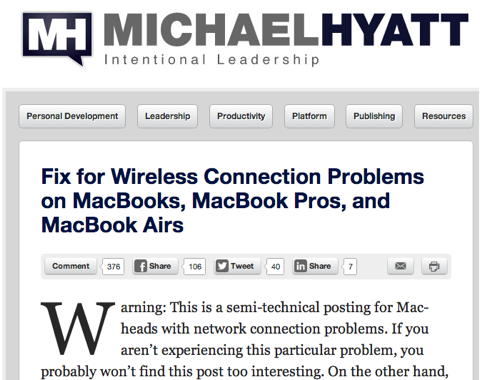 Listen to the show to learn why the how-to articles have been the most successful for Michael.
Topics to write about
Michael explains how he uses "intentional leadership" as a filter for content on his website. He shares how he might look at a current event and reframe it into a leadership lesson.
You'll also learn how to decide what to publish on your site and how to stay focused on being good at what you do.
Listen to the show to find out why giving away your best stuff is endlessly rewarding.
Creating successful blog article headlines
Michael explains the difference between a good headline and a bad headline. A good headline is one that prompts the reader to read the rest of the article. Most people simply scan headlines and do not actually read the article.
He explains that he has about 200 different blogs that he subscribes to via RSS. He scans the headlines every morning and if the headline doesn't grab his attention, he doesn't read any further.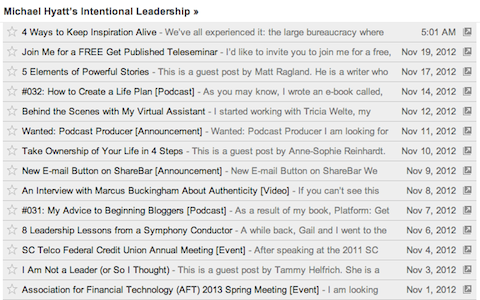 You have a few seconds to grab people's attention. The headline has to be relevant, target a need and create intrigue, so it makes the scanning reader stop and read further. And the headline has to tell people what the article is about.
His advice to bloggers is to get proficient at copywriting. You can read books on copywriting or take a course.
Listen to the show to hear how David Garfinkel's book Advertising Headlines That Make You Rich can get your creative juices flowing.
How to use photos in blog posts
Michael explains that he uses photography for the same reason that magazines and newspapers use them. It's another way to stop prospective readers and pull them into your content.
Most of us are pretty visually oriented and we comprehend images much faster than text. We establish the relevancy of the article with the right image.
Michael gets all of his images from iStockphoto. He also says you can go to Flickr and other services out there. It helps to use a service with a database that enables you to search by keywords and get what you need quickly.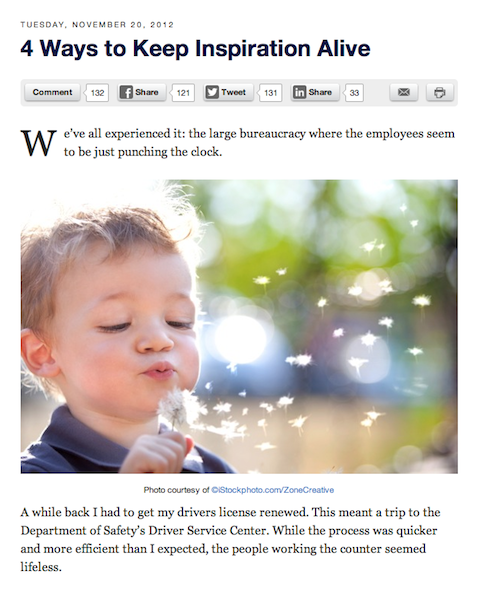 On average Michael spends 10-20 minutes per blog post to find the right photo. You'll hear why he rejects photos that are cliché.
Listen to the show to hear why Michael uses photos that reflect the diversity of his audience in his blog posts. 
How to structure your blog posts
As a blogger, Michael sees himself as having the privilege of leading important conversations. He is not there to pontificate or teach primarily, but to start a conversation and get the ball rolling. The idea is for the conversation to continue in the comments area and his blog community.
Michael gets the conversation started by always ending his blog posts with an open-ended question that invites participation. He says as a blogger, his aim is not only to get people talking with him, but talking to one another.
Michael shares the strategy behind answering the first 10-15 comments on each blog post. He also has a group of community leaders to help monitor the conversation. He shares how his community leaders are co-hosts who steer people to resources that answer their questions in more detail and greater depth. Also, he has found that asking a second question draws people out.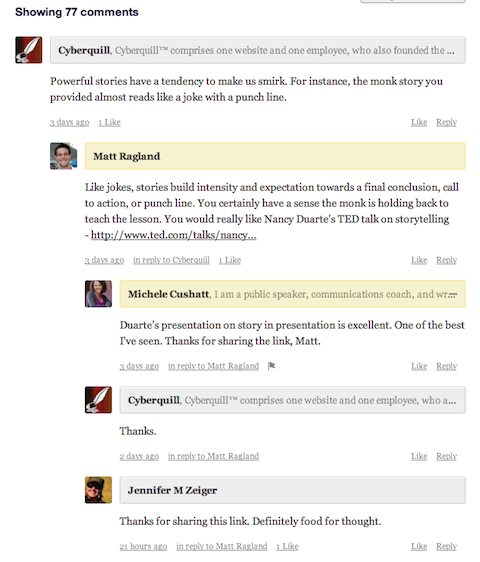 Michael uses Disqus to monitor his comment area and finds that being present helps deter a lot of spam.
Listen to the show to hear a great example of how Michael ends a blog post.
What expert video interviews bring to your blog community
Michael loves to interview people. He finds bringing interviews to his blog gives him a lot of credibility. It's his job not just to serve up great content, but also to invite people who can provide great content that he knows his community will enjoy.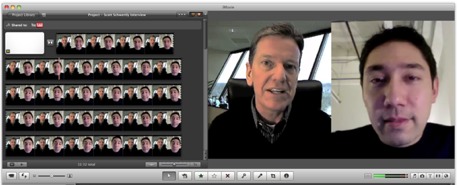 Listen to the show to hear what type of people Michael likes to interview.
How to grow an email list with your blog
Michael feels that his most important asset is his email newsletter list. He doesn't have the same kind of influence over the people who read him via RSS as he does over an email subscription. He knows it's an audience that he can reach when he needs to and he can go directly to them.
He also realized he needed some kind of incentive to get people to sign up. So about 18 months ago, he created a book entitled Creating Your Personal Life Plan.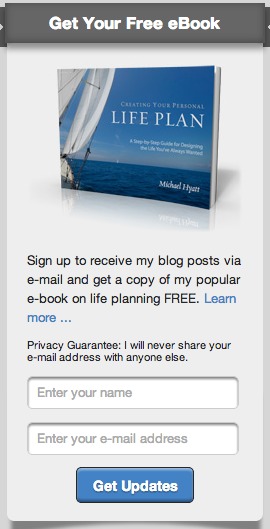 He designed the ebook in Keynote and made it available for free to anybody who subscribed. To date there have been over 176,000 downloads. It's been a huge driver for his email list. Now he has about 100,000 people who hear from him every time he publishes a blog post.
Listen to the show to hear how you can mobilize people through email and generate an initial burst of traffic.
Survival Tip: Social Media Examiner Networking Clubs
Are you looking for a help with social media? Check out Social Media Examiner's Networking Clubs. The Networking Clubs are a free resource where you can network and join discussions with 8000 like-minded people.
There are three clubs: Facebook, Blogging and Small Business. You'll find an active community and interesting discussions in each of these clubs.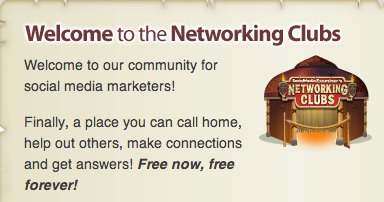 Listen to the show to learn more and let us know if you've tried our Networking Clubs.
Other Show Mentions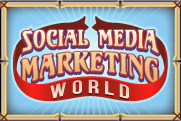 Social Media Marketing World is Social Media Examiner's latest mega-conference—taking place at the waterfront San Diego Marriott Marquis & Marina in San Diego, California on April 7-9, 2013.
As you'd expect, Social Media Examiner recruited the biggest and best names in the world of social media marketing for this conference. Only the best for you! Be sure to check it out.
Key takeaways mentioned in this episode:
Ways to subscribe to the Social Media Marketing podcast:
What do you think? What are your thoughts on what makes blog posts attractive? Please leave your comments below.