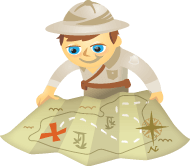 Are you wondering how your business can use Facebook Live?
Looking for examples to help you get started?
Using live video will improve your Facebook reach and it can take less time than writing individual posts.
In this article, you'll discover six ways your business can succeed with Facebook Live video.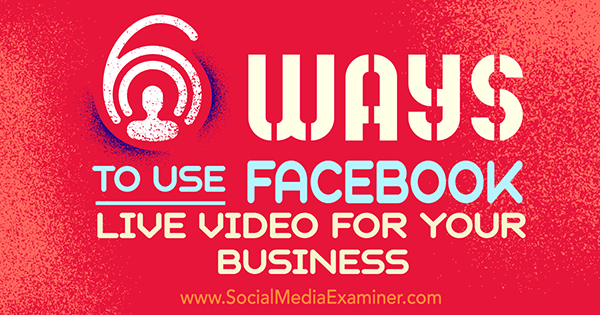 #1: Address Blog Comments
One way to use Facebook Live video for your business is to discuss a topic that your audience is interested in. For example, maybe you've written a blog post on a subject that you know your readers will have questions about.
Although you can answer readers' comments on your blog, it's much quicker (and more efficient) to schedule a Facebook Live video session where you can answer many of their questions at once. This encourages your fans to tune in for the live video session rather than wait for a replay. It also saves you time because you can address their questions upfront.
If you happen to get questions months after you've published your post, you can share a replay of your Live video.
#2: Give an Inside Look at Your Business
You can also use Facebook Live video to give fans a behind-the-scenes look at your business and how you work.
For example, suppose that some of your followers are interested in getting into your line of work. You could use a Live video session to share your process and educate people who are looking for this information.
You might also focus on an aspect of your business that your target audience would be interested in learning more about.
#3: Promote Your Upcoming Event
Facebook Live is a great way to announce an upcoming event. Once you've planned the event, create a post to let fans know you have a special announcement to make. Then, share specific details about your event on your Live video.
When announcing an event on Live video, be sure to have an easy-to-remember URL that you can share with your viewers. Post this link in the video comments as well, in case viewers don't have a chance to write it down. Use a tool like Bitly to create a URL that you can track.
If you plan to promote your event on your other social networks, it's helpful to create a trackable URL for each platform so you can see where you're getting your event sign-ups.
You can also use Facebook Live video to stream a live event. For example, if you're attending a conference, you could network with speakers and broadcast interviews to your audience to keep them tuned into your Facebook page.
#4: Tease New Products
Another way to use Facebook Live video is to give your fans a sneak peek of your products. For example, if you just received a shipment of a new product, but it's not yet available on your website, you could use a Live video to tease it to customers.
If you use this tactic, consider providing a link during your video to take preorders and capitalize on the excitement from your customers. The Live video also gives you an opportunity to answer questions from excited customers.
#5: Answer FAQs
Customer service is an important part of any business. Chances are, you answer every question that comes in, even if it's a repeat question. While it's important that you respond to every question, this can eat up a lot of time. Fortunately, this is an area where live video can be useful.
For example, you might identify a common question that your customer service team receives, and rather than answer the question again and again, you can have a Facebook Live video session to answer it. When you're finished, you'll have a video archive that you can share with your customer service team so everyone references the same materials.
If you want to better organize your Facebook Live video, you could create a Facebook note so your videos are accessible to your entire team. At the same time, you can start conditioning customers to check this area first the next time they have a support question.
You still have the opportunity to provide top-notch customer service and address questions that come in. It also helps you build an archive of content that you can use in blog posts, marketing materials, and so forth.
#6: Engage With Your Facebook Group Members
Do you run a Facebook group for your business? Maybe you sell a product that provides customer access to a Facebook group once they purchase from you. If you run a Facebook group and already use live video on your page, expanding it to a group is a no-brainer.
For example, you could broadcast live weekly updates that are relevant to your group.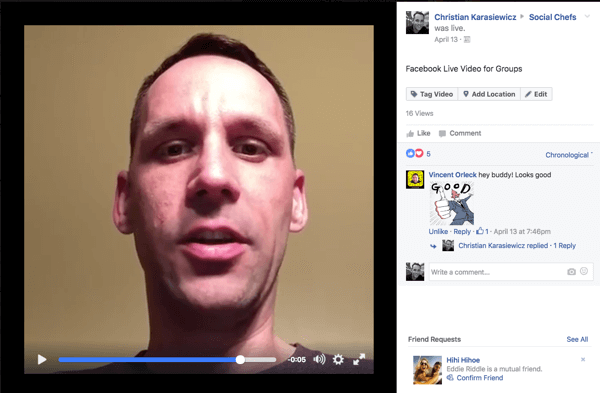 If you use a group as an add-on to another product you sell, live video is a great way to answer questions about your product and connect with members.
While you'll be broadcasting to your Facebook group as yourself, this is an opportunity to deepen your relationships and for everyone to get to know one another better.
One thing to remember about using live video and groups is that anyone who is a member can post live video to the group, so you may want to adjust the group settings so you have to approve all new posts.
Your Turn
With people spending 3X longer watching live video than native video, live video is practically a requirement for generating Facebook engagement outside of running Facebook ads.
Keep in mind that you can use your stock mobile device and microphone, but consider investing in additional video equipment and tools. This can help you improve the quality of your video and audio so the broadcast has a high-quality look and sound, which will help keep viewers tuned in.
What do you think? How do you use Facebook Live video for your business? Please share your thoughts in the comments below.