Want more organic reach for your Instagram stories? Wondering how to create Instagram stories people will watch?
In this article, you'll find four ways to keep more eyes on your Instagram stories, without using ads.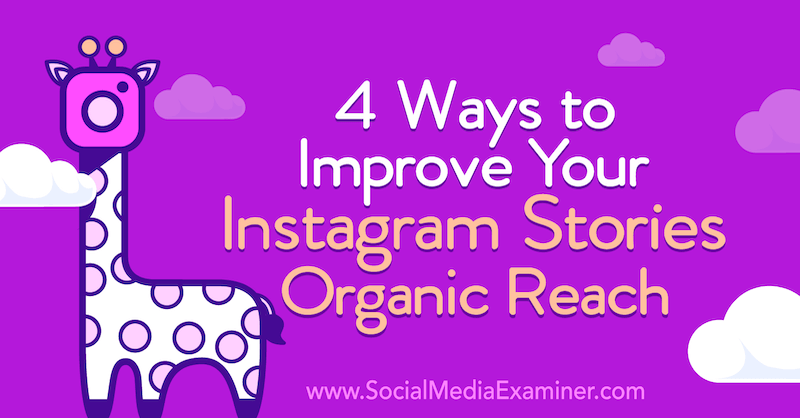 How the Instagram Stories Algorithm Works
The Instagram algorithm determines the number of followers who see your stories. The algorithm tries to identify the best, newest, most relevant, and most engaging content for each follower. Then it delivers that content to the front of the follower's Stories feed. That's why it's important to get people to watch your story through to the end.
As a business, you don't need to reach everyone on Instagram but you do need to reach people who might buy from you. The following organic tips will help you reach that target audience by sharing stories they love at a time that's relevant to them so it will be promoted by the algorithm. This will help you increase your organic reach to a more invested, dedicated community.
#1: Make Sure Your Instagram Stories Have a Beginning, Middle, and End
When Instagram Stories launched in 2016, some people didn't think it would last. They felt that it was designed to appeal to younger users or just somewhere to dump images not considered good enough for the main feed.
Now, Stories is expected to overtake the main feed as the primary way of sharing on Instagram. Maybe it already has because it's been a while since official figures were released.
Crafting quality content for Stories is just as important as for main feed posts. Therefore, you should take the time to create an Instagram Stories content plan.
As you construct Instagram stories, remember they should have a clear beginning, middle, and end. Start with the end in mind by thinking about the point you want to make or the message you'd like to share. Then consider what text and images you'll need to communicate that effectively.
National Geographic has been sharing compelling stories about the world since the 19th century, and it's now one of the most successful brands on social media. On its National Geographic WILD account, they share stories like this one about Rufio the skunk.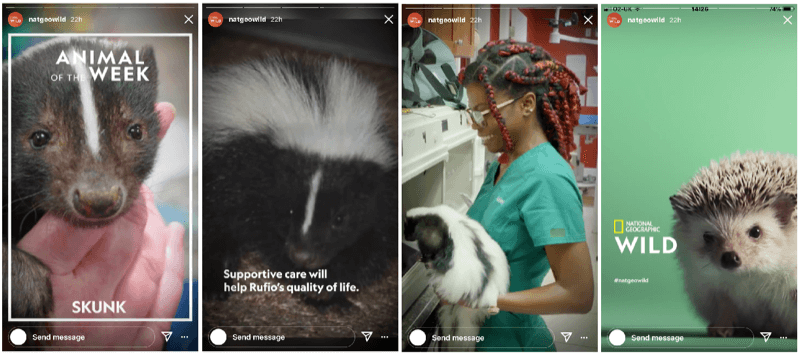 The National Geographic model can be easily translated to your Instagram account. Here are some ways you can share stories about your business:
Highlight customer stories and testimonials.
Feature a day in the life of your business or staff.
Share special announcements and "see it here first" developments to make your posts super-clickable.
Show exclusive behind-the-scenes content from events or trips.
Spotlight community service or outreach activities you're involved in to show what you're all about and what your brand values are.
In the story below, 33 Acres Brewing Co. takes viewers on a road trip—the kind of behind-the-scenes, in-the-wild storytelling that Instagram loves.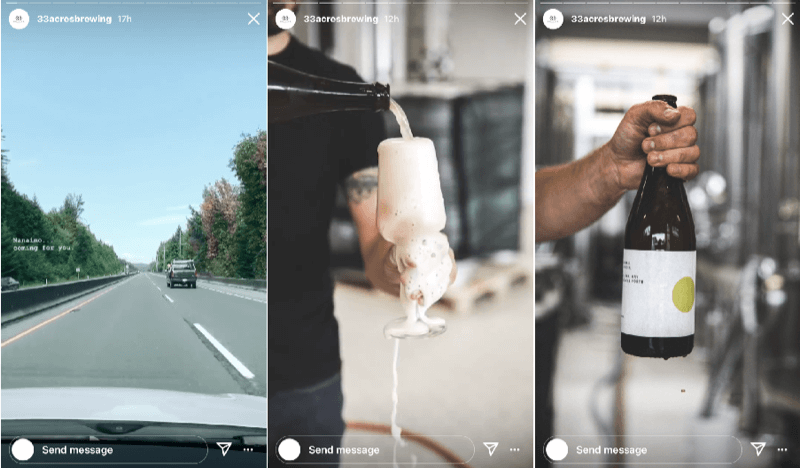 Pro Tip: Don't forget to use your main Instagram feed posts to tell followers about your Stories content so they can catch it before it disappears.
You can share longer-form written content on Stories—creating an Instagram blog post if you like—if your particular audience would welcome it. By digging deep into topics related to your brand's industry, you'll be providing valuable information to potential customers, helping you build trust.
In their stories, personal debt account My Frugal Year charts the experience of clearing debt and shares in-depth financial advice. As an anonymous account, it relies on text entirely, but still provides huge value for its followers.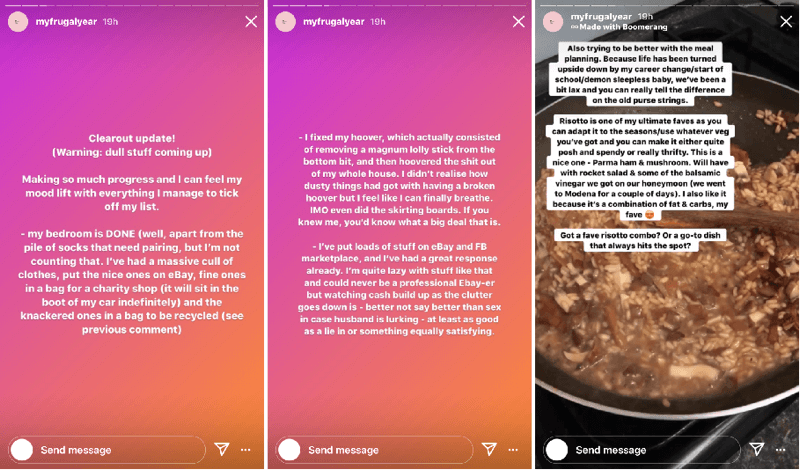 Pro Tip: Prompt viewers to tap and hold on the screen to read stories slides that feature lots of text.
#2: Include a Variety of Video Types in Your Instagram Stories
Sure, photos are easier to post on Instagram but video catches and holds people's attention better than any other form of content. Instagram is helping to drive the explosion in online video traffic, with more than half of consumers saying that they've engaged with a brand after watching a video on social media.
Instagram Stories is the perfect (and easiest) place on the platform to harness the power of video. Here are some easy ways to incorporate video into your Stories content plan:
GIFs: Use GIFs to turn a still into a moving, funny, engaging Instagram story post. Use search terms in the Stories sticker box to find the right GIFs for your post.
Boomerang: Create a short, fast burst of photos stitched together to make a mini video that moves backward and forward. It's a short, amusing Instagram staple.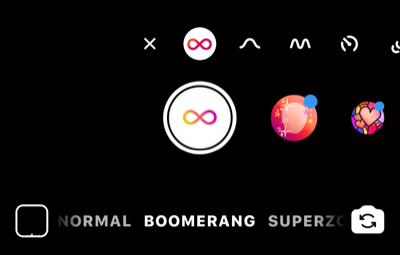 Hands-free recording: Instagram lets you record a series of 15-second film clips directly to Stories. Add text, illustrations, GIFs, and music, and post your story instantly.
Face filters: Add face filters to turn a potentially boring scene into a fun and compelling one; then talk to your followers.
Pizza Pilgrims uses GIFs galore and short video clips—like these clips of a pizza being made and a slow-mo of it coming out of the oven—to add personality to their stories and celebrate their customers.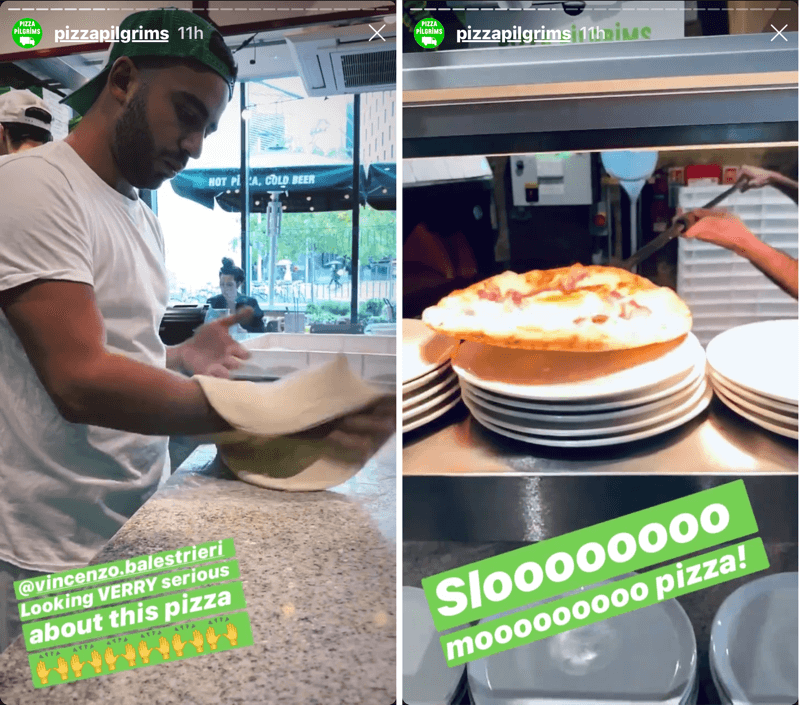 Don't let a low budget (or no budget) stop you. Instagram users don't expect to see professional-quality video, especially on Stories.
The Guardian, which has a successful Instagram news page, spent several months researching different types of Instagram posts to determine what resonated best with their audience. They found that video drives more new followers than static posts and the time and money spent creating polished and professional videos, specifically for Stories, weren't worth it.
In this story, they've posted grainy news video, confident that their Instagram followers will be happy to watch it. The Stories format is more suited to casual, in-the-moment footage.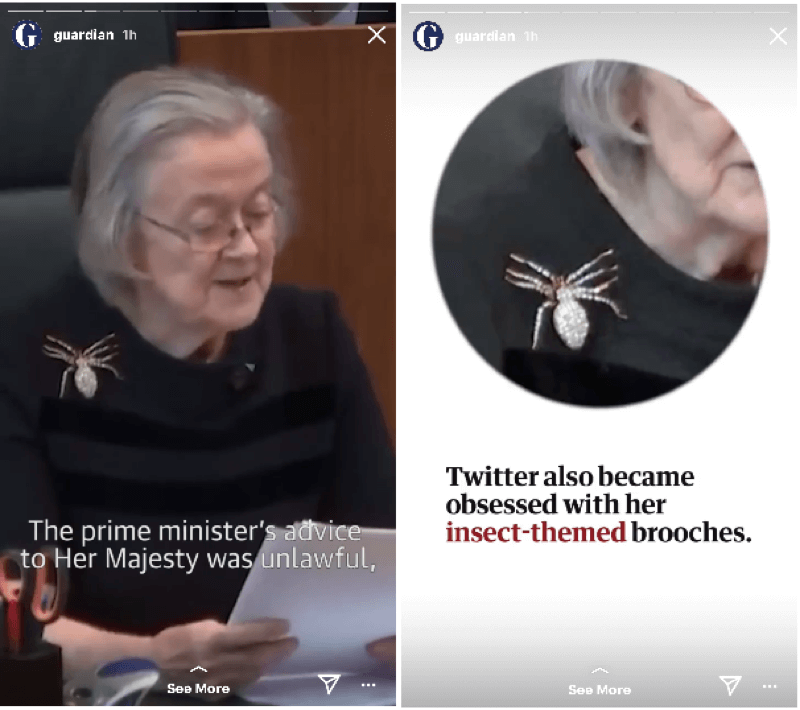 Tools to Create Instagram Stories Video
New apps are popping up all the time that make it easy to create branded video content from just a few still images.
Mojo video app is a free dedicated story-maker for Instagram that allows you to customize animated templates, adding in your choice of fonts and colors. Upgrade to the Pro version ($39.99/year) to use your own logo and fonts.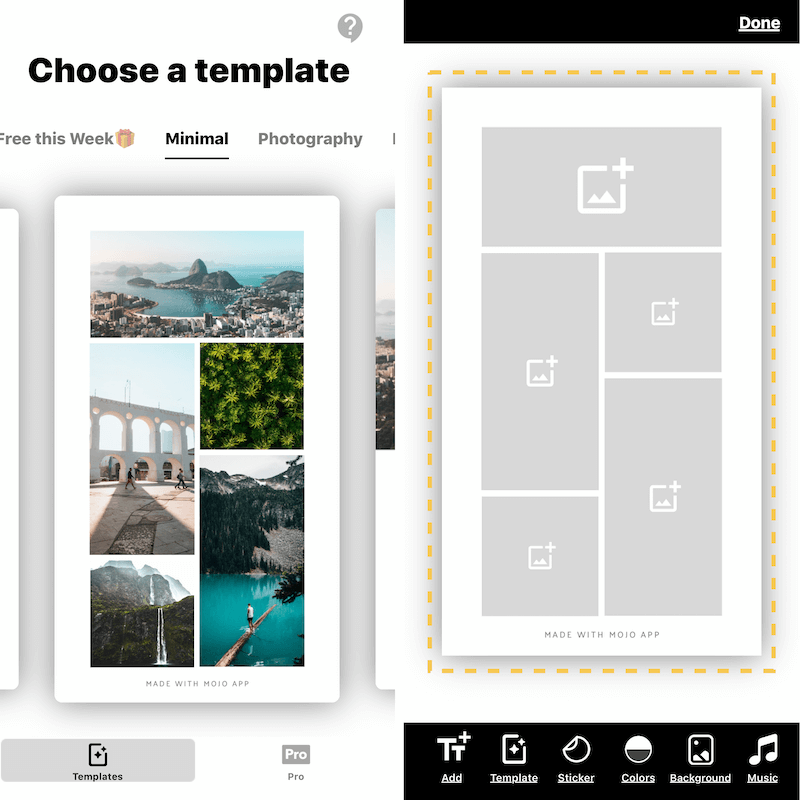 GIF Maker by Momento automatically turns photos or a sequence of images into moving GIFs. You can also add filters, stickers, text, and effects in the app. It's free to download, but if you upgrade to Momento Premium ($9.99/month or $47.99/year), you can remove the watermark and get access to additional features.
International flexible working business WeWork often creates engaging videos by combining photographs from its spaces around the world. It uses moving text and graphics to weave the visuals together and draws viewers into the conversation by asking for their opinions via polls and question stickers. Access to easy-to-use creative apps means you don't have to be a large organization with significant resources to do the same.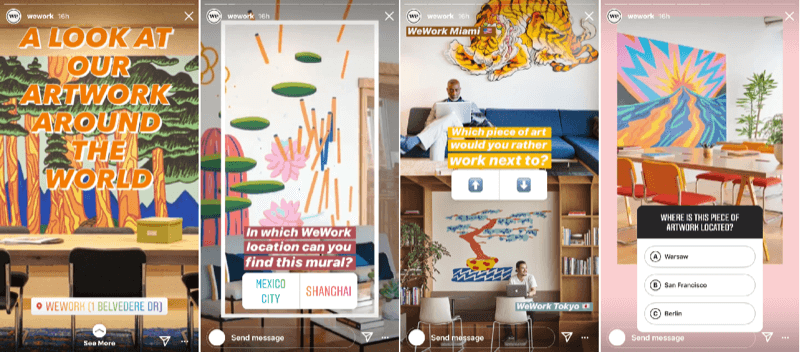 #3: Treat Your Instagram Stories Viewers Like Friends and Family
Instagram is a visual platform that helps businesses make a personal connection with customers. Stepping out of your comfort zone and in front of the camera is the perfect way to build trust with your audience and boost the reach of your stories and business.
As Instagram has become more crowded with brands and influencers, engagement on both types of accounts is down. Facebook, which owns Instagram, says it wants to deliver friends and family into people's feeds. So what does a business do? Behave more like friends and family.
Serve up content that builds meaningful, familiar relationships. Be valuable by being visible. Posts with faces in them have always been popular on Instagram.
Be the Story on Stories
Harriet Inglis, founder of self-heating eye mask company Spacemasks, saw her online presence skyrocket and sales take off when she became the story on her Stories. And, news flash, you don't always have to talk about your business. Her dry humor and commentary on day-to-day life as a mom and business owner have generated loyal fans and brand advocates.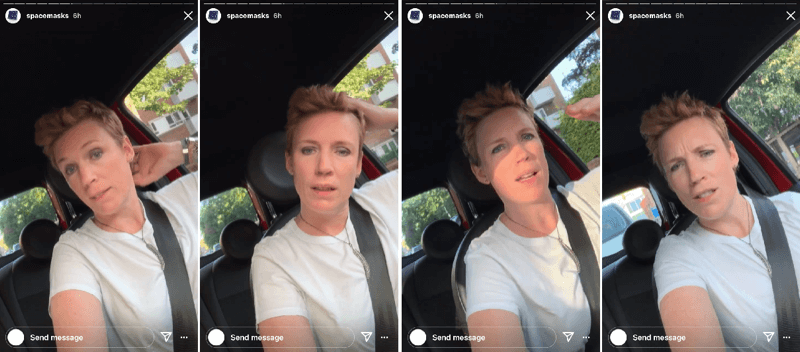 Pro Tip: Using subtitles, just a few words on the screen, to give viewers an idea of what you're talking about can be invaluable to those watching with the sound off.
#4: Add Instagram Stories Elements to Hold Viewers' Attention
Instagram users have mercilessly short attention spans and unbelievably fast thumbs. You need to plan your Stories content to hold as many viewers as possible through to the end of the post. How-to's and tutorials are the perfect "must watch to the end" Stories content.
Lead with your strongest image or video clip in the first story frame. Don't expect people to hang around for the money shot; capture their interest from the get-go.
Incorporating the following elements in your stories will also help hold viewers' interest:
Use text prompts to make it clear exactly what you're posting about and why it's worth watching.
Add music or voiceover to your stories. According to Instagram, 60% of stories are watched with the sound on.
Use numbers or letters to suggest you'll be sharing a sequence of valuable content that's worth sticking around for.
Use interactive stickers to encourage followers to participate in your story by answering questions and chiming in on polls. This input can also provide you with great audience insights.
Wern PR used a numbered reveal in the story below to demonstrate the results of a coaching call with a client. The payoff at the end is a glowing testimonial for Wern. It's great awareness-building content for the customer—a superfan—and a compelling story for their followers too.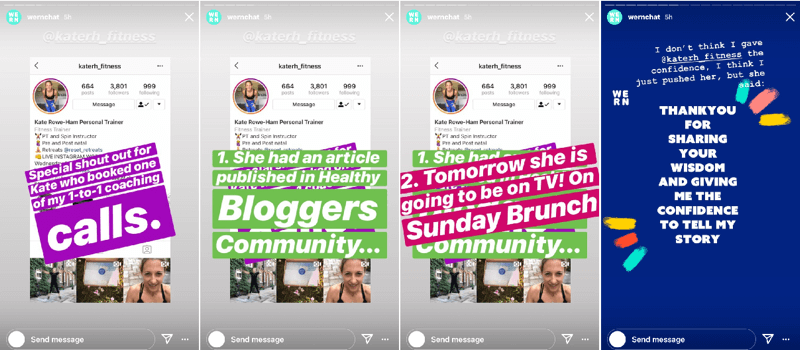 Conclusion
It's been a tough year on Instagram. Since early May, marketers and users have reported a sharp decline in engagement across the platform. The engagement rate for brands now sits at around 0.9%, which is down more than half from earlier in the year.
With more businesses vying for attention on feeds every day, engagement on brand content overall has to decline; it's a natural and inevitable consequence of Instagram becoming more popular. So now more than ever, you need to focus on what makes great, compelling Instagram story content for your followers.
By adjusting your approach and upping your storytelling game, you can create content that's more engaging and relevant to your followers. Then it will rank better within the algorithm and appear closer to the front of the Stories feed. The result? Better organic reach and engagement for your business.
More articles on Instagram marketing: