Looking for ways to drive more website traffic from Instagram? Wondering how to share links in more places on Instagram?
In this article, you'll find eight distinct ways to share links on your Instagram profile and posts.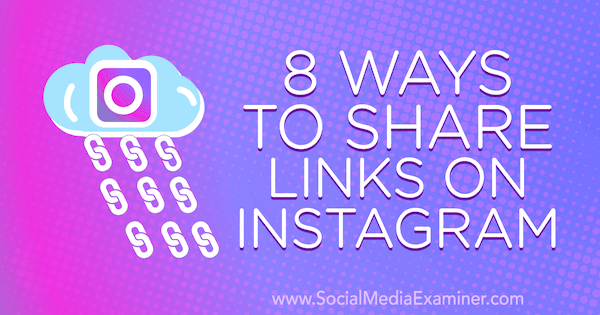 #1: Add a Link to Your Instagram Bio
Let's start with the first and simplest way to place a link on Instagram. The Instagram bio is the only place where anyone, including private personal accounts, can share a clickable link.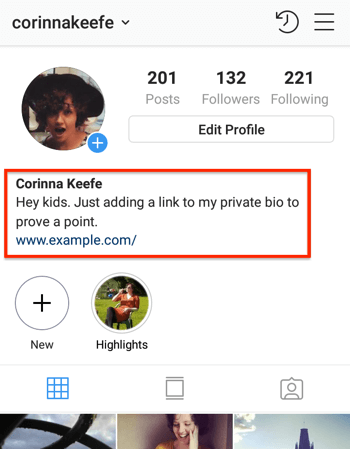 Think of this as your "home" link. While there are other ways to share clickable links (which we'll discuss in a moment), those routes are targeted for more specific audiences. The link in your bio is there for anyone who happens to visit your profile.
Opinions differ on the best strategy for this link. Some brands link to their mobile website and leave it at that. Others update their bio link regularly, and direct users to the content from their posts.
But there's a snag with changing the link frequently. How do you manage your old posts? What if someone finds an intriguing post from six months ago, goes to your bio to learn more, and finds a different link?
Instead, I recommend sharing more transient links in your stories. If you want to keep that content available, you can save the stories as permanent highlights with clickable links.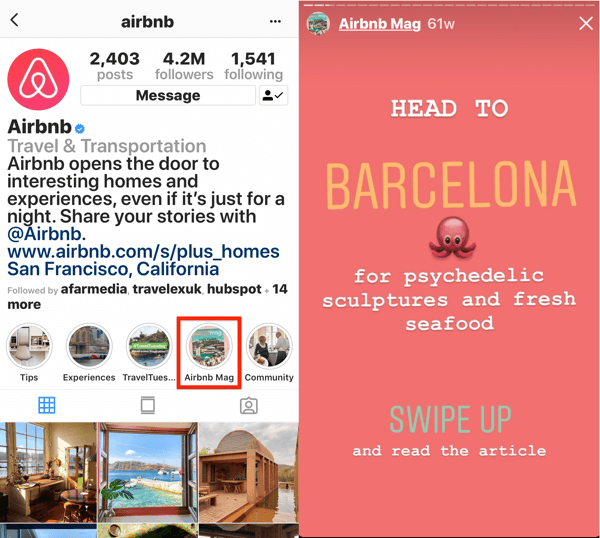 Alternatively, especially if you don't have access to story links, you can use a link service. In the next section, we'll look at how to use a single, consistent bio link to share a variety of content through link services.
#2: Use a Link Service to Showoff Multiple Links
When Instagram first became popular with marketers, link services were widely used—then their popularity dipped. Now they're back with more design capabilities and a smoother user experience.
You can choose from a few different formats. The classic link service looks something like Linktree, where you present followers with a list of clickable buttons. The Workspace For Children uses Linktree to direct users to their latest blog posts, activities, and Amazon shop.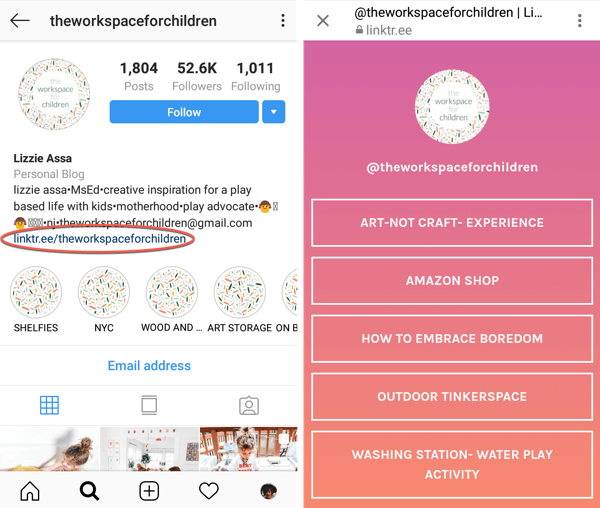 Choose a style and colorway that matches the aesthetic in your Instagram posts and stories. If users click through and find something that looks very different, they'll lose trust in your brand.
The Good Quote uses a consistent color palette for their Instagram posts and Linktree page.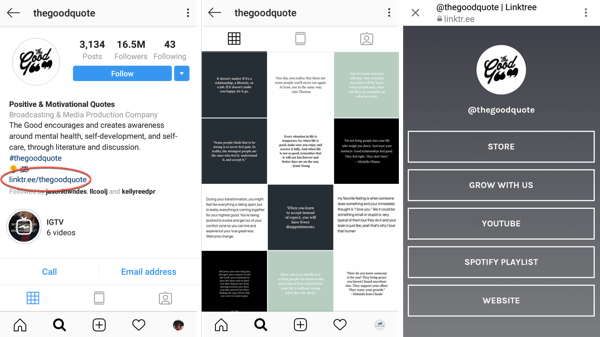 Alternatively, you can choose a service that looks more like a native Instagram experience. Instead of tapping on text buttons, users are presented with an Insta-style photo grid, as in the example below. When they tap the photo from the post that originally caught their attention, the link service directs them to the relevant page on your website.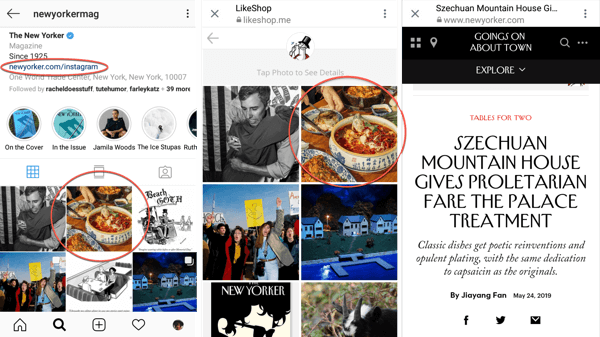 Some services, like Later's Linkin.bio, include video links, photo carousels, and even Shopify integrations.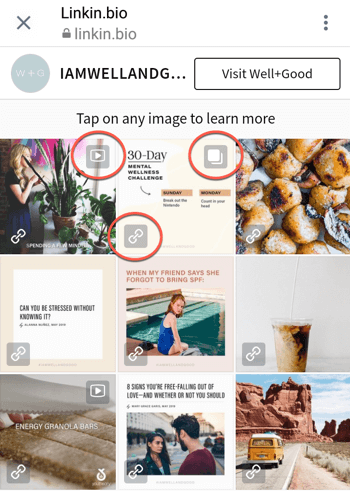 Just be aware that photo grids like this can be data killers. Check that your chosen link service works on a wide range of mobile devices and that all of the links are functional. In theory, the experience should be seamless.
#3: Share Short Links or Directions to Landing Pages in Your Instagram Post Captions
You can't include clickable links in the captions of normal Instagram photo posts, but that doesn't mean that post captions are useless! You can still use them to get users' attention, share extracts from your content, and extend your reach with carefully selected hashtags.
If you want to make the most of your post captions for links on Instagram, I recommend these two strategies.
Share a Short Link
Use a link-shortening service like Bitly so the link is easy for users to copy or remember—bonus points if you customize the link for your brand and content. This approach requires a bit more effort from your followers, so save it for your top content or links where you only want to convert a small, targeted group of people.
Write Crystal-Clear Directions to Live Links
Whether you're using a link in your bio or in stories, make it obvious. One tactic we use in posts is to share directions to a live link and include a shortened link that people can copy if they choose. In the post below, we directed users to check out our story. Alternatively, they could copy the short link in the post caption to their browser.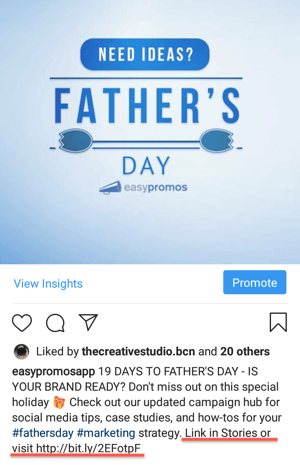 #4: Add Swipe-Up Links to Your Instagram Stories
Some brands can include live links in their Instagram stories. Because stories are so ephemeral, they're a great way to share links to new or time-sensitive content. Think flash sales, limited-time promotions and giveaways, seasonal events, or weekly Q&A sessions with your followers.
Alternatively, you can save stories with swipe-up links in the highlights section on your profile. These stories will stay pinned between your bio and photo grid. Use highlights as a library for evergreen content: essential FAQs, top-selling products, and past events to show new followers what they've missed.
Chocolatier Auro keeps highlights on their profile for news stories, community posts, recipe ideas, promotions, events, store locations, and featured products.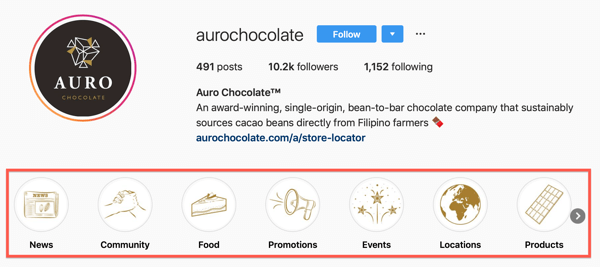 Whether you keep an Instagram story forever or let it fade after 24 hours, remember that each story plays for only 15 seconds. Viewers don't get much time to react, so make the call to action (CTA) crystal clear. Try these ideas:
Emphasize the See More link with the highlighter and pen tools.
Use stickers and GIFs to point to the link, announce a new post, or encourage users to swipe up.
Take a photo or video of someone from your team pointing to the link. In this story from Bicho Vintage, the brand uses an arrow sticker to highlight a shopping link.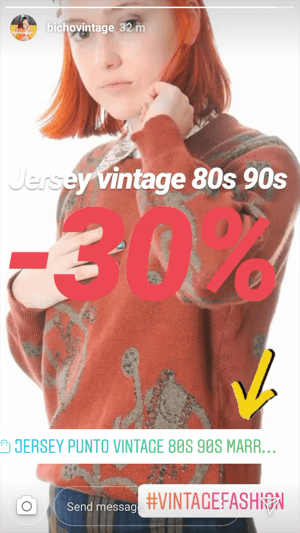 There is a caveat here. Story links are tightly controlled by Instagram. You won't be able to access this feature unless you have over 10,000 followers (which takes time) or a verified account (which is an arcane and almost random process).
Why does Instagram restrict story links like this? Well, presumably because it wants you to prioritize follower counts. But does that really work for your business goals?
For some brands, especially direct-to-consumer brands, a large number of followers is key to success. But in other cases, you might be better off focusing on sales before followers.
Here's an example of a young brand, Attollo Lingerie, that uses their Instagram story to promote real-world sales and connections. They don't have access to swipe-up links… but they don't need them. Instead, they use shared posts, graphics, and clever screenshots to direct users towards links elsewhere.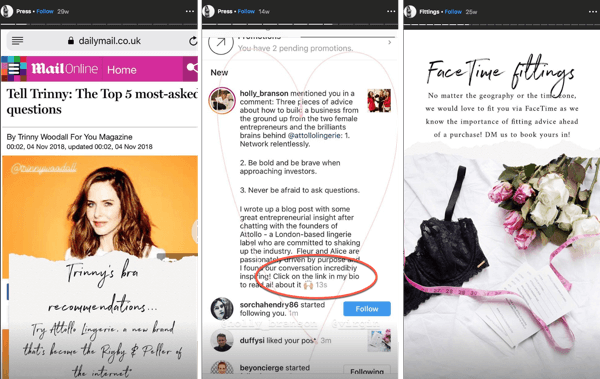 This is proof that internal links can be useful, too. Post stories that link back to your own posts, profile, and IGTV. You can also link to relevant posts, stories, and profiles from other people. Remember, if you team up on a promotion with an influencer or another brand, you've potentially doubled the number of active links at your disposal.
#5: Create Links in Instagram Shoppable Posts and Stories
Shoppable posts are another example of highly specific links. Each shopping tag links to one product only (and it has to be a physical product, sold in one of a select group of countries). Shopping tags are the most targeted conversion possible.
To use shopping tags, start by creating a product catalog on Facebook. Once you have a full range of products uploaded—with shopping links, images, and descriptions—you can start adding shopping tags to your Instagram posts.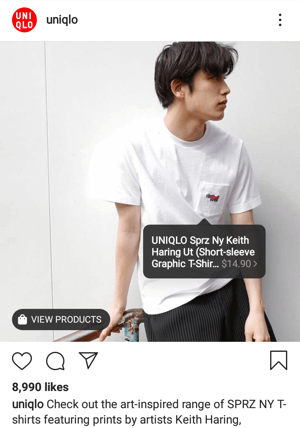 You'll also see a Shopping tab appear on your profile. The Shopping tab appears next to the standard tabs of your profile grid, individual photos, and tagged photos. Clicking this tab shows off your full product catalog.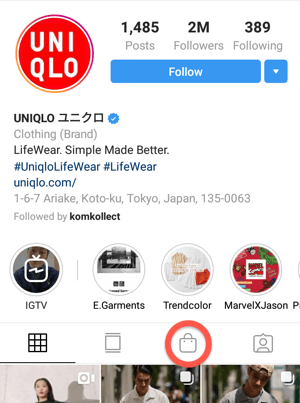 Items on the Shopping tab appear in a standard photo grid, but users can tap to shop. They can save items just like they save standard posts, or tap to shop immediately.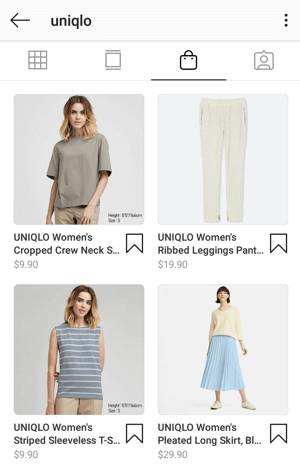 Instagram Insights allows you to check the engagement on individual shopping posts or compare shopping posts based on metrics like engagement, impressions, or saves. But Instagram shopping doesn't add attribution to individual product links. So once again, you may want to experiment with adding UTM tags to the links in your product catalog.
Some brands now have access to in-app shopping, where users can pay for their purchases without ever leaving Instagram. And because the beta version is being rolled out to more brands, it seems like initial tests have been successful.
I'm predicting that Instagram will eventually get rid of shopping tags in favor of in-app check out. Why? Because staying in-app gives them more control over data and a potential cut of the profits. Be prepared for further shifts in how customers interact with your products on Instagram.
#6: Pay to Promote Links in Instagram Posts and Stories
With an Instagram business profile, you can pay to promote posts and stories. Not only does this help you segment your audience, but you can also add clickable links to the captions of promoted posts. That's right: Instagram lets you share links in post captions as long as you pay for them.
Sustainable toothbrush brand The Bam & Boo uses promoted posts to share links to blog posts and products.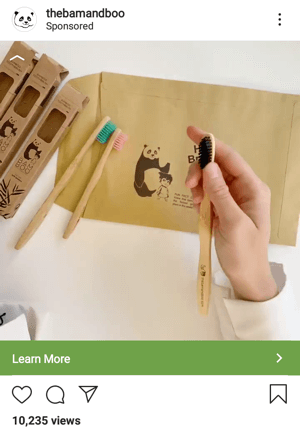 The same rules for any ad apply here, too. Make sure your links are absolutely relevant to the post and story in which they appear, because if people click and then bounce, you've wasted your ad spend.
Think about the conversion you're looking for. Are you promoting a shoppable post, educating users about your brand, or drawing them in with interesting content? Different conversions require different designs. Try to find a balance between attractive post design and a glaringly obvious CTA.
#7: Add Links In Instagram Direct Messages
Instagram DMs are an underused feature by many brands. You should be monitoring your inbox daily for message requests, customer service questions, and stories that mention your brand. Respond, reshare, and build customer relationships.
You can start a conversation by reacting to a user's story or reaching out to offer help. For instance, we make a point of reaching out to first-time users of our platform.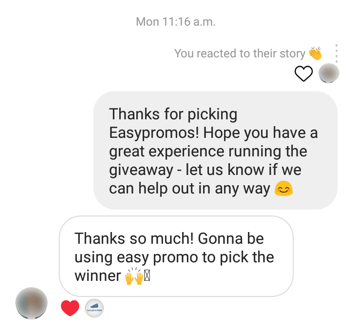 You can also use direct messaging as a more active tool. Because messages on Instagram are private, they're a more personal form of communication. If you reach out to followers in their DMs, they'll appreciate you treating them as individuals.
So what kind of messages can you deliver? Let's take one example: a message to welcome new followers. Of course, you won't have time to type out a new message every time someone joins your community, so start by setting up quick replies.
To set up quick replies, go to Settings and then Business. Write a message and choose a keyword so you can find the reply you need quickly.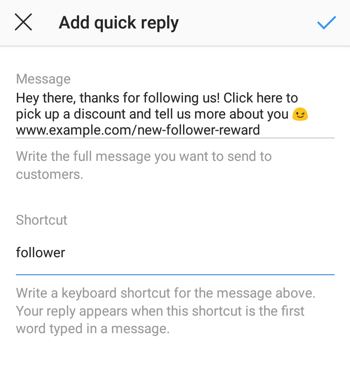 You can share active links in your quick replies and standard messages. So in addition to sharing specific links in response to customer queries, you can also start an automatic lead-nurturing campaign for every new follower.
Try turning new followers into qualified leads by asking for details in their DMs. Offer an incentive, like an introductory discount, so more people will respond.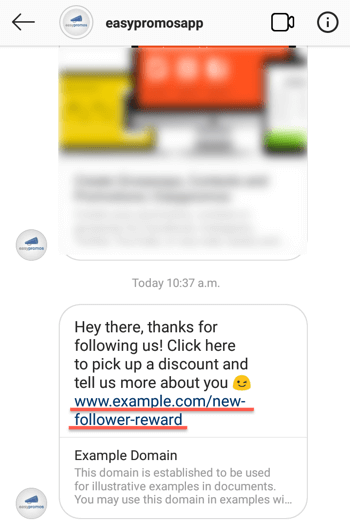 #8: Share Links in Your IGTV Descriptions
Instagram—and the Facebook family in general—is still obsessed with video content. So as an incentive, the platform offers more link capabilities on IGTV than for video posts on your feed.
You can include clickable links in the description of each IGTV post. To see the description, users have to tap on the arrow icon next to the post title. Because users have to actively expand the description to see any links, make sure you tell them about the link during your IGTV video.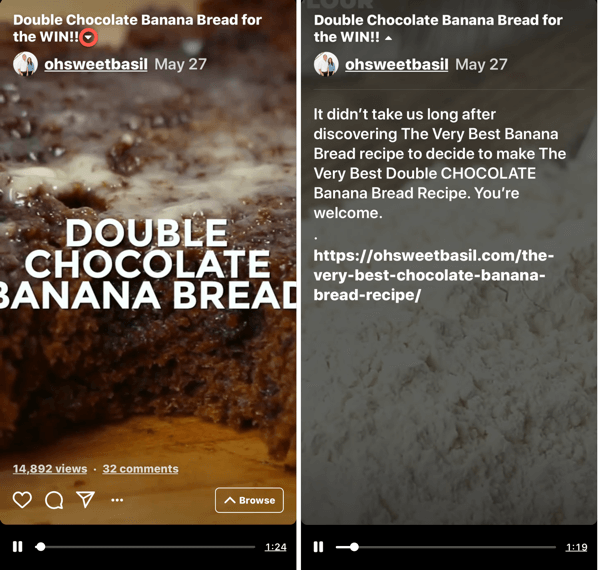 Unlike story links, IGTV links are available to any account, whether or not they've reached 10,000 followers. But you need to think about the trade-offs here.
Will your IGTV links be worth the cost of planning and producing original video content? If IGTV posts will cost more than the revenue you derive from those links, you're better off using other link strategies.
Bonus: Use Action Buttons on Your Instagram Profile
Not all Instagram business profiles have story links, but they do all have access to profile action buttons. You can create instant buttons on your profile for the following actions (and free up character space in your bio in the process):
Call
Text
Email
Directions
Start Order
Book
Reserve
The Ivy in northwest London uses Reserve, Call, and Email Address buttons to convert restaurant customers.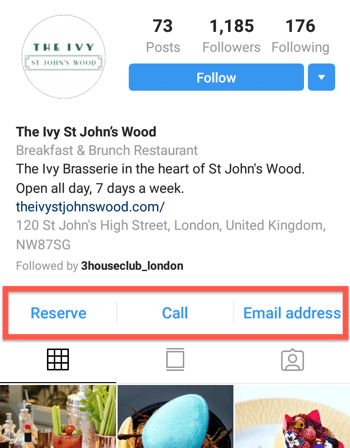 Instagram also offers integrations for a long list of partners, such as Yelp, GrubHub, or EventBrite. You might not think of these buttons as links, but they are. Each one is just tied to a very specific conversion action.
A specific action means a specific audience. Once again, think about your business goals and how your audience behaves. If you aren't interested in phone calls from customers, or you don't think they'll ever contact you by phone, you can remove that button from your profile. Yes, you want a network of links on Instagram but only links that are actually useful.
Note that these buttons are visible only in the mobile app, not on desktop. But then, no one except social media managers uses Instagram on desktop.
Conclusion
Right now, Instagram marketing feels like driving an incredible sports car while someone else is changing the tires, testing the brakes, replacing the steering wheel, and fiddling with the wing mirrors. Instagram is an incredibly powerful platform with a growing audience, but it's also changing constantly.
One of the biggest challenges that marketers face is sharing links on Instagram. New methods are being tested, added, and depreciated all the time. And in the process of researching this article, I found that Instagram's own help guides don't cover many of the options available.
On many other channels, like email or your own website, sharing links is relatively simple. You place a live link, and people click it. But it doesn't work that way on Instagram.
Because it's more difficult to include clickable links, you can't share a single CTA in a single space. Instead, you need to build up a web of links and directions that support each other. Wherever people land on your Instagram presence, they should find a clearly marked path towards conversion.
Sound confusing? Let's take an example: adding a link in your bio. Most users will never notice that link if you wait for them to discover it on their own. You have to use post captions, profile buttons, stories, ads, and even cross-posts from other networks to direct them there.
That's why it's so important to know all of the ways you can share links on Instagram. You should be using every method available to you to drive users towards conversion. As of June 2019, this article covers all of the ways to share links on Instagram: through your bio, stories, link services, promoted posts, profile buttons, Instagram Shopping, DMs, and IGTV. In other words, you have a lot more options than you think.
When I first started using Instagram for business, it took me a while to figure out all of the ways I could build my link strategy. And as time goes by, I'm still learning and discovering new ways to convert customers on the platform.
What do you think? Which of these tactics do you use to share links on Instagram? Do you have any more secrets to linking on Instagram? Share your thoughts and tips in the comments.
More articles on Instagram marketing: