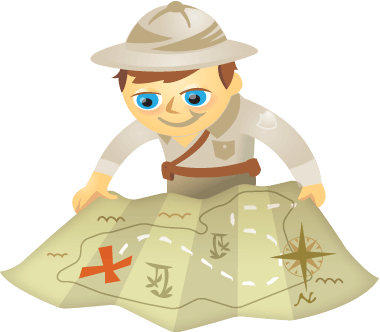 Are you wondering why your social media efforts aren't working?
Social media success sometimes appears arbitrary.
Perhaps you've wondered, "Why does company X generate leads and business from their social activity while my company wastes resources on blogs that don't get read and tweets that go unanswered?"
Social media is so new, sometimes the path to success is unclear and it's easy to lose your way.
If you want to demystify the experience and improve your ROI (return on investment), you need to make sure that your marketing and campaigns include these four essential components:
Attraction: How do you attract qualified leads to your website or business?
Retention: How do you stay in contact with people after they've left your website or store?
Conversion: How do you get people to "buy now" or move further down the sales funnel?
Measurement: How do you determine if any of this is working?
By following this model, you'll be able to ensure that you'll successfully navigate your way through this untamed wilderness.
What follows is a detailed map you can follow.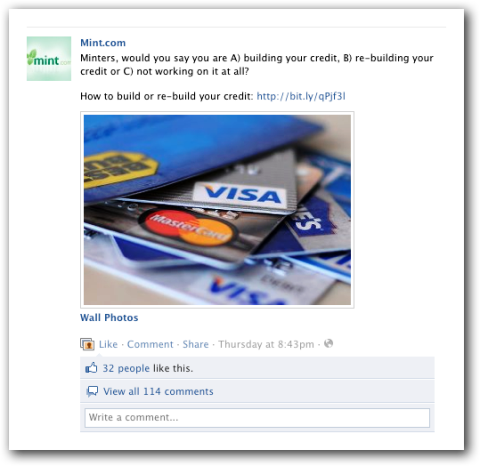 #1: Attraction: How to draw people to you
For most of us, we want to attract qualified traffic to our website. While there are many ways to do this—including search engine optimization, traditional advertising and referrals—I'll focus here on social media.
To succeed with social media, you'll need to have a content strategy. This means talking to your ideal customers about what they're interested in, and having those conversations where they hang out. (For more details, check out How to Develop a Social Media Content Strategy.)
Depending on your audience, you may need to become more active on Facebook or join groups where your customers talk on LinkedIn.
Social Media Marketing Society (Ongoing Online Training)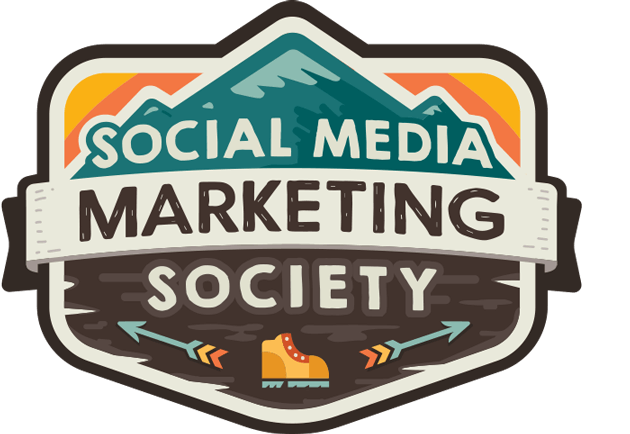 Want to gain marketing confidence and accelerate your career? Try the Society to discover new marketing ideas, improve your results, get support, and become indispensable. Join us for ongoing training, insight from pros, and a community of supportive marketers who understand you.
START YOUR TRIAL MEMBERSHIP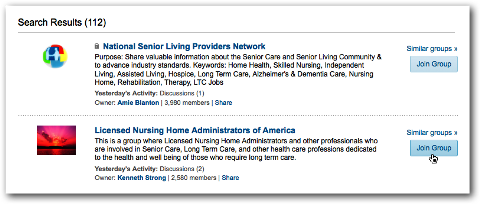 If they're not active on social networking sites—or can't access them during the working day—you'll need to create blog posts and videos that help them solve their biggest problems.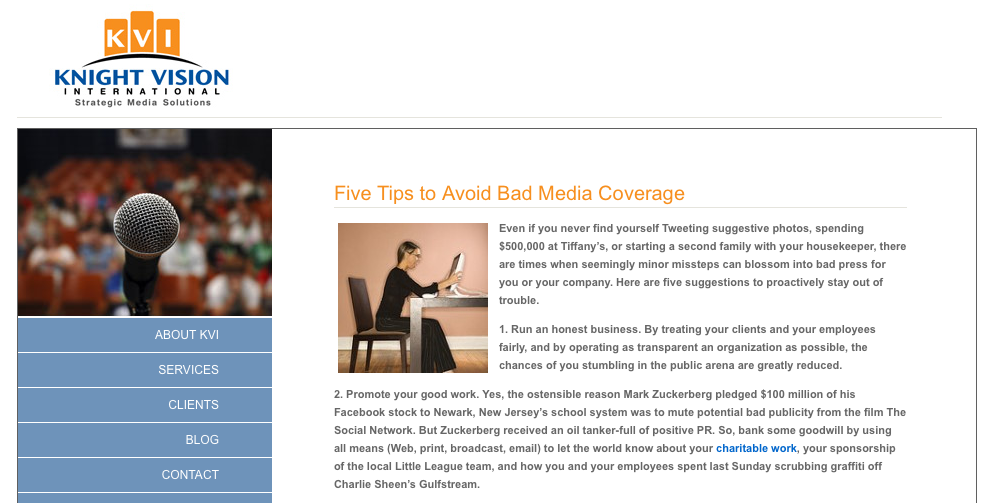 While developing your social media profiles, a few things to keep in mind:
Brand your profiles: It's free or nearly free to set up a blog, create a YouTube channel or build a profile on popular social networking sites.
Because of this, everyone does it. To rise above the pack and establish your credibility, you'll need to create a branded experience that will immediately help build trust with your audience. This may mean a custom Twitter background, a Facebook landing page or a detailed work history on your LinkedIn profile.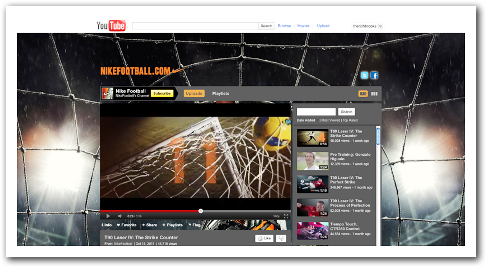 Go deep, not wide: Don't try to be active on every social network out there. Instead, focus on becoming great at one or two platforms where you're most likely to engage your prospects. Once you've mastered those, you can add more to your plate.
Be consistent: One blog post, one video or one tweet won't save your business, no matter how clever it is. Success comes from consistency. Your customers don't want to work with a one-hit wonder; they want to work with someone who has consistently established credibility and expertise over time, which shows that the person should be around for a long time to come.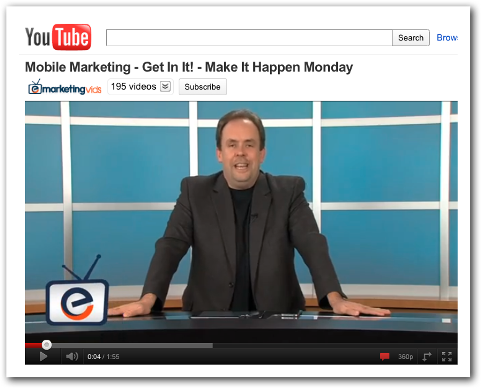 Create paths back to your site: Although being too salesy can turn prospects off, you should always have links to your website so they can learn more if they wish. Ben Pickering has a great article entitled 5 Tips for Driving Facebook Fans to Your Website that gives some suggestions on how to do just that.
Takeaway: Branded, consistent activity on social media sites where your customers already hang out will drive more qualified leads to your site.
#2: Retention: How to keep people coming back
If you're selling a big-ticket item, chances are your prospect isn't buying from your site without looking at your competitors' sites as well. Likewise, if you're selling a product that needs to be regularly repurchased—like contact lenses or morning coffee—your prospect will continually see competing offers.
How do you stay top of mind and keep the lines of communication open after someone has left your website? This is where retention comes in.
While "traditionally," email marketing has been the favored tool of the Internet marketer, these days social media plays a critical part.
Put Google Analytics to Work for Your Business (Online Training)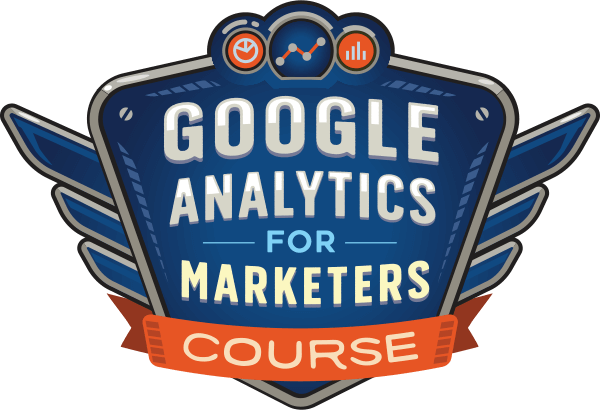 Ever thought, "there's got to be a better way" when it comes to tracking your marketing activities? Are you forced to make decisions based on limited data? With the right training, you can use Google Analytics to measure all of your marketing efforts with certainty.
You'll stop the leaks in your ad spending, justify your marketing spend, gain the confidence you need to make better marketing decisions, and know what's working at every step of the customer journey. Let the world's leading analytics pro show you the way. Check out our new Google Analytics for Marketers course from your friends at Social Media Examiner.
CLICK TO LEARN MORE: ANALYTICS TRAINING
From the home page, we're asking people to like us on Facebook, follow us on Twitter and subscribe to our blog posts or YouTube channel… all of which send them offsite.
This goes against everything we used to know: You never send people away after you've captured their attention! (It's like the Vegas casinos: Never show a gambler the exit sign.)
However, getting people to like, follow and subscribe to us gives us the opportunity to continue to engage with them. We can build a relationship by better understanding them through listening and helping them.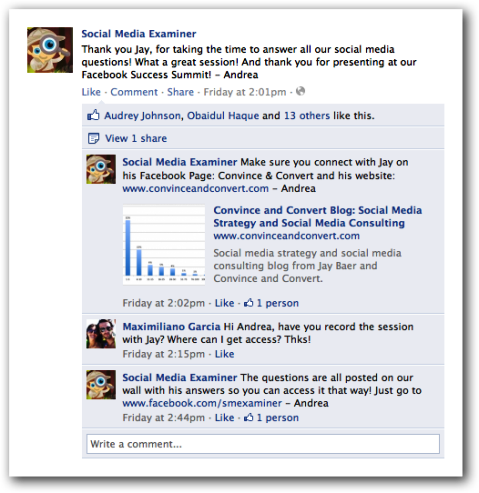 To maximize your retention activities, make sure that it's easy for someone to engage you in your social media activities right from your home page and every other page on your site.
Remember: Always provide value to your ideal customer with your social media activities. You're only one click away from being unfollowed, unsubscribed from and unliked if you're not providing value.
Takeaway: For certain sales cycles, you'll need to engage your prospects with social media even after they've left your site… Just make sure you're providing value wherever you ask your audience to follow.
#3: Conversion: Moving from liker to buyer
Improved conversion rates (whether it's a "buy now" button or filling out a contact form) are a natural outcome of being active in social media.
The latest HubSpot "State of Inbound Marketing" report showed that companies that blog more have more consistent sales. Companies also report that social media has made the biggest gain in lead generation activities.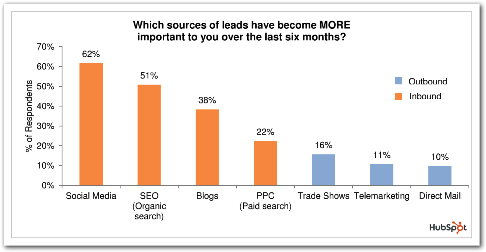 Anecdotally, at my company's own site, our highest converting traffic comes from blogs and our YouTube channel. In fact, visitors who first watched one of our videos at YouTube are over 700% more likely to fill out a contact form than the average site visitor. Are you ready for your closeup?
For a more detailed look at conversion rates and the difference between social media leads and other leads, check out Nichole Kelly's post, 4 Tips for Converting Social Media Leads.
Takeaway: Your social media activity increases your site's conversion rates because your expertise and credibility have already been established.
#4: Measurement: Making wise decisions
The concern many companies have about social media is that it lacks accountability and tracking, yet this just isn't true.
Start by installing some robust traffic reporting software on your website, such as Google Analytics. These tools will give you insight into where your traffic is coming from, so you can determine if your Facebook activity is paying off or has been a waste of time.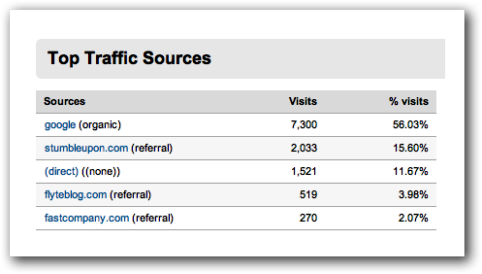 You can also see which of your blog posts bring in the most traffic, which gives you insight into what type of content you should create moving forward, and perhaps even what type of services you should be offering.
Further, you can set up Goals in Google Analytics to determine where your best traffic is coming from. For a step-by-step walkthrough of setting up Goals in Google Analytics, you can check out this post, Tracking Conversions: Does Your Website Turn Suspects Into Prospects?
You don't need to stop with website analytics, however. Facebook Insights gives you great, um, insight into your Facebook activity, and EdgeRank Checker is a freemium tool that provides suggestions for maximizing your Facebook activity.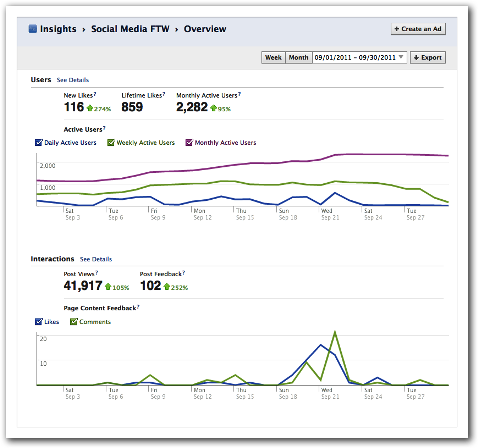 YouTube also offers analytics, breaking down your audience by gender, age and location, as well as showing you which videos are the most popular and what caused them to attract more visitors.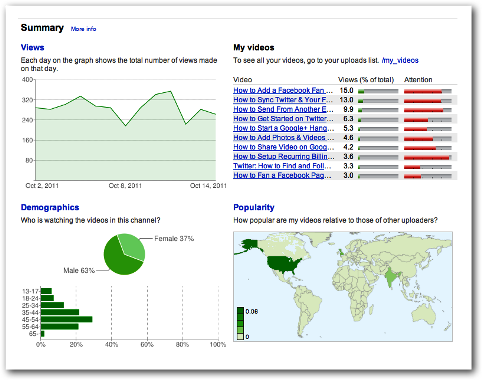 Takeaway: Measuring the results of your social media activity is easy if you use some free and inexpensive tools to track traffic and conversions at your website.
Conclusion
Social media is still in its infancy, and a lot of the tools and techniques we currently read about will be outdated by next year, if not by next month. (See MySpace, Flock, Google Buzz, and pinging news aggregators with our RSS feeds.)
So rather than focusing myopically on flavor-of-the-month tactics, make sure that all of your social media campaigns include the formula of attraction, retention, conversion and measurement, and you will have a sustainable plan for success.
Your turn!
What do you think? Do your social media campaigns include all of these components? Is there something we didn't include that you feel is a requirement for success? Leave your questions and comments in the box below.