Want more people to engage with your Instagram stories? Are you using stickers strategically?
In this article, you'll find out how to use 10 Instagram Stories stickers to get more active engagement on your content.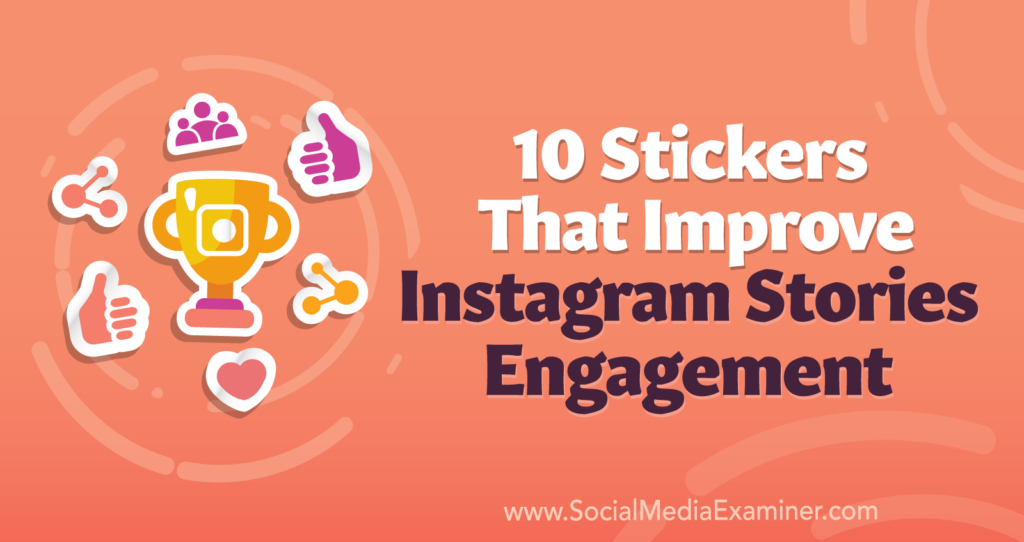 #1: Sound On Sticker
Many people watch Instagram Stories with their sound muted, meaning they'll miss out on the audio of your videos. If you want to make sure they turn up the volume to hear your message, music, or even the sounds of nature, use the sound on sticker to let them know there's something worth listening to.
To add this sticker to your story, tap the sticker icon (the square with a smiley face) at the top of the screen. A selection of available stickers will appear. Scroll down until you find the sound on sticker with the megaphone or type "sound on" in the search bar at the top of the screen.
When you've found the sticker, tap to add it to your video. To change the colored sticker to an all-white sticker, tap the sticker after placing it.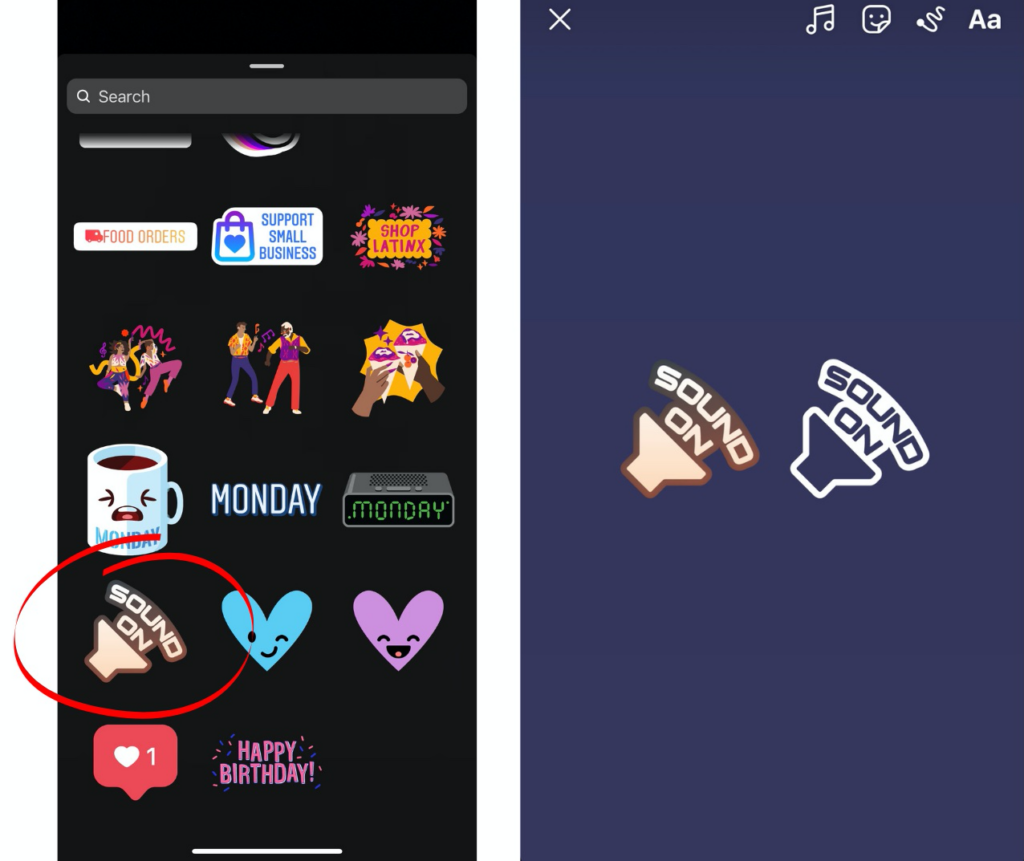 This sticker is best for:
Making sure viewers listen to your audio: When you have something important for viewers to hear, use this sticker to let them know it's worth their time to unmute and listen.
#2: Support Small Business Sticker
If part of your Instagram marketing strategy includes mentioning businesses that sell complementary products or services, the support small business sticker could improve the results from those mentions.
Spreading love by supporting others is always a good idea. And you can increase active engagement on your stories with a sticker that supports small businesses. When users tap this sticker, they'll be shown a pop-up with details of the featured business and can then access its full profile.
To add this sticker to your story, select the support small business sticker from the menu. You'll be prompted to type the username of the account you'd like to feature. Instagram automatically suggests the sticker version with photo thumbnails but it'll change to a simpler version with just the username if you tap the sticker.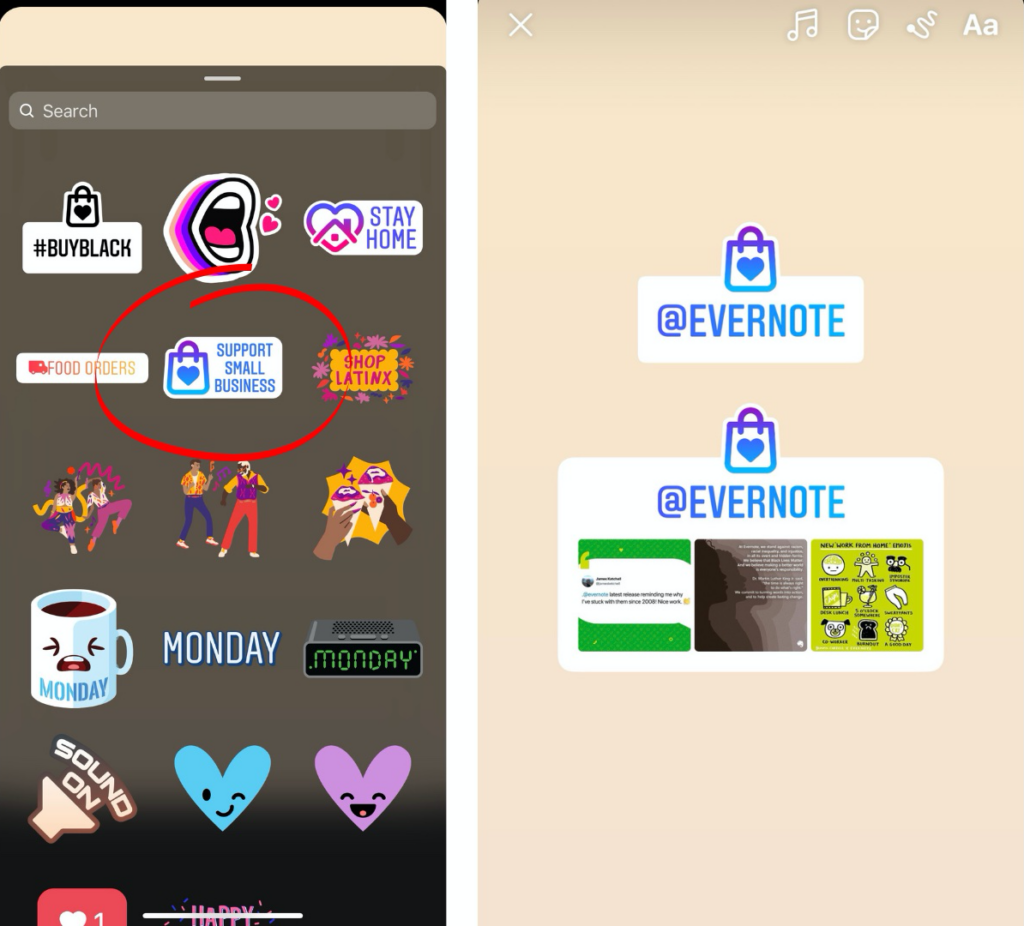 This sticker is best for:
Featuring a business you love and want to support: It's more interactive than a regular mention sticker because it includes photos and details about the tagged business.
#3: Quiz Sticker
Stop people from mindlessly tapping through your stories and boost Instagram engagement with a trivia-style quiz. Interactive stories are an effective way to quiz and educate your audience on a topic. They encourage active engagement because viewers will need to submit their response to the quiz question to learn what the correct answer is.
With this sticker, you can enter your prompt at the top, followed by the options you want viewers to choose from. Don't forget to select the correct answer by tapping on the corresponding letter (e.g., A, B, C). If you want to change the color of your quiz box, tap the color wheel at the top of the screen to cycle through the available choices.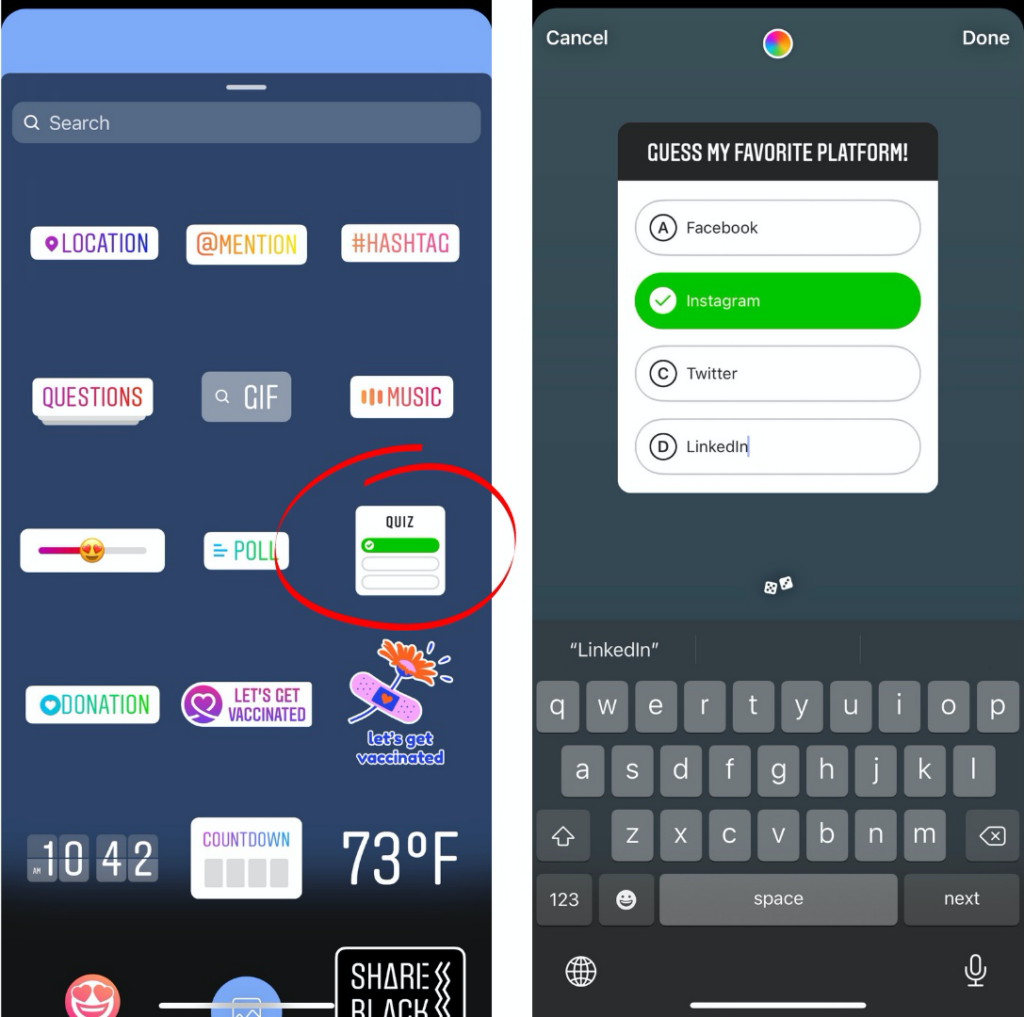 This sticker is best for:
Quizzing and educating viewers on a topic: Curious how well your audience knows your brand, offerings, or another specific topic? You can quiz them with a selection of fun questions. Upon choosing an answer, they'll immediately know if their response was right or wrong.
Conducting market research: Asking questions allows you to gain a better understanding of those watching your Instagram stories. Get to know your audience by asking about their demographics, interests, pain points, and anything else related to your brand. In this case, there wouldn't technically be a "right" answer when choosing a response but it allows more options than a poll sticker.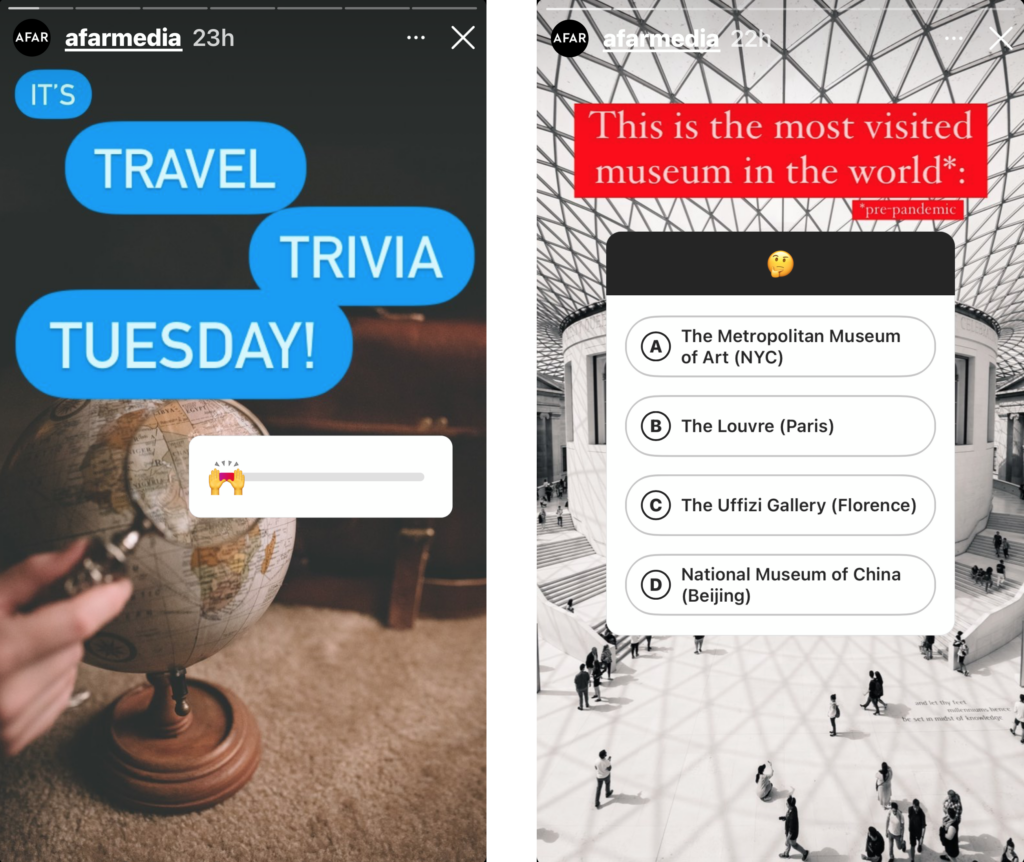 #4: Poll Sticker
The poll sticker is another way to encourage active engagement on your Instagram stories since there's a clear action to be taken. This sticker prompts viewers to choose between two different options, allowing the creator to learn more about the interests and preferences of their audience.
🌟 Ready to Supercharge Your Social Marketing Strategy? 🌟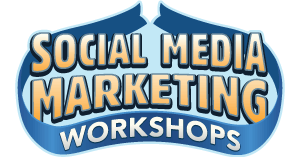 Struggling with your social marketing? You're not alone. The solution? The Social Media Marketing Workshops!

During these live 2 hour deep-dive workshops, you'll discover what's working now on Instagram, Facebook, TikTok, YouTube, and LinkedIn. Skyrocket your engagement, broaden your reach, and amplify your sales.

Become the marketing hero your company and clients need—without leaving your home!
🔥 Save $650 on an All-Access Ticket! Sale Ends Friday! 🔥
GET YOUR TICKETS NOW
Adding a poll to your stories is pretty straightforward. You can add a prompt directly above the poll and use the color wheel at the top to change the color of the text. Or you may choose to leave the prompt section blank to enter your text separately. Next, you'll want to type the two different options people will have to select from when voting in your poll.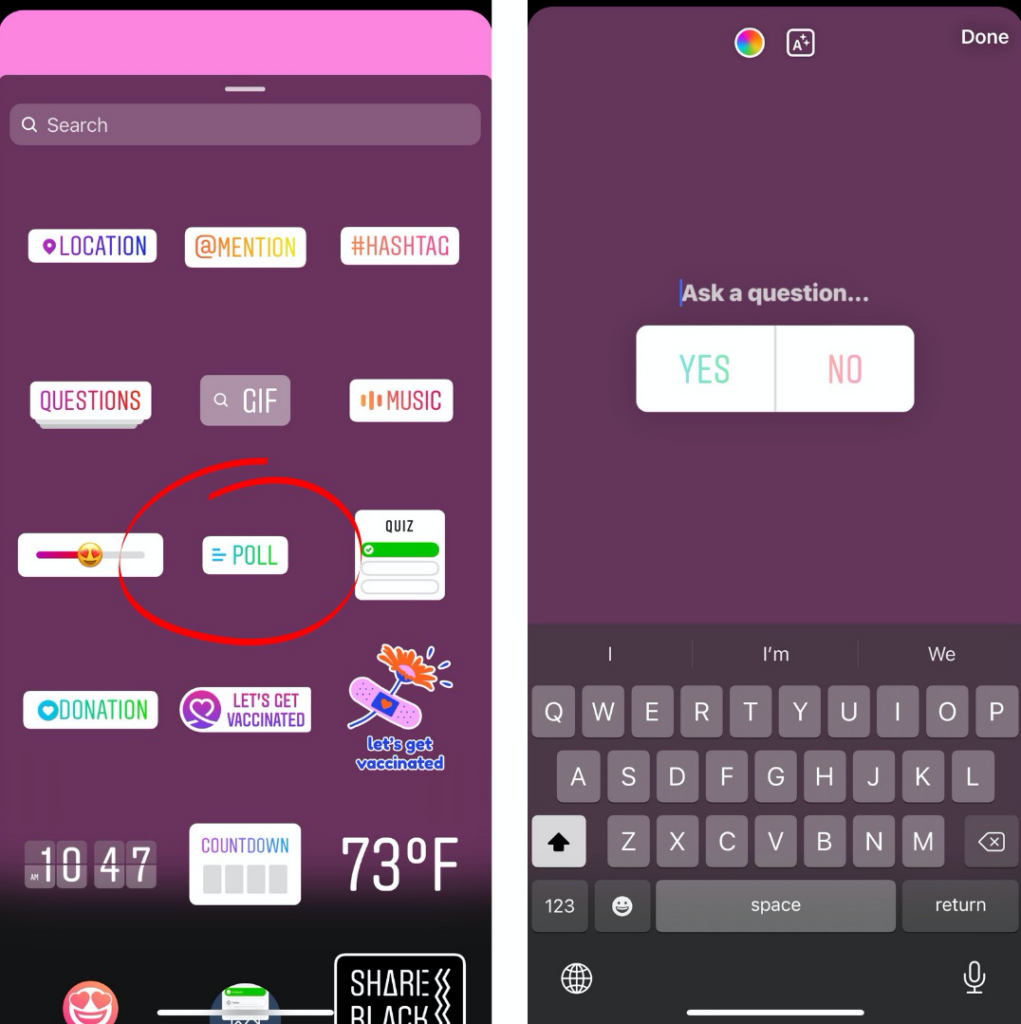 This sticker is best for:
Getting feedback on a new idea: Before moving forward with that new offering, share your idea via Instagram Stories and include the poll sticker to gather opinions. Include simple "yes" and "no" options for people to vote quickly and easily. This way, you'll know if the idea is a hit before committing to it.
Playing "This or That": If you just want to have fun, play a game of "This or That" with your followers. Prompt them to choose between two different options and use the poll to collect their responses. It could be something random or relating to your brand's offerings.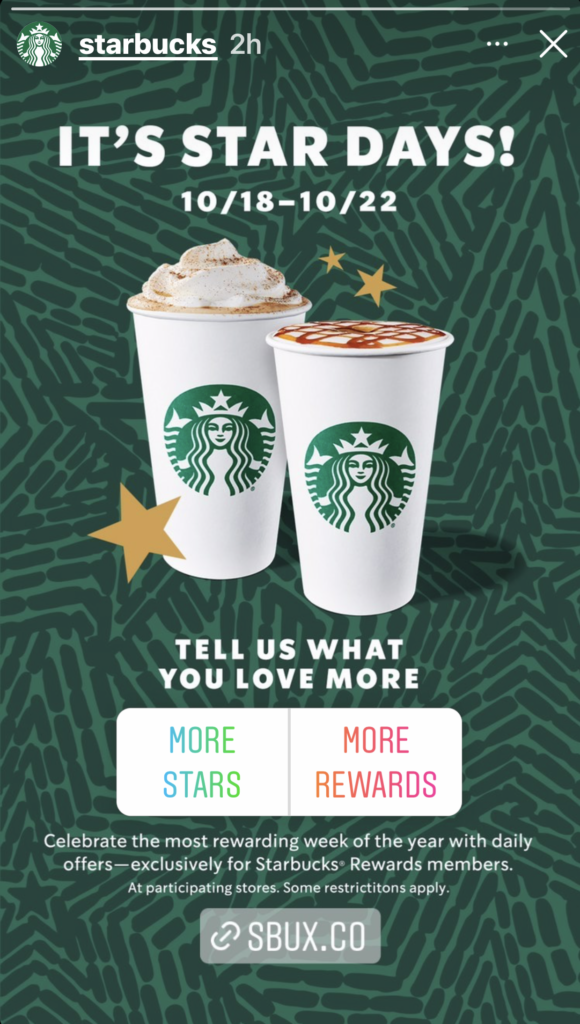 #5: Questions Sticker
The questions sticker is the ultimate in active engagement because it requires a viewer to type out a response instead of just tapping on a selection within a poll or a quiz. Also, they'll probably put even more thought into what they share with you. Your followers will love watching Instagram stories with fun elements like this.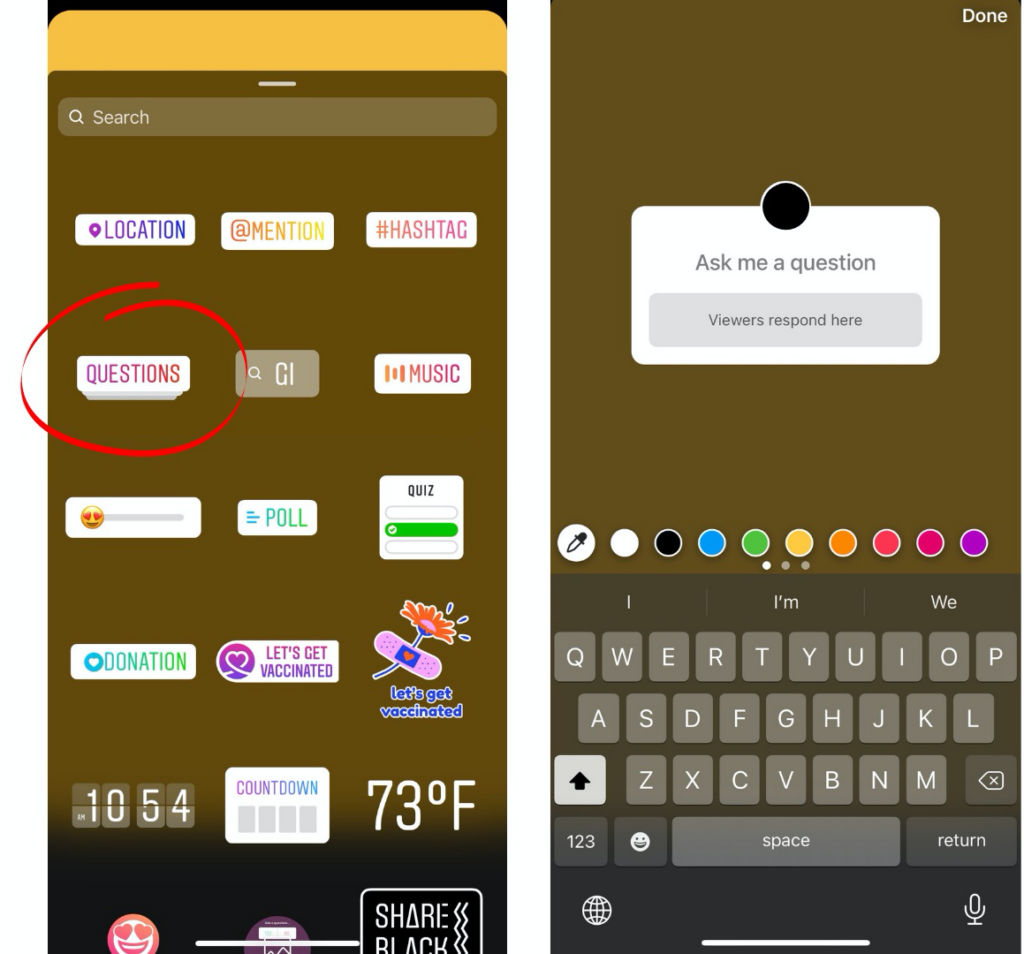 When adding this sticker to your stories, you'll need to enter a question or another prompt you'd like followers to answer. You can also change the sticker's color to better suit your branding by choosing from the available colors on the screen or using the dropper to select a color from an image.
This sticker is best for:
Hosting Q&A sessions: Give your followers the chance to ask you all of their burning questions. Invite them to ask personal questions or questions about your area of expertise. Pop in and answer them throughout the day so they'll keep checking back for more.
Learning about your audience: Share the questions sticker and invite your followers to share something specific about themselves. It could be a fun fact, the name of the book they're reading at the moment, or anything else you'd like to know about them. It's perfect when you don't want to clutter your DMs.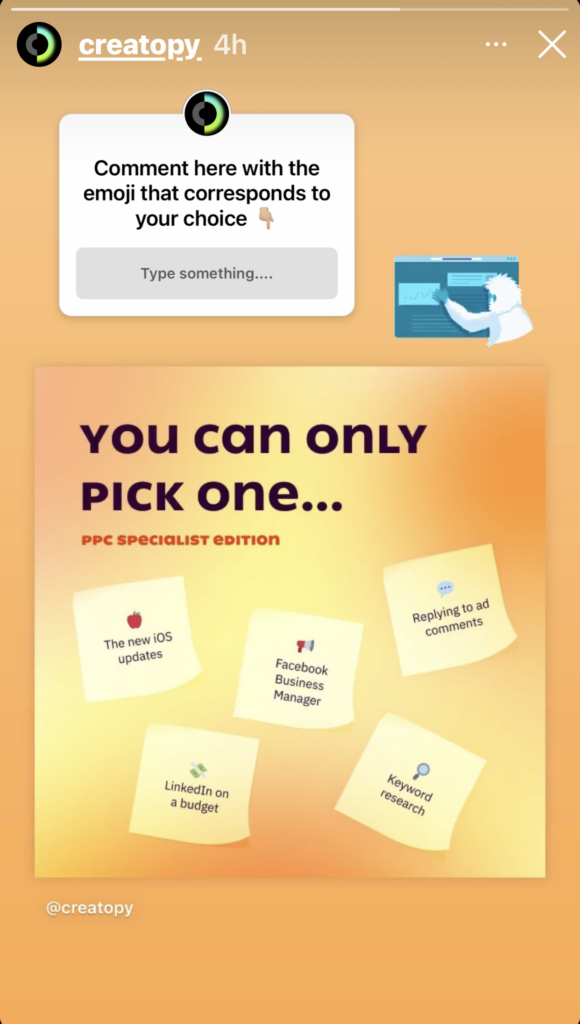 #6: Hashtag Sticker
By using the hashtag sticker, you can give easy access to similar content shared by other creators. Tapping on the hashtag sticker within Instagram Stories takes you to the dedicated page for that specific hashtag. This will display how many posts that hashtag has and the top and recent feed posts that have used it.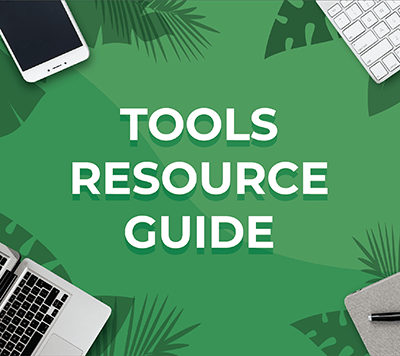 Looking for something to make your life easier?
Discover the tools we recommend to drive engagement, save you time, and boost sales across your entire marketing funnel or business.
Whether you need help planning content, organizing social posts, or developing your strategy, you'll find something for every situation.
FIND YOUR NEXT FAVORITE TOOL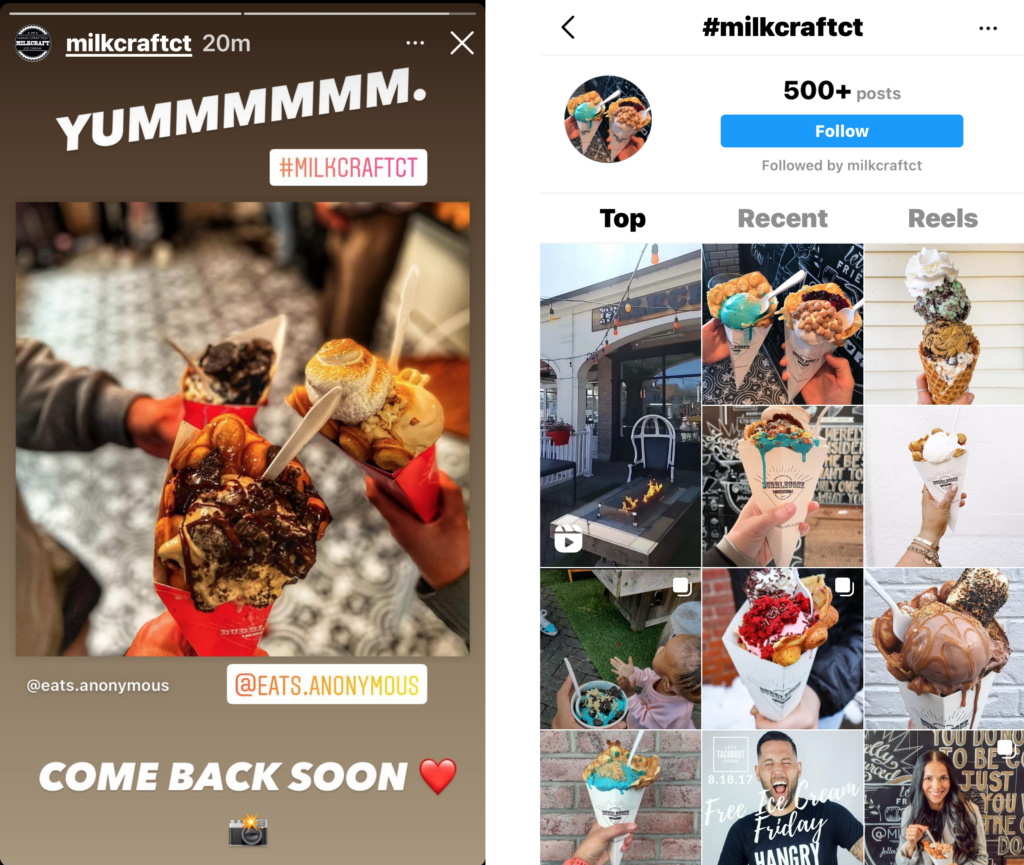 To add the hashtag sticker to your story, select it from the menu and then add your text. Tap to change the look of the hashtag after placing it on your story. You can choose between an orange/red/pink color combo, rainbow, or white. Note that you can only use one hashtag sticker on a single story.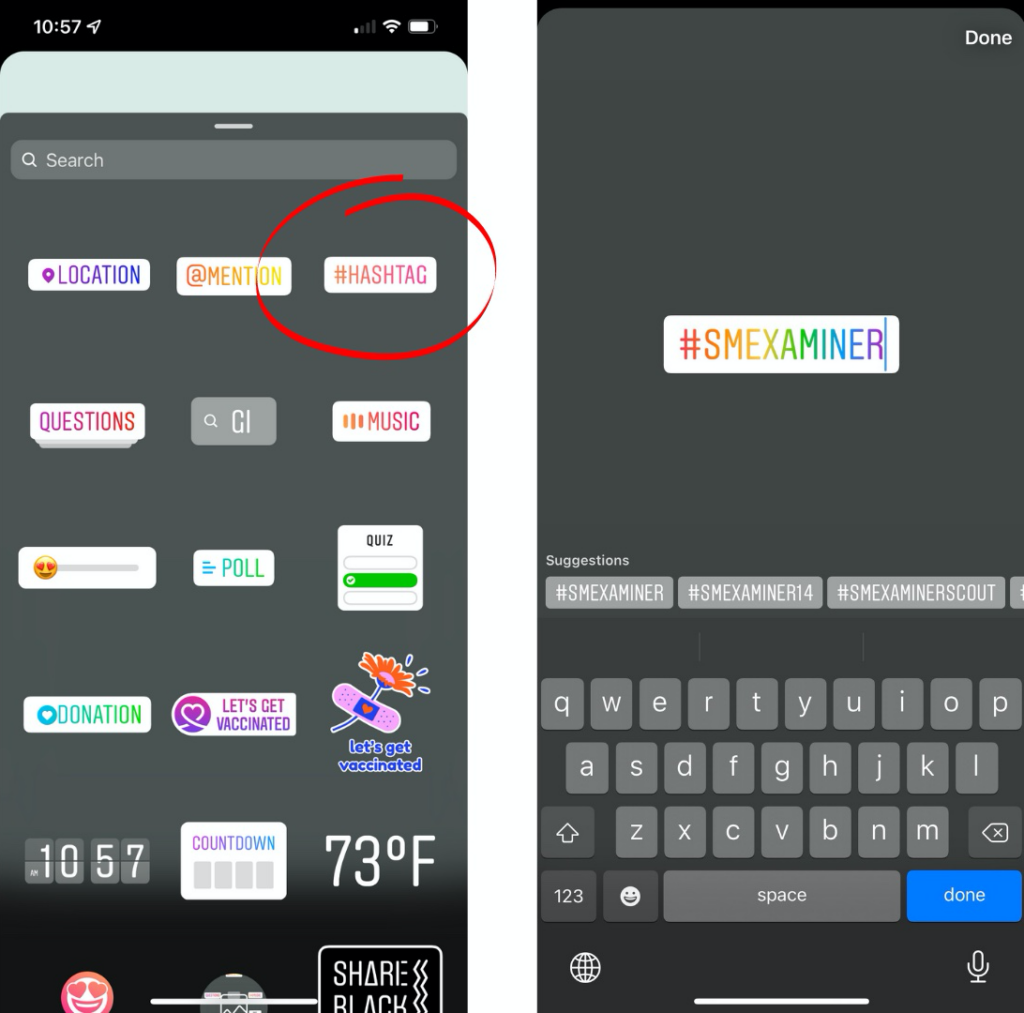 This sticker is best for:
Highlighting brand or campaign hashtags: If you're collaborating with a brand, there may be a specific hashtag they'd like included in your posts. You might also want to add your campaign hashtag to relevant stories so followers can easily connect similar posts.
#7: @Mention Sticker
Whether you're tagging a friend who appears in your story, a brand you're working with, or the creator of user-generated content, the @mention sticker is key. Those viewing your story can easily tap on the sticker and access the profile of the mentioned account.
To use this one, tap the @mention sticker in the menu and add the username of the account you'd like to tag. Change the look of the sticker by tapping to cycle through the available options. Again, you'll see the orange/red/pink combo, rainbow, and white. Unlike the hashtag sticker, you can add multiple @mention stickers to tag different accounts.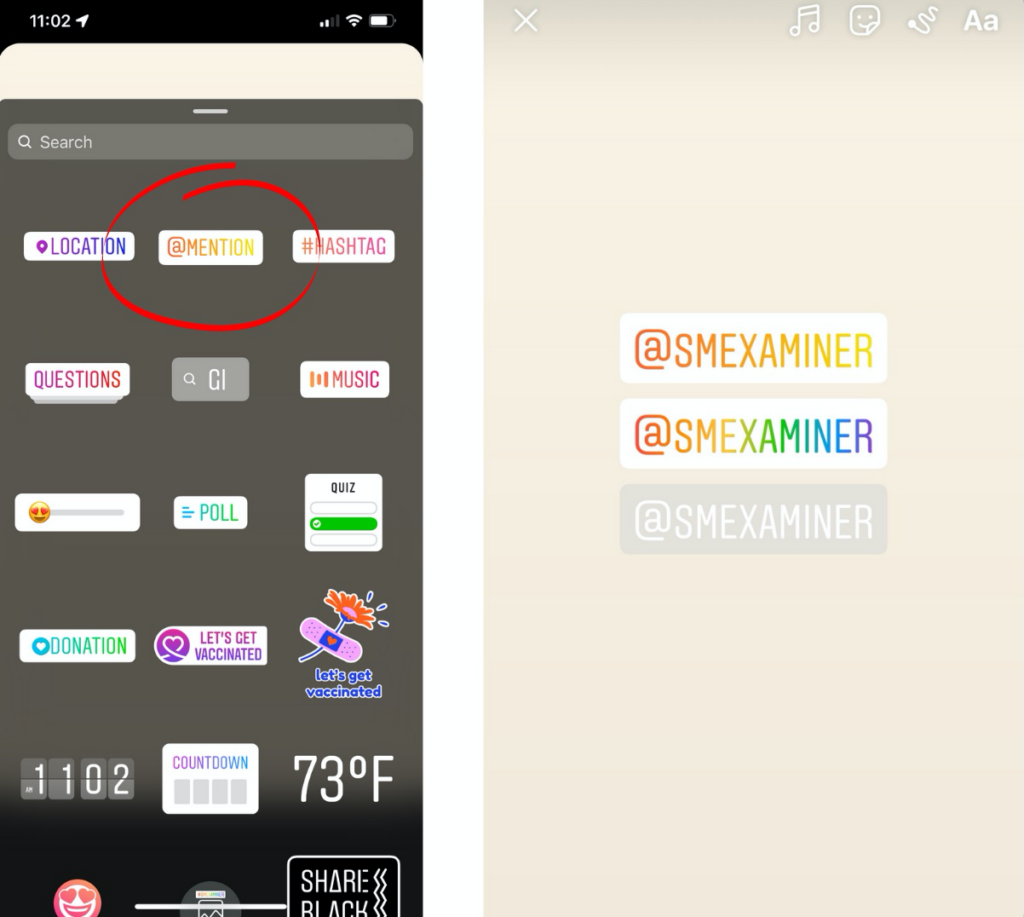 This sticker is best for:
Highlighting other Instagram accounts: Whether you're giving a shout-out to your favorite Instagram account or a brand you're working with, the @mention sticker is an easy way to direct people to their profile. It stands out more than typing the username with the basic text option and can drive action.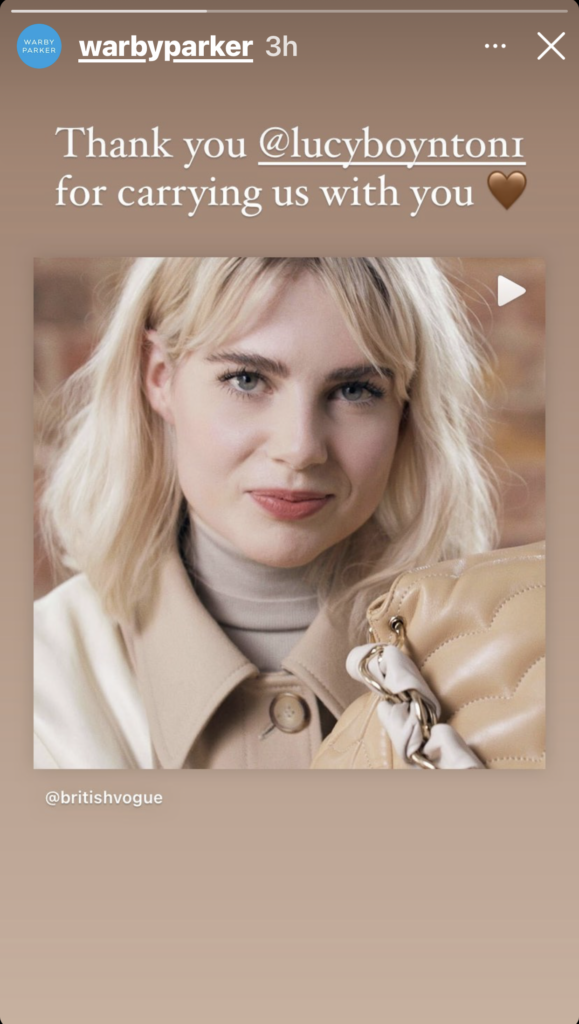 #8: Location Sticker
When compared with the other options, the location sticker is more likely to be passive engagement. People will notice the sticker on your Instagram story but they won't take any action here in most cases—although it may help your visibility outside of your followers.
When using this sticker, Instagram will automatically pull up locations nearby. You can choose one of those options or manually type any location in the world. After placing the sticker on your story, tap to cycle through three different color options, including rainbow and white.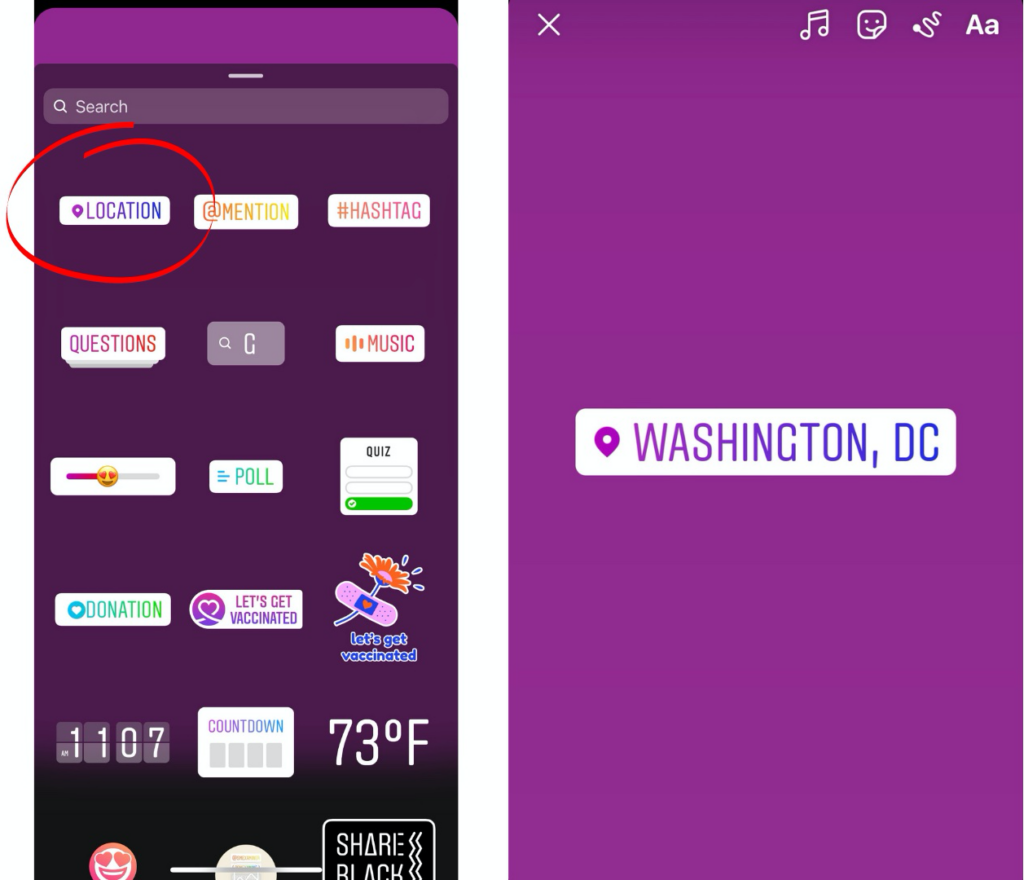 This sticker is best for:
Tagging a physical location: When visiting a certain part of town or local hotspot, you may want to tag your exact location so others can easily find it and check it out for themselves.
Increasing views on your stories: The location sticker is also great for boosting discoverability because someone searching for that location on Instagram may see your post.
#9: GIF Sticker
Unlike the other stickers, GIFs don't encourage those watching your story to take a specific action. However, they're still great for increasing active engagement because they can get someone to stop and pay attention to your post. That's important when you consider that they interact with Instagram Stories every day.
After tapping on the GIF sticker, Instagram will pull up a selection of trending GIFs from Giphy. You can choose from those options or search for your own in the search box at the top. Tap to add your chosen GIF, then tap and hold to drag it to your preferred spot.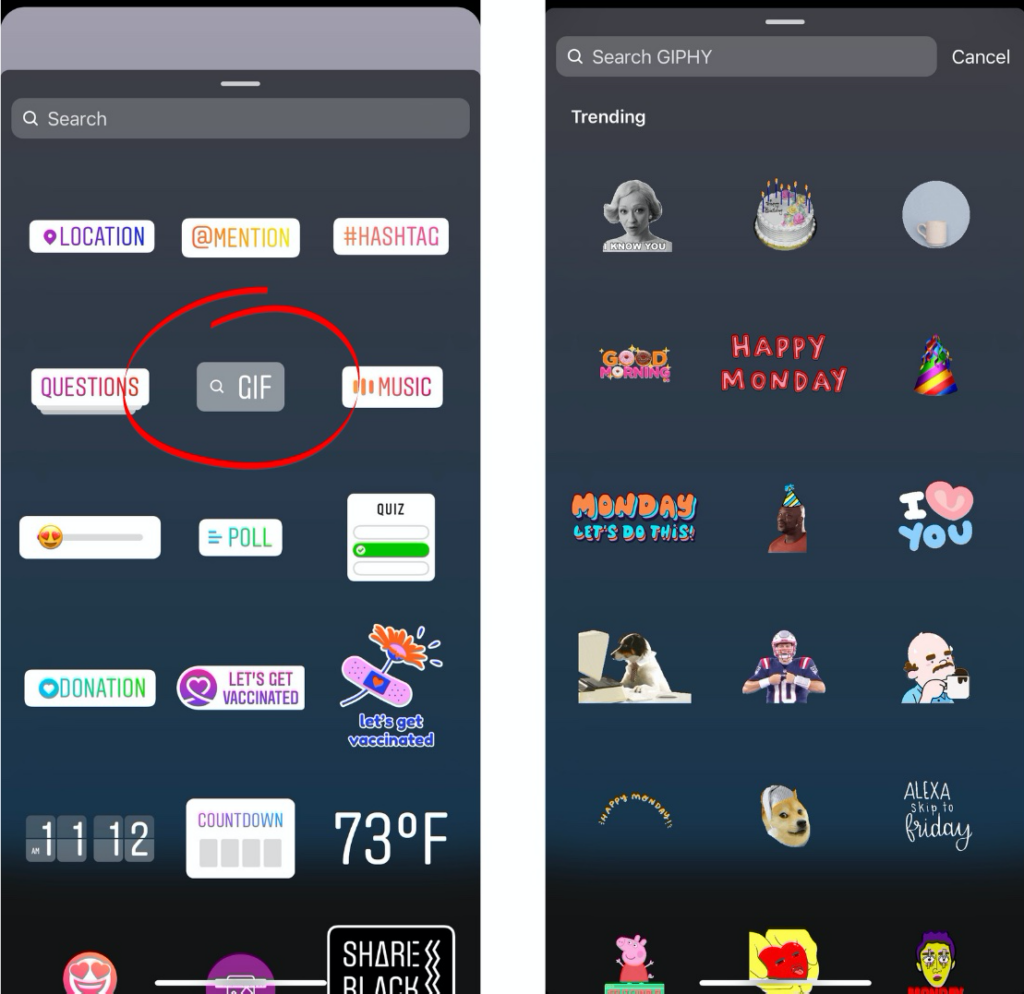 This sticker is best for:
Adding visual interest to stories: Using GIFs is just one of the many ways you can add flair to your stories. You can use GIFs to show off your personality or make your stories more visually appealing.
Drawing attention to your call to action: You can even pick GIFs that reinforce the action you want people to take when watching your stories. Want them to vote in a poll or click the link sticker? Add an arrow GIF to point them in the right direction. You can even use a "New Post" GIF to alert people to check out the latest post on your Instagram feed.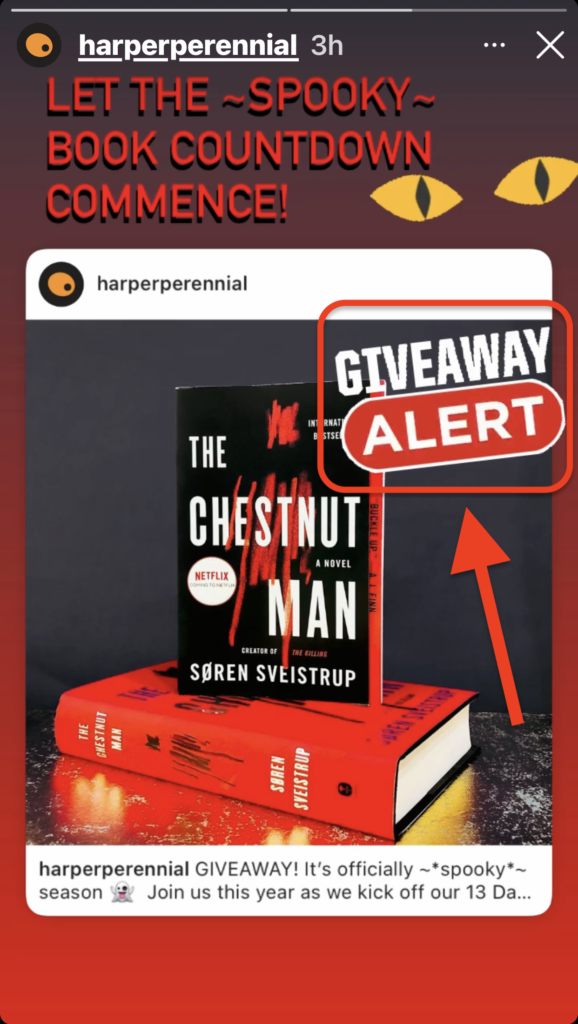 #10: Countdown Sticker
The Instagram Stories countdown sticker is great for promoting active Instagram engagement because it creates a sense of urgency. It tells people that something is about to happen such as a product launching or disappearing for good. People can opt for notifications when the countdown ends as a reminder.
After you've added the countdown sticker, you'll want to include a name and select the end date and time. You can also customize the look of the sticker by tapping the color wheel at the top. Instagram will cycle through different color options so you can find one that best suits your content.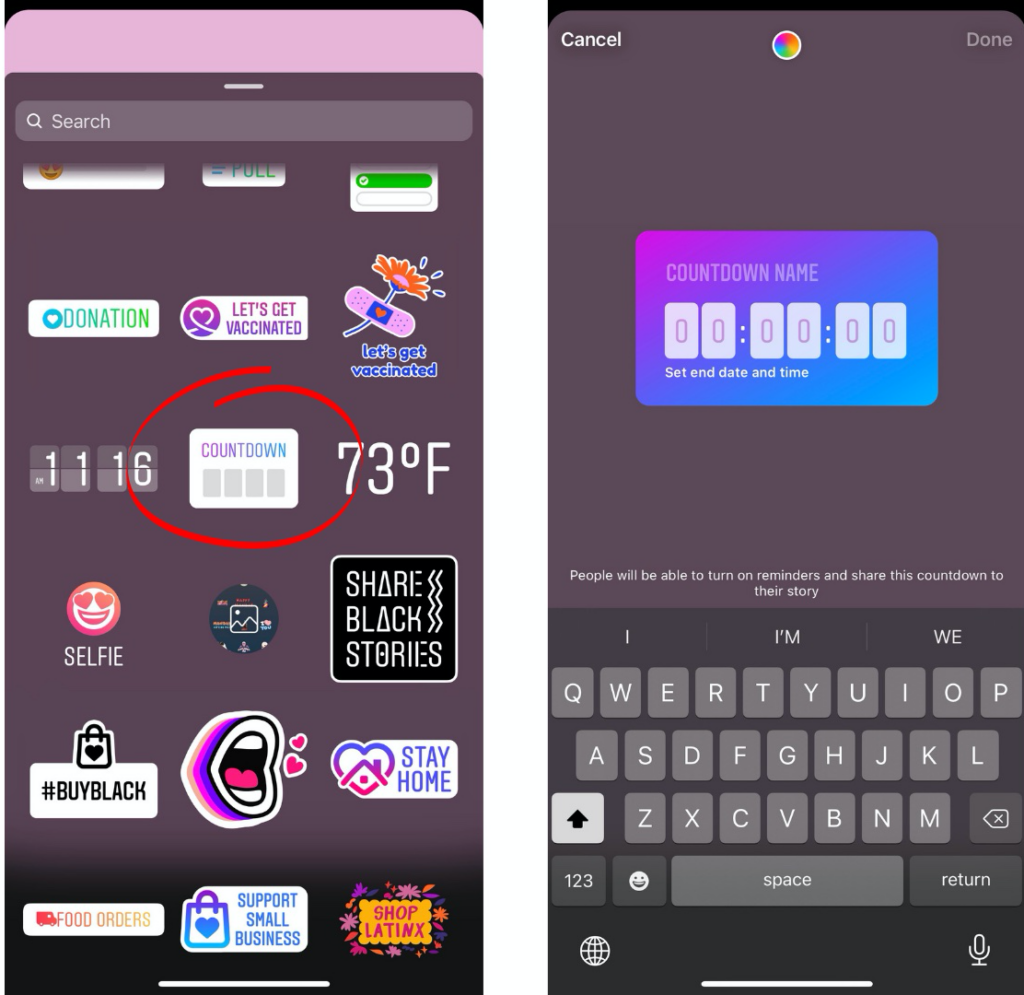 This sticker is best for:
Promoting a launch: A countdown sticker is a perfect way to inform your followers of the start and end of a launch within your business. It promotes a sense of urgency and encourages them to take action before time runs out. Plus, they can choose to receive a notification reminder.
Generating interest in what's coming up next: If you're working on something exciting, get your followers to count down with you by using this sticker. It could be something simple like when your next podcast episode drops or when you're hosting your next live event.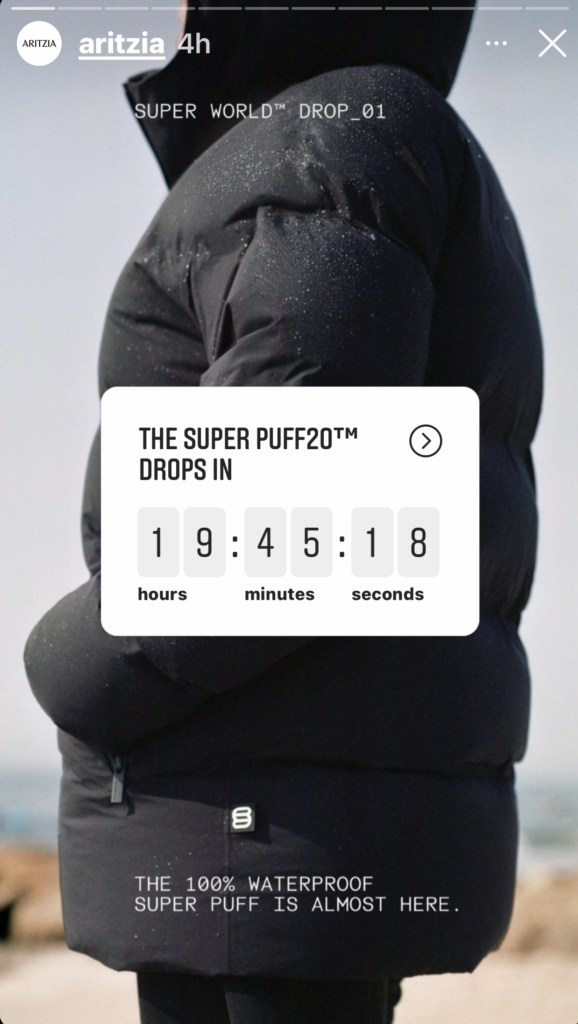 Conclusion
When creating content for Instagram Stories, it can be tempting just to use the same old boring text overlay. By adding these 10 stickers to relevant posts, your content will be more interesting and dynamic. Try using one next time and watch your Instagram engagement take off.
Get More Advice on Instagram Stories
Get Your FREE Course: Web3 for Beginners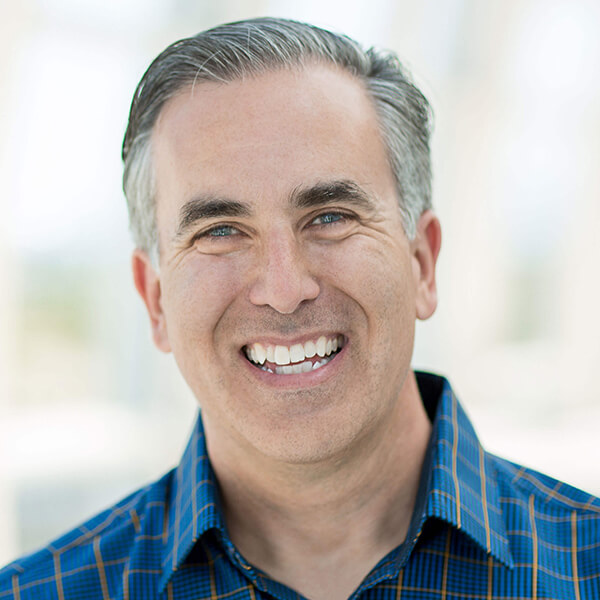 Curious about Web3, but don't know where to start or who to trust?

Introducing Web3 for Beginners, a course taught by Michael Stelzner, the founder of Social Media Examiner.

Learn the basics of Web3 and apply it to your business with this FREE comprehensive course.
CLICK HERE TO GET FREE ACCESS